Do you need some help planning your next trip to Hawaii? If you're debating between Maui or Oahu, you'll definitely want to read this comparison post so you can choose the best Hawaiian island for your next trip!
This comparison post of Maui or Oahu was written by Marcie Cheung (a Hawaii travel expert) and contains affiliate links which means if you purchase something from one of my affiliate links, I may earn a small commission that goes back into maintaining this blog.
Trying to choose between Maui and Oahu for your next vacation?
Hawaii is a dream destination for so many, but sometimes it's hard to decide which island to visit.
We've made it easy for you by comparing the two islands side-by-side. Maui vs Oahu – who will come out on top?
You might wonder about my credentials – well, I've been to Hawaii 40+ times, ensuring an expertise that stands out.
Let's dive into these two beautiful Hawaiian Islands so you can see if one might be better suited than another based on your interests and activities!
Keep scrolling to find out if Maui or Oahu is the best Hawaii island to visit.
Want to skip all the planning and just access my detailed Hawaii itineraries complete with daily schedules, fun activities, and travel hacks? Click the button below.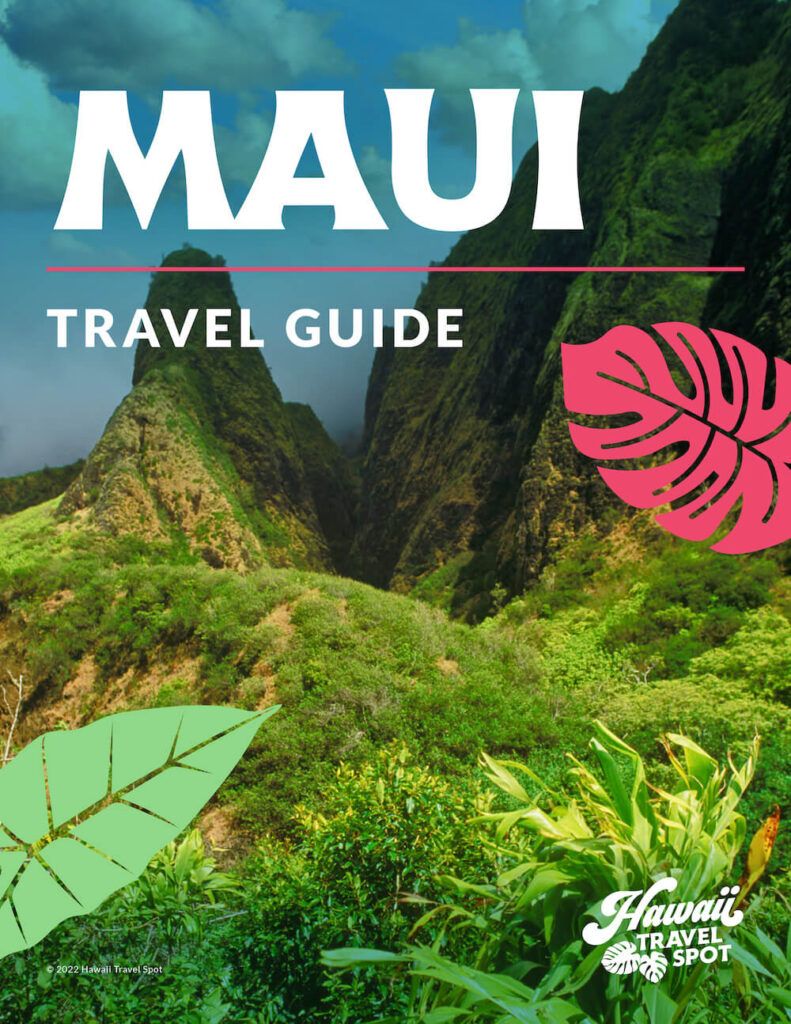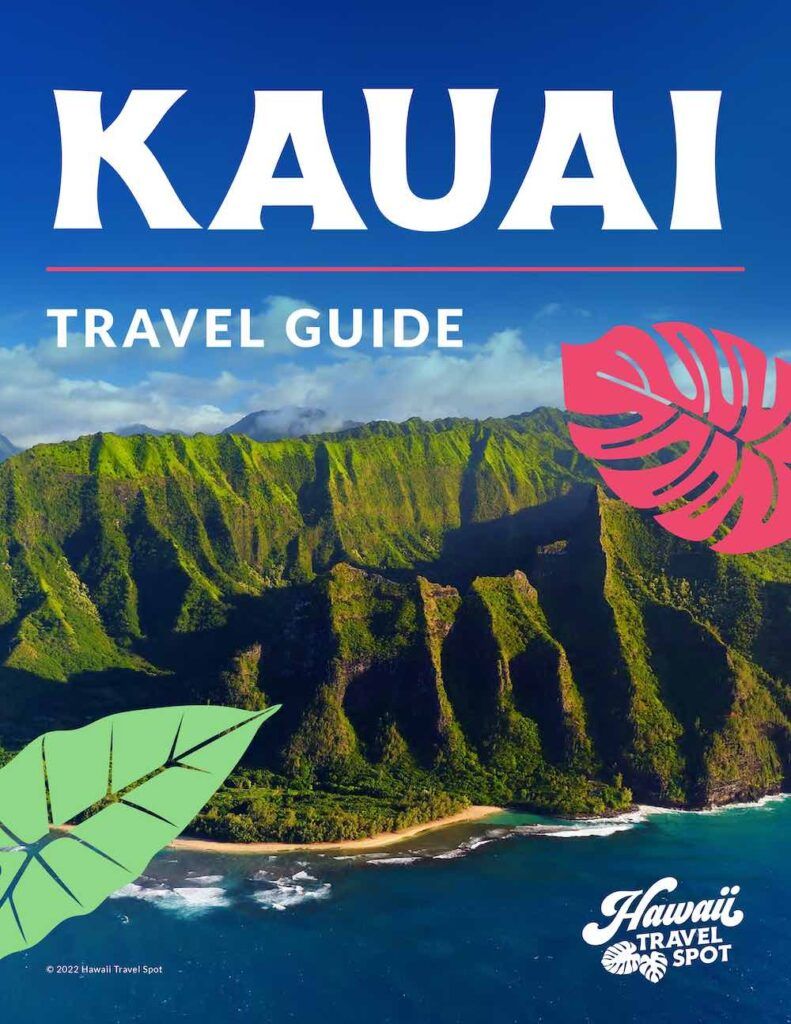 Oahu vs Maui: Weather
I know a lot of people wonder if there's much difference between the weather on Maui and Oahu.
It's pretty similar between the islands. Temperatures usually range from the 70s-80s and winter is the rainy season. When it rains during the rest of the year, it's usually quick rain showers.
Both islands can also get pretty windy. The South Shore of Kauai (Poipu area) and the Windward side of Oahu (Kailua, Kaneohe, and Waimanalo) are the windiest areas.
Tell Me the Difference Between Maui and Oahu
Out of all the Hawaiian islands, Oahu is by far the busiest. But Maui comes in second place.
Since you are debating Maui vs Oahu, I figured I should probably go over a few highlights of each island. Hopefully, these will help you decide between Oahu or Maui.
Save Money with Points
Here are the best credit card offers for people who travel and want to use points to pay for airfare and hotels in Hawaii.
Top Places to Visit on Maui
Haleakala National Park
One of the most popular Maui attractions is Haleakala National Park. It's one of the few national parks in Hawaii.
You can explore it any time of day, but the most ideal time is sunrise. Visitors say that seeing the sunrise from Haleakala volcano is a once-in-a-lifetime experience.
We've done it and I totally agree! Although sunset at Haleakala Crater is also quite magical!
Road to Hana
Driving the Road to Hana is one of the best things to do on Maui. It's a road that meanders from the North Shore to the East Shore, ending in Hana town.
While there are lots of cool things to do in Hana town, the main reason people pick this activity is for the scenic drive on Maui. There are tons of Road to Hana stops including waterfalls, food trucks, hikes, beaches, and so much more.
Many people rent a car and drive it themselves. However, you can also book a Road to Hana tour and leave the driving to the professionals.
Black Sand Beaches
If you want to experience a volcanic beach, you'll definitely want to head to Maui.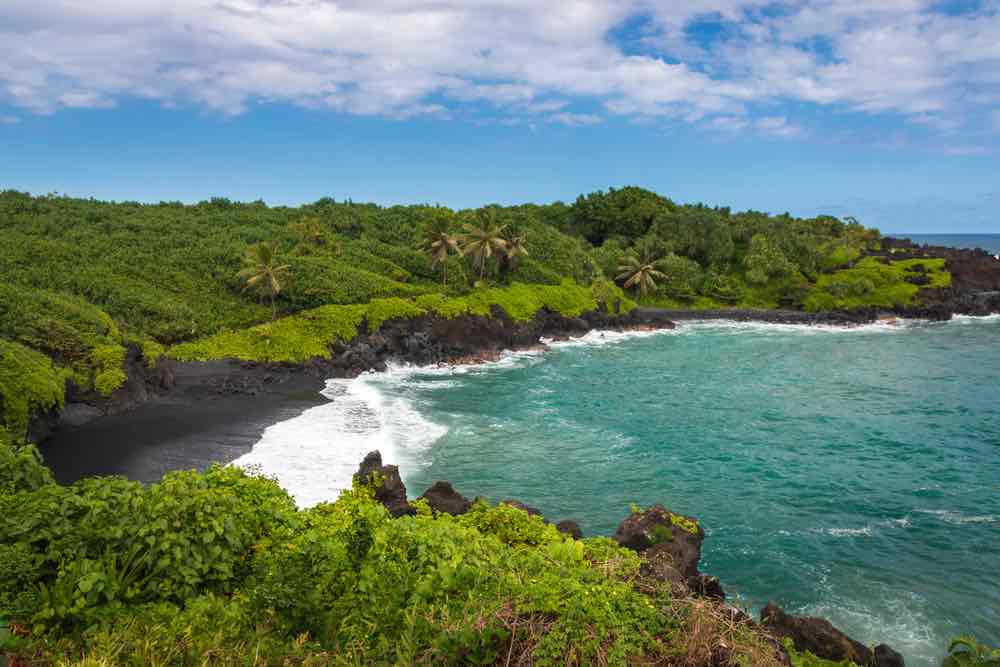 Waianapanapa State Park is located in Hana and it's one of the best black sand beaches in Hawaii.
You will need to make a reservation to visit, but it's totally worth that extra step. I mean, how often will you get to experience something like this?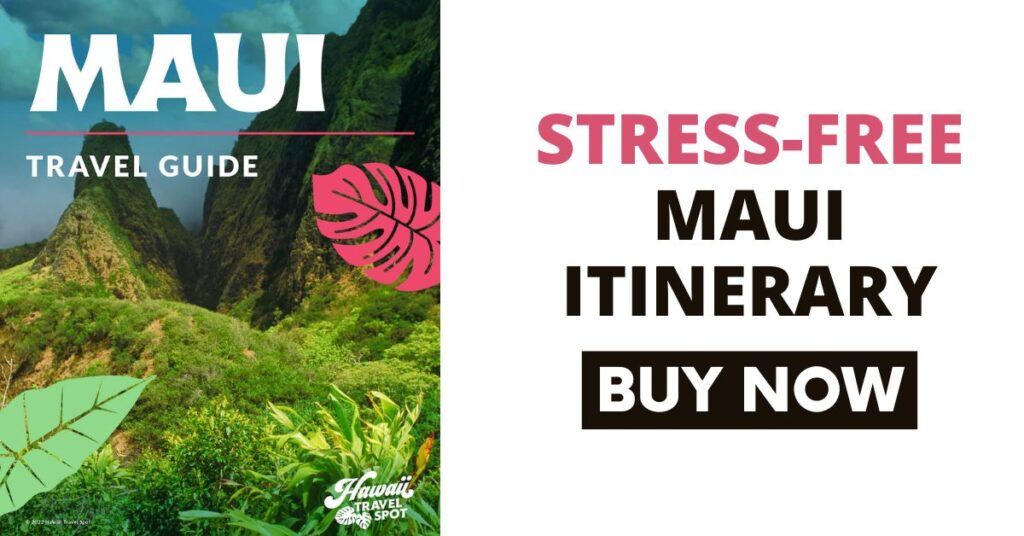 Top Places to Visit on Oahu
Pearl Harbor
The most famous Oahu attraction is Pearl Harbor. Most people go specifically to pay their respects at the USS Arizona Memorial.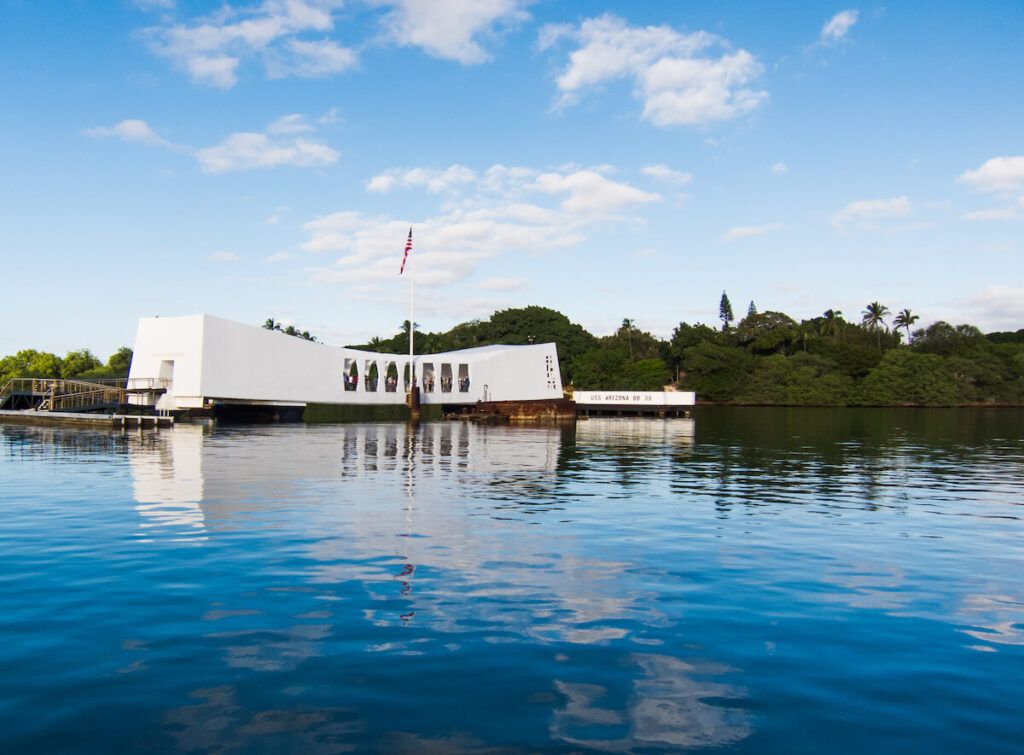 But I recommend also saving time to visit the USS Battleship Missouri, the USS Bowfin Submarine, and the Pearl Harbor Aviation Museum.
Iolani Palace
Did you know there's a royal palace in Hawaii? If you're interested in Hawaiian culture, you'll definitely want to do a tour of Iolani Palace.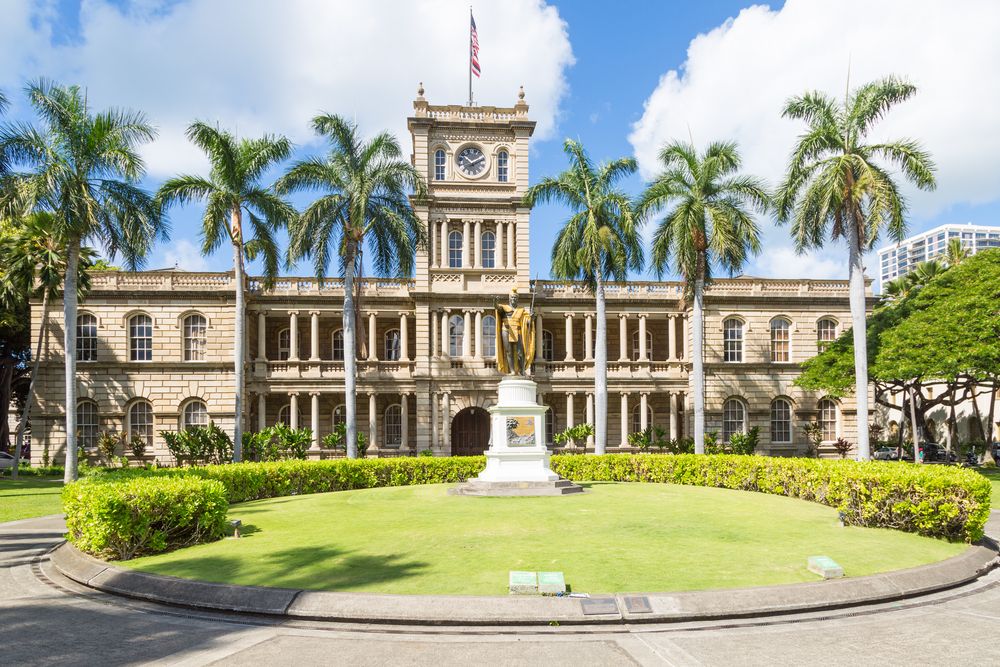 This is where the last of the Hawaiian monarchy lived and it's an eye-opening experience. It's one of the top historical sites in Hawaii.
Polynesian Cultural Center
One of the most popular things to do on Oahu for tourists is to visit the Polynesian Cultural Center.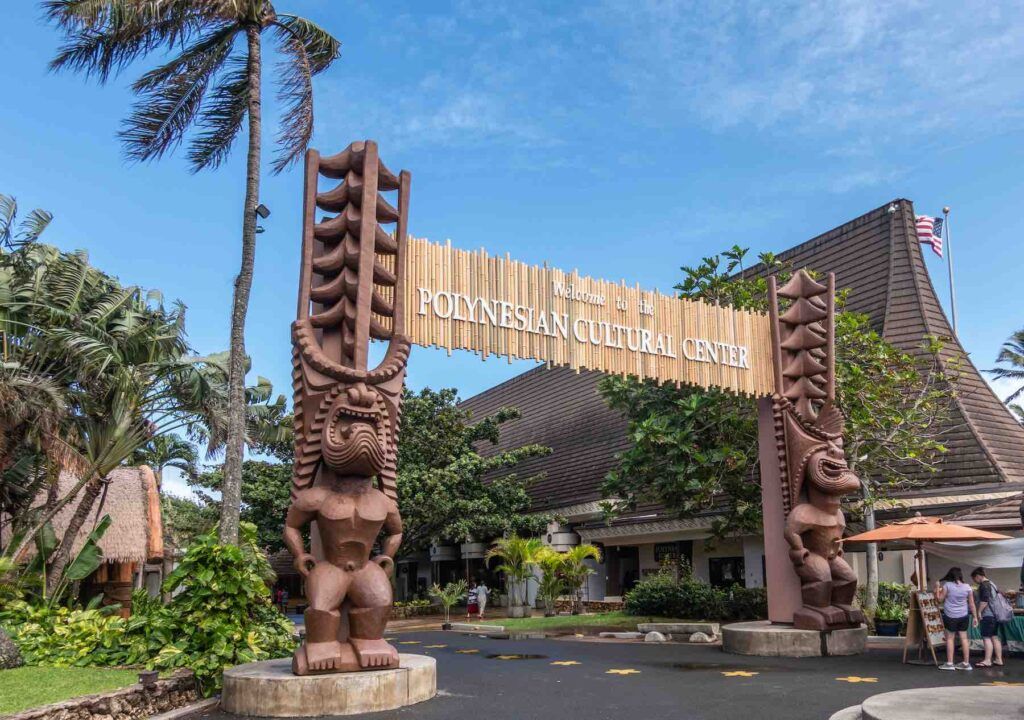 They offer hands-on activities and demonstrations to learn about several Polynesian cultures. It's also located in North Shore Oahu near lots of cute beach towns.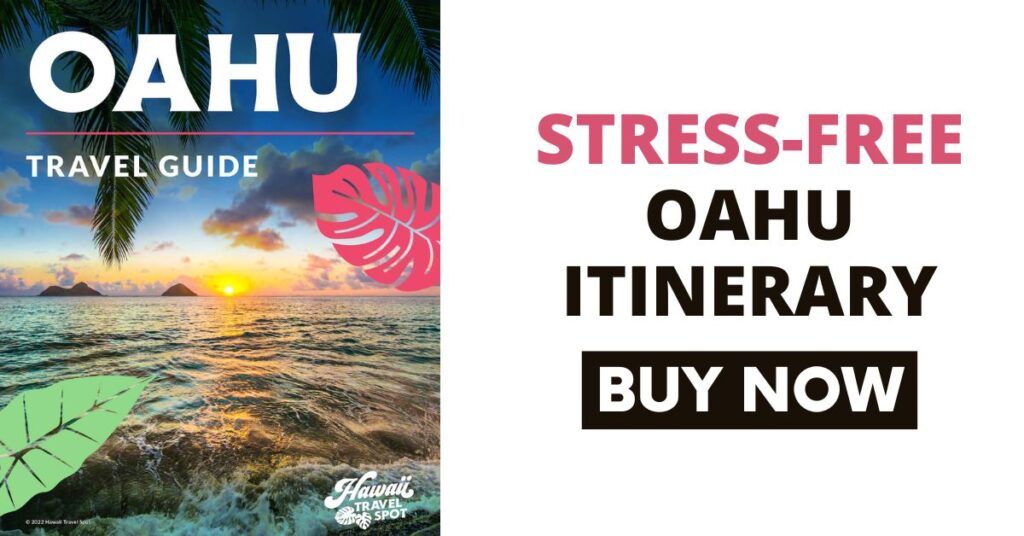 Oahu vs Maui for a Honeymoon
Planning a honeymoon in Hawaii? You probably already know that both Oahu and Maui are popular Hawaii honeymoon islands.
Planning a Maui Honeymoon
There are many romantic luxury resorts on Maui that are perfect for honeymoons. Most offer adult-only pools, secluded beaches, and amazing spa services.
Maui also has some great nightlife, especially on Front Street in Lahaina. There are many romantic Maui restaurants, cocktail bars, and places to hear live music.
And there is no shortage of romantic things to do on Maui. A few favorites include sunset cruises, horseback riding, or wine tasting.
Planning an Oahu Honeymoon
You won't have a hard time finding amazing honeymoon hotels on Oahu. Many of them are located right on Waikiki Beach and have incredible amenities and spa services.
While there are tons of romantic restaurants in Waikiki, you'll also find some amazing farm-to-table experiences on other areas of the island.
And if you're hoping to do a few Oahu honeymoon activities, I suggest doing a bar crawl in Waikiki, going snorkeling, or doing a tour at Kualoa Ranch.
Book a Hawaii Photo Shoot
Whenever we travel to Hawaii, we almost always book a photo shoot with Flytographer. They are super easy, affordable, AND it guarantees that I'll have more than just selfies. You can get $25 off if you book through this link or use the code HAWAIITRAVEL.
Maui vs Oahu: Which Island is Best for Kids?
Planning a family vacation to Hawaii? You probably already know that both Oahu and Maui are popular Hawaiian islands for kids.
Maui with Kids
There are tons of fun things to do on Maui with kids. A few of our favorites include the Maui Tropical Plantation, the Maui Ocean Center, and the Surfing Goat Dairy Farm.
Plus there are several beautiful beaches perfect for young swimmers. And lots of tasty kid-friendly Maui restaurants featuring local dishes.
Oahu with Kids
You won't run out of cool things to do on Oahu with kids. Our family loves the Bishop Museum, Sea Life Park, and exploring Kualoa Ranch.
Lanikai Beach and the Ko Olina Lagoons are perfect for beach time and calm waters. And there are tons of kid-friendly Oahu restaurants and amazing shave ice spots.
Which Island is Cheaper to Visit: Oahu or Maui?
Are you heading to Hawaii on a budget? You're probably wondering if Oahu or Maui is the cheapest Hawaiian island to visit. The good news is both of them can be somewhat affordable.
However, I want to stress that Hawaii is generally an expensive destination.
Cheap Places to Stay on Maui
If you're heading to Maui on a budget, there are several cheap places to stay on Maui. A couple of my top recommendations include the Maui Beach Hotel and the Kaanapali Ocean Inn.
There are also places to camp on Maui and even some Maui hostels.
Cheap Places to Stay on Oahu
If you're heading to Oahu on a budget, you'll find more cheap places to stay on Oahu vs Maui. A few of my top picks include the Waikiki Marina Resort at the Ilikai, White Sands Hotel, and the Pagoda Hotel.
There are a few places to camp on Oahu and you can also find some Oahu hostels.
Things to do on Maui on a Budget
You won't run out of free things to do on Maui. Besides the amazing beaches and hikes, you can peruse art galleries, catch a free hula show, or experience a gorgeous Maui sunset. Maui also has some fantastic Happy Hours, a lavender farm, and tons of botanical gardens.
Things to do on Oahu on a Budget
There are many free things to do on Oahu that won't break the bank. In addition to stunning beaches and doing sunrise hikes, Oahu offers Hawaiian sea turtles, huge swells for watching surfers, and lots of small farms you can tour.
Best Places to Stay on Maui and Oahu
If you're planning your dream vacation to Hawaii, you'll probably want to stay at a nice resort. Oahu and Maui both have some incredible options worth checking out.
There are also lots of vacation rentals on Oahu and Maui. But for the sake of this post, I'll just focus on Hawaii resorts I can personally recommend.
Maui Resorts
Fairmont Kea Lani
This Maui resort is located in the upscale area of Wailea in South Maui. It's not cheap, but you'll get your money's worth, especially if you're looking for a resort vacation in Hawaii. Check the latest rates and availability.
Honua Kai Resort & Spa
This is a cool place to stay on Maui because it has the option of hotel rooms or condos. It's my top pick for multi-generational trips to Hawaii. Plus, there's a Duke's restaurant on the property. Check the latest rates and availability.
Hyatt Regency Maui
If you're looking for a Maui resort with a swim-up bar and water slides, you'll want to stay at the Hyatt Regency Maui. It also has the best Maui shave ice stand right at the hotel. Check the latest rates and availability.
Oahu Resorts
Royal Hawaiian Hotel
The gorgeous Royal Hawaiian Hotel has the nickname of "the pink palace" and you can find all kinds of pink touches, including pink pancakes in their restaurant! It has the perfect location right on Waikiki Beach. Check the latest rates and availability.
Moana Surfrider
The Moana Surfrider is another historic Waikiki hotel that's worth looking at. It features a great spa, dining options, is near the best nightlife, and is right on Waikiki Beach. Check the latest rates and availability.
Turtle Bay Resort
For those looking for a North Shore Oahu hotel, head to the recently renovated Turtle Bay Resort. Here, you'll find incredible restaurants, beaches, golf courses, and amazing resort activities. Check the latest rates and availability.
Do You Need a Car on Maui or Oahu?
If you are staying in Waikiki and plan on booking tours with transportation, you do not need to rent a car on Oahu. But it's nice to rent one at least for a day or two if you want to explore more of the island.
It's definitely possible to visit Maui without a rental car, but it really limits your options if you want to leave your resort. I highly recommend renting a car on Maui so you can check out the island.
Discount Hawaii Car Rental is an excellent cheap option for any tourist. They feature rental cars from some of the best companies in the nation, such as Alamo, Dollar, Thrifty, Avis, and more. Check out the latest prices and details.
Oahu versus Maui: Beaches and Snorkeling
If you are a total beach bum or want to do some snorkeling in Hawaii, both Oahu and Maui have tons of great options.
Top Maui Beaches
Kaanapali Beach
Out of all Maui's beaches, Ka'anapali Beach is a crowd favorite. It's a huge beach that is lined with several resorts. This makes it super convenient for people who don't want to drive far from their hotel.
Kapalua Beach
I think Kapalua Beach is one of the prettiest beaches on Maui. It's a popular photography spot. And it's usually not very crowded.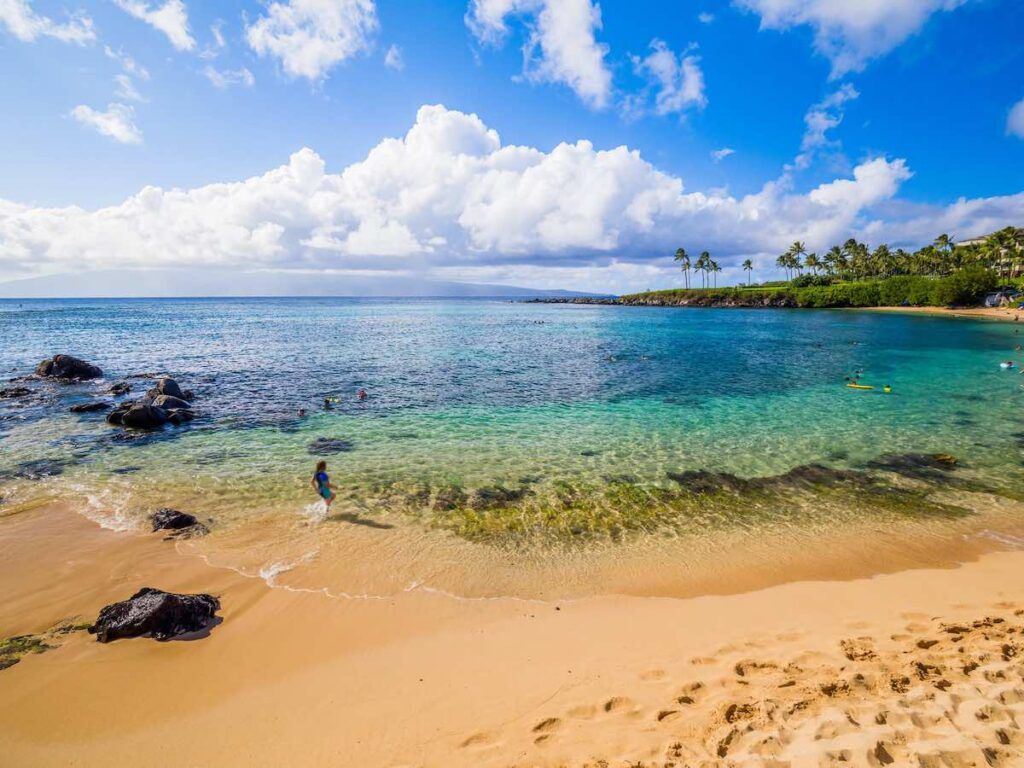 There's also a restaurant nearby which makes a great spot to sit and watch the sunset after hanging out at the beach.
Red Sand Beaches
Something unique about Maui is that it has red sand beaches, like Kaihalulu Beach in Hana. It takes some effort to get to but it's unlike anything else you've ever experienced.
Top Oahu Beaches
Waikiki Beach
This is one of the top world-renowned beaches and it should be on your must-visit lis. Not only is it one of the most picturesque beaches in Hawaii, but there are tons of activities to do here including a submarine ride, glass bottom boat rides, and tons of sunset cruises.
Hanauma Bay
This is one of the best places to snorkel on Oahu. They use a reservation system to limit the number of visitors they get each day.
Plus, they offer some cool tours and you can learn about Hawaiian sea life.
Kailua Beach Park
This is one of the most spectacular beaches in Hawaii. Not only are there incredible mountain views, but you can rent kayaks to do a boat ride over to the Mokulua Islands. It's an amazing outdoor adventure!
Maui vs Kauai: Hiking Trails
If you're wondering which is the best Hawaiian island for hiking, let me break it down for you. Both have pretty amazing hiking trails for nature lovers, but they are vastly different.
Where to Hike on Maui
I'ao Needle
If you want an easy hike on Maui, look no further than I'ao Valley State Park. There's a short, paved trail that leads up to a viewing platform of I'ao Needle.
Plus, you can walk through a cute garden and even visit a Maui swimming hole.
Sliding Sands Trail
Want to hike at Haleakala volcano? The Keonehe'ehe'e Trail (aka Sliding Sands Trail) is a popular choice for Haleakala hiking trails.
You'll get to explore a dormant volcano while catching amazing views of the Maui coastline in the distance.
Pipiwai Trail
This is one of the best hikes on the Road to Hana. I recommend getting there early, if possible. You'll get to hike through a bamboo forest until you reach a secluded waterfall.
Where to Hike on Oahu
Diamond Head
Hiking Diamond Head is on most visitors' Oahu bucket list! I suggest going in the early morning or near sunset to avoid the heat. There are a lot of stairs but it's totally worth the climb.
Waimea Valley
If you want to swim in a waterfall on Oahu, this is the place to do it. You do need to pay an entrance fee, but then you can do a short hike to Waimea Falls where it's all set up for you to swim.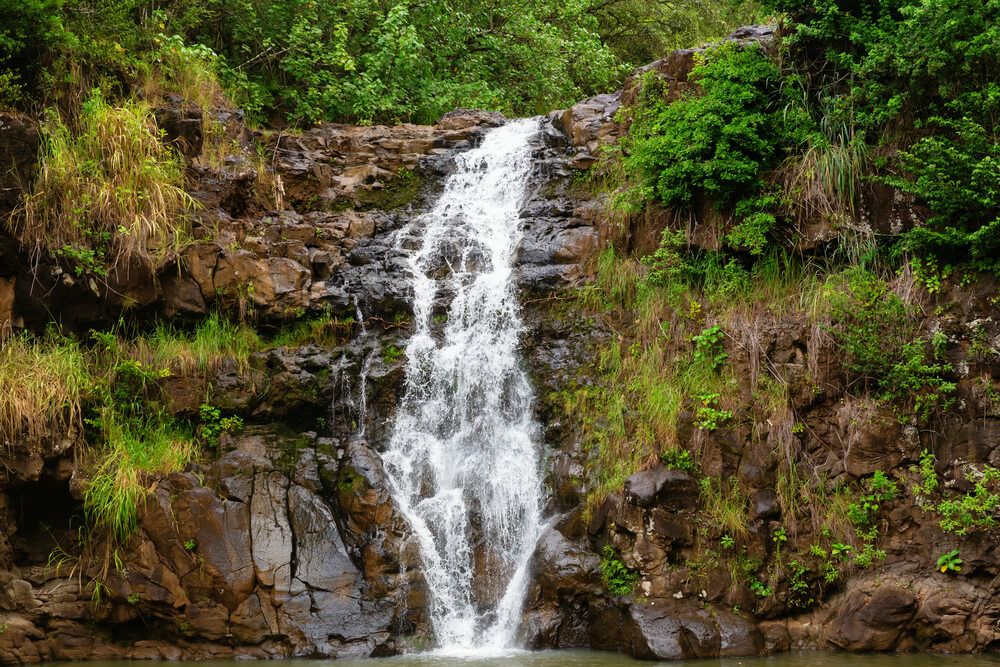 Plus, you'll get to walk through a cool cultural park and botanical garden.
Lanikai Pillbox
This is a popular sunrise hike that is challenging but ends with a spectacular view. It's also an Instagrammable spot on Oahu where hikers love to take selfies.
Oahu vs Maui: Outdoor Activities
For people who love adrenaline rushes, both of these Hawaiian islands are a great fit. They offer some of the same activities but also ones unique to each island.
Best Outdoor Maui Adventures
Ziplining on Maui
Thrill-seekers will love all the Maui ziplining options! One of the most popular places to zipline on Maui is Camp Maui along the North Shore.
Swimming in a Waterfall
Not all Hawaii waterfalls are safe to swim in. On Maui, there's Twin Falls along the Road to Hana. This is one of the best Maui waterfalls to swim in. It's not too far into the drive, so it makes a great first stop!
Snorkeling at Molokini Crater
One of the best places to snorkel on Maui is Molokini Crater. You'll need to book a Molokini boat tour because it's actually off the coast of Maui. Usually these Molokini tours also include a stop at Turtle Town where you can swim with Hawaiian Green Sea Turtles!
Best Outdoor Oahu Adventures
Kaneohe Sandbar
One of the most unique things to do on Oahu is to visit the Kaneohe Sandbar. You'll need to hop on a boat tour to get there. But, it's an incredible place to snorkel or float around in the ocean. Check out the best Oahu sandbar tours!
ATV Tour at Kualoa Ranch
This is the most popular Oahu tour for couples and families. It's technically a UTV tour, but you'll go all across Kualoa Ranch to see filming sites (including Jurassic Park).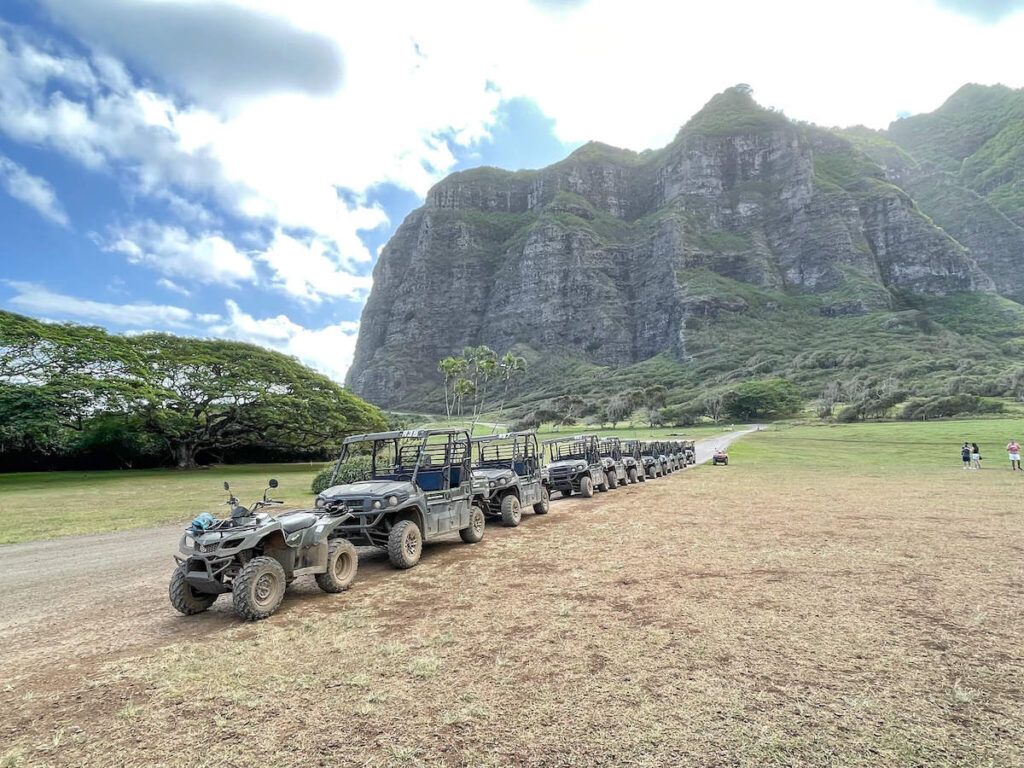 You won't believe all the stunning views along the way as you explore all three sacred valleys.
Shark Cage Diving
For those brave souls out there, you might want to do this shark cage diving experience. You'll be protected inside a cage in the ocean where you can get close to real sharks! Check out the top Haleiwa shark tours!
Oahu vs Maui: Nightlife in Hawaii
If you're looking for the best nightlife in Hawaii, choose Oahu. You'll get a taste of "city life" in Honolulu and Waikiki. There are tons of karaoke bars, lounges, tiki bars, and pretty much anything you can think of.
However, don't count Maui out. West Maui has some cool celebrity-owned restaurants. And there are plenty of places to listen to live music while enjoying a libation on Front Street in Lahaina.
Hawaiian Cultural Activities on Maui and Oahu
Of course, it wouldn't be a Hawaiian vacation without attending a luau! You'll be happy to know that both Kauai and Oahu have some great luau options.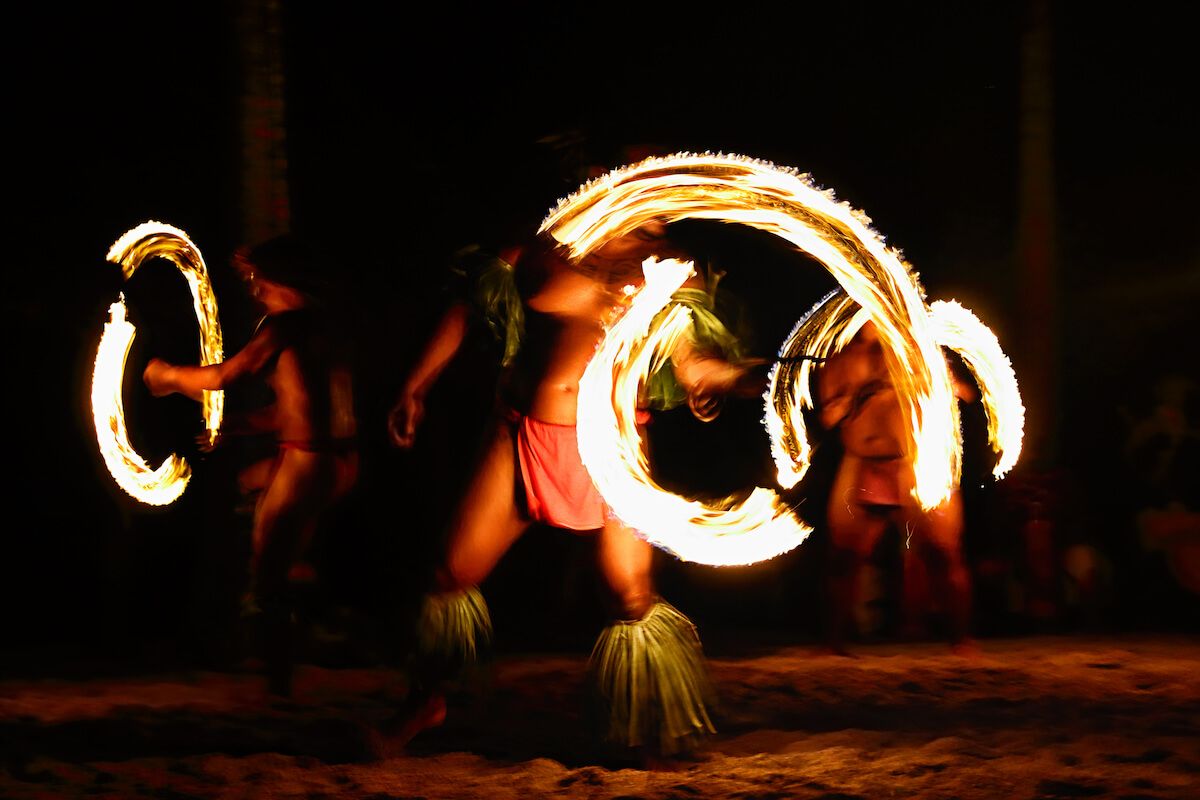 Best Maui Luaus
My all-time favorite luau on Maui is the Feast at Mokapu in Wailea. They have strong cocktails and the plated dinner is a gourmet experience. It's perfect for honeymooners! Other Maui luau options include the Old Lahaina Luau and the Myths of Maui.
Best Oahu Luaus
My two favorite luaus on Oahu are Toa Luau in North Shore Oahu and Experience Nutridge Luau in Honolulu. These are both small, intimate events that are more authentic than other places. Other Oahu luau options include Ka Moana Luau and Mele Luau.
Are There More Things to do in Oahu or Maui?
Both Maui and Oahu have amazing outdoor activities, sunset sails, small beach communities, and awesome farm tours.
Oahu is the most populated island in Hawaii and it has a plethora of tourist attractions. Some of these include Dole Plantation, Pearl Harbor, the Polynesian Cultural Center, Bishop Museum, Iolani Palace, and more.
But Maui has some pretty epic excursions like the Road to Hana and Haleakala National Park. You really won't run out of things to do on Maui, especially if you explore outside of West Maui.
Should You do Maui or Oahu First?
As someone who has visited the Hawaiian islands more than 40 times, I always suggest that first-timers visit Oahu on their first trip. That's because there are historical sites, and cultural activities, and you'll get a taste of the "big city."
However, if you're looking for a tropical getaway and don't want to see the main Oahu attractions (like Pearl Harbor) choose Maui. It has amazing day trips and some of the best beaches in the world.
If you can swing it, I recommend island hopping between Oahu and Maui. I'd start with Oahu and do a bunch of tours/activities, and then head over to Maui to relax and enjoy your vacation.
Want to Know More About Visiting Maui?
Are you ready to plan your trip to Maui? I have TONS of resources to help you! Check out where to stay, where to eat, what to do, and what to pack!
Want to Know More About Visiting Oahu?
Are you ready to plan your trip to Oahu? I have oodles of travel posts for you! Check out where to stay, where to eat, what to do, and what to pack!