Planning a trip to Oahu? One of the top things to do in Oahu is experience a traditional Hawaiian luau. Find out the best luau on Oahu for your next trip.
This list of the best luaus on Kauai contains affiliate links which means if you purchase something from one of my affiliate links, I may earn a small commission that goes back into maintaining this blog.
Take a trip to Oahu and you'll find that there are luaus in every major area where guests stay. But how do you know which is the best luau on Oahu for you?
One of my favorite things to do when visiting the Hawaiian Islands is attending luaus, and I've been to several in Oahu. What I love about all the luaus here is that they all have something unique to offer!
You can find a wide range of both classic and iconic luaus that appeal to tourists. But there are also more authentic luaus for those interested in island history and culture. And then you'll also find a variety of luaus that are a mix of both classic and authentic.
I think that some of the best luaus in Hawaii can be found in Oahu. If you need help choosing the best one, you can read common questions about what to expect at a luau.
Then I'll share my pick for the top luaus in Oahu.
Don't have time to read a bunch of Hawaii blog posts and reviews? Here are some of our top picks for visiting Oahu.
Popular Oahu Tours/Activities
Favorite Oahu Resorts/Hotels
Want to Rent a Car in Hawaii?
One of the best places to rent a car in Hawaii is Discount Hawaii Car Rental because they get the best rates from top national companies like Alamo, Dollar, Thrifty, Avis, Enterprise, Budget, and Payless.
Want to skip all the planning and just access my detailed Oahu itinerary complete with daily schedules, fun activities, and travel hacks? Click the button below.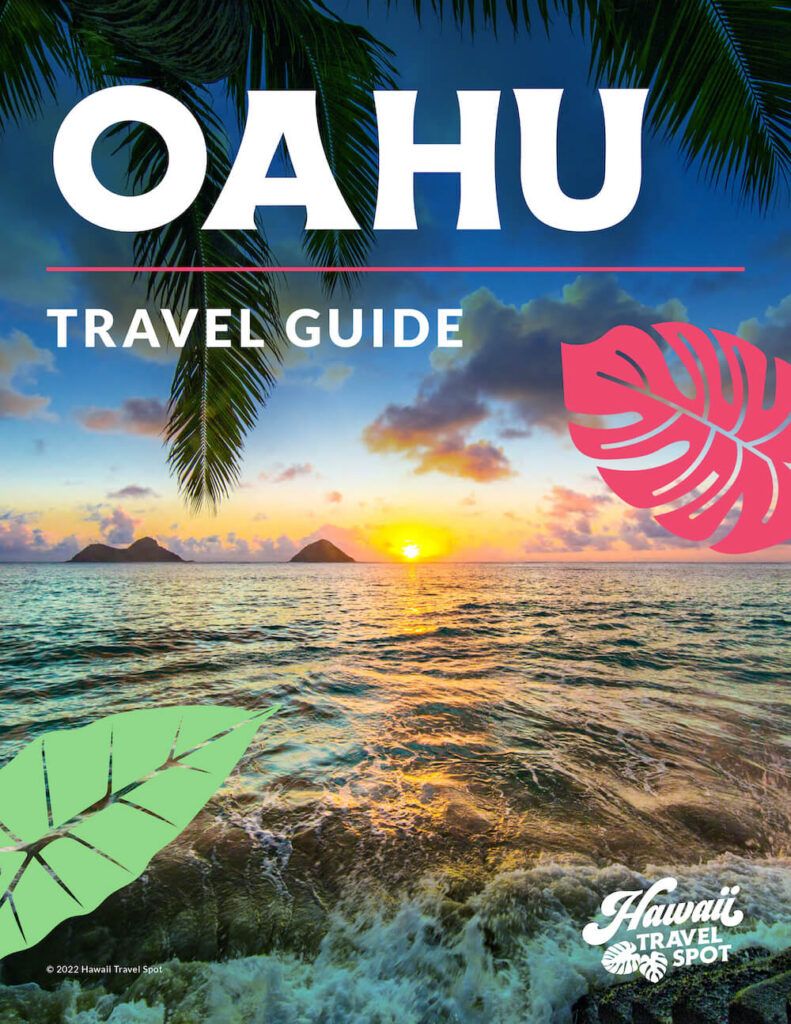 Where to Find the Best Luau in Oahu
There are amazing Oahu luaus worth seeing on every side of the island! Some of the best luaus are on the North Shore. The luaus in Honolulu or Waikiki offer range and variety unlike anywhere else.
And you'll find exciting luau shows on the Leeward Coast. This is where to go if you want great sunset views for your luau! Find out about all my top picks in each region to help you choose the best luau in Oahu.
North Shore
Toa Luau
I've been a hula dancer for over 25 years and have high standards for luaus. So, trust me when I tell you that Toa Luau is one of the best luaus in Oahu and possibly Hawaii!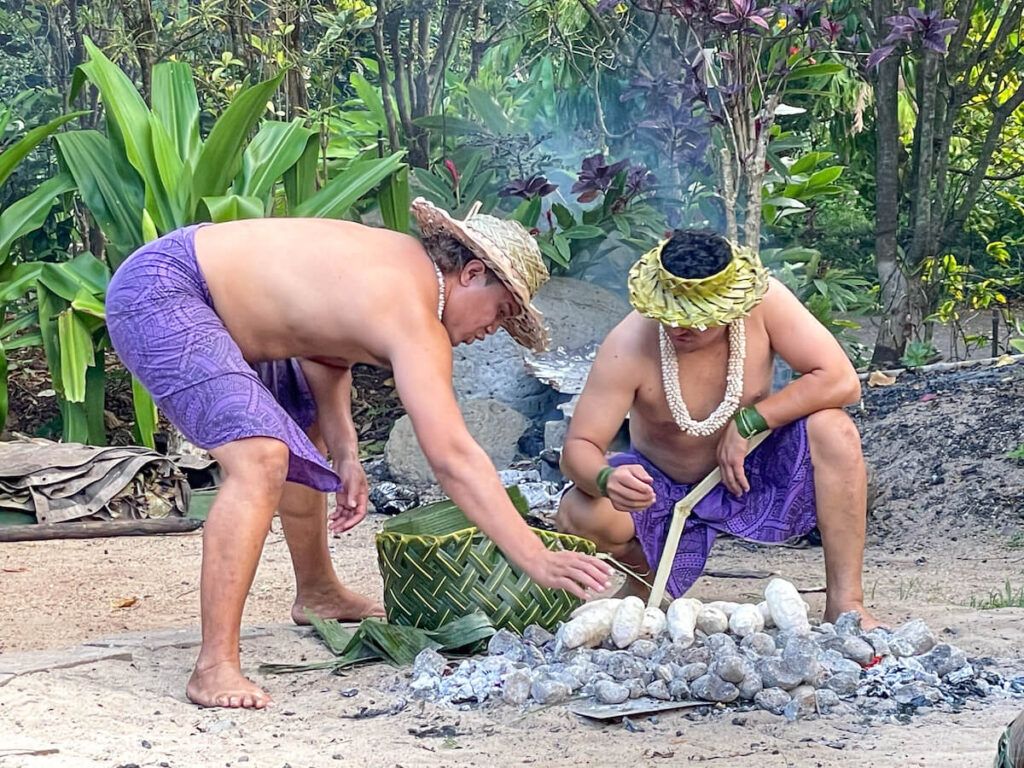 It's held at the Waimea Valley Visitors Center near Sunset Beach. If you're driving, you'll be happy to know that there's plenty of free parking. And if you don't want to go to the Toa Luau's dinner show, they also have an early start time of 12:30 PM.
Toa Luau is put on by a Samoan family that includes a lot of their culture! Across the whole night, several different Polynesian cultures are represented and it's a great learning experience.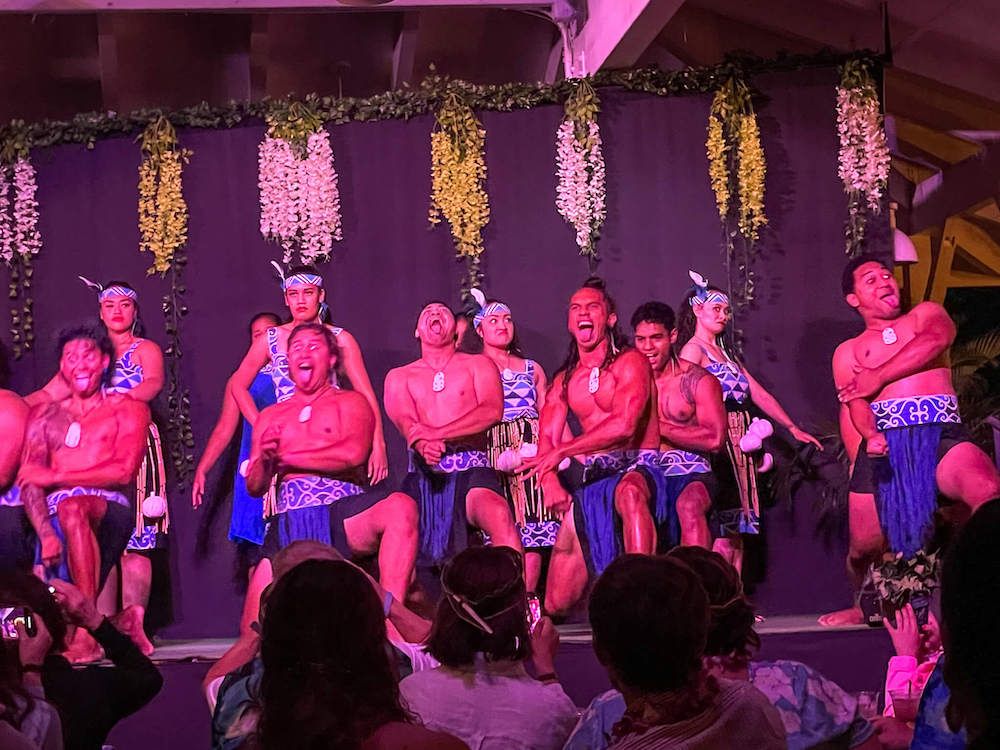 There are hands-on activities and unique cultural demonstrations you don't see at other shows, like a kava ceremony. Dinner is a buffet that features a few authentic Samoan dishes.
After dinner, there's a great Polynesian show with a fire knife dance and a hula performance. Check the latest rates and availability.
Alii Luau at the Polynesian Cultural Center
Probably the most authentic luau in Oahu is the Alii Luau. It's a show at the Polynesian Cultural Center that's run by the Church of Jesus Christ of Latter-day Saints in Laie. This luau is very unique and many people say it's the best luau in Oahu.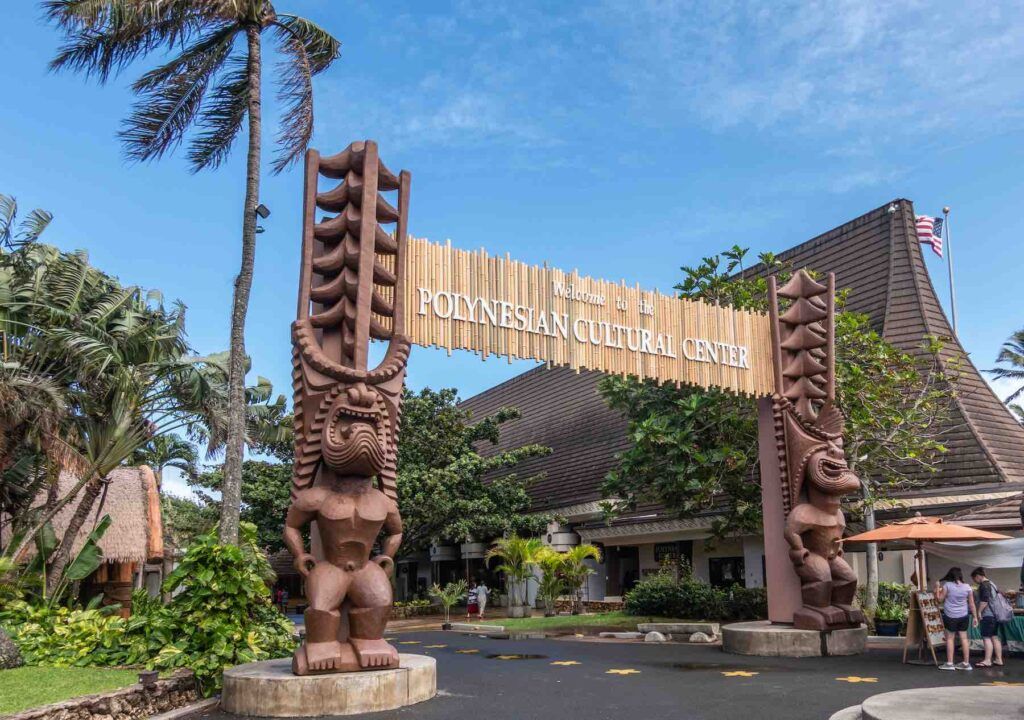 The Polynesian Cultural Center gives you an in-depth, hands-on look at some of the cultures that make up the nation of Polynesia.
The primary attraction is a beautiful manmade lagoon with 6 villages representing the 6 main Polynesian cultures. In each village, there are activities and demonstrations specific to that culture.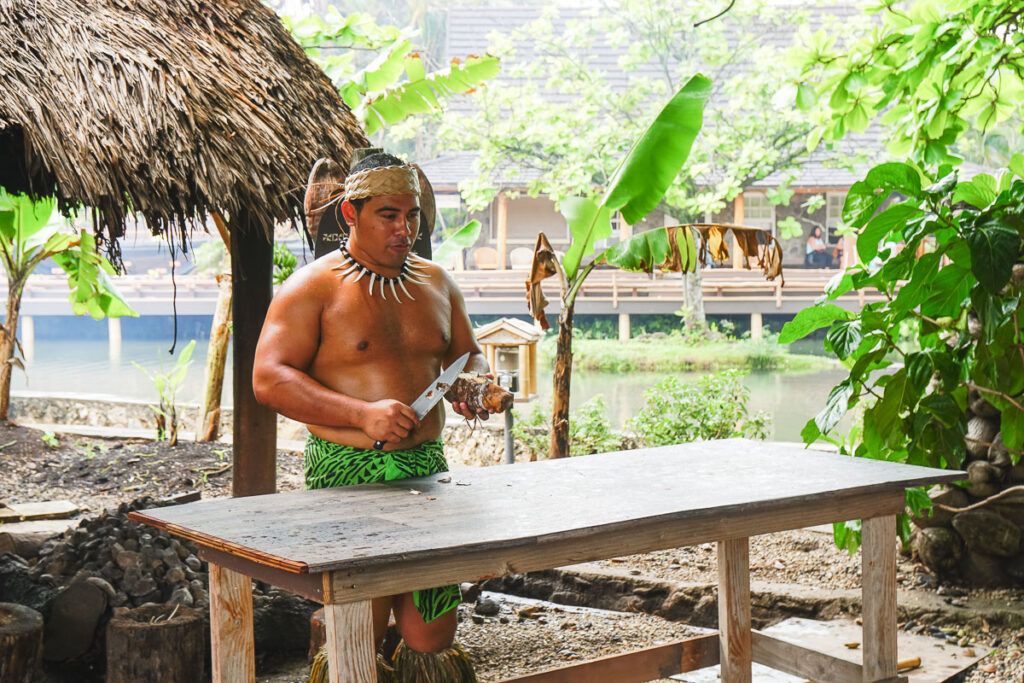 When you buy your tickets, you gain access to the entire center. Come at noon and spend a few hours walking through the villages.
Your ticket also comes with a guided tour of the park and a canoe tour of the lagoon that runs between the villages.
After 4 hours in the park, you'll go to the luau with a buffet dinner and an authentic show. NOTE: There is NO alcohol at this luau. Check the latest rates and availability.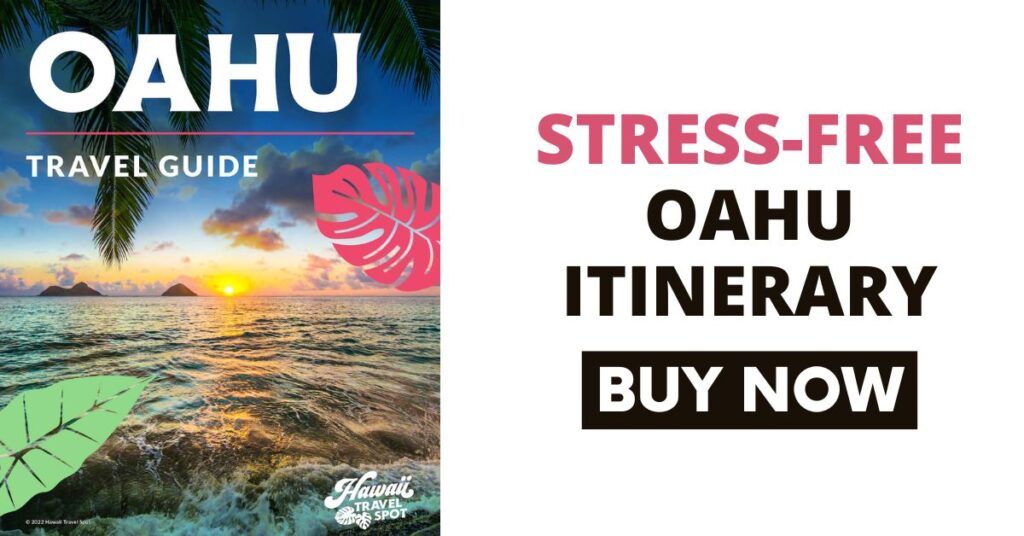 Honolulu/Waikiki
Queens Waikiki Luau
If you're looking for the best luau on Oahu, consider the Queens Waikiki Luau at the International Market Place. This Waikiki luau dinner is conveniently located off Kalakaua Avenue. After a day of shopping or hanging out on the beach, you can walk to your luau from your nearby hotel!
I recommend this Waikiki luau show if you've never been to a luau before and are staying in the area.
It's a very classic and traditional luau with a lei greeting, a family-style buffet dinner, and a show with hula dancers, vocalists, and a fire show. Enjoy the night while you sit at the center of an outdoor mall under a canopy of trees. Check the latest rates and availability.
Rock-a-Hula
For something different, check out the Rock-a-Hula show! This is a larger luau held in the Royal Hawaiian Theater, which holds 750 guests. There's a live band, fun tribute bands you'll love, and storytelling covering 100 years of Hawaiian history.
Rock-a-Hula has different ticket options for different budgets, making it the cheapest luau in Oahu. You can pay less and only go to the show if you're looking for Oahu luau deals. Or upgrade your tickets to enjoy mai tais and a buffet dinner nearby before the show. Check the latest rates and availability.
Book a Hawaii Photo Shoot
Whenever we travel to Hawaii, we almost always book a photo shoot with Flytographer. They are super easy, affordable, AND it guarantees that I'll have more than just selfies. You can get $25 off if you book through this link or use the code HAWAIITRAVEL.
Hale Koa Luau
If you're looking for a luau on Waikiki Beach (and you are a member of the military), the Hale Koa Luau is as close as you'll get. It's just minutes from the beach. It's a beautiful, high-quality example of a traditional luau experience.
At Hale Koa Luau, you have table-side service with a 3-course dinner instead of a buffet. It's also a great choice if you're vegetarian or gluten-free. There's a separate kids' menu, too.
After a lei greeting and presentations, dinner begins with an imu ceremony. Then there's a classic show with fire and different Polynesian dances. For the price and the attention to detail, I think this is the best luau in Waikiki Beach!
Experience Nutridge Luau
You might have been to a touristy, traditional luau and want something different. I suggest the Experience Nutridge Luau north of Honolulu. It's the best Honolulu luau if you're looking for a truly authentic show!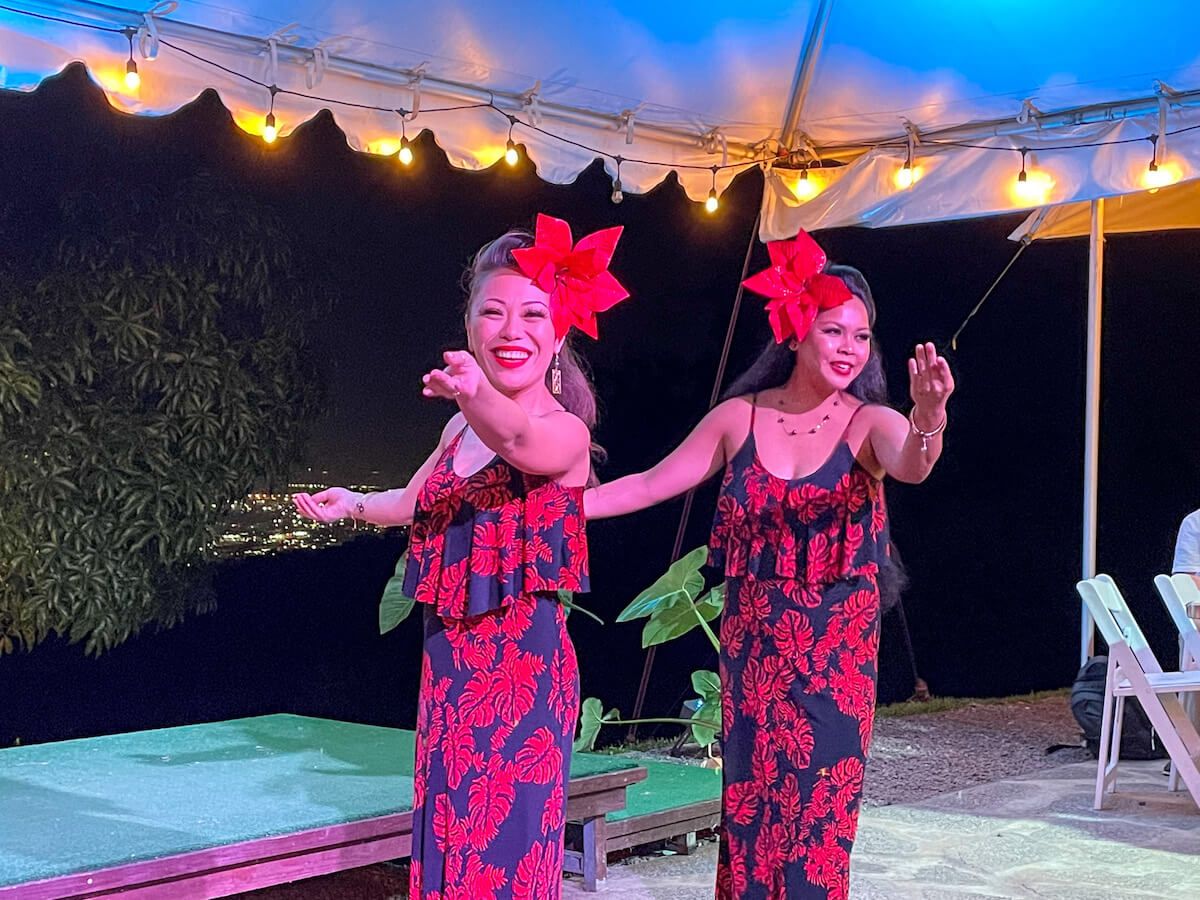 It's an intimate luau held on the historic Nutridge Estate plantation. You can drive or book transportation with your reservations.
The biggest part of the evening is on the estate grounds before dinner. There are so many great demonstrations, performances, and hands-on activities that I've never seen at other luaus. You learn a lot about Hawaiian culture and the Nutridge Estate.
Next, there's a buffet dinner and while you eat you'll watch dancers demonstrate contemporary Polynesian dances. After dinner, you're invited to dance or just watch everyone else. It's a nice way to end the evening at this unique luau! Check the latest rates and availability.
Aloha Kai Luau
For another unique luau, head past Diamond Head to the oceanfront Aloha Kai Luau. This is one of the priciest luaus on my list, but I think it's the best luau in Honolulu at this price point.
Everything about this luau is top-notch. There's the setting with Diamond Head on one side and the ocean on the other. Transportation from Waikiki is included in the price. When you arrive there's an open bar and different hands-on cultural activities to try out.
Next, you'll enjoy a fabulous buffet dinner and a show with talented performers. The Ka Moana Luau is absolutely beautiful and it's a must-see! Check the latest rates and availability.
Ka Moana Luau
The Ka Moana Luau used to be located at Sea Life Park, but they recently moved to a location in Waikiki. It's held at the iconic Aloha Tower.
They've completely re-vamped their show and have improved their dining experience.
Guests can enjoy pre-show appetizer stations, table service for drinks and dinner, and even stop by a lemonade stand with local ingredients. Check the latest rates and availability.
Leeward Coast
Paradise Cove Luau
See what many consider to be the best luau in Oahu at the Paradise Cove Resort. If you're staying at Ko Olina, it's steps away from your accommodations. But there's also transportation available if you're staying in Honolulu and Waikiki.
The Paradise Cove Luau offers great sunset views over the water while you enjoy a traditional luau dinner and show. You'll be greeted with drinks and a lei. Then there's a great variety of cultural activities followed by an imu ceremony.
The buffet dinner here is huge with Polynesian and American foods, so it's a great choice if you have a picky eater in your party. After dinner, there's a live band with musical performances and dances.
With this luau, you choose from 3 different packages with perks like souvenirs, drinks, and VIP seating. Check the latest rates and more information.
Mele Luau at Coral Craters
Another fun Oahu luau is Mele Luau at Coral Craters in Kapolei. It's situated near Ko Olina.
The show is a Polynesian Love Story featuring traditional dances including the Hula, Haka, Siva, and Otea. There's also a spectacular fire knife dancing and some special surprises along the way.
They even offer roundtrip transportation from Waikiki. Check the latest rates and availability.
Germaine's Luau
The top-rated luau in Oahu is Germaine's Luau and it's a must! A little different from other Leeward Coast luaus, it's backyard-style on a private beach south of Ko Olina. After receiving your lei greeting and drink at the tiki bar, enjoy music while you take in the sunset.
Dinner is a casual buffet, after which there's a show with storytelling, music, and dance covering different Polynesian cultures. End the show with an exciting fire knife show.
This is a large dinner show, so I recommend upgrading to VIP, which gives you the best seats with an unobstructed view. Check the latest rates and availability.
Chief's Luau
My final pick for the best luau on Oahu is Chief's Luau in Kapolei. This is a fun show with small touches that make it stand out! After you arrive, there's time to go to the artisan marketplace and go shopping or you can try out different cultural activities and demonstrations.
Next is a Hawaiian buffet dinner and open bar before the show begins. It has a fun host named Chief Seilu, and the Polynesian show spotlights a fire knife dance team that has won awards.
At Chief's Luau, your ticket comes with drinks, and the option of pick up and drop off from Waikiki. Check the latest rates and availability.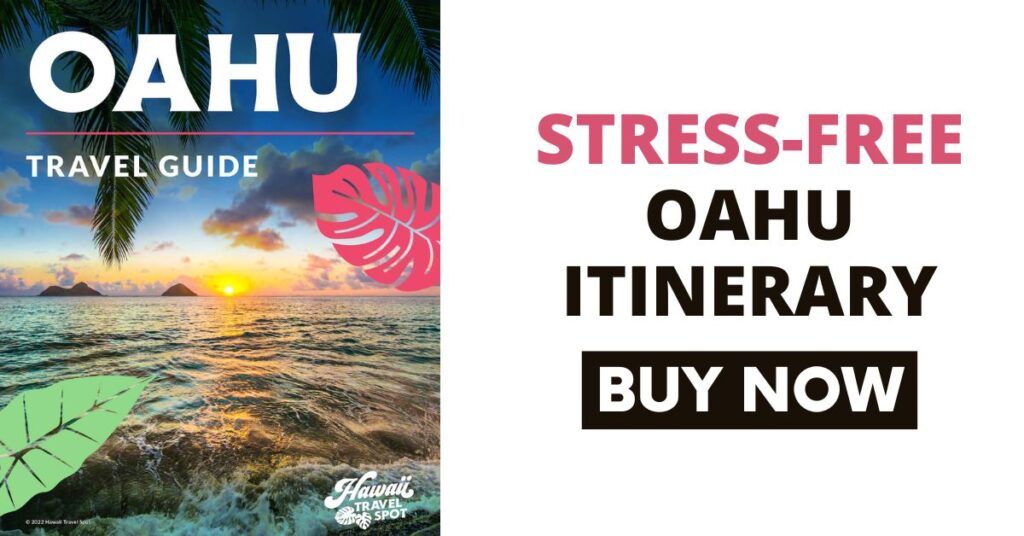 FAQ about Hawaiian Luaus in Oahu
What happens at a luau?
Luaus are a cultural event that usually lasts anywhere from 3 to 5 hours. At most luaus, you arrive with a lei greeting and a cocktail and enjoy cultural activities before dinner. This might include an imu ceremony where a traditional roast pig is unearthed, or you might learn to hula dance. Next is dinner, which is presented in a classic all-you-can-eat buffet at most luaus. During or after dinner there's a show with performances around the culture and history of the Hawaiian Islands. The entire night is like an exciting party!
Are luaus for adults or kids?
Luaus are for everyone! They're not specially geared towards children, but rather tourists in general. Some luaus offer discounts for younger children or have activities just for kids, but luaus also tend to recognize honeymooners and those celebrating anniversaries. So, while most luaus are family-friendly events, they're also popular with couples. You can be a child-free person and have a great time.
What do you wear to a luau?
I love to dress up, but you don't have to! Some luaus are more suited for dressy casual attire while for others it really doesn't matter. But you get a beautiful lei to wear and a lot of luaus have photographers. So, why not dress up and have fun? Think about a Hawaiian dress and sandals or a tropical shirt and khaki or linen pants.
How much do luaus cost?
Luaus are usually at least $100 per person, but you'll find a wide range of prices for different tastes and experiences. Remember, you're paying for dinner, entertainment, and other perks like bottomless drinks. If you're looking for a cheap luau in Oahu, I find that Honolulu and Waikiki have the lowest prices. North Shore is best for luxury experiences.
Is there a free luau in Oahu?
If you've never been to a luau and aren't sure if it's for you, there's always the Kuhio Beach Hula Show in Honolulu. While it's not a full luau experience, it's a 30-minute show with different performances under a beautiful banyan tree just off the beach. They're usually there performing if you walk by the beach park most Saturday nights. It's the closest thing to a free luau in Oahu.
See the Top Luaus in Oahu
If you've never been to a luau before, it can be confusing to know how to choose the right one! A luau is a fun cultural event with a dinner and show meant to welcome and involve guests.
Even if you've been to a luau before, I encourage you to try different ones! Some are more authentic, while others are iconic and classic, but all are a great way to experience Hawaiian culture.
Luaus are different on every island in Hawaii. Oahu offers a wide variety of different luau experiences. I've given you my top pick for the best out of all of them. Now you can choose the best luau in Oahu for your next trip to the islands!