Are you planning your first trip to Hawaii? Don't be a tourist that makes one of these Hawaii mistakes that are so easy to avoid.
This list of Hawaii mistakes tourists make contains affiliate links which means if you purchase something from one of my affiliate links, I may earn a small commission that goes back into maintaining this blog.
Worried about making a mistake on your first trip to Hawaii? You're not alone!
I've been to Hawaii dozens of times, and I've made all sorts of mistakes. But that's okay – because I'm here to help you!
If you're planning your first trip to Hawaii and are afraid of making big or small mistakes, you should look through this list!
Whether it concerns money, food, or travel, this list, while not entirely comprehensive, should have an answer to your questions!
Keep scrolling to check out my list of tips for avoiding common mistakes on your first trip to the Aloha State. You'll be glad you did!
Want to skip all the planning and just access my detailed Hawaii itineraries complete with daily schedules, fun activities, and travel hacks? Click the button below.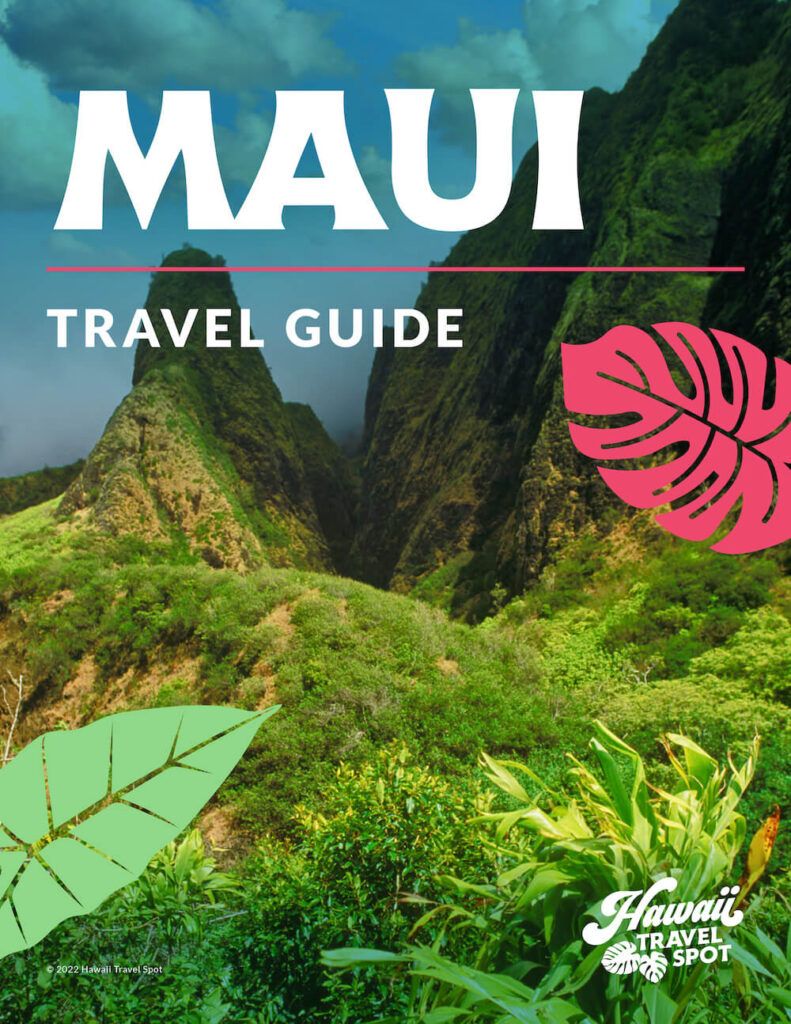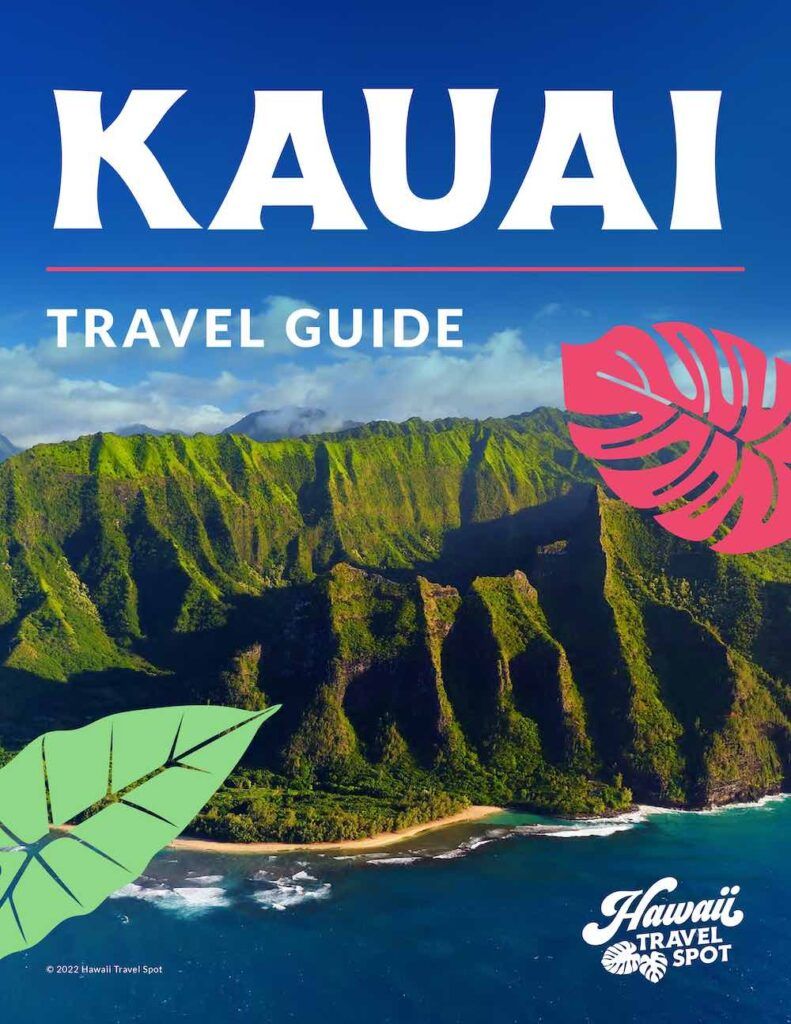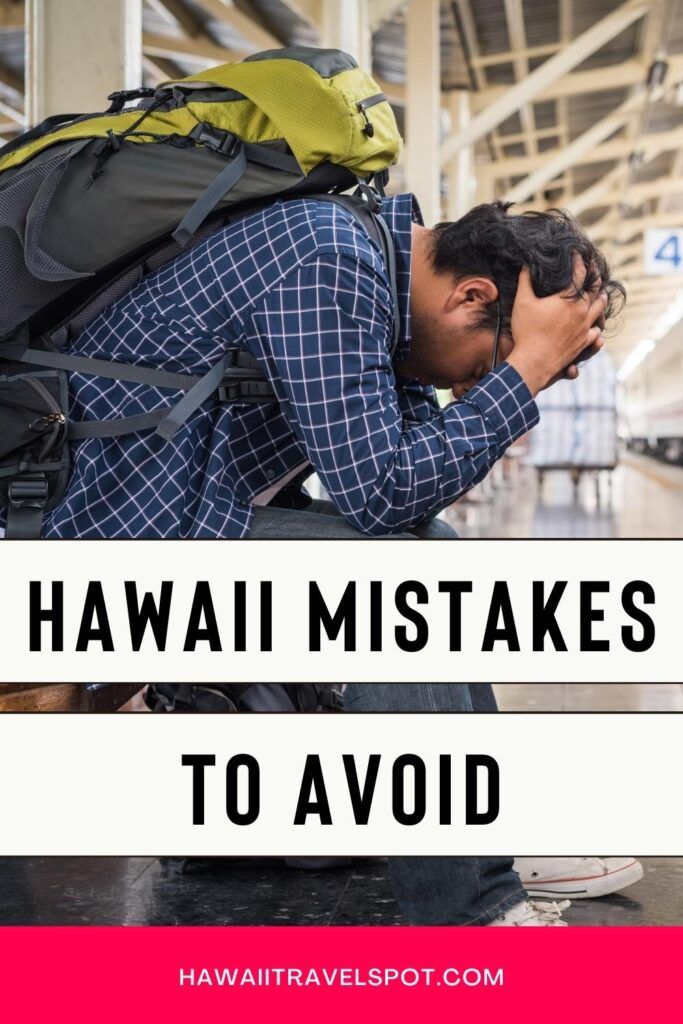 25 Hawaii Mistakes That Are Easily Avoided
1. Only eating at national chains instead of local restaurants
Hawaii's local food is diverse and delicious. Due to Hawaii's unique ecosystem and Asian influences, the food is unique and probably unlike anything you've eaten.
Some of my personal favorites are poke, kalua pork, lau lau, saimin, garlic shrimp, beef stew, and haupia! Traditional Hawaiian food commonly uses some characteristic ingredients such as taro, ahi fish, sweet potato, coconuts, and pineapple.
Nothing makes my heart sink more than a Hawaiian tourist who eats predominantly at chain restaurants. Eating Hawaiian food is a once-in-a-lifetime experience that I'd highly recommend! For more information, check out some of the best foods to try in Hawaii.
2. Not factoring in resort fees/parking fees
With the hassle surrounding travel fees and reservations, it's often easy to forget about or underestimate the costs of staying in hotels and resorts or even parking at landmarks or museums.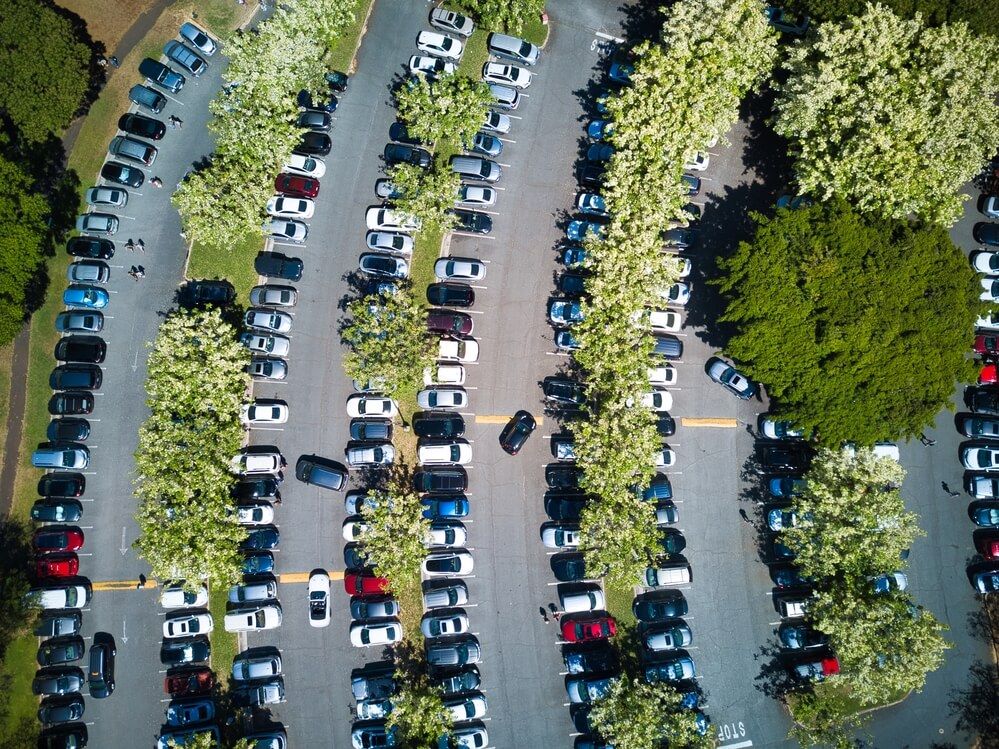 While it's very understandable for first-time visitors to make that mistake, I'd be especially careful to factor expensive parking and resort fees into your budget. This is especially true if you are a traveler who enjoys "going with the flow."
Some examples of sneaky, unexpected fees are parking fees in Waikiki, whether for parks or hotels – especially if you are considering renting a car.
3. Ignoring beach warnings
Beach warnings are there for a reason. This is especially true in Hawaii, where wildlife is unpredictable, and waves are sometimes harsh and dangerous.
There are various reasons why you may see a beach warning. It could be poisonous jellyfish in the water or high-surf warnings. You should always heed beach warnings and stay out of the water when you see them.
You should be especially careful if you are traveling with children. They can be impulsive and reckless, so while on the beach. So always keep an eye on them to make sure they stay out of danger.
4. Not researching which island to visit
Although every single island in Hawaii is indubitably fun, each is unique and offers different opportunities that suit different types of people.
For example, Oahu and Maui are famous islands with various activities, but in substance, they are vastly different experiences.
Maui is a more "chill" experience, focused on appreciating and being with nature and wildlife. Oahu is a more densely populated island with more urban areas and tourist attractions.
If planning a trip to Kauai, don't expect to see lava; if planning a trip to the Big Island, don't expect to see Pearl Harbor!
When planning your trip to Hawaii, I'd do a substantial amount of research into the activities, resorts, and overall vibes at each island before coming to a decision. While I'm sure you'll have fun no matter what, you may be disappointed if you make an uninformed choice.
5. Planning a tight itinerary
Now, I totally understand this mistake – I've made it many, many times, and I've seen many others do the same, especially on their first trip to Hawaii.
Simply put, there are a lot of activities to enjoy and a lot of natural attractions to visit. But, as tempting as it may be to try to cram every possible activity into your schedule, I've found through personal experience that doing so results only in stress and anxiety.
If you're trying to do as much as possible, a scenic drive may become a frantic ride to the next destination – you'll enjoy everything less and generally have a worse experience.
My advice is to give yourself and your family flexibility when traveling – that way, you can spend time at and savor the things you do. After all, even if you don't see everything, there's always a next time!
6. Not reading about Hawaiian history before your trip
I've seen many tourists and many travelers focus too much on the vacation itself. Whether it's planning or booking the perfect resort, many people forget to leave the time for themselves and their families to learn about Hawaiian culture and history.
Some of you may be skeptical about the importance of learning about Hawaiian culture and history, unaware of how intriguing and rich it can be.
Whether you're learning about Hawaiian religious beliefs or its history of annexation and imperialism, the information itself has inherent value that should not be forgotten or dismissed.
Furthermore, an understanding of Hawaiian culture is sometimes required to fully appreciate the vast beauty of its landscapes. For example, some landmarks along the Road of Hana are given importance because of their cultural significance.
So – perhaps, while sipping mai tais, you should pick up Hawaii's Story by Hawaii's Queen, which was written by the last queen of Hawaii, Queen Liliu'okalani.
It will also give you some much-needed context about issues in Hawaii regarding tourism and vacation rentals.
7. Not following a Hawaii packing list
This applies the most to those travelers that like to "go with the flow" – I know the concept of packing lists sounds tedious and quite annoying.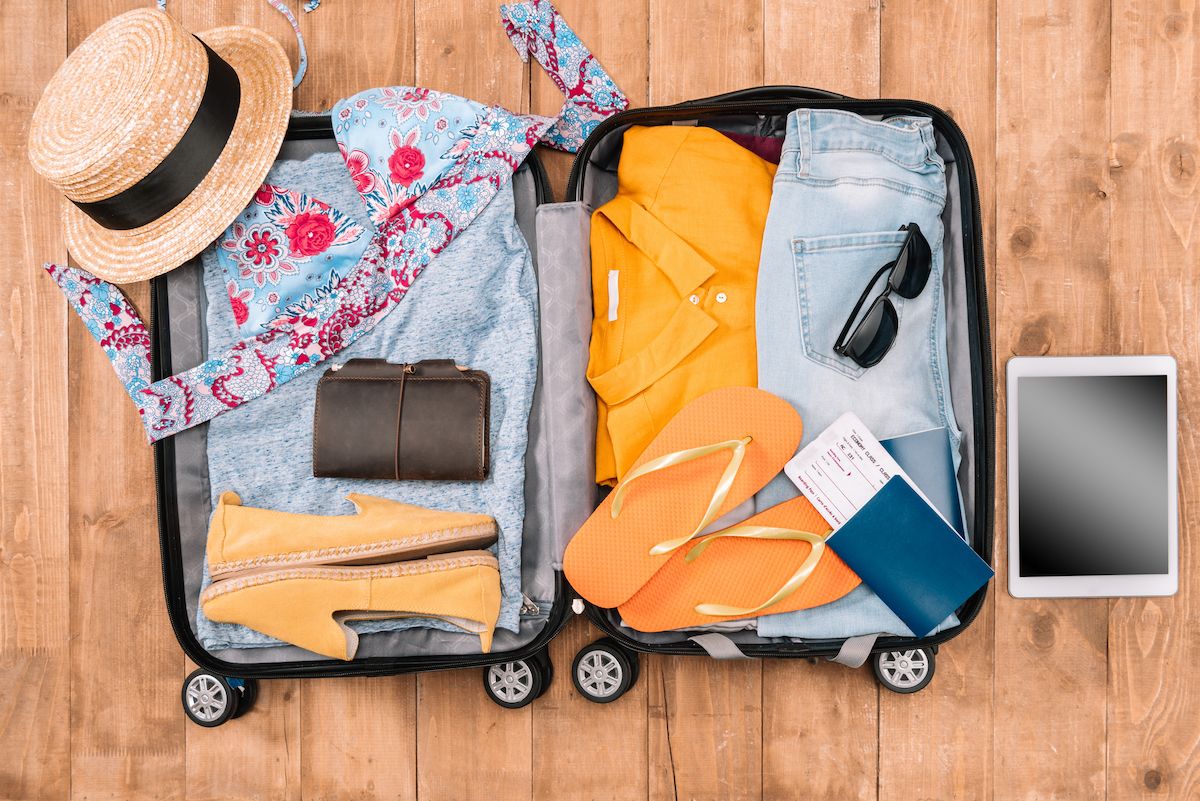 I know you'd rather wing it, but even as someone who likes to plan meticulously ahead, I've forgotten the necessary medication, sunscreen, swimsuits, and other vital items to enjoy Hawaii.
Compiling and following a packing list to the letter may be a temporary annoyance. Still, I promise it's worth it – there are some things that, if forgotten, could ruin your Hawaii experience altogether.
Check out 17 things you're probably forgetting on your Hawaii packing list!
8. Visiting during Hawaii's high season
If you can, you should try your best to avoid the high season – although I understand that visiting during the high season may be inevitable for families with kids. Hawaii's high season runs from mid-December to April in the Spring and mid-June to September in the Fall.
The high season makes everything much more expensive – whether it's airplane tickets or resort reservations, it'll cost you a surprising amount of extra money.
The high season also means that everything will be significantly more crowded, especially beaches and other natural attractions. It'll also be harder to book reservations at activities or buy tickets for the aquarium or museums.
9. Only packing shorts and tank tops
Despite Hawaii's reputation as a sunny, beach-covered paradise, you will need much more than shorts and tank tops. If you're planning, for example, to go on strenuous hikes, you should bring long pants to avoid injuries and foliage.
If you're planning on staying at a resort, eating at a fine-dining restaurant, attending a luau, exploring Hawaii Volcanoes National Park, playing golf, visiting heiaus, or visiting Haleakala, you may want to bring warmer or more formal clothing.
My recommendation is first to make an itinerary, then pack accordingly. Make sure you put the same consideration into clothes as you do into the shoes!
10. Trying to visit all the islands in one trip
Hawaii's many fun-filled islands may all be extremely captivating, but one of the most crippling things you can do when planning a trip to Hawaii is attempt to visit too many islands in one visit.
If you've planned to visit Oahu, Maui, Big Island, and Kauai, all in one week, you may want to reconsider.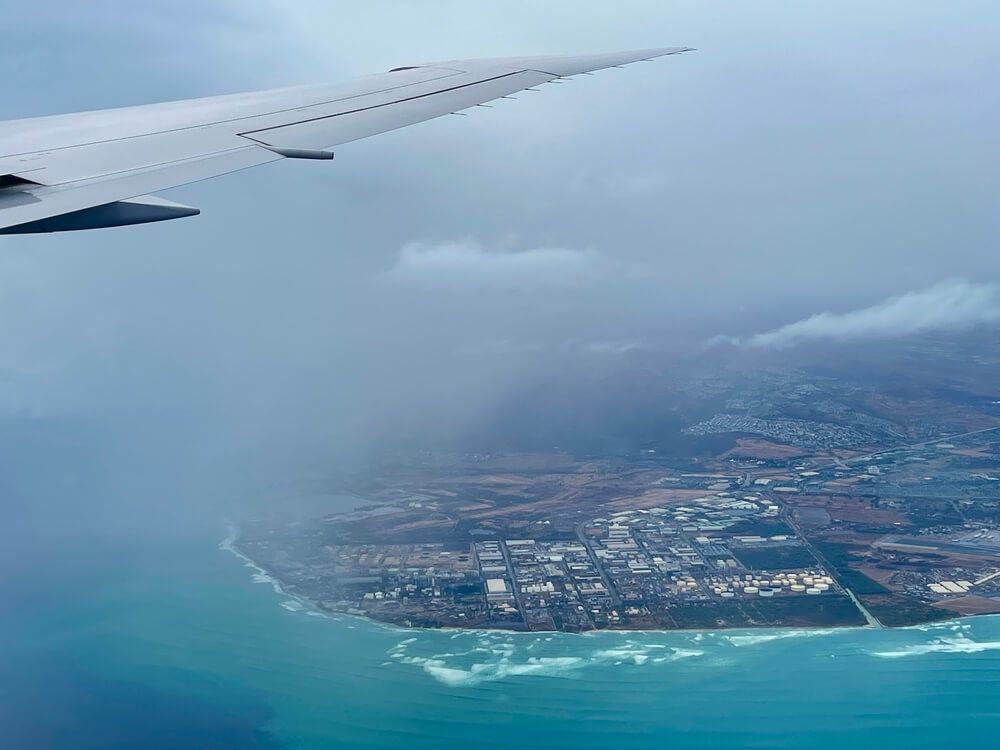 Many people don't consider the time spent flying from island to island or traveling from the airport to hotel – let alone the unpacking and repacking process. The process itself, while seemingly insignificant, is very time-consuming.
I would generally recommend spending at least three days on an island, so you have the chance to visit the top attractions on each island and truly enjoy your time in Hawaii without feeling stressed or harried.
In a perfect world, people should plan for 5-7 days per island.
11. Skipping the sunscreen (or using tanning oil)
Despite seeming like a small detail, sunscreen is immensely important if you want to enjoy your time in Hawaii. A sunburn can be very painful and even cause permanent damage, so you want to invest in higher-SPF sunscreen to protect your skin.
If you want to really be safe, you should avoid tanning oil altogether and stay out of the sun from 10am – 2pm, where the sun is the strongest and hottest.
However, you should be careful when purchasing higher-SPF sunscreen. Hawaii passed a law that requires any sunscreen used to be reef-safe, in order to prevent harsh chemicals from entering the water and damaging ecosystems and wildlife.
In the unfortunate instance where you do get sunburned, check out Maui Vera for instant relief!
12. Assuming you can have a late dinner
Whatever you do, don't bet on having dinner late. Although Hawaii is a super popular tourist destination, much to my surprise, shops, restaurants, and grocery stores shut down pretty early. Most grocery stores, for example, close at around 8 p.m.
If you're planning on a late-night dinner, I'd either make sure you have a reservation booked or, if you're living in a condo or a beach home, that you have a stocked fridge and cooking supplies.
13. Not taking advantage of their expensive resort
Splurging on an expensive resort may seem tempting and "cool," but you should make sure it's worth the money.
Resorts in Hawaii are not only a nice place to sleep for the night but also a place to experience the highest quality of different opportunities.
For example, many resorts have private scuba diving areas reserved just for individuals staying there, evening shows that teach residents about Hawaii's diverse culture, engaging "kids clubs," and on-site luaus.
If you're traveling with kids, Disney Aulani is an amazing option! Check out the prices and details.
If you plan on spending most of your time in Hawaii outside of the resort, hiking or surfing, I would not recommend spending money on a fancy resort – they are, after all, immensely costly.
14. Skipping a Hawaii car rental
Although there are many other options for transportation in Hawaii, such as buses, ferries, and even helicopters, the most convenient option available is renting a car.
Instead of dealing with the hassle of conforming your schedule to the schedule of public transportation, renting a car gives you increased flexibility and much more convenience. With a rental car, you can drive to the best places to visit in Hawaii.
If you're worried about the cost, I can assure you that, especially if you plan on staying for a substantial amount of time, the costs even out.
One of the cheapest yet most reliable car rental businesses I've used is Discount Hawaii Car Rental. If you're interested, check out the latest prices and more details.
Find out everything you need to know about renting a car in Hawaii!
15. Leaving valuables in the car
This is quite a simple tour, but one that many people forget. Hawaii may seem like a paradise, but thievery and car break-ins happen surprisingly frequently.
Make sure to lock the door when you leave the car, and leave critical items such as passports and valuable jewelry in your hotel room.
Don't worry – if you forget, there's a significant chance you'll see a sign in the parking lot telling you to do so!
16. Speeding down the road or honking at other drivers
Next on the list of what I've deemed "driving-related errors" is aggressive, fast, or otherwise rude driving, especially on the streets of Honolulu.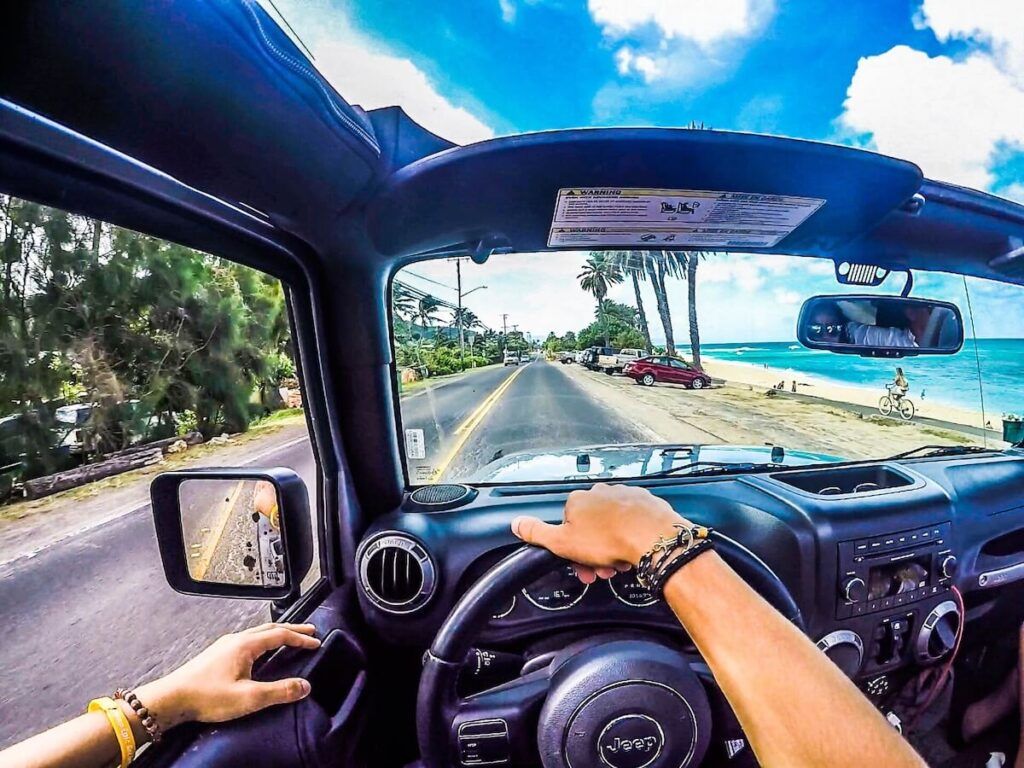 Although Hawaii's capital, Honolulu is not a metropolitan city like New York or San Francisco. There is often no need – or use – in honking your horn while driving.
While I understand that the panic of possibly being late to tour or the stress of running behind your schedule may induce you to honk or drive fast, I urge you merely to take the often-significant traffic into account when planning your itinerary.
Just remember to stay calm – even if you're going to be late, there's no reason to honk!
And on the flip side, don't drive too slowly while looking at the view. There are a lot of people who live in Hawaii who are heading to work or running errands. There's no need to hold them up.
17. Getting car sick
Last but not least on the list of "driving-related errors" is getting car sick. Many people don't consider something as small as road sickness when planning their trip, but it can ruin otherwise unique experiences for many people.
For example, the Road to Hana is one of the most beautiful scenic drives in Hawaii. However, the entire drive is filled with sharp turns and changes in altitude that may induce car sickness in sensitive folks. There are many other examples as well – I'd recommend you do your own research!
Boat tours, such as scuba diving or dolphin/whale-watching tours, can also result in seasickness, which is equally unpleasant and can often induce vomiting.
If you're planning on taking one of these long road trips, pack motion sickness medicine, such as sea-band wristbands for seasickness and Dramamine for carsickness.
18. Taking lava rocks and shells back to the Mainland
Bringing lava rocks and shells home may seem like one of the least significant Hawaii mistakes on this list, but it's essential to avoid.
Although it may be tempting to bring home shells as a souvenir, doing so actively takes away from the beaches in Hawaii – if everyone did the same, the beach would be much less beautiful. Legends say it's bad luck to keep lava rocks at home due to Pele's wrath.
It really comes down to being respectful of the islands and the people who live there. Responsible tourists do NOT take items from nature away from Hawaii.
If you truly want a shell-related souvenir, many gift shops sell them – it's much more respectful, and the souvenirs will be much more beautiful.
19. Getting too close to wildlife
Hawaii has a huge variety of wildlife – jellyfish, Hawaiian monk seals, Hawaiian green sea turtles, dolphins, whales, and more. And many, including myself, would feel tempted to touch or get close enough to take a selfie.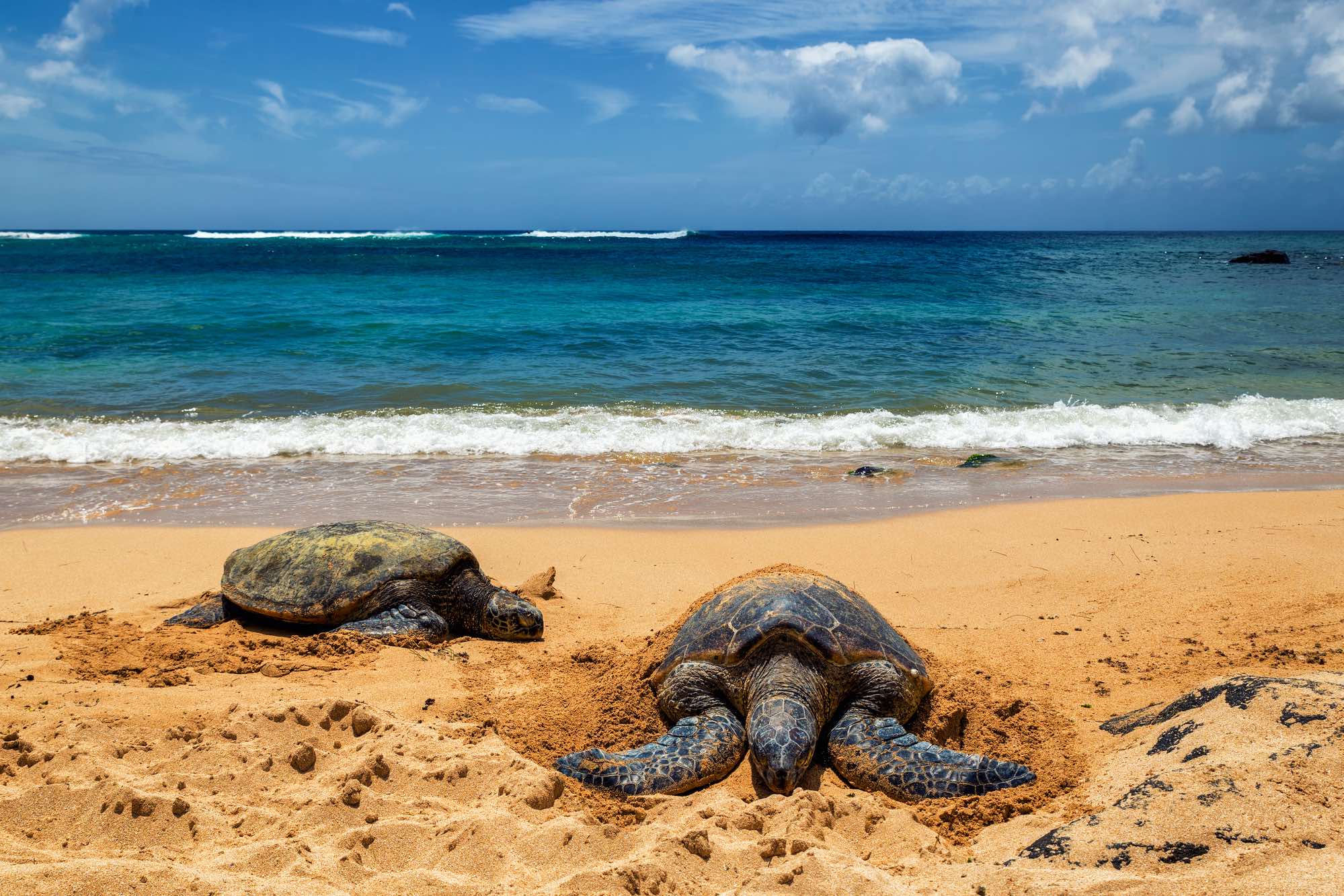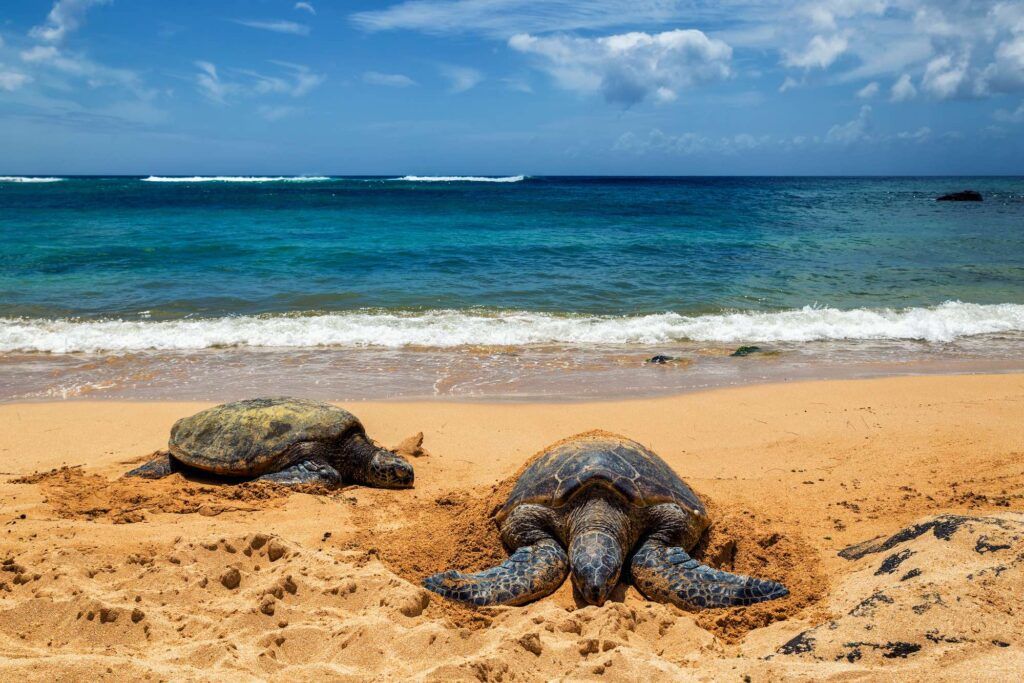 Nonetheless, doing so is prohibited by law – and for good reason. Most wildlife, even the most harmless-looking ones, can be dangerous. Our attempts to touch them can also disturb their everyday life.
I'd be especially careful if you're traveling with kids. They're often fascinated by new creatures and will get close if you don't keep a close eye on them.
If you want your kids to learn about the Hawaiian ecosystem, there are opportunities for them to get close to and even touch sea life, such as tide pools, aquariums, and more!
20. Not learning a few Hawaiian words
Learning some Hawaiian words can assist you greatly during your travels, which is valid for most people visiting foreign countries. Not only is it helpful, but it displays a basic level of respect for the language and culture of the place you are visiting.
Of course, some important words are aloha, which means hello, and mahalo, which means thank you. Mauka means towards the mountains and makai means towards the sea, which could be helpful if you're lost and asking locals for help.
When participating in activities, especially luau, many will use keiki to refer to children and kupuna for elders.
21. Overspending their Hawaii budget
Many people tend to underestimate how truly expensive traveling to Hawaii is. The costs pile up quickly – traveling costs, renting cars, renting a place to stay, visiting attractions, parking, food – you get my point.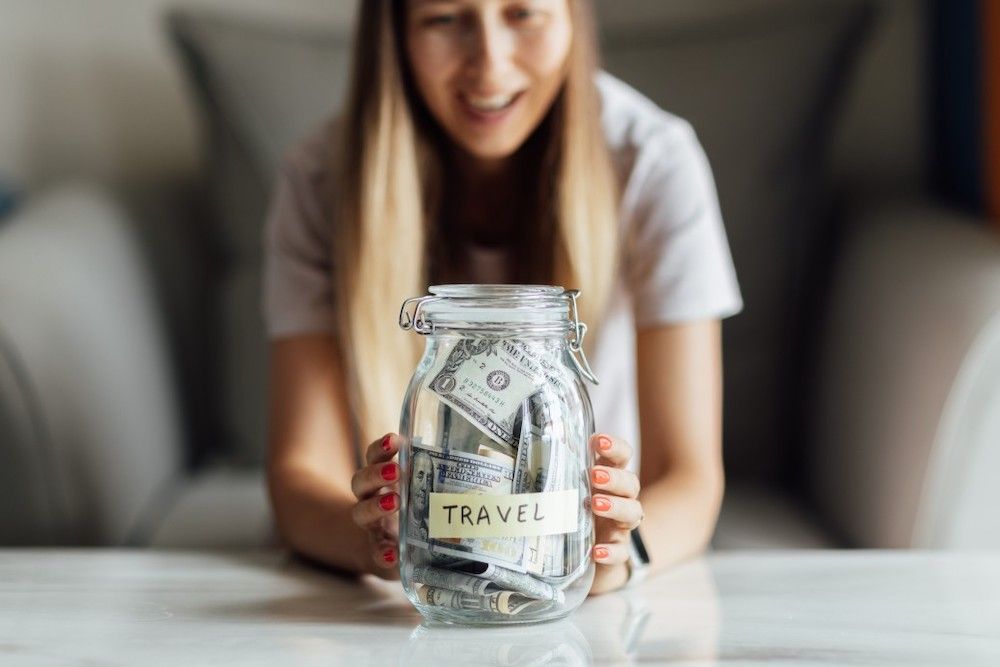 To prevent running out of money or not budgeting enough, I'd again recommend forming a consolidated and organized itinerary so you can accurately estimate costs.
I'd always be safe rather than sorry. Always save more than you need because you never know what situations could spring up. Of course, doing Hawaii on a budget is always possible. Just make sure to plan ahead!
Here's a realistic example of a Hawaii budget for a family of four!
22. Visiting places illegally
This should be a no-brainer, but many people, especially younger people, feel that it's "cool" or "hip" to go to illegal or dangerous places to take pictures or selfies.
This is an immensely bad idea for many reasons – it could endanger your physical safety and get you into major legal trouble.
For example, Ni'ihau island is strictly forbidden to outside visitors and is inhabited by the Crusoe family descendants and Hawaiian natives. Attempting to swim to or illegally access would be property invasion.
There are multiple examples of dangerous places that you shouldn't visit – the Stairway to Heaven, Kipu Falls, and Sacred Falls. And never go on private property. There are usually plenty of signs.
Keep yourself safe, and use common sense!
23. Calling anyone living in Hawaii "Hawaiian"
Calling all people who live in Hawaii "Hawaiians" is uninformed and disrespectful – the same goes for calling all locals "natives" or assuming they are all Polynesian.
Hawaii's culture and history is layered and rich – you should never assume someone's identity and labels while there, and you should always do your best to respect one's personal preferences.
Nonetheless, some good baseline rules are that the term "Hawaiian" should be limited to Native Hawaiians. Those raised and born there without personal identification with the indigeneity should be referred to as "locals." Everyone else can simply be referred to as a "Hawaiian resident."
24. Renting snorkel gear
To preface this section, renting snorkel gear is only a mistake if you're planning to use it for a long time. If you're interested in snorkeling in Hawaii, you can find cheap gear at Target, Costco or Walmart.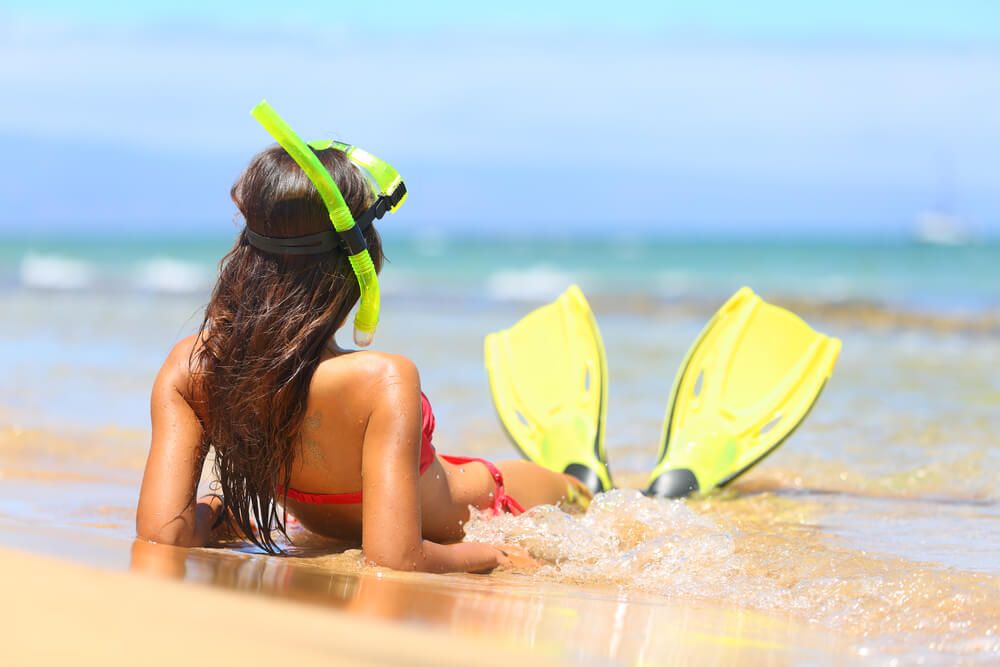 While I think it is 100% worth it to rent gear if you have no other options, you should be aware that buying snorkel gear is much cheaper in the long run.
Find out the best places to snorkel on Kauai, Oahu, and Maui!
25. Referring to the Mainland as "the States"
Referring to the Mainland (the continental U.S.) as "the States" is exclusionary and can be interpreted by residents in a negative light.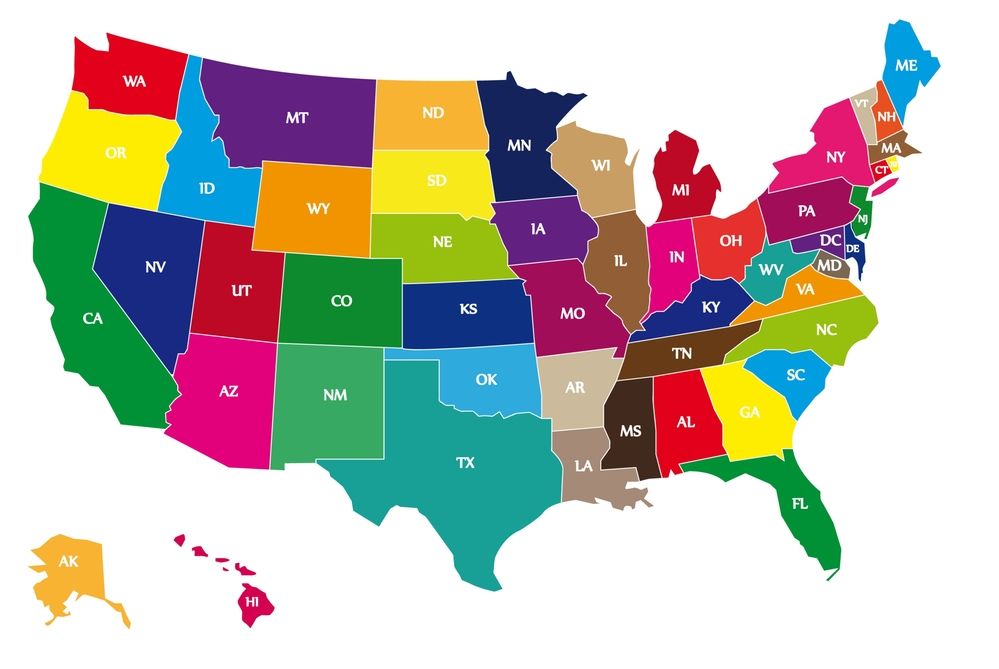 It's important to respect that Hawaii is the 50th state of the United States and should be referred to as such.
Residents prefer to refer to the continental area of the U.S. as "the Mainland."
Hawaii Mistakes FAQs
What mistakes have you personally made?
Plenty! I've forgotten to pack key materials, forgotten to book reservations for events, wasted a lot of money, and overbooked myself! My personal favorite story is when I lost a suitcase at an airport – but I won't waste your time with that!
What do you think is the biggest mistake someone can make?
Limiting your own options! Personally, it breaks my heart when someone limits themselves to just chain restaurants and resorts, or just hikes and waterfalls – Hawaii is a popular tourist location for a reason – it has an immense variety of activities that you should try your best to experience, even if you have a preference!
How much do you think I should save for a trip?
I can't say for certain! Budgets and costs always shift based on the time of year, and it all depends on where you stay, what island you spend your time on, and what you do – no matter what, however, I'd always plan ahead and be safe rather than sorry!
Hawaii Mistakes Wrap Up
After reading this article, I hope you've absorbed enough information to avoid making these mistakes! I hope you have an amazing trip!