Are you planning a trip to Maui and plan on driving the Road to Hana? Check out these awesome things to do in Hana Maui!
This list of things to do in Hana Maui was written by Marcie Cheung (a Hawaii travel expert) and contains affiliate links which means if you purchase something from one of my affiliate links, I may earn a small commission that goes back into maintaining this blog.
If you're looking for an amazing and unique Hawaiian experience, look no further than Hana!
With its lush jungles, pristine beaches, and awe-inspiring waterfalls, Hana is one of the most beautiful places on Earth.
And there's no better way to explore it than by car – the Road to Hana is a winding road that takes you through all the best spots.
Once you're in Hana, be sure to check out some of the local attractions. There's plenty to see and do, so make sure you have enough time to enjoy it all!
Why follow my lead? I've explored Hawaii more than 40 times, so I've got lots of advice!
Keep scrolling to start planning your trip to Hana Maui today!
Want to skip all the planning and just access my detailed Maui itinerary complete with daily schedules, fun activities, and travel hacks? Click the button below.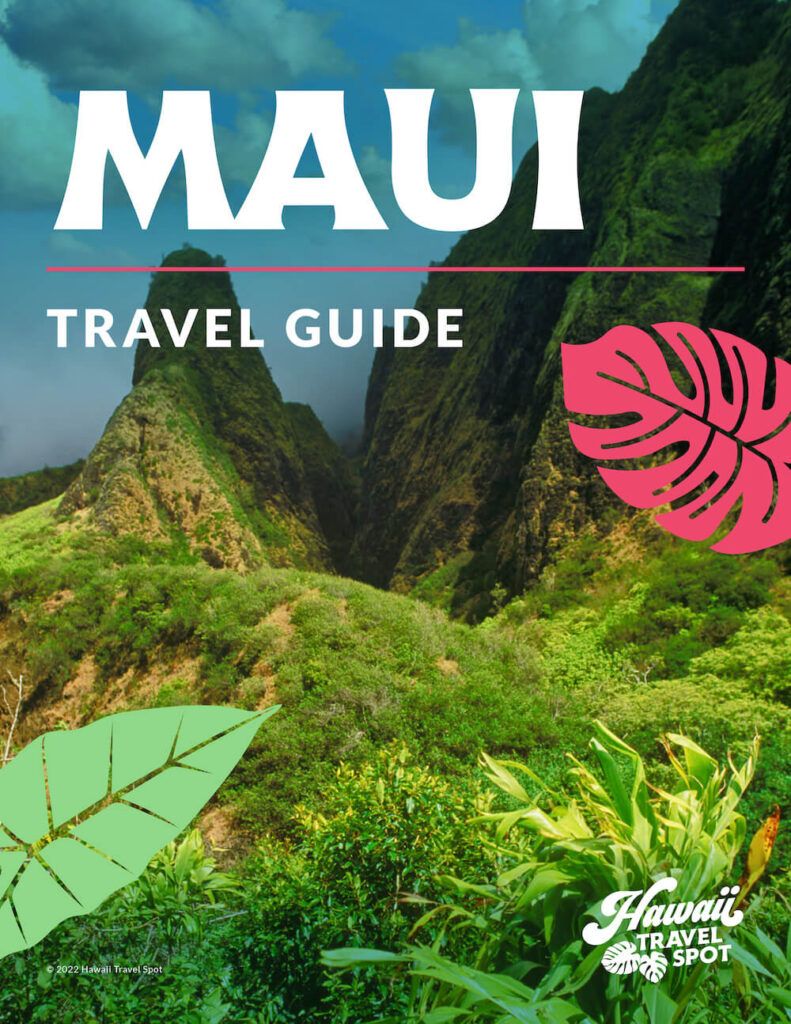 Exciting Things To Do in Hana Maui
No matter how much time you spend at Hana, this list has activities for you! If you're planning a trip to Maui or considering where to go for your next vacation, keep scrolling to find some of the best things to do at Hana.
1. Go to the Beach
As is typical of many Hawaii regions, the Hana beaches may just be its most beautiful attraction.
Whether you're interested in relaxing on idyllic white sand beaches, admiring the uniqueness of red sand shores, or surfing on black sand coasts, Hana's got the beaches for you!
Hamoa Beach
Hamoa Beach, located a mere 8-minute drive from Hana itself, has beautiful fine white sand that stretches deep into the ocean, making it pleasant to wade and swim in.
The waves are usually pretty mellow, although the area isn't protected by reefs or walls, making large waves sudden and strong. This beach is perfect for nearly all seaside activities, even snorkeling!
Waianapanapa State Park
Waianapanapa State Park is a black sand beach 9 minutes away from Hana, where the sand was formed largely from powdered volcanic rock. The area has numerous unique attractions such as a beautiful native hala forest, blow holes, sea stacks, and a small swimming hole!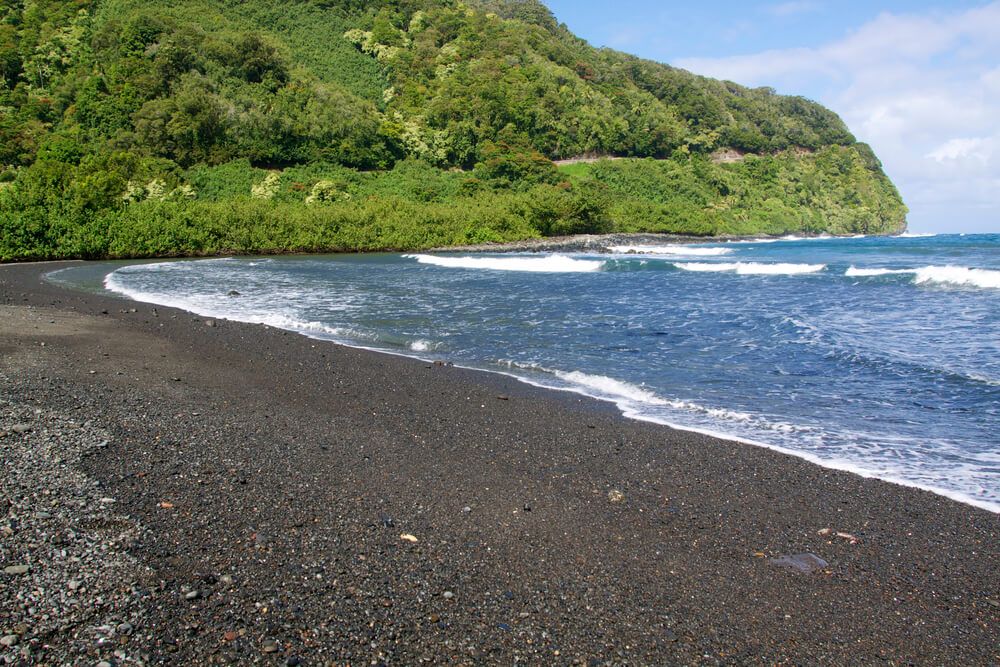 If you're interested in the history and location of black sand beaches in Maui, check out my guide on Maui's black sand beaches!
Kaihalulu Beach
Kaihalulu Beach is a lot more dangerous than the other beaches named above, largely because the trail to the beach is slippery and on a narrow cliffside, which could result in accidents. I'd only go here if you're an experienced hiker!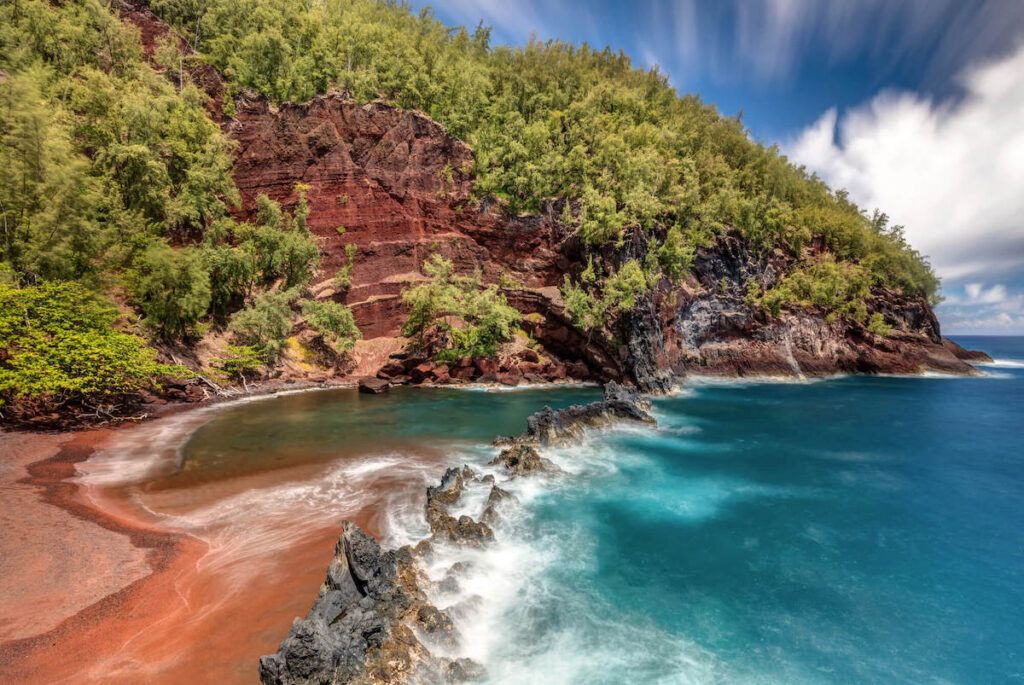 Nonetheless, the red sands are unique and beautiful, and the beach itself is often devoid of tourists other than the occasional nudist and eccentric.
2. Hana Cultural Center & Museum
Despite appearing small in size, the Hana Cultural Center & Museum is a fantastic repository of knowledge about the lives of Native Hawaiians. The museum is filled with artifacts and knowledge about the tools, practices, and traditions of the everyday lives of ancient Hawaiian people.
The nearby gift shop is also quite charming, as it sells locally-made products. You'll also see Ho'olaule'a, the Kauhale Village, and other important historical sites within Hana!
3. Wailua Falls
If you drive past Hana Town, you'll come across Wailua Falls on your righthand side. You can see it from your car, but it's also worth parking and walking over for a better look.
This is one of the most popular waterfalls in Maui. You won't even have to do much hiking to get to Wailua Falls.
When you arrive, you'll even find a small pool at the bottom of the waterfall too! Take a nice swim in the pool and continue exploring the Hana area.
Note: there's also a Wailua Falls on Kauai that's much more famous. This is a different (and smaller) waterfall.
4. Fagan's Cross
This trail is a short 1.5-mile paved hike to Fagan's Cross, which is a memorial to Paul Fagan. He was responsible for purchasing the defunct sugar plantations in Hana and renovating the land, transforming it into a ranch and eventually encouraging natives to stay.
The summit of the trail offers beautiful views of the small town and natural world below. Charmingly, you may even see friendly cows on the path!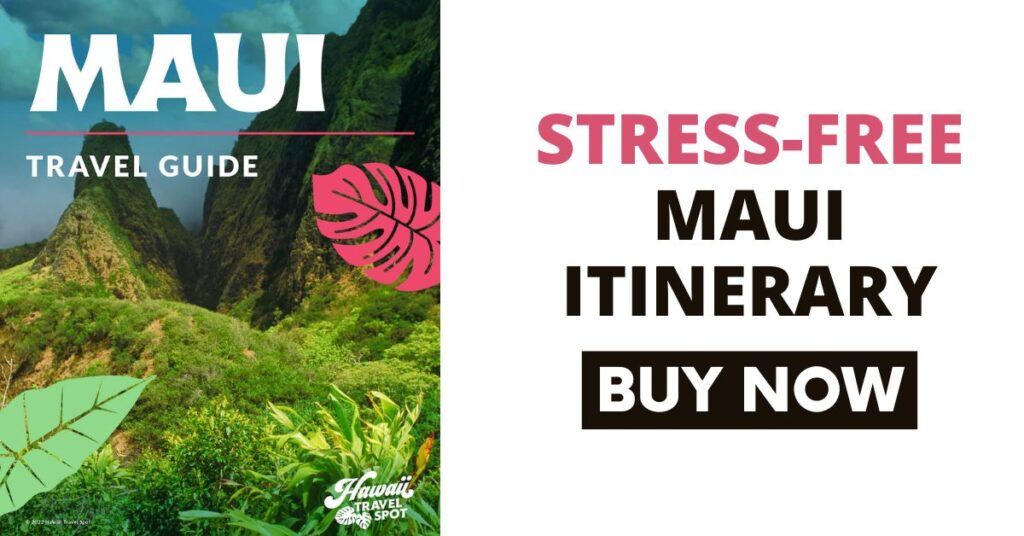 5. Kahanu Gardens
The Kahanu Garden is a national tropical botanical garden focused on preserving plants of value to Hawaiian people, such as over 120 variations of breadfruit and about 300 variations of taro. Other plants include bamboo, calabash, kava, kamani, and coconut!
Aside from beautiful arrangements of plants, the Kahanu Gardens are also dedicated to preserving cultural history. The area is home to the immense and awe-inspiring Pi'ilanihale Heiau, and many more cultural landmarks. It's one of the best Road to Hana stops!
If you're interested in paying the gardens a visit, there are both self-guided and two-hour guided tours! Be sure to book either a day pass or a guided tour to gain entrance. For more information, check out my full Kahanu Gardens review!
6. Pools of 'Ohe'o
The Pools of 'Ohe'o is likely the most photogenic spot on this list, featuring a three-tiered waterfall located directly underneath a small bridge. It's both breathtaking and charming and is located only 15 minutes from Hana!
However, if you're looking for somewhere to swim, the Pools of 'Ohe'o are often closed due to weather complications. Nonetheless, they're absolutely still worth a visit!
7. Road to Hana Tour
While this is not strictly an activity in Hana, it's definitely worth a spot on this list. This is especially true if you're only able to visit Hana for a day or aren't renting a car.
Joining a Road to Hana Tour allows you to sit back and relax as a tour guide drives you through the highway and tells you about the landmarks around you.
If you have any time constraints or don't want to spend too much time at Hana, don't worry! There are a variety of tours, some of which last half a day, some of which last multiple! Check out my top Road to Hana tours!
8. Hasegawa General Store
Open from 7am to 7pm every day but Sunday, the Hasegawa General Store is not only a great place to buy any supplies you need but also the oldest store in Hana. It's run by a local family and was founded more than 100 years ago.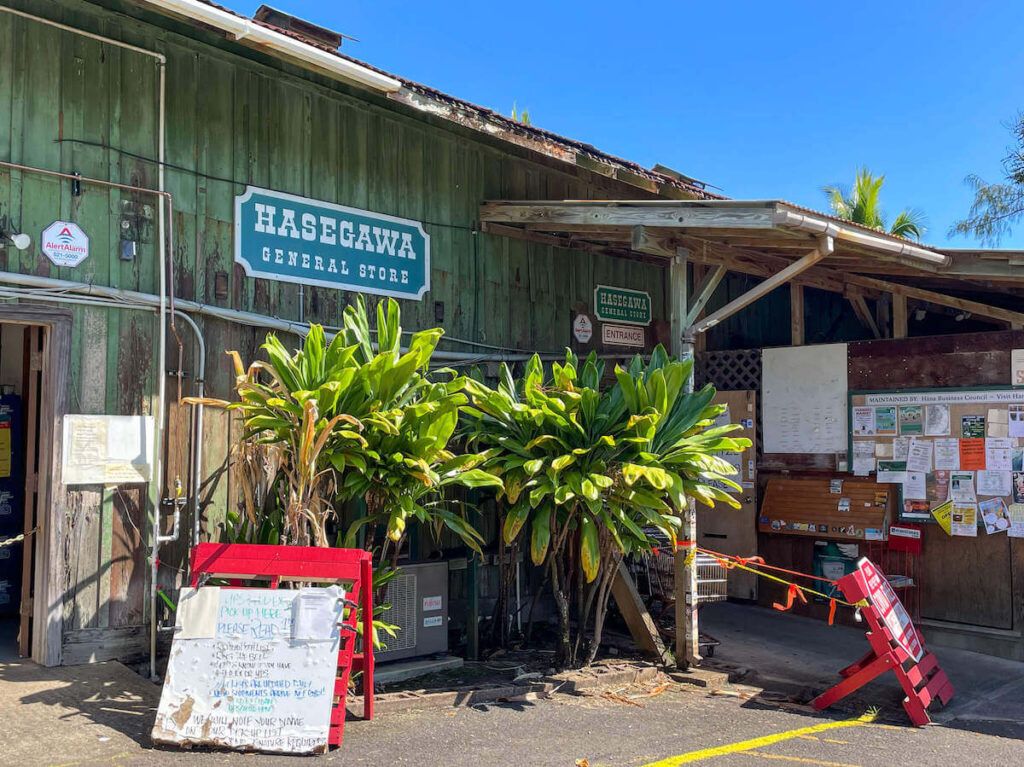 The store itself has some fantastic items, such as printed mugs, locally grown gourmet coffee, multiple types of bags, and even quilting squares! It is locally sourced and unique, so I'd recommend buying!
9. Camping in Hana
Yes, there're camping sites at Hana! Waianapanapa State Park is a beautiful place to camp, with both campsites and cabins as options.
If you're worried about costs, don't worry – it's very affordable! The entrance fee to the park is $5, parking is $10, a campsite is $30, and a cabin is $100!
10. Snorkeling at Hana Bay
Hana Bay is one of the best locations for snorkeling, especially for beginners. The tides are low, the beaches are protected, and the waters are shallow.
You'll see a lot of beautiful wildlife while snorkeling, such as delicate and beautiful butterfly fish, surgeonfish, yellow tang, triggerfish, and parrot fish. If you're lucky, you might even see a green sea turtle!
11. The Hana Lava Tubes
The Hana Lava Tubes tour takes you through some of the only remaining lava tubes in the world, filled with some of the most unique and beautiful structures in the world. You're allowed to explore the area at your own pace, and there are staircases and handrails where needed!
Keep in mind that the entrance fee is cash only and that they provide you a flashlight when you first enter, as there's no electricity. I'd definitely recommend checking these tubes out, as they're a once-in-a-lifetime experience!
12. Hana Farms
Hana Farms has some of the best, locally sourced food in Hana. They have a restaurant and bakery which serves fresh homemade food – even the sauces and bread are homemade!
The farm has a roadside stand filled with fresh fruit and produce that I'd definitely recommend buying, especially at its relatively low price. You can also tour through some of the farm itself and see freshly grown food and tropical fruits!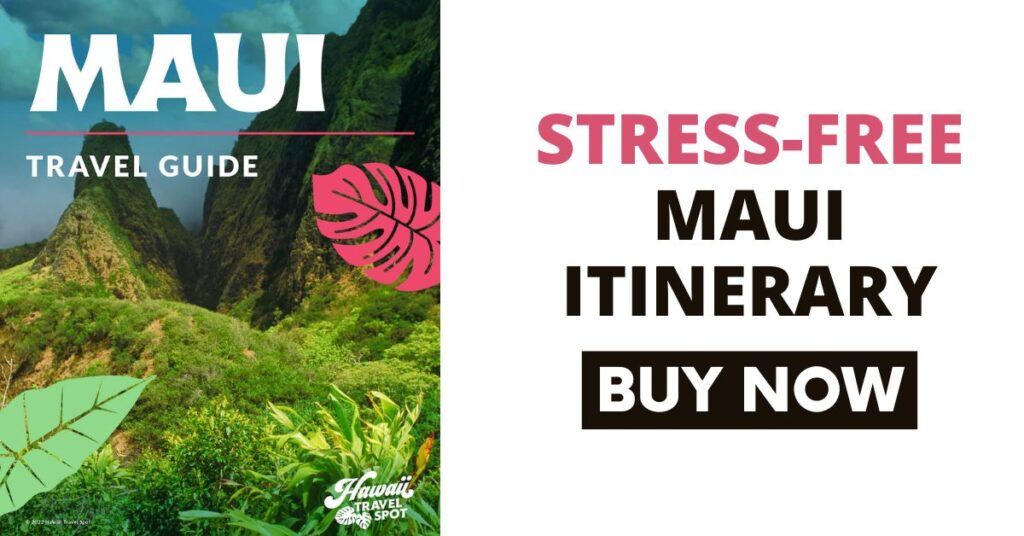 Hana Maui FAQs
What do you think the best way to experience Hana is?
Don't try to do everything in one day! While it is technically possible, you'll pass by so many beautiful tourist attractions and likely feel harried and stressed. I'd recommend taking at least a few days to stay at Hana Town so you have the time to enjoy everything.
Where are your favorite places to eat at Hana Town?
Many of the places to eat at Hana Town are casual restaurants or food trucks, but I wouldn't blow them off! Some of my favorite places to eat were Bruddah Hutts, Huli Huli Chicken, and Hana Ranch Restaurant. And up the road, Coconut Glen's also sells amazing ice cream!
Where should I stay at Hana?
I'd recommend the Hana-Maui Resort, Hana Kai Maui Oceanfront, or a B&B! If you're looking for a more unique option, you can check out the cozy cottage B&B. There are tons of places to stay in Hana.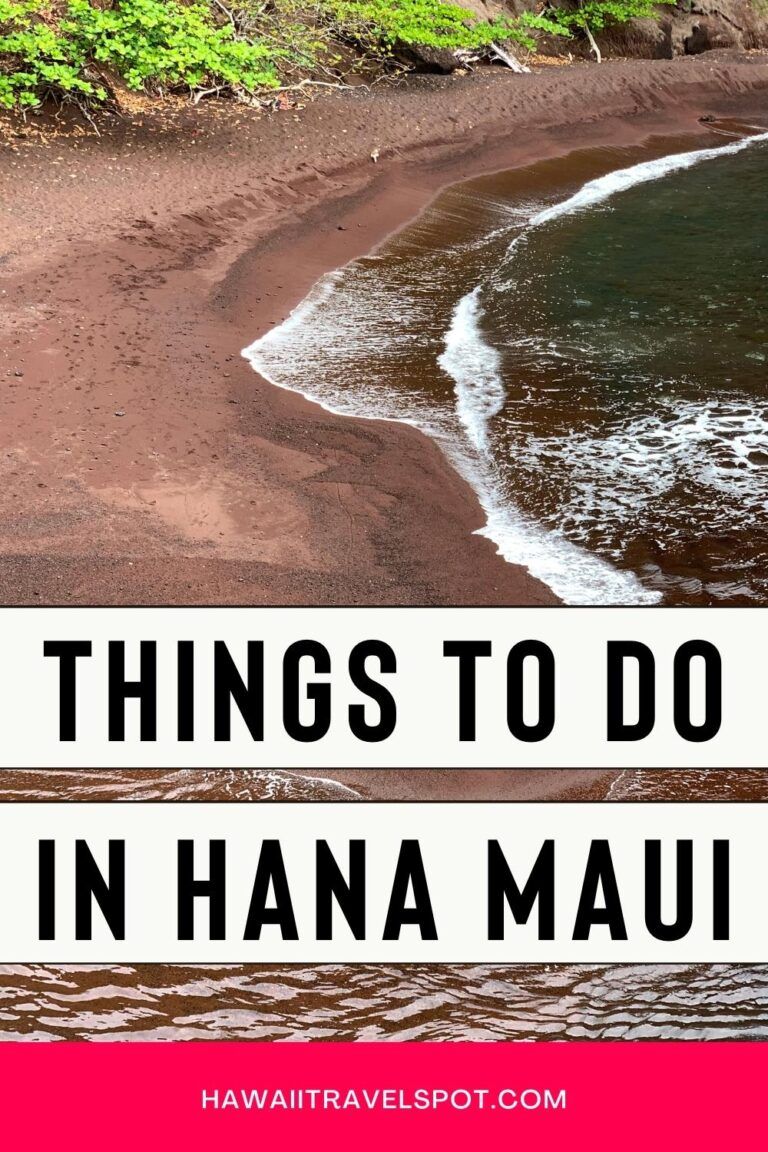 What to do in Hana Wrap Up
If you've ever felt confused as to what to do at Hana, this list is for you! I'd be sure to add some of these destinations to your itinerary! I'd definitely spend at least a few days here and enjoy the isolation and tranquility.