Planning a family trip to Oahu and starting to think about your Oahu activities? Keep scrolling for the best things to do on Oahu with kids and teens!
This list of things to do on Oahu with kids for your Oahu family vacation contains affiliate links which means if you purchase something from one of my affiliate links, I may earn a small commission that goes back into maintaining this blog.
Planning a trip to Oahu with your family?
You're in for the time of your life! With plenty of activities to keep kids and teens entertained, Oahu is one of the best Hawaiian islands for families.
Check out our list of the best things to do in Oahu for kids and teens, and add them to your itinerary today!
We know you'll have an amazing time on Oahu – it's one of our favorite islands, too!
Bookmark Hawaii Travel Spot now so you can easily find us when you're ready to start planning your dream vacation!
Don't have time to read a bunch of Hawaii blog posts and reviews? Here are some of our top picks for visiting Oahu with kids.
Best Kid-Friendly Oahu Tours/Activities
Best Kid-Friendly Oahu Resorts
Want to Rent a Car in Hawaii?
One of the best places to rent a car in Hawaii is Discount Hawaii Car Rental because they get the best rates from top national companies like Alamo, Dollar, Thrifty, Avis, Enterprise, Budget, and Payless.
Best Things to do on Oahu with Kids and Teens
1. Jurrasic Park ATV Tour
For families that don't mind getting a bit dirty, head to Kualoa Ranch for an ATV Raptor Tour where they filmed Jurassic Park!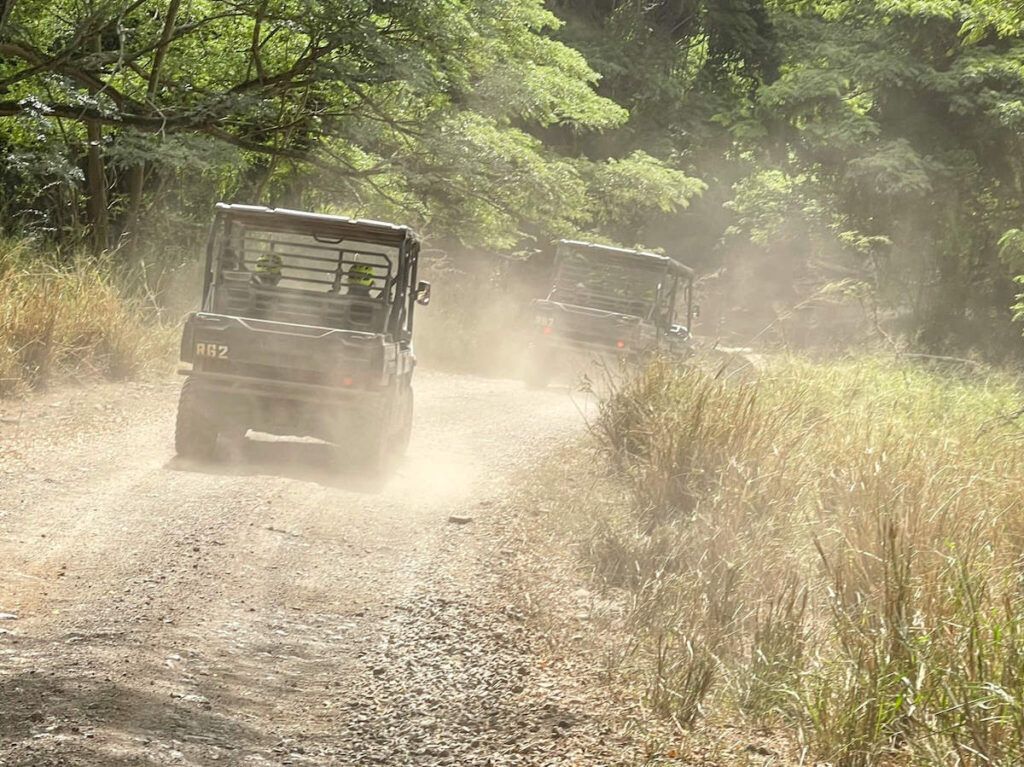 It's such a cool adventure where you get to explore all three valleys, hear some fascinating Hawaiian stories, and see awesome movie sets.
This is by far one of the most popular things to do on Oahu for families and it can book up months in advance. Kualoa Ranch has the best Oahu outdoor activities. Check the latest rates and availability.
2. Do a Circle Island Tour
Whether it's your first trip to Oahu or you haven't been for awhile, doing a circle island tour is such a stress-free way to explore outside of Waikiki.
We love the Hawaii Bucket List Tour because you get to decide what you do and where you go. It's completely customized and you'll stop by a few secret spots while you go sightseeing around Oahu. Check the latest rates and availability.
3. Check Out the Byodo-In Temple
For an Oahu attraction that is sure to wow all members of your family, head to the Byodo-In Temple in the Valley of the Temples Memorial Park in the Ko'olau Mountains.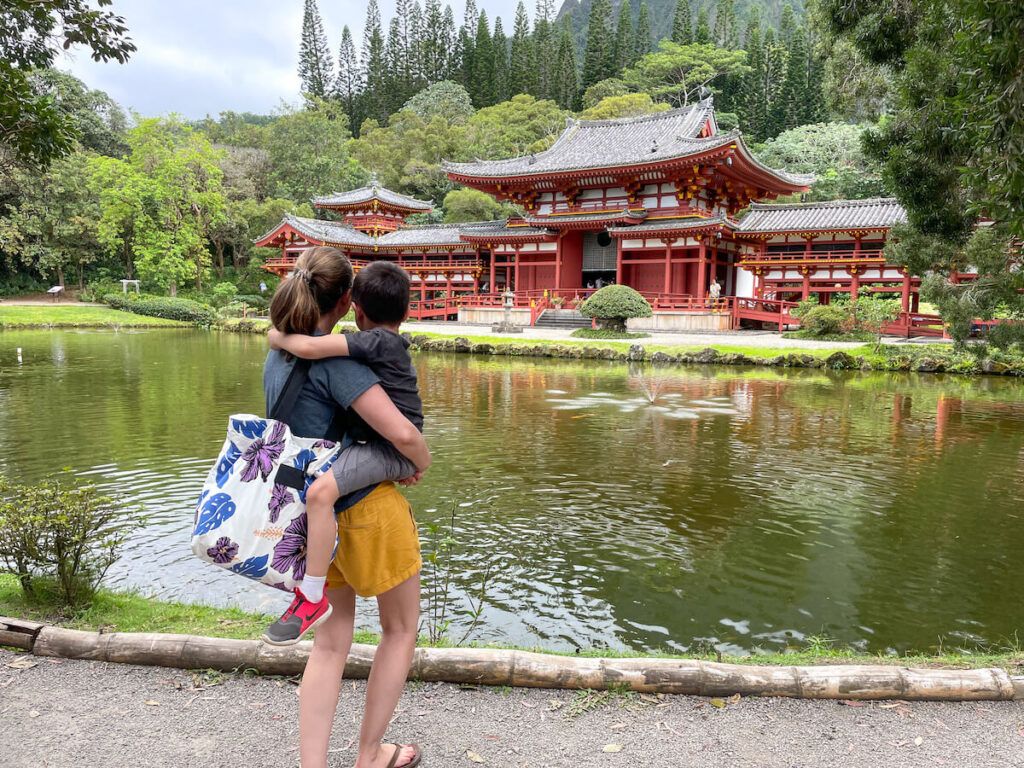 It's a stunning temple tucked away from the crowds that makes an amazing photo backdrop. But, it's also an actual temple where people come to pray, so be respectful.
The part kids will love the most is ringing the giant gong with a log. They will want to do it over and over again!
4. Hike up Diamond Head
One of the most recognizable places on Oahu is Waikiki Beach and the stunning mountain in the backdrop is Diamond Head.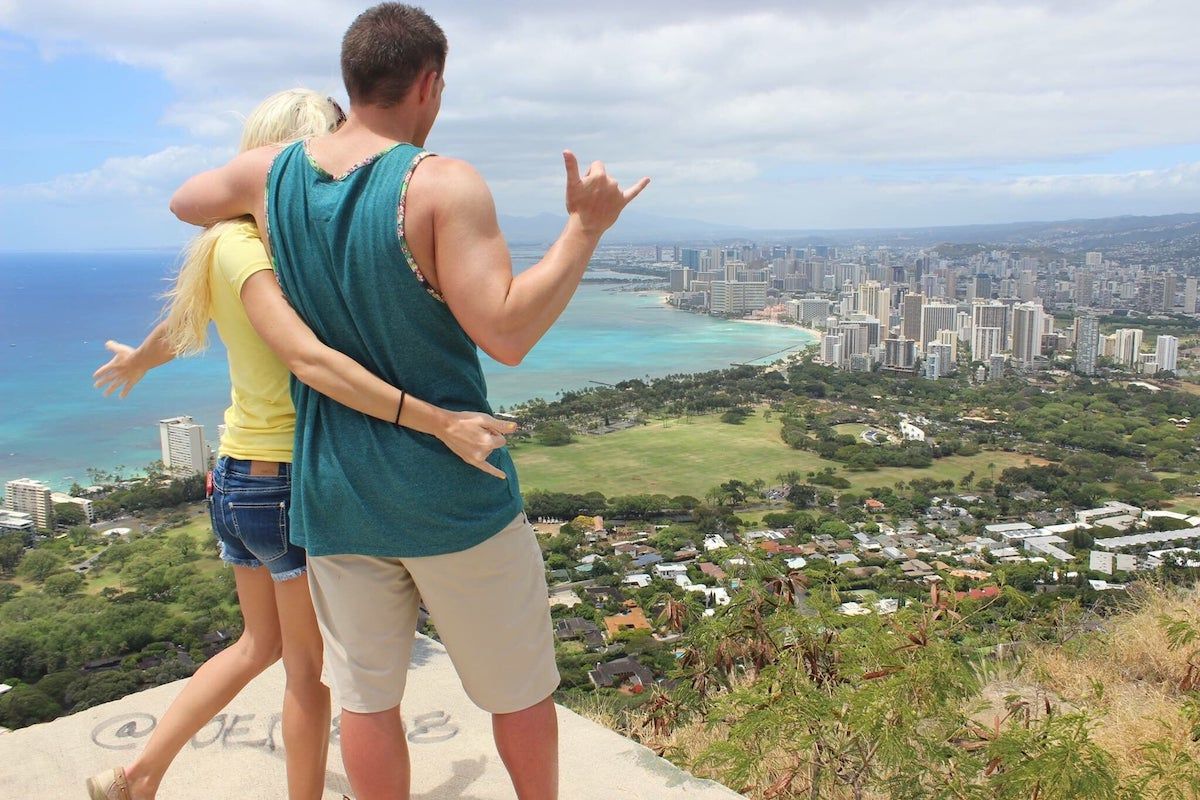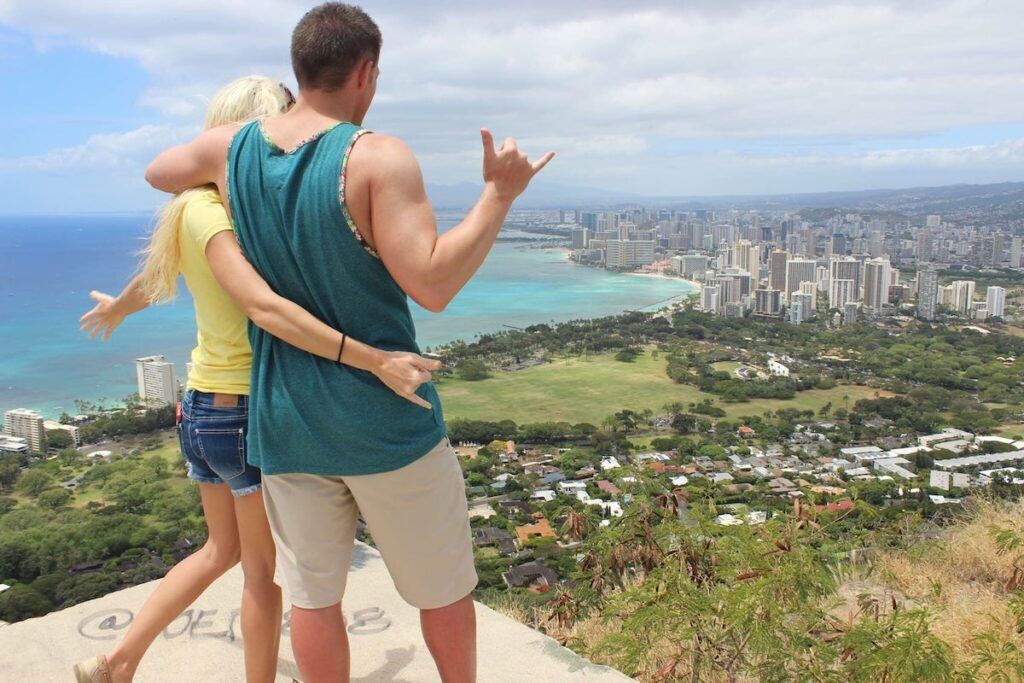 This is a fairly easy Oahu hike for kids that is always a blast. There a lot of stairs to climb, but you'll feel super accomplished when you get to the top.
I suggest going early in the morning for smaller croweds and more comfortable temperatures.
As of May 12th, 2022 all out-of-state visitors must have an advanced reservation to enter Diamond Head State Monument. Make your reservations HERE.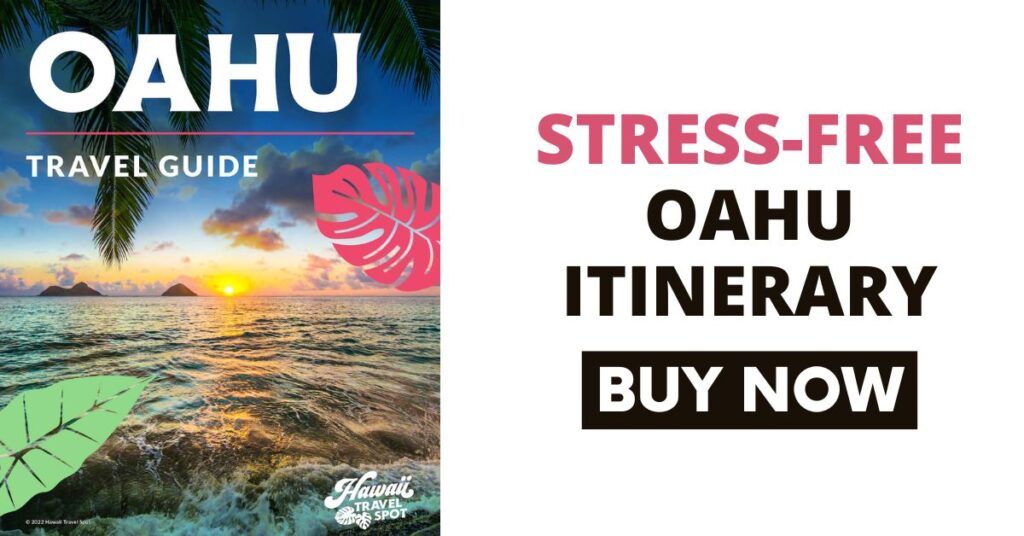 5. Go Swimming with Dolphins
What's more fun than swimming with dolphins? Not much! With Dolphin Quest at the Kahala Resort on Oahu, you can do just that.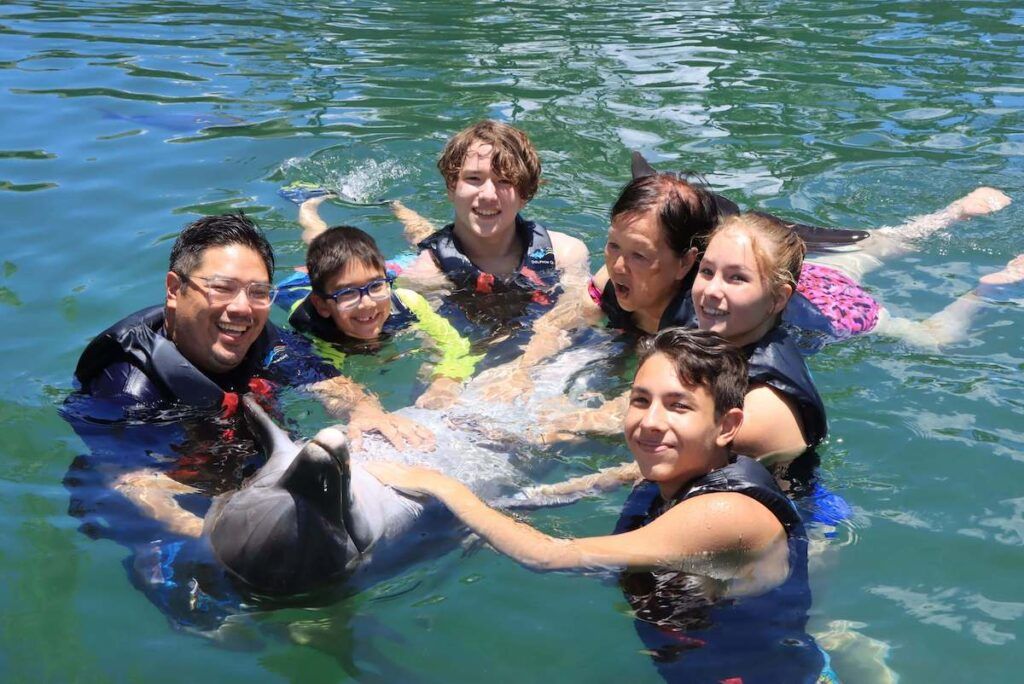 You can even learn some new hand signals, so it's easier for you to communicate directly with the dolphins. This is one experience your kids will never forget from this vacation.
What's extra cool is that they have programs for toddlers, kids, teens, and adults. And they have a professional photographer ready to capture this experience of a lifetime. Check the latest rates and availability.
6. Waikiki Atlantis Submarine
The Waikiki Atlantis Submarine is a great way to explore the underwater world without getting wet. It's located at Hilton Hawaiian Village, where you'll spend about an hour and 45 minutes on a tropical adventure!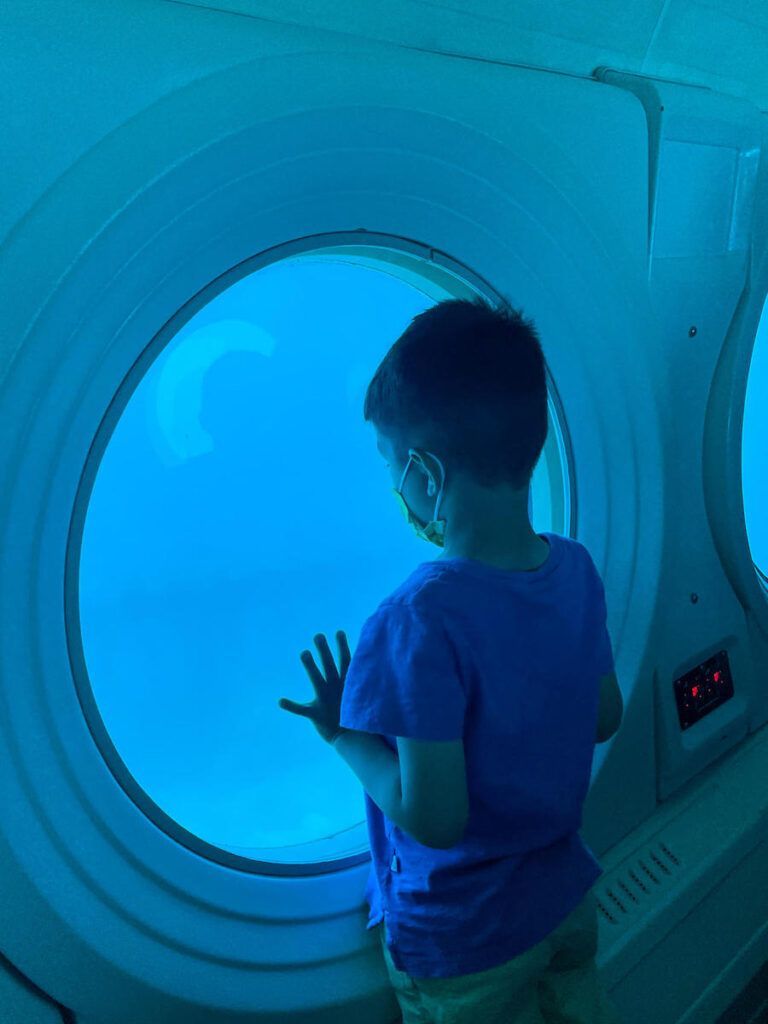 You'll start off with a short boat ride with sweeping views of the Waikiki coastline. Then, you'll climb inside a real submarine and explore the depths of the ocean and see Hawaiian sea life and a few other surprises! Check the latest rates and availability.
7. Hit the Beach
There are a TON of kid-friendly Oahu beaches worth a stop. The whole Waikiki Beach area is usually fairly calm and great for kids of all ages to play around in the water or sand. Spending time at the beach is one of the best free things to do in Oahu.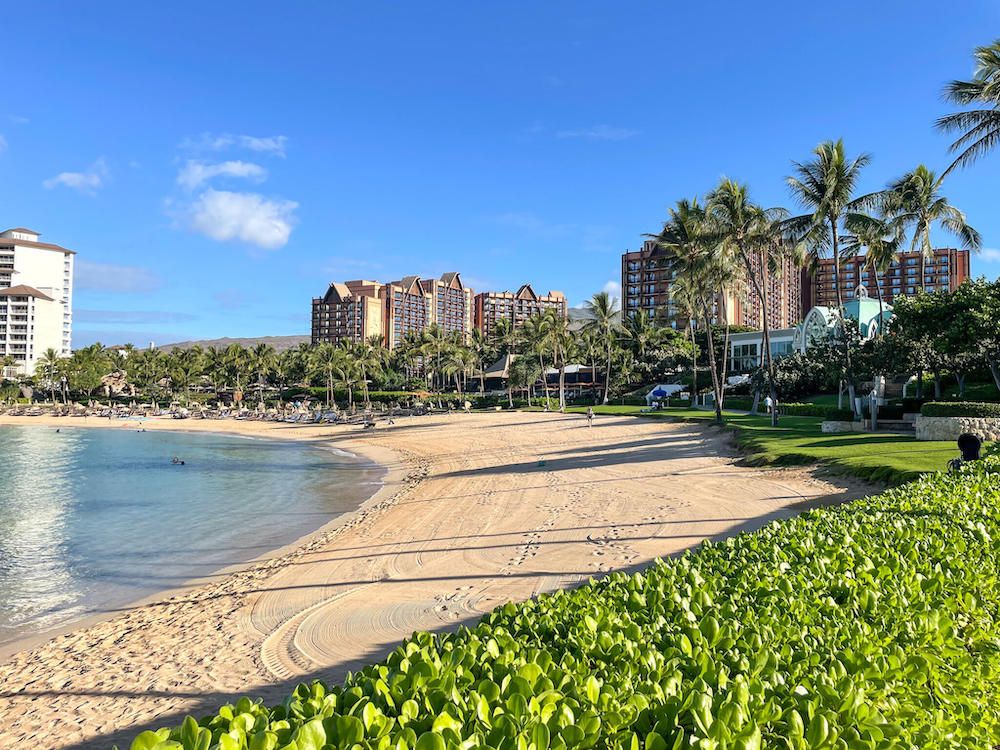 The lagoons up in Ko Olina are also great for families with little ones. There are five man-made lagoons and you don't have to stay at a Ko Olina resort to use them.
Kailua Beach Park is another fun Oahu beach for families. There are a lot of facilities here so it's easy to change in/out of swimsuits.
There are tons of other beautiful beaches in Oahu that are definitely worth a stop!
8. Go to a Luau
There are tons of amazing Oahu luaus worth checking out, so it's easy to find one that fits in your Oahu itinerary.
Luaus are a fun way for families to learn a bit about Polynesian culture, see some cool dancing, participate in activities, and eat yummy food.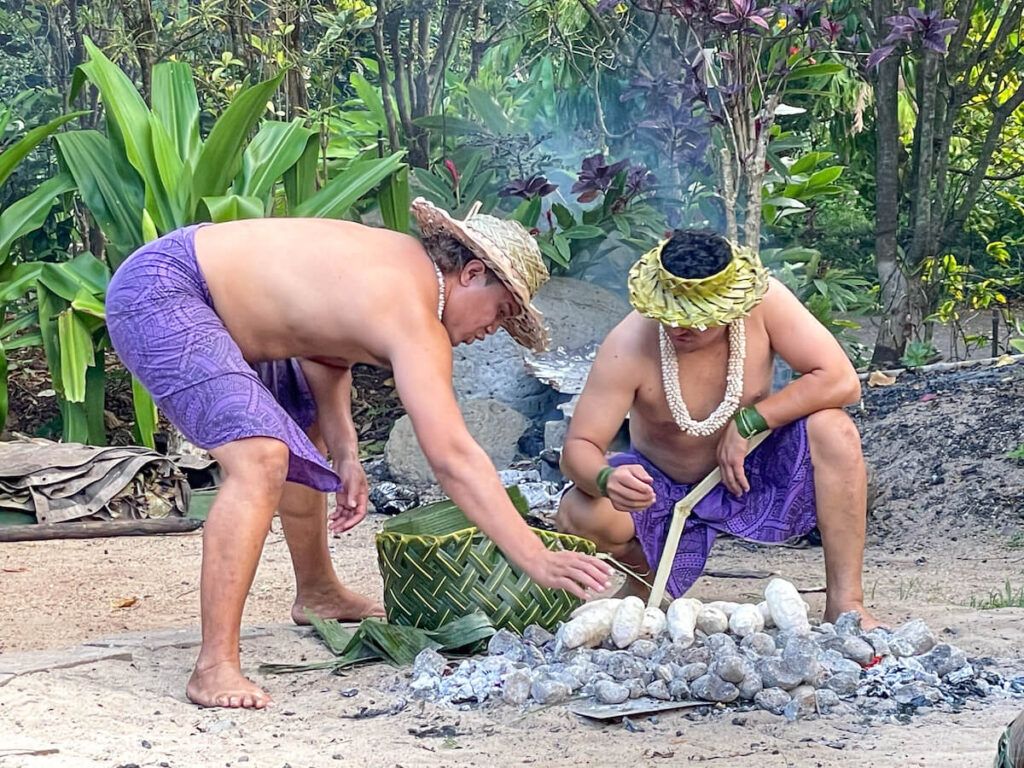 A few of my favorites include Toa Luau in North Shore Oahu, Experience Nutridge Luau in Honolulu, and the Ka Wa'a Luau at Disney Aulani Resort. Going to a luau is one of the coolest things to do in Hawaii for kids.
9. Oahu Farmers Market
The Oahu Farmers Markets are the perfect place to get fresh produce and baked goods when visiting this beautiful island.
Oahu is home to some of the best farmers markets in Hawaii, and they are a great place for kids to practice buying items with cash and tasting new foods!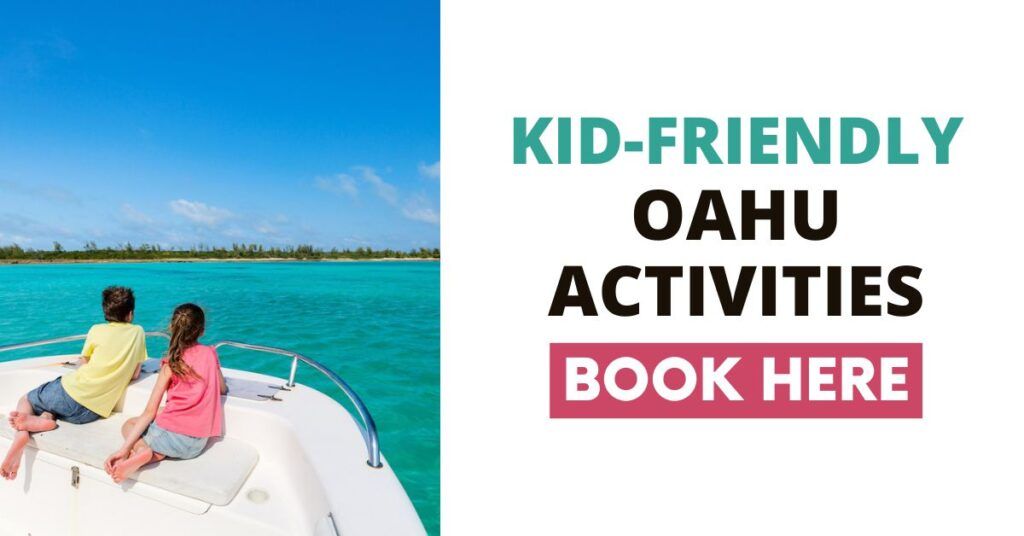 10. Visit Pearl Harbor
For older kids and teens who have learned about World War II, you'll want to visit Pearl Harbor. This is the site where Japan attacked the United States and launched the United States fully into World War II.
While it can be a somber spot for a lot of visitors, Pearl Harbor is so much more than just the USS Arizona Memorial.
Get tickets for the USS Battleship Missouri and the Pearl Harbor Aviation Museum. There's also the USS Bowfin Submarine which is kind of cool to explore.
11. Dole Pineapple Plantation
A super fun, kid-friendly Oahu attraction is visiting the Dole Plantation on Oahu's North Shore. Here, you can try your luck at the world's largest pineapple maze, ride the Pineapple Express train, and taste all kinds of pineapple items.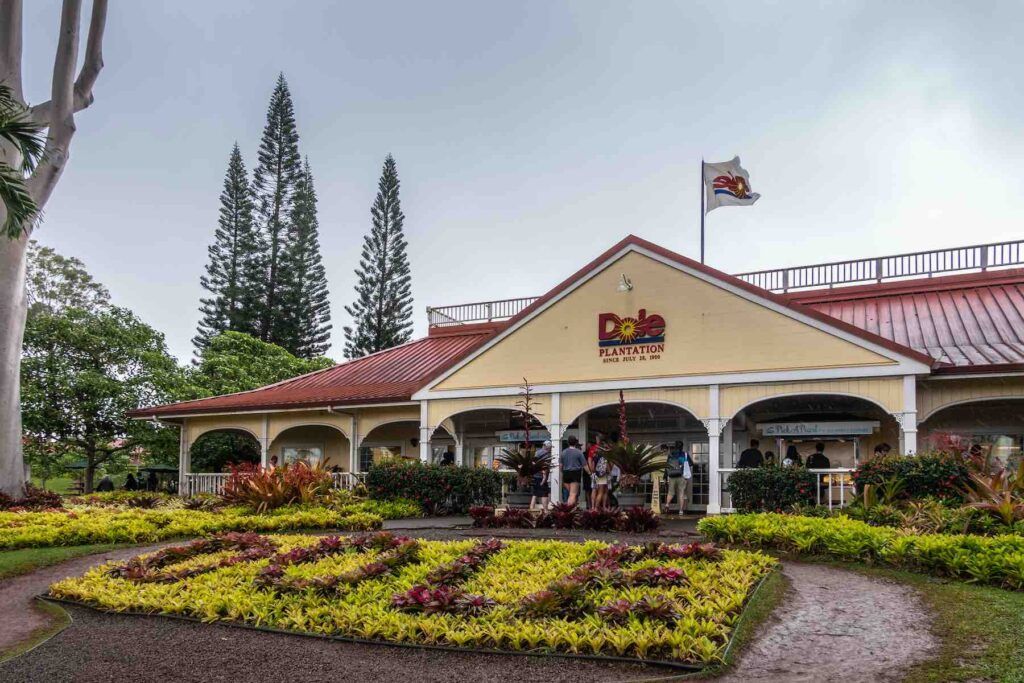 Our favorite is their Dole Whip, which is dairy-free pineapple ice cream, and our kids can't get enough! It's one of the most delicious things to do with kids in Oahu.
Visiting the Dole Plantation is an easy stop while you are exploring the North Shore. And it's one of the best things to do with kids on Oahu.
12. Go Snorkeling at Hanauma Bay
Hanauma Bay is a great spot for kids who want to enjoy some snorkeling. You can see tons of fish and other underwater creatures, plus there's an education center that teaches visitors about the preserve's mission in one little video!
They have lots of snorkeling tours where you can see hundreds of tropical fish and marine animals or you can do it on your own. Check out the latest prices and more details.
13. See an Oahu Waterfall
When you think of a tropical paradise, you probably are picturing lots of waterfalls in the jungle, right? Some of the best Hawaii waterfalls are located on Oahu.
Manoa Falls is a kid-friendly hike to see a waterfall near Waikiki. You'll explore the rainforest and there are lots of cool plants to check out along the way.
Waimea Falls is another great waterfall hike on Oahu for kids. It's a short hike to a waterfall that you can swim in. Plus, they even have a shuttle for people unable (or unwilling) to hike.
14. Visit the Polynesian Cultural Center
If you are looking for one of the most popular Oahu attractions, look no further than the Polynesian Cultural Center up in Laie on the North Shore.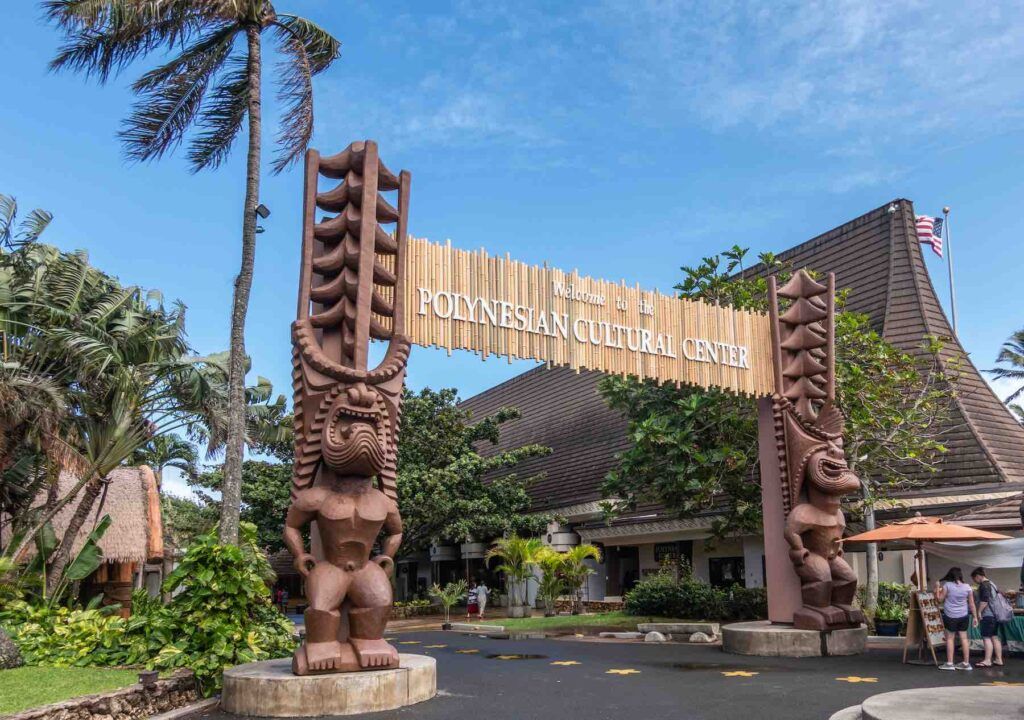 There are tons of hands-on activities and experiences for kids to learn about Hawaiian, Tahitian, Maori, Fijian, Samoan, and Tongan cultures. This is one of the best things to do in Oahu for kids.
They also have both a luau and a theatrical performance you can get tickets for. However, it's nice to just explore the villages with little kids or opt for the full-day experience with older kids. Check out the latest prices and more details.
15. Hike to Makapu'u Lighthouse
Hawaii has some amazing lighthouses and the most popular lighthouse on Oahu is Makapuu Lighthouse. It's on the East Shore of the island and has been around for more than 100 years!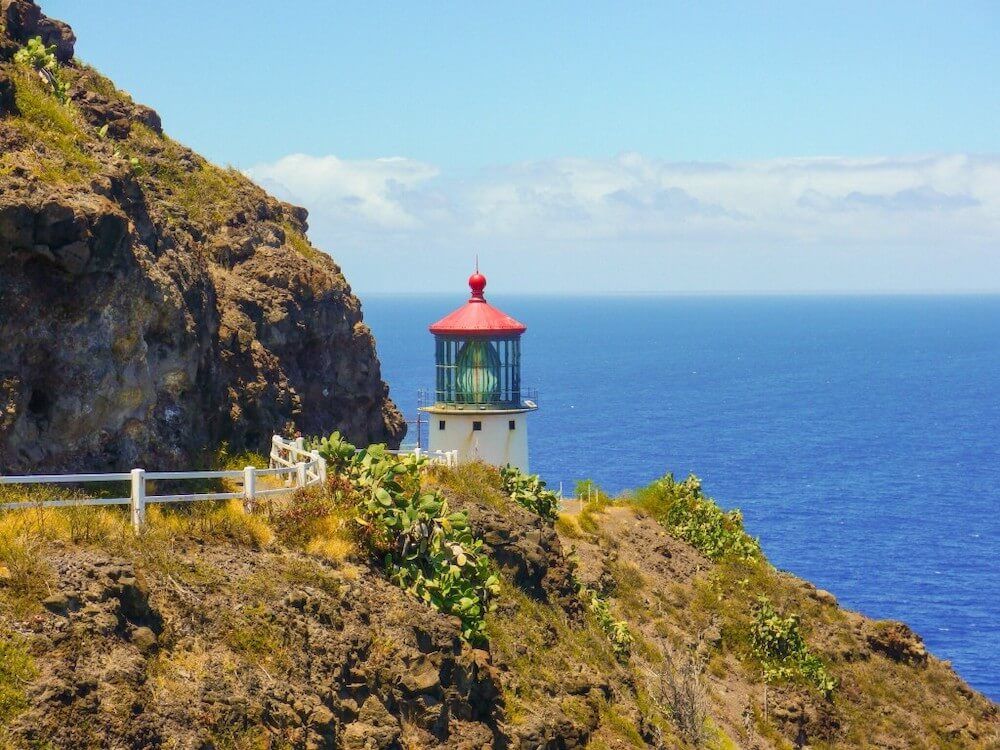 There's a paved 2-mile path that overlooks Makapuu Lighthouse. You can push a stroller, and little kids should have no problem doing this easy/moderate hike.
Plus, it's a great spot to see humpback whales during the winter! Hikes like this are one of the best things to do on Oahu for free.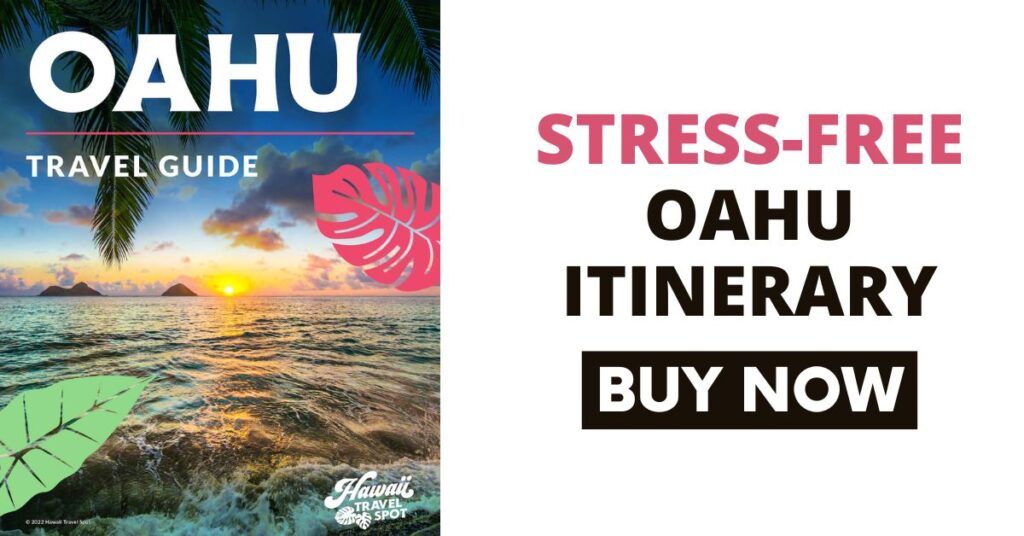 16. Grab Shave Ice
Shave ice is the BEST treat you can find in Hawaii! And they sell it all across Oahu, so you'll have no problem finding somewhere close to your hotel or activities.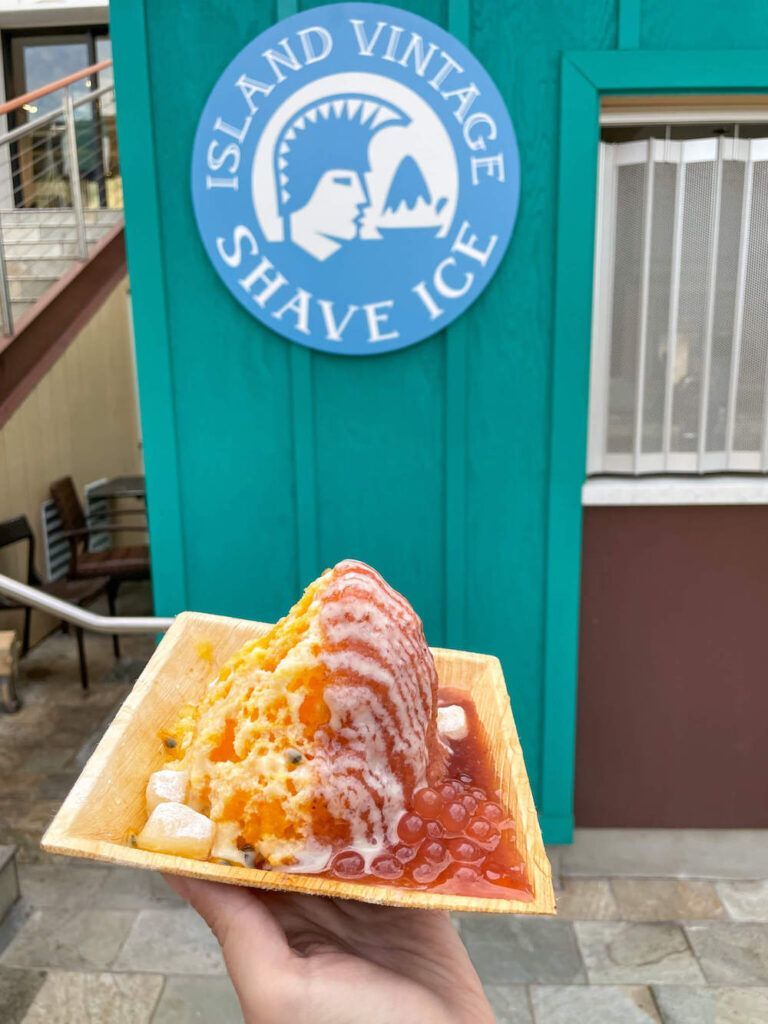 A few of our favorite spots include Island Vintage Shave Ice in Waikiki, Kaimana Shave Ice in Haleiwa, and Uncle Clay's House of Pure Aloha in Honolulu. Make sure stopping for shave ice is on your list of things to do in Oahu with kids!
17. Visit the Honolulu Zoo
If you're looking for easy things to do in Honolulu with kids, try checking out Honolulu Zoo. This is where you can spot rhinos, hippos, zebras, giraffes, chimps, elephants, and more!
It's a fairly small zoo located at the edge of Waikiki and I think it's one of the best things to do on Oahu with toddlers. Head there for a morning adventure before lunchtime.
18. Shop at Ala Moana Center
If your family likes to shop, head over to Ala Moana Shopping Center, right next to Waikiki.
It's the largest outdoor shopping center in the world and it has everything from high-end luxury brands to small Hawaii boutiques. And the food options there are incredible.
It's definitely one of the best things to do in Oahu with teens since parents can hang at the Mai Tai bar while kids can shop on their own. Or they can take the Waikiki Trolley here on their own.
19. Plan an Oahu Photo Shoot
Professional photoshoots with our family are one of the best ways to make lasting memories. We get so many awesome photos that will last us a lifetime. They are so much fun to do and we love the results!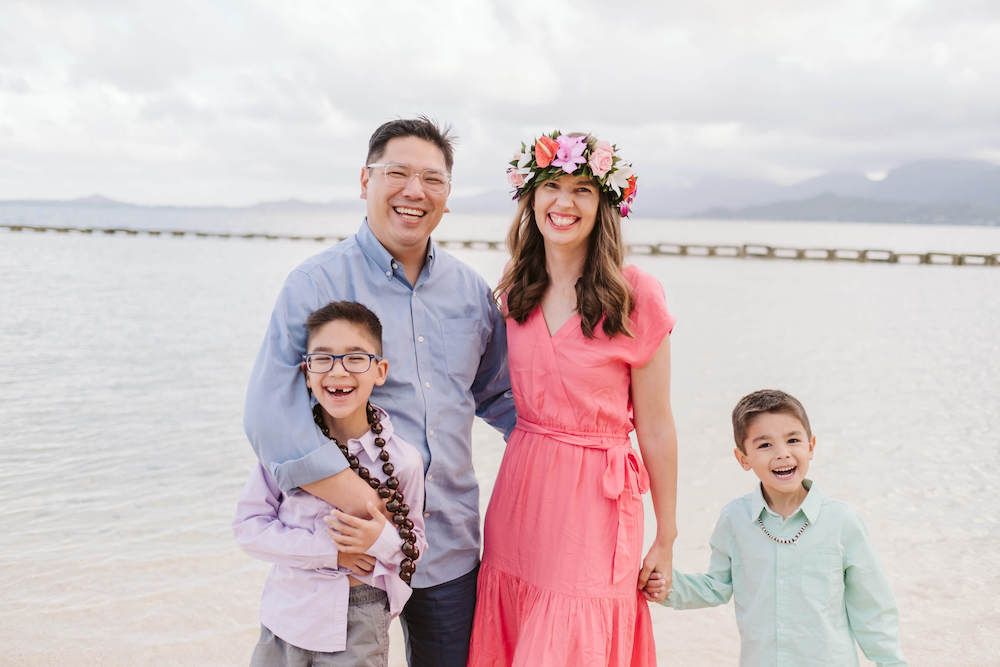 There are several Oahu photographers to choose from. We like to use Flytographer because it's easy to find an affordable Oahu vacation photographer who is available during our trip. Check out the latest prices and more details.
Book a Hawaii Photo Shoot
Whenever we travel to Hawaii, we almost always book a photo shoot with Flytographer. They are super easy, affordable, AND it guarantees that I'll have more than just selfies. You can get $25 off if you book through this link or use the code HAWAIITRAVEL.
20. Do a Sunset Cruise
One of our favorite things to do on Oahu is book a boat tour. It's a great way to relax and see the island from a new perspective.
There's a really cool sunset boat tour where you'll get a delicious dinner and watch Polynesian entertainment. Plus, the background is a gorgeous Hawaiian sunset!
And if you book this on a Friday, you'll even get to see fireworks from the water! Find the best prices here.
21. Try Plate Lunch
The food in Hawaii is SO good and there's usually something even the pickiest eater will try. I recommend heading to Rainbow Drive-In in Kapahulu if you want to try an old-school Hawaiian plate lunch.
A few other top picks include Pongo's Kitchen, Kono's North Shore, and Helena's Hawaiian Food.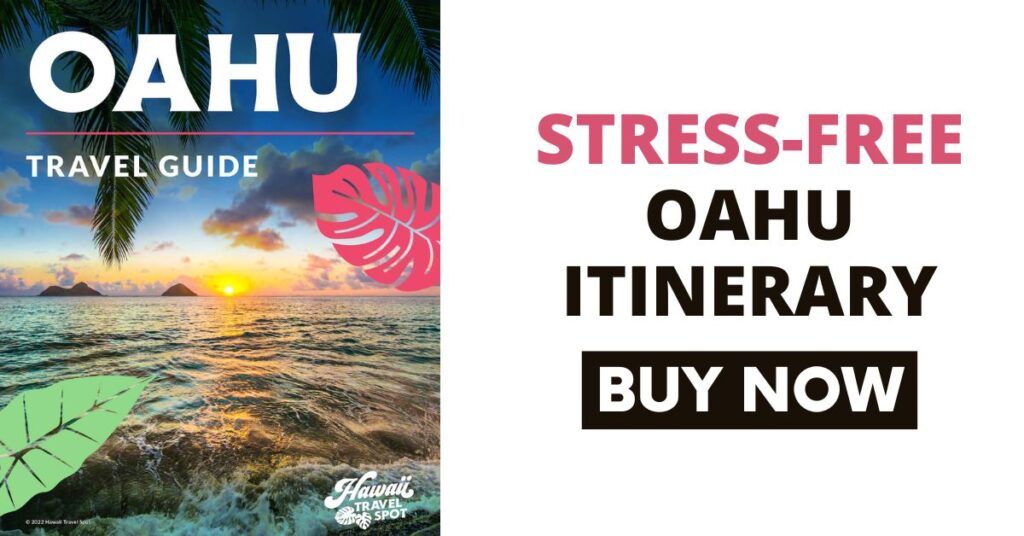 22. Check out Sea Life Park
One of the best things to do in Oahu Hawaii with kids who love animals is exploring Sea Life Park. There are programs throughout the day where kids can learn about Hawaiian sea life. And there's a nice playground.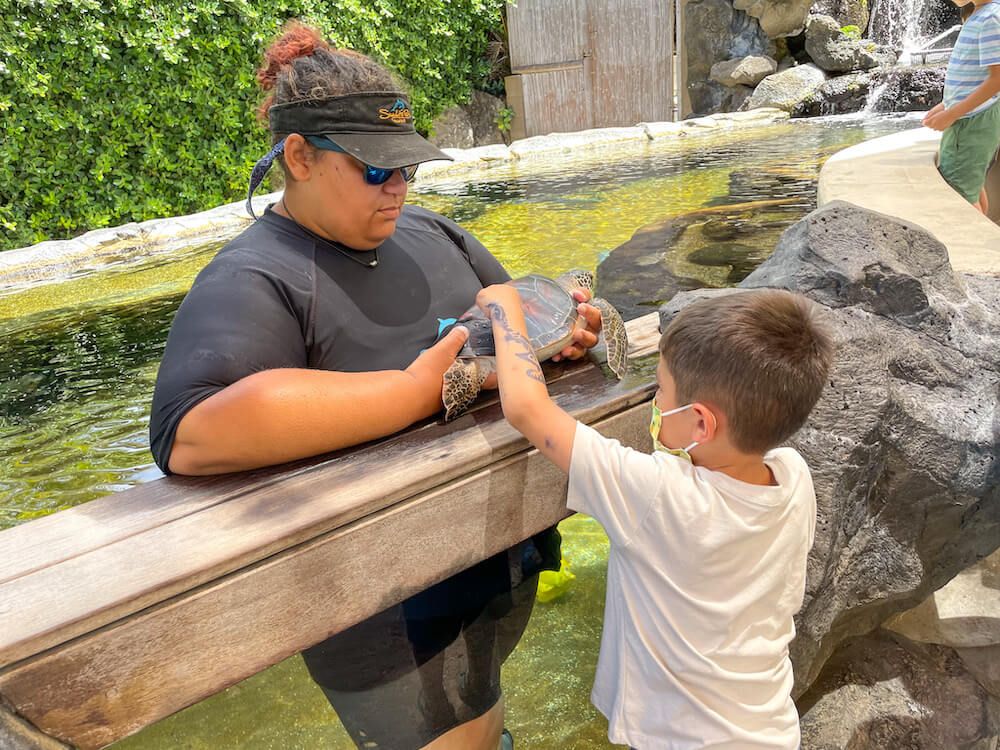 If you've watched the Adam Sandler & Drew Barrymore film 50 First Dates, you'll totally recognize this place.
They also have interactive programs with dolphins and other sea mammals for kids of all ages (and even adults)! It's one of the top Oahu activities for families. Check out the latest prices and more details.
23. Get an Audio Guide
If you're renting a car on Oahu, you'll want to get out and explore more of the island outside of Waikiki.
Take advantage of Shaka Guide's audio tours! This unique app gives your turn-by-turn navigation and interesting narration about the history/culture while guiding visitors around some amazing places on this island. Download the app.
24. Head to the Aloha Swap Meet
The Aloha Swap Meet is a great place to get Hawaiian souvenirs, clothing, and snacks. It's located at Aloha Stadium and there are tons of booths.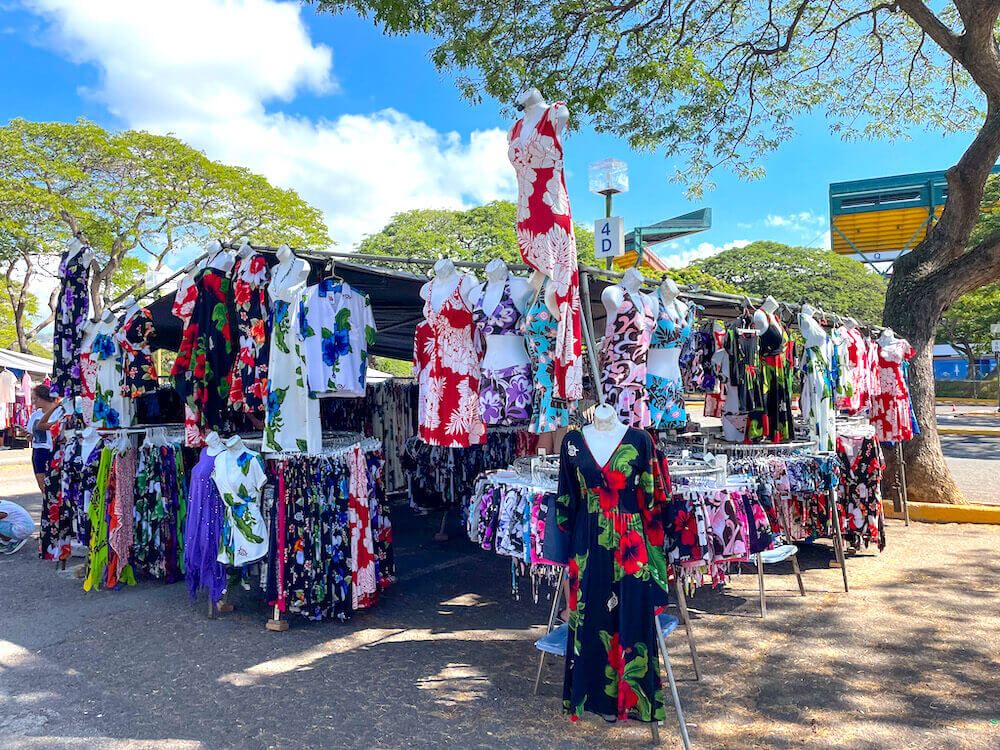 It's one of the cheapest places to find Hawaii souvenirs like t-shirts, pa'u hula skirts, Hawaiian dresses, ukuleles for kids, flower hair clips, and more.
25. Visit Bishop Museum
One of the best kid-friendly Oahu museums is Bishop Museum. This is where you'll find the largest collection of Hawaiian cultural artifacts (more than 24 million!). That's because it has been around since 1889.
This is an awesome thing to do on Oahu with kids on a rainy day or when you've had too much sun.
They also have a planetarium that is perfect for kids who are obsessed with Disney's Moana and want to become wayfinders! Check the latest rates and availability.
26. Get Guava Chiffon Pancakes
There's an awesome diner called Cinnamon's (located in Waikiki and Kailua), and they made the best guava chiffon pancakes in the world! The plate can easily be shared with your family, so you can try a few different things.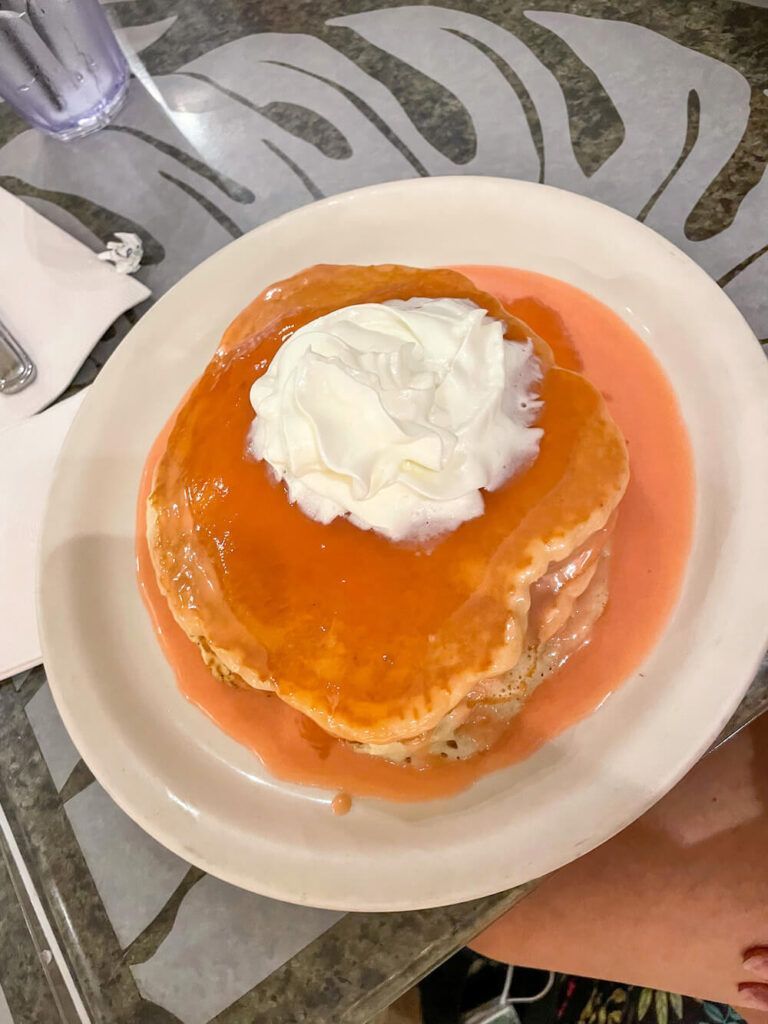 They serve breakfast all day long, and it's a great place to go before or after a morning at either Kailua Beach or Lanikai Beach.
27. Try Ziplining
Another amazing Oahu adventure is going ziplining. Kids as young as 7 years old can try ziplining on Oahu from one of Oahu's longest zip lines.
This tour kicks off with an epic ATV ride up the mountain before you'll head out on some super high (and super quiet) zip lines.
The views are unsurpassed and it's one of the top family things to do on Oahu because of the adrenaline rush! Check the latest rates and availability.
28. Visit the Waikiki Aquarium
Did you know that Waikiki is home to the 2nd oldest public aquarium in the United States?
When you visit the Waikiki Aquarium, keep your eyes peeled for Hawaiian monk seals, green sea turtles, tropical fish, coral, crustaceans, and more. This is one of the best things to do with kids in Honolulu if they love sea animals.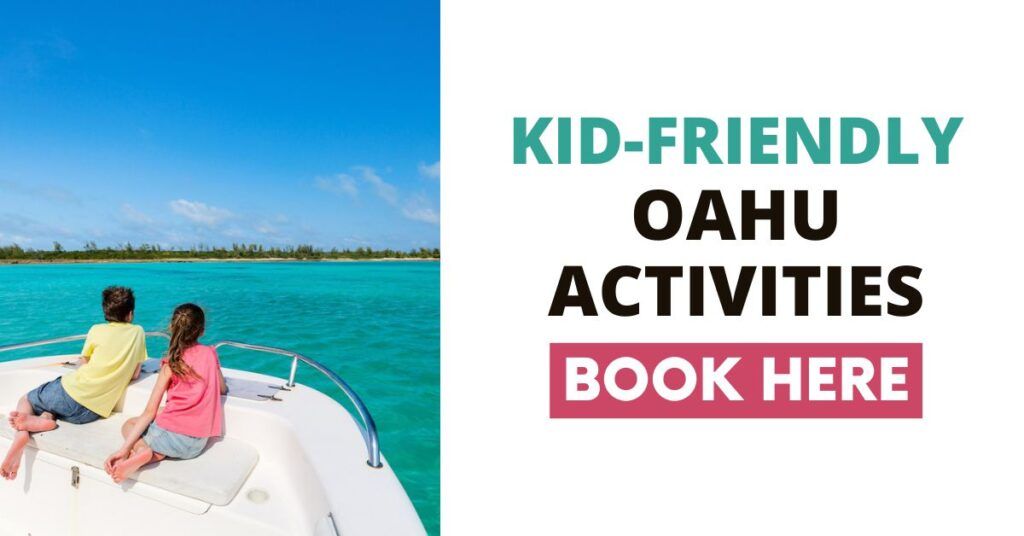 29. Ride in an Outrigger Canoe
One of the coolest kid friendly things to do in Oahu is ride in a Hawaiian canoe. There's a 30-minute Outrigger Canoe Surfing experience that's geared for families of all ages and abilities.
That's just enough time to get to surf a few waves and not long enough for kids to get bored. Check out the latest prices and more details.
30. Get Malasadas
The state of Hawaii is pretty famous for malasadas and you can find them at many places on Oahu. Malasadas are Portuguese donuts covered in sugar.
A few top spots include Leonard's Bakery (or food trucks) and Liliha Bakery. While these are usually a breakfast item, you can enjoy them any time of day.
31. Go Horseback Riding
Did you know Hawaii has a long cowboy history? Hawaiian cowboys are called paniolos and they are on all the Hawaiian islands.
Kualoa Ranch is a popular place to go horseback riding on Oahu. Kids as young as 10 years old can join one of their horseback ride adventures.
Your guide will tell you tales about Hawaii's rich cowboy history while you ride around one of the most beautiful places on Oahu. Check out the latest prices and more details.
32. Explore the Ho'omaluhia Botanical Garden
If you're been looking at photos of Hawaii on Instagram, you have definitely seen the entrance to Hoomaluhia Botanical Gardens.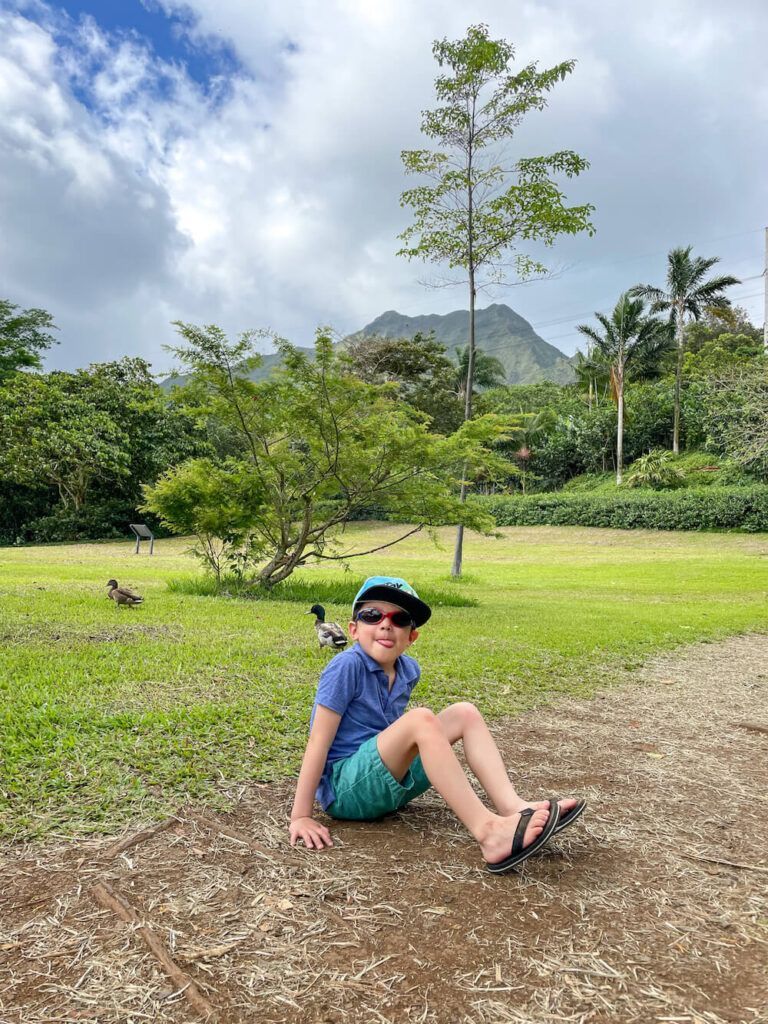 It's a 400-acre Hawaiian garden with walking trails, tons of gorgeous plants, and epic views of the mountains.
On weekends, they offer a catch-and-release fishing program for families. And there are weekly art lessons in the garden. It's one of the prettiest Hawaii botanical gardens.
33. Have Breakfast with Mickey
There's a Disney Resort on Oahu that offers an awesome Aulani character breakfast that's available to guests and non-guests of the resort.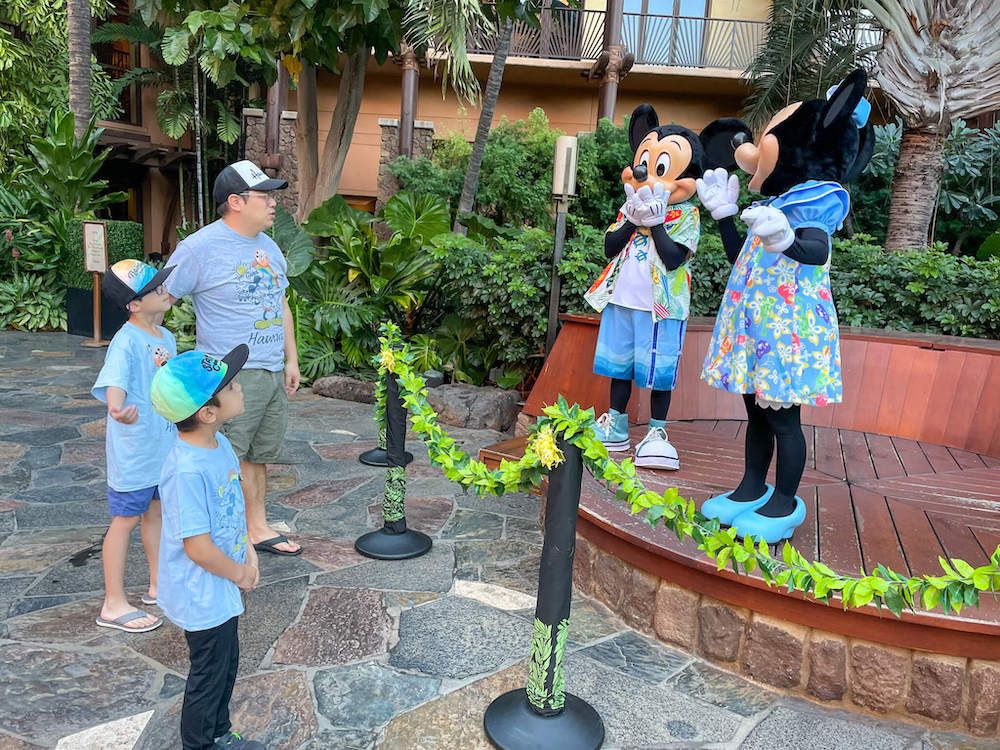 It starts off with a family photo with Mickey and then you'll head into the restaurant for a tasty breakfast with other Disney characters. There's even entertainment to keep your kids occupied.
If you're a Disney family, you'll definitely want to add this to your Oahu bucket list!
34. See Iolani Palace
Did you know that Hawaii has the only royal palace in the United States?
Iolani Palace is a great place to know if you want to see how Hawaiian kings and queens lived in the late 1800s. There are tons of displays with artifacts, furniture, and clothing.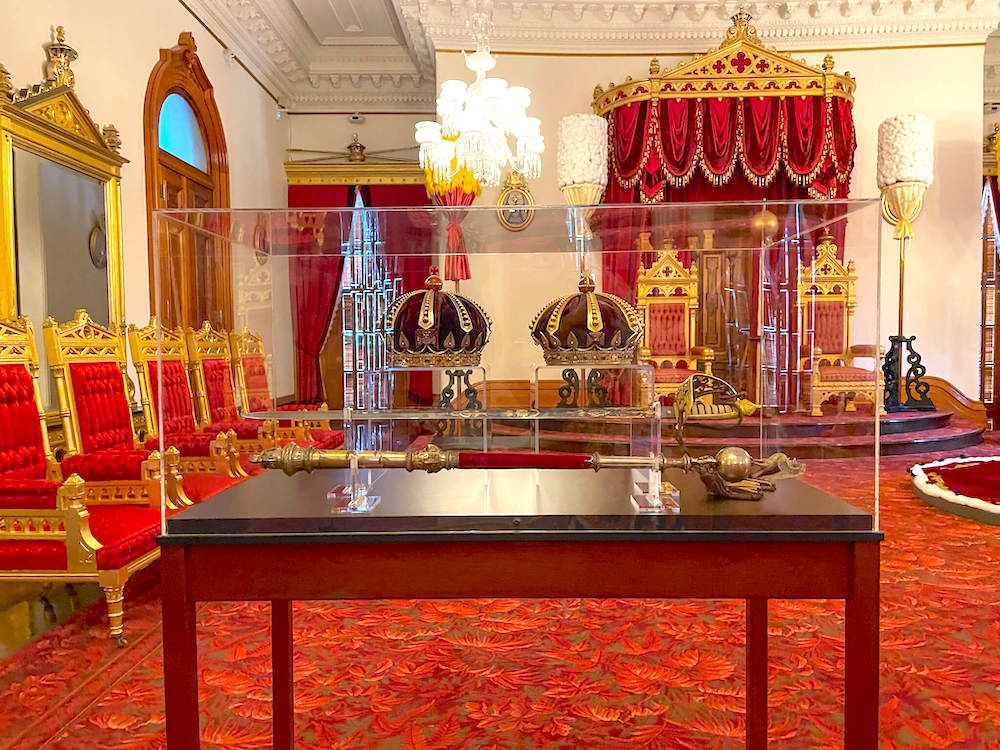 You'll want to join a guided tour so your kids can ask questions about how Hawaii went from being an independent country to the 50th state. It's quite an eye-opening report.
35. Ride the Waikiki Trolley
If you're staying in Waikiki, a fun way to get around town is by hopping a ride on the open-air Waikiki Trolley.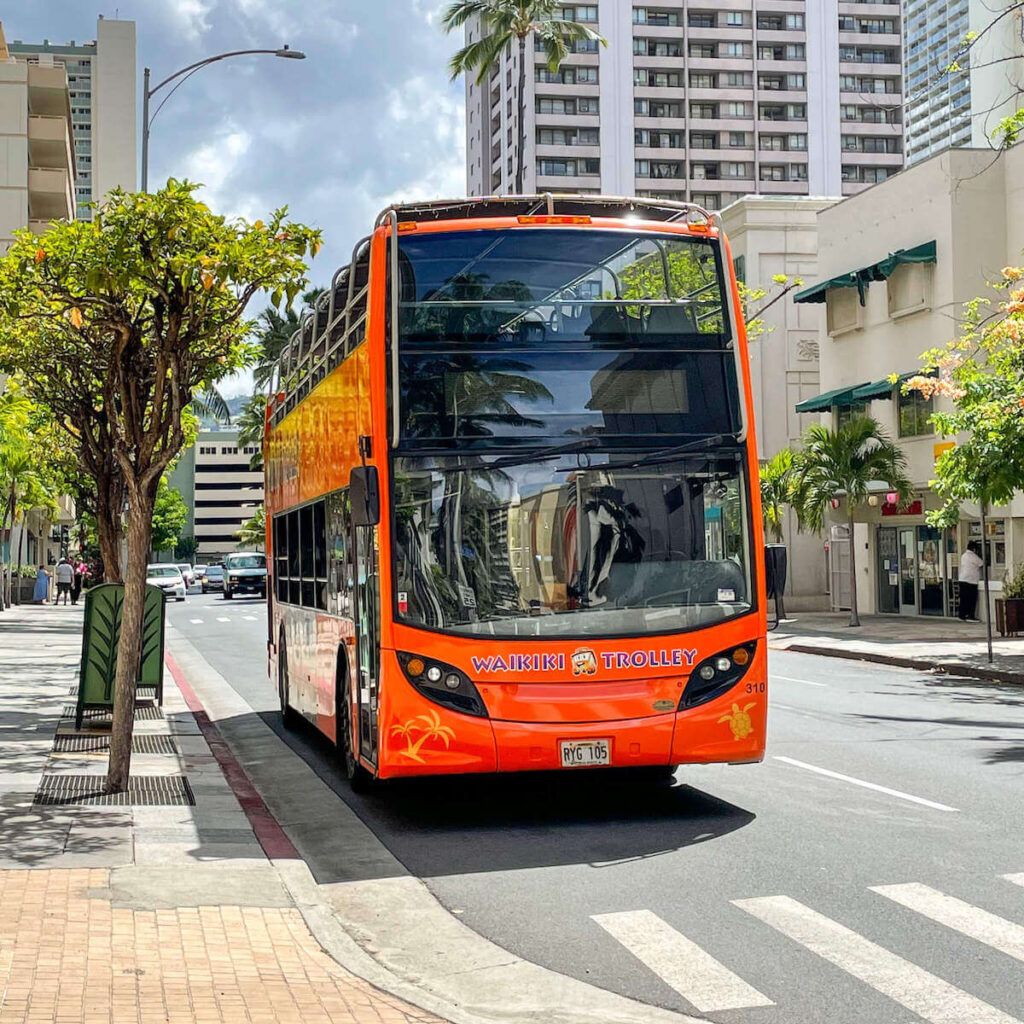 They have several routes all around the Waikiki/Honolulu area and kids will love being able to hop on and hop off at fun stops. There's a reason it's one of the top family activities on Oahu.
You can use it like a tour bus (it hits a lot of Oahu attractions) or use it as transportation to pick up groceries, get to/from your hotel, etc. Check the latest rates and availability.
36. Do an Oahu Food Tour
Oahu is known for having some delicious food, but it can be hard to know where to go.
That's why it helps to join an Oahu food tour, so you'll know where the locals go and exactly what to order.
Not only can you sample a lot of different Hawaiian foods, but you'll learn a bit about Hawaiian history and culture from a local expert. Check out the latest prices and more details.
37. Catch a Free Hula Show
If you want to watch Hawaiian dancing but don't want to splurge on a luau, head to one of the free hula shows on Oahu.
You can usually find free hula shows at the Royal Hawaiian Center and Ala Moana Center. It's one of our favorite activities in Oahu for kids.
38. Go Kayaking
There are lots of cool places to kayak on Oahu for families. It can be a really fun adventure.
You can join an Oahu kayaking tour or rent a kayak to explore on your own. And there are tandem kayaks available, which is great for parents with young kids.
39. Make a Lei Po'o
While many places offer lei making lessons for orchid or plumeria leis you can wear around your neck, there's a really cool experience where you can make a lei po'o. It's sort of like a flower lei crown and you'll usually see them on hula dancers.
If you're heading to Oahu with teens, booking this experience will make you a rock star!
Basically, you'll learn how to make a flower crown and then get a professional photoshoot wearing the lei po'o. Check the latest rates and availability.
40. Take Photos with Duke Kahanamoku
The Duke Kahanamoku Statue is a must-see while you're in Waikiki. It's easy for kids to see while walking past or as you drive by!
I recommend doing a quick Google search when you're there to find out more about this important Hawaiian historical figure.
41. Ride a Train
If you are looking for super fun activities for kids on Oahu who love trains, you'll want to check out the Hawaiian Railway.
It's a historic train ride near Ko Olina. They offer weekend rides for families that go up and down the coast. And there's even an ice cream ride!
Plus, they are a non-profit that is dedicated to preserving Hawaii's railroad history.
42. Take Surfing Lessons
One of the most famous places to learn to surf is Waikiki Beach.
That's because the waves are usually pretty gentle and the water is fairly shallow, making it perfect for teaching kids to surf. Taking surfing lessons are one of the most popular Oahu activities for kids.
It's a smart idea to get private surfing lessons for kids and teens so they can get all the attention they need to successfully get up on their board. Check the latest rates and availability.
43. Try a Coco Puff
One of the most delicious things to eat on Oahu is a Coco Puff from Liliha Bakery. They are world-famous for having the best Coco Puffs in Hawaii!
Coco Puffs are similar to an eclair, but they are smaller and round. The ones at Liliha Bakery are filled with chocolate cream and topped with a vanilla coconut frosting. They are incredible!
44. Dive with Sharks
If you want to check something adventurous off your Oahu bucket list, try this shark cage diving experience in North Shore Oahu.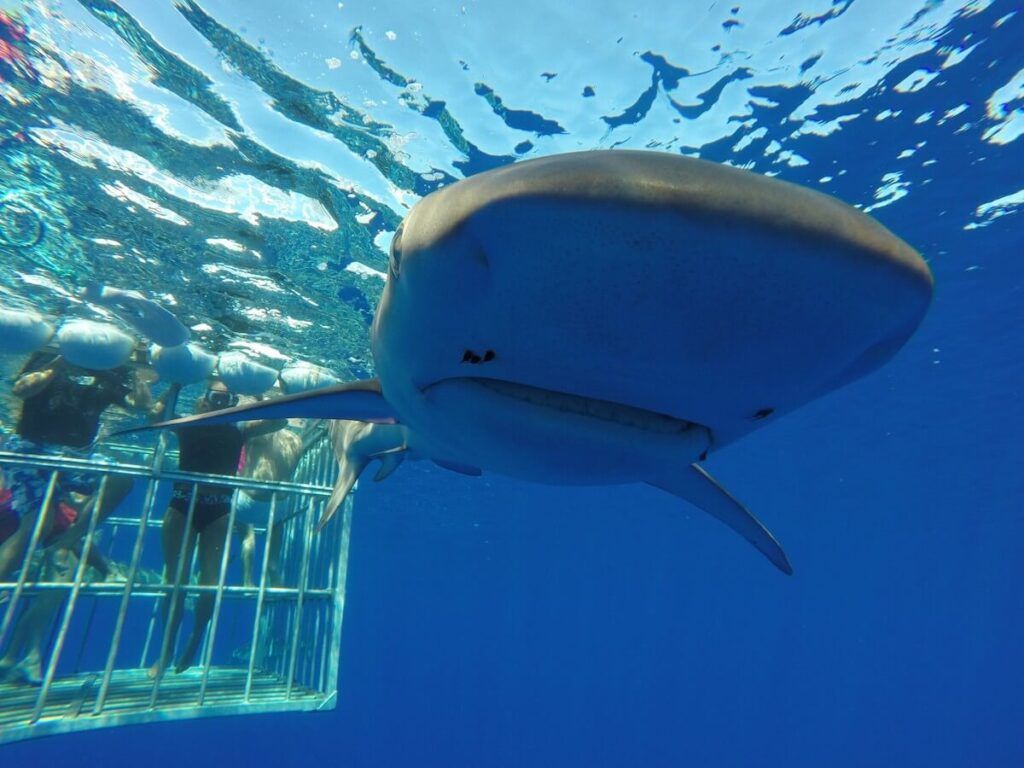 You'll be safely secured inside a cage as you plunge into the Pacific Ocean to get an up-close view of sharks. Kids of all ages can be on the boat regardless if they want to get in the cage to see sharks up close.
Plus, there's a good chance you'll see dolphins, Hawaiian Green Sea Turtles, and whales (in the winter.) Check out the latest rates and availability.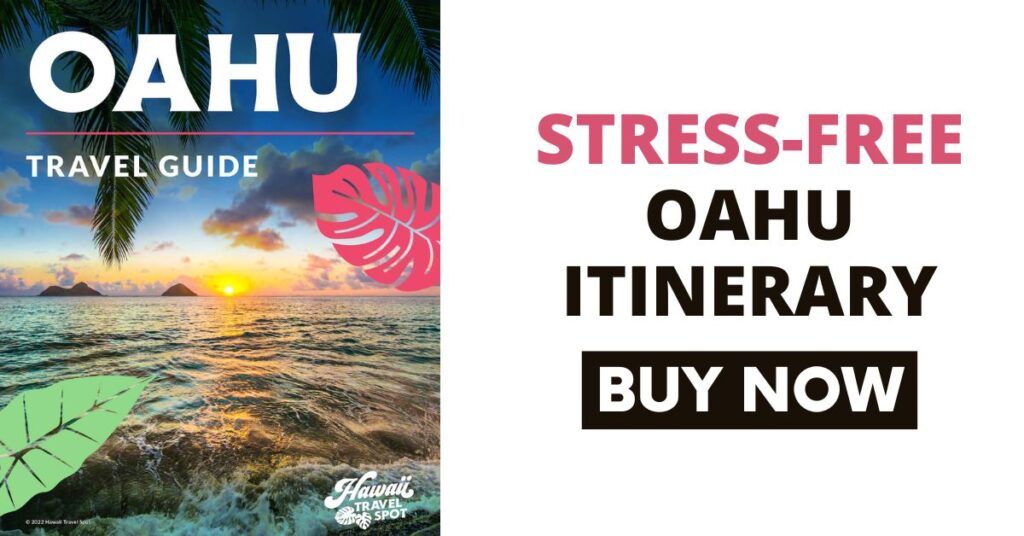 45. Explore Haleiwa Town
If you want to see what a laid-back surf town in Hawaii looks like, head up to Haleiwa in North Shore Oahu.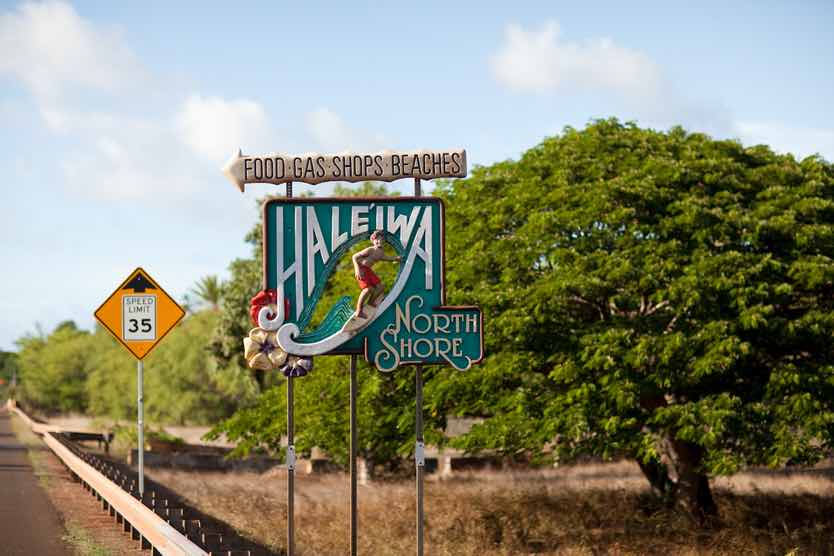 After you snap a photo with the iconic Haleiwa sign, park your car and walk around town.
You can browse cute surf shops and boutiques, as well as some pretty cool art galleries. There are several shops with kids clothing, books, and toys.
This is also where you'll find tons of tasty food trucks and lots of shave ice options.
46. Stop by Iyasume Musubi Cafe
If you are staying in Waikiki, there's no excuse not to pop into one of the many Iyasume Musubi Cafe locations.
They are small shops that sell freshly made musubi. Of course, Spam Musubi is the most famous. But, they have lots of different options.
They are pre-wrapped so they make the perfect breakfast on the go or you can buy a bunch to bring to the beach.
47. Friday Night Fireworks
Every Friday night, the Hilton Hawaiian Village in Waikiki does an amazing firework show that you can see from many places in Waikiki.
Families can bring a beach blanket and find a nice spot near the Hilton to sit back and enjoy the spectacular show. It's one of the top things to do on Oahu at night.
Or, you can always head to the hotel and grab a drink for the best seat in the house!
48. Go to the Kaneohe Sandbar
Bring your family on a boat cruise to the Kaneohe Bay Sandbar, where you can swim in beautiful waters while playing volleyball or just relaxing before eating lunch! Check out my favorite Kaneohe Sandbar tours!
The best part about this spot is that it's great for both swimmers and non-swimmers because since the sandbar is perfect for wading. Check the latest rates and availability.
49. Check out Tidepools
If you need to figure out what to do with kids in Oahu who don't want to swim, you might explore some of the tidepools on Oahu.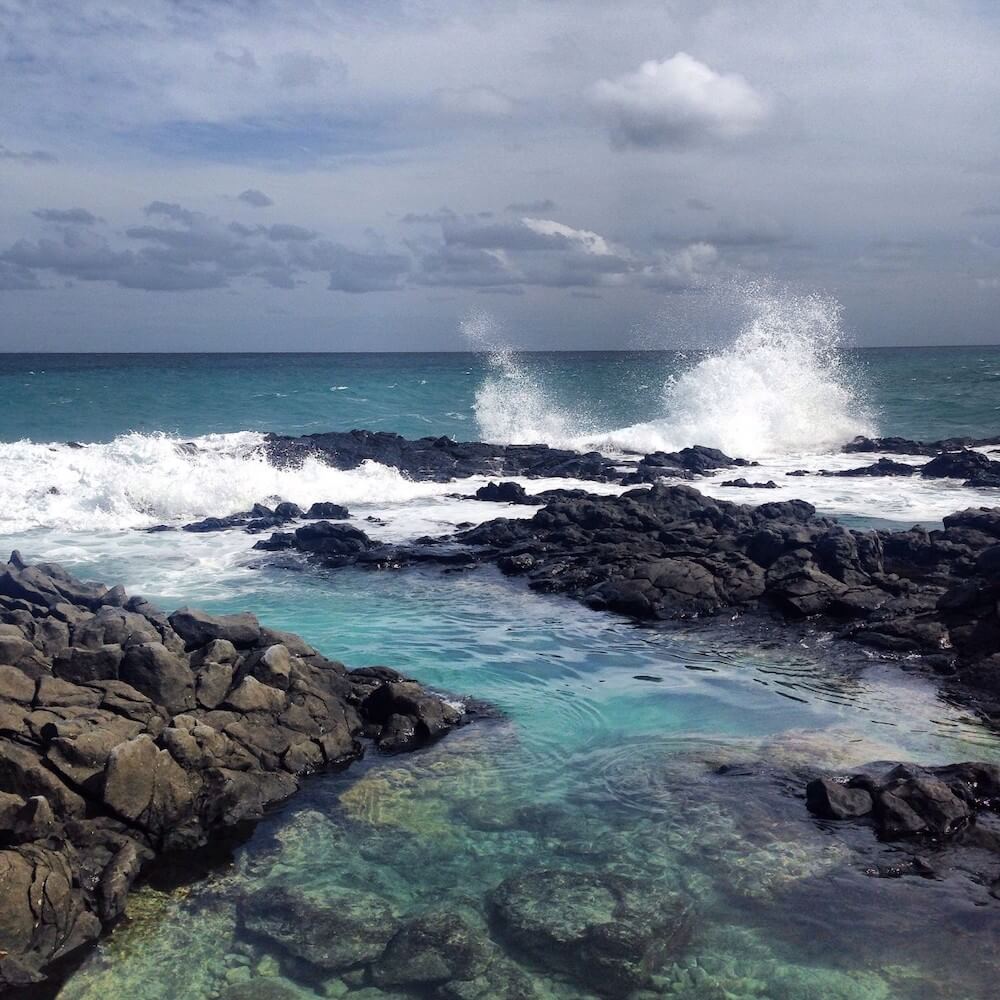 There are lots of beaches with shallow water so kids can wade in and look for Hawaiian sea life (like crabs or small fish) or collect shells.
Baby Makapu'u is a popular Oahu tide pool for families. Plus, you can see Makapu'u Lighthouse and a few little islands.
There's also a little spot near Shark's Cove with a bunch of lava rock that creates some cool tide pools for kids. It's especially fun in the summer when North Shore waves are calm.
50. Go Parasailing in Waikiki
Imagine flying high over scenic Oahu before landing on one of its many beaches. You can take this ride with your family members, and even kids as young at 5 years old!
You'll get sweeting views of the Ko'olau Mountains, Diamond Head, and Waikiki! Check the latest rates and availability.
Things to do on Oahu for Kids Wrap Up
As you can see, there are tons of cool things to do on Oahu with family, no matter their ages or interests. From water adventures to historical sites to amazing cultural experiences, Oahu has it all!