If you are thinking about visiting more than one Hawaiian island during your trip, it's very easy. Keep scrolling to find out everything you need to know about Hawaii island hopping.
This guide to Hawaii island hopping contains affiliate links which means if you purchase something from one of my affiliate links, I may earn a small commission that goes back into maintaining this blog.
If you're interested in Hawaii island hopping, I've put together an informative guide for you. Below you can read about which islands to visit, the best types of inter-island travel, as well as my tips for how to island hop in Hawaii.
The State of Hawaii is an archipelago made up the 8 main islands, plus over 120 smaller ones. Each island has its own beautiful personality and history. You'll want to experience the unique histories and natural wonders on every island!
There are a variety of different ways to enjoy your island vacation. Some visitors like to stay near 1 beach in a resort community, and you'll have a great time! But Hawaiian Island hopping is a wonderful way to make the most out of your trip by seeing more than 1 island in one go.
If this is something you've been wondering about, keep reading for all the info you'll need.
Want to skip all the planning and just access my detailed Hawaii Island Hopping Guide complete with cruise excursions, island itineraries, and travel hacks? Click the button below.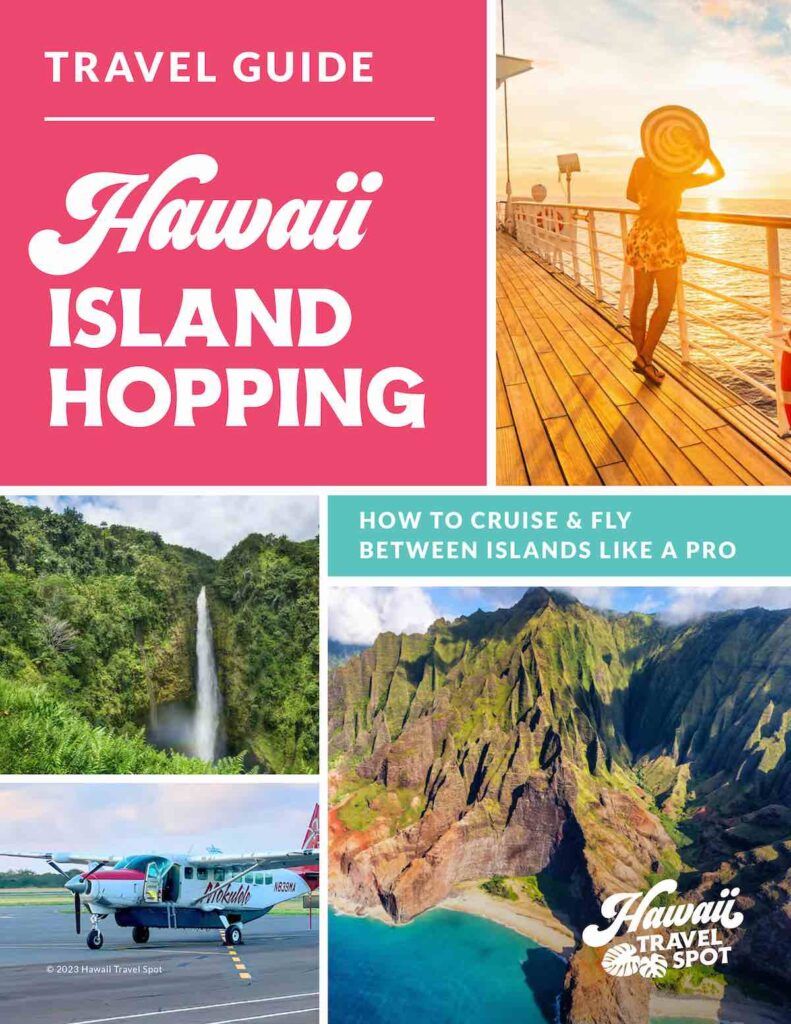 Which Island Should I Visit?
The first step on your Hawaii island hopping adventure is deciding which islands are the best for you. Each island has different activities and attractions.
You can read a brief overview of each island below, as well as any specific info related to island hopping in Hawaii.
If you plan to visit more than one island, I highly recommend grabbing a copy of my Hawaii Island Hopping Guide which has 1-3 day itineraries for Oahu, Maui, Kauai, Big Island, Lana'i, and Moloka'i.
Oahu
You'll probably fly into Oahu, so it's a convenient place to start your island-hopping vacation. It's also the most affordable Hawaiian Island, and the most visited with tons of attractions and natural areas.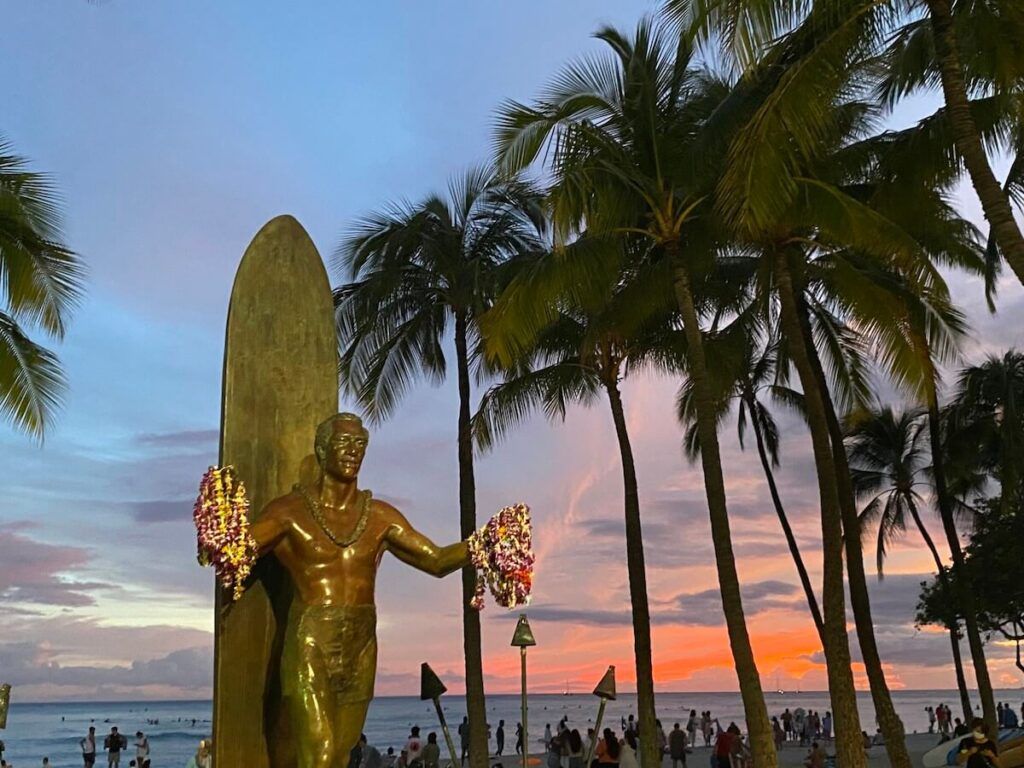 You'll find lots of things to do in Oahu, including visiting Pearl Harbor, exploring Kualoa Ranch, touring pineapple plantations, and swimming at Waikiki Beach.
Maui
One of the top honeymoon destinations in the world is Maui! It's also super popular with families. There are both luxury resort communities and surfer villages.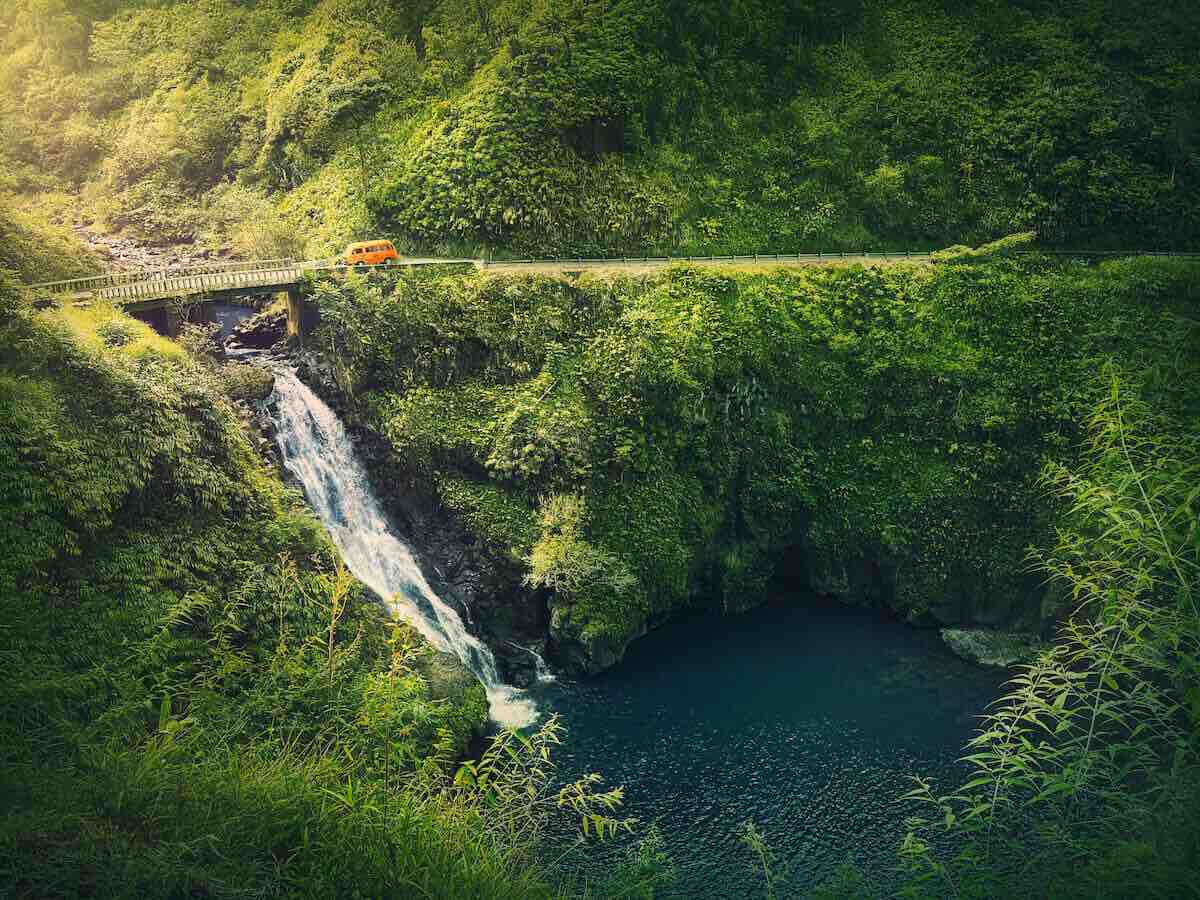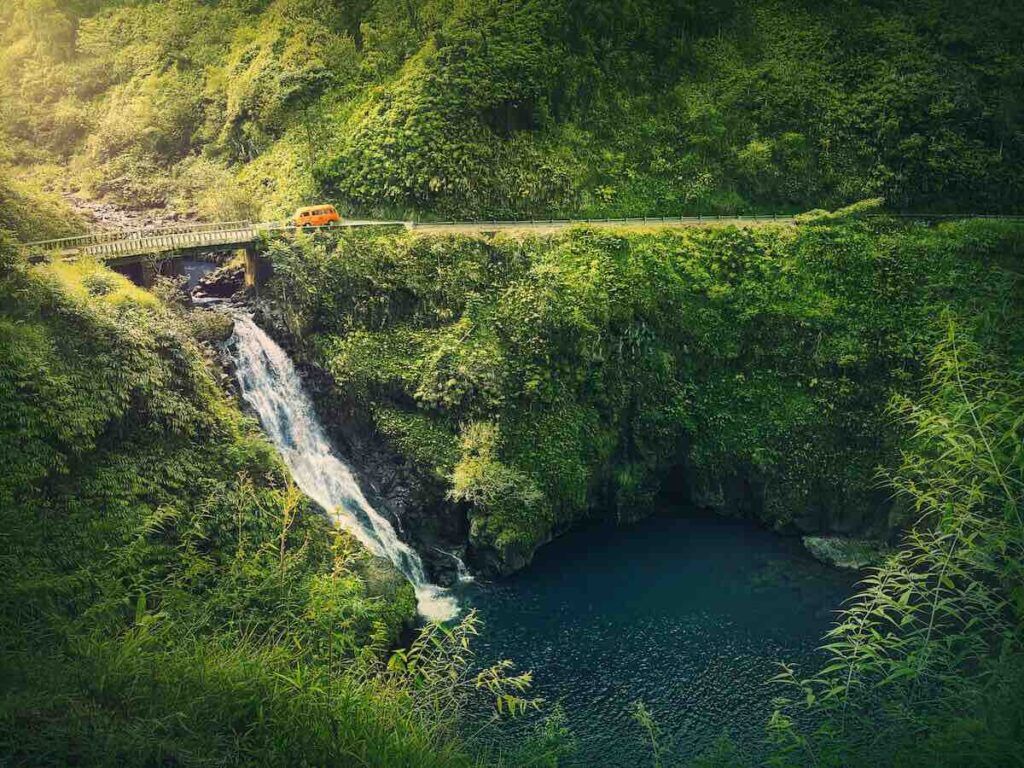 One of my favorite things to do in Maui is watch the sunrise from Haleakala. Other favorite pastimes include whale watching and exploring the Road to Hana. And it's a great starting point if you want to island-hop to Lana'i or Moloka'i.
The Big Island of Hawaii
The largest of the Hawaiian Islands, the Big Island is most famous for the Hawaii Volcanoes National Park. You can also try delicious native Kona coffee or tour a coffee farm.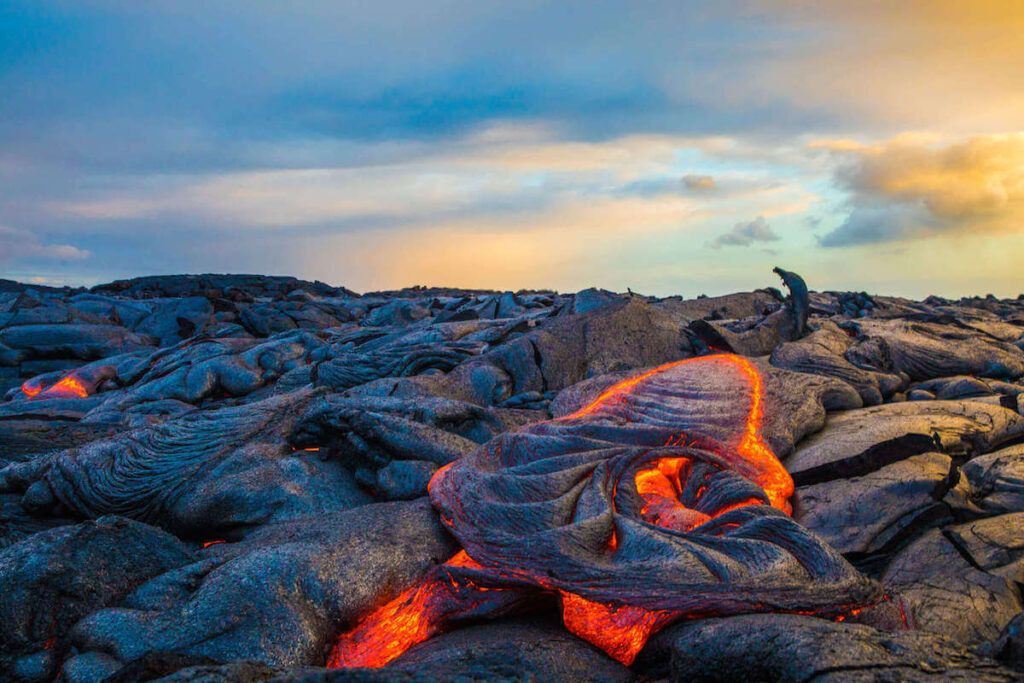 People also come to the Big Island for the sparkling white sand beaches and amazing watersports opportunities.
Kauai
Kauai is called the "Garden Isle" for its spectacular natural attractions, including ancient desert canyons, verdant mountains, and breathtaking waterfalls. There's no limit to the thrilling outdoor adventures to be found here!
Go on a helicopter ride through the rainforest or go river tubing on the Coconut Coast. It makes for a great day trip, but you could also easily spend several days here.
Lana'i
Lana'i is the smallest of the main islands and just a 9-mile ferry ride away from Maui. It's home to luxury resorts, but you'll probably come here for a day of ATV tours or challenging scenic hikes.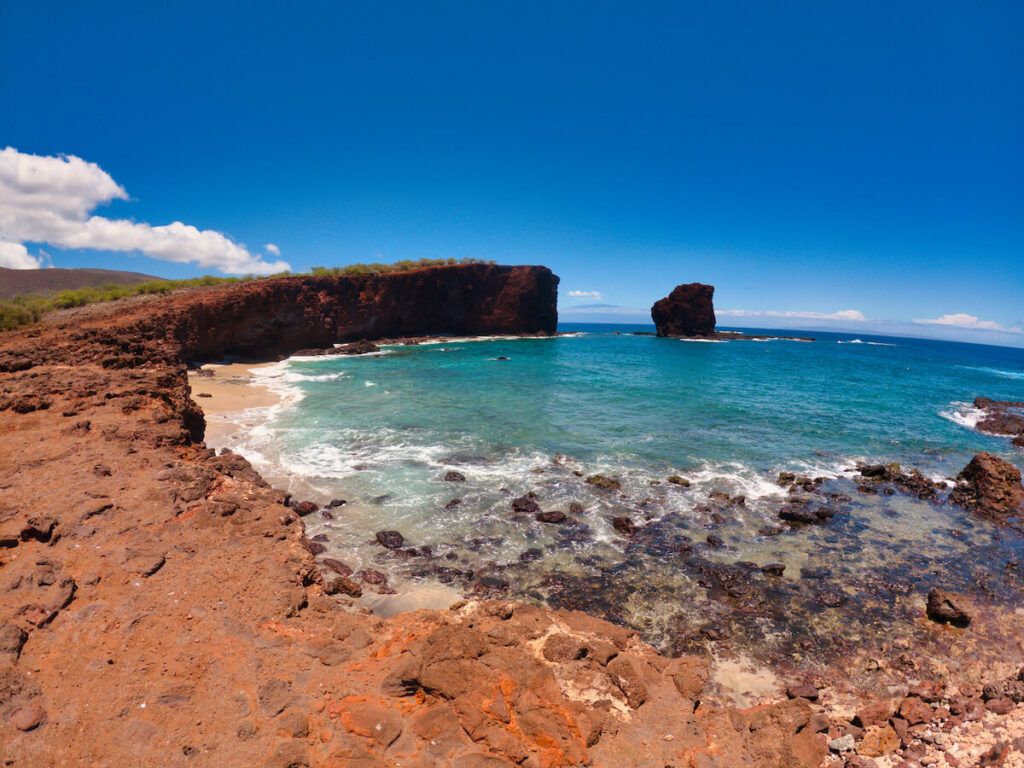 The rugged coast of Lana'i features miles of serene, undeveloped beaches that you'll have all to yourself! Or you can explore tide pools on foot or on a Lana'i snorkeling tour from Maui.
Moloka'i
The small island of Moloka'i makes a big splash with the longest continuous fringing reef in the world (that's ideal for snorkeling). You'll also find sky-high sea cliffs and Pāpōhaku Beach, the largest white sand beach in the Hawaiian Islands!
History lovers will want to visit the Molokai Museum, as well as the Kalaupapa National Historical Park. You can learn about the island's fascinating history which includes a leper colony.
Different Ways to Island Hop in Hawaii
Even if you're aware of Hawaii island hopping, you may not have all the ins and outs on how it's done. When you start researching how to travel in Hawaii between islands, you realize pretty fast that there are 2 main ways to do it: inter-island flights and ferries.
Inter-Island Flights
Hawaii island hopper flights go to all the main islands. Direct flights take less than an hour and easily cost less than $50 a ticket! This also makes it the easiest and cheapest way to travel between the Hawaiian Islands.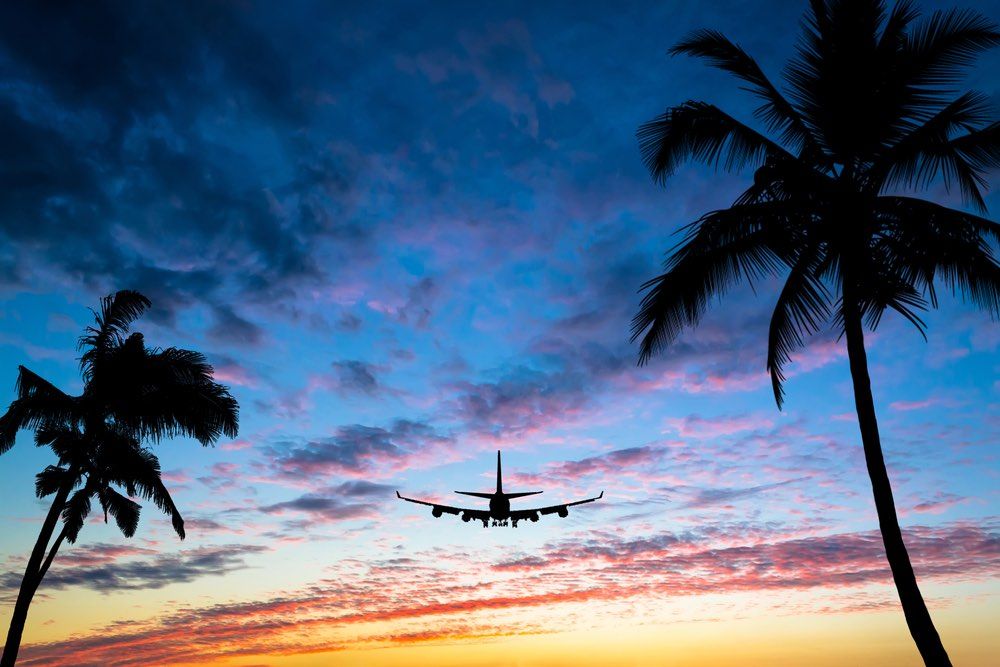 Just keep in mind that most direct flights leave from Honolulu Airport in Oahu, while the other islands make connections. You don't want to spend 3 hours getting from Big Island to spend 1 day in Moloka'i!
You also want to think about transportation once you land. Maui has a wonderful public bus system, while you'll definitely need to rent a car at the airport in Moloka'i. Also, rental cars have become more in demand in Hawaii. So, you should book a rental car in advance.
The Ferry
Many people ask how to get from island to island in Hawaii thinking that there's still a Super Ferry. This was a thing in the early 2000s but it didn't last long. In your search, you might even have come across their old website, but trust me, there isn't an inter-island ferry system in Hawaii!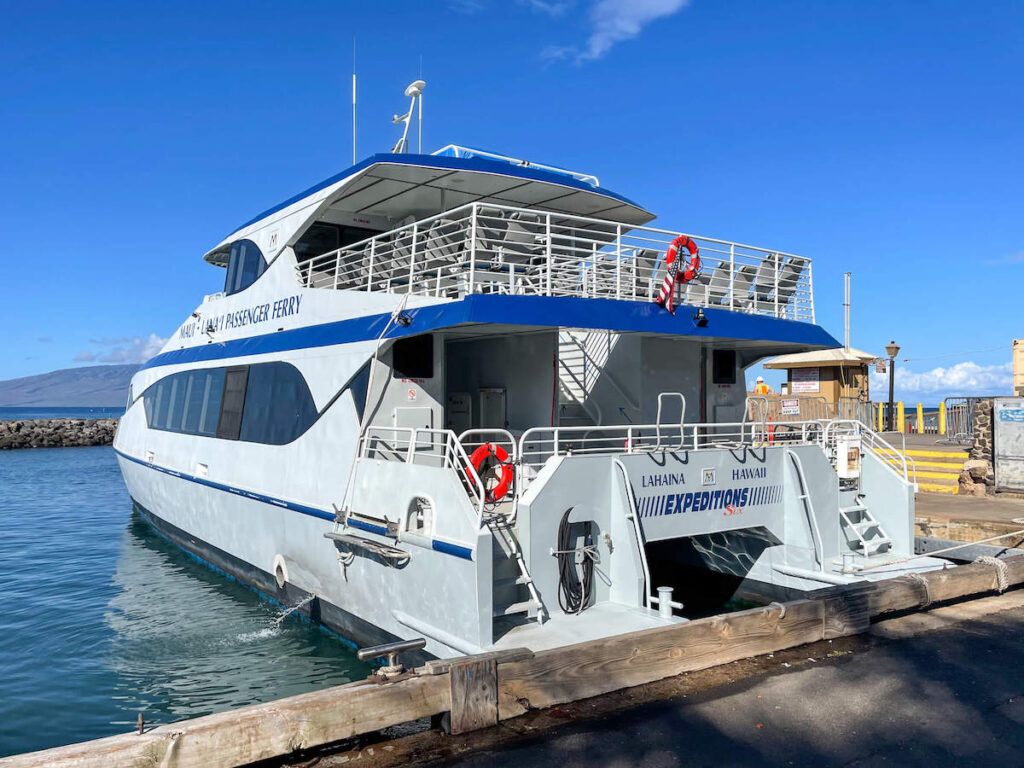 The only ferry goes between Maui and Lana'i. I've taken this ferry from Lahaina and it has its pros and cons.
From Lahaina in West Maui, you'll take the public ferry for about $30 per person one-way. That means, depending on the size of your party, you can easily spend $100 just to get to Lana'i. It's just something to be aware of.
You'll enjoy a nice ferry ride that takes about an hour. It almost doubles as a boat tour with great views of Lana'i, Moloka'i, Kaho'olawe, and Maui from the water. Plus, in the winter, there's a good chance you'll get a peek at humpback whales!
And while the ferry to Moloka'i stopped running a few years ago, the island is just a short flight from Maui.
Hawaii Island Hopping Tours
You can also take all the guesswork out of your Hawaii island hopping itinerary and book a guided tour with transport. Referring to knowledgeable locals is a great way to check off an entire day of activities, especially if it's your first time visiting Hawaii!
You can find great full-day tours that give you a great feel for the island, like this Small Group Road to Hana Tour with a pick-up in Maui.
Or take this Lanai to Maui tour in a 4×4 Jeep Cherokee with a private guide for an off-the-beaten-path experience. We've done this and it was such an easy way to see the island.
And I need to mention that snorkeling tours like this one are also the only way to visit the island of Ni'ihau. That's because Ni'ihau is a private island and you basically need permission to go there. But you can see the beautiful cliff face of Ni'ihau while enjoying prime snorkeling off the coast.
Multi-Island Cruise
If you're open to a Hawaii island hopping cruise, Norwegian Cruise Line has an impressive one. In 7 days, you'll travel from Oahu to Kauai, Big Island to Maui, and then back to Oahu.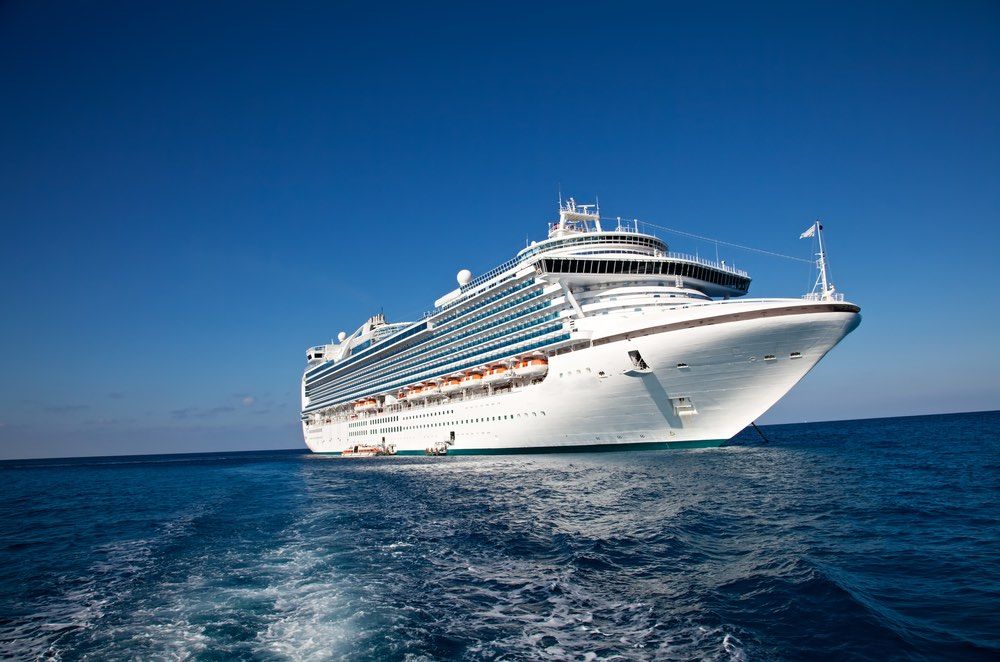 A big plus for this cruise is that you don't have to worry about the logistics of switching hotels or booking transportation! And there aren't any all-inclusive resorts in Hawaii, so this is a great alternative.
The only downside might be that you only get 8-hours at some ports. If being on a clock when it comes to exploring stresses you out, this isn't for you. But it's a creative way to see the 4 main islands in a short time span.
Hawaii Island Hopping Vacation Packages
Going through a travel agency might be the perfect answer for your island experience! You can find all-inclusive Hawaii island hopping packages that cover all the details. These agencies cross the 'I's and dot the 'T's so all you have to do is show up!
Agencies like Aloha Hawaiian Vacations prepare it all for you, even down to the lei greeting at the airport! For their 4-Island Package, they work with you to choose daily activities. They'll take care of the hassle of booking flights, car rentals, and even dinner reservations on each island.
So, What's the Best Way to Island Hop in Hawaii?
Based on the information you read above, I think the best way to island hop is to catch direct inter-island flights. For the best chance of finding these flights, I recommend island hopping from Oahu.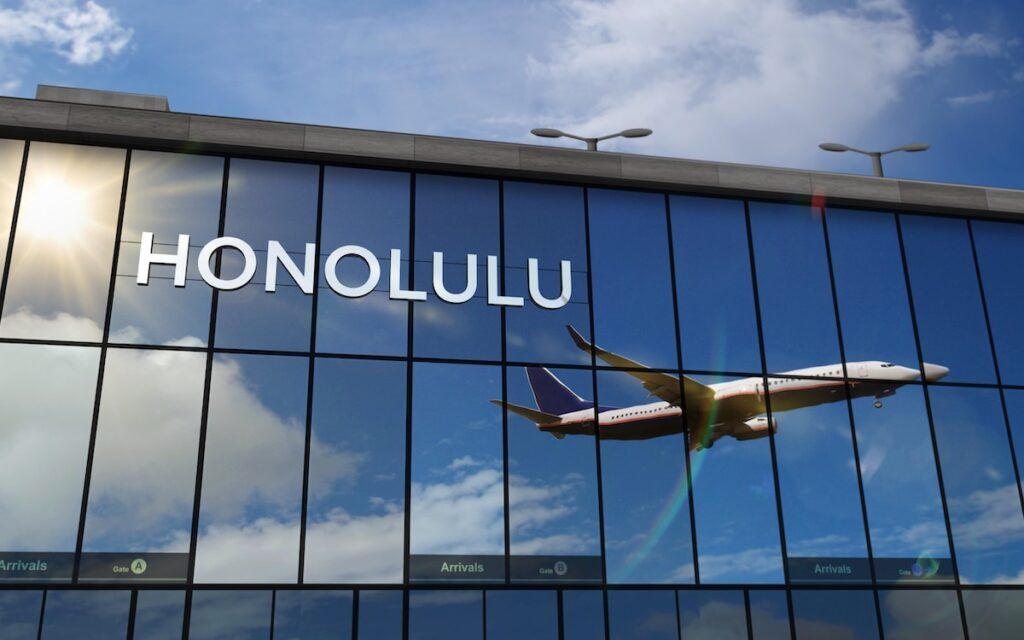 But this also depends on which islands you want to visit. If you want to see Lana'i or Moloka'i, your best bet is to plan a half or full day on 1 or both islands, with Maui as your launch point.
Hawaii island hopping can be whatever you want it to be! If you want more independence and freedom to change your plans, you should book your own flights and individual tours.
However, if planning isn't your strong point, or if vacation packages and cruises might give you peace of mind, these are also quality choices!
Tips for Hawaii Island Hopping
Budget Your Time
Whether your Hawaii island hopping between 2 islands or 5, remember that travel and transition always take time. There's no way around that! You'll be transporting luggage, checking into flights, renting, and returning cars, and more.
Give yourself a little time for these less glamorous parts of your island-hopping adventure. It'll make the fun stuff even more exciting!
Book Things in Advance
Save yourself the stress of wondering if you'll be turned away. Book things like rental cars and popular attractions in advance.
For example, Pearl Harbor is free to visit, but only a certain number of tickets are available per day. Take my advice and reserve tickets online in advance where they're available!
Look for Ways Save on the Cost of Island Hopping in Hawaii
While flights between islands are pleasantly affordable, the cost to island hop in Hawaii quickly adds up! It can be nice to find creative ways to save.
Maybe book a vacation rental to save on accommodations and food. Or instead of booking 5 nights at that luxury resort you've had your eye on, only book 1 night.
And don't turn away from Hawaii multi-island vacation packages just because they have a high price tag upfront. Many travel agencies offer discounts on all-inclusive packages that end up saving you in the long run!
FAQ about Hawaii Island Hopping
Can you island hop in Hawaii?
Yes! Island hopping is a popular way to see more than 1 just island in a single visit to Hawaii, and it's super easy to do.
Is Hawaiian Island hopping worth it?
Island hopping is a worthwhile way to experience the different islands of Hawaii! But you'll have the best time if you're planning a longer trip, anywhere from 7 to 14 days. This way you don't have to rush, and you can truly enjoy each island that you visit.
How do you travel between the Hawaiian Islands?
The only way to travel among all the islands of Hawaii is by plane. And the only ferry goes between Maui and Lana'i. You can't drive between the islands, either. But inter-island flights are super easy, fast, cheap, and frequent.
How many islands should I visit in Hawaii?
That depends on how many days you have! For a 5-day trip, a great option is making your base in Maui and taking a day trip to one nearby Lana'i or Moloka'i. A week or 10 days is enough to enjoy a few nights each across 2 islands. And if you're planning on 2 or 3 weeks, you could easily visit the 3 largest islands (Maui, Oahu, and Big Island).
Go on a Hawaii Island Hopping Vacation
Maybe you've been dreaming up your perfect Hawaii island hopping vacation. Or this might be the first time you've heard about this amazing way to see Hawaii. Island hopping is a fun way to experience more than 1 island in one trip.
If the information I gave you makes it feel a little more manageable, I've done my job!
Once you've figured out which islands you want to visit, download a copy of my Hawaii Island Hopping Guide with everything you need to plan your trip!
This absolutely beautiful state is made up of islands full of vivid histories and rich cultures and attractions that you won't want to miss out on. So, try out island hopping!