Planning a family trip to Maui and starting to think about your Maui activities? Keep scrolling for the best things to do in Maui for kids and teens!
This list of things to do in Maui for kids contains affiliate links which means if you purchase something from one of my affiliate links, I may earn a small commission that goes back into maintaining this blog.
Planning a trip to Maui with the family?
You're in for a treat – Maui is one of the best Hawaiian islands for families! With plenty of activities and attractions to keep everyone entertained, you'll have a blast on your vacation.
Check out our list of the best things to do in Maui for kids and teens – it's packed with ideas that will make your vacation unforgettable. Whether you're looking for adventure or relaxation, we've got you covered.
Bookmark this page and refer to it when planning your trip – we know you'll have an amazing time on Maui!
Don't have time to read a bunch of Hawaii blog posts and reviews? Here are some of our top picks for visiting Maui with kids.
Best Kid-Friendly Maui Tours/Activities
Best Kid-Friendly Maui Resorts
Hyatt Regency Maui (this has the BEST pool area and on-site shave ice stand)
Honua Kai Resort & Spa (this is one of our personal favorites because there are tons of pools and there are condo options)
Fairmont Kea Lani (this is a swanky resort with incredible kids' programming and an awesome pool area)
Want to Rent a Car in Hawaii?
One of the best places to rent a car in Hawaii is Discount Hawaii Car Rental because they get the best rates from top national companies like Alamo, Dollar, Thrifty, Avis, Enterprise, Budget, and Payless.
Best Things to do on Maui with Kids and Teens
1. Maui Ocean Center
The Maui Ocean Center is a must-see for all parents traveling with toddlers. They have plenty of indoor and outdoor exhibits that will keep them entertained, including tidepools where children can touch sea creatures while they learn all about them.
It's hands-down the best aquarium in Hawaii!
They even have Hawaiian cultural programs throughout the day. And there's an awesome tunnel that takes you through an aquarium tank where ocean animals surround you. Check the latest rates and availability.
2. Hike I'ao Needle
There is one place in particular that I always make sure to visit while on vacation, and it's I'ao Valley State Park.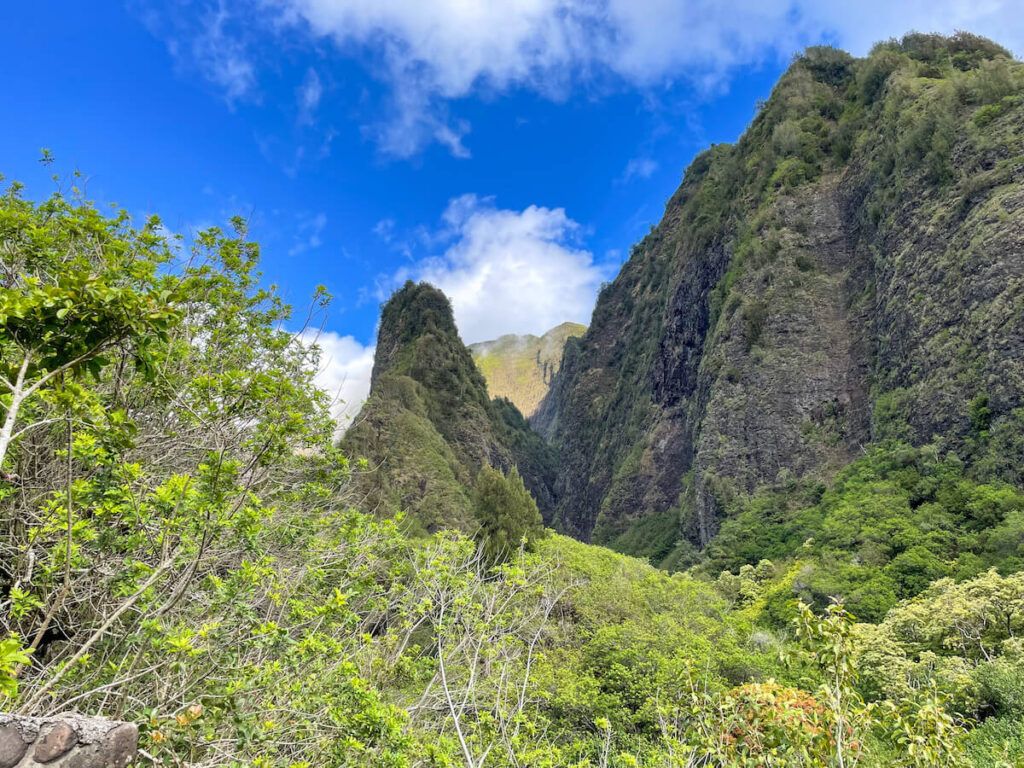 Here, you'll park your car and you can head on a kid-friendly Maui hike up to I'ao Needle. The path is paved and there are a bunch of stairs.
Plus, there's a cute lower garden and even a path to a Maui swimming hole. And it's close to the airport, making it a great first stop after you land.
Advance reservations to enter I'ao Valley State Monument are now available online. The parking fee is $10 per vehicle. The additional non-resident entrance fee is $5 per person with no charge for children under three years old.
3. Maui Tropical Plantation
Kids of all ages will have an amazing time at Maui Tropical Plantation. It's an adorable farm that has a little tram that goes around the property and families can learn all about tropical fruit in Hawaii.
There are also two ziplines here, one for kids who are five and older, which is a great first experience. And they also have the longest zipline in Maui for kids ages 10 and older.
Plus, there's a great coffee shop, an amazing restaurant with an epic view, and a really large market filled with made-on-Maui products.
4. Snorkel at Molokini Crater
Molokini Crater is one of the best snorkeling spots in Hawaii! It's a small, but beautiful crater off of Maui that you can explore for hours.
It's one of the best Maui family activities to do on a day trip. That way, you have enough time to get there and fully explore the sea life before returning to the harbor.
There are tons of awesome Molokini Crater boat tours, like this Maui snorkeling tour that also goes to Turtle Town! Check out the latest prices and more details.
5. Drive the Road to Hana
The Road to Hana is a must do for any family vacation in Maui. It's stunning and there are tons of kid-friendly Road to Hana stops along the way that makes it even more enjoyable!
A few top spots include Twin Falls, the Garden of Eden, and all the banana bread and fruit smoothie stands along the way!
You can join a guided tour or drive yourself. Either way, you will enjoy this beautiful drive along the North and East coasts of Maui. Plus there are awesome things to do in Hana Maui for all types of travelers.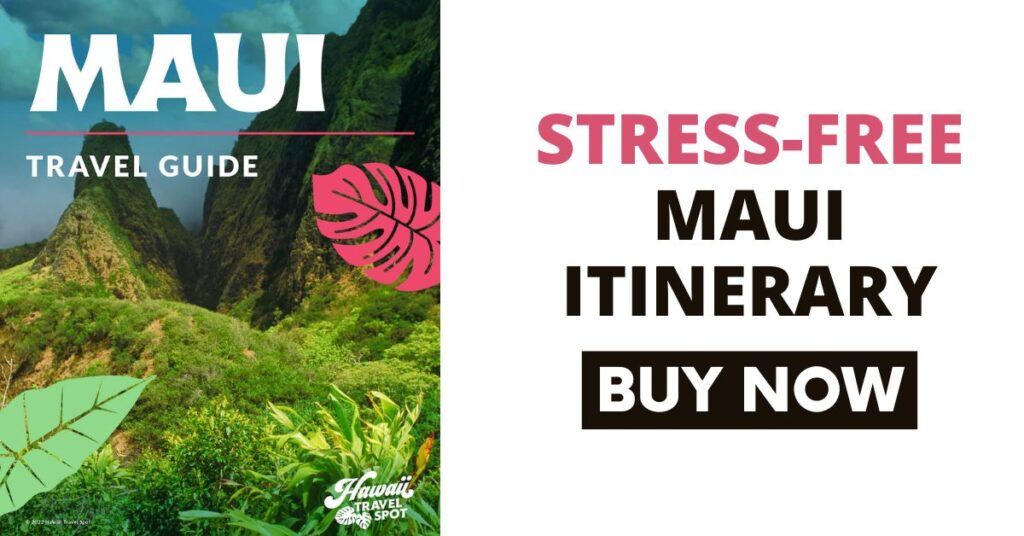 6. Maui Atlantis Submarine
If you're looking for Maui activities with toddlers or preschoolers, I highly recommend doing a submarine ride.
The Atlantis Submarine Tour from Lahaina is one of the best things to do with kids on Maui.
It's the perfect way for young kids to get to see Hawaii marine life without getting wet. And kids can ask lots of questions to professional divers. Check the latest rates and availability.
7. Hit the Beach
There are a TON of kid-friendly Maui beaches worth a stop. One of our favorite Maui beaches for kids is Kapalua Bay. It's nice and quiet and perfect for little ones.
Another option is any of the Kamaole Beaches in Kihei. There are three of them and they are perfect for families.
And Baby Beach up in Paia is another great spot for calmer water and lovely beach.
8. Maui Farmers Markets
Stopping by a Maui Farmers Market is the perfect place to get fresh produce and baked goods when visiting this beautiful island.
They have them all across Maui, and it's a great place for kids to practice buying items with cash and tasting new foods!
9. Explore Haleakala National Park
There's no better way to start the day than with an adventure at Haleakala National Park. The views are incredible, and it feels like you've landed on Mars up close!
Many people head up early to watch the Maui sunrise from the top of the crater. This requires waking up in the wee hours of the morning to get up there in time. If you do this, I highly recommend booking a tour to minimize the stress of driving up the switchbacks in pure darkness.
However, Haleakala National Park is also fun to explore in the middle of the day. There are tons of cool hiking trails. Or, head there in the evening to watch the sunset and do some stargazing.
10. Surfing Goat Dairy Farm
Visiting the Surfing Goat Dairy Farm in Hawaii sounds like a crazy idea, but it's surprisingly fun. There are several tours available for families to enjoy the goats and their surroundings, or you can help out with evening chores!
You may also want to try some of their delicious cheese samples (or even buy some) on your way down this beautiful road through Upcountry Maui before reaching Haleakala National Park.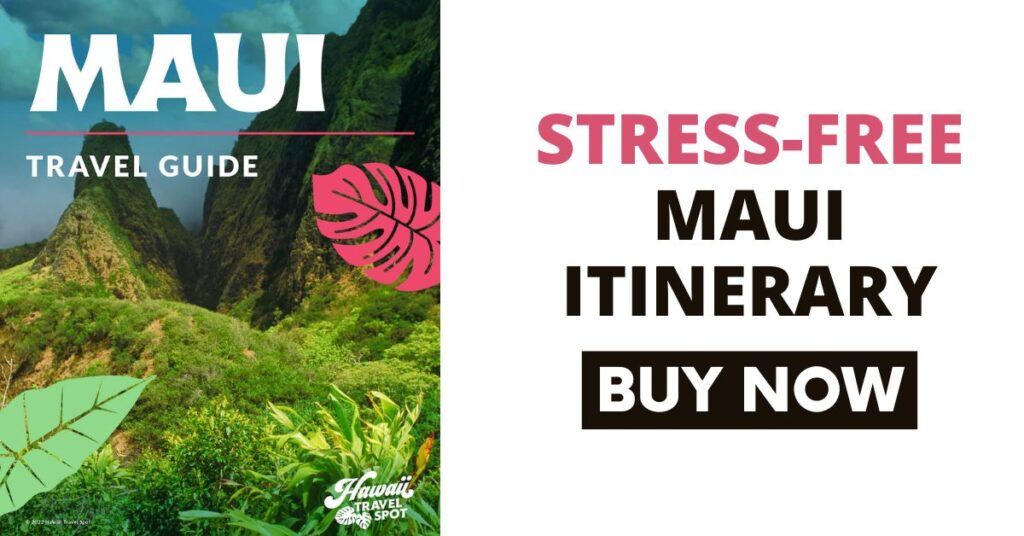 11. Enjoy a Sunset Cruise
Maui is known for its beautiful scenery, and there's no better way to enjoy it than on the water on a Maui sunset cruise.
You can get some amazing views of this island while you're out sailing, especially at sunset when everything turns reds-orange against a backdrop that looks like painted artwork!
This barefoot Maui sunset sail is fun for families who want to kick back and listen to live Hawaiian music while enjoying tropical drinks and snacks. Check out the latest prices and more details.
12. Go to a Luau
There are tons of amazing Maui luaus worth checking out, so it's easy to find one that fits in your Maui itinerary.
Luaus are a fun way for families to learn a bit about Polynesian culture, see some cool dancing, participate in activities, and eat yummy food.
My top picks are the Old Lahaina Luau, Myths of Maui Luau at the Royal Lahaina Resort, and the Drums of the Pacific Luau at the Hyatt.
13. Visit the Maui Swap Meet
When we want to find something unique on Maui, our favorite place is the weekly Maui Swap Meet. It only happens every Saturday morning in Kahului.
There are many stands with handmade items like body products or food items for sale from local artisans!
It's fairly small (especially compared to the one on Oahu) so you'll only need about an hour to fully explore it
14. See a Maui Waterfall
There are several waterfalls on Maui that you can explore. Some are just off the side of the road, or you can get to others by doing an easy (or extensive) hike.
Twin Falls is a popular spot for families on Maui. It's near the beginning of the Road to Hana, is a fairly short hike, and you can swim at this Maui waterfall!
15. Go Kayaking
One of the top outdoor activities for kids in Maui is going kayaking. Older kids can have their own kayak, while younger kids can ride tandem with a grown-up.
You can even book a clear kayak and snorkel adventure from Kihei that is sure to wow your family. Check out the latest prices and more details.
16. Grab Shave Ice
Shave ice is the BEST treat you can find in Hawaii! And they sell it all across Maui, so you'll have no problem finding somewhere close to your hotel or activities.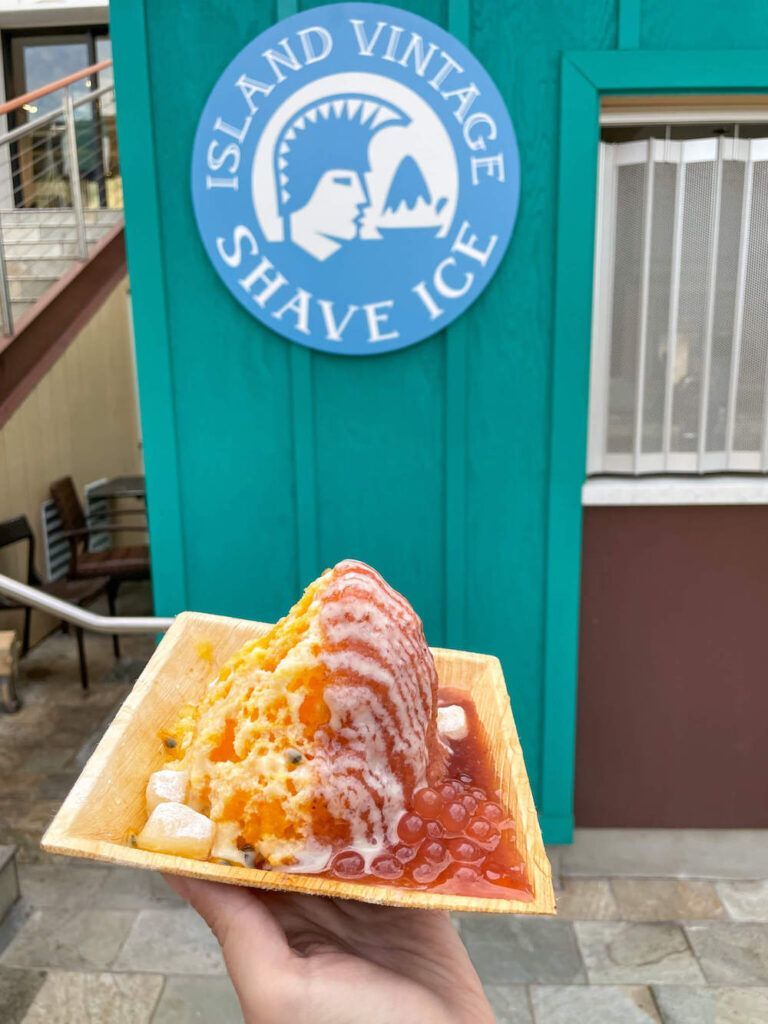 A few of our favorite Maui shave ice spots include Ululani's Shave Ice, Island Vintage Shave Ice, and Tobi's Shave Ice.
17. Ride in an Outrigger Canoe
One of the coolest things to do in Maui for kids is a ride in a Hawaiian outrigger canoe. This is perfect for Moana fans of all ages.
After experiencing a traditional Hawaiian boat ride, you'll have an opportunity to go snorkeling to see tropical fish and Hawaiian marine life.
This Maui activity is geared for kids ages five and older. Everyone will be encouraged to paddle, so be prepared! Check the latest rates and availability.
18. Maui Pineapple Tour
Maui is very famous for its pineapples, and one of the best things to do with kids on Maui is taking a Maui pineapple tour!
Here, you'll get to explore a working pineapple plantation, learn a bit about Maui's history and see how pineapple cultivation has changed throughout the years. Read my full Maui Pineapple Tour Review.
And there's lots of pineapple tasting, of course!
Kids as young as two years old can participate, and everyone takes home an "airport-ready" pineapple! Check out the latest prices and more details.
19. Plan a Maui Photo Shoot
Professional photoshoots with our family are one of the best ways to make lasting memories. We get so many awesome photos that will last us a lifetime, and we can enjoy them at any time on vacation or even just when being reminded about how much fun we had!
There are several Maui photographers to choose from. We like to use Flytographer because it's easy to find an affordable Maui vacation photographer who is available during our trip. Check out the latest prices and more details.
Book a Hawaii Photo Shoot
Whenever we travel to Hawaii, we almost always book a photo shoot with Flytographer. They are super easy, affordable, AND it guarantees that I'll have more than just selfies. You can get $25 off if you book through this link or use the code HAWAIITRAVEL.
20. Go Horseback Riding
One of the most memorable activities on Maui for kids is going horseback riding. This is especially cool if they have never hopped on a horse before.
You'll get to learn a bit about Hawaii's rich paniolo history (Hawaiian cowboys) and get to explore places on Maui you've never seen.
This looks like a super cool Maui horseback riding tour where you can see a waterfall! Check out the latest prices and more details.
21. Try Plate Lunch
The food in Hawaii is SO good and there's usually something even the pickiest eater will try. I recommend heading to Da Kitchen in Kihei if you want to try incredible kalbie plate lunches and deep-fried spam musubi.
A few other good spots include Eating Local, Tin Roof Maui, and 808 Grindz Cafe.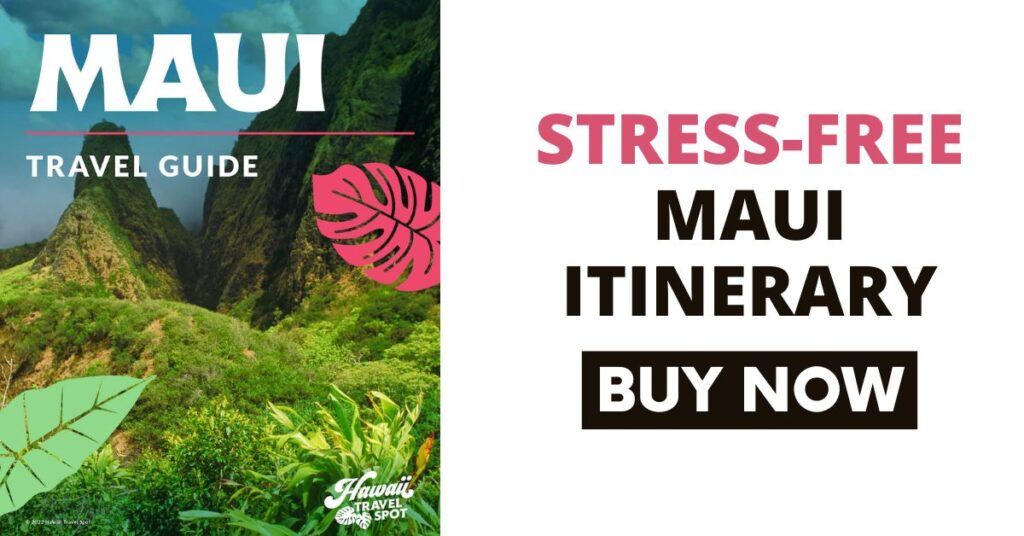 22. Walk on the Wailea Beach Path
For a nice, 3-mile paved path, head to Wailea. The Wailea Beach Path follows 5 beautiful beaches and goes past several Wailea resorts.
If you're looking for an outdoor activity to do with your family in the morning, then this is perfect! Or after dinner, head over here where it'll be just as spectacular when sunset strikes.
23. Get an Audio Guide
If you're visiting the island for more than a few days, you'll want to get out and explore more of Maui. The Road to Hana and Haleakala Crater are popular choices.
Take advantage of Shaka Guide's audio tours! This unique app gives your turn-by-turn navigation and interesting narration about the history/culture while guiding visitors around some amazing places on this island. Download the app.
24. Go Shopping at Whaler's Village
For the best shopping in West Maui, head to Whaler's Village in Lahaina. They have more than 80 stores, including Cariloha, Crocs, Lilly Pulitzer, and Lululemon.
They also have a really nice playground in the courtyard, and they do special events like outdoor movies and ukulele lessons.
It's also a great place to find kid-friendly restaurants on Maui.
25. Try Surfing
Is there anything more epic than learning to surf in Hawaii? Booking surfing lessons is one of the top things for kids to do in Maui.
You'll learn tips and tricks for getting up (and staying up) on your board and get lots of individual attention.
You can do this Maui surfing lesson as a family or sit on the beach and watch your kids learn a new skill. It's for kids ages eight or older. Check the latest rates and availability.
26. Go Scuba Diving
Maui is known for its incredible diving. In this beginner-friendly program, kids as young as 12 years old can take part in a Maui scuba tour and have access to experts who will teach them about scuba gear while they explore coral reefs!
No better place on earth offers such an opportunity for tweens and teens.
It's a great way to introduce kids to diving, and they will have a good opportunity to see Hawaiian Green Sea Turtles! Check out the latest prices and more details.
27. Have Lunch and Pie at Leoda's
Leoda's Kitchen and Pie Shop is mostly known for its insanely delicious pie. However, they also have a pretty great menu for lunch or an early dinner.
They have tons of freshly made sandwiches, burgers, hot dogs, salads, mac and cheese, and pot pies. And they even have a kids menu.
28. Visit a Honey Bee Sanctuary
Did you know that Maui has some of the most flavorful honey in the world? That's because of all the fragrant tropical flowers!
Put on a protective bee suit and get an up-close look at Maui's honeybees at work at this bee sanctuary.
It's a great way for kids to learn more about bee hives and the bee life cycle. Plus, you get to taste lots of local Maui honey! Check the latest rates and availability.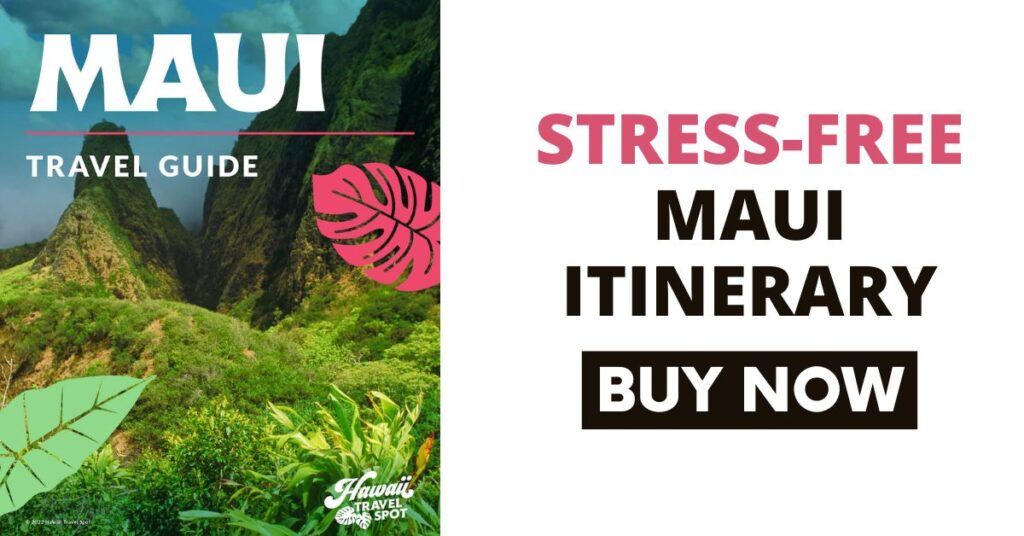 29. Look for Ghosts
Do your older kids love scary movies and stories? This Maui ghost walk might be a great fit for your family!
On this private tour, you'll walk around historic Lahaina town while hearing stories about supernatural experiences on Maui. Plus, you'll hear strange stories about Hawaiian royalty, haunted beaches, and more. You'll also see some of the most haunted places in Hawaii.
And don't worry, no one is going to jump out and scare you! It's just about sharing some crazy stories in a beautiful place. Check out the latest rates and availability.
There are actually several Maui ghost tours available, so take a look and see which one is right for your family!
30. Get Malasadas
The state of Hawaii is pretty famous for malasadas and you can find them at many places on Maui. Malasadas are Portuguese donuts covered in sugar.
A few top spots include Donut Dynamite in Wailuku, Komoda Bakery in Makawao, and Sugar Beach Bake Shop in Kihei.
31. Go on an ATV Tour
One of the best things to do on Maui with teens is go off-roading across the rugged terrain.
It's a great way to see parts of Maui inaccessible by tour van, like secret waterfalls and gorgeous view points. Plus, it's quite an adventure!
This Maui ATV tour is for teens ages 16 and older. Check the latest rates and availability.
32. Look for Dolphins
If you're hoping to see Hawaiian Spinner dolphins, you're in luck! Maui has them, plus bottlenose and spotted dolphins.
This is a cool Maui snorkeling tour where you can dive into the water and swim with dolphins!
Technically you'll be snorkeling off the coast of Lanai, but the tour leaves from Maui so I'm counting it! Check out the latest prices and more details.
33. Go Ziplining
The island of Maui is one-of-a kind. From its lush mountains to crystal clear waters, it's easy for visitors to get lost in this wonderland and never want to leave!
One way you can explore every inch is on a Maui zipline adventure. Kids as young as five years old are allowed to participate. Check the latest rates and availability.
34. Try Windsurfing
Windsurfing is not just for the pros! If you're looking to get started with this exciting new sport, then head out to one of Maui's many beautiful beaches.
You can find a place that suits your needs at Kanaha Beach park. It offers calm waters perfect for beginners who want an introduction to what all there's see before moving up their level game.
35. Go on a Maui Chocolate Tour
Take a trip to the beautiful Ku'ia Estate Chocolate Factory and learn all about chocolate making on a small group tour. It's one of the best chocolate tours in Hawaii.
See cocoa pods growing and learn about the harvesting process before indulging in a delicious and informative tasting of nine different chocolates. Check the latest rates and availability.
36. Rappel Down a Waterfall
If you're looking for a new way to experience the beautiful waterfalls on Maui, how about by rappelling down cliffs? Brave kids as young as ten years old can participate in this exciting excursion!
You'll learn some basics and then head out into one of our favorite areas – Road To Hana. Check the latest rates and availability.
37. Catch a Free Hula Show
If you want to watch Hawaiian dancing but don't want to splurge on a luau, head to one of the free hula shows on Maui.
You can usually find free hula shows at Whaler's Village in Kaanapali or the Queen Kaahumanu Center in Kahului.
38. Go Whale Watching in Winter
If you are heading to Maui in winter (December thru April), you'll probably want to book a Maui whale watching tour.
This is when humpback whales migrate right past Maui, and you'll see them everywhere! It's spectacular!
You can indeed see them from several beaches, but you'll get a much closer view from the water. It's really the best way to get the full experience.
There are tons of Maui whale watching tours, like this one from Lahaina Harbor that makes for a memorable experience. Check out the latest rates and availability.
39. Walk Around Paia Town
Paia, the cutest little town on North Shore Maui, is a must-see for families. It's pretty much the size of a small city block, and you can find tons of cute boutiques and cafes.
Some of the shops have locally-made children's clothing, toys, puzzles, and books that make the best Maui souvenirs!
40. Check out a Playground
If you're heading to Maui with toddlers or preschoolers, you'll be glad to know that there are lots of playgrounds on Maui.
I will warn you, sometimes the play equipment at parks can get hot in the direct sun, so it's a smart idea to go early in the morning or in the evening.
A few local favorites include Napili Park, Honokowai Beach Park, Kalama Park, and South Maui Community Park.
41. Visit a Butterfly Farm
Did you know that Maui is home to Hawaii's only interactive, walk-in butterfly house?
Get to know these brightly-colored butterflies and creepy crawlers on this guided tour that helps save Hawaii's butterfly population. Check the latest rates and availability.
42. Go Water Biking on Maui
If you're looking for a unique thing to do on Maui with teens, look no further than this water bike tour!
These sturdy yet easy-to-ride bikes give visitors access to an unforgettable experience that can't be found anywhere else on this island paradise. You don't even need to know how to swim. Check the latest rates and availability.
43. Explore Tidepools
If you're searching for what to do with kids in Maui who don't like swimming, you might opt to check out some of the tidepools on Maui.
There are lots of beaches with shallow water, so kids can wade in and look for Hawaiian sea life (like crabs or small fish) or collect shells.
Baby Beach near Paia in North Shore Maui is a good option for families. The water is really calm and shallow.
Kuau Cove (right by Mama's Fish House) is another great Maui tidepool. And there's great snorkeling if kids want to try it.
44. Become a Mermaid
If your child has ever wanted to become a mermaid, this is the ultimate experience! You'll have an instructor who will teach your family everything they need to know to transform into a mermaid.
Not only will you get a private, one-on-one swimming lesson in a mermaid tail of your choice, but you'll even learn a few mermaid secrets! Check the latest rates and availability.
45. Ali'i Kula Lavender Farm
The Ali'i Kula Lavender Farm is a fun activity for families on Maui. You can explore the farm with your group or take one of their many tours that are designed just for you and your loved ones!
One special event they have offered in recent years was "Families Day Out." These events provide an opportunity to experience all things lavender.
46. Make Your Own Sandals
If you truly want a unique Maui souvenir, head up to Paia and take this sandal-making workshop. You'll learn about the history of these leather sandals and see how the sandal press works.
Once you understand the full sandal-making process, you'll get to choose your leather and create your own pair of custom leather sandals made in Hawaii! Check the latest rates and availability.
47. Visit a Maui Botanical Garden
While there are tons of beautiful botanical gardens in Hawaii, Maui is home to some of the best.
The Kula Botanical Garden in Upcountry Maui is a great place leisurely walk around and it pairs nicely with a trip to Haleakala Crater.
There's also the Garden of Eden along the Road to Hana. This Maui garden is absolutely stunning and totally worth the admission cost.
And once you make it to Hana, definitely stop at the Kahanu Garden. It's a stunning spot that features an ancient Hawaiian heiau and incredible ocean views.
48. Check out a Magic Show
If you're looking for things to do in Maui at night with kids, why not do a magic show? There's a secret magic show at the Fairmont Kea Lani that will knock your socks off! Check the latest rates and availability.
49. Go on a Jungle Treasure Hunt
Want to go on an adventure with your kids that will keep them entertained the entire time? Check out this Maui treasure hunt through the jungle!
You'll visit parks throughout the Maui valley and do activities like swimming in a lagoon and hiking in the jungle, all while searching for secret treasures. Check the latest rates and availability.
50. Glass Bottom Boat Ride
While Maui has tons of great snorkeling spots, sometimes families don't really want to get wet. That's where this glass bottom boat ride comes in!
On the Reef Dancer, professional divers will bring sea creatures up to the windows so kids of all ages can learn about Hawaii's marine life. Check the latest rates and availability.
Things to do on Maui for Kids Wrap Up
As you can see, there are tons of cool things to do on Maui with family, no matter their ages or interests. From water adventures to historical sites to amazing cultural experiences, Maui has it all! Plus they have some amazing Maui resorts for families!