Are you planning a trip to Oahu and want to do a cool North Shore Oahu tour? Scroll to find out the top Haleiwa shark tours worth checking out on your next trip.
This list of the best Haleiwa shark tours contains affiliate links which means if you purchase something from one of my affiliate links, I may earn a small commission that goes back into maintaining this blog.
Looking for the most authentic adventure in Hawaii that involves sharks?
The culturally significant mano (aka sharks) are very special to Native Hawaiians and are part of many beautiful legends.
You'll hear some of these stories and how they relate to Hawaiian history and the Hawaiian Islands' creation story on one of these epic Oahu boat tours.
Keep scrolling to find out the best Haleiwa shark tours in North Shore worth adding to your Oahu itinerary.
Don't have time to read a bunch of Hawaii blog posts and reviews? Here are some of our top picks for visiting Oahu.
Popular Oahu Tours/Activities
Favorite Oahu Resorts/Hotels
Want to Rent a Car in Hawaii?
One of the best places to rent a car in Hawaii is Discount Hawaii Car Rental because they get the best rates from top national companies like Alamo, Dollar, Thrifty, Avis, Enterprise, Budget, and Payless.
Want to skip all the planning and just access my detailed Oahu itinerary complete with daily schedules, fun activities, and travel hacks? Click the button below.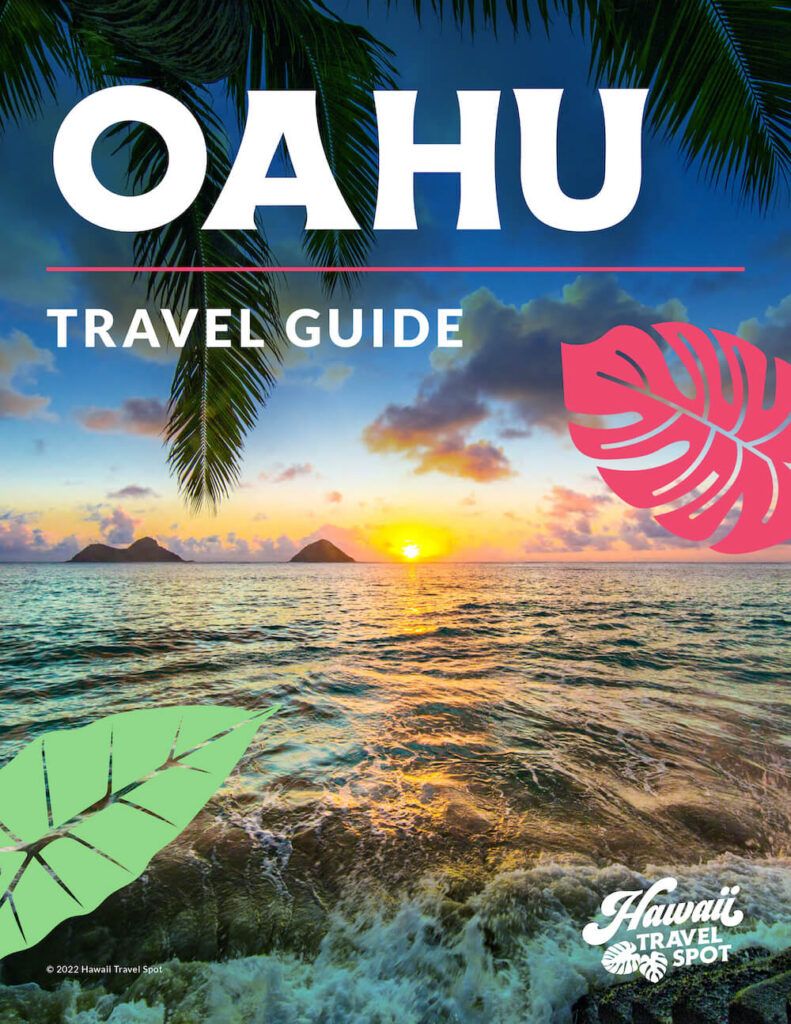 What Time of Year is Best for Shark Cage Diving in North Shore, Oahu?
Shark cage diving in Oahu is offered year-round as sharks are present in the waters off North Shore throughout the year. However, the water conditions can be more favorable in the summer months (May-September).
Most of the tours below leave from the Haleiwa small boat harbor in North Shore Oahu.
7 Best Haleiwa Shark Tours in North Shore Oahu
North Shore Shark Adventures
Take the plunge with North Shore Shark Adventures, a renowned shark cage diving experience featured on multiple international platforms, including the BBC, ESPN Outdoors, and MTV. Check rates here.
The 2-hour journey departs from Haleiwa Harbor, on board the custom-built "KAIOU" or "ABUNAI" vessels. Your adventure starts with an informative safety briefing, followed by a brief history of shark tours.
As you venture three to four miles offshore to the beautiful cobalt blue waters, anticipate the sight of sharks, ranging from five to fifteen feet, approaching the cage.
The visibility often exceeds 150 feet, allowing you to watch these magnificent creatures rise from the deep. The cage accommodates up to eight people, making it a perfect family adventure.
No chumming is needed – the sharks are drawn to the sound of their motors. Don't forget your underwater camera to capture this thrilling encounter, though disposable cameras and video options are also available for purchase. Check the latest rates and availability.
Oahu Shark Dive Eco Tour
Join this breathtaking 1.5-hour shark diving tour off the North Shore Oahu. It's geared for all ages, though a 4ft height minimum and prior snorkeling experience are required. Check rates here.
Witness Galapagos, sandbar sharks, and more in their natural habitat. Their marine biologists are your guides, providing a full briefing on wildlife interactions and safety.
Descend from the swim platform ladder and hold on to a safety rope. Multiple crew members ensure your comfort and safety in the water.
Just enjoy the moment – their photographers will capture it for you. On your journey back, dive into a chat about marine science and conservation. You might even spot turtles, dolphins, or whales.
By the end, you'll leave with a cherished memory and newfound respect for the ocean and its magnificent life. An adventure that's truly more than just a tour. Check the latest rates and availability.
Pelagic Shark Dive Tour on Oahu's North Shore
Embrace the adrenaline on this 2-hour shark cage diving tour off Oahu's North Shore. Check rates here.
You'll journey into the clear blue abyss, where Hawaii's famous Manō (sharks) await. Under the guidance of a trained safety diver, you'll swim alongside these incredible creatures.
Get equipped with knowledge of shark biology, behavior, and safety guidelines for snorkeling and free diving. Expect encounters with Galapagos, Sandbar, and maybe even Tiger sharks.
And, being in the pelagic zone, who knows? You might glimpse other predators like tuna, mahi mahi, barracuda, or oceanic dolphins.
In the winter, delight in the sounds of Pacific Northwest humpbacks' underwater songs. They'll provide snorkel/dive gear and water.
This Oahu shark dive is suitable for ages 12 and up. Dive into a world where exhilaration meets education, and leave with memories that will last a lifetime.
It's not just a dive; it's an adventure! Swim with the sharks! Check the latest rates and availability.
Haleiwa Shark Cage Diving Tour
Unveil the mysteries of the deep blue with this educational Oahu shark cage diving tour.
Embark on a journey three miles off the North Shore, where Galapagos and Sandbar sharks glide effortlessly in their natural habitat. Check rates here.
From the safety of a floating cage, peer through large Poly Glass windows as these majestic creatures approach.
Their curiosity brings them close, letting your eyes meet with theirs – a transformative experience that will forever alter your perception of sharks.
The tour goes beyond mere adventure. Learn fascinating facts about shark biology, behavior, and their crucial role in Hawaiian culture and ecosystems.
Participate in ongoing shark research projects and become a conservation ambassador, spreading understanding and promoting protection for these misunderstood creatures.
Experience the ocean like never before with Hawaii Shark Encounters – it's a wilderness adventure under Mother Nature's rule, creating an unforgettable blue water experience.
This 2-hour tour is suitable for ages 5 and up. Boat riders are also welcome if you prefer to observe from the surface.
After the tour, explore the scenic Haleiwa town, packed with great shops and beautiful beaches within walking distance from the harbor. Check the latest rates and availability.
Cage-free Shark Tour in Haleiwa Oahu
Get ready to take a plunge into the stunning blue waters of Oahu's North Shore for a cage-less shark dive that will forever change your perception of sharks! Check rates here.
This thrilling, transformative adventure gives you the chance to meet these awe-inspiring creatures face-to-face in their natural environment.
Their experienced Hawaiian watermen and safety divers will be by your side throughout the journey, ensuring your safety and comfort.
The tour provides masks and fins, and you'll have the convenience of an onboard bathroom. Their boat also offers limited ride-along tickets.
Adding to the fun, they offer GoPro videos upon request, so you can relive this once-in-a-lifetime experience long after your adventure ends.
This is your call to adventure. Don't miss this chance to snorkel with Hawaii's apex predators with no barriers in between.
Suitable for participants aged 5 and up, this 2-hour tour is waiting for you to book today! Check the latest rates and availability.
One Ocean Diving Hawaii Shark Dive on Oahu
Embark on a thrilling underwater adventure with the Pelagic Animal Research and Interaction Program's Oahu shark cage diving. Check rates here.
Their expert naturalists and conservationists will guide you on a breathtaking journey among the diverse species of sharks that inhabit Hawaii's waters.
From the elusive Hammerhead and Tiger sharks to the shy Galapagos and Reef sharks, you'll witness these magnificent creatures in their natural habitat, under the watchful eyes of a crew with a 100% safety record.
Their tours aren't just about the thrill; they fuse adventure with knowledge, sharing vital marine research and conservation efforts with their guests.
They prioritize safety, convenience, and environmental responsibility, offering onboard storage space, and freshwater showers, and promoting reef-safe practices.
Book early, especially in busy seasons, and prepare to dive into an unforgettable underwater world. Just remember to bring a change of clothes, a towel, and your sense of adventure! Check the latest rates and availability.
Shark Diving Hawaii – Cageless Pelagic Snorkel Tour
Immerse yourself in the thrill and beauty of Hawaii's underwater world with this unique Oahu shark cage diving experience. Check rates here.
Swim close to around 40 different species of sharks in the open water, under the guidance of local experts who carry forward generations of family tradition in ocean exploration.
Every moment of this 30-minute snorkeling adventure, set against the backdrop of rich marine life, will be captured by a professional photographer at no extra cost.
Learn about the Hawaiian culture, history, and marine life while snorkeling amidst sandbar sharks, galapagos sharks, tiger sharks, and more.
They offer all snorkeling gear, allowing you to focus on the experience. You can also choose to book as a private charter for an exclusive, personalized journey.
Book your underwater adventure today for an unforgettable dive into the Hawaiian ocean! Check the latest rates and availability.
Shark Cage Diving on Oahu FAQs
What types of shark species are in Hawaii?
The most common types of sharks you may encounter are Galapagos and Sandbar sharks. Occasionally, divers might also see Tiger and Hammerhead sharks.
Is there a shark god in Hawaiian mythology?
Yes, in Hawaiian mythology, there is indeed a shark god named Kamohoali'i. He is regarded as the king of all sharks and is often associated with the guidance and protection of seafarers.
Kamohoali'i is said to be able to transform into any fish but prefers the form of a hammerhead shark.
Is shark diving safe?
Yes, shark cage diving in North Shore, Oahu, is generally considered safe. The companies that operate these tours take numerous precautions to ensure the safety of their guests.
The cage provides a protective barrier between divers and sharks, and staff are trained in safety protocols. However, as with any activity involving wild animals, there is always some level of inherent risk.
Do I need diving experience to go shark cage diving?
No, you don't need any previous diving experience. The cage often floats at the surface of the water, and you can breathe using a snorkel. Trained professionals will guide you throughout the process.
Can I see a tiger shark in Hawaii?
Yes, you can see tiger sharks in Hawaii. They are one of the most frequently seen shark species in Hawaiian waters.
How many sharks are in Hawaii?
It's difficult to provide a precise number due to the wide range of habitats and species. However, Hawaii is home to more than 40 species of sharks.
Haleiwa Oahu Shark Cage Dive Wrap-Up
The shark diving scene in Haleiwa offers thrilling encounters that are both awe-inspiring and enlightening.
From the adrenaline rush of the Oahu shark cage dive to the intimate interactions promised by Hawaii shark encounters, each experience brings its unique flavor to the world of marine adventures.
By partaking in the unforgettable Haleiwa shark tours, you get to see these magnificent creatures in their natural habitat while also contributing to conservation efforts.
The diversity and thrill of shark cage diving in Oahu, Hawaii are unparalleled, providing you with moments that will last a lifetime.
Whether you're a seasoned marine enthusiast or a first-time diver, these top seven Haleiwa shark tours are sure to leave you with a deep appreciation for the complexity and beauty of our ocean's apex predators.