Looking to save money on Maui? Find out about the best cheap places to stay in Maui and how to book them. Keep scrolling down for all the info on my favorite cheap hotels in Maui!
This list of cheap places to stay on Maui contains affiliate links which means if you purchase something from one of my affiliate links, I may earn a small commission that goes back into maintaining this blog.
Maui is one of the world's most popular island vacation destinations, and it's no wonder.
There are so many things to do, from outdoor adventures to great tourist attractions. While Maui is a visitor-friendly island, it's also one of the most expensive Hawaiian Islands.
So, can you go if you're on a budget, and are there any cheap places to stay on Maui?
Yes, it just takes a little planning ahead! Oahu is where to find budget-friendly places to stay because they're all inland.
Finding cheap stays in Maui can be difficult because everything tends to be beachside. However, I've found some great deals for you!
While not as cheap as Oahu stays, you can definitely find cheap Maui lodgings that are a little easier on your wallet.
Below, you'll find info on where to stay in Maui for the best prices and a list of different affordable hotels, resorts, and vacation rentals.
Don't have time to read a bunch of Hawaii blog posts and reviews? Here are some of our top picks for visiting Maui on a budget.
Best Budget-Friendly Maui Activities
Best Budget-Friendly Maui Hotels
Aina Nalu Resort (this is in the heart of Lahaina town and totally walkable to shops and restaurants)
Maui Beach Hotel (this is in Kahului and it's easy to get to all areas of the island)
Paia Condo (amazing North Shore location right at the start of the Road to Hana)
Want to Rent a Car in Hawaii?
One of the best places to rent a car in Hawaii is Discount Hawaii Car Rental because they get the best rates from top national companies like Alamo, Dollar, Thrifty, Avis, Enterprise, Budget, and Payless.
Want to skip all the planning and just access my detailed Maui itinerary complete with daily schedules, fun activities, and travel hacks? Click the button below.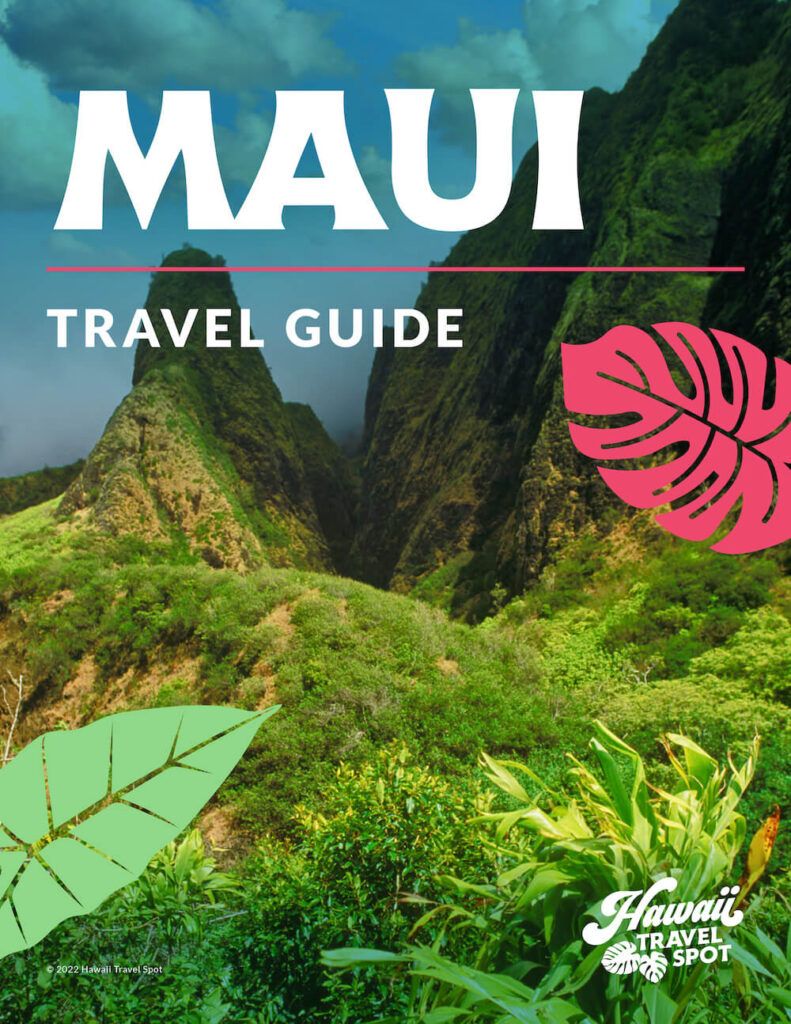 10 Affordable Places to Stay in Maui
Below you can read my pick for, cheap places to stay on Maui. You'll find amazing hotels, hostels, and vacation rentals. They're all in excellent central locations on Maui's West Coast and South Coast. But you can also find some in Kahului near the airport and on North Shore.
Since you're on a budget, you'll see that I've tried to keep nightly rates for hotels under $250. And for vacation rentals, the cheapest nightly rates tend to range from $175 to $200.
There are even some quality budget resorts on the list! And I've found a great creative solution if you're up for one of the best unique places to stay in Maui. So, stay tuned for that!
Save Money with Points
Here are the best credit card offers for people who travel and want to use points to pay for airfare and hotels in Hawaii.
Kahana Falls Resort
Don't be confused by the location of Kahana Falls Resort! While it's technically in Kaanapali, the address says Lahaina because the two towns are the same at this point.
Enjoy a quiet, easy-to-navigate location at this budget-friendly resort that's minutes from the golden sand beaches of West Maui.
Like with most Maui cheap stays, you'll skip the star treatment that comes with luxury resorts. But instead, you can enjoy a casual, cozy stay near golden-sand beaches.
Choose between a room with a Queen-sized bed and a kitchenette or an affordable apartment with a full kitchen. Check the latest rates and availability.
Enjoy the classic Hawaiian Island resort experience with a 24/7 concierge, a fitness center, and an outdoor pool with public grills. You can also enjoy a hot tub, a game room, and tropical gardens.
And although meals are not provided onsite, you're a short walk from grocery stores, two different shopping meals, and several different restaurants. Check resort rates.
Aina Nalu Resort
A great way to get more for less when looking for cheap places to stay in Maui is to look for condo hotels. Aina Nalu is located in the heart of Lahaina Town, close to Lahaina Bay and all the shops, restaurants, and museums on Front Street.
Enjoy your home away from home with 1- and 2-bedroom apartments. Enjoy amenities like in-room washers and dryers, LCD TVs, air conditioning, and scenic balconies. Check the latest rates and availability.
Stay at this quality Maui budget hotel and enjoy discounts on grocery deliveries! There are also outdoor pools and barbecue pits just for guests of Aina Nalu. Check resort rates.
Tiki Beach Hostel
You can definitely save on your Maui vacation if you are traveling solo or if you're willing to try a fun, top-notch hostel like Tiki Beach Hostel. It's considered one of the best cheap places to stay in Lahaina Maui.
You're mere steps away from Kamehameha Iki Park Beach and its different surf clubs. And it's just a short walk to the famous Lahaina Banyan Court.
Hostels are perfect for those looking for a laid-back local experience. It's a great way to meet new people and join in on fun group activities.
Tiki Beach Hostel offers female dorms and mixed dormitories with air conditioning and bunk beds. Or you can stay in an "outdoor room" which is a tent on the grassy lawn inside the grounds of the hostel.
Guests share cozy common areas, bathrooms, and kitchens. The staff is super friendly and always available to help during your stay. And make sure to join them for the weekly Friday night barbecues!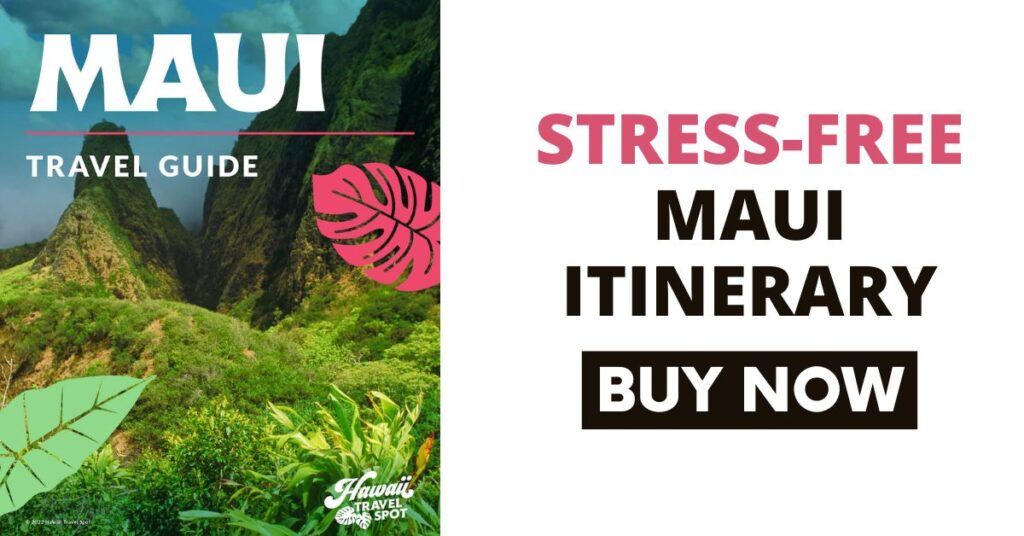 VRBO 2-Bedroom Condo in Lahaina
Another way to find places to stay in Maui on a budget is to go with a vacation rental. When you book this 2-bedroom condo in downtown Lahaina, you also get access to all the amenities that are included in the complex.
That means that you can enjoy the complex's outdoor pool and whirlpool, as well as a free parking spot.
The entire apartment is bright and clean with a contemporary design. Enjoy a lanai off the living room, and contemporary interior décor throughout each room. Check the latest rates and availability.
Both bedrooms have a Queen-sized bed each and share a bathroom with a tub and showerhead. Do laundry in your own washer and dryer and cook in the full-sized kitchen.
You don't really need a car if you plan on exploring Lahaina Town! Take a stroll down to the Outlets of Maui or book a luau dinner at the famous Old Lahaina Luau. Plus, you're close to multiple top-rated beaches and local restaurants. Check condo rates.
Luana Kai Resort
Kihei offers visitors to Hawaii a mix of convenient perks like local grocery stores and familiar brand names. But you can also enjoy the best beaches and some of the most popular attractions in Maui. The city also has amazing budget-friendly stays, like the Luana Kai Resort.
This is one of the best cheap places to stay in Kihei Maui. Relax in spacious condos with resort amenities and 24-hour concierge services. Walk down to Waipuilani Park Beach or hit the tennis and pickleball courts at the resort! There's also a pool, hot tub, sauna, beachside kitchen, and grills.
Every beautiful condo comes with Queen- or King-sized beds and amazing views! Choose from 1-, 2-, or 3-bedroom apartments with full kitchens, washers and dryers, TVs, and air conditioning.
VRBO 1-Bedroom Condo at Maui Vista
Some of the top cheap stays in Maui are Kihei vacation rentals. Go with this 1-bedroom condo across the street from the breathtaking Charlie Young Beach.
You'll love the prime location, just 10-minutes from Kalama Park and the Paia Fish Market! You're even closer to Cove Beach Park and several local grocery stores. Check the latest rates and availability.
You can take advantage of 3 different pools, tennis courts, and a free parking space at the complex. Your hosts are super attentive and keep the condo well-stocked.
This is a great stay for families or singles with a Queen-sized bed and a travel crib included. There's beautiful tiki furniture throughout the apartment and tons of extra pantry and kitchen items. Check condo rates.
VRBO Koa Resort Ground-Floor Condo
For cheap places to stay on Maui with that special touch, look for places like this Koa Resort condo. You won't believe the dreamy, spacious lanai that opens up directly onto a tropical garden!
Inside the condo, you can melt into the cozy, cream-colored rooms dripping with sophisticated touches. Check the latest rates and availability.
Spread out in the bedroom's Queen-sized bed or rinse off after a day of exploring in the walk-in shower. The kitchen has tons of counter space and a dishwasher.
Located in north Kihei, you're surrounded by other resort communities for ultimate relaxing quiet. But you're also close to long stretches of wide, sandy beaches with calm waters.
At the resort, there's a pool, golf, and tennis for your enjoyment. Check condo rates.
Maui Beach Hotel
If you have your heart set on cheap places to stay in Kahului, consider Maui Beach Hotel. You can't ask for a better location, literally steps from the waters of Kahului Harbor! Check the latest rates and availability.
Not only are you 3 miles from Kahului Airport, but you're less than a mile from the Queen Ka'ahumanu Center mall, as well as the popular Maui Sunday Market. Kahului is also great for starting a day trip down the Hana Highway on North Shore.
One of the best cheap places to stay on Maui, the Beach Hotel combines a retro aesthetic with the feel of an old-school Hawaii vacation. Enjoy rooms with wooden knob headboards, a rooftop pool with a tiki bar, and a dinner buffet restaurant. Check hotel rates.
VRBO 1-Bedroom in Paia
Stay in a charming 1-bedroom apartment steps away from Hookipa Beach and the famous Mama's Fish House! Once, the best affordable places to stay in Maui were on North Shore, but these days, affordable places like this are a rare gem.
One of the top places to stay in Maui on a budget, this apartment comes with watersport equipment for fun beach days. Check the latest rates and availability.
You can cook in the lovely mint green kitchen or listen to the ocean from the cozy outdoor seating on the lanai with outdoor seating.
Across the grassy lawn at the apartment complex, there are coin-operated laundry machines onsite. There's also a beautiful bedroom with a Queen-sized bed and a spacious walk-in shower in the bathroom. Check condo rates.
Suite Vans Maui
If you've ever been envious of people who live out of renovated vans but could never commit to that lifestyle, this is your chance!
Live your van life for a few days with Suite Vans Maui. Not only will you get to live out a dream, but it can be your best cheap stay in Hana Maui.
These days, it's difficult to find affordable places to stay on the North Shore. But with some planning and creativity, you can enjoy overnight stays in places others don't have access to.
Why not spend a night next to the Black Sand Beach of Wai'anapanapa State Park? Or stay overnight in the town of Hana? You could wake up on a different beach every morning with the sunrise as your alarm clock!
Lindsay, The owner of Suite Vans Maui, will work with you to understand camping etiquette and will set you up with everything you need. Inside your beautiful, renovated van, there's a bed with plenty of room for 2! It's also a great option if you have a pet.
You'll have all the conveniences of home, including a kitchen, shower, toilet, and electricity.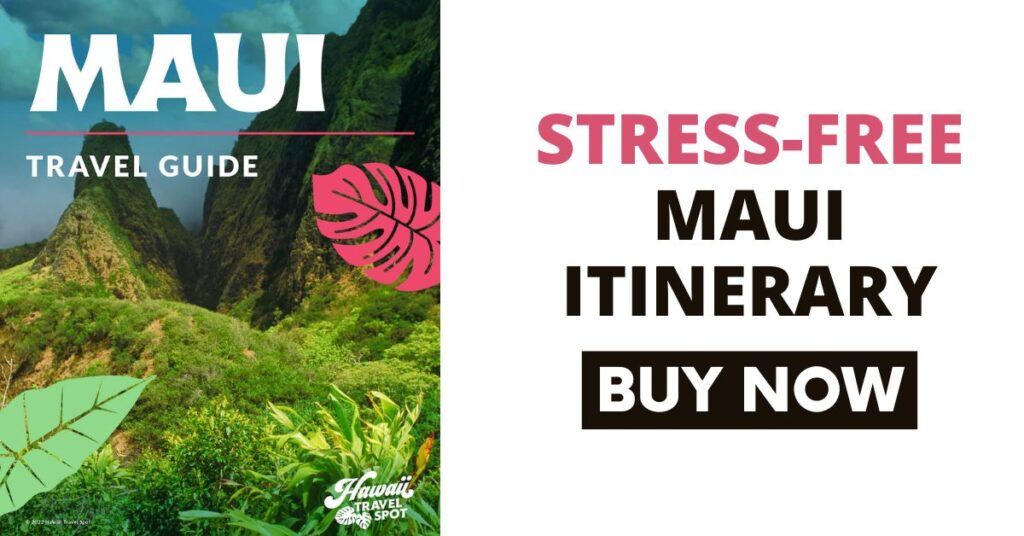 FAQ about Places to Stay in Maui on a Budget
When is the cheapest time to visit Maui?
The cheapest way to stay in Maui is to visit during spring and fall shoulder seasons. School is in session, the crowds have thinned out, and hotels and rentals usually have special deals around these times.
How can I save on food in Maui?
There are no two ways around it: Maui continuously ranks as the most expensive place to stay in Hawaii, according to the Hawaii Travel Authority. That includes the cost of food, even in the grocery store. It's always smart to plan where you'll be eating during your stay. One easy way to save is to book cheap accommodations in Maui with a kitchen that will allow you to buy groceries and cook for yourself!
Where are cheap places to stay in Maui HI?
The best places are near Lahaina and Kihei. Kahului is also pretty affordable, but you'll have to get a rental car or depend on public transportation. And if you are looking for cheap places to stay on North Shore, you might find the occasional inn or vacation rental. Prices have gone up in recent years since it's become a much more popular place with tourists seeking the local island experience.
Where to Stay in Maui on a Budget
It's definitely possible to find high-quality, cheap places to stay on Maui. Whether you're a family who needs a little more space, a couple looking for the ultimate romantic getaway, or an adventurer on your dream solo trip to Hawaii, there's something for you.
Go easy on your budget by visiting Maui during a shoulder season and try to plan your meals and outings.
The best Maui cheap stays hostels and vacation rentals, but you can also find beautiful resorts and hotels. Or think outside the box and go with a high-rated company for a unique van life experience of Maui!