Are you planning a trip to Oahu and want to find a cool Oahu boat tour? Scroll to find out the best Oahu sandbar tour worth checking out on your next trip.
This list of the best Oahu Sandbar tours in Kaneohe contains affiliate links which means if you purchase something from one of my affiliate links, I may earn a small commission that goes back into maintaining this blog.
Want to play in the calm waters of Oahu's windward side?
Enjoy a relaxing day at the famous Kaneohe Bay Sandbar with adventure-filled catamaran tours, beach volleyball, paddle boarding, snorkeling, and more!
Most of these Kaneohe Sandbar tours offer both a morning departure as well as an afternoon departure. Plus many of them also offer complimentary transportation from Waikiki.
Keep scrolling to find out the best Oahu sandbar tour for your next trip to Oahu!
Don't have time to read a bunch of Hawaii blog posts and reviews? Here are some of our top picks for visiting Oahu.
Popular Oahu Tours/Activities
Favorite Oahu Resorts/Hotels
Want to Rent a Car in Hawaii?
One of the best places to rent a car in Hawaii is Discount Hawaii Car Rental because they get the best rates from top national companies like Alamo, Dollar, Thrifty, Avis, Enterprise, Budget, and Payless.
Want to skip all the planning and just access my detailed Oahu itinerary complete with daily schedules, fun activities, and travel hacks? Click the button below.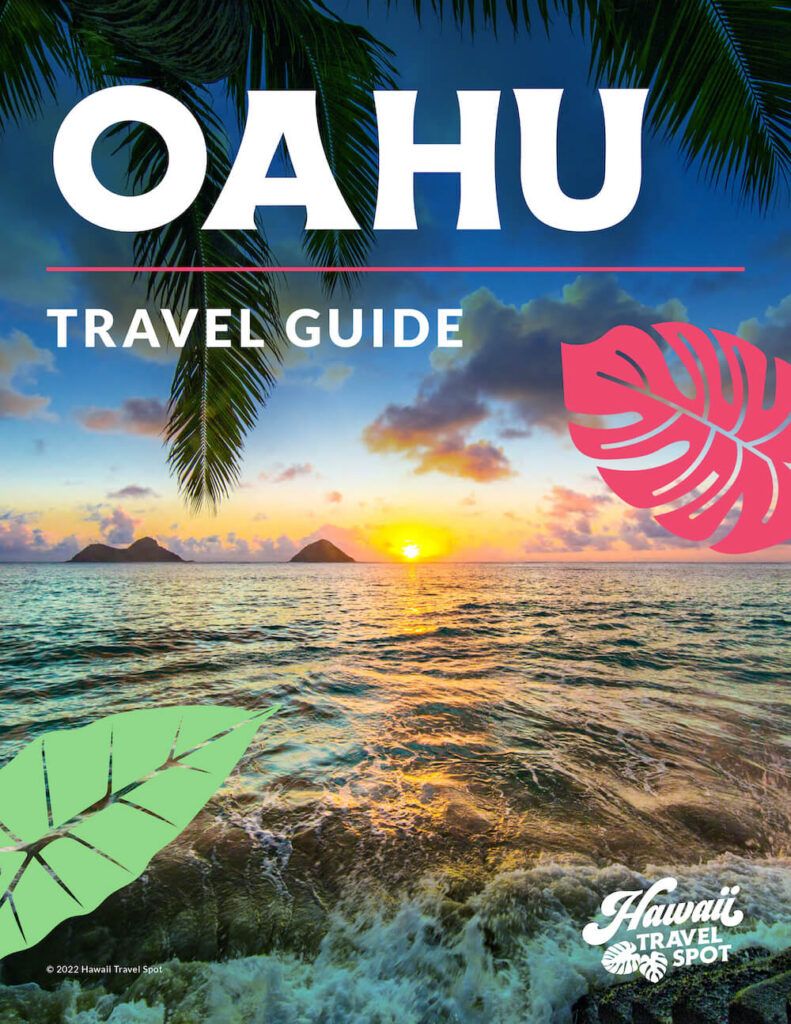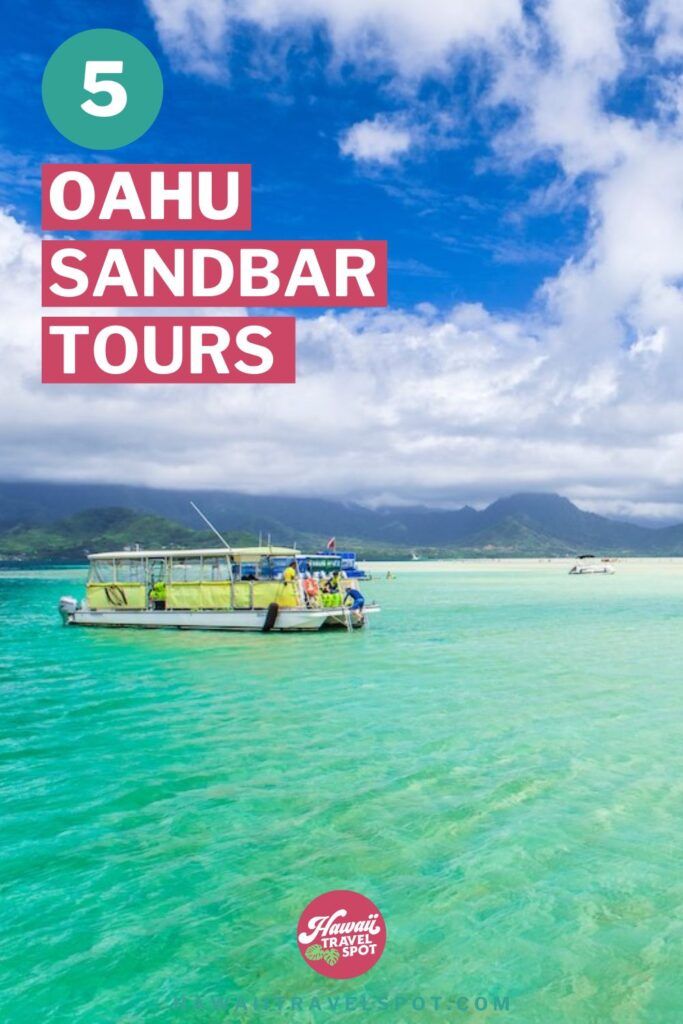 What is the Kaneohe Sandbar?
The Kaneohe Sandbar, or Ahu o Laka as it's traditionally known, is a captivating natural marvel nestled in the heart of Kaneohe Bay on Oahu, Hawaii.
This unique sand deposit emerges from the tropical Pacific Ocean at low tide, transforming into a temporary, sun-drenched island in the midst of azure waters.
Stretching over three miles, this sandbar serves as a distinctive playground for swimming and snorkeling enthusiasts.
It's surrounded by the bay's clear, shallow waters which harbor a diverse array of marine life, including vibrant coral reefs, providing visitors with a window into an underwater world.
The journey to the sandbar begins from the He'eia Kea Boat Harbor and requires a boat, kayak, or paddleboard, as the sandbar is about a mile offshore.
Remember to respect local guidelines set to protect this fragile ecosystem, including limited access hours.
Enjoy the stunning panoramic views of the Koolau Mountain Range and experience this unique gem in the middle of Kaneohe Bay.
5 Kaneohe Bay Sandbar Tours Worth Booking
Kaneohe Bay Sandbar Ocean Sports Adventure
Experience the best of Kaneohe Bay on a lively catamaran tour to the renowned sandbar. Check rates here.
Filled with the enchanting sounds of live Hawaiian music, you'll set sail for a day of sun-soaked adventure. As the only full-service operator in the area, they offer an array of thrilling activities.
Dive in for a snorkeling encounter with tropical fish and manta rays, take a kayak or stand-up paddleboard for a spin, or opt for heart-pumping rides on a banana boat or bumper tube.
With both action-packed and leisure options, there's something to satisfy every type of adventurer.
Feel free to bring along your favorite snacks and non-alcoholic beverages to enjoy throughout the day. They also offer roundtrip transportation from Waikiki for convenience.
Embrace the ultimate Hawaiian experience on the Kaneohe Bay sandbar! Check the latest rates and availability.
Captain Bruce Kaneohe Sandbar Cruise
Embark on a memorable Kaneohe Bay Sandbar tour with Captain Bruce, where a fun-filled day awaits you. Check rates here.
Starting at Heeia Kea Boat Harbor, you'll cruise to a sandbar across the calm Kaneohe Bay on a power catamaran.
Bask in the beauty of the Ko'olau Mountains while paddling on the shallow sandbar or unwinding in crystal-clear waters.
Dive deeper into Hawaii's rich marine life with a guided snorkeling tour at the turtle reef, home to vibrant tropical fish and Hawaiian green sea turtles.
This family-friendly tour is short yet packed with activities. It includes snacks and soft drinks, or you can bring your own food and drinks.
You also have access to stand-up paddleboarding, making the experience even more enjoyable.
Don't miss the chance to capture stunning views of the mountains and ocean on this approx. 2 hours 45 mins long tour.
For an immersive Hawaiian experience, choose Captain Bruce's Kaneohe Bay Sandbar tour. Check the latest rates and availability.
Captain Bob's Kaneohe Sandbar Snorkel
Embark on an unforgettable journey with Captain Bob to Kaneohe Bay's hidden gem, a secluded sandbar in the heart of Oahu's pristine waters. Check rates here.
Relax on a spacious catamaran, fitting up to 65 people, as you sail to a tranquil oasis for a Hawaiian-style BBQ picnic, games, and exhilarating snorkeling.
Marvel at the vibrant marine life, including colorful fish and Hawaiian green sea turtles as you explore the surrounding coral reef.
Whether you wish to dive into the crystal clear waters, indulge in a lively game of water volleyball, or simply unwind on the sandbar, this cruise promises lasting memories.
Boasting some of Hawaii's best snorkeling spots, Kaneohe Bay offers a serene escape perfect for swimmers and non-swimmers alike.
Relish freshly grilled burgers while soaking in spectacular views of Kaneohe Bay, the Koolau Mountains, and the iconic Chinaman's Hat.
For the ultimate Oahu snorkeling adventure, choose Captain Bob's Kaneohe Bay Sandbar picnic sail. Check the latest rates and availability.
Kaneohe Bay Sandbar Self-Guided Kayak Experience
Immerse yourself in the breathtaking beauty and surrealism of standing on the Kaneohe Bay Sandbar during your kayaking journey. Check rates here.
As you navigate towards the sandbar, you'll traverse a kayaking route safeguarded by a barrier reef and dotted with underwater coral islands, adding an extra layer of magic to your adventure.
Whether you choose their 4-hour or all-day excursion, you'll bask in generous amounts of sunlight and ample kayaking time during this unforgettable Kaneohe Bay Sandbar experience. Check the latest rates and availability.
Private Oahu Cruise: Captain Bruce Kaneohe Sandbar Snorkel
Experience the incredible beauty of Kaneohe with a private Oahu speedboat charter, an aquatic adventure designed for up to six guests. Check rates here.
This Oahu sandbar tour takes you to a picturesque sandbar known as "Ahua Laka" in the heart of the azure Kaneohe Bay.
Protected by a barrier reef, this secluded paradise provides a unique opportunity to walk, play, or relax amid the ocean, making it the perfect spot for snorkeling, swimming, and lounging.
The tour offers the flexibility of a morning or afternoon cruise, where you can snorkel among reef fish, unwind on the sandbar, or stand-up paddleboard.
The boat, named Hurricane, is a 19ft luxury yacht that ensures safety with lifeguard-certified crew members on board.
Throughout your 2 hours 45 mins long journey, you can savor snacks from the snack bar, bring your own food and beverages, and capture the majestic views of the Ko'olau Mountains.
Embrace an unforgettable adventure with this Kaneohe Sandbar Cruise. Check the latest rates and availability.
Kaneohe Sandbar Tour Oahu FAQs
How do I get to the sandbar in Oahu?
You can only reach the sandbar by water. It's about a 15-minute boat ride from He'eia Kea Pier. Many people kayak, paddleboard, or charter a boat to get there.
Is the Kaneohe Sandbar worth it?
Totally! The sandbar offers stunning views, clear waters, and a chance to see local marine life in a unique setting. It's an excellent location for picnicking, swimming, and snorkeling when the tide is low.
Can anyone go to Kaneohe Sandbar?
Yes! However, it is only accessible by boat, kayak, or paddleboard, so you will need to have a means of water transportation to reach it.
Is the Kaneohe Bay Sandbar always accessible?
While the sandbar is always there, it's best visited at low tide when it's visible above the water.
Can you walk on the Kaneohe Bay Sandbar?
Yes, at low tide, the sandbar emerges and it's possible to walk on it. It's recommended to check the tide charts before planning your visit.
Can I see marine life at the Kaneohe Bay Sandbar?
Yes, Kaneohe Bay is home to diverse marine life. You might see starfish, crabs, fish, and even a Hawaiian Green sea turtle in the shallow waters around the sandbar.
Is Coconut Island part of the Kaneohe Sandbar?
Coconut Island, also known as Moku o Loʻe, is not a part of the Kaneohe Sandbar. It is a separate island in Kaneohe Bay, on the windward side of Oahu.
Is the boat ride to Kaneohe Sandbar bumpy?
The boat ride to the Kaneohe Sandbar is generally smooth, as Kaneohe Bay is protected by a barrier reef that reduces wave activity within the bay. However, like any boat ride, the conditions can be influenced by weather and tides.
Kaneohe Bay Sandbar Tours Wrap Up
Exploring the sun-drenched reef-protected waters of Kaneohe Bay is truly one of the best things to do in Kaneohe.
From immersive snorkeling equipment-included adventures through vibrant coral reefs to spirited water volleyball games on the Kaneohe Sandbar, the range of experiences available in this slice of Hawaiian paradise is remarkable.
Each Kaneohe Sandbar excursion offers unique activities and moments of joy; whether that's zipping across the water on an exhilarating banana boat ride or calmly swimming amongst the bay's abundant marine life.
Each tour promises an unforgettable encounter with the natural beauty that defines this location.
For both adventurous travelers and those seeking a tranquil, scenic experience, the top 5 Kaneohe Bay Sandbar tours we've highlighted offer opportunities for making lifelong memories.
As the sun sets on the bay, these tours leave you with a renewed appreciation for Kaneohe's unique marine landscape.
So come, immerse yourself in Kaneohe Bay snorkeling and let the magic of Hawaii unfold.