Planning a trip to Oahu and starting to think about your Oahu packing list? Keep scrolling for the best packing list for Oahu you'll find!
This Oahu packing list for Hawaiian vacations was written by Marcie Cheung (a Hawaii travel expert) and contains affiliate links which means if you purchase something from one of my affiliate links, I may earn a small commission that goes back into maintaining this blog.
Wondering what to pack for your trip to Oahu?
We've got you covered! This packing list is based on our personal experience of visiting Oahu year after year. From clothes to swimwear, we'll make sure you have everything you need for an amazing vacation in the sun.
Make sure to pack light – you don't want to be weighed down by a heavy suitcase on your vacation. And remember, Hawaii is hot and humid all year round, so pack accordingly!
You're going to love all the activities and attractions that Oahu has to offer. Make sure your packing list includes everything you need so you can enjoy every minute of your trip.
Want the best Hawaii advice? I've visited over 40 times and have tons to share!
Check out our packing list for Oahu and start packing today!
Want to skip all the planning and just access my detailed Oahu itinerary complete with daily schedules, fun activities, and travel hacks? Click the button below.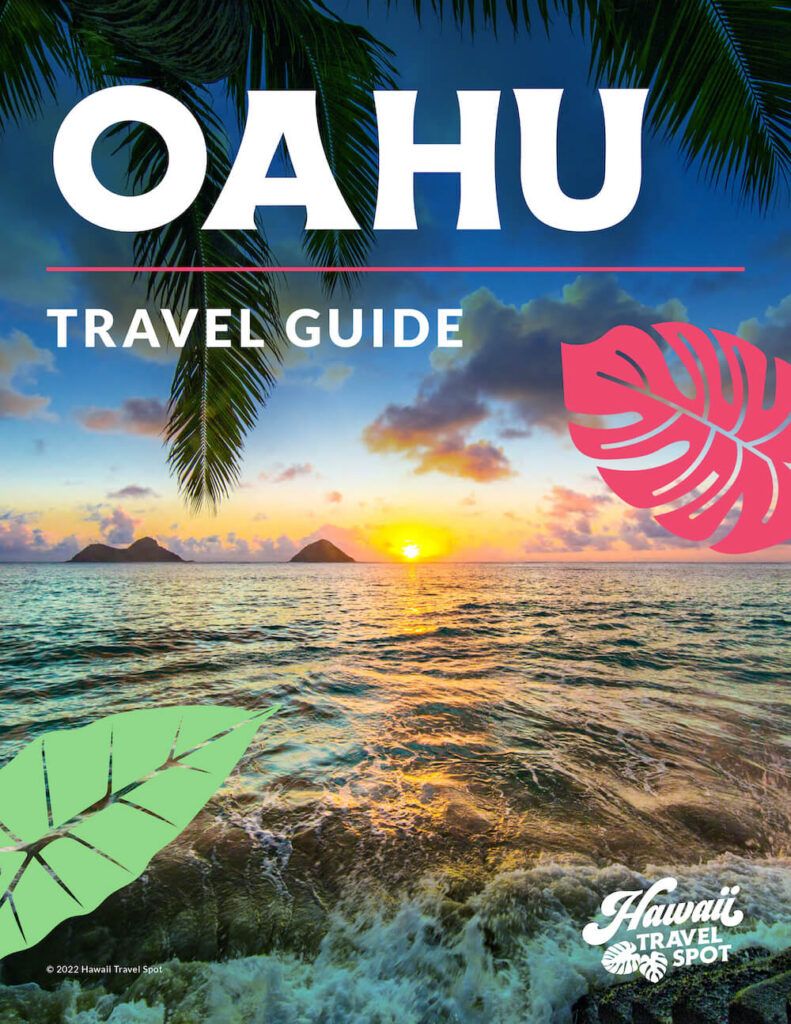 Flying to Oahu: What to Wear on the Airplane
When you're packing for Oahu, don't forget to include a warm jacket or sweater for the plane ride. I recommend wearing a fleece jacket or sweatshirt with long pants.
These are useful no matter where you are flying from, especially since most flights have stopped handing out blankets. They tend to crank up the air for circulation which can make the flight pretty chilly.
If you're planning on doing some Oahu adventures, it makes sense to wear your hiking shoes on the airplane. That saves you space and weight in your suitcase.
While you might be tempted to wear flip flops or sandals on the airplane, I don't recommend it. That's because it's easy to have luggage fall on your feet or break a flip flop in the airport. That's not how you want to kick off your Oahu vacation!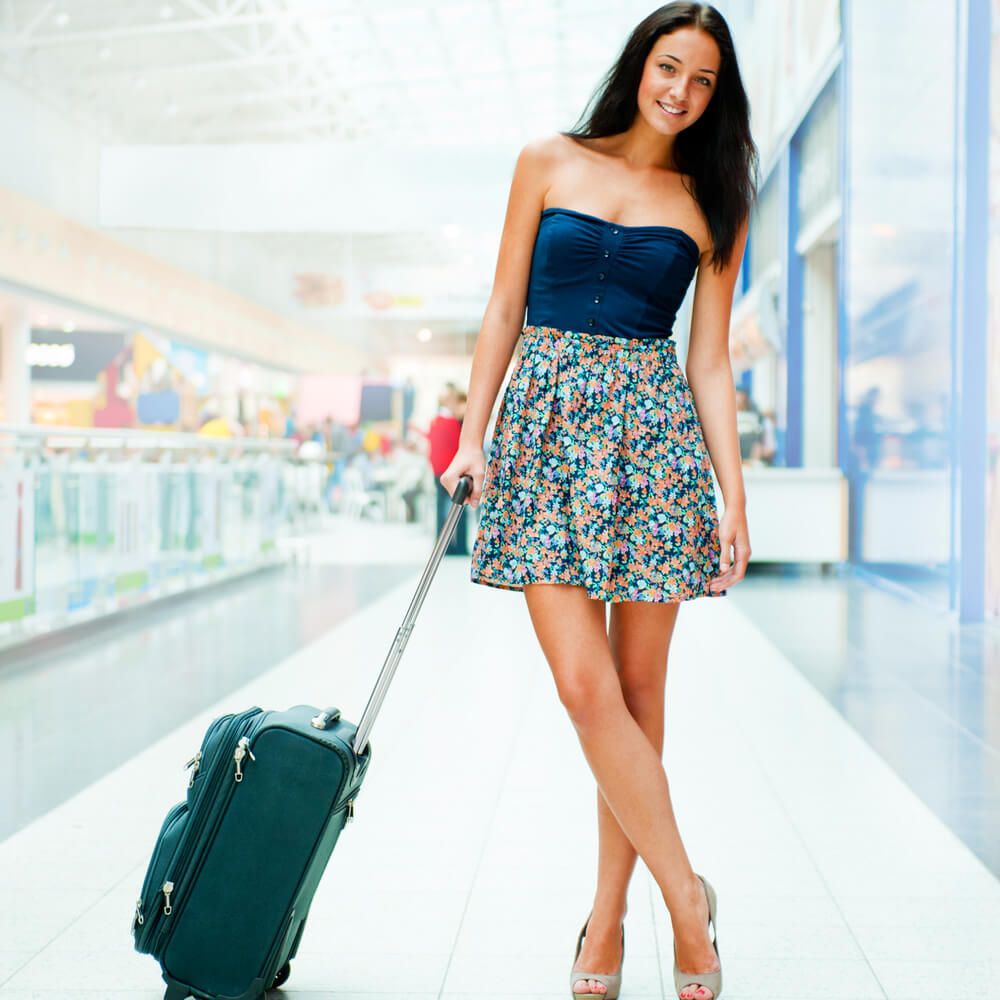 What to Pack in Your Hawaii Carry-On Bag
Now that you know what to wear on the flight to Oahu, let's talk about what to pack in your carry-on bag.
First thing first, if you're traveling with kids, you'll want to make sure you have the right activities to keep them occupied. This varies a lot depending on the age of your kids, but color books, small toys, and so many snacks are always good bets.
Snacks and Drinks
Consider packing your own snacks when you travel! It is important to be prepared and have everything in order, so no one is cranky.
If the flight doesn't provide any food, which most don't, then you'll want to either bring a sack lunch from home or grab food at the airport.
We usually bring something with protein (like nuts, protein bars, or jerky), and then everyone picks out a snack or treat at the airport (like Pringles or gummy bears).
We also make sure everyone has their own water bottle. This is super helpful with little kids, who tend to make a mess of airplane cups.
Sometimes we fill them up with fresh water at the airport. Other times, we get the free drinks on the airplane and then pour them into water bottles. This way, we don't have to worry about spillage, and we stay hydrated during the flight.
Noise-Cancelling Headphones
I admit I don't enjoy flying at all. The one thing that has made it bearable is my Bose noise-canceling headphones. A pair should be on everyone's Oahu packing list.
These headphones will help you enjoy your flight to Oahu by cutting down the background noise. It gets rid of that constant airplane humming that can drain your energy.
It's also a great way to watch movies on your own device or listen to an audiobook.
And we use them in our hotel room when people are sleeping, but we want to binge Netflix!
Gadgets/Technology
I love traveling with my laptop because it's so much easier to research things online. The screen is bigger than my iPhone, which is a major bonus!
However, I never check my laptop in my luggage. Instead, I use a laptop sleeve so I can stick it in my carry-on backpack. That way, it stays safe and undamaged, and I can use it at the airport when we have flight delays.
Our kids also bring their iPads and Nintendo Switches. We have sturdy iPad cases for kids that protect them and help the kids prop them up to watch movies.
My husband also brings his fancy Sony camera and lenses in a special photography backpack that has padding to protect everything.
Trust me when I say that you'll want to bring any electronics in your carry-on bag instead of checking it. It will give you peace of mind from it being damaged or stolen.
Charging Cords
Nowadays, we all travel with technology. And it's easy to rely on technology to entertain you for your flight to Oahu. However, it's a bummer when those devices die, and you realize you packed your charging cables in your checked luggage.
Make sure you bring all your charging cables in your carry-on! Many airplane seats now have USB outlets, which you can plug your charging cords into.
However, the in-seat USB outlets don't charge iPads/tablets very quickly. That's why we bring along battery packs just to make sure we can charge devices mid-flight.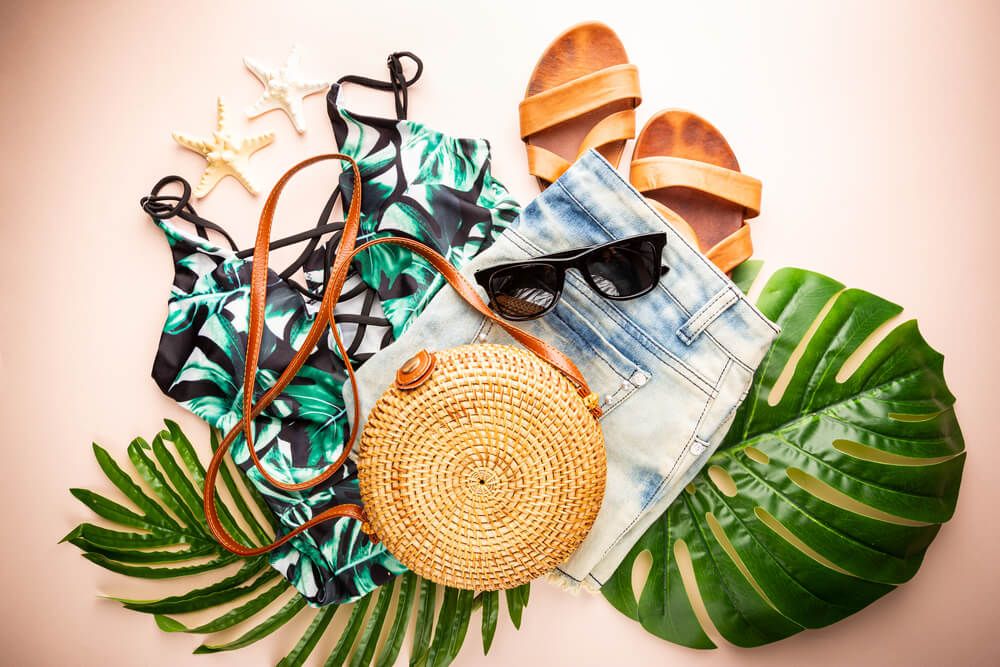 What to Wear in Hawaii
Out of all the Hawaiian islands, Oahu is the dressiest. And by that, I mean that you'll see more people dressed up a bit to go out to dinner or hit the bar scene in Waikiki.
However, it's still Hawaii and things are still really casual just about anywhere you go.
You'll mostly see tourists and residents wearing shorts, dresses, t-shirts, and tank tops. You can never go wrong with a classic Hawaiian shirt, either!
And of course, swimsuits are also a Maui packing list essential – don't forget the sunscreen! If you want to take your Maui wardrobe to the next level, we love these family-matching swimsuits!
If you're staying at an Oahu resort, you'll also want to pack a cute swimsuit coverup to wear to/from the pool area or to grab lunch at a resort restaurant. Most resorts don't allow swimsuits if you want to sit at a restaurant.
And it's a smart idea to pack a sun hat and sunglasses to protect yourself from the Oahu sun.
Attending a wedding? Here's what to wear to a wedding in Hawaii!
Book a Hawaii Photo Shoot
Whenever we travel to Hawaii, we almost always book a photo shoot with Flytographer. They are super easy, affordable, AND it guarantees that I'll have more than just selfies. You can get $25 off if you book through this link or use the code HAWAIITRAVEL.
What to Wear in Oahu in December-March
Oahu in the winter is a great time to visit if you're looking to avoid the crowds and enjoy some of the island's quieter beaches. This is as long as you go in early December or after the holidays.
However, a lot of people don't realize that Oahu can get cold in the winter, so it's important to pack accordingly. It's often in the 60s in the evenings when people are enjoying dinner outdoors or attending a luau.
I often get cold quickly, so I usually pack a couple of lightweight sweaters, long pants, and maxi dresses. That way, I can layer up on the chillier days, but I'm not over-packing.
It also tends to rain a bit more in the winter on Oahu, so it's nice to bring along a light rain jacket. I usually bring a foldable jacket that I can keep in my bag until I need it.
Oahu is a beautiful island any time of year, so if you're planning a winter trip, just be sure to pack for the weather, and you'll have a great time. Check out my full list of what to pack for Hawaii in December!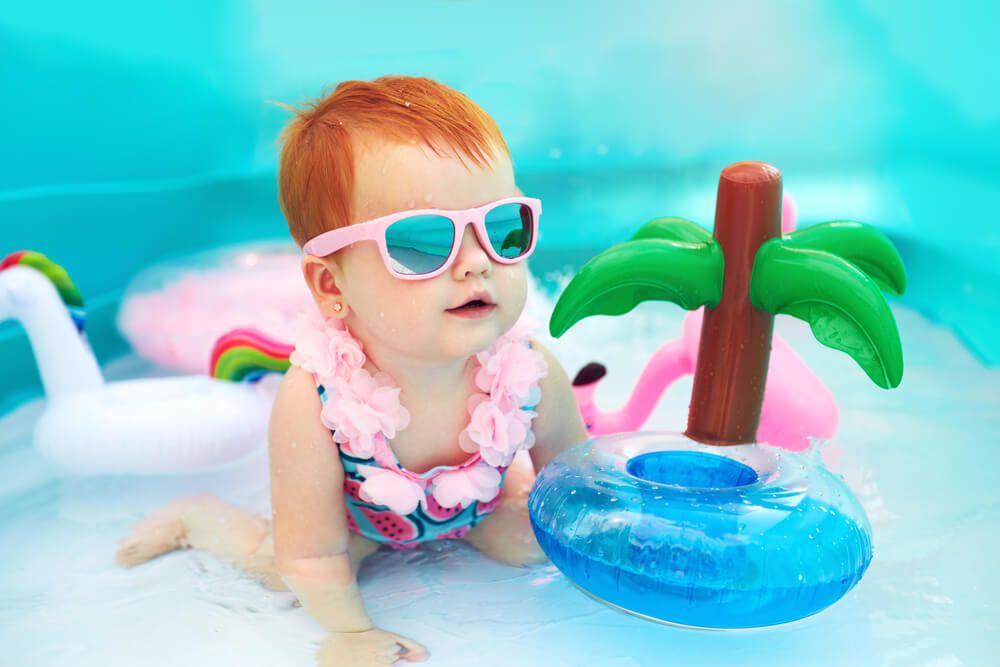 Things to Pack for Oahu with Babies and Toddlers
Oahu is a wonderful place for families, but it's important to be prepared before you go. For those traveling with babies or toddlers, pack enough clothes for the trip as well as extras (in case of accidents).
While some things can easily be purchased locally, such as baby food, diapers, and wipes, it's a whole lot easier (and usually cheaper) to just pack them from home. You'll also want to bring medications, pacifiers, loveys, and anything else your baby can't live without.
You'll want to pack SPF swimsuits and rashguards to protect your baby or toddler's skin from UV rays. And you'll want swim diapers if you're staying at a resort with a pool. For footwear, toddlers who are walking should have a pair of sandals and water shoes.
I also recommend figuring out which tours/activities you'll be doing and seeing if you need anything specific (like long pants or closed-toe shoes). With a little planning, Oahu can be the perfect vacation spot for families with young children.
What to Bring to Hawaii with Kids
The sunny shores of Oahu are perfect for a vacation filled with endless poolside days and sandy toes, so be sure to pack plenty of swimsuits. Don't forget your hat and sunscreen! The UV rays in Hawaii are no joke.
If you are doing a lot of outdoor activities, it helps to bring old clothes that are okay to get stained or ripped rather than new clothes. This is especially helpful if you are going hiking or doing an Oahu ATV tour.
Oahu is also home to some pretty amazing restaurants, so it's worth packing one "nice" outfit in case you want to go out for dinner or do a luau.
And speaking of luaus, if you're planning on attending one, it's customary to wear Hawaiian-print clothing. You can usually find Hawaiian-print shirts and dresses at most retail stores in Hawaii these days.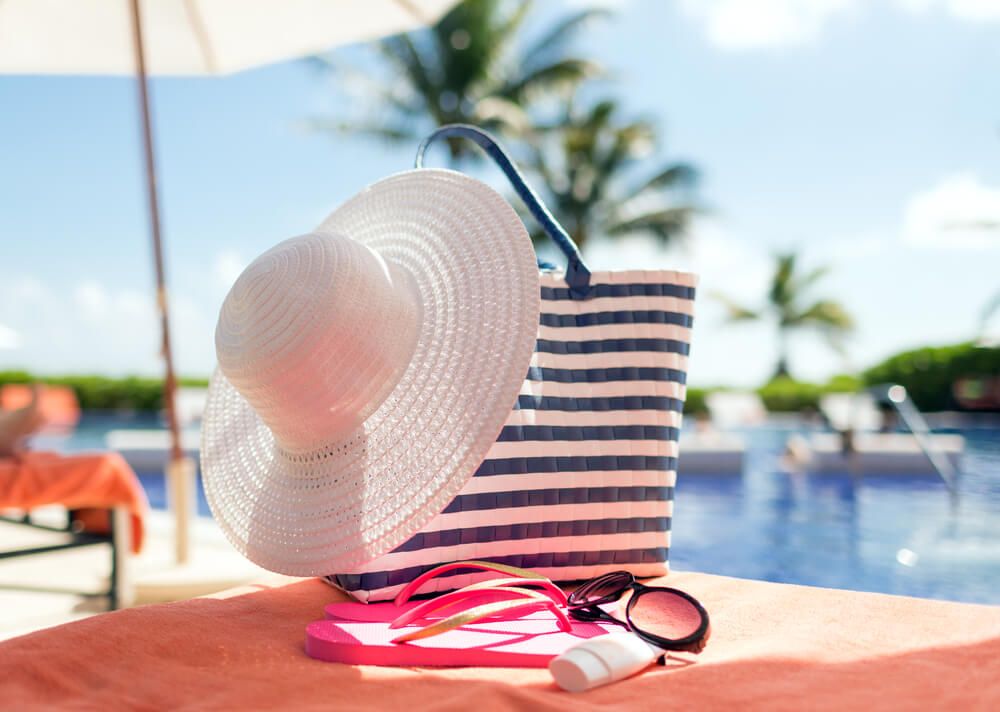 Oahu Hawaii Essentials Worth Packing
There are a lot of things you should add to your packing list for Hawaii. These tend to vary from person to person, so I'm just going to list my top packing essentials for Hawaii that apply to everyone.
Reef-Safe Sunscreen
The state of Hawaii has passed a law to protect its beaches from harmful chemicals. Those who visit Oahu will have access only to those sunscreens which are reef safe and do not contain oxybenzone or octinoxate.
These substances can harm coral reefs when applied in large quantities by beach-goers like you!
While this may seem like a hassle, it's quite easy to find reef-safe sunscreen. You can buy it when you get to Oahu (it's the only kind they sell) or you can purchase it ahead of time.
Just make sure to add it to your Oahu packing list!
Reusable Bags
The beautiful island of Oahu has a ban on plastic bags! That is right if you are planning any kind of shopping while visiting this wonderful place, then be sure to bring your own bag.
This also includes grocery stores too, so don't forget them when going out. Otherwise, most Oahu grocery stores sell really cute Hawaii-themed reusable grocery bags.
I'm a fan of nylon bags because they fold up and hardly take up any space. Plus, you can use them as extra carry-on bags or stash dirty clothes on your way home.
So, be sure to add a couple of nylon bags to your Oahu packing list.
Beach Bags
The perfect beach day doesn't come without a few essential items. You'll want to pack your sunscreen and swimsuit, but you should also grab some other essentials too!
A wet/dry bag will keep those important possessions safe from getting wet or sandy while traveling with them throughout the day. Plus it's great for storing anything else like fresh clothes that might get splashed by waves while you're hanging at the beach.
We also like to bring a travel beach towel that is great for drying off without lugging a heavy towel around.
Don't forget your sunglasses and hat to keep you comfortable in the sun.
With these items in your beach bag, you're sure to have a fun and relaxing time on Oahu's beaches.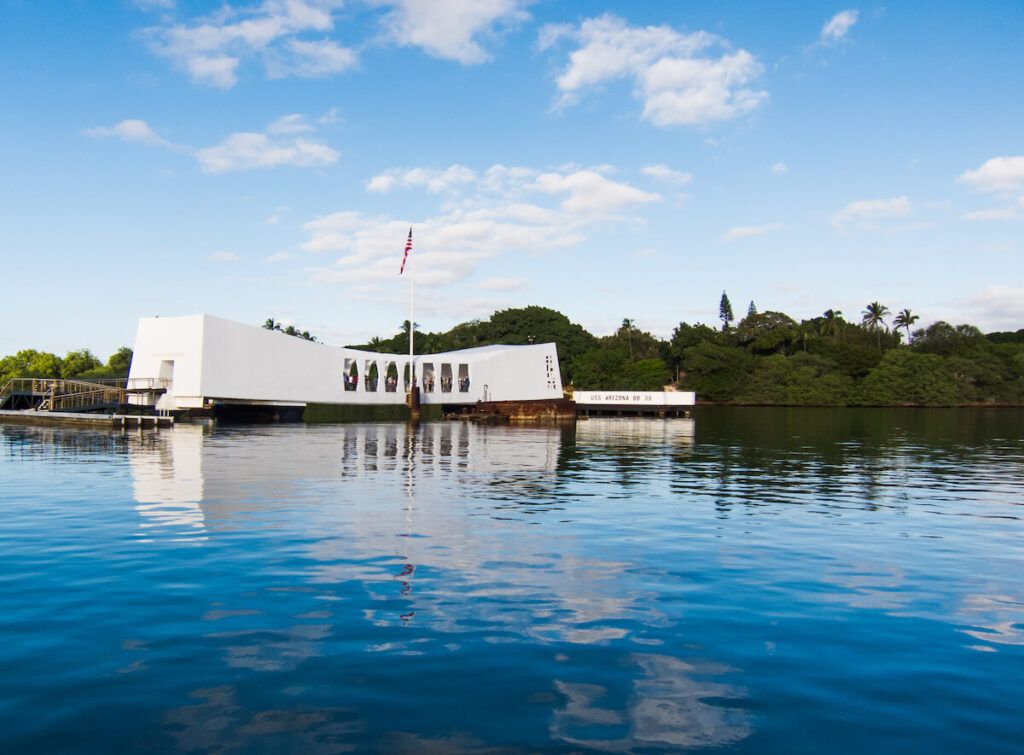 What to Bring to Pearl Harbor
Most people traveling to Hawaii have Pearl Harbor on their Oahu bucket list. That's where you can pay your respect at the USS Arizona Memorial. But, there's also the Pearl Harbor Aviation Museum, USS Battleship Missouri, and the USS Bowfin Submarine.
If you want to bring ANYTHING to Pearl Harbor, you'll need to put it in a clear bag. You cannot bring in purses or backpacks.
Otherwise, for $6 per bag and $10 oversize/luggage, visitors may store backpacks, purses, luggage, and shopping bags at the baggage storage area located in front of the Pearl Harbor Visitor Center.
You also cannot bring in water bottles or sunscreen. So, I recommend lathering on your sunscreen once you park. And wear a sun hat.
You can purchase drinks inside, and you can even buy a reusable bag once you are through security.
You can find the full list of banned items HERE.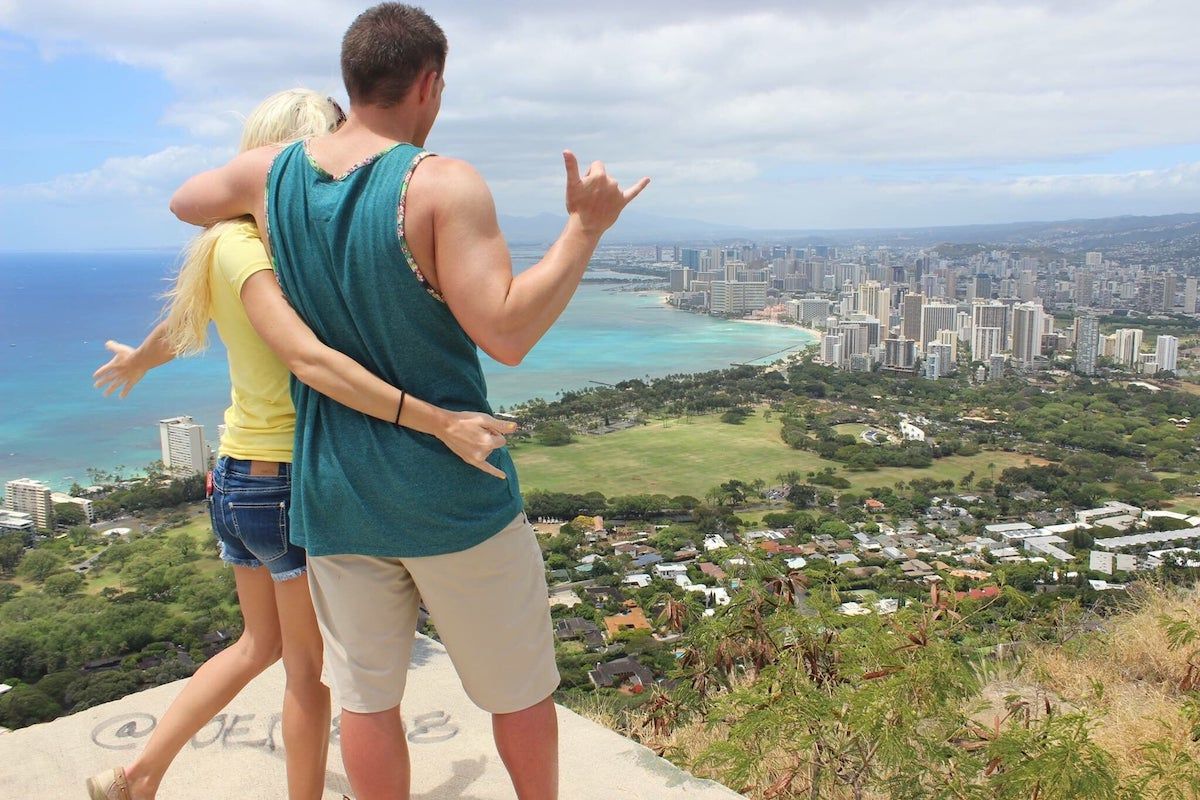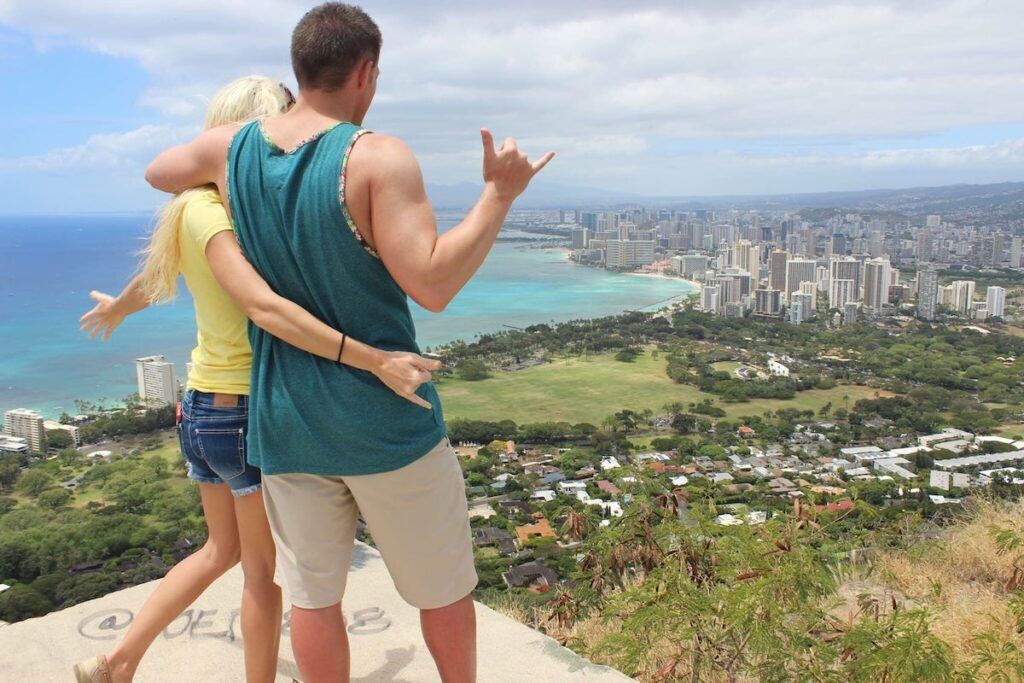 What to Pack for Diamond Head
Another popular thing to do on Oahu is hike Diamond Head Crater. Usually, this is best done early in the morning or right before sunset to beat the heat. Yes, it can get quite toasty up there!
You'll want to wear sturdy shoes and comfortable clothing. Most people wear athletic gear or shorts and a tank top. You'll be climbing up a lot of stairs, so I wouldn't recommend skirts or dresses.
I also suggest bringing a water bottle and wearing a hat.
You can usually buy things to eat/drink once you've climbed down from Diamond Head. It makes a nice reward for completing this Oahu hike!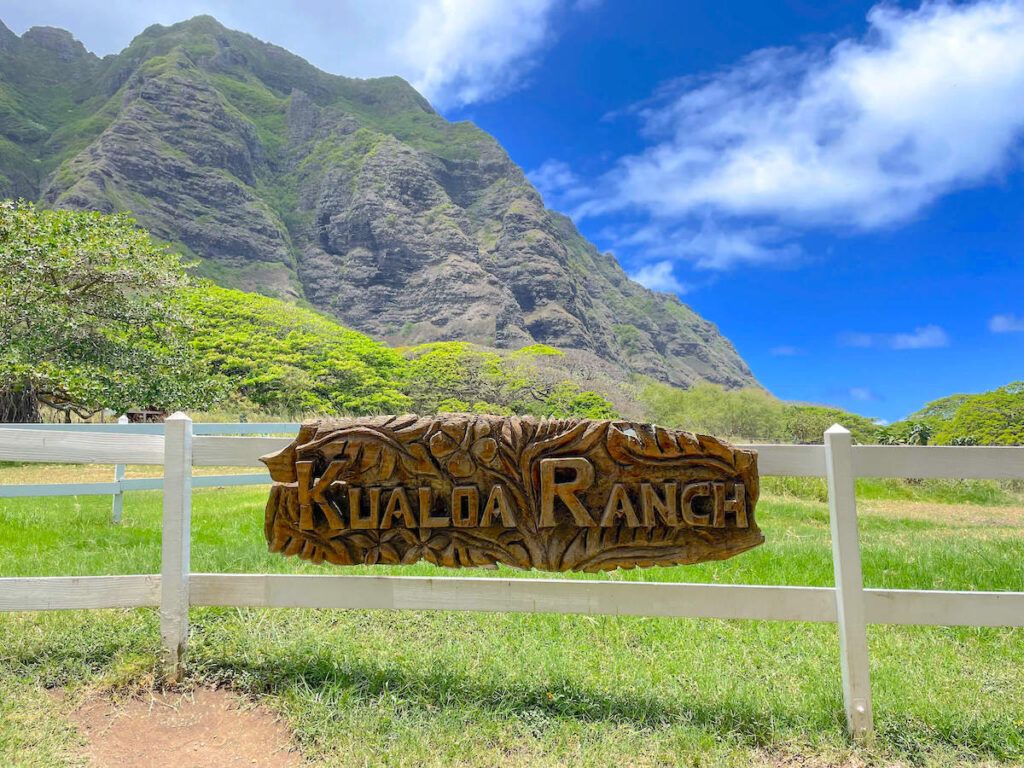 What to Wear to Kualoa Ranch
If you're looking for an Oahu adventure, you'll want to book at least one Kualoa Ranch tour. This place has everything from horseback riding and ziplining to cultural excursions and even a private beach.
But, the most popular tour by far is their Kualoa Ranch ATV tour, where you can see Jurassic World filming sites.
You'll want to read your Kualoa Ranch tour confirmation email carefully to see exactly what to wear. Often you'll need long pants or closed-toe shoes.
If you are doing one of their adventures, I recommend bringing extra clothes to change into. You will probably get dirty/dusty. Baby wipes are also a good idea if you need a quick clean-up.
And you'll want plenty of sunscreen. The sun can be harsh, and there isn't always shade.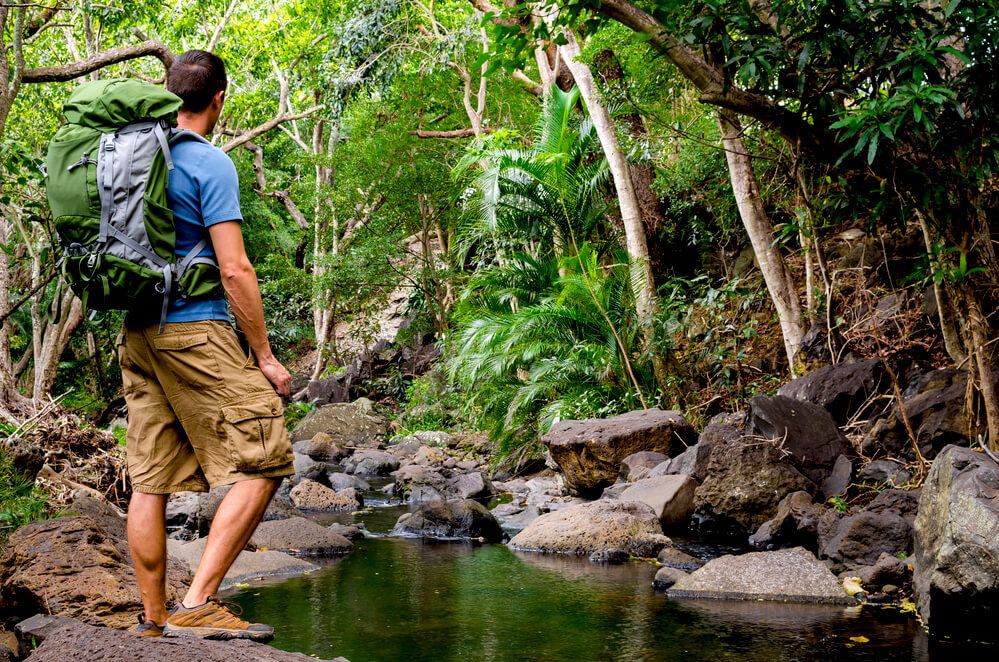 Packing List for Oahu Hiking
Gear up before you go hiking on Oahu! Make sure to pack plenty of water, bug spray, and sunscreen. And don't forget your hat – it's important that it keeps the sun out of your eyes and protects your neck from sunburns.
Wear sturdy shoes or hiking sandals since flip flops are not ideal for hiking. It helps to wear older shoes that are already worn in to help you avoid blisters.
Finally, depending on the intensity of your hike, you may want to bring additional items such as snacks, water, and a first aid kit.
By following this Oahu packing list, you'll be sure to have a safe and enjoyable hike.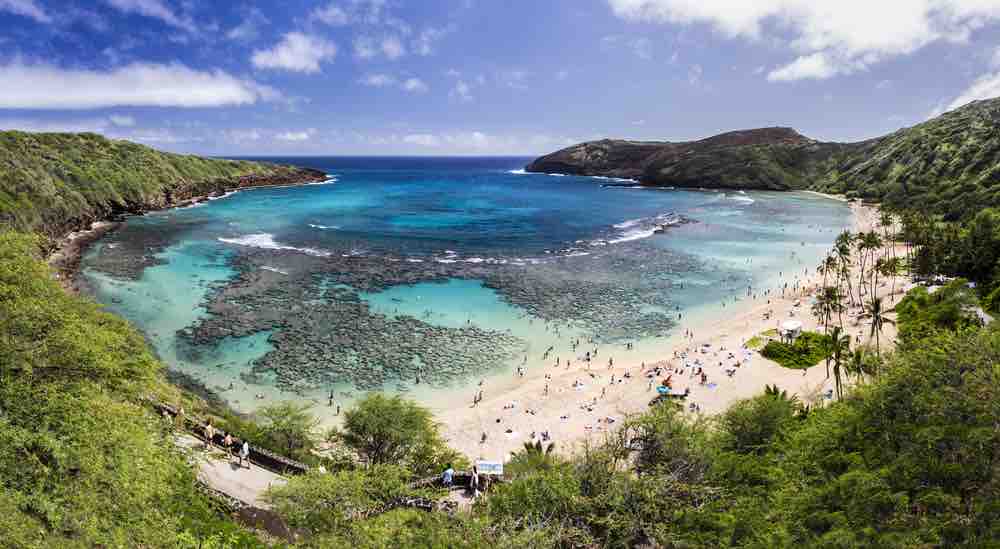 What to Bring Snorkeling in Oahu
No trip to Oahu is complete without spending some time snorkeling. Whether you go it alone or take an organized tour, there are a few things that will make your experience more enjoyable and safe (and, let's face it–fun!).
First, you'll need a swimsuit and a rash guard. Rash guards are an easy way to prevent sunburns, and they also help to keep your skin from chafing while you're swimming.
If you are doing an Oahu snorkeling tour, remember to read the information carefully to see what to wear on the boat and what to bring with you. They will usually provide all the snorkeling gear.
If you are snorkeling on your own, it's often cheaper to buy a snorkel set rather than renting one. You can pick up a snorkel set at any sporting goods store or even at some grocery stores.
And last but not least, don't forget to pack some mask defogger. Mask defogger is great for keeping your mask clear and fog-free while you're snorkeling.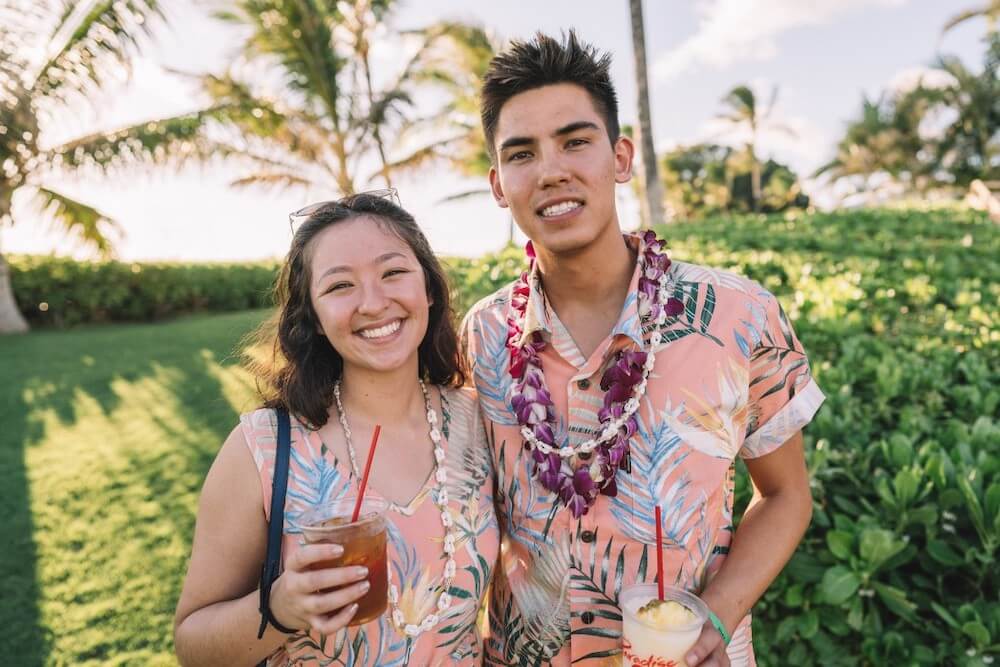 What to Wear to an Oahu Luau
There are a lot of things to do in Oahu, but one that should be at the top is visiting a luau. You'll get to experience traditional Hawaiian culture and have fun while doing so!
If you want to know what to wear to an Oahu luau, khaki shorts or pants with a collared shirt or an Aloha shirt are your best bet for men. You don't want to be too casual, but you also don't want to be over-dressed. Just think tropical-chic!
Women have a few more options. You can go in a dress or pants and a nice shirt. For dresses, a lot of women opt for maxi dresses – either solid colors or tropical prints.
Again, you don't want to be too casual, but you also don't want to be over the top. The goal is to look like you're enjoying yourself without being too formal.
As for kids, they can pretty much get away with anything. A lot of families dress their kids in Aloha shirts or dresses, but any clothes that are comfortable and appropriate for the weather will work.
Last but not least, avoid wearing heels. Some luaus take place in grassy areas or on the beach, so flats work best.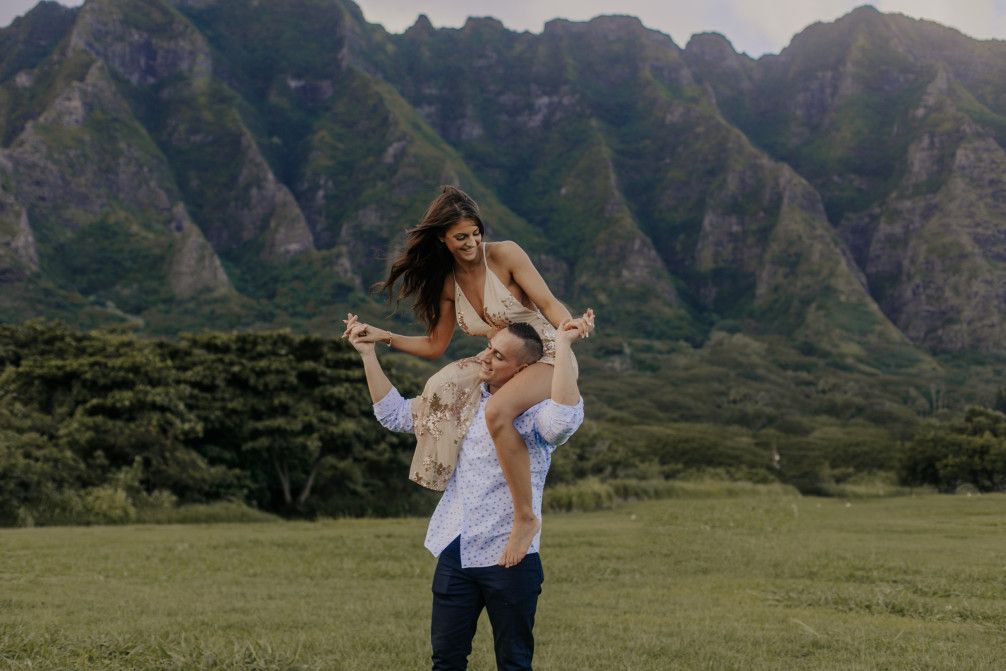 What to Wear for an Oahu Photo Shoot
Oahu is such an incredible destination for family photos. The vibrant colors of this landscape provide the perfect backdrop; there's no other place like it on Earth!
Most families choose to dress up a bit for their Oahu photo session, with men/boys wearing collared shirts and women/girls wearing dresses.
Wearing all white can look crisp for Hawaii photos on the beach. And wearing Aloha prints is always a cute idea.
Oahu photographers are used to shooting in all types of lighting conditions, so you'll be sure to get some great shots no matter what time of day you book your session. Although I recommend aiming for close to sunrise or sunset for the ultimate lighting.
Another way to take your Oahu photos to the next level is to get fresh flower leis to wear. There are even haku leis (like a flower crown) that are so stunning in photos.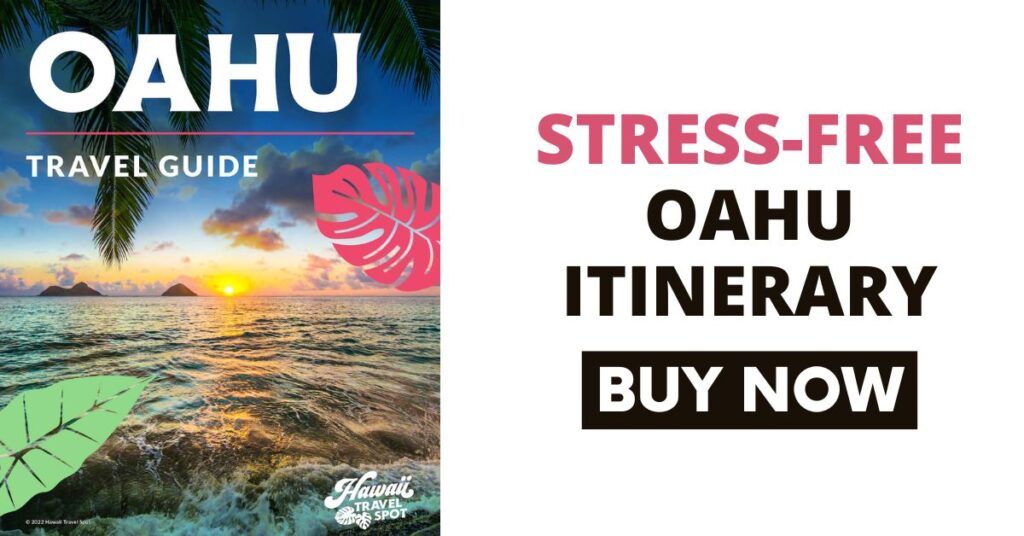 Trip to Oahu FAQs
What's the best month to go to Oahu?
Oahu is a pretty magical place any time of year. However, it can get busy during school breaks. So, the best time to go to Oahu is usually mid-April to June or September to mid-December. This is the best way to enjoy fewer crowds and save money on airfare and hotels.
Is one week in Oahu too long?
No way! There are so many cool things to do on Oahu that you could stay for months and not do everything on your list. We'd say that seven days is the perfect amount of time for a trip to Oahu. With one week in Oahu, you should be able to see most of the top sights, do a few Oahu activities, and have time to just enjoy the island.
What's the best luau in Oahu?
While there are TONS of Oahu luaus our top picks are Toa Luau in North Shore Oahu and Experience Nutridge Luau in Honolulu. Both are smaller, more intimate experiences and provide some amazing cultural activities and demonstrations. If you are looking for an authentic luau on Oahu, either of these are great options!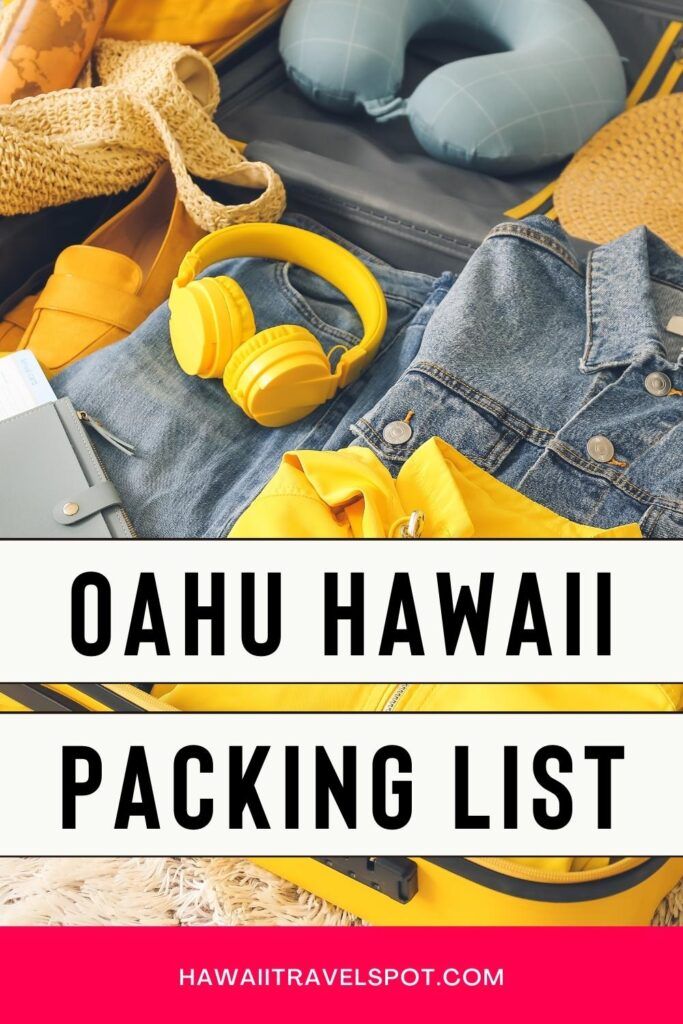 What to Pack for Oahu Wrap Up
I've visited Oahu countless times, and these are the top items I suggest adding to your Oahu packing list.
Hopefully, you have a better idea about Hawaii vacation clothes to pack, as well as other things to add to your Hawaii checklist.
And finally, don't forget to pack your sense of adventure! Oahu is an island that has something for everyone.
Mahalo for choosing Hawaii Travel Spot as your source for information about traveling to the Aloha State!