Are you planning a trip to Oahu and are thinking about hiking Diamond Head? Keep scrolling to check out this honest review of the Diamond Head hike near Waikiki!
This hiking Diamond Head review was written by Marcie Cheung (a Hawaii travel expert) and contains affiliate links which means if you purchase something from one of my affiliate links, I may earn a small commission that goes back into maintaining this blog.
I've been going to Oahu for years and years and one of my favorite Oahu landmarks is Diamond Head. It's easy to spot almost anywhere in Waikiki.
Since it's so close to Waikiki, it's one of the most popular hikes on Oahu for tourists and locals.
I recently did the hike with my 9-year-old son and I'll give you my personal tips and tricks so you can decide if you want to add this Oahu hike to your Oahu itinerary.
What is Diamond Head?
Diamond Head, also known as Le'ahi, is a famous volcanic cone on the island of Oahu, Hawaii. It's like a giant crown on the land because of its shape.
Many years ago, a volcano erupted and created Diamond Head. Now, it's quiet and hasn't erupted for a long, long time.
In Hawaiian culture, Le'ahi is super important. The name means "brow of the tuna" because it kind of looks like the fin of a fish!
Hawaiians used it as a lookout point since you can see really far from the top. It was so good for seeing things that the U.S. military even built a fort up there a long time ago.
Today, Diamond Head is a State Monument. This means it's protected because it's a special place. People from all over come to hike up the trail to the top.
They want to see the amazing views and think about the history and nature of Hawaii. It's a spot that tells a story about the earth and the people who have lived on the islands for a very long time.
Our Personal Diamond Head Hike Experience
When my son asked if we could hike Diamond Head on our recent Oahu vacation, I sort of panicked. It was because I wasn't sure if we had missed the reservation window or not.
Making Diamond Head Reservations
If you want to do the Diamond Head hike, you'll need to make a reservation online. This is for parking as well as your entrance ticket.
You'll need to pick a time slot, too. I picked 6 a.m. for the day after we arrived because I knew we'd be up early. Plus, I know this Oahu hike gets hot quickly, so I wanted to beat the heat.
What's the Trail Like?
It's about 1.6 miles round trip. That may not sound super long, but the hike can be tough. It's a good workout!
You'll climb up steps, walk on uneven ground, and there's even a part where you'll go up a steep slope. So, it's kind of like a natural stair master with a view!
Plus, you'll need to walk through a tunnel to get up to the viewing areas. It's sort of dark and it's on a moderate incline.
I went with my 9-year-old son and neither of us hikes a lot. But, we had no problem doing this hike at all. We didn't even get out of breath. And we saw lots of kids and elderly people doing this hike.
But, we did see people pulling off to the side to rest. And some people used walking sticks to help with the uneven ground. There are lots of benches along the trail.
There's also a sign as soon as you get through the tunnel that recommends that people head to the left to do the loop.
We hiked it that way and thought it was excellent. It provides lots of scenic lookouts and photo spots before you get to the top.
BUT, we noticed that the tour groups all went to the right. That way was PACKED but it's a straight shot for the summit.
Diamond Head Views & Payoffs
To be honest, we weren't super impressed with the views along the trail until we got through the tunnel.
One big reason people say "Yes!" to this hike is for the views. And boy, are they awesome!
We headed to the left and there were so many great views it was hard not to take a million photos. And this section was less croweded than the summit.
When you reach the top, you get this amazing, wide view that stretches all the way from Waikiki to Honolulu, and out to the endless blue Pacific Ocean. It's like being on top of the world!
There are actually tons of photo spots when you get to the top of Diamond Head Crater. Some are little platforms with steep stairs, but others are pretty wide and open.
What to Know Before You Go
Before you decide to conquer the Diamond Head hike, here's the lowdown on what you should know.
Prepare Yourself
It's super important to come prepared, so here's what you should bring: a bottle of water to keep you hydrated, sunscreen to protect your skin from the strong Hawaiian sun, and good shoes.
Flip-flops might be cool for the beach, but for this hike, you'll want sturdy sneakers or hiking boots. My son and I both wore our hiking shoes and we were SO glad that we did.
When to Hike
Now, let's talk timing. The trail can get as packed as a can of sardines, with lots of people trying to catch the cool views. To skip the worst of the crowds, try to start your hike early in the morning. We thought 6:30 a.m. was great.
Plus, the earlier you go, the cooler it will be, which is a big deal because it can get really hot by midday.
Ease Into It
If you're not used to hiking, you might think, "Uh-oh, can I do this?" Sure you can! But it helps to do some walks around your neighborhood before your trip to get your legs in hiking shape.
If you start puffing like a volcano, it's totally okay to stop for a breather. And remember, there's no rush – it's not a race.
Bring Water
I highly recommend bringing water bottles for everyone. If you forget, there are some vending machines to grab drinks before or after your hike.
We stopped quite a few times to rehydrate and we went at the coolest part of the day.
Pros & Cons of Hiking Diamond Head
The advantages are pretty sweet. You get to see these amazing, postcard-worthy views from the top. Seriously, you can see Waikiki Beach, Honolulu, and even the deep blue ocean. It's like you're a bird!
Plus, when you reach the summit, you'll feel super proud, like you just won a gold medal.
But, there are a few downsides to think about.
First, it can get super crowded, especially if you go in the middle of the day. Imagine being in a long line just to see the view.
Also, it's quite a workout to get to the top. There are steep parts and stairs—lots of them! So, if you're not into sweating a bit, it might be tough. And, there's an entrance fee. It's not a lot, but it's not free either.
So, weigh the cool stuff like awesome views and that winning feeling against the not-so-cool stuff like crowds, sweat, and a few bucks to get in.
Whatever you decide, Diamond Head is one of those places in Hawaii that people talk about a lot for a reason!
Alternatives to Hiking Diamond Head
If hiking up Diamond Head isn't your jam, no worries! There are other chill ways to enjoy it.
You can hit up the lookout points around the crater. They're easy to get to and you still snag some epic views.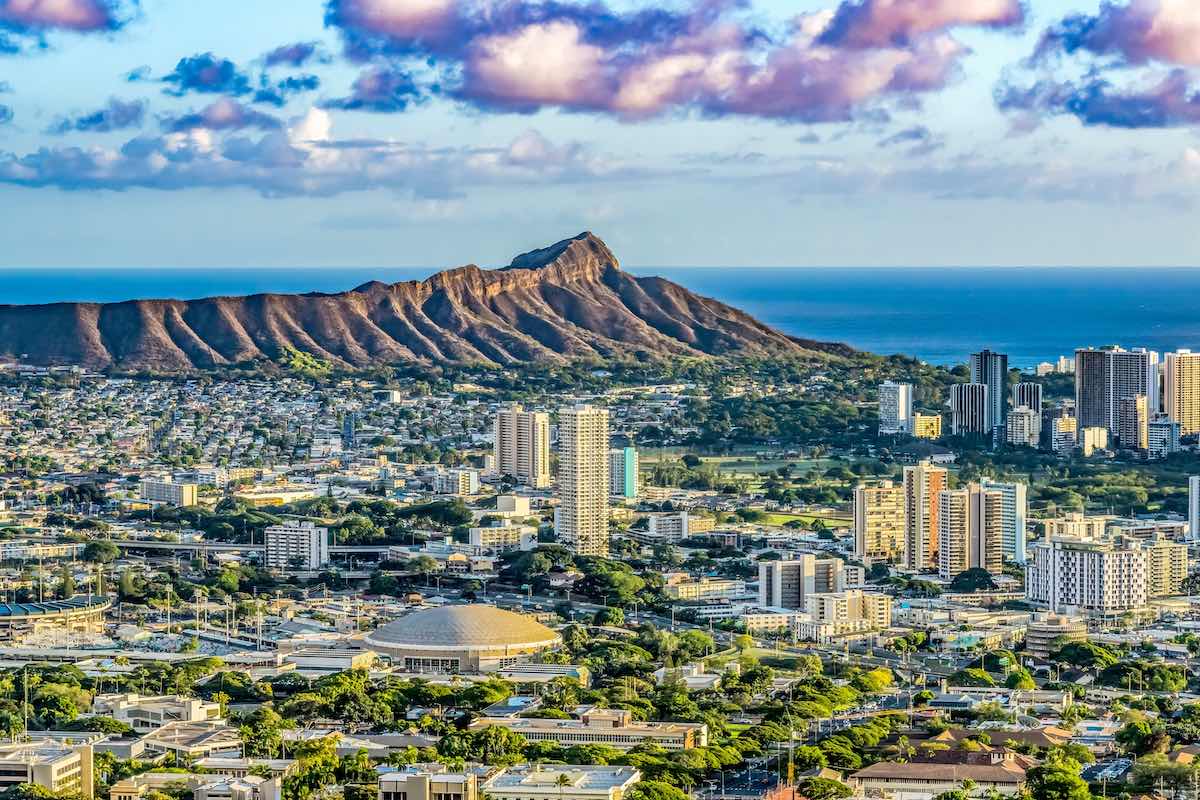 Or, how about lounging on the nearby beaches? You can gaze up at Diamond Head's awesome shape while you kick back on the sand.
Plus, you can snap cool pics from the beach with Diamond Head in the background. This way, you can still say "Been there, seen that!" and have a blast your own way.
Diamond Head Hike FAQs
How difficult is the hike?
It starts off really easy with a paved path and a very low incline. However, it quickly changes into uneven terrain and there are lots of stairs involved. My 9-year-old and I had no trouble and we saw lots of older people who were managing. But, if you're nervous about the uneven footing, we saw lots of people using walking sticks.
How long does the hike take?
It took us a full hour to climb up to the top, take photos, and make our way back to the parking lot. We only stopped a few times to rest. I think it's safe to plan for 90 minutes.
What are the views like?
There are a lot of views of the mountainside as you climb up. But the main views are of Waikiki when you reach the top.
What is the best time to hike Diamond Head?
We went at 6:15 a.m. right before sunrise and the weather was perfect for the hike. It was just light enough to see the trail and it was fully lit when we reached the top.
Even though there weren't too many people, it felt super crowded up at the top. I can't even imagine if we had gone later in the day.
Are there facilities on the trail?
Yes, there are restrooms at the trailhead as well as partway up the hike.
Is the trail crowded?
Yes, this is one of the most popular hikes on Oahu and it's often crowded with tourists and locals.
Is it suitable for young children or elderly visitors?
We saw lots of kids and elderly people doing this hike. Some parents carried their little kids on the way down but most kids were able to hike. My 9-year-old had no problem. Lots of elderly people had walking sticks with them or rested on benches along the trail.
Can I still experience Diamond Head without hiking?
Yes, there are plenty of places to get nice views of Diamond Head. You won't see the view from the top, but the view of Diamond Head is also pretty beautiful.
So, Is the Diamond Head Hike Worth It?
So, is climbing Diamond Head Crater for you? Remember, it's all about what you want from your vacay. If you dig cool views and don't mind a bit of a workout, it's a big thumbs up.
But if crowds and climbing aren't your thing, you might pass. Think about what makes you happy and how much you like to move.
Whatever you choose, make sure it fits what you and your family like to do. Either way, Diamond Head can be a part of your awesome Hawaii memories!