Are you looking for the best things to do on Maui for a honeymoon? Keep scrolling to read my top romantic honeymoon activities in Maui Hawaii.
This list of romantic activities in Maui Hawaii contains affiliate links which means if you purchase something from one of my affiliate links, I may earn a small commission that goes back into maintaining this blog.
Planning a honeymoon to Hawaii can be stressful, but it doesn't have to be! So many couples will create a honeymoon bucket list and then spend hours trying to figure out how to achieve all their dreams and goals.
However, with this Maui honeymoon guide, you will have everything set for the perfect getaway with your spouse, without all the time and stress of researching.
For the best honeymoon in Hawaii, check out these incredibly romantic honeymoon activities in Maui, Hawaii.
Don't have time to read a bunch of Hawaii blog posts and reviews? Here are some of our top picks for planning your Maui Honeymoon.
Best Maui Honeymoon Tours/Activities
Best Maui Honeymoon Resorts
Hyatt Regency Maui (this has a swim-up bar and tons of amazing amenities)
Andaz Maui (this is luxury resort with the best luau on Maui)
Hana-Maui (this is a high-end resort tucked away in the remote town of Hana for those who truly want to unplug)
Want to Rent a Car in Hawaii?
One of the best places to rent a car in Hawaii is Discount Hawaii Car Rental because they get the best rates from top national companies like Alamo, Dollar, Thrifty, Avis, Enterprise, Budget, and Payless.
Want to skip all the planning and just access my detailed Maui itinerary complete with daily schedules, fun activities, and travel hacks? Click the button below.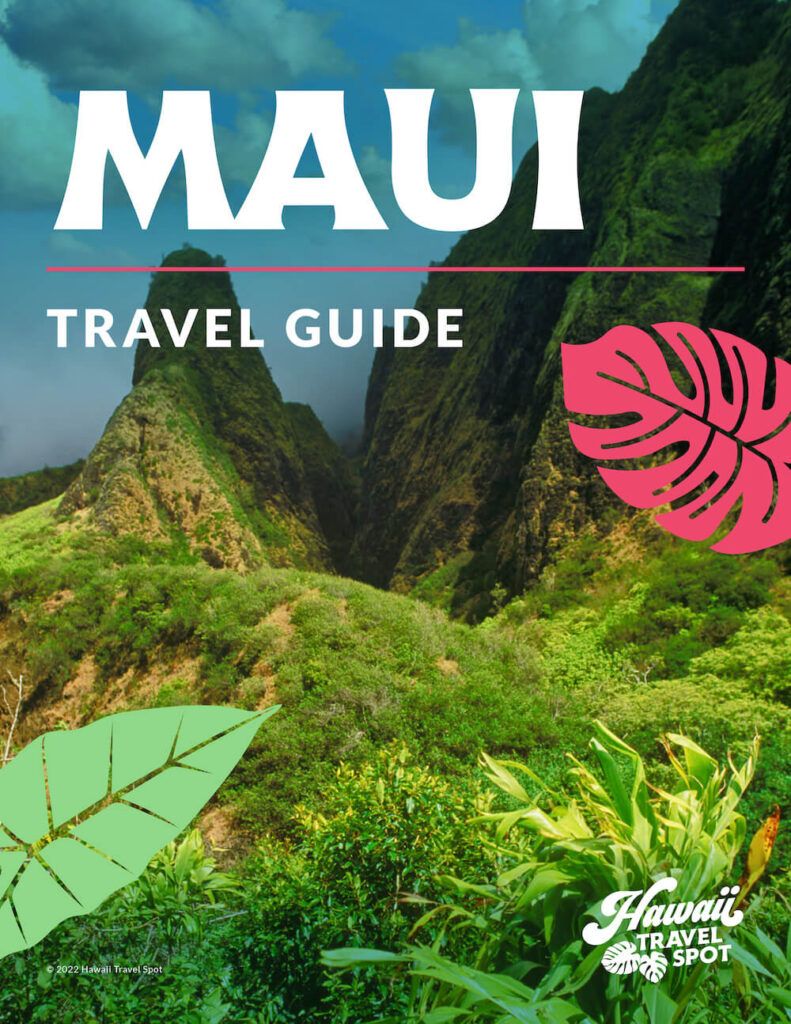 Best Romantic Honeymoon Activities in Maui
What do you do on a honeymoon in Hawaii? So many fun, romantic things! Here are some Maui honeymoon activities that will make your trip magical, romantic, and memorable.
1. Sunset Dinner Cruise
A sunset dinner cruise is one of the best Maui romantic activities you could do on your honeymoon. Watching a sunset on the ocean is an experience you'll never forget!
You'll sail along the Maui coast while enjoying a gorgeous sunset and delicious food and drinks. Dance to live music with your spouse and simply enjoy the moment. Check the latest rates and availability.
2. Submarine Adventure
Explore the magical ocean life below on this submarine adventure! You'll get a unique view of the coral, fishes, reef sharks, and so much more!
This tour takes you down 100 feet and lets you explore an area of the ocean you probably wouldn't on your own! Check the latest rates and availability.
3. Maui Pineapple Tour
At one point during your trip, you'll want to experience a Maui Pineapple Tour. These tours don't take too long and allow you to see how pineapples are made on these Hawaii farms.
You'll get to walk around the pineapple farm and get to taste samples along the way. At the very end, you'll get a free pineapple you can take home with you! Check the latest rates and availability.
4. Spa Day
Another one of the best romantic Maui activities is getting a couple's massage at the spa during your trip. A massage is a very intimate way to relieve stress and melt away all your troubles. What better way to start your marriage?
There are countless spas all over the island you can enjoy. If you want a very intimate, relaxing experience, there are massage services that will come directly to you in your room! This is especially nice for honeymooners who don't want to leave their resort much.
You can also find places where you can get your couple's massage by the ocean as well. The Blue Moon Massage Hale lets you overlook the beautiful ocean in a lanai as you relax and get a full-body massage with your love.
5. Feast at Mokapu
One of the best Maui honeymoon ideas is to go to a Luau at least once toward the end of your trip. Check your resort to see if they have a luau before trying to find one on the island. Most luaus will greet you with a lei and a drink!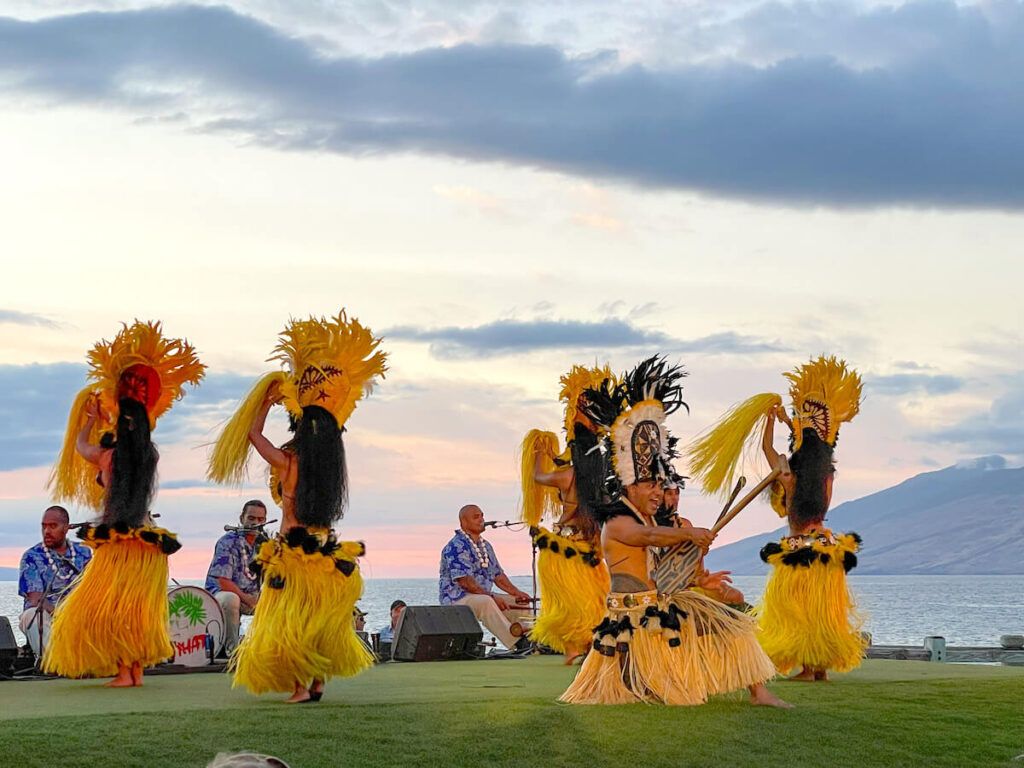 It is a fun date night idea as you get to eat delicious Hawaiian food while watching Polynesian dancing and a fire knife show. Learn about the Polynesian cultures and have fun with your significant other at the same time. Check the latest rates and availability.
6. 7-Line Zipline Tour
For an adrenaline-pumping adventure during your honeymoon, have fun zipping through the rainforest in Hawaii on a zipline! This Zipline Tour has seven different ziplines to explore and have fun on.
There are also many other activities, such as a suspension bridge and obstacle challenges to make this a fun and thrilling activity! Check the latest rates and availability.
Book a Hawaii Photo Shoot
Whenever we travel to Hawaii, we almost always book a photo shoot with Flytographer. They are super easy, affordable, AND it guarantees that I'll have more than just selfies. You can get $25 off if you book through this link or use the code HAWAIITRAVEL.
7. Hit The Beach
For a Maui honeymoon on a budget, you can always have plenty of romantic activities on the beach. You'll want to spend as much time as possible relaxing on the beach anyway!
You'll find plenty of stunning beaches to explore all over the island, but for a secluded Hawaiian honeymoon, check out the following beaches: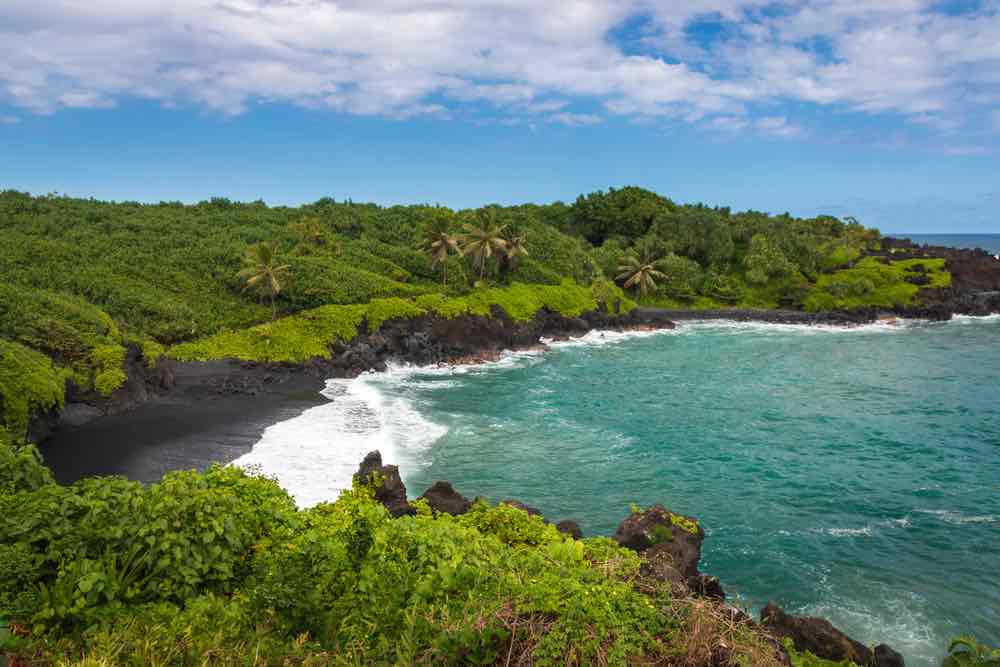 Honokalani Black Sand Beach is located at the Wai'anapanapa State Park and is quite beautiful. Black sand beaches are always worth exploring in Hawaii, plus you won't find as many people here as on other popular beaches.
You'll find a gorgeous soft-sand beach on the south side of the island called Chang's Beach. You can swim in the water, go on a romantic sunset beach walk, have a picnic, or relax in the sun.
Another great, private beach is Oneloa Beach. You'll find clear water and soft sand to make this a great stop during your romantic honeymoon.
8. Lahaina ATV Adventure
For another thrilling adventure, ride some ATVs along the beach or at the Pu'u Kukui Watershed Preserve. You can drive yourself or be a passenger and simply enjoy the ride.
If you are an adventurous couple, this is definitely something you should add to your honeymoon itinerary for Maui! Check the latest rates and availability.
9. Molokini & Turtle Town Snorkeling Adventure
Another one of the many fun things to do in Maui for your honeymoon is to go snorkeling. Maui has some of the best snorkeling locations in the world, including Molokini Crater and Turtle Town. This snorkeling adventure takes you to both! Check the latest rates and availability.
First, you'll head to Molokini, where you will be able to see tons of exotic sea life. Then, you'll head to Turtle Town to swim with the turtles. Be sure to bring an underwater camera to take some pretty romantic pictures as a couple with the fish.
For a fun snorkeling adventure, try sea scooter snorkeling! It's definitely a unique way of exploring under the sea. Check the latest rates and availability.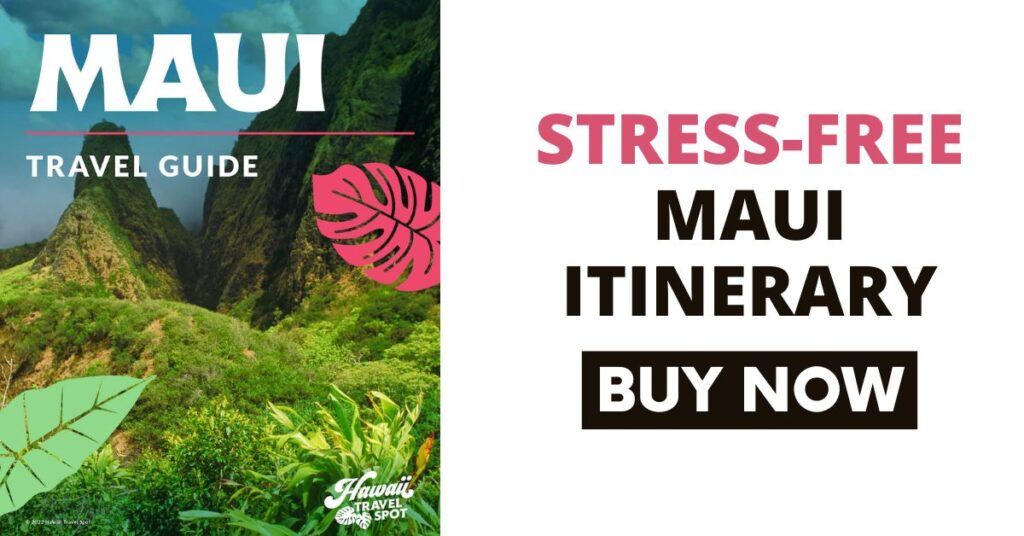 10. Helicopter Tour
During a helicopter tour in Maui, you'll find gorgeous hidden waterfalls and have views of the island and ocean unlike anything else. It is a great way to spend some of your time during your honeymoon in Maui.
You'll be able to see so many places that you cannot get to anywhere else; these places are untouched by man! It's a fun experience that will bring you closer together as a couple. Check the latest rates and availability.
11. Haleakala Sunrise
During your honeymoon in Maui, Hawaii, be sure to see a Haleakala sunrise. This tour takes you up this incredible mountain for the most spectacular sunrise you will ever witness.
After you enjoy the sunrise with your spouse, you get to head down the mountain and take in the beauty of Upcountry Maui before enjoying a hearty breakfast. Check the latest rates and availability.
12. Road to Hana Adventure Tour
If your first time to Hawaii is during your honeymoon on Maui, go on a Road to Hana adventure tour! You'll get a fun tour of this area of the island and see some of the best stops along the way too!
While you can drive this on your own, it's much more enjoyable to let a professional take the wheel so you BOTH can check out the amazing scenery. Plus, your tour guide can take photos of you! Check the latest rates and availability.
13. Horseback Riding Adventure
For a romantic Hawaii honeymoon, go on a horseback riding adventure! First, you'll ride up the mountain to see a gorgeous waterfall. After heading back down, enjoy a nice romantic ride along the ocean shore.
This is one of the most romantic things you can do in Maui! Check the latest rates and availability.
14. Cacao Farm Tour
For another Hawaii honeymoon idea, go on a Cacao Farm Tour. Take your sweetheart to go chocolate tasting, all the while learning about how this delicious treat is made. You'll be able to tour the largest chocolate factory in Hawaii! Check the latest rates and availability.
15. Rainforest Tour
During your honeymoon in Maui, go explore the beautiful green rainforest Maui has to offer. On this rainforest tour, you will see beaches, rainforests, and waterfalls all over the island!
You'll go on an all-day tour with stops to swim and explore, and it includes a delicious lunch too! Check the latest rates and availability.
16. Romantic Dinner
A Maui Hawaii honeymoon is never complete without going to a romantic restaurant for dinner. There are so many great choices all over the island that you'll have to try out a new one every night of your trip.
For a candle-lit romantic dinner on the beach under the stars, go to Ferraro's.
17. Clear Kayak Adventure
For a honeymoon in Maui, one of the romantic things to do is to enjoy a nice kayak adventure on the water. Go on one with a clear kayak so you can explore the fish without going underwater!
You'll head to another great snorkeling stop in your clear kayak with your spouse, where you can swim with the beautiful Hawaiian fish. During the winter months, you can also go whale-watching too! Check the latest rates and availability.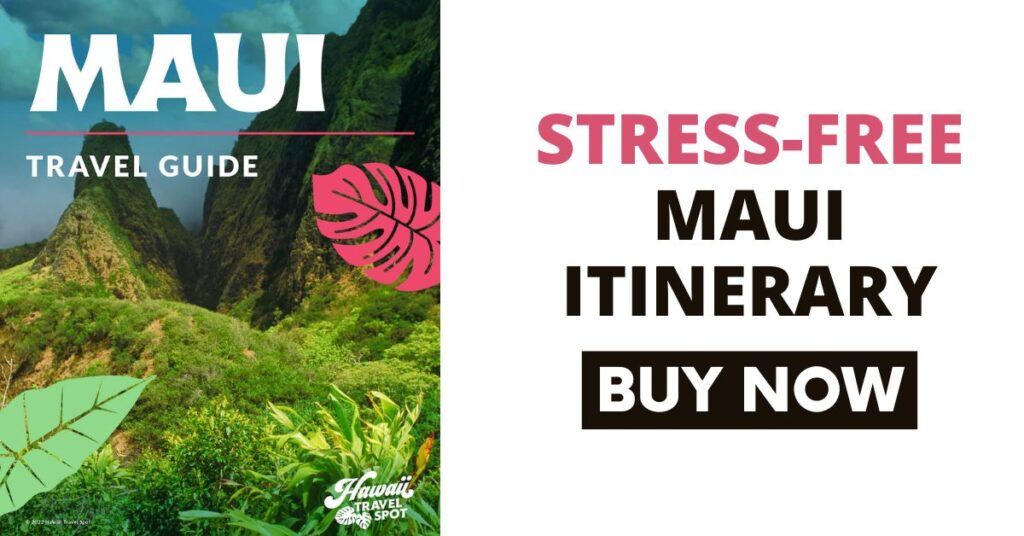 Maui Honeymoon Activities FAQs
Is Maui a good place for a honeymoon?
One of the best Hawaii honeymoon destinations is considered Maui. It is paradise and has plenty of romantic activities to choose from; you will have a memorable time celebrating your marriage here!
Where should I stay on Maui for my honeymoon?
There are so many great Maui honeymoon hotels and resorts to choose from! It all depends on your budget and what part of the island you want to stay on, but some great choices are the Hyatt Regency Maui Resort & Spa or the Grand Wailea Resort.
What island in Hawaii is most romantic?
Each island is very romantic and has amazing honeymoon activities you will enjoy no matter which island you choose. Maui is very romantic if you love exploring the ocean and rainforest! From sunrise tours, sunset cruises, and stargazing, you will love spending your honeymoon in Maui!
Things to do on Maui for Couples Wrap Up
When you start planning a Hawaii honeymoon, use this as your Maui honeymoon itinerary, and you will be set for an unforgettable getaway as newlyweds! Hawaii honeymoons are so romantic and full of fun adventures every couple will love. For a memorable honeymoon, go to Maui!