Planning on hitting the Road to Hana on Maui? It's all about seeing waterfalls, going on hikes, and tasting yummy treats! Check out the best stops on the Road to Hana!
This list of the best stops on the Road to Hana Maui was written by Marcie Cheung (a Hawaii travel expert) and contains affiliate links which means if you purchase something from one of my affiliate links, I may earn a small commission that goes back into maintaining this blog.
Ready to explore the Road to Hana?
The Road to Hana is one of the most popular attractions on Maui. This winding, 64-mile road offers amazing views and plenty of things to do.
You may be wondering where to stop on the Road to Hana. We've got you covered!
In this guide, we'll teach you all about the route and help you find the best stops on the Road to Hana Maui.
With so much to see and do, you may not know where to start on your journey down the Road to Hana. We can help!
Why listen to me? I've been to Hawaii over 40 times and know it like the back of my hand!
Here is your ultimate guide on learning all about the Road to Hana route to finding the best stops on the Road to Hana on Maui!
Want to skip all the planning and just access my detailed Maui itinerary complete with daily schedules, fun activities, and travel hacks? Click the button below.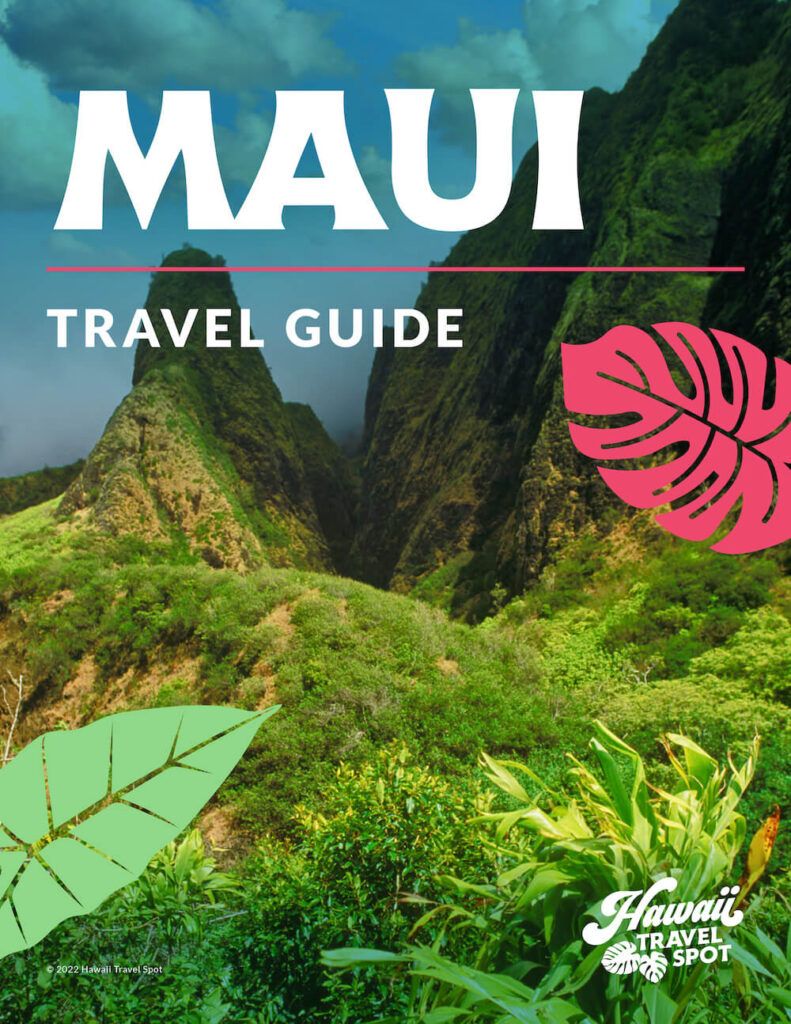 Things to Know BEFORE You Drive the Road to Hana
It would be almost impossible to visit all the attractions on the Road to Hana in just one day. There's just so much to see and so much to explore. The key is to be well prepared.
This quick guide might be handy when preparing for a trip along the Road to Hana.
Should You Book a Road to Hana Tour or Drive Yourself?
The Road to Hana has a lot of curves and bends, which makes it both incredible and potentially terrifying. Join a Road to Hana tour if you do not want to keep thinking about the next hair-raising bend.
Here are a few Road to Hana tours that I recommend:
These tours allow all passengers to take in the amazing sights without stressing about driving or parking.
But, it's also fun to drive yourself. If you choose this option, I highly recommend downloading the Shaka App. It's an audio guide you play in the car while driving. It will tell you all about each stop along the Road to Hana, plus Hawaiian history and fun facts.
What to Bring on the Road to Hana
This drive to Hana will be like the normal road trips you are used to. So, carry everything you normally pack when going on a road trip. Here are a few suggestions:
Snacks, water bottles, or your favorite beverages
Bug spray (especially if you plan on hiking)
Sunscreen, sunglasses, and/or hats
Cash (mainly for any fruit/drink stands along the way)
What to Wear on the Road to Hana
Since the Road to Hana drive has so many cool stops, what you wear depends on your activities/adventures.
If you're just doing the drive and sightseeing, I suggest wearing something comfortable for the car ride. I usually wear a sundress or shorts and a t-shirt.
For those who plan on swimming or doing a Maui waterfall hike, you can wear your swimsuit under your clothes or pack it separately.
If you will be doing a Road to Hana hike, wear breathable clothing and bring comfortable shoes. I don't recommend hiking in flip flops.
This is a FULL Day Adventure
Driving the Road to Hana is popular in Maui, so chances are that you will find other people hoping to enjoy the same experiences and adventure. This is one of the main reasons it helps to leave as early as you can.
The popular Road to Hana stops have limited parking so it's all first-come-first-served. The earlier you get there, the better chance you have.
Leaving early also allows you to fit more stops in. Most people spend 8-10 hours along the Road to Hana and you'll want to get back before it gets dark.
Before your trip, I suggest doing a little research to come up with your Road to Hana itinerary. That way, you can keep on track and make sure to fit in the stops that you really want to do.
Another option is to spend the night in Hana. This allows you more time to explore all the stops.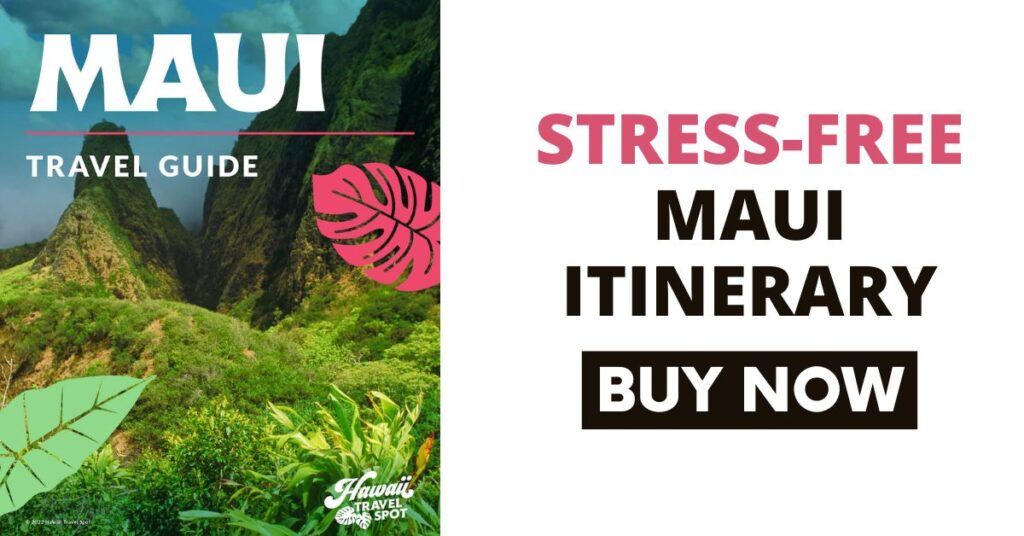 Be a Responsible Tourist
One of the biggest complaints I hear from Maui locals is that tourists are making the Road to Hana more unsafe because of their choices.
The road is full of tourists driving the Road to Hana for the first time who are completely distracted while they are driving. Don't let that be you!
Many Maui residents drive the Hana Highway as their daily routine. It's important to let them pass you, so you don't hold up traffic.
Another huge issue is parking. If no spots are available in a lot or on the side of the road, do NOT block the road. It's dangerous and disrespectful; chances are you will get a ticket for parking illegally.
And please don't risk your safety to get the perfect Instagram shot. It's not worth it.
Best Stops on the Road to Hana
From Road to Hana waterfall stops to things to see on the Road to Hana, here are all the best stops during this incredible drive! Whether you go on one of the Road to Hana tours or just take a few days to see it all by yourself, you won't regret it!
Each of these stops will have the specific Road to Hana mile marker to help you plan out your itinerary.
Lower Paia Beach – Mile Marker 0
While this is technically not a stop if you start in Paia, it is a great beach to head to! You might even get to see some sea turtles sunbathing out on the sand while you are here. You can surf, sunbathe, swim, and simply relax on the beach.
There are showers and restrooms here as well, which a lot of Maui beaches don't have.
Twin Falls – Mile Marker 2
One of the easier Hana hikes, Twin Falls, is one of the first of many Hana waterfalls you can see along your journey. There are the lower and upper falls, but the lower falls are the easiest to get you.
If you want a short one-mile hike round trip, make your way to the upper falls! You will have to be careful with flash flooding and some mud, especially if it rains. These waterfalls are quite beautiful and are great for a quick stop.
There is a $10 parking fee which helps to maintain the farm.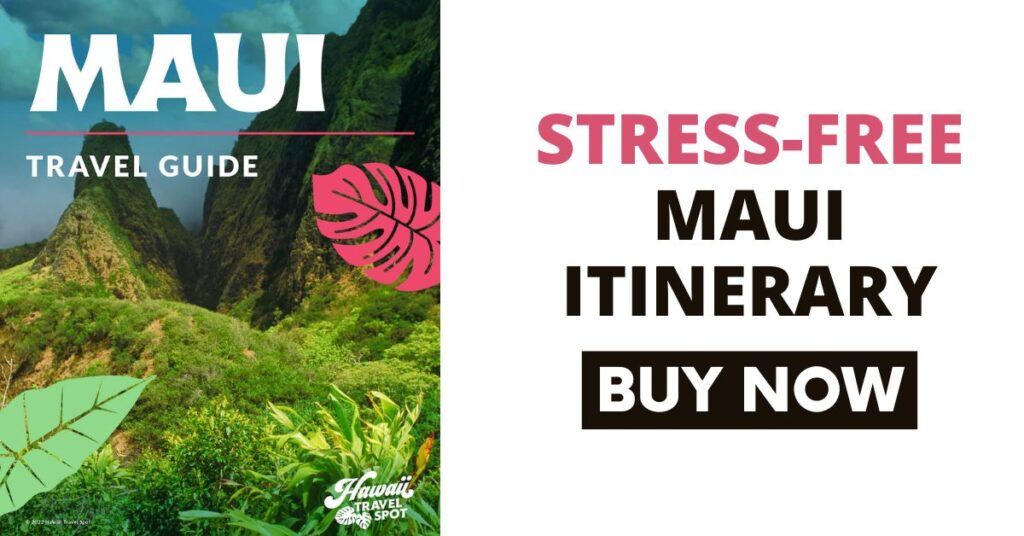 Maui Garden of Eden – Mile Marker 10.5
Another one of the best Road to Hana stops is at Maui Garden of Eden. There is an admission fee of $20 for adults and $10 for kids 16 and under, but it is well worth it.
You will find an incredible garden full of exotic and tropical plants and trees here. You can walk around some of the trails and even see a few waterfalls. This is one of the best places to get incredible pictures, so don't forget your camera!
Ke'anae Arboretum and Penisula – Mile Marker 16.8
At the Ke'anae Arboretum, you will find another beautiful botanical garden that offers a place of serenity in Maui's nature. There are the famous painted eucalyptus trees here, along with blue marble trees too.
It is a free garden where you can go and observe over 150 different tropical plants located here. It's not nearly as gorgeous as the Garden of Eden, but it's still worth a quick stop.
You might also want to stop and see the Ke'anae Peninsula, which has black lava formations all around the Hana Highway. It is half a mile long and is full of these formations, which are pretty fun to look at but don't get too close as they can be dangerous.
Halfway to Hana Shop – Mile Marker 17
One of the more famous Road to Hana stops is the Halfway to Hana Shop. Here you can get some of the best banana bread you have ever tasted!
You will also find a variety of delicious snacks, including shaved ice, hot dogs, kalua pork, sandwiches, and more. It is the perfect stop to grab some food for the rest of your journey.
Pua'a Ka'a Falls – Mile Marker 22
Here you can stop for a nice bathroom break if needed and then head over to another beautiful waterfall! It is a smaller waterfall, but you can take a swim in the water around it, go for a nice walk, or eat at the picnic benches here.
There's also a lower waterfall closer to the highway that's worth a peek. It's usually a lot less crowded, so it can be great for snapping some selfies!
Waiʻanapanapa State Park—Black Sand Beach – Mile Marker 32
If you want to see a beautiful black sand beach, stop at Waiʻanapanapa State Park. It is here you will find Pa'iloa Beach and the incredible black sand. Also, at this beach, you will find a naturally made lava arch and a cave leading to the ocean!
You will have to make a reservation and pay an entrance and a parking fee. But with all the hikes, beaches, and things to do here, it is well worth it!
Hana Town – Mile Marker 34
If you are going on a Road to Hana trip, you will want to spend some time in this sweet little town! It has not been developed, so you will get to see the "real Hawaii" before all the tourism and developments.
You will find Hana Cultural Center Museum, a nice beach to swim at, and a few places to grab food and snacks.
There's also the Hana lava tube and Kahanu Gardens. These Road to Hana stops are right next to each other and both are really cool to explore! These are just a few fun things to do in Hana Maui!
Bruddah Hutts – Mile Marker 35
One of my favorite places to eat on the Road to Hana is the Bruddah Hutts food truck. It's just past Hana town and it's quite possibly the best BBQ on Maui!
I recommend getting a plate of ribs to share (or you can enjoy them all to yourself)! The ambiance isn't amazing, but the food is TOTALLY worth it. You'll be too busy salivating even to realize you're in a gravel parking lot.
Seven Sacred Pools – Mile Marker 42
Pools of 'Ohe'o, also known as the Seven Sacred Pools, is another one of the Road to Hana stops you will want to visit. There are at least seven pools, but often more and waterfalls to enjoy. When the weather permits, you can swim in the pools as well.
These pools are part of the Haleakala National Park, which requires a $15 fee to enter, but it also allows you to visit the Haleakala Summit, so you definitely want to check both of those out!
Wailua Falls – Mile Marker 45
One of the best Road to Hana waterfalls is the famous Wailua Falls. While you do not have to get out of your car to visit this waterfall, you might want to. Wailua Falls is an 80-foot waterfall that is on a stunning jungle wall and makes for a picture you will definitely want to get.
There is no hiking required to head to the waterfall and pool, so go and check it out!
Note: This is NOT where they filmed Fantasy Island. That's Wailua Falls on KAUAI!
Huli Huli Chicken – Mile Marker 51
For some of the best grilled chicken and one of the cheap eats on Maui, head to Huli Huli Chicken right in Hana. This is the famous stand that Gordon Ramsey ate at once and the chicken and ribs do not disappoint.
This is a great spot to stop for lunch and will definitely fill you up. Get a plate full of chicken, rice, salad, and ribs for only $18!
Hamoa Beach – Mile Marker 51
Hamoa Beach is another beach worth visiting on your Road to Hana journey. This crescent-shaped tree is lined with bright green trees and makes for a picture-perfect beach to stop and enjoy the nice Hawaii weather.
The sand is super soft, and you can find a few shade pockets so you won't get sunburned. Usually, the water is nice, but stay safe as you never know with the ever-changing ocean!
Road to Hana Tips
Start early to get ahead of traffic. If you can, go on a weekday, as weekends are a lot busier.
You can download an app that will give you a Road to Hana tour, which is a budget-friendly way to have a tour guide along with you on the journey.
Bring some cash if you plan on stopping at some of the booths and food trucks along the side of the road just in case!
If you don't have much time, a few of these can be seen right from the car. Be sure not to park on the side of the highway, but find actual parking spots to get out and get a quick view before heading on your way.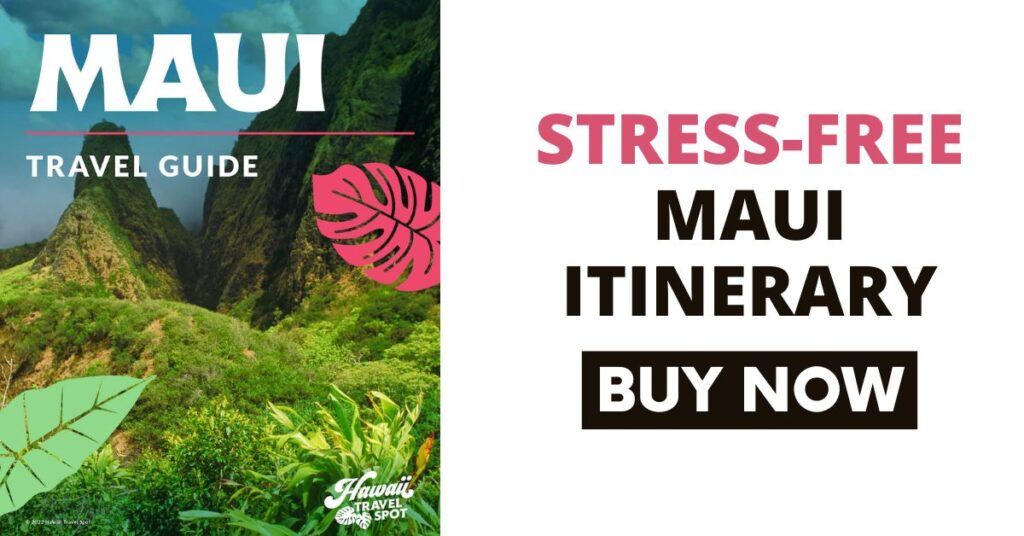 Road to Hana Stops FAQs
What is the Road to Hana?
The Road to Hana is a long highway on the east side of Maui. It is one of the most popular drives on Maui, with gorgeous stops along the way.
Where is the Road to Hana?
The Hana Highway starts in Kahului, ends in Hana, and is around 64 miles long. Most people go from Paia to Hana during their trip, though.
How Long is the Road to Hana?
The Road to Hana drive time all depends on when and where you plan to stop. If you want to stay in Hana, you can take your time and drive all day and stop at a lot of the Hana Highway stops. 
But, if you only plan to make this a day trip, you can spend 8-12 hours going to Hana and back by going to a few of the Road to Hana must-stops. 
Is the Road to Hana Dangerous?
The Road to Hana is not dangerous if you keep your eyes on the road and don't get too distracted. The Hana Highway is paved and has many turns and twists, but it is generally safe. Just make sure to be cautious, especially if it is raining!
Road to Hana Best Stops Wrap Up
These are some of the best stops on the Road to Hana Maui! Make sure to include as many as possible during your trip to Maui. If you can, spend at least a day, if not two, exploring all the Road to Hana's best stops and enjoying this side of the island.