On the lookout for the best things to do in Oahu Hawaii? Well, keep on looking through the article to learn more about why the Kualoa Ranch on Oahu is THE place to check out!
This list of things to do at Kualoa Ranch on Oahu was written by Marcie Cheung (a Hawaii travel expert) and contains affiliate links which means if you purchase something from one of my affiliate links, I may earn a small commission that goes back into maintaining this blog.
If you are looking for a cool adventure and a way to experience Oahu, you have to check out the Kualoa Ranch, which has some of the coolest tours, exhibits, movie site visits, and even ziplining!
If you are a fan of huge pieces of media like Jurrasic Park or Lost, this is definitely a place you need to check out.
Because many famous films have used this location for their movies, it is always cool to go to these locations to see where your favorite media pieces were made!
They have spectacular beautiful scenery to look out for along with horseback riding and other fun attractions to keep you entertained all day!
There is also an on-site cafe where you can refuel before or after your adventures.
If the views aren't enough, the attractions surely will be! Don't wait for another second because you should get your tickets. And yes, you do need a ticket to visit Kualoa Ranch. You cannot explore the ranch on your own.
Wondering if I know Hawaii? I've been there over 40 times and have loads of firsthand knowledge.
Want to skip all the planning and just access my detailed Oahu itinerary complete with daily schedules, fun activities, and travel hacks? Click the button below.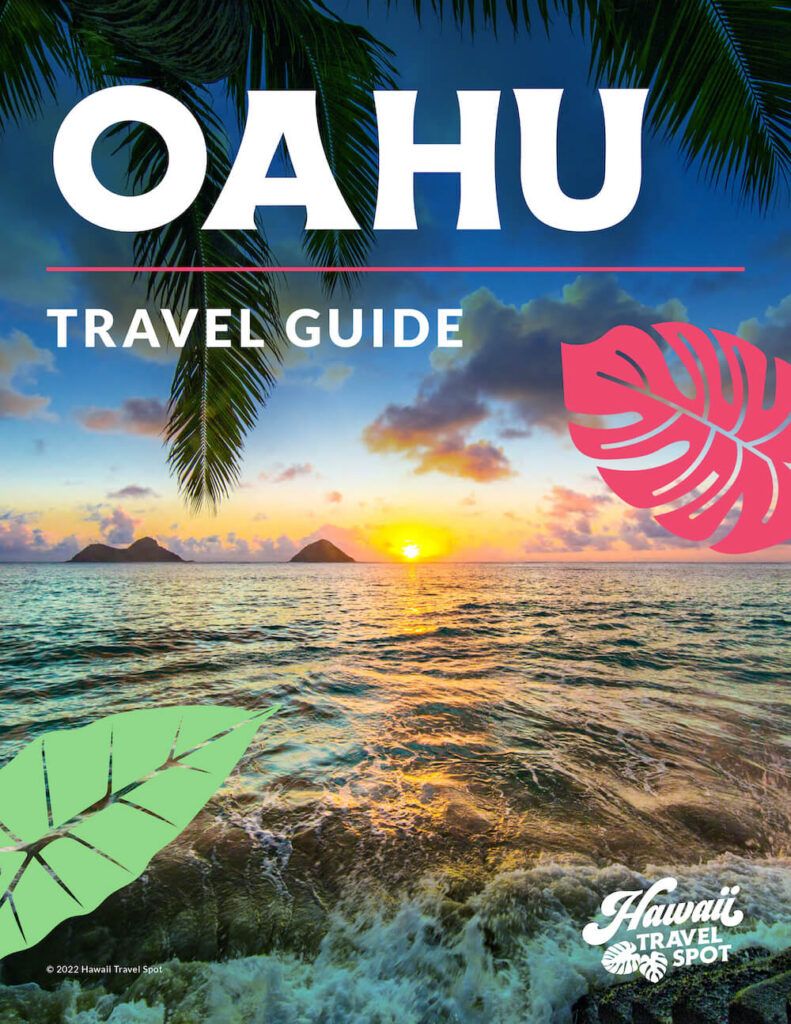 Kualoa Ranch History
The founder of the ranch was Dr. Gerritt P. Judd, who came to the area to help Native Hawaiians who were suffering from diseases and other illnesses.
To preserve the sacred land and protect it from further development, he purchased the property, which is still owned eight generations later by his descendants. To preserve the land, they have rentals, tours, and other events to keep on protecting the area for the future.
Movies Filmed at Kualoa Ranch
So many movies have been filmed here over the last few decades, so there is a high chance that you have seen at least one movie or show before that features this area! Here are some of the most famous things you have probably seen before:
50 First Dates
Lost
Jurassic World
Karate Kid II
Godzilla
Pearl Harbor
E.R.
Hawaii Five-0
Finding 'Ohana
Popular Kualoa Tours Worth Booking
There are a ridiculous number of tours here, so if you happen to be traveling in a group, there is definitely something that will satisfy everyone.
Here is some more information about the tours they have available:
Kualoa Ranch UTV Tour
This is by far the most popular tour here, which lasts about two hours and can accommodate a maximum of six people in the UTV they provide. Check the latest rates and more information.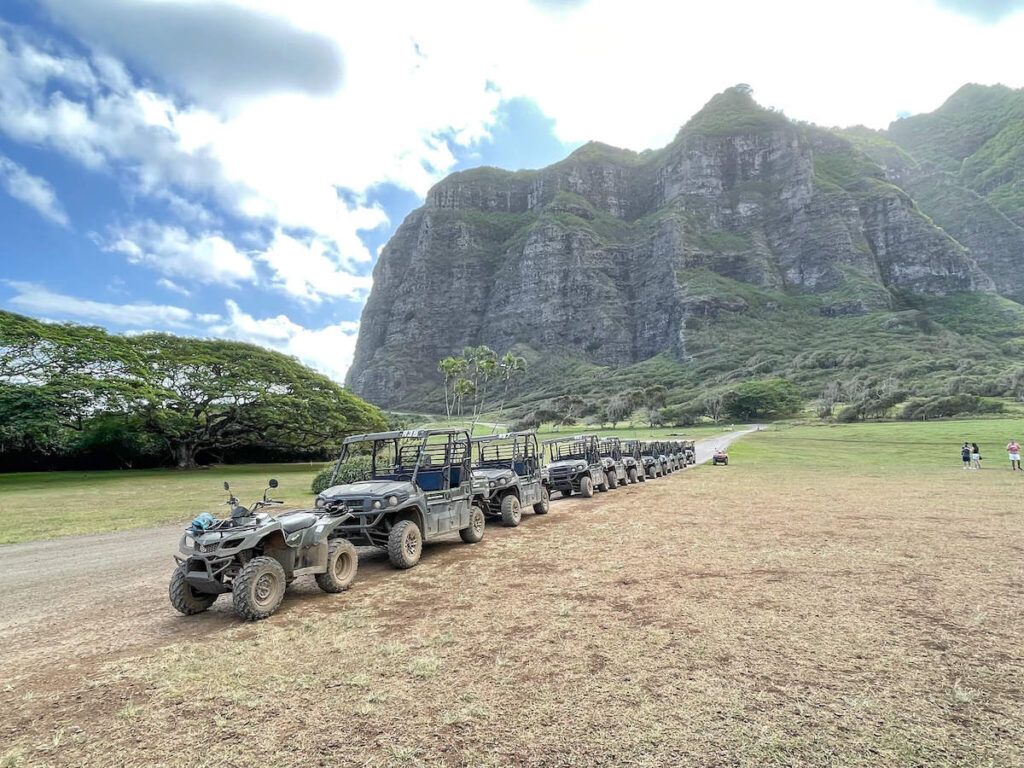 Because it is a preplanned tour, there are certain spots where you get to get out of the UTV, listen to some stories, and take photos of the area. The views are phenomenal, and looking at the spots where your favorite movies were filmed is also incredible!
It is recommended that you wear closed-toed shorts as well as long pants, as you can get a little dirty on the tour. Read my full Kualoa Ranch ATV tour review HERE.
Kualoa Ranch Zipline Tour
Ziplining is definitely one of the coolest activities offered in this area. Check the latest rates and more information.
The entire experience is going to last four hours which has rope a bridge, some short nature walks, and of course, a 7-line zipline. There are also tandem rides where you zipline next to a fellow traveler. Closed-toed shoes are also required for the experience.
Kualoa Ranch Secret Island Tour
You might not know that Oahu is actually the home to a secret beach! The only way you can get access to it is by taking this tour on the ranch, which makes sense because it is found on the property. Check the latest rates and more information.
They have everything you need to experience the beach to the fullest, with kayaks and chairs and the option to choose whether you want to stay there the whole day or just a half-day. Read my full Kualoa Ranch Secret Island tour review HERE.
Kualoa Ranch Movie Tour
One of the other popular tours here is the Hollywood movie tour, which has thousands coming from places across the globe just to come to this tour! Check the latest rates and more information.
Similar to the ATV tour, you will get to see the original set of Jurassic Park, along with other movies and shows like 50 First Dates, Hawaii Five-0, and so much more!
The tour is 90 minutes long and is suitable for travelers of all ages and all movie buffs! Read my full Kualoa Ranch Movie Tour review HERE.
Kualoa Ranch Horseback Riding Tour
If horseback riding is something you have been dreaming of doing, the Kualoa Ranch is one of the most beautiful places to do it on Oahu.
You will get the chance to gallop along the cattle ranch and learn about the original Hawaiians who used the land since time immemorial. Check the latest rates and more information.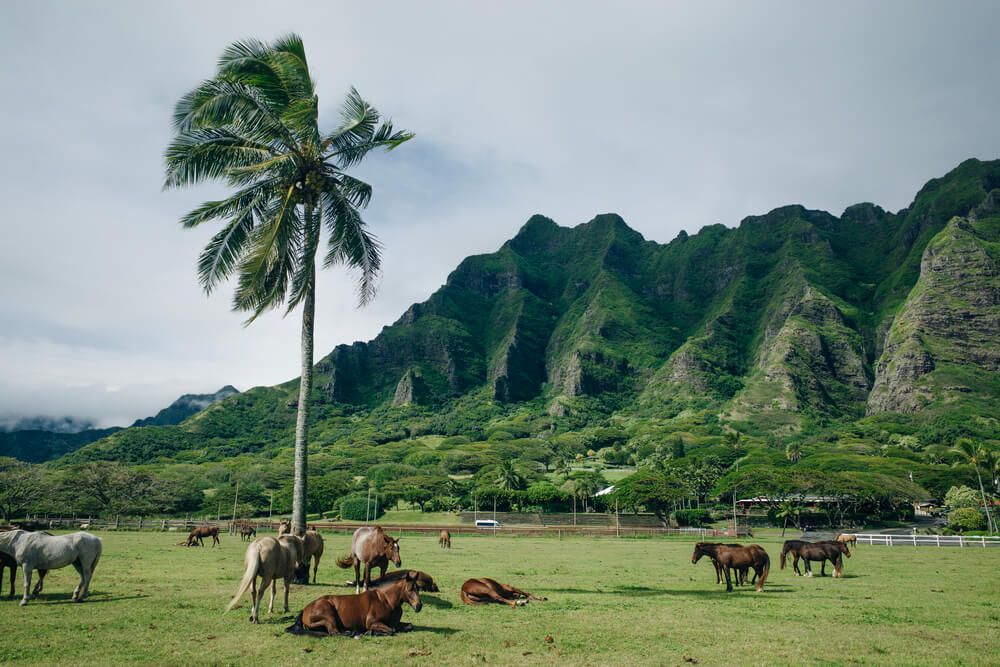 The views of the surrounding area that you will see are spectacular, and you will even get the chance to take a peek at some of the aforementioned movie sites while you are on the tour.
The tour is around two hours and you can arrange a pickup directly from your hotel.
Kualoa Ranch Jurassic Valley Electric Mountain Bike Adventure
If you want to ride around the ranch in style, one of the coolest ways you can do this is on the e-bike tour on the ranch, where you will cross 4,000 acres of the area. Check the latest rates and more information.
Coupled with some film location stops, you will see some amazing views throughout the two-hour tour.
Kualoa Ranch Catamaran Cruise
For those who just want to chill out a little bit, the catamaran cruise will be the tour for you. You will get to take a look at Kaneohe Bay and take a look at some cool landmarks like the Kualoa mountains along with Hokulea Beach.
You will do a 20-minute tour of the fishponds before you head on the larger part of the tour on the ocean for 45 minutes. Check the latest rates and more information.
Aloha Aina Kualoa Ranch Farm Tour
While the ranch's main claim to fame is being a movie site, it does still play a role as a ranch and farm. Even cooler is that you are welcome to go on a tour to view it! Check the latest rates and more information.
You can go on a trolley to see some of the amazing plant life along with an ancient fish pond, and even get the chance to take a look at Secret Beach. The tour lasts for about 90 minutes in total.
Jurassic Jungle Expedition Tour
Get your explorer on by taking on the rainforest in a jeep! You can get the chance to go on an island adventure without all of the sweaty work.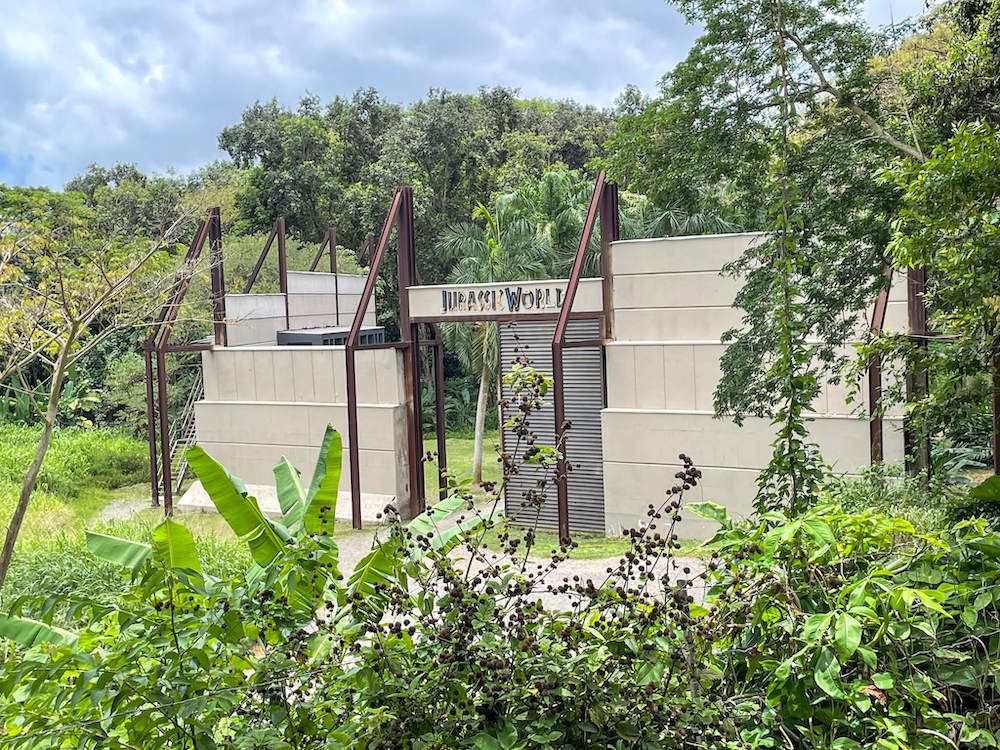 You will get to tour the filming site for Jurassic World, Jumanji, and many other exploration-focused movies. Check the latest rates and more information.
The tour is 90 minutes and is suitable for all ages. Read my full Kualoa Ranch Jungle tour review.
Best of Kualoa Experience Combo: Movie Tour, Jungle Tour, & Farm Tour with Lunch
If you are still having trouble figuring out which tour you want to go on, why not get the best of all worlds?
With the Best of Kualoa Experience Combo, you can partake in the movie tour, the farm tour, and the jungle tour all in one! Not to mention that lunch is also provided! Check the latest rates and more information.
This is perfect for the traveler that wants to get a taste of all the different types of tours available!
Eating at Pat's Cafe: a Kualoa Ranch Restaurant
Because the ranch is an actual working ranch and farm, that also means they have some of the freshest food around, which is why Pat's Cafe is definitely a place that you should check out!
They have a fantastic menu with various dishes with their Hawaiin spin. They also have a various assortment of snacks and drinks, so you can get some stuff to bring on the tour with you.
Kualoa Ranch Gift Shop
If you want to bring some cool souvenirs back home with you, this will be your paradise. They have so many amazing products to choose from, especially if you are a Jurassic Park fan.
A good idea is to place an order for food and then go to the gift shop to pick up some souvenirs while you wait. Everything is in the same building, so you won't have to go far.
Other Things to do Near Kualoa Ranch
While Kualoa Ranch seems to have everything you could want, some travelers want to know what other things there are to do in the surrounding area if they have a tour that doesn't last for the whole day.
Here are some of my personal recommendations:
Ho'omaluhia Botanical Garden
In Hawaii, the botanical gardens have amazing, and the Ho'omaluhia Botanical Garden is no exception.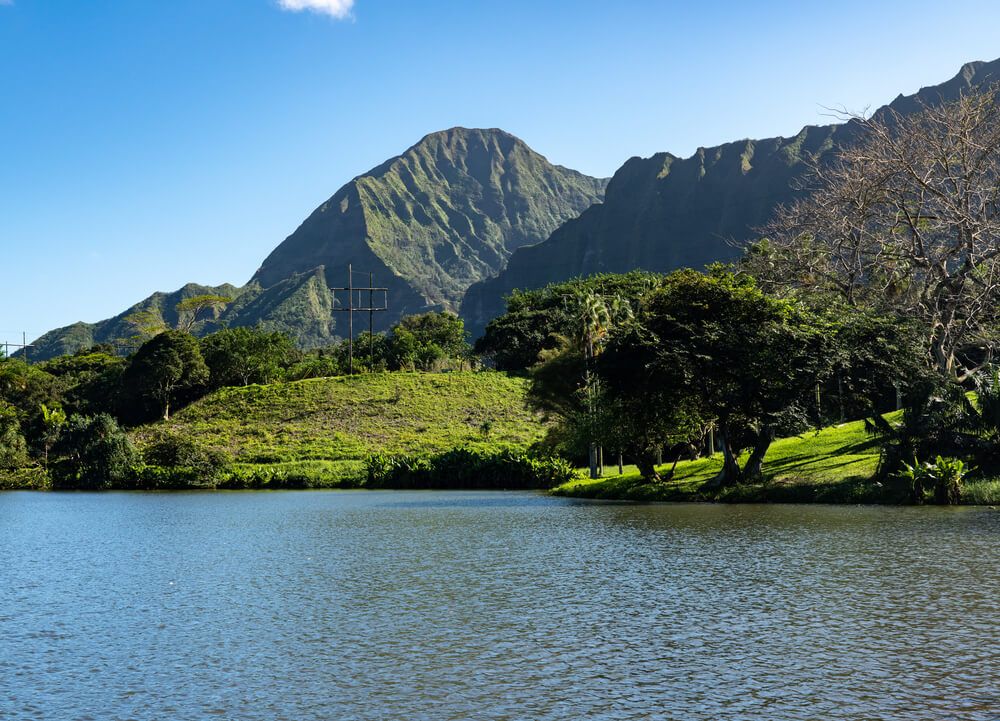 Just a few minutes from the ranch, this is the perfect place to take some Instagram photos on Oahu. If you happen to be lucky, there are also some events here, so you can have even more fun as you look at the gorgeous scenery.
Byodo-in Temple
If you are looking for some fun things to do in Kaneohe, the Byodo-In Temple is a really cool place to check out. It's a really cool place to take pictures, making it feel like you are in Japan!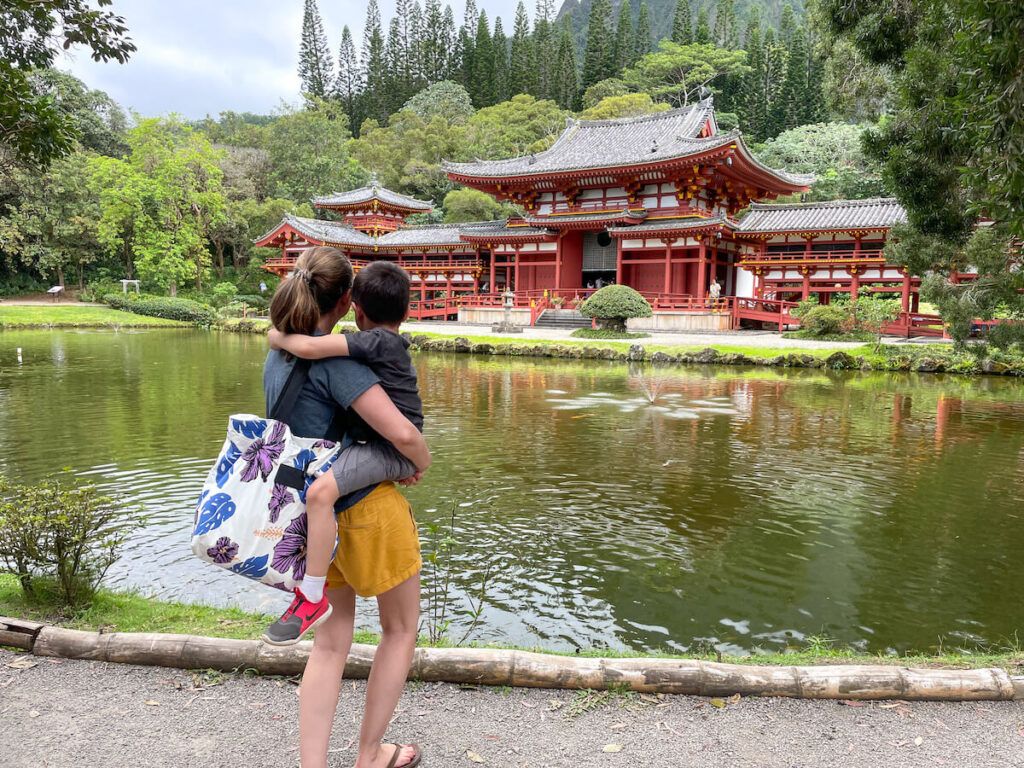 It is also fairly small, so it doesn't take too long to look around the area, so it makes a great stop before or after a tour if you want to give it a look.
Kualoa Beach Park
Of course, it wouldn't be Hawaii if there wasn't a beach to check out!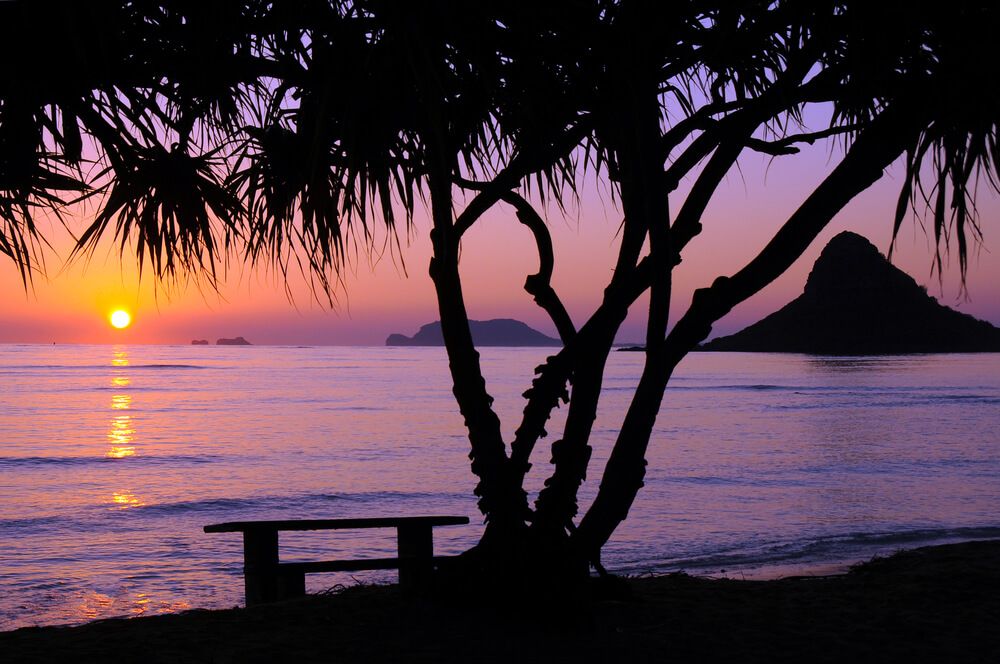 The Kualoa Beach Park is pretty easy to check out as the beach is very expansive and there are tons of parking spots. There is a lot of area around the beach, so it can be a fun way to take a short stroll before or after a tour.
Kualoa Ranch Tips for Visitors
Book Ahead
While many visitors want to book activities when they get to Hawaii or just go with the flow, the best activities are often booked months in advance. This is what I would recommend you do as well.
If you know for sure that there is a certain tour you want to check out, it is best if you book it as soon as possible!
Bring Extra Clothes
While this may depend on the specific tour you choose, it is easy to get sweaty or dusty on most tours. Some tours also require you to wear long pants and closed-toed shoes, so you can get pretty hot by the end.
That's why it can be a good idea to bring along a fresh change of clothes that can you feel more comfortable as you explore for the rest of the day. Baby wipes are also good to bring along to wipe yourself off.
Take Lots of Photos
While this might be second nature to some travelers, you HAVE to take advantage of all the cool views and sites by taking some pictures. If you want to capture video as well, you might want to bring a gimbal or GoPro, which can help you get some of those better shots.
Couples Matching Shirts
This is totally optional, but if you happen to be traveling in a group, you can really get into the spirit by purchasing matching shirts for you and your fellow travelers. We found some Jurassic Park shirts on Etsy, and they can be a fun way to really get immersed in the experience.
You can also look at other stores to see if they have matching shirts, but Etsy is probably your best bet.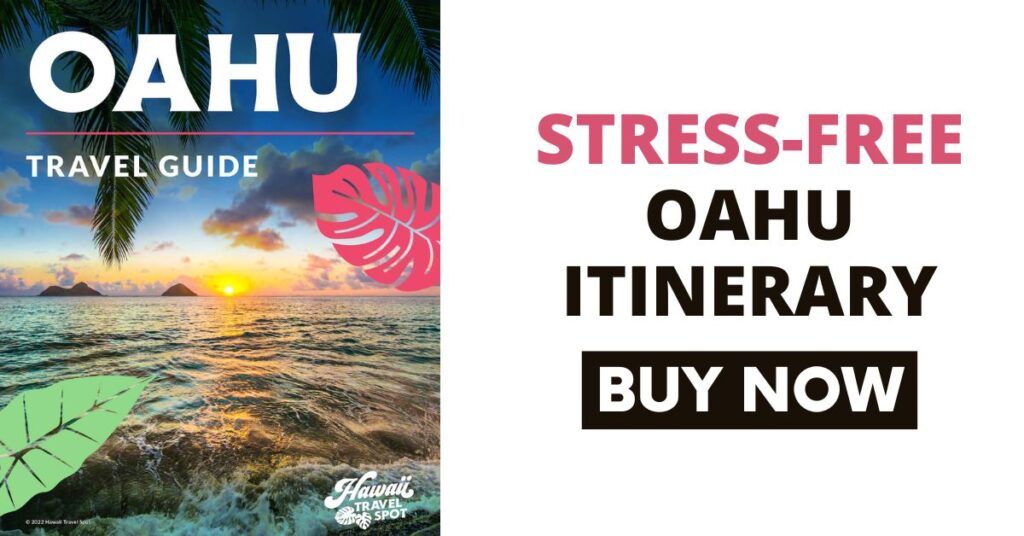 Oahu Kualoa Ranch FAQs
Can you get married at Kualoa Ranch?
Absolutely! They have several wedding locations and packages available. What's cool about getting married at Kualoa Ranch is that you get sweeping mountain backdrops as well as the gorgeous ocean. It's such a pretty place to get married on Oahu.
Who owns Kualoa Ranch?
Since the 1850s, the Kualoa Ranch has been privately owned and managed by the descendants of Dr. Gerritt P. Judd.
What does Kualoa mean in Hawaiian?
Interestingly, the name means "long back." This is about the area's deep valleys and huge mountains, which almost look like a back in a way! There's actually a Hawaiian myth that explains how Kualoa came to be.
So, is it Worth Visiting Kualoa Ranch on Oahu?
Absolutely 100% yes!
If you weren't interested in Kualoa Ranch before, hopefully, you are now! With a multitude of activities available, there is likely a tour to suit any tastes you may have. You now also have some ideas of things to do outside of the ranch as well!
Keep on looking down for more ideas of things to do on Oahu!