Planning a Kauai family vacation and starting to think about your Kauai activities? Keep scrolling for the best things to do on Kauai with kids and teens!
This list of things to do on Kauai with kids contains affiliate links which means if you purchase something from one of my affiliate links, I may earn a small commission that goes back into maintaining this blog.
Planning a trip to Kauai with your family?
Kauai is one of the best Hawaiian islands for families! With plenty of activities and attractions for kids and teens, you'll be able to create an unforgettable vacation.
We want to help make your Kauai trip perfect, so we've put together a list of the best things to do in Kauai for kids and teens.
This guide will give you ideas for every day of your visit so that you can make the most out of your time on this beautiful island.
Keep scrolling to see our list of the best things to do in Kauai for kids and teens now!
Don't have time to read a bunch of Hawaii blog posts and reviews? Here are some of our top picks for visiting Kauai with kids.
Best Kid-Friendly Kauai Tours/Activities
Mountain Tubing (this is a low-key adventure for kids ages 5+ and it's a personal favorite for my kiddos)
Private Surf Lessons for Kids (this is the BEST way for your kids to learn how to surf in Hawaii)
Kayaking Tour with Waterfall Hike (this is an awesome half-day adventure for older kids)
Luau Kalamaku (you can do a little train ride and feed farm animals before the luau)
Koloa Ziplining (this is the longest zipline on Kauai and a must-do for adventurous families)
ATV Ride (my kids LOVE this tour because you can do a little fishing, go exploring, and you'll get DIRTY)
Best Kid-Friendly Kauai Resorts
Grand Hyatt Kauai (this is a personal favorite for my kids because of the water slide and saltwater lagoon)
Royal Sonesta Kauai (my kids LOVE the pool here because it's the largest one in Hawaii)
Hilton Garden Inn (we like renting the cottages here because you can walk to a massive playground)
Want to Rent a Car in Hawaii?
One of the best places to rent a car in Hawaii is Discount Hawaii Car Rental because they get the best rates from top national companies like Alamo, Dollar, Thrifty, Avis, Enterprise, Budget, and Payless.
Best Things to do on Kauai with Kids and Teens
1. Visit Waimea Canyon
The Waimea Canyon is a must-see on the island of Kauai. It's nicknamed the "Grand Canyon of the Pacific" because it's like a mini version of the one on the Mainland.
The Waimea Canyon is a great spot for adventurous families looking to get their heart rate up and enjoy some beautiful scenery. You can take short walks from the parking lot or go on longer hikes, but no matter what you choose, there will be stunning views along every step!
2. Go Mountain Tubing
Kauai mountain tubing is an easy, kid-friendly activity that takes you up in the mountains and launches your on a lovely float down old sugar cane canals.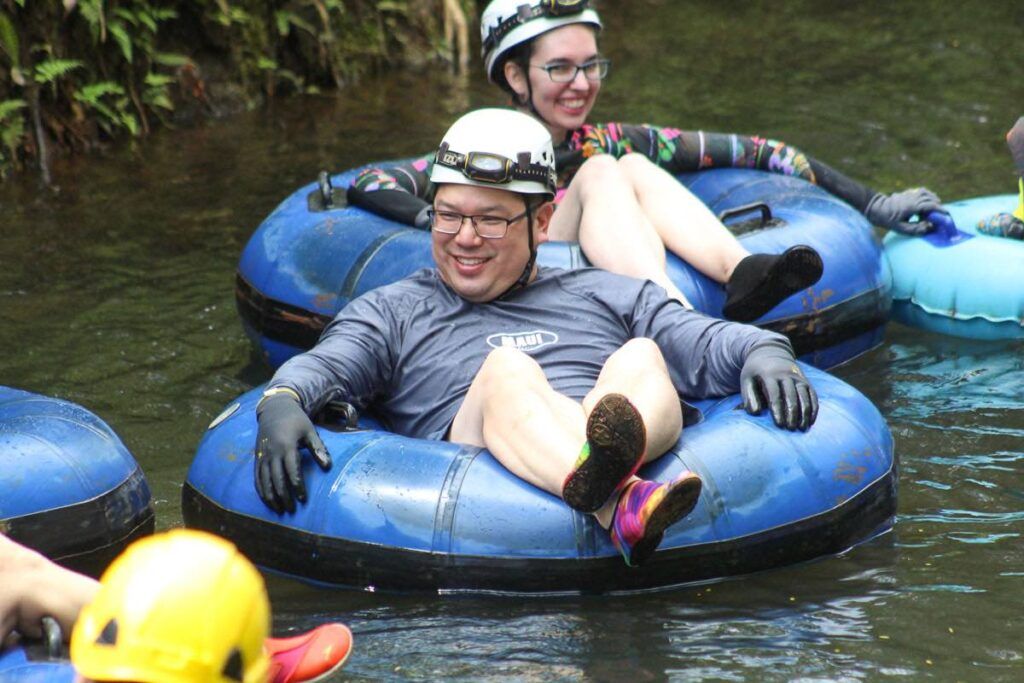 They provide headlamps so you can see where you're going when you enter the tunnels. It's a really calm floating experience for kids as young as 5 years old. This is one of the best Kauai activities for families. Check the latest rates and availability.
3. Check Out Kauai Waterfalls
There are a lot of waterfalls on Kauai! One reason for this is because it's home to Mount Waialeale, which happens be the wettest spot in all Earth.
You can see them from above during helicopter tours, during a hike, or while kayaking at different spots around the island. Some of the most popular Kauai waterfalls are Wailua Falls, Opaekaa Falls, and Kipu Falls.
4. Do a Kauai Food Tour
If you love trying cool food spots when you travel, you definitely need to sign up for a Tasting Kauai food tour. They have them all across the island.
These tours are totally kid-friendly and the sample sizes are generous. You won't be hungry!
It's a great way to learn more about local Kauai businesses and figure out the best places to eat on Kauai.
5. Shop at Warehouse 3540
If you are looking for upcycled clothing, handmade soaps and other unique items that can't be found anywhere else then Warehouse 3540 in Lawai is the place to go.
There's tons of small boutiques here offering their products in a warehouse setting alongside some great Kauai souvenirs too! Plus they have storytime each week with activities geared towards kids.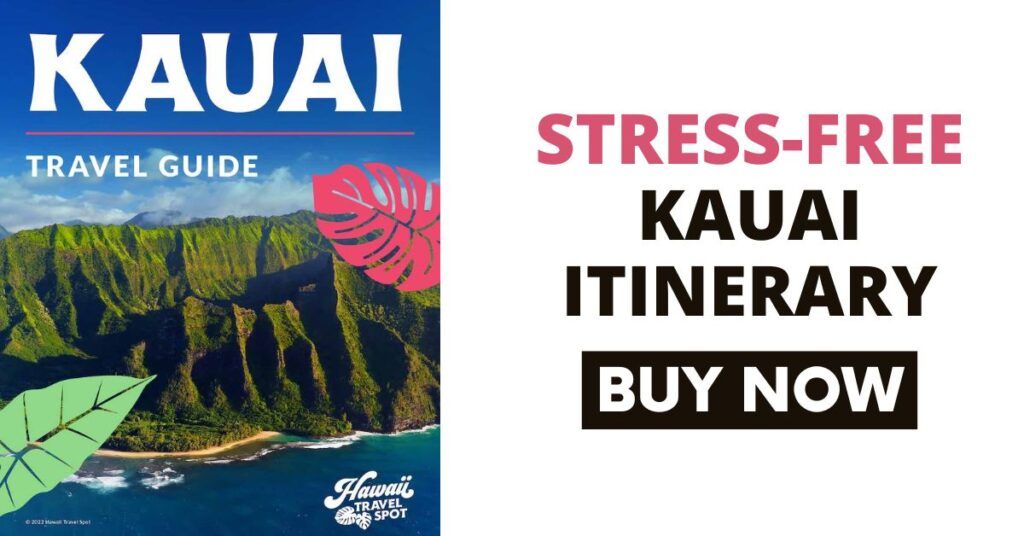 6. Explore Kauai Caves
The Maniniholo Dry Cave is a must-see for any visitor to Ha'ena State Park in North Shore Kauai. Kids love exploring the inside with flashlights.
There's also the Ha'ena Caves, which are wet caves with deep, cold water. It's not super easy to explore these caves, but they are still cool to look at.
And there's the Makauwahi Cave on the South Shore of Kauai that just requires a little hike. These are great Kauai family activities for those who like a touch of exploration and adventure.
7. Hit the Beach
There are a TON of kid-friendly Kauai beaches worth a stop. If you're staying in Poipu, head over to Poipu Beach Park, which is perfect for younger kids.
On the East Shore, check out Lydgate Park. It has a rock barrier and it's great for kids learning how to snorkel.
On the North Shore, look no further than Anini Beach. This is some of the calmest and shallowest water on Kauai.
8. Kauai Farmers Market
There are tons of farms on Kauai and so it makes sense that there are also a lot of Kauai farmers markets!
These are great places to find locally grown fruits and veggies, but also tasty baked goods and other made-on-Kauai products.
9. See Spouting Horn
If you have kids who like short stops, take them to Spouting Horn in Poipu! It's an amazing place where they can watch water shoot up a natural blowhole.
The best time for this is when the tide is high because it really looks spectacular. And don't forget about all those souvenir stands set up by vendors. It's perfect for kids choosing their ultimate Kauai souvenier!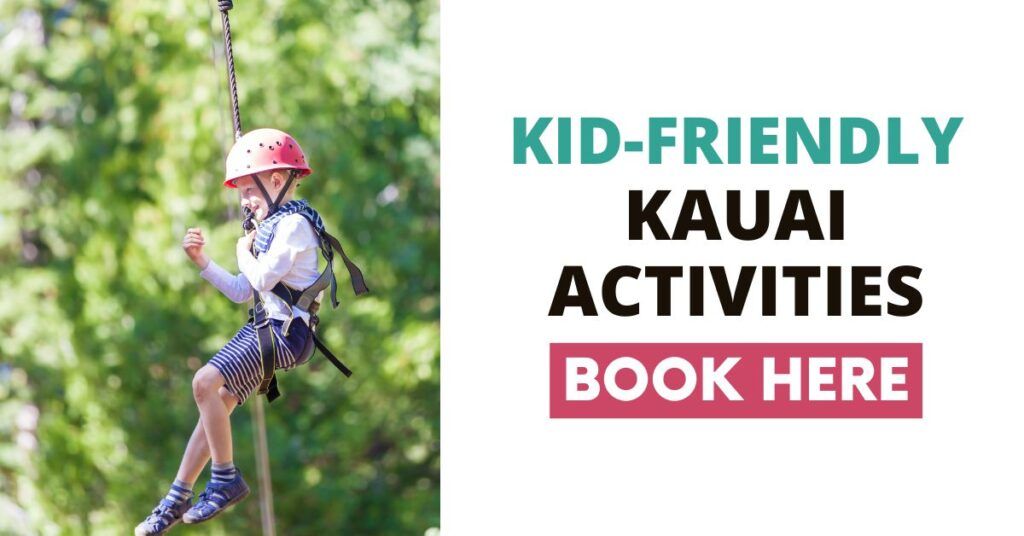 10. Walk Across the Hanapepe Swinging Bridge
This little pedestrian bridge is tucked away near the Banana Patch Studio in Hanapepe. While it doesn't swing as much, your kids will definitely want to run across this once!
Keep in mind that this bridge connects local residents to Hanapepe town, so please be respectful when you cross over to the resident side.
11. Explore Kokee State Park
Kokee State Park is a hidden gem located in the Kalalau Valley. The natural history museum offers visitors an opportunity to learn more about Hawaii's native wildlife.
Great views and hiking trails await those who go on hikes up Kokee Mountain or explore its forests filled with plants typical only found here on these islands!
There are also lots of camping sites and lodges available for those looking forward spending nights under the stars.
12. Go to a Luau
There are tons of amazing Kauai luaus worth checking out, so it's easy to find one that fits in your Kauai itinerary.
Luaus are a fun way for families to learn a bit about Polynesian culture, see some cool dancing, participate in activities, and eat yummy food. It's one of the best activities on Kauai for families.
A few of our favorite luaus on Kauai include Smith Family Luau, Luau Kalamaku, and the Ahi Lele Fire Show!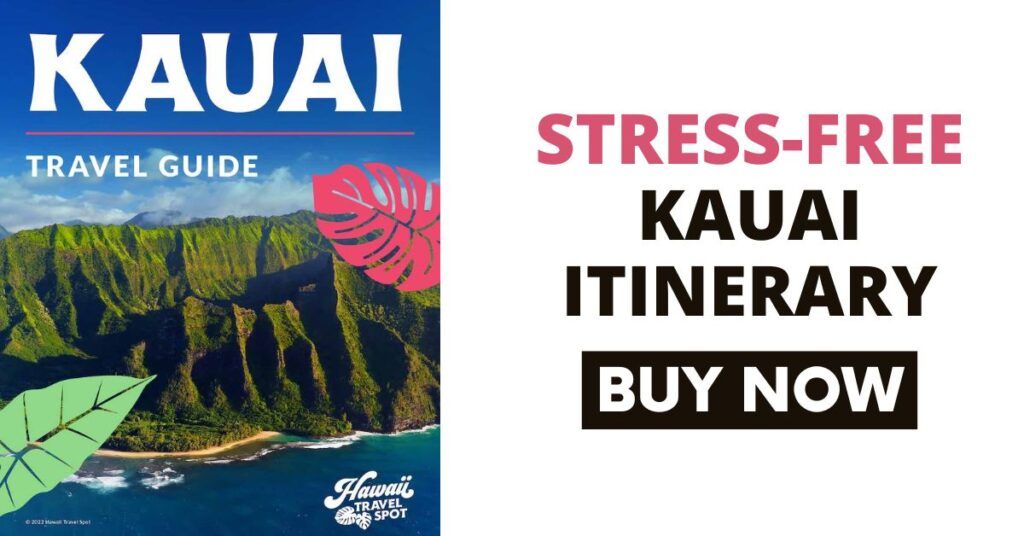 13. Visit Kilauea Lighthouse
The Kilauea Lighthouse is an easy stop for families on the way up to the North Shore of Kauai. It's not only historic, but it also provides some great views and activities like birdwatching!
The path from the parking lot is paved so it's an easy walk for all ages and abilities.
14. Stop at Kauai Kookie Company
Kauai Kookie is my favorite cookie company from Hawaii. I love that they have their factory in Hanapepe/Eleele and offer free samples of all different flavors, including some new ones we don't see outside the store!
They also sell lots more locally made food items than just cookies which makes it extra fun to explore what's available. It's definitely worth a quick stop when visiting Kauai with kids!
15. Check out Fern Grotto
Fern Grotto is a must-see for anyone who visits Kauai. It's one of those places that you just can't find anywhere else, and it has an incredible view!
the cool thing about Fern Grotto is that you get to take a boat ride to get there! They have live music and hula dancing on board and at Fern Grotto. It's a hit with kids! Check the latest rates and availability.
16. Grab Shave Ice
Shave ice is the BEST treat you can find in Hawaii! And they sell it all across Kauai, so you'll have no problem finding somewhere close to your hotel or activities.
A few of our favorite spots include Wishing Well Shave Ice, Wailua Shave Ice, and The Fresh Shave!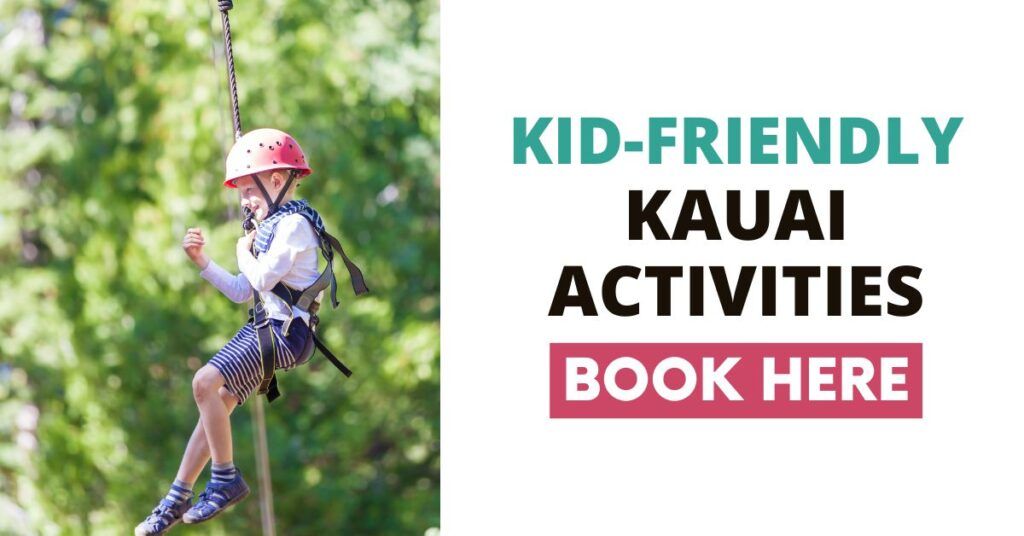 17. Walk Around Hanapepe Town
Hanapepe Town is a quaint little town that has some great shopping and art galleries. You can find everything from children's books to clothing in this artistically inclined community of Hanapepe.
And they also have a Friday Night Art Walk where local musicians come to perform and all the businesses are open late.
Plus, Hanapepe is the "real" home of Disney's Lilo & Stitch! You'll be able to see these characters on artwork in town.
18. Take a Train Ride
If you're visiting Kauai with toddlers or preschoolers, I highly recommend stopping at the Kilohana Plantation Railway. Here, you can get tickets for a cute train ride that goes around their farm.
You'll even have an opportunity to stop and feed animals halfway through the ride. There's a reason this is one of the top activities in Kauai for kids.
While you're at Kilohana Plantation, stop by for a free rum tasting at Kauai Rum!
19. Plan a Kauai Photo Shoot
Professional photoshoots with our family are one of the best ways to make lasting memories. We get so many awesome photos that will last us a lifetime, and we can enjoy them at any time on vacation or even just when being reminded about how much fun we had!
There are several Kauai photographers to choose from. We like to use Flytographer because it's easy to find an affordable Kauai vacation photographer who is available during our trip. Check out the latest prices and more details.
Book a Hawaii Photo Shoot
Whenever we travel to Hawaii, we almost always book a photo shoot with Flytographer. They are super easy, affordable, AND it guarantees that I'll have more than just selfies. You can get $25 off if you book through this link or use the code HAWAIITRAVEL.
20. Go Kayaking
A fun way to explore Kauai is by kayaking down one of the many rivers. Some are harder than others so it's important to do your research before you go.
You can either rent kayaks or join a guided Kauai kayaking tour for a more informative experience. Check the latest rates and availability.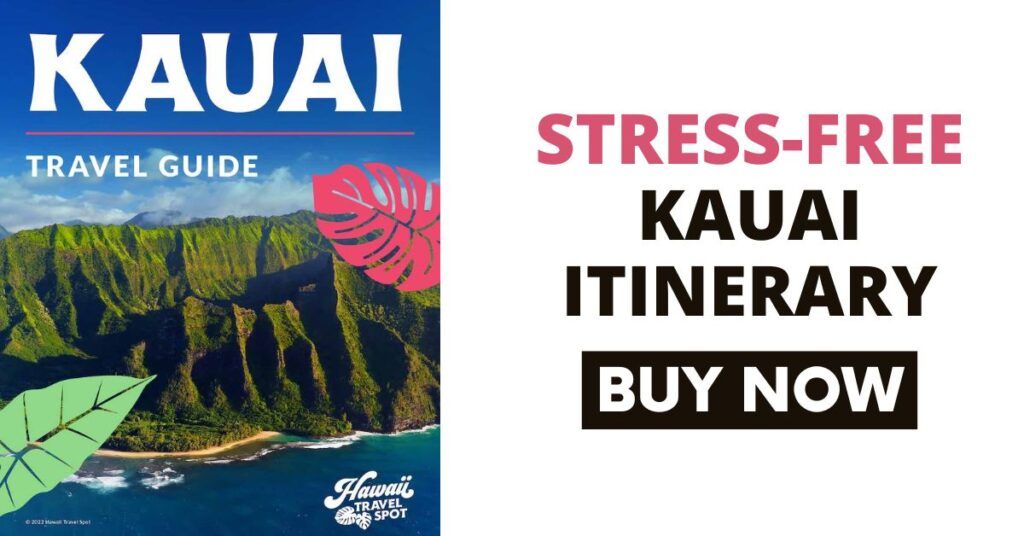 21. Try Plate Lunch
The food in Hawaii is SO good and there's usually something even the pickiest eater will try. I recommend heading to Mark's Place in Puhi if you want to try gourmet Hawaiian plate lunches.
I also suggest Konohiki Seafoods and Unko's Chicken.
22. See Waioli Mission Church
When you drive up through Hanalei on the North Shore of Kauai, there's a gorgeous green church with stained glass windows that will astound.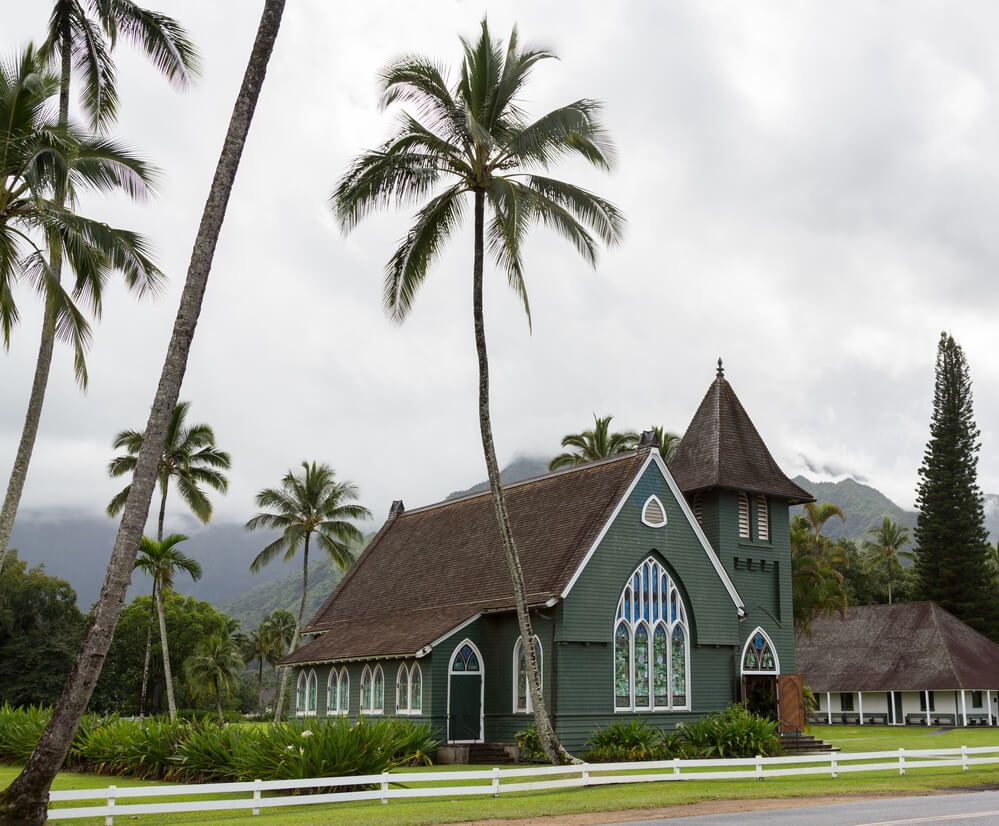 This iconic Hawaiian building has been featured in tons art pieces and it's very popular among photographers looking for stunning photography spots like this one!
This is an active church, so please be respectful if service is happening. Or join in!
23. Get an Audio Guide
If you're visiting Kauai for more than a few days, you'll want to get out and explore more of the island outside of your resort.
Take advantage of Shaka Guide's audio tours! This unique app gives your turn-by-turn navigation and interesting narration about the history/culture while guiding visitors around some amazing places on this island. Download the app.
24. Visit at Hindu Monastery on Kauai
Hindu Monastery in Kauai is a paradise for those looking to explore Hinduism. They offer public, guided tours that are great if you want your family or group of friends learn more about this ancient religion and speak with monks while they're at it!
To participate all participants will need an advanced reservation though so don't wait too long before signing up.
25. Join a Snorkeling Tour
Kauai is a total paradise for people who love snorkeling! And there are tons of Kauai snorkeling tours to choose from if you want to really explore what's under the sea.
The beautiful Na Pali Coast is one of the most popular places to snorkel on Kauai. It's only accessible by boat. Check the latest rates and availability.
26. Learn about Kauai Coffee
The Kauai Coffee Company is a mecca for those looking to experience authentic Hawaiian coffee. It's the only coffee farm on Kauai.
You can do a free walking tour, taste the different blends of coffee, and even do a paid tour to learn everything there is to know about Kauai coffee!
27. Go Horseback Riding
There are several places to go horseback riding on Kauai for families. Many have a minimum age of 10 years old, so you'll want to do some research.
Kauai is one of the most beautiful places to go horseback riding because you can do it along the beach or on a mountain trail.
28. Visit the ABC Store
One of the best places to buy gifts and souvenirs on Kauai is the ABC Store. They have a large selection of Hawaii-related items, including t shirts for your family or friends!
You can also pick up some snacks, adult beverages, toys, dolls, books, and more!
29. Visit Limahui Garden
If you are looking to get away from the hustle and bustles of everyday life, then head on over to Limahuli Garden in North Shore Kauai.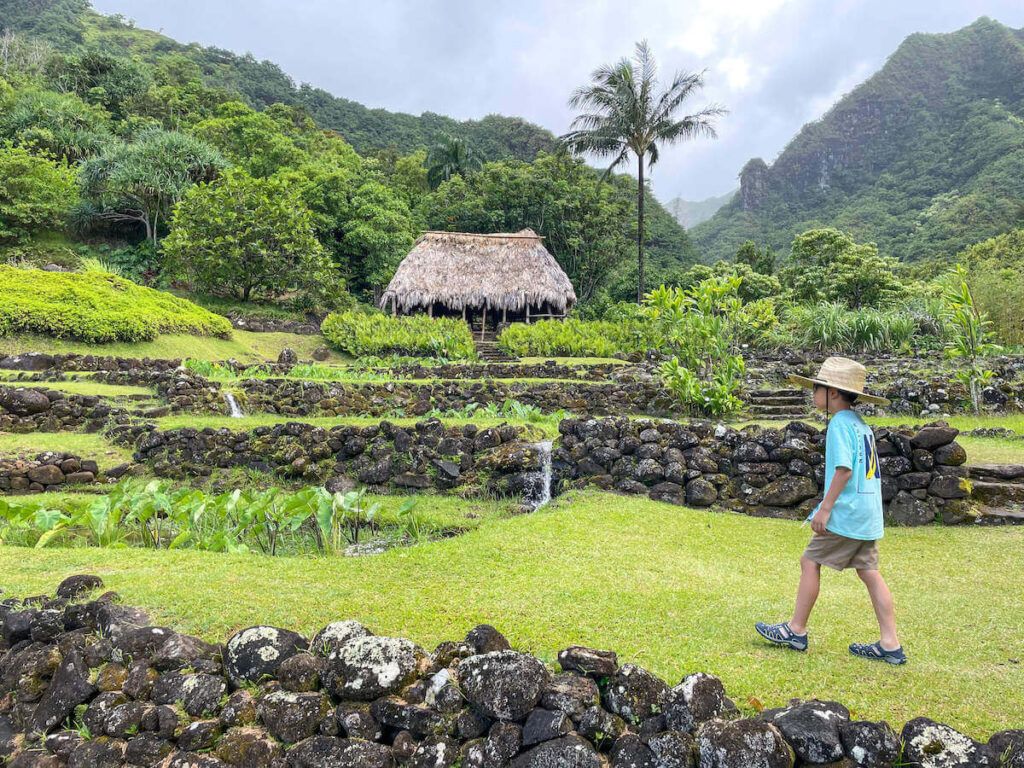 This garden offers self-guided tours where visitors can go on jungle walks or hike up towards an ocean view point that is breathtaking at times with its lush greenery everywhere!
30. Get Malasadas
The state of Hawaii is pretty famous for malasadas and you can find them at many places on Kauai. Malasadas are Portuguese donuts covered in sugar.
A few top spots include the Kauai Bakery and Passion Bakery. While these are usually a breakfast item, you can enjoy them any time of day. These are one of the most delicious and cheap things to do in Kauai.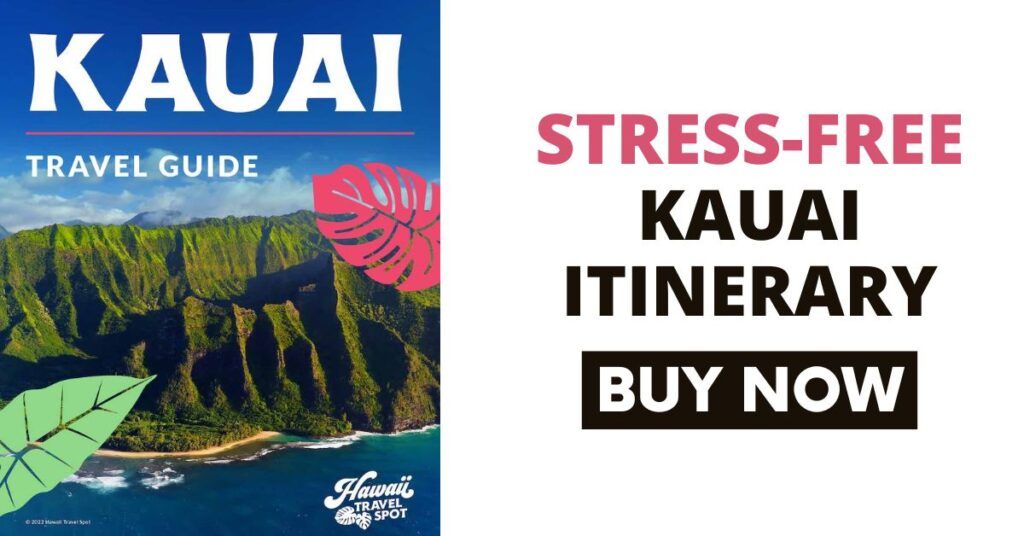 31. Play Mini Golf
Another fun Kauai attraction for kids is the mini golf course at Anaina Hou Community Park up on the North Shore of Kauai.
It's a full 18 hole with water hazards and other obstacles to keep the whole family on their toes! Plus, it's surrounded by a beautiful botanical garden.
And, kids ages 3 years old and younger are free! This is of the most fun family activities in Kauai.
32. Ride an ATV
Older kids and teens will go nuts for this Kauai activity. Kauai is famous for its red dirt, so throw on some old clothes and shoes and then go for an epic Kauai adventure.
Hop in a 4×4 and explore the mountains of Kauai while seeing some amazing views of the island and the water. It's great for families who want to drive fast and get muddy! Check the latest rates and availability.
33. Go Whale Watching
If you are visiting Kauai during the winter months (Dec-Mar), you have a great chance of seeing humpback whales. While there are a few places to see whales from the land, the best thing is to book a boat tour.
On a Kauai whale watching tour, you have the best chance of seeing whales frolicking in Hawaii. Your crew will know the best places to look and will point out the pods when you get near.
34. Stop at a Kauai Food Truck
Kauai has been doing food trucks for generations. They were originally called lunch wagons called and were primarily for workers.
However, in the past few years, there has been an explosion of different types all over this island! The quality can't be beaten. -Try some local favorites like Al Pastor Tacos or Holey Grail Donuts.
35. Check out the Kauai Museum
Kauai's museum is a great place for those who want to learn more about the island's sugar cane plantation history.
They have plenty of exhibits that highlight this time in Kauai, and there are some really cool events hosted throughout each year too!
This is a great rainy day activity or for the days where you need a break from the sun.
36. Try Surfing
Did you know surfing was born in Hawaii? It's now a worldwide sport! Learn how to surf from locals who have been surfing on Kauai for generations.
Kids will love learning how to balance on their board and catch some easy waves. Plus, then they can brag to all their friends back home that they learned to surf in Hawaii! Check out the latest prices and more details.
37. Catch a Free Hula Show
If you want to watch Hawaiian dancing but don't want to splurge on a luau, head to one of the free hula shows on Kauai.
You can usually find free hula shows at the Coconut Marketplace or Kukui Grove.
38. Visit the Na Aina Kai Botanical Garden
Out of all the Kauai gardens, this one is probably the most fun for kids. That's because they have an official Children's Garden with bridges, log cabins, slide, tunnels, a train, a covered wagon, a maze and more.
And they have Keiki Day once a month that is basically a huge outdoor playdate. Kids can play in the fountain, explore a tree house, and run around the Children's Garden.
39. Try a Puka Dog
Puka Dog is one of the most popular hot dog stands in Poipu. It was featured by Travel Channel as one of America's Top Ten Dogs and leads off Anthony Bourdain's show No Reservations Hawaii!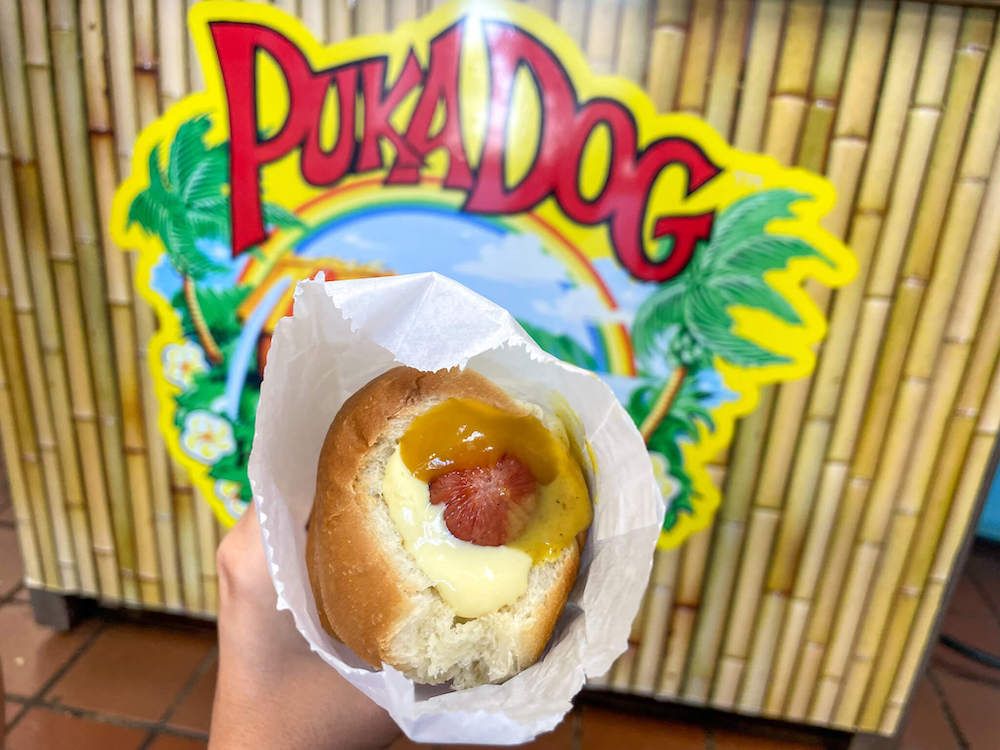 It's a hot dog that is stuffed inside a fluffy bun and then they squirt in whatever type of mustard, relish, or sauce you like. They are delicious!
40. Shop at Small Fry Kauai
If you want to support a local Kauai business geared toward kids, check out Small Fry Kauai. They feature a ton of locally made items like kids clothing, toys, and books.
And while you're at Kukui Grove Shopping Center, check out their Toddler Tuesday program!
41. Go on a Chocolate Tour
Kauai is known for its beautiful beaches and lush jungles, but it's also home to one of the best chocolate tours in Hawaii.
Your guide will take you through Lydgate Farms' botanical gardens where they grow many different fruits that are used by locals who make their own chocolates right there on site!
Plus, you'll taste Kauai honey, local vanilla beans, and try all kinds of Hawaiian fruit.
42. Explore a New Playground
Families heading to Kauai with toddlers and preschoolers will appreciate the number of cool playgrounds all over the island.
A couple of our favorites include the Anaina Hou Community Playground and the ones at Lydgate Beach Park.
43. Rent Bikes
If you visit the East Shore of Kauai, you'll want to take advantage of their coastal bike path. It's a great spot for a morning sunrise walk or extensive bike ride with kids.
The path goes up and down Kauai's famous Coconut Coast and it's perfect for kids of all ages and skill levels.
There are several bike rental places on Kauai and some of them even have trailers for babies/toddlers. It's also a great place to push a stroller if you are going to Kauai with a baby.
44. Go Ziplining on Kauai
While you can go ziplining on all the Hawaiian islands, Kauai is by far the most beautiful place to do it. And there are several Kauai ziplining tours to choose from.
Kids as young as seven years old can join this Kauai zipline tour. Plus, it's the only zipling tour on Kauai where you can go head first for an extra thrill! Check the latest rates and availability.
45. Have a Meal at Lava Lava Beach Club
If you're looking for tasty drinks and food PLUS a place for your kids to run around, look no further than Lava Lava Beach Club!
Here, you can enjoy happy hour or dinner while your kids have fun with an assortment of lawn games. And you can't beat the view of the beach and ocean.
46. Look for Rainbows
I had to include this on the list because Hawaii has some of the most beautiful rainbows in the world. It's easy to spot them anywhere on Kauai since that's the rainiest Hawaiian island.
47. Hike with a Rescue Dog
One of the coolest programs on Kauai is through the Kauai Humane Society. They will let you take one of their rescue dogs out for a field trip.
The most popular thing to do with the rescue dog is go hiking. There are tons of dog-friendly hiking trails on Kauai.
And, if it's love at first sight, you can request to adopt your dog. I mean, that's a pretty awesome Kauai souvenir, right?
48. Attend an Outdoor Movie
One of the coolest things to do on Kauai with kids is attend an outdoor movie screening. You can bring your own blanket/towel and snacks for a fun evening out.
On the last Saturday of every month (weather permitting) there's a free outdoor movie at the Coconut Marketplace.
Every few months, the National Tropical Botanical Garden has a free outdoor movie night with food trucks.
They also offer them throughout the year at Poipu Beach Park and the All Saints Episcopal Church.
49. Try Kauai Waterfall Rappelling
If you're looking for a once-in-a-lifetime adventure on Kauai, book a waterfall rappelling tour. Kids as young as 12 years old can participate, so it's perfect for families visiting Kauai with teens.
And don't worry if you have younger kiddos. Kids between 6 and 12 years old can come along for the ride and just observe. Check the latest rates and availability.
50. Complete the Kauai Scavenger Hunt
One of the most unique things to do on Kauai with family or friends is a scavenger hunt in Hanalei, on the North Shore of Kauai.
It's an interactive scavenger hunt using WhatsApp and you'll race around this adorable town looking for clues while competing against your friends and relatives. Check the latest rates and availability.
Things to do with Kids in Kauai Wrap Up
As you can see, there are tons of cool things to do in Kauai with kids, no matter their ages or interests. This list covers things to do on Kauai with toddlers through teens. From water adventures to historical sites to amazing cultural experiences, Kauai has it all!