Are you planning a trip to Oahu but don't know where to stay in Waikiki? Keep scrolling to check out this honest Hyatt Place Waikiki Beach review!
This Hyatt Place Waikiki Beach Review was written by Marcie Cheung (a Hawaii travel expert) and contains affiliate links which means if you purchase something from one of my affiliate links, I may earn a small commission that goes back into maintaining this blog.
I've visited Waikiki countless times and usually like to check out hotels I haven't stayed at before.
For my last trip to Oahu, I figured I'd use up some Hyatt points and stay at the Hyatt Place Waikiki Beach Hotel.
This hotel has its ups and downs. Keep scrolling for my honest Hyatt Place Waikiki Beach hotel review so you can see if it's the best Waikiki hotel for your next trip.
Want to skip all the planning and just access my detailed Oahu itinerary complete with daily schedules, fun activities, and travel hacks? Click the button below.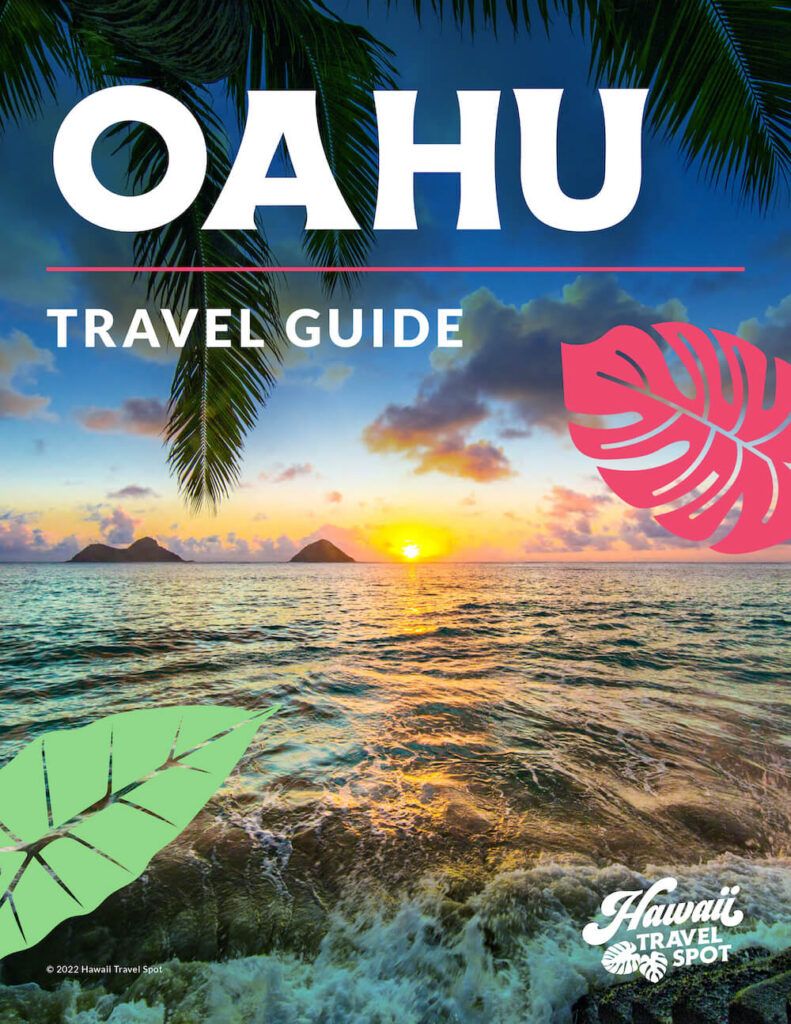 Where is the Hyatt Place Waikiki Beach?
The Hyatt Place Waikiki Beach is super close to the beach in Waikiki, which means you're right in the middle of all the fun stuff. It's about a 20-minute drive from Honolulu's airport, and the address is 175 Paoakalani Ave, Honolulu, HI 96815.
Just so you know, there's no shuttle from the airport, so you'll have to grab a taxi, an Uber, or maybe rent a car.
This hotel is a great spot, especially for families. It's near loads of cool places to eat and fun things to do, and you can easily walk to lots of them.
So, if you're looking for a place that's close to the beach and where you won't need to drive everywhere, Hyatt Place Waikiki Beach is a pretty awesome choice. Check the latest rates and availability.
First Impressions & Check-In Experience
When we first got to the Hyatt Place Waikiki Beach, we were really impressed. The staff were super nice and welcoming, which made us feel right at home.
They had this cool feature where I could check in using my phone while we were still at the airport. That made things super quick and easy when we got to the hotel to pick up our room keys.
The hotel's lobby is pretty big and has a nice vibe. We even got to listen to some Hawaiian music played by a musician right there in the lobby! It was a great way to start our trip and made us excited about staying there.
Room & Accommodation Details
We stayed in a really nice room at the Hyatt Place Waikiki Beach. It was a 2 Queen bedroom with a sofa, which was super spacious. The sofa was a pull-out, perfect for kids or extra stuff. Check room types and rates.
Our room also had a desk and a long dresser with a mini-fridge inside, plus a coffee maker.
The bathroom was a bit small but worked fine for us. It had a separate sink area, and the shower came with shampoo, conditioner, and body wash.
One cool thing was all the electrical outlets and USB ports – they were everywhere and really handy for charging our phones and gadgets. And yes, there's free Wi-Fi and a TV in the room, along with air conditioning.
Our room was supposed to have a view of Diamond Head, but it was more like a partial view and we really had to crane our necks.
The hotel does daily housekeeping, but they only do a full cleaning every three days. On other days, they'll make your bed and give you fresh towels, which is pretty convenient.
Hotel Facilities
At the Hyatt Place Waikiki Beach, the pool area might not be what you're expecting. It's on the 3rd floor, and to be honest, the pool is really small.
When we were there in November, the water was super cold, and it was too windy to hang out comfortably. Our stuff kept getting blown away!
But, they do have some nice lounge areas around the pool where we chilled and read books one afternoon.
For those who love to stay fit, their 24/7 Fitness Center is great. They've got treadmills, ellipticals, and bikes, plus free weights. The equipment has LCD touchscreens with Wi-Fi and built-in TVs, so you can watch shows while working out.
If you need to do some work, their business center is open all the time and it's free. You can even print stuff wirelessly, which is handy.
Oh, and if you're traveling with a pet, this hotel is pet-friendly. Just know there's a nonrefundable pet fee if you're staying for a few nights or more.
So, while the pool might not be the highlight, the Hyatt Place Waikiki Beach has some other cool facilities, especially if you like working out or need to get some work done. And it's great for pet owners too!
Dining Options
At the Hyatt Place Waikiki Beach, you've got a few dining options to check out.
Breakfast Bar
They have a free breakfast bar, which is pretty cool. You can find hot stuff like scrambled eggs, bacon, and French toast sticks. They also offer cereal, fruit, and juice, plus some Asian breakfast items.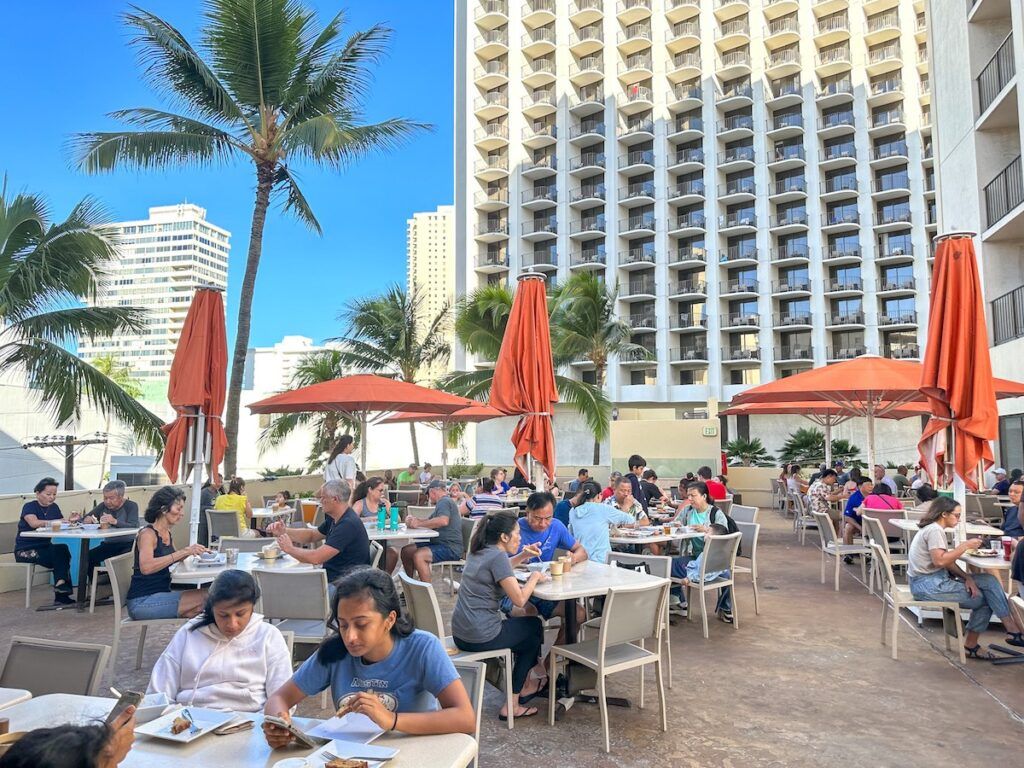 The breakfast area is outdoors by the pool. One thing to note – it was really windy when we went, and stuff was blowing around, even into the pool.
The Placery
We didn't get to eat here, but they have burgers, sandwiches, and salads on their menu.
The Market
We grabbed sandwiches here for lunch. They were tasty, but each pre-packaged deli sandwich cost about $15.
If you're looking for more options, there's a Starbucks right across the street from the hotel. Plus, there are loads of food trucks and restaurants nearby.
Personally, I'd skip the hotel food. Waikiki has SO many amazing places to eat and I wouldn't waste a meal here.
Pricing and Packages
The Hyatt Place Waikiki Beach typically costs about $250 to $300 per night. This is actually a really good rate for a hotel in Waikiki.
But, if you're a World of Hyatt member, you can save up to 10% on your stay, which is a pretty sweet deal. We actually used Hyatt points for our stay, and that helped us save some cash.
There's also a daily resort fee of $35, so remember to add that to your budget. When you think about the cost, consider the location near the beach, the free breakfast, and other cool stuff at the hotel.
Overall, it's a decent value for the money, especially if you take advantage of the discounts or use points.
Nearby Attractions
The Hyatt Place Waikiki Beach is super close to some awesome places that you can easily walk to.
For example, Kuhio Beach Park and the Honolulu Zoo are just a 4-minute walk away. Want to hit the beach? Waikiki Beach is only a 7-minute stroll. If you're into shopping, the International Market Place is a 10-minute walk, and the Waikiki Beach Walk takes about 17 minutes to get to.
Also, there's a Waikiki Trolley stop right near the Twin Fin Hotel down the street from Hyatt Place. This trolley is super handy for getting around Waikiki.
Plus, it's a popular spot for tour groups to meet up. So, if you're looking to explore more of Waikiki or join a tour, this hotel is in a great spot for that!
Hyatt Place Waikiki Beach FAQs
How does this hotel stand out from its competitors in Hawaii?
It's not nearly as swanky as some other Waikiki resorts. The pool area is lacking and there aren't many amenities. But, it does have free breakfast and daily housekeeping, which can be hard to find in hotels in Waikiki.
Is the location practical for the activities and sights I want to enjoy?
Yes, the Hyatt Place Waikiki Beach is in a great location on the Diamond Head side of Waikiki. It's easy to walk to the beach, restaurants, and lots of shops. Plus, it's next to a Waikiki Trolley stop and a lot of tours pick up nearby.
Is it worth the price, and am I getting good value for my money?
For a Waikiki hotel, this is actually a pretty good value. I was annoyed with the $35 daily resort fee because it didn't really cover anything besides the use of pool towels. But, it's in a great location and the rooms were spacious and clean.
Conclusion & Personal Verdict on the Hyatt Place Waikiki Beach
So, what's my final thought on the Hyatt Place Waikiki Beach? Well, in terms of value, especially if you use points, it's pretty good.
But honestly, it's more of a basic hotel. It's not the kind of place where you'd want to hang out all day. We mostly just slept there.
The best thing about it is definitely the location. It's super easy to walk to lots of cool spots or catch the Waikiki Trolley to go further.
If you're looking for a hotel that's mainly a place to crash after a day of exploring, this one does the job well. The location makes it easy to enjoy Waikiki, even if the hotel itself is pretty simple.
Rating for the Hyatt Place Waikiki Beach
Overall Score: 6/10 ⭐️⭐️⭐️⭐️⭐️⭐️
Room Cleanliness: 9/10 ⭐️⭐️⭐️⭐️⭐️⭐️⭐️⭐️⭐️
The rooms were really clean, which was great. Definitely a big plus for this hotel.
Food & Drink: 5/10 ⭐️⭐️⭐️⭐️⭐️
The food and drink options were just okay. Not too many choices and a bit basic. Plus, they were overpriced for what we got.
Value for Money: 8/10 ⭐️⭐️⭐️⭐️⭐️⭐️⭐️⭐️
Considering the location and using points for a discount, it offers good value for your money.
Pool Area: 4/10 ⭐️⭐️⭐️⭐️
The pool was a letdown. It's small and not the best place to relax.
Amenities: 5/10 ⭐️⭐️⭐️⭐️⭐️
The amenities were average. Nothing too special, but they cover the basics.
Overall, the Hyatt Place Waikiki Beach is a decent choice if you're looking for a clean, well-located hotel and aren't too fussed about extra amenities or a fancy pool area.