Are you planning a trip to Maui and want to hear some Maui ghost stories? Scroll to find out the top Maui ghost tours worth checking out on your next trip.
This list of the best Maui ghost tours contains affiliate links which means if you purchase something from one of my affiliate links, I may earn a small commission that goes back into maintaining this blog.
Are you visiting Maui during Halloween and want to hear tales about the island's haunted history?
I've come up with a list of the best ghost tours on Maui where you can hear about long-dead warriors, three Hawaiian kings, and a magnificent tree with a spooky history.
You won't want to miss these public places featuring colorful characters you'd never know about without a Maui ghost walk!
Don't have time to read a bunch of Hawaii blog posts and reviews? Here are some of our top picks for visiting Maui.
Popular Maui Tours/Activities
Favorite Maui Resorts/Hotels
Hyatt Regency Maui (this has a swim-up bar and tons of amazing amenities)
Andaz Maui (this is a luxury resort with the best luau on Maui)
Honua Kai Resort & Spa (this is one of our personal favorites because there are tons of pools and there are condo options)
Want to Rent a Car in Hawaii?
One of the best places to rent a car in Hawaii is Discount Hawaii Car Rental because they get the best rates from top national companies like Alamo, Dollar, Thrifty, Avis, Enterprise, Budget, and Payless.
Want to skip all the planning and just access my detailed Maui itinerary complete with daily schedules, fun activities, and travel hacks? Click the button below.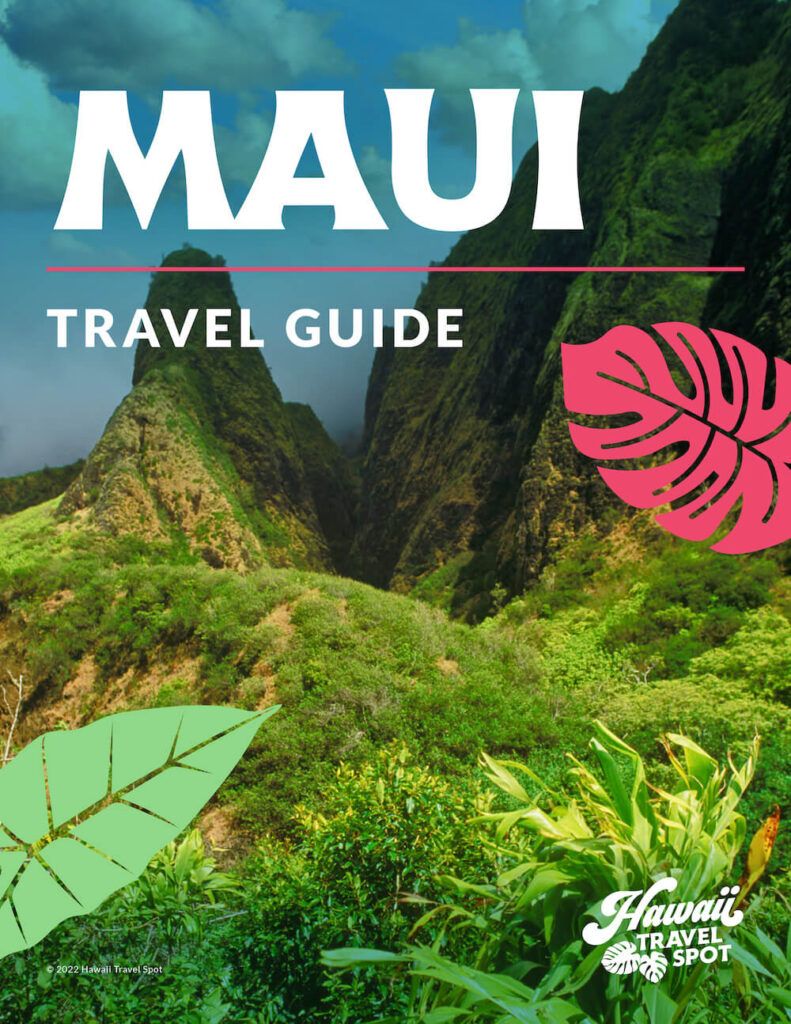 What are Some Haunted Places in Maui?
There are several locations on Maui reputed to be haunted or associated with ghostly or supernatural stories. A few of these include:
Iao Valley State Park
Nestled in Central Maui, this lush park is home to the I'ao Needle, a natural rock pinnacle.
Legends and locals say that at night, one can hear the cries and whispers of ancient Hawaiian warriors, as this valley was the site of the Battle of Kepaniwai, a fierce conflict in 1790 where many lost their lives.
Olowalu
This site is said to be haunted due to tragic historical events, including the Olowalu Massacre in the late 1700s when a large number of Hawaiians were killed by European sailors.
In the 1700s, the area also witnessed the slaughter of numerous Hawaiians by the forces of Alapa'i, a chief from the Big Island.
As a result, many believe that the souls of the departed still linger there, making it one of Maui's most haunted spots.
Makawao Cemetery
As a resting place for many of Maui's departed, the Makawao Cemetery has its share of ghostly tales.
Some locals believe that spirits wander the cemetery grounds, particularly during the night.
Eyewitnesses have reported sightings of ghostly figures, unexplained lights, and even heard whispered voices emanating from the surroundings.
Haleakala National Park
This dormant volcano, often referred to as the "House of the Sun", is shrouded in myths and legends.
Locals share stories of the goddess Pele and other spirits that roam its vast crater and misty slopes.
Visitors, especially those who trek during the twilight hours, often report inexplicable sensations, and some claim to see apparitions or hear mysterious sounds.
Honua'ula Forest Reserve
Located in Upcountry Maui, it's steeped in ancient legends. Some say that night marchers, the ghosts of ancient Hawaiian warriors, can be seen walking the trails.
The eerie sound of drums and chants have also been reported by those who've ventured here after dark.
Who are the Hawaiian Night Marchers?
The Night Marchers, also known as Hukai'po, are figures in Hawaiian folklore who are said to be ghostly apparitions of ancient Hawaiian warriors.
According to legend, they are the spirits of deceased warriors who are forever destined to march in procession, usually observed at night and often heard as the sound of marching, drums, or conch shells.
They are believed to march on certain nights designated by the Hawaiian lunar calendar, traveling between sacred sites and battlegrounds or escorting the spirits of deceased family members to the afterlife.
It's said that if you encounter a Night Marcher procession, you should avoid eye contact and lie down flat on the ground to show respect and avoid harm.
These tales are deeply ingrained in Hawaiian folklore and cultural respect for the Night Marchers is significant.
4 Maui Ghost Tours Worth Checking Out
Haunted Maui Walking Tour with Ghost Stories
Experience the unique paranormal perspective of Hawaii with this engaging Maui ghost tour. Check rates.
Throughout the journey, you'll discover the rich tapestry of Hawaiian spiritual beliefs, learning about the life force energy known as 'mana' and the revered family gods called 'aumakua.
Their guides will share captivating stories of hauntings spanning from the 1900s to present day.
Their exploration focuses on Lahaina's distinct paranormal phenomena, featuring tales of spectral Night Marchers—ghostly Hawaiian warriors, eerie choking ghosts, and the formidable lizard deities known as mo'o.
Tour stops include the serene Hale Piula, the historically significant Moku'ula, the spiritual sanctuary of Wailoa Church, and the haunting Hale Pa'ahao.
You'll also visit the largest Banyan tree in the US, the Old Lahaina Courthouse, and the iconic Pioneer Inn. Embark on this journey into the mystic side of Hawaii's history and culture. Check the latest rates and availability.
Ghostly Private Walking Tour of Lahaina
Unearth the spectral history of Lahaina on a private walking tour, immersing yourself in a landscape of myths, historic inns, and the infamous 'death island.' Check rates here.
As you stroll by landmarks like the Old Lahaina Courthouse, the formidable Old Fort, and the verdant Kamehameha Iki Park, their professional guide will share riveting local tales.
This includes narratives of enigmatic water creatures and dramatic battles between whalers and missionaries over the island's native women.
Beyond the ghost stories, you'll delve into the heart of Hawaiian culture, gaining insights into a storytelling tradition carried down through generations.
This personalized tour, offered at two convenient times, allows you to engage more deeply with Lahaina's history and folklore than a typical bus tour.
With ample opportunities to capture memorable photos and learn about royal sagas and ancestral deities, this Maui ghost tour celebrates the rich tapestry of Hawaii's first people and their enduring oral storytelling tradition. Check the latest rates and availability.
Small-Group Ghost Walking Tour in Maui
Uncover the spectral side of Maui on a walking tour through the picturesque city of Lahaina. Check rates here.
Unearth tales of haunted beaches, fairies, Hawaiian kings, and more, each meticulously researched for a unique, fresh experience.
This isn't a haunted house gimmick; instead, it's a journey through real stories and legendary figures.
From outside Lahaina's old prison, you'll explore its ghostly inhabitants. They delve into the past, standing before landmarks like the Old Lahaina Courthouse, the Old Fort, and the historic Pioneer Inn, narrating stories of famed figures and epic battles.
Learn about mystical elements like the Hauola Stone, and unravel the mystery of the Lahainaluna School's hauntings.
Discover the intriguing history of Baldwin Home, the enduring resident of the Brick Palace, and the Menehune legend associated with the Pioneer Mill Company.
Finally, walk the haunted King's Road, steeped in rich lore. Check the latest rates and availability.
Maui Ghost Walks in Lahaina
Step into a hidden realm on this intimate, small-group walking tour of Lahaina, where they unveil Maui's haunted past. Check rates here.
As you journey to significant sites like the Old Lahaina Prison and the Old Fort, you'll hear about the vibrant personalities and eerie tales that have left their imprint on the city.
This isn't your usual tour; their guide's in-depth knowledge brings forth stories you've never encountered before, revealing a side of Maui typically concealed from casual visitors.
Over the course of two hours, this tour presents an alternative, ghostly narrative of the island's history, offering a new perspective on Maui that goes beyond the traditional travel guide.
Discover the haunting side of paradise with this Maui ghost tour. Check the latest rates and availability.
Maui Ghost Walk FAQs
What are Maui ghost tours?
Maui ghost tours are guided tours that take visitors to locations on the island of Maui reputed to be haunted or associated with supernatural events. These tours often share stories about Hawaii's history, culture, and folklore.
Where do Maui ghost tours typically visit?
While specifics vary by tour, some commonly visited locations include Iao Valley, Olowalu, Makawao Cemetery, and other sites known for their historical significance or ghostly tales.
What are some haunted buildings in Maui?
Some of the reputedly haunted buildings in Maui include the historic Iao Theatre in Wailuku, known for its reports of ghostly apparitions and strange occurrences, and the Pioneer Inn in Lahaina, with guests and staff reportedly witnessing ghostly figures and experiencing unexplained incidents.
Why is the Lahaina banyan tree haunted?
The Lahaina Banyan Tree, one of the largest in the U.S., is at the heart of many local tales and folklore. Some believe that it's haunted due to its age and the significant cultural and historical events that have taken place around it over the years, although specific ghost stories linked to the tree may vary.
Does Hawaii have a lizard goddess?
Yes, in Hawaiian mythology, there are deities known as mo'o who often take the form of large, fearsome lizards. They are considered guardian spirits and are associated with water, which is crucial to life. The most famous of these deities is perhaps Kihawahine, a mo'o goddess linked to the island of Maui.
What should I bring on a Maui ghost tour?
For a ghost tour on Maui, it's generally recommended to bring comfortable walking shoes, a light jacket (as it can get cool in the evenings), water, and a camera. Some people also bring small flashlights or use their phone's light.
Are Maui ghost walks wheelchair accessible?
The accessibility of Maui ghost walks can vary depending on the specific tour and route. Some might be wheelchair accessible, while others might not due to uneven terrain or narrow paths. It's best to check directly with the tour operator for the most accurate and up-to-date information.
Haunted Maui Ghost Tours Wrap Up
Maui's ghost walks offer an enticing journey into the supernatural side of this idyllic island.
These tours unravel tales from the past, transforming the sun-soaked beaches and picturesque streets into a backdrop for some of the most intriguing haunted places in Maui.
The Lahaina ghost tour, a highlight among these experiences, perfectly combines history and mystery, breathing life into old tales and introducing visitors to the island's spectral inhabitants.
Hawaiian ghost tours like these provide a unique perspective on cultural beliefs, from stories of Hawaiian ghost warriors to the spiritual essence of 'mana.'
Steeped in legend, these tours are a fascinating way to uncover the otherworldly aspect of Maui's history.
Whether you're a thrill-seeker, a history buff, or a lover of folklore, embarking on a journey through Maui's ghost stories promises an unforgettable experience.