Are you curious about tasting tropical fruits in Hawaii? I'll tell you about the most flavorful Hawaiian fruits worth trying on your next trip to Hawaii!
This list of the best Hawaiian fruits was written by Marcie Cheung (a Hawaii travel expert) and contains affiliate links which means if you purchase something from one of my affiliate links, I may earn a small commission that goes back into maintaining this blog.
If you're looking for a delicious and unique experience while in Hawaii, you must try the local fruits!
There are so many different types of fruit to try in Hawaii – from the standard pineapple to more exotic options like dragon fruit. You can find them at grocery stores or farmers markets.
Not only are they delicious, but these fruits are also beautiful to look at. They make cute photo props for Instagram!
You might wonder about my credentials – well, I've been to Hawaii 40+ times, ensuring an expertise that stands out.
I know it's tough to pick just one, but if I had to recommend a few of my favorite Hawaiian fruits, they would be papaya, mango, and starfruit. They're all incredibly sweet and flavorful – definitely an experience you don't want to miss!
But, you'll want to keep scrolling to check out my full list!
Want to skip all the planning and just access my detailed Hawaii itineraries complete with daily schedules, fun activities, and travel hacks? Click the button below.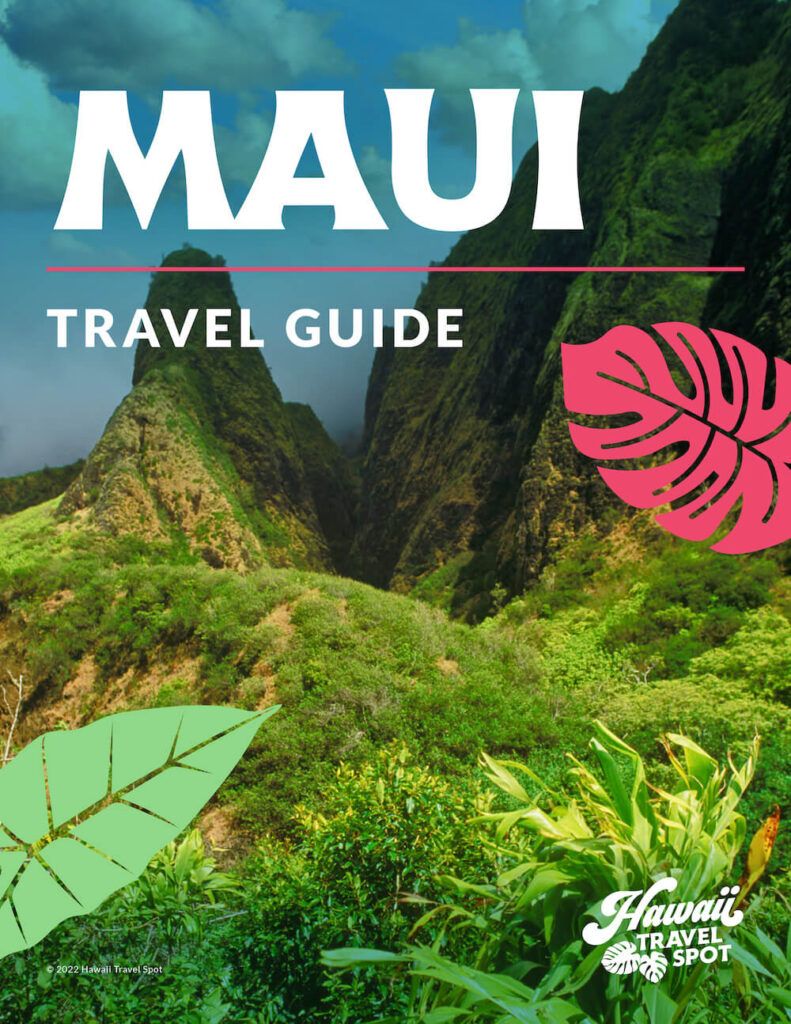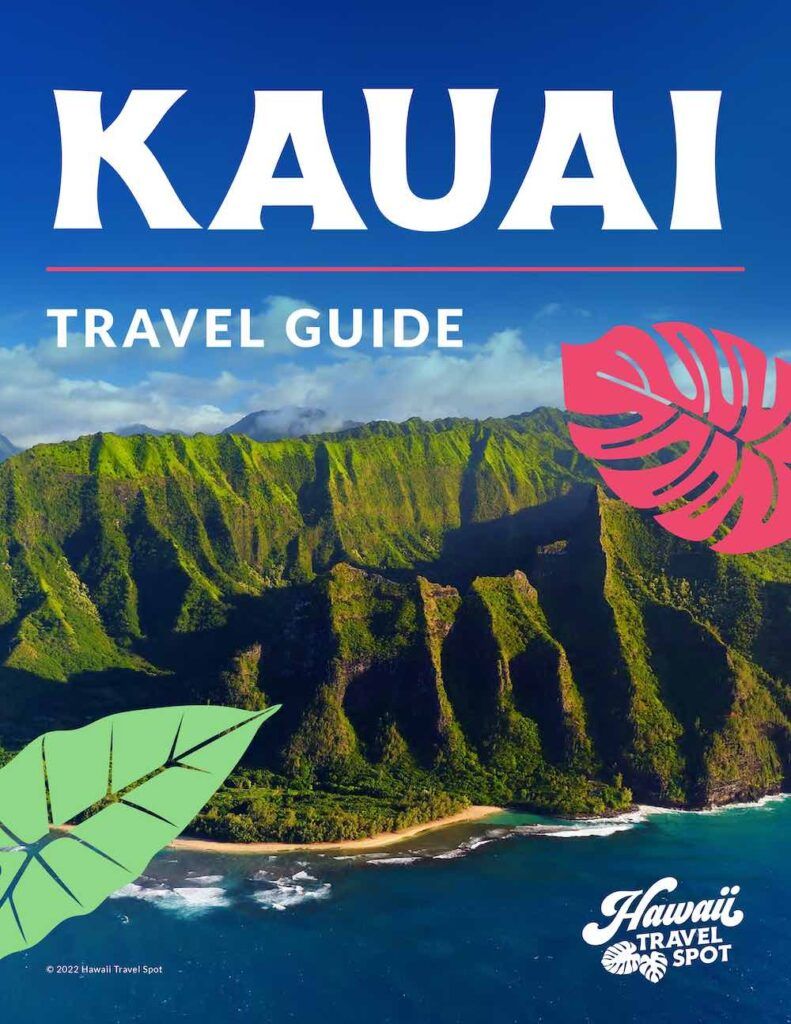 Heavenly Hawaiian Fruits to Try
1. Lychee
Lychee is one of the few exotic fruits in Hawaii that are delicious.
Since I was a kid, I'd always eaten lychee by popping the skin with my teeth and peeling the skin to reveal the sweet fruit on the inside. I've been eating this fruit every time I go to Hawaii!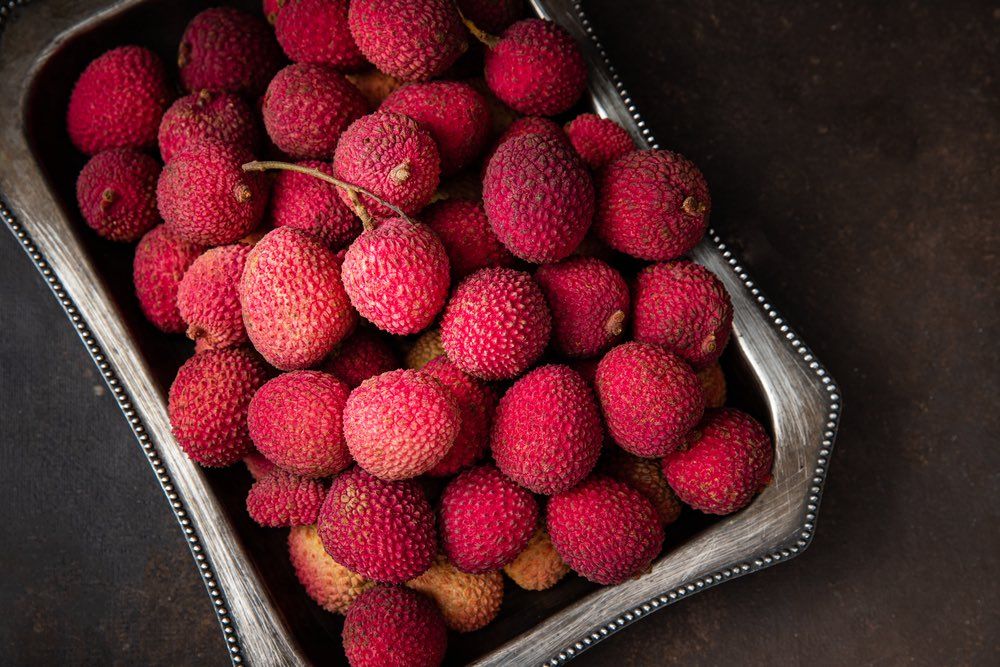 It's not only just some of the popular Hawaiian fruits, lychee is also popular in Asia as well!
Its texture is a bit tougher than that of a grape and also has a pit in the center. Enjoy lychee with wine on a lanai while looking at the gleaming ocean waters.
Lychee is seasonal in Hawaii, so it may not be available by the time you visit. However, many bubble tea shops offer lychee in their drinks. These pair together in harmony!
Lychee season runs from May through September in Hawaii.
2. Breadfruit
Unlike most Hawaiian fruits, breadfruit is not the first thing you'd think of when you think of Hawaiian fruits. As its name suggests, breadfruit is much more starchy than most other fruits.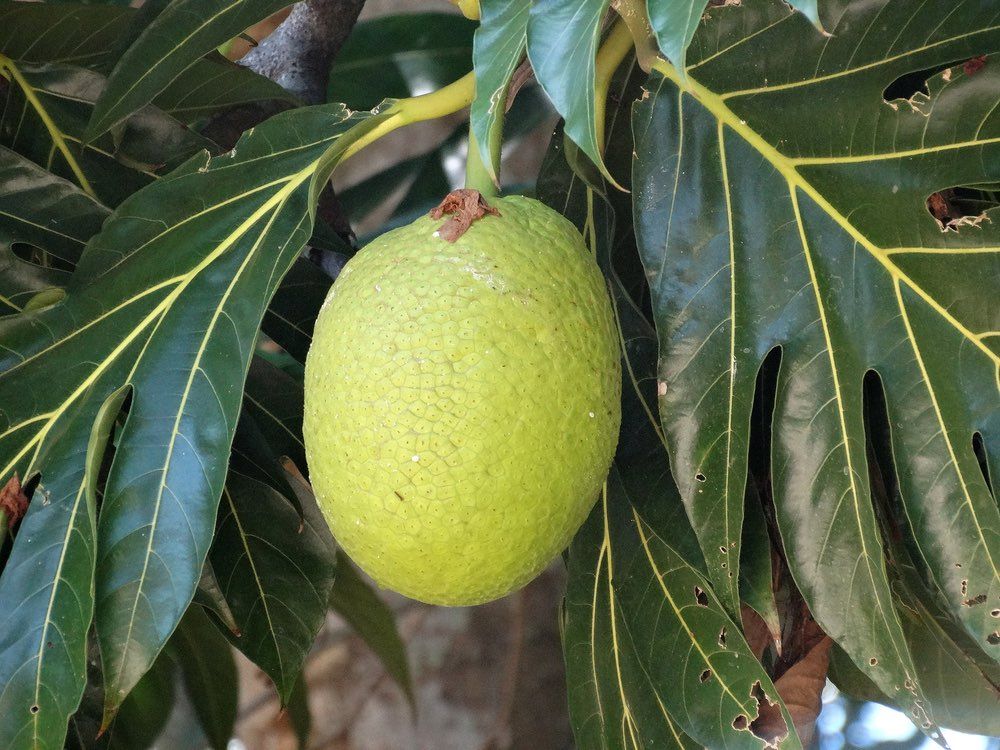 Breadfruit is referred to as Ulu in Hawaii. It used to be found in much Hawaiian cooking, but its popularity dropped soon after.
From personal experience, I don't recommend snacking on this, but I do recommend trying it once.
You don't need to buy the entire breadfruit. You can find smaller samples at the Polynesian Cultural Center. Breadfruit hummus can also be found at Farmer's Markets and certain grocery stores.
Breadfruit in Hawaii is available year-round.
3. Mango
Mangoes are fantastic Hawaiian fruits. The juiciness and sweetness found in this fruit are in a class all their own.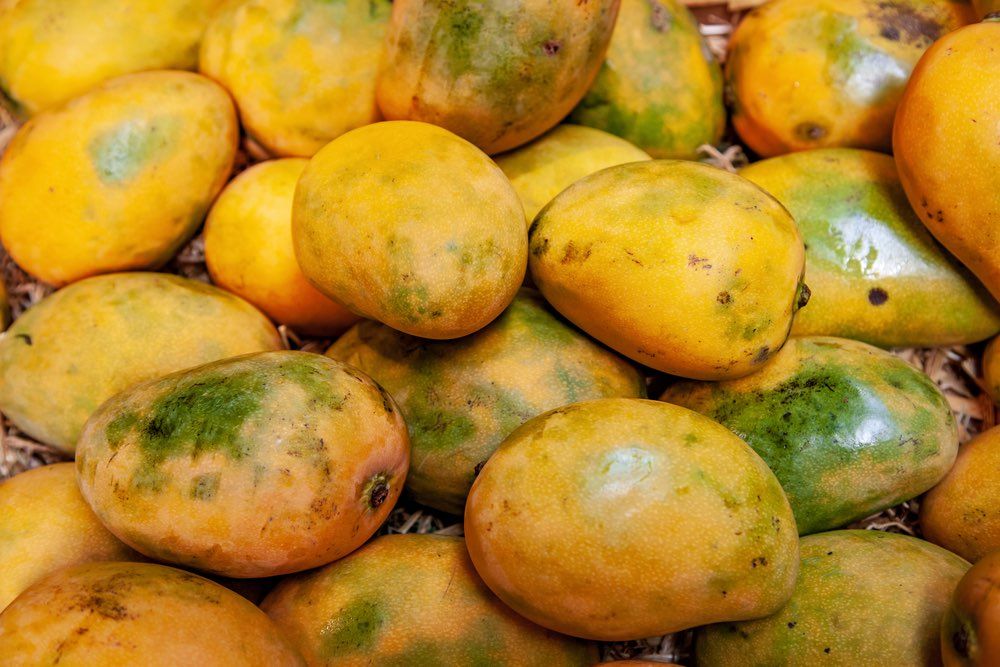 To receive the sweetest of all mangoes, get them at roadside stands. Mangoes that are homegrown give a much better flavor. They are found commonly next to roads at farmer's markets.
The fruit trees in Hawaii often contain a lot of mangoes. For easy mango access, try renting an Airbnb for easy mango trees.
Mangoes are best when eaten at room temperature or cold in the refrigerator. For an enhanced mango experience, slice it up and add li hing mui powder at the top. This will kick you into flavor town!
Fresh mango are also shave ice toppings served at shave ice stands.
Mango season in Hawaii runs May through October.
4. Guava
Guava is also one of the various fruits in Hawaii. It's one of the three important ingredients for making the well-known Passion-Orange-Guava (POG) juice.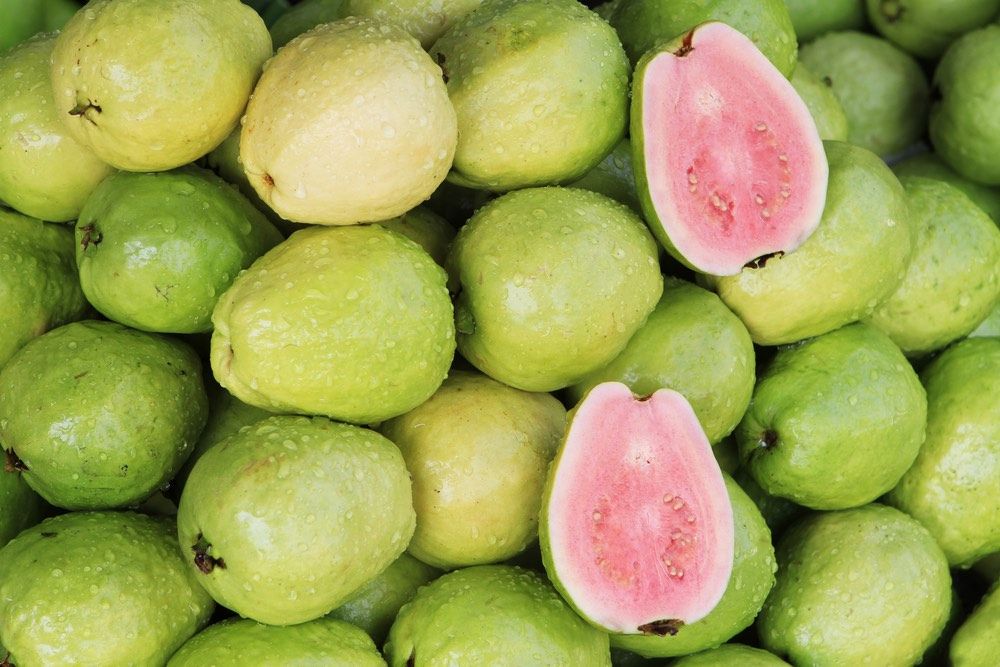 Farmers Markets offer them, but you can pick them too if you want. Strawberry Guava is often found in Hawaiian mountains when you walk on the trail.
You can eat guava by itself or use it as an ingredient in recipes. Guava also comes in jelly form, syrup form, and juice form. And you'll also find Guava in many baked goods as well.
Guava season in Hawaii runs from August to December and also from January through April.
5. Kumquat
Eating Kumquats can be tricky the first time you eat them. When I ate it the first time, I thought you had to peel the skin and eat the fruit inside, which was very sour.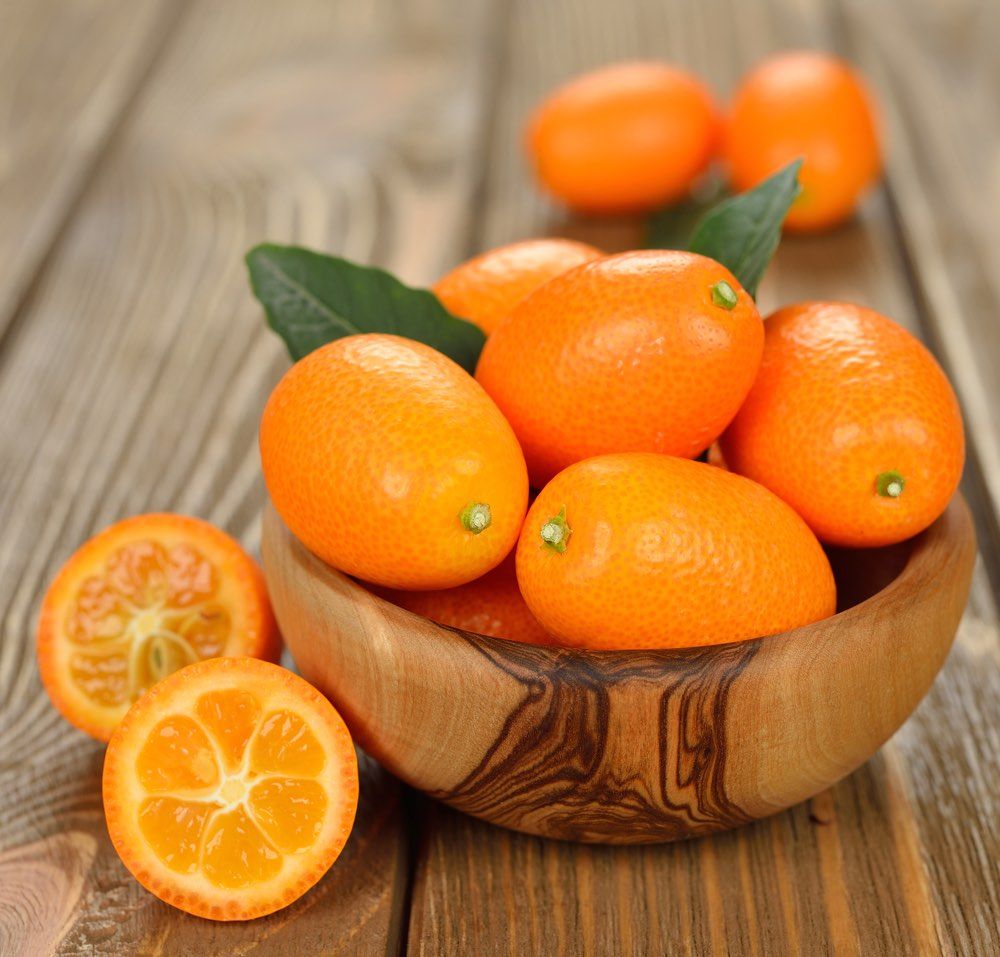 You have to keep the skin on it and eat the Kumquat whole. The sweetness of the Kumquat only comes from the skin, which counteracts the sour fruit on the inside.
Once you eat these right, it's a great sweet and sour snack! You can also find dried Kumquats at grocery stores or the Aloha Swap Meet.
Kumquat season in Hawaii runs from December through March.
6. Sugarloaf Pineapple
When Hawaii comes to mind, you'd likely picture the palm trees, surfers, Waikiki Beach, and the Hawaiian pineapple. Growing pineapple in Hawaii was more common than in any other place.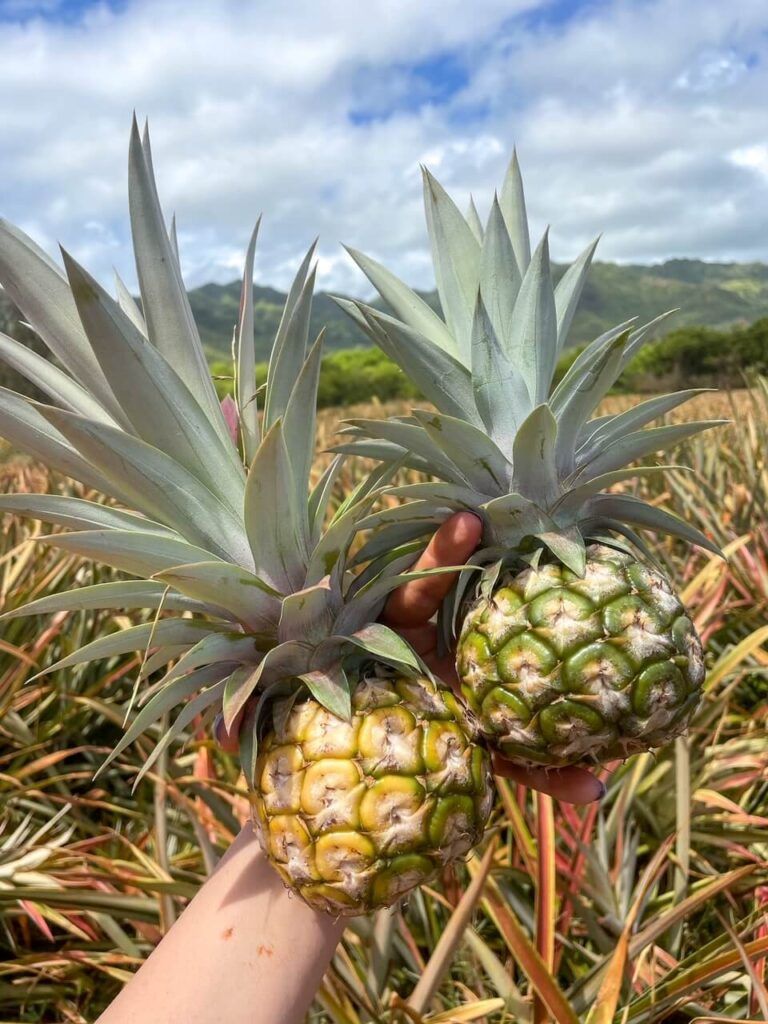 There are 37 different kinds of pineapple, but Sugarloaf Pineapple is by far my favorite. Sugarloaf pineapple however rarely ships to the Mainland and is grown exclusively in Hawaii, making Sugarloaf Pineapple extra special.
It's partly white on the inside, and it's remarkably sweet compared to other pineapples. The acidity is also much lower than most pineapples, making it easier to consume a whole pineapple in one sitting. This fruit receives high marks on my list!
Sugarloaf pineapple season runs mid-to-late summer, but often they are available year-round.
7. Starfruit
Starfruit can be found in many aspects of the world, but Hawaii has arguably the best of them all! I first tried starfruit in Hawaii and I became a huge fan right after!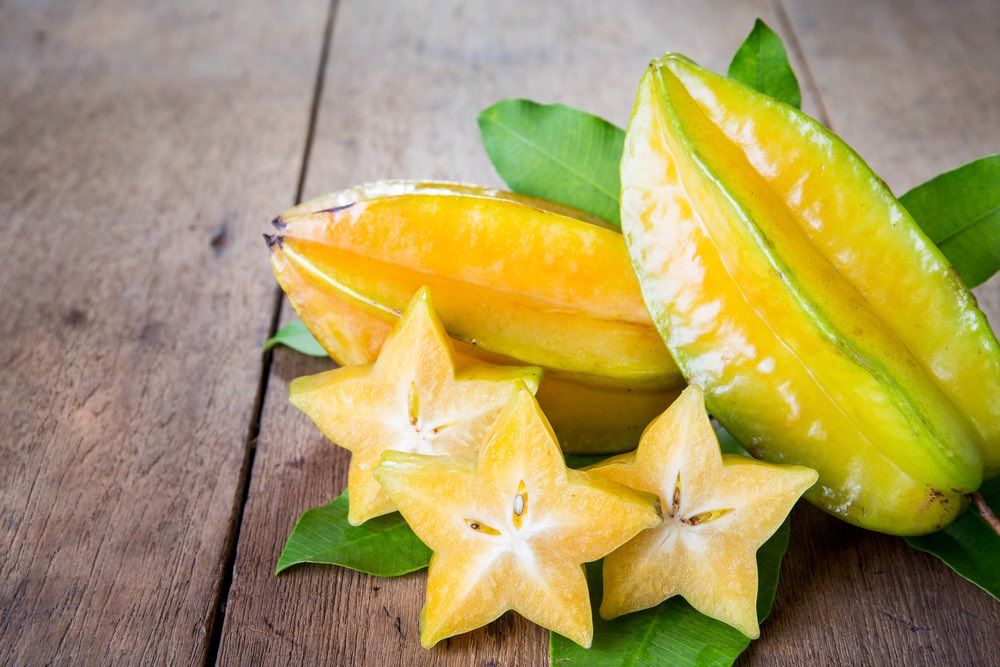 Starfruit gets its name from the star-shaped slices you get once you cut it. Its star shape makes it great to top on salads or use as garnish.
However, starfruit is great to eat on its own. You can eat it with or without the skin, as all parts of the starfruit are tart and sweet.
Starfruit season in Hawaii runs from September through April.
8. Passion Fruit (aka Lilikoi)
Passion Fruit (referred to as "lilikoi" in Hawaii) is also a part of the POG juice.
You can eat passion fruit on its own, but it's also used in various syrups, desserts, baked goods, jams, and juice.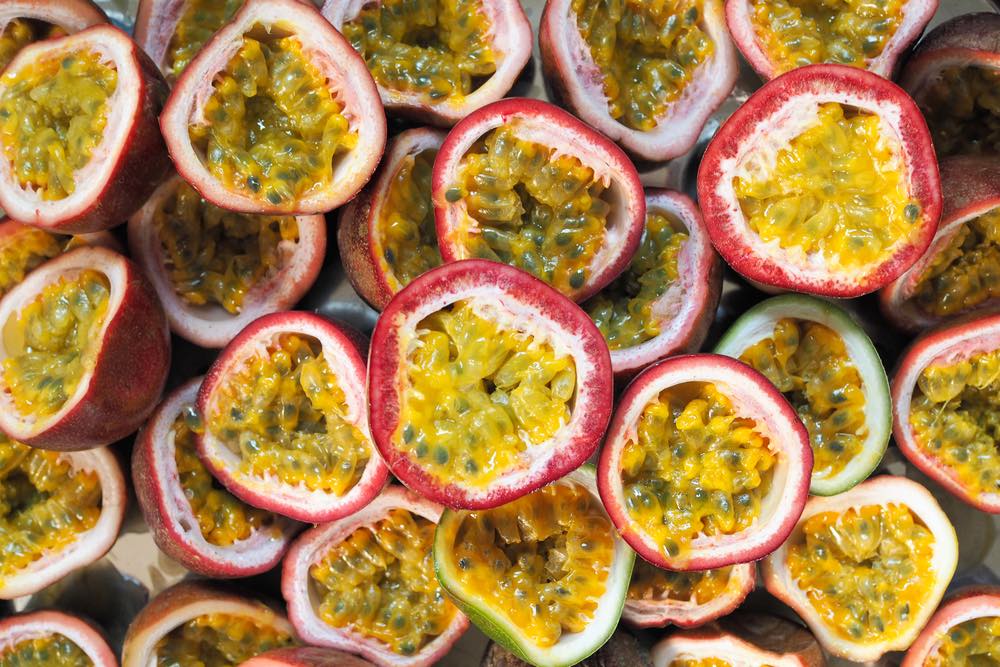 You can also find passion fruit in acai bowls, smoothies, and shave ice.
Spread Lilikoi butter on a piece of toast, and you'll certainly enjoy this as a tasty breakfast. It is amazing enough to be my passion and can be a great Hawaii souvenir!
Lilikoi season in Hawaii runs from June through January.
9. Apple Bananas
If you aren't a fan of the starchy texture of regular bananas, you'll be attached to Apple Bananas!
These Hawaiian bananas are quite smaller than regular bananas but are loaded with flavor! You can get these at certain grocery stores or Farmer's Markets. They're the perfect size if you plan on hiking in Hawaii or taking a driving trip around Hawaii.
For people who have completed the Road to Hana and got a taste of the banana bread, most are made with apple bananas. That's what gives the banana bread a flavor kick unlike any other!
Apple bananas don't ship to the mainland, so make sure to enjoy this tasty treat the next time you go to Hawaii!
Apple Banana season in Hawaii all year round with peak season from June to October.
10. Persimmon
Persimmons are Asian fruits that made their way to Hawaii. Hawaii has climates that allow Persimmon to flourish as a nice and sweet treat!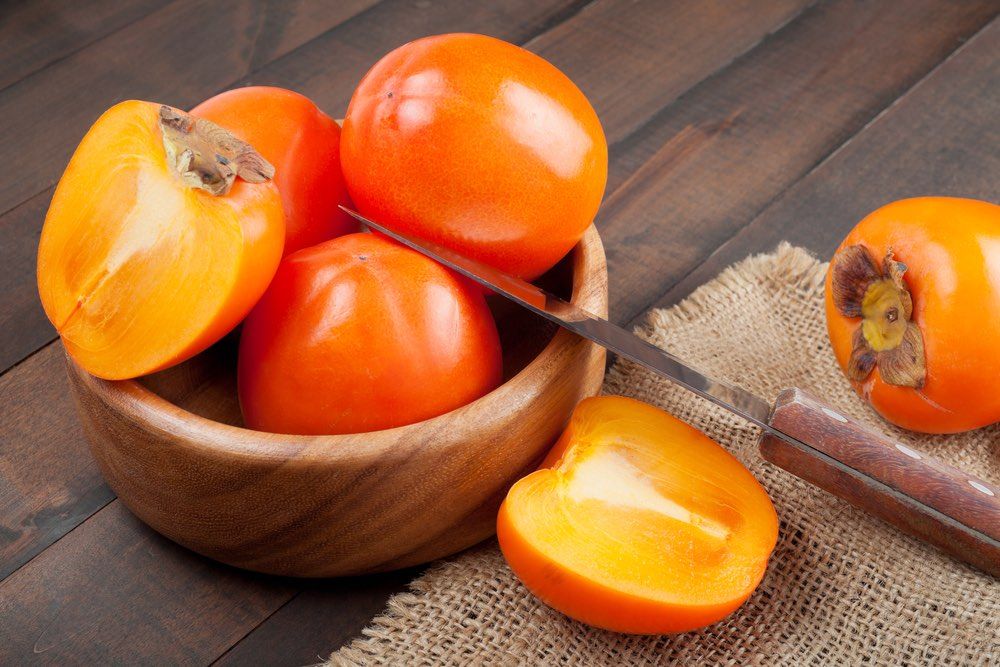 Eat it raw by peeling off its skin with a peeler and slicing it into bite-sized pieces with a knife. Its texture appears more firm than a peach, but its flavor is unique. They are quite tasty!
Persimmon season in Hawaii runs from October through November.
11. Longan
A few years ago, I tried this fruit with my Mother-in-Law. She ate these as a kid in Hong Kong and gave these the name "Dragon Eyes."
It's a bit more tart than Lychee, but its skin isn't as prickly. To eat this, you'd eat it the same as you would with Lychee. Peel off the skin of the Longan and feast on the treat inside. The seed inside the Longan is also smaller than Lychee.
Longan season in Hawaii is year-round.
12. Mountain Apples
Just like the name suggests, Hawaiian Mountain Apples are not round but are rather shaped like a bell.
Mountain apples are incredibly sweet and juicy Hawaiian fruits. Take a bit into it whole, or slice it up into bite-sized pieces.
These can also be used in recipes like applesauce. Cook the mountain apples and blend them with cinnamon, lemon juice, and ginger. It makes for a great snack on the go!
Mountain Apple season in Hawaii runs from late summer through fall.
13. Rambutan
Rambutan is quite the more exotic fruit in terms of appearance! Its shell is red and green and grows a lot of hair! It receives a lot of clout on social media!
Rambutan seasons range from February and March and are commonly found at local Farmer's Markets. Its taste is similar to that of lychee, but it's slightly more tart.
Slice the skin of the rambutan with a knife and enjoy it as a tasty afternoon treat!
Rambutan season in Hawaii runs from October through March
14. Papaya
Papaya is another popular Hawaiian fruit. It's often eaten on its own, squeezing lime juice on it helps to bring out its flavor.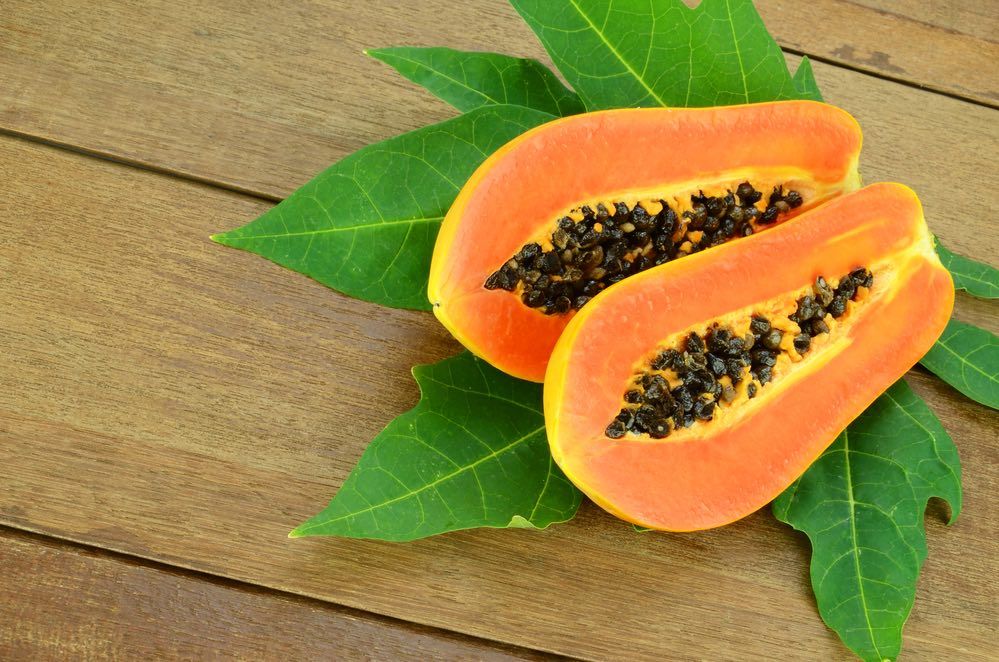 The Hawaii papaya looks pear-shaped compared to its Mexican counterparts found on the mainland. Its inside colors are usually golden yellow to a bright reddish-orange.
Papayas are known to help with digestion, which makes them a great treat to have after dinner.
Papaya season in Hawaii technically runs from spring through September, but you can find them year-round.
15. Coconut
The coconut is a big nut, but this delicious nut is NOT a nut. It's a fruit, found on the coconut trees in Hawaii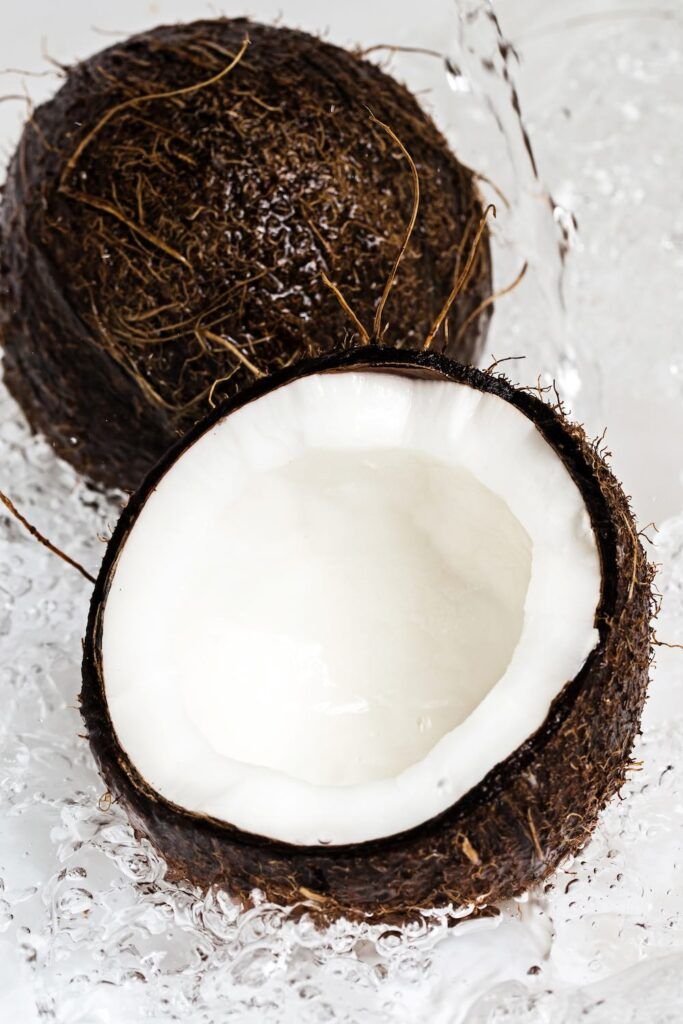 It can be used for a variety of purposes. It's popular when used to make Coconut water or eat the flesh inside raw. It's also popular when used to make coconut milk. Farmer's markets also offer dried coconut as a tasty snack.
The Hawaiian dessert Haupia's main ingredient is coconut, found at almost every luau in Hawaii.
Coconut season in Hawaii is year-round.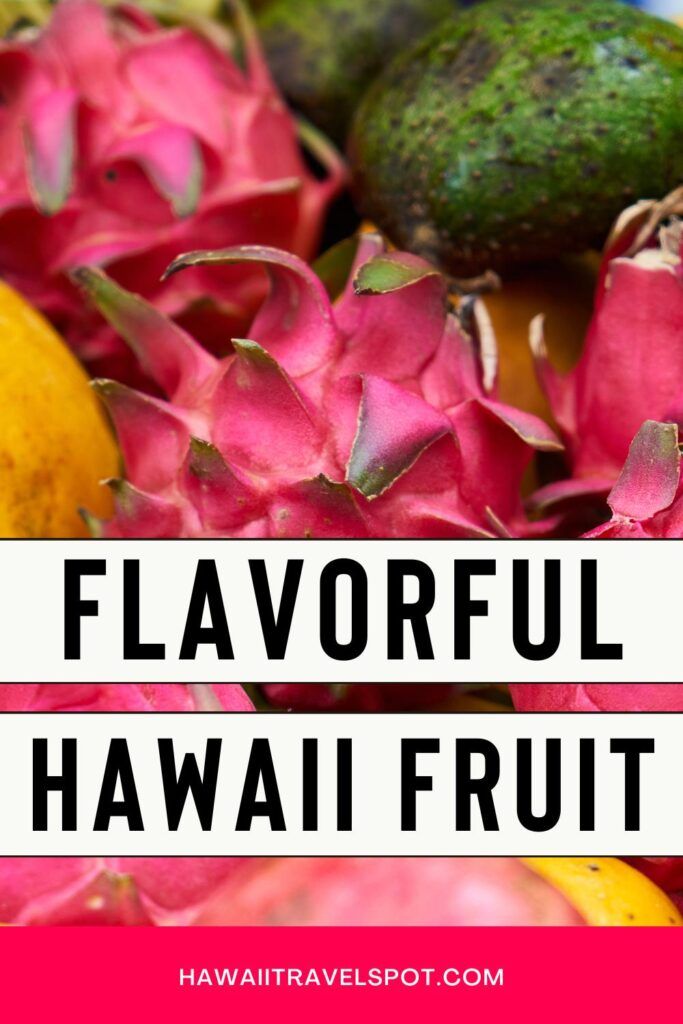 Hawaii Fruit FAQs
What kind of Hawaiian bananas grow in Hawaii?
About 80% of Hawaiian bananas grown are a part of the Cavendish group. These types of bananas include Chinese, Grand Nain, Williams, Hamakua, and Valery.
Are there coconut trees in Hawaii?
There are TONS of different palm tree species in Hawaii that grow coconut. However, the loulu is a type of coconut tree that is endangered in Hawaii. Coconut trees are known to be one of the most valuable trees around the world.
How many types of mangoes are in Hawaii?
There are many types of mangoes in Hawaii, reaching over 500 varieties of mangoes. Some like the Pirie, Rapoza, and Haden are some of the most common mangoes in Hawaii. The Hawaii mango is a tropical fruit cherished by Hawaiians as well as other fruit lovers like me!
Hawaii Fruits Wrap Up
Many fruits grow in Hawaii, that you HAVE to try! Not only are there delicious fruits, but amazing vegetables as well!
If you're planning on traveling to Hawaii, make sure to try at least one of these amazing fruits!
Looking for farmers markets in Hawaii? Check out the best ones on Maui and the Big Island!