Are you planning a trip to Oahu and want to capture these vacation memories? Check out this guide to booking an affordable Waikiki photographer using Flytographer!
This guide to booking Waikiki photographers was written by Marcie Cheung (a Hawaii travel expert) and contains affiliate links which means if you purchase something from one of my affiliate links, I may earn a small commission that goes back into maintaining this blog.
We travel to Hawaii all the time and I STILL like getting professional photos done every year.
Flytographer is a great option because it's a concierge service. It's easy to book and they will find me a replacement photographer if something happens.
I've been using Flytographer almost exclusively for the past 6 years. I find they are higher quality and more affordable than a lot of other Oahu photographers.
I'll show you my latest Waikiki photo shoot below but you can also use my discount code HAWAIITRAVEL to get $25 off your first Flytographer shoot.
Book a Hawaii Photo Shoot
Whenever we travel to Hawaii, we almost always book a photo shoot with Flytographer. They are super easy, affordable, AND it guarantees that I'll have more than just selfies. You can get $25 off if you book through this link or use the code HAWAIITRAVEL.
Why Choose Flytographer?
Looking for a great photographer in Waikiki without spending too much? Flytographer is your go-to choice! They make capturing your vacation memories fun and easy.
The photographers are local folks who know all the cool spots in Waikiki and are super excited to show you around.
Flytographer offers different packages, so you can pick one that fits what you're looking for. The booking process is really simple and hassle-free. Plus, all their photographers are carefully chosen for their skills, so you're guaranteed to get beautiful, professional photos.
And guess what? Flytographer has over 25,000 five-star reviews! That means tons of people have used them and loved their experience.
Compared to other local photography services, Flytographer gives you awesome quality at a more affordable price. So, if you want amazing photos without the big price tag, Flytographer is the way to go!
How to Book Your Flytographer Session
Booking a photo shoot in Waikiki with Flytographer is super easy and fun! Here's how to do it:
Select a Photographer & Request Your Date
First, pick a photographer in Waikiki. You can check their availability by sending in a request. If you're coming from the mainland, try a sunrise shoot early in your trip – the time difference makes it easier!
Book Your Flytographer Shoot
You'll hear back within 24-48 hours. If they're free, awesome! If not, Flytographer will help you find someone else.
Then, book your spot. I like the 60-minute session for family shoots, but the 90-minute one is great too. Check out all the packages here and use my code HAWAIITRAVEL for $25 off your first shoot.
Finalize Your Shoot Plan
You'll get all the details and your photographer's info before the shoot. They'll probably text you too, which is helpful if you need directions or are running late.
Photo Shoot Day!
Meet your photographer 10 minutes before starting. Chat about what you want, and then have a blast taking photos! Remember, don't bring too much stuff – you might move around a bit.
Receive Your Photos
In just five days, you'll get a gallery of amazing photos in your inbox, with a sneak peek the day before the full gallery.
So, ready for some amazing Waikiki photos? Flytographer makes it a breeze!
Preparing for Your Photo Shoot
Getting ready for your Waikiki photo shoot with Flytographer? Here's what you should think about for your big day:
What to Wear
For a beach photo shoot, go for outfits that are comfy and look good by the ocean. Bright colors or pastel shades work great against the sand and water.
Ladies, flowy dresses look awesome in the breeze. Guys, think casual but nice – maybe khaki shorts and a cool shirt.
There are lots of places to find Hawaiian dresses and Aloha shirts right in Waikiki. Plus, Ala Moana Center (the largest outdoor shopping mall in the world) is easy to get to.
Props and Accessories
Props can make your photos even more fun. Think about things like sunglasses, hats, or a colorful beach towel. If you have little kids, maybe bring along their favorite beach toy.
We like to swing by one of the many ABC stores to pick up cute props like ukuleles, leis, dolls, etc.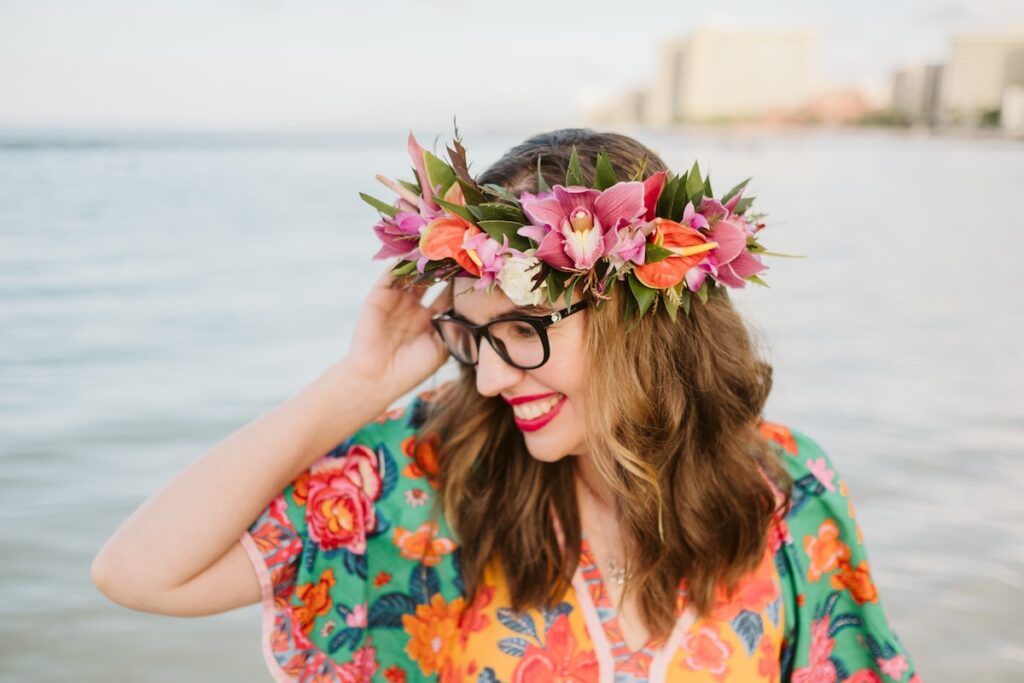 For women, it's super trendy to get a lei po'o. It's a flower crown that you wear on your head and it totally elevates your photos. I got mine from Eco Mindful Lei right in Waikiki.
Matching Outfits
If you're doing a couple or family shoot, it's cool to sort of match but not exactly. Like, choose colors that go well together. Maybe everyone can wear shades of blue and white. Or, if one person wears a pattern, the others could wear solid colors that match a color in the pattern.
Remember, the most important thing is to be comfortable and feel good. That way, your photos will turn out great, and you'll have an awesome time!
Choosing the Perfect Location in Waikiki
Choosing the right spot for your photo shoot in Waikiki is super important for getting those perfect pictures. Here are some popular locations and tips to help you decide:
Waikiki Beach (South Shore)
This famous beach is a top choice for photo shoots. It's right by lots of hotels and has amazing views. But it gets really busy in the afternoon, so try to schedule your shoot in the morning when it's quieter.
Diamond Head Side of Waikiki Beach
We did our shoot here, and it was awesome! It's way less crowded than other parts of Waikiki. You get cool backdrops like banyan trees, the beach, and even gentle waves if you don't mind getting a bit wet.
Tips for Choosing Your Location:
Think about what kind of background you want. Do you like the idea of being by the ocean, or do you prefer a park or urban setting?
Consider the time of day. Early morning usually has the best light for photos and fewer people around.
Check with your photographer too. They know all the best spots and can help you choose the perfect location.
Remember, the location can really make your photos special, so choose a place that feels right for you and your family or partner!
Making the Most of Your Waikiki Photo Session
Ready for your photo session in Waikiki with Flytographer? Here's how to make it awesome:
Chat with Your Photographer
When you meet your photographer, like we met Natalie, it's cool to talk about what you like. Tell them if you're a bit camera-shy or if you love being in front of the lens. They're super friendly and want to make sure you feel comfortable. Plus, if you have ideas for specific shots or poses, let them know!
Games and Fun
Natalie had all these fun games that made everyone, kids and adults, really get into the shoot. It helps especially with kids to keep things playful and light.
Natural Poses
Don't worry about having to pose all the time. Sometimes the best photos are when you're just being yourself, laughing, or walking along the beach. Your photographer will guide you, but also capture those candid, real-life moments.
Involving Everyone
If you're with your family, get everyone involved. Maybe have the kids play in the sand or the whole family walk hand in hand. It's all about capturing those real, happy moments together.
Remember, the photo shoot is about having fun and making memories. Trust your photographer, be yourself, and enjoy the moment!
After the Shoot – What to Expect
After your photo shoot in Waikiki with Flytographer, here's what happens next:
Getting Your Photos
First off, you'll get a cool sneak peek photo by email. It's like a little preview of all the fun you had. Then, when your full gallery is ready, they'll send you another email. This one has a link to all your photos.
The best part? There's no extra cost for these photos – they're all included in your package.
Downloading and Sharing
Once you get the email, just click the link to see your photos. You can download them right from there. If you want to show off your awesome vacation pics to friends and family, there's a link for sharing your gallery too.
Printing and More
We love printing some of our photos to put up on our walls at home. Sometimes, we even make a photo book, which is like a cool souvenir from our trip. And of course, I share some on social media. You can even get creative and turn them into a video slideshow.
So, after your shoot, get ready to relive those special Waikiki moments through your photos. It's super easy and fun!
Flytographer in Waikiki FAQs
How do I receive my photos after the photo session?
You'll get an email with a link to your online gallery within five days after the shoot. This email will also have a link for feedback about your experience, so don't forget to share your thoughts!
Will I be able to select the photos in my gallery?
Flytographer packages include the best shots from your session. Photos with issues like awkward faces or poor lighting are removed by the photographer. If you have specific shots you really want, just let them know, and they'll try to include those in your final gallery.
Is it possible to purchase every photo taken by the photographer?
Unfortunately, no. They focus on delivering the best images rather than editing hundreds of not-so-perfect ones. However, if you remember specific shots that didn't appear in your gallery, let them know. They'll check with the photographer to see what's possible. Remember, raw format images aren't available.
Can I see the photographer's work before booking?
Absolutely! You can view each photographer's portfolio on their city page. After picking your favorite, check their availability by contacting the concierge team. I ALWAYS look at the portfolios before I book any photographer.
How far ahead should I book my photo session?
It's best to book at least a week in advance, but the earlier, the better, especially to secure your preferred date and time. Ideally, try to book about 4 weeks ahead. I usually book mine several months in advance.
Affordable Waikiki Photographers Wrap-Up
Booking a Flytographer session in Waikiki is the perfect way to capture your Hawaiian vacation. With their local, talented photographers, you'll get stunning, professional photos that showcase the best of Waikiki.
Don't forget, using the discount code HAWAIITRAVEL gets you $25 off, making it even more affordable.
Whether you're exploring the beaches, celebrating a special occasion, or just enjoying family time, Flytographer can turn those moments into lasting memories.
So, why wait? Book your Flytographer session today and bring home more than just souvenirs from Hawaii – bring home memories that will last a lifetime!