Are you in awe of the gorgeous Hawaiian tropical flowers you see in photos of Hawaii? I'll tell you about the absolutely prettiest tropical flowers from Hawaii you can see on your trip or have sent to your home!
This list of the best tropical flowers from Hawaii was written by Marcie Cheung (a Hawaii travel expert) and contains affiliate links which means if you purchase something from one of my affiliate links, I may earn a small commission that goes back into maintaining this blog.
Hawaii is the perfect destination for anyone seeking a tropical paradise, and the islands' natural beauty is truly breathtaking. The Hawaiian islands have something to offer everyone, from their white sandy beaches to their volcanic mountains and lush rainforests filled with flowering tropical plants.
One of the most noticeable aspects of the landscape is the unique and vibrant Hawaiian tropical flowers that can be found all over the islands.
From the exotic Plumeria to the vibrant Hibiscus and the sweetly scented Pikake, there are so many incredible types of tropical flowers to see on the islands of Hawaii!
Here you can learn about some of the prettiest tropical flowers from Hawaii. You will learn about their cultural history, which island to find them on, and other facts about these exotic flowers of Hawaii. 
You might wonder about my credentials – well, I've been to Hawaii 40+ times, ensuring an expertise that stands out.
Want to skip all the planning and just access my detailed Hawaii itineraries complete with daily schedules, fun activities, and travel hacks? Click the button below.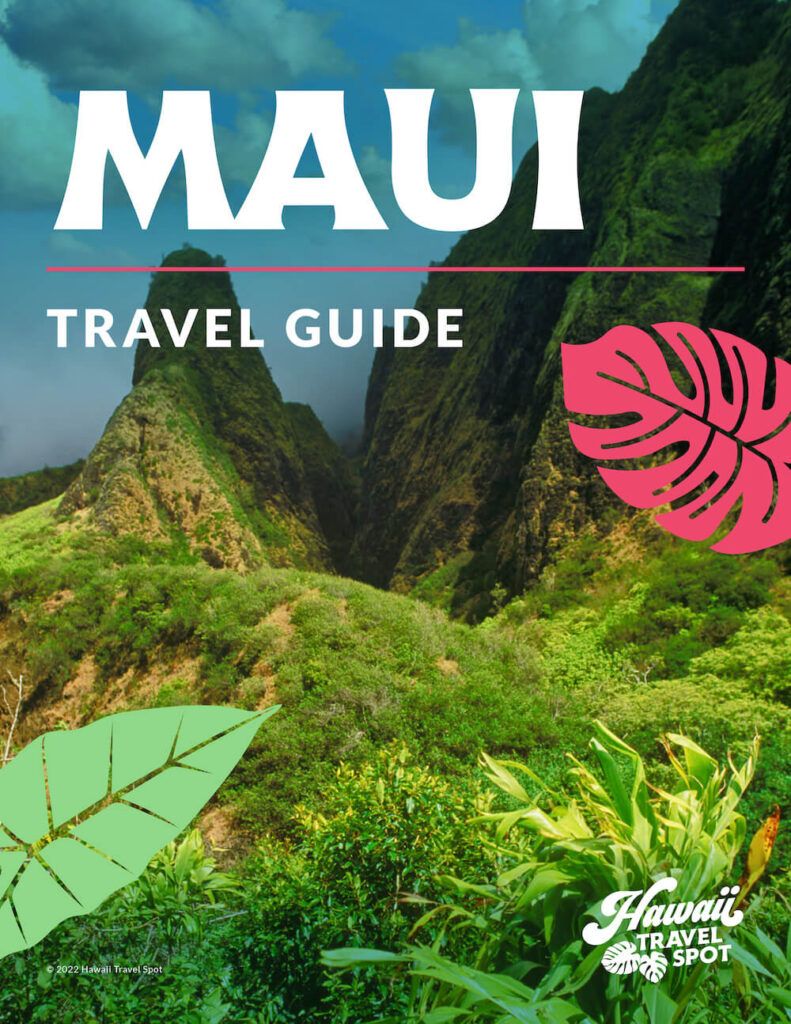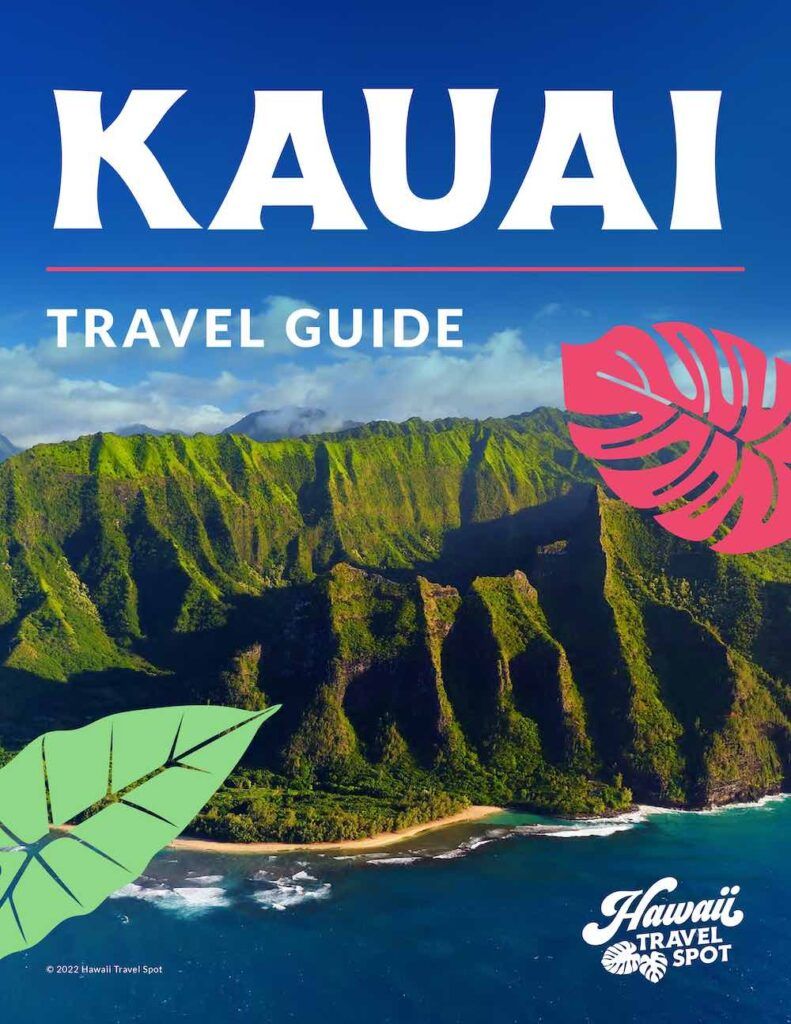 Most Gorgeous Hawaii Tropical Flowers
Here are some of the different types of tropical flowers on the Hawaiian islands. Each one is absolutely beautiful and definitely makes Hawaii a special place for a vacation.
From their beauty to their incredible scent, these are some of the best tropical Hawaii flowers you'll find on your next trip to the islands!
1. Plumeria
The Plumeria (also known as frangipani) is a beautiful flower and one of the most common tropical plants in Hawaii. It is native to Central and South America and has become popular worldwide due to its vibrant colors and sweet fragrance.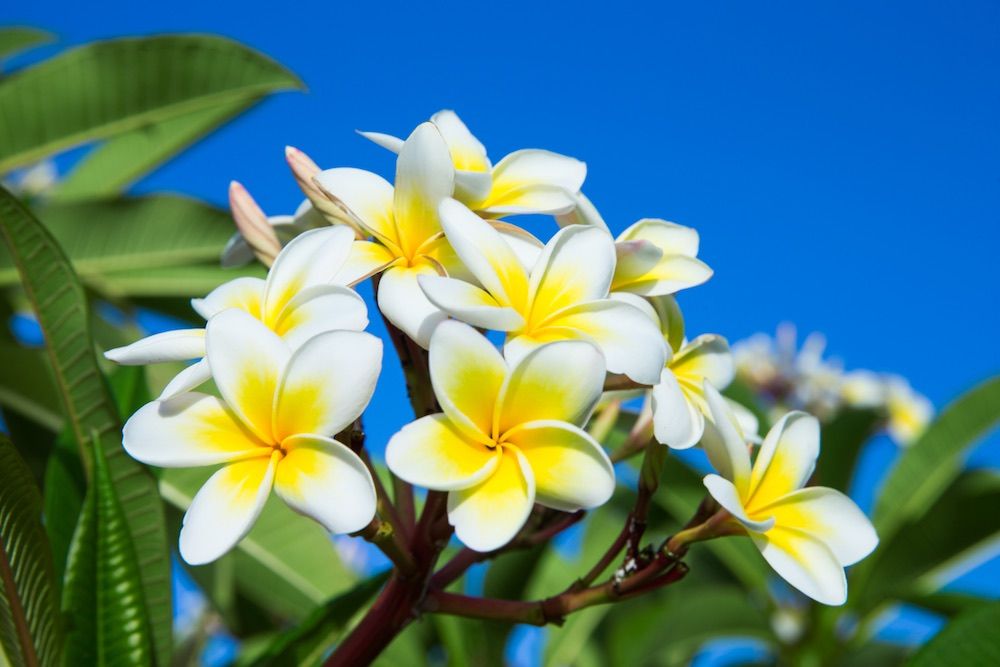 These Hawaii tropical flowers come in many different colors, such as white, yellow, pink, red, and purple. They are used in the Hawaiian leis for their beautiful colors and incredible smell. You will find a vast variety of plumerias, each with unique colors, sizes, and petals.
While they are not native to Hawaii, you can find them all year round because it yields the perfect growing conditions. Plumeria plants need a lot of sunlight and well-drained soil to thrive.
2. Hawaiian Hibiscus
Hawaiian Hibiscuses are stunning flowers native to the Hawaiian Islands. You can find at least one of these species on every island of Hawaii.
These vibrant flowers are often seen in shades of yellow, pink, orange, and red and are known for their beautiful, bright colors. The leaves are large and are often fuzzy. The flowers typically open and close during certain times of the day.
The most common hibiscus on the island is the Hibiscus rosa-sinensis or the Chinese Hibiscus. It is not native to Hawaii, but you will see it all over the islands with yellow, pink, and red flowers.
Here are the seven Hawaiian Hibiscuses:
Hibiscus brackenridgei: is the state's official flower! The flowers are bright yellow, and it is an endangered species.
Hibiscus arnottianus: This species has white flowers that often turn pink towards the end of the day.
Hibiscus waimeae: is another endangered species of Hawaiian Hibiscuses and is usually white and pink.
Hibiscus furcellatus: This species will have pink or purple flowers that will bloom all year round.
Hibiscus clayi: You will find this species with red flowers with petals that are a bit smaller than the rest of the other species.
Hibiscus tiliaceus: with this species, you will see a yellow or red flower that looks more like a circle with the petals overlapping.
Hibiscus kokio: another endangered species with yellow and orange flowers.
The Hawaiian Hibiscus is also an important symbol of the Hawaiian culture and means beauty and joy. Its unique beauty and symbolism make it one of the prettiest Hawaiian tropical plants!
3. Pikake
Pikake is another one of the beautiful and fragrant tropical flowers in Hawaii. The flower is white and has a strong, sweet aroma that is instantly recognizable.
Because of their tiny white flowers, they are another popular lei choice in Hawaii. It is also used to create perfumes and oils, which have become popular souvenirs for those visiting the islands.
Pikake is also seen as a symbol of romance and love, making it a popular choice for special occasions and celebrations. Many brides will wear a Pikake lei for their wedding because of this.
This flower is not native to Hawaii, but when it was brought to Hawaii, Princess Kaiulani loved it as well as other royals and decided to cultivate it on the island.
4. Ohia Lehua
Ohia Lehua is another one of the Hawaiian exotic flowers with an important part of Hawaiian culture and tradition. It is an endemic species of tree native to the Hawaiian Islands and is easily identified by its bright red, white, or yellow flowers, which smell extremely good.
It is said that this flower and tree came to be in one of Hawaii's legends:
Ohia was an attractive man who had caught the eye of Pele. However, Ohia's affections were directed towards another woman, Lehua, and to Pele's dismay, Lehua returned those affections. Unable to accept this, Pele cast a spell on Ohia, causing him to be transformed into a gnarled and twisted tree.
Desperate, Lehua pleaded for the reversal of the spell to the Gods, who decided that the two lovers should be united forever and transformed him into a flower.
Ohia Lehua has also been used in traditional Hawaiian medicine to treat a variety of ailments, including fever, colds, and abdominal pain. This flower is an important part of Hawaiian culture, and it is important to respect and protect this species as it is a vital part of the Hawaiian way of life.
5. Bird of Paradise
One of the Big Island tropical flowers is the Bird of Paradise, which is actually called Strelitzia reginae. They are certainly one of the most exotic tropical Hawaii flowers that originated in South Africa.
These flowers are unique in their structure and have an almost bird-like appearance, with long, curved petals resembling a beak and a long, slim stem.
The colors of these flowers range from a bright yellow to a deep orange, with each bloom being totally unique in its own way. Because of this, the Bird of Paradise flower is a favorite amongst many tropical flower enthusiasts.
6. Naupaka
Naupaka is another one of the tropical Hawaii flowers with a unique and beautiful story. It is believed to have originated from a princess and a fisherman who fell in love at first sight.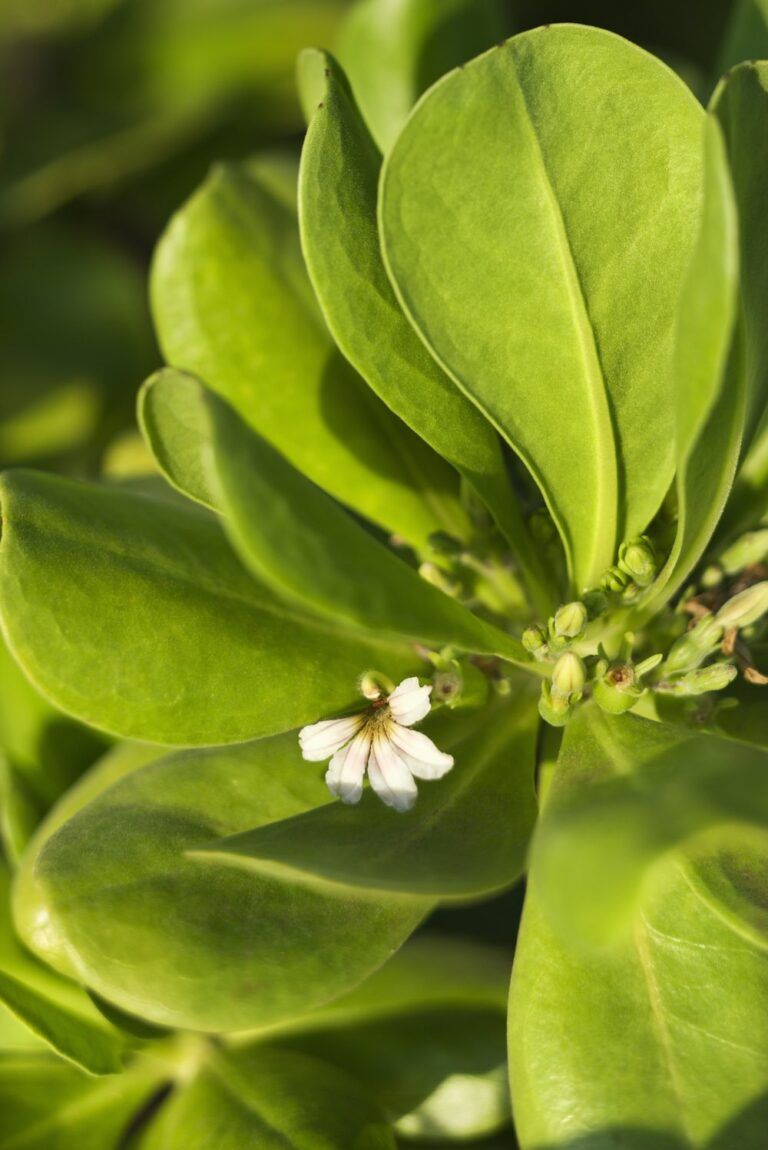 These two lovers could never be together, despite all their efforts. As they parted, they ripped a flower in half, and the flower is said to represent their eternal love.
The Naupaka is a symbol of faithfulness and commitment and is used to decorate traditional Hawaiian leis. The flower is easily recognizable due to its distinctive half-flower shape, with white petals on one side and yellow petals on the other.
You will find these white flowers on all of the Hawaiian islands no matter what time of year you visit!
7. Heliconia
Heliconia is one of the large tropical flowers with vibrant, eye-catching blooms. There are a variety of species found in Hawaii, with the two most common often referred to as the Lobster Claws.
These species originated from Central and South America. Many species of Heliconia are notable for their tall, upright flowers, while others produce more drooping blooms. Most often, the Heliconia in Hawaii are bright red and look pretty close to lobster claws, hence the name.
8. Hinahina
Hinahina is another beautiful flower found in Hawaii. This delicate white flower has unique green leaves similar to succulents. These flowers are typically used in leis and are quite beautiful. Hinahina is the official flower for the island of Kaho'olawe.
The flower is often seen growing on the beach and in other areas with sandy soils. It can even grow near lava too! It is said that Hinahina is named after the Hawaiian goddess Hina, who represents growth and reproduction.
9. Koʻoloaʻula
Koʻoloaʻula, or Abutilon menziesii, is one of the prettiest tropical flowers found in Hawaii. This stunning flower features a bright red color with a pale yellow center and is native to the islands. You can also find this species to have pink, purple, and white flowers as well.
It is another critically endangered species, so be sure to leave it be when you go to visit Lanai, Oahu, Maui, and the Big Island.
10. Anthurium
You will find plenty of Anthurium flowers in Hawaii all year long. Sometimes they are referred to as the Heart of Hawaii because they kind of look like a heart and are bright red or pink. It is another pretty flower in Hawaii that is not native but grows plentifully all over the islands.
There is a hybrid called Obake Anthurium that originated in the Hawaiian islands that usually have big green and red flowers in the shape of a heart. They are quite unique and beautiful to see on the islands.
Tropical Flowers from Hawaii FAQs
What is the most popular flower in Hawaii? 
The most popular tropical flowers of Hawaii are Plumerias. You can find them on any of the Hawaiian islands too!
What is the rarest flower in Hawaii? 
One of the rare tropical plants in Hawaii is the Koʻoloaʻula flower. It looks like a hibiscus flower and is currently endangered. 
What flowers originated from Hawaii?
There are plenty of exotic Hawaiian flowers that originated on the islands. The Hawaiian Hibiscus, Hina Hina, and Ohia Lehua are a few tropical Hawaiian flowers native to the islands. 
Hawaiian Tropical Flowers Wrap Up
Tropical flowers from Hawaii are a beautiful and unique sight to behold. They are symbols of the natural beauty and vibrant culture of the Hawaiian islands, and they make your trip to Hawaii so much more enjoyable!
Looking for more content about tropical Hawaiian flowers? Find out how to order a lei on Oahu and Maui!