Want to see Maui waterfalls on your next trip to Hawaii? Check out the best Maui waterfalls that are stunning. Keep scrolling down for all the info!
This list of Maui waterfalls contains affiliate links which means if you purchase something from one of my affiliate links, I may earn a small commission that goes back into maintaining this blog.
Are you looking for a beautiful waterfall to visit on your trip to Maui?
There are so many waterfalls in Maui, it can be overwhelming trying to pick which one to visit. But don't worry, we've got you covered!
Keep reading this article to learn about the 12 best Maui waterfalls, when and how to access them, and what you need to know before you go.
With such an array of natural beauty, who wouldn't want to see at least one of these amazing waterfalls while in Maui?
All of them are easily accessible and perfect for any traveler – whether you're looking for a challenging hike or just a leisurely stroll.
So what are you waiting for? Start planning your Maui waterfall adventure today!

Don't have time to read a bunch of Hawaii blog posts and reviews? Here are some of our top picks for visiting Maui.
Popular Maui Tours/Activities
Favorite Maui Resorts/Hotels
Hyatt Regency Maui (this has a swim-up bar and tons of amazing amenities)
Andaz Maui (this is a luxury resort with the best luau on Maui)
Honua Kai Resort & Spa (this is one of our personal favorites because there are tons of pools and there are condo options)
Want to Rent a Car in Hawaii?
One of the best places to rent a car in Hawaii is Discount Hawaii Car Rental because they get the best rates from top national companies like Alamo, Dollar, Thrifty, Avis, Enterprise, Budget, and Payless.
Want to skip all the planning and just access my detailed Maui itinerary complete with daily schedules, fun activities, and travel hacks? Click the button below.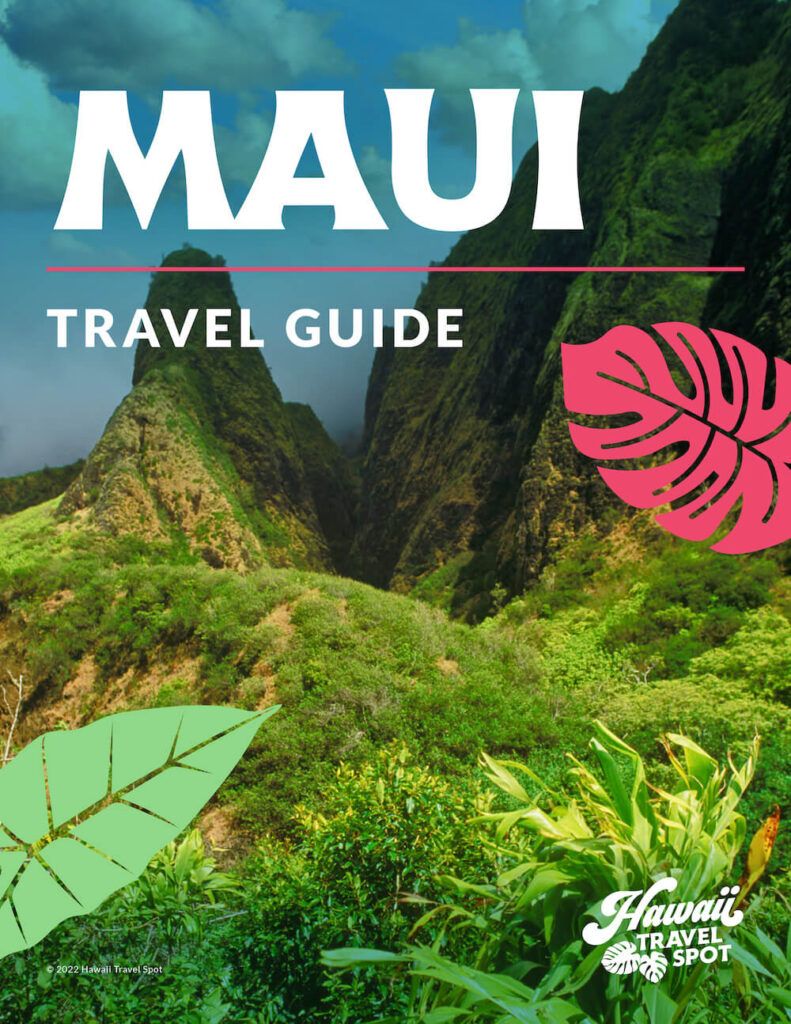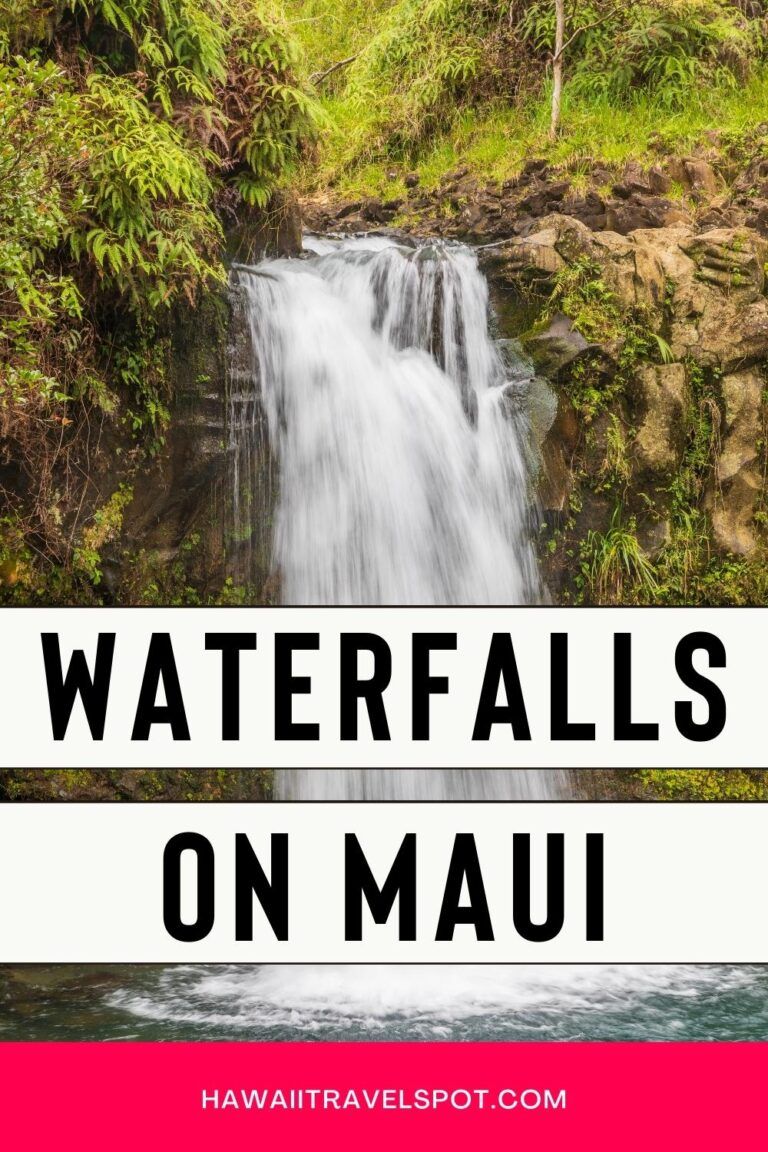 Top 12 Incredible Maui Waterfalls
Here are 12 of the best waterfalls for you to visit in Maui! As you plan your next trip to Hawaii, be sure to add these to the itinerary!
1. PUNALAU FALLS
Punalau Falls is one of the best waterfalls in Maui because it is isolated and "off the beaten path" but simultaneously undeniably beautiful. The trailhead to this waterfall hike is located along the Road to Hana, making it conveniently accessible and perfect for a busy itinerary!
Standing 100 feet tall, the Punalau Falls is hidden behind a short but moderately challenging hike along the length of a stream. The area is quiet, filled with stunning verdant greenery, and usually free of tourists, as many skip the hike and forego this attraction altogether.
The hike itself is considered somewhat challenging because you must hop and climb over several boulders which can get quite slippery, especially after rainy weather.
Be sure to bring a first aid kit, proper shoes, and don't be afraid to turn back if things get challenging! Always prioritize your safety over fun.
Many who visit the Punalau Falls rave about the sensation of utter tranquility and achievement they feel as they reach the falls. After you get there, be sure to take the time to relax and take a dip in the pool!
2. TWIN FALLS
Located near Wailele Farm, this easily accessible waterfall is located on private land that's open for public visitors. Keep in mind that there is a $10 parking fee and a limitation of 55 parking spots, so you should definitely get here early to beat the crowds!
The Twin Falls are one of the more undoubtedly picturesque waterfalls on this list, falling from utop the ceiling of a cave into a shallow, dark turquoise pool. The greenery surrounding the area is beautiful as well!
While you're here, also consider checking out the rest of Wailele Farm and stopping by the food stands that often pop up near the parking lot. If you want to help Wailele Farm maintain the area's natural beauty, be sure to leave no trace or even donate to them on their website!
If you're interested in a guided tour of the Twin Falls and nearby areas, check here to see the latest prices of a tour to the Twin Falls!
3. ALELELE FALLS
Located along the Pi'ilani Highway, the Alelele Falls stretch 50 feet tall and only require about 15 minutes of hiking to reach. The trail to Alelele Falls stretches a mere 0.3 miles, making it one of this list's most easily accessible options!
This waterfall is surrounded by stunning rock formations and verdant greenery that absolutely makes it a visit! Swimming in the moderately deep pool is also a blast, especially on a hot day!
Do keep in mind that there is a "sweet spot" when it comes to visiting Alelele Falls. If you visit too soon after rainfall, you may have issues with the stream crossings you'll encounter on your way there. The waterfall will be dry and unimpressive if you visit too long after rainfall.
If you happen to be driving along the Pi'ilani Highway, you should definitely check out this waterfall! It's definitely a little "off the beaten road," which means you might even get the area all to yourself!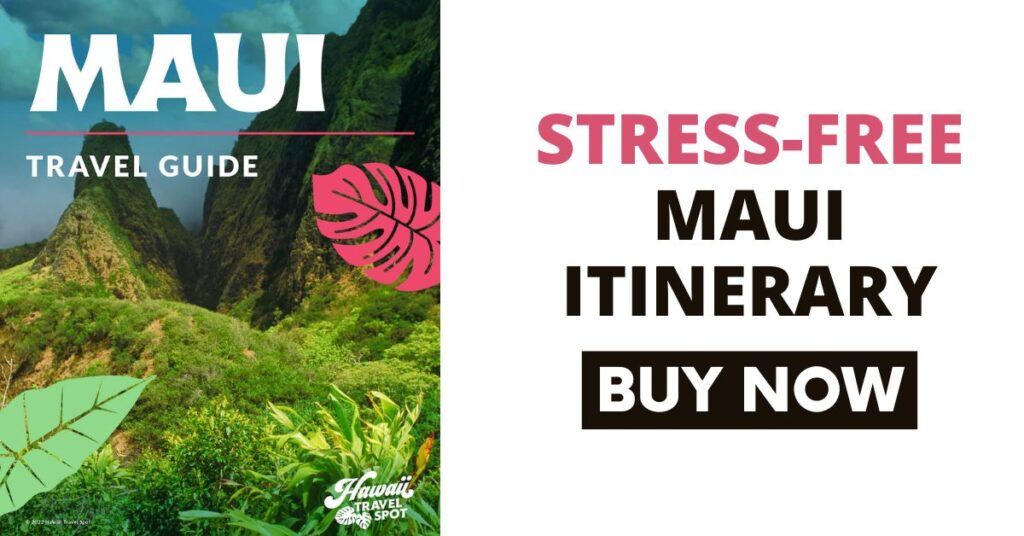 4. WAILUA FALLS
The Wailua Falls is an amazing way to stretch your legs and experience the beauty of nature as you travel along the Road to Hana! Visible from the Maalo Road, you can get closer to the waterfall through a short but steep hike.
As you approach the waterfall, you'll feel thoroughly refreshed by the sensation of its mist on your face. Be sure to take the time to enjoy this sensation of tranquility before you keep driving!
5. WAIMOKU FALLS
Waimoku Falls is definitely one of the best waterfalls on this list. The trail to Waimoku Falls is an unforgettable experience, a 4-mile round trip that'll make you feel like you're one with nature.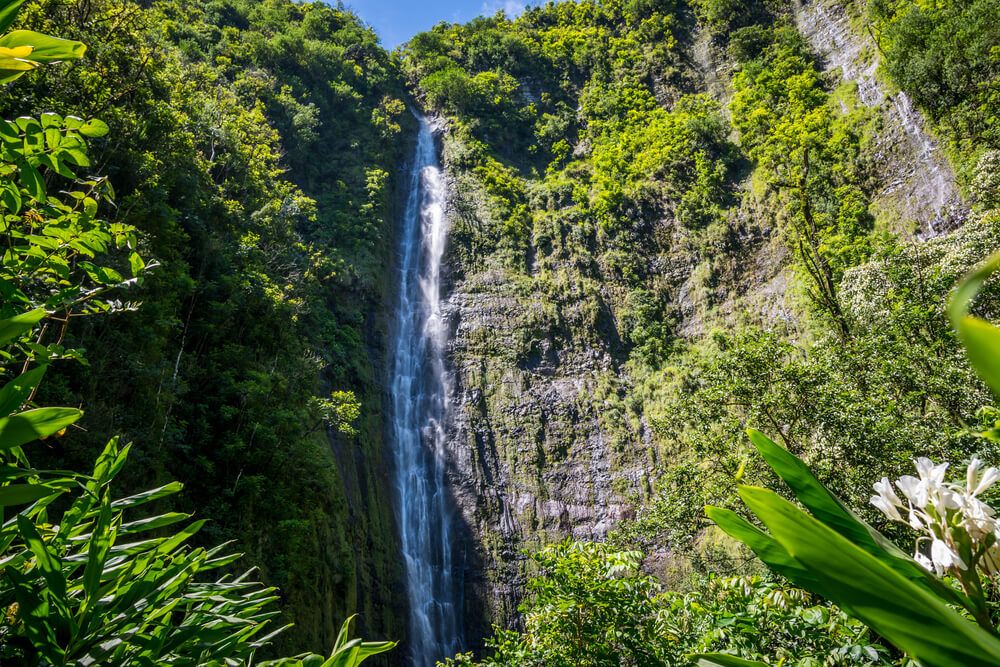 The Pipiwai Trail takes anywhere from two and a half hours to hike and is filled with unique wildlife, beautiful tropical flowers, and, most notably, a beautiful bamboo forest. Be sure to take the time and listen to the wind as it whistles through bamboo – it's a once-in-a-lifetime experience!
Along the length of the trail, you'll also be able to pass by the 185-foot Makahiku Falls, which extends the hike by 1.5 miles but is absolutely worth the extra distance.
As you hike, take some precautions to ensure your safety and well-being. Be sure to take extra caution during the stream crossings as you hike, wear proper hiking shoes, and bring plenty of water so you stay hydrated!
Many describe reaching and viewing the Waimoku Falls as a spiritual experience. Stretching 400 feet tall, it is the second tallest waterfall below the Akaka Falls that you can see without a helicopter.
After you reach the Waimoku Falls, be sure to take the time to relax, enjoy the views, and take a refreshing dip in the swimming holes!
6. HONOKOHAU FALLS
If you're looking for a waterfall so beautiful it seems as though it's from a movie, the Honokohau Falls is the waterfall you should visit. Stretching about 1,100 feet tall, this waterfall is extremely tricky to access by foot and is best viewed through helicopter tours.
Through a birds-eye view of the area, you'll see how the waterfall plummets into holes that form multiple tiers of fast-flowing water. On a good day, you'll even be able to see nearby smaller waterfalls that dot the mountainous terrain!
If you're looking to access the Honokohau Falls through a helicopter tour, keep in mind that you may have to do some searching, as not many operators are willing to tour through this area. Check the latest rates and availability.
7. NAHIKU POND AND NAHIKU LANDING
Just past mile marker 25 on the Hana Highway, there's a steep downhill turn into the Nahiku Road, which itself is beautiful and surrounded by lush greenery. You may even be able to catch a glimpse of the Nahiku Village and ancient rubber trees!
While the waterfall here is quite small, the beautiful natural surroundings, tranquil environment, and isolated experience makes the area worth a visit.
Once you reach Nahiku Pond and Nahiku Landing, you'll be able to enjoy the calm and beautifully clear pond and the unparalleled view of Honolulunui Bay and Wailua. While you're here, be sure to relax in the pond and jump in Tarzan-style with the rope swing!
One of the most unique things you can experience here is the sound of thousands of tiny pebbles being rolled back and forth by the waves. It's truly an all-natural sound that'll make you want to stay forever!
8. MAKAMAKAOLE FALLS
The Makamakaole Falls are sadly only accessible through a 5-mile round trip hike, which many adventurers find challenging to complete. Nonetheless, even if you only complete part of the hike, you'll be treated to the beauty of the trail around you and a faraway view of the waterfall!
The waterfall itself is absolutely worth the journey, consisting of two separate waterfalls that both feed into a refreshing and deep pool!
9. POOLS OF OHEO
Fifteen minutes south of Hana, you'll be able to see the beautiful Pools of Oheo, also called the Seven Sacred Pools. The fees required for car entrance and a 3-day pass are absolutely worth it to see this beautiful waterfall.
After you park, you'll only need to walk fifteen minutes to reach the Pools of Oheo, a multi-tiered waterfall that flows through seven different tiers before eventually reaching the river below.
This waterfall is one of the best places to swim, as the water holes are shallow and refreshing. I'd definitely recommend you arrive well before noon to avoid the crowds, as this is one of the most popular tourist destinations in the area!
While in the area, you can also check out self-guided trails, the rest of Haleakala National Park, and even the Waimoku Falls, another beautiful waterfall on this list!
10. MAKAHIKU FALLS
Stretching 200 feet tall, the Makahiku Falls are best viewed through a short 1 mile round trip hike that leads to an overlook of the area. This is one of the best photo ops on this list, so I'd definitely go here to secure an amazing Instagram post!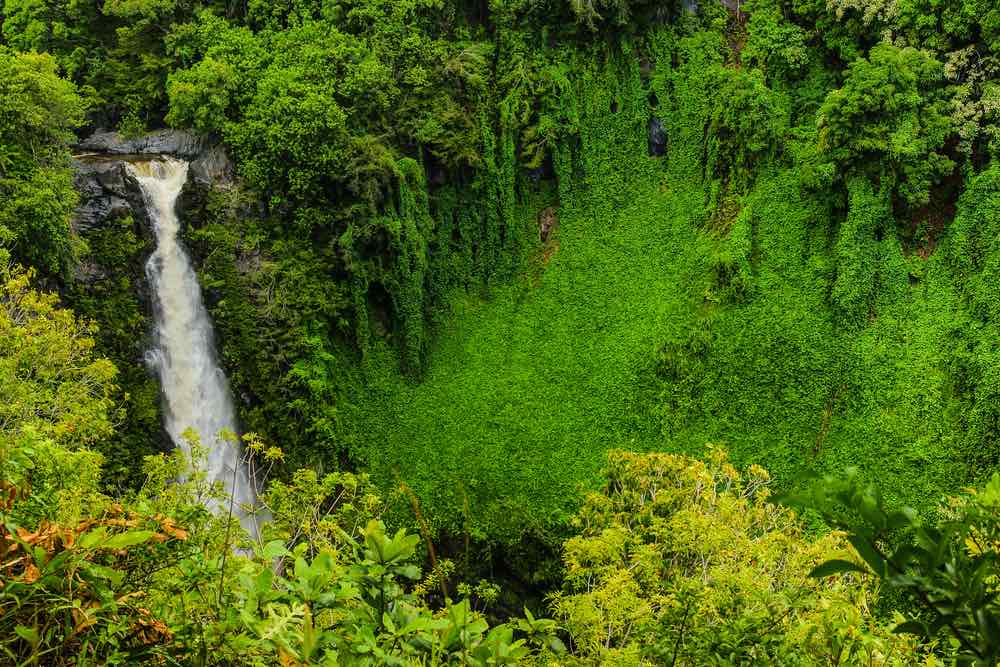 While you're in the area, be sure to check out the stunning "infinity pool," which is given its name due to the illusion that the pool lasts forever while in reality ending at the cliff's edge. Be sure to only swim in it a few days after rainfall, as it can be dangerous otherwise!
11. PUA'A KA'A FALLS
The Pua'a Ka'a Falls are accessible through both the Road to Hana and along the Pi'ilani Highway. This is definitely an amazing place to stretch your legs and refresh yourself as you drive the Road to Hana!
While you're here, be sure to take advantage of some amazing photo ops! One thing to note is that the area can be busy at times, which puts off many tourists.
If you're looking for a less crowded waterfall, consider taking the immensely short hike up to the second waterfall, which is less popular but equally beautiful!
Whether you'd like to stay in the shallow and rocky area or swim out to stand underneath the waterfall, you'll have great fun swimming in the pool and watching people cliff jump!
12. KOPILIULA FALLS
If you want to go off the beaten road, definitely go to the Kopiliula Falls. This stunning hidden gem is accessible through a 2-mile hike that's almost as fun as the falls themselves and is surrounded by rock formations and topped by a charming bridge!
This waterfall has some of the most unique ecological history in the world, originally being a taro grove before becoming a cattle ranch.
As you plan to visit the Kopiliula Falls, keep in mind that you'll have to do several stream crossings through already-strong waters. To avoid flash floods and a fast-flowing, swollen stream, try to go at least two or three days after rainfall.
While you hike, be sure to savor the fantastic views of the Pacific Ocean, mountains and wildlife. As you reach the waterfall, you'll also be treated to a beautiful view of the immense lake it flows into!
While preparing for this hike, pack sufficient gear and proper hiking shoes, as you'll have to climb through smaller waterfalls and do challenging stream crossings. The area is also quite slippery, so I'd pack a first aid kit just in case!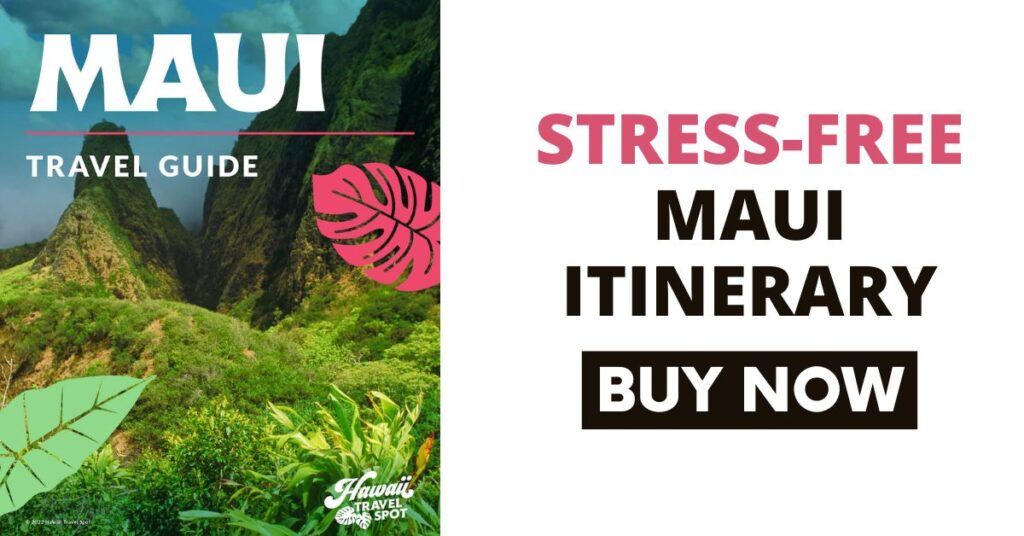 Best Maui Waterfall Tours
If you're looking to escape the stress of planning and organizing adventures or want to learn more about the culture and history of the areas you're visiting, consider checking out a Maui waterfall tour!
West Maui Mountain Waterfall and Horseback Ocean Tour
This Maui waterfall tour takes you on a slow and relaxed journey through the mountains of Maui, stopping by at a private waterfall where you can take a dip and relax. The tour ends at a petting zoo, where you can meet some truly charming animals! Check out the latest prices and more details.
Rappel Maui Waterfalls and Rainforest Cliffs
This waterfall tour on Maui is perfect for adventurous thrill-lovers, as you'll get to rappel along the cliffs near waterfalls and greenery! Check out the latest prices and more details.
Waterfall & Rainforest Hiking Adventure
This Maui waterfall tour takes you on a hiking adventure through East Maui, where you'll tour through several waterfalls! As you hike, your tour guide will tell you all about the history and cultural significance of the areas you're passing. Check out the latest prices and more details.
Best Waterfalls in Maui FAQs
What should I wear on these waterfall hikes?
Seeing as you'll be hiking through rainforests and coming very close to waterfalls, I'd definitely recommend hiking-appropriate clothes such as long pants, a light jacket, and hiking boots. Also be sure to bring spares in case you go swimming!
Is it safe to go swimming in the waterfalls' pools?
In most circumstances, yes! The pools are usually both shallow and calm enough for anyone to swim in, experienced or not. However, I would always be wary if you go after heavy rain, and keep an eye out for "CAUTION" or "DO NOT SWIM" signs.
Which Maui waterfall is the best?
It's impossible to just pick one! Depending on circumstances such as who you're traveling with and how far you can hike, there's definitely some that are perfect for you!
Top Waterfalls in Maui Wrap Up
Now that you know about some of the best waterfalls in Maui to visit, be sure to add a few to your itinerary! No matter what your circumstances are, chances are that you've learned about at least one waterfall that perfectly suits your needs.