If you are a lover of chocolate, you have to keep looking down to learn more about some of the best Hawaii chocolate farms you need to check out.
This list of the best Hawaii chocolate farm experiences was written by Marcie Cheung (a Hawaii travel expert) and contains affiliate links which means if you purchase something from one of my affiliate links, I may earn a small commission that goes back into maintaining this blog.
Chocolate lovers, this one is for you!
Did you know that Hawaii is the only place in the US where cacao can grow? And that means some of the best chocolate in the world comes from these islands.
If you want to learn more about where your chocolate comes from (and maybe get a taste test), then keep reading.
You might wonder about my credentials – well, I've been to Hawaii 40+ times, ensuring an expertise that stands out.
There are tons of farms on the Big Island, but there are also farms located all across the Hawaiian islands. No matter which island you're on, you're sure to find a delicious chocolate farm waiting for you.
Keep scrolling for my list of the best chocolate farms in Hawaii worth checking out!
See the top-rated Hawaii chocolate tour HERE!
Want to skip all the planning and just access my detailed Hawaii itineraries complete with daily schedules, fun activities, and travel hacks? Click the button below.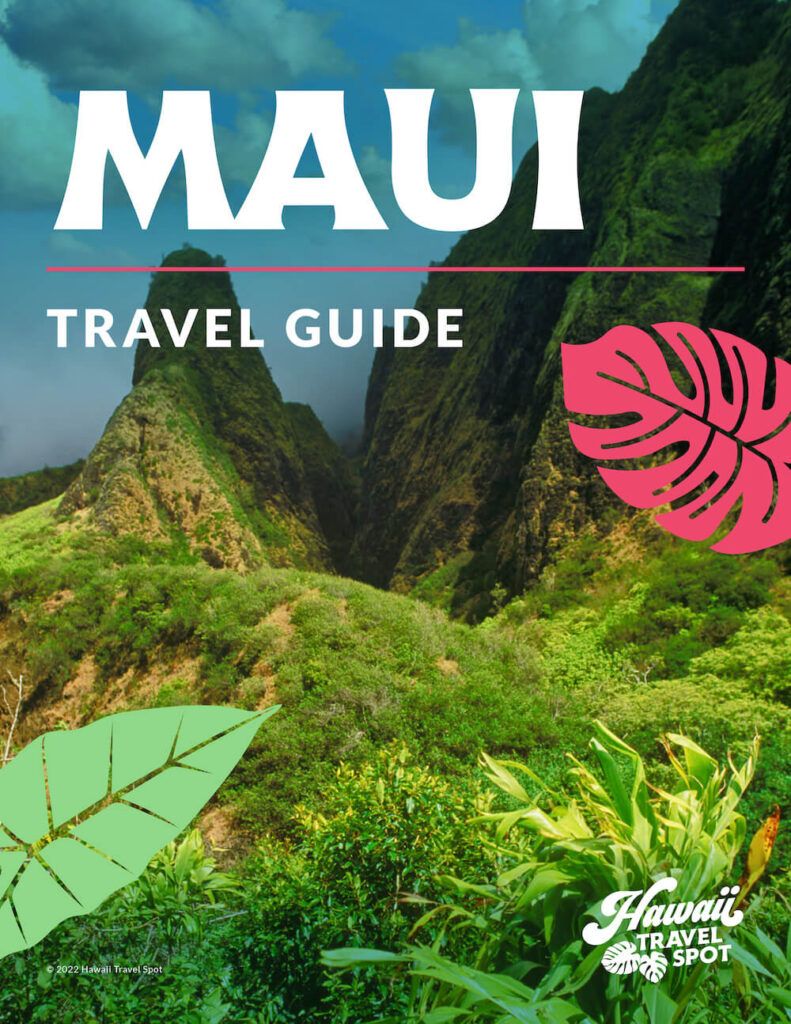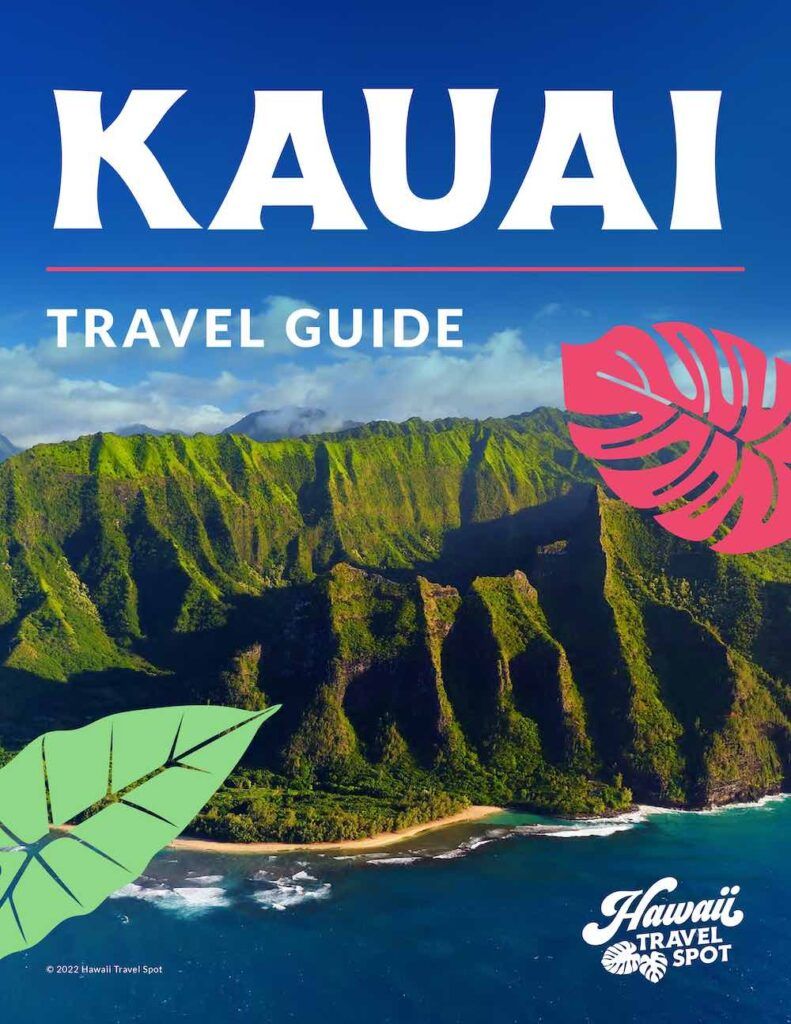 Which Hawaiian Chocolate Farms Are Worth Seeing?
Here are some of the best Hawaii chocolate farms that you need to check out to get your sweet fix!
1. 21 Degrees Estate Cacao Farm
If you want to get a taste of some authentic and local chocolate, the two-hour Cacao Farm & Chocolate Tasting Tour is a great way to learn more about how exactly chocolate is made.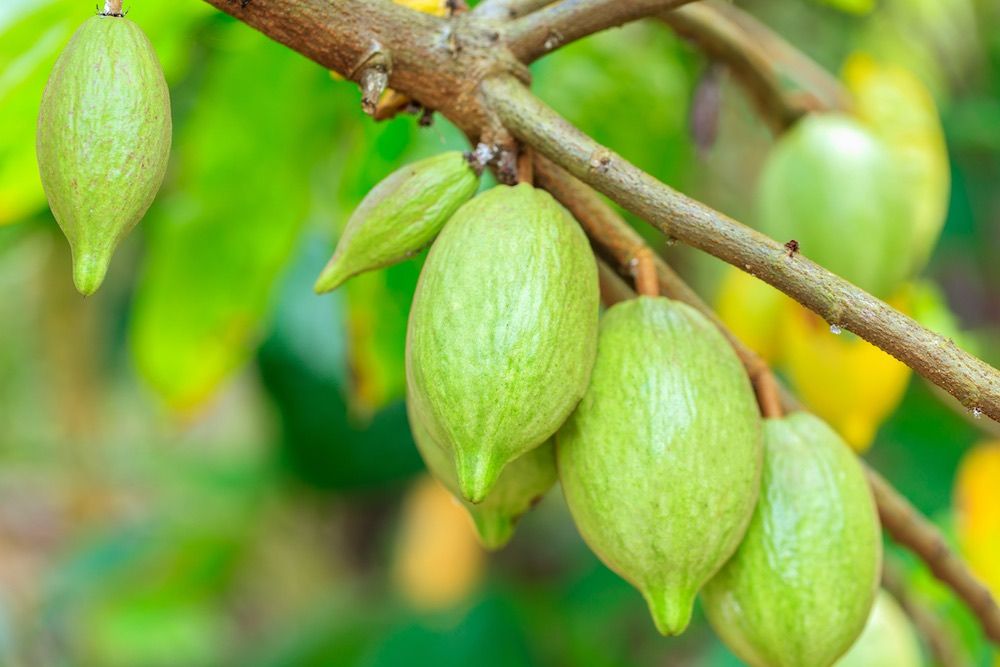 As you go along the tour, you will get to learn more about the farm's history along. Plus, you'll find out what exactly "canoe crops" are. These were first brought to the island by the original voyagers when they set foot on the islands. Check the latest rates and availability.
The coolest part is that you will even be able to get a taste of some of the amazing chocolate that they have on the farm. If that wasn't enough, they even have baby goats that you can interact with in the Yoga with Goats and Chocolate Tasting Tour!
2. Mauna Loa Visitor's Center
Having recently opened back up as of September 2022, the Mauna Loa Macadamia Nut Factory Visitor's Center is one of the coolest things you can check out!
They operate as a macadamia factory but with the special twist of coating them in chocolate. And they have tons of small gift packs that you can use as the perfect gift.
3. Lavaloha / Mahilani Estates Cacao Farm Tour
The Lavaloha Farm is found just a couple of minutes away from Hilo. Here you can learn all about the chocolate-making process on the Tree-to-Chocolate Tour. And you will even get to take a pod from one of the trees as a souvenir!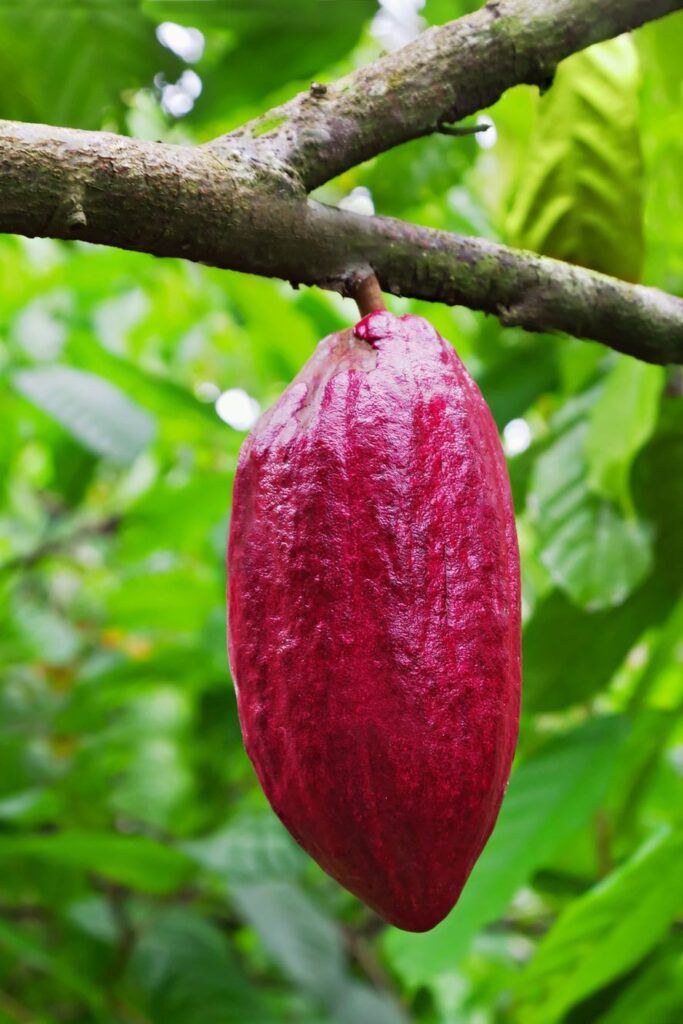 Find out the steps taken to make a chocolate bar along with what challenges the cacao industry is facing today. You will learn and do so much on this tour that only lasts an hour! Check out my in-depth review of it HERE.
Also, you hear the secrets of why cacao beans in Hawaii make some of the best chocolate in the world. Plus you'll find out the trick to getting rid of the bitterness that is often characteristic of raw cacao.
The guides here are super knowledgeable and will teach you all the things you might want to know about how chocolate here is made. And of course, you get to finish the tour up with some delicious complimentary samples of chocolate. Each person is going to be $39 for admission, and travelers under the age of 12 will be $7.
4. Ku'ia Estates Chocolate Factory
One of the coolest Maui chocolate tours is the Ku'ia Estates Chocolate Factory in Lahaina. They will give you all of the production details about chocolate. It starts at the farm and ends at the bar. Check the latest rates and more information.
There are tons of activities for travelers of all ages. You will get to learn how these seeds go from the ground to the most fantastic chocolate! In the end, you'll even get the chance to try out all the different kinds of chocolate flavors!
5. Lydgate Farms Kauai's Premier Chocolate Farm
While this cocoa farm is small, they have the huge goal of making chocolate bars in a sustainable way that will help preserve life for generations in the future.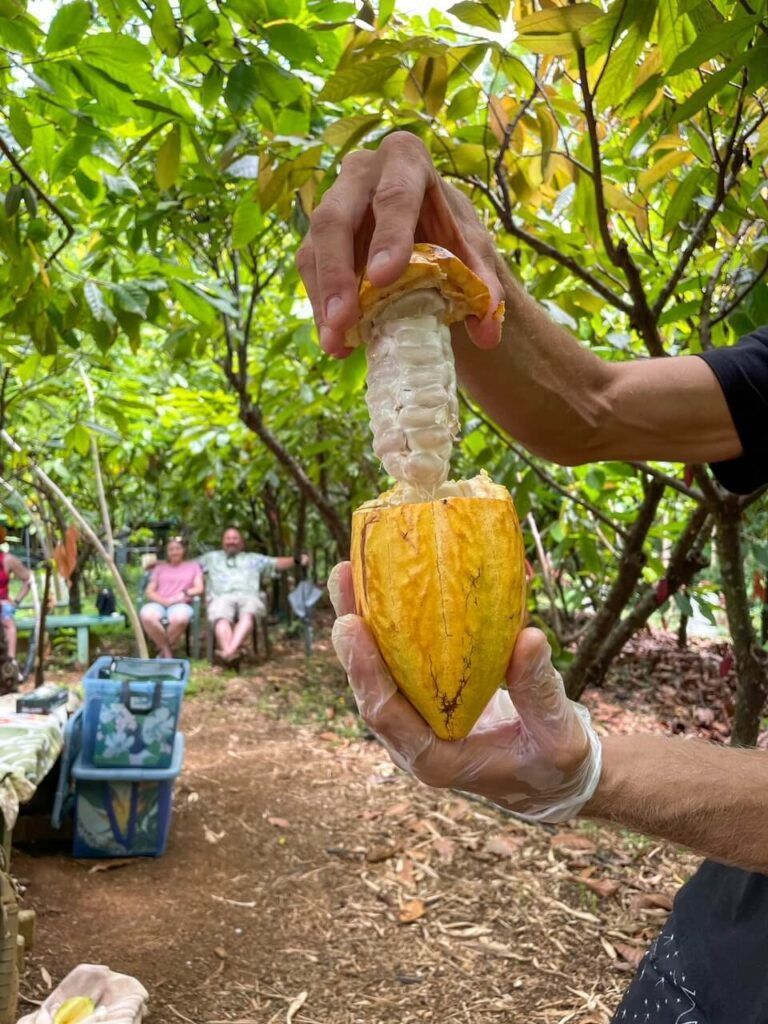 Their tour is extremely popular with all kinds of travelers. Their in-depth three-hour tour costs adults $125 and it's $95 for kids older than seven.
You'll take a look at their amazing botanical gardens where the cocoa is grown. Plus you'll even get the chance to get a taste of their famous honey. And they have tons of delicious fruits grown right on the farm.
The farm is open year-round, rain or shine. But it is a good idea to check the website before you make the final choice. Check out my full Kauai chocolate farm tour review.
6. Puna Chocolate Co
Puna Chocolate Co has tours available in both Hilo and Kona. So you can pick which site is going to be the best for you. On a 1.5-hour hour tour, you will hear about the chocolate production process and get to taste it for yourself.
The Kona Cacao Orchard Tour will show you how cacao trees go from beans to bar. There is not a dearth of trees. The entire farm is home to more than six hundred cacao trees! Each adult will be $30 for a tour.
At the Hilo location, you will find that the Kurtistown orchard has over 1800 cacao trees. Plus they have other cool plants like banana trees and coffee trees. And if you love animals, they even have a family of goats on the farm. It is going to be $25 for each adult to go on the Hilo Caco Orchard Tour.
7. Honoka'a Chocolate Co
The fantastic hand-crafted chocolate on the Honoka'a Chocolate Co farm is just as stunning as the incredible views you can see around the property.
Despite being a small, family-owned company, every step of the way in the chocolate-making process, you can see their dedication to a quality customer experience.
The farm's tours are $60 for each person, and travelers under 10 years old pay $30 for each person. Kids under five can get in for free.
The farm organizes Big Island chocolate tours and tastings that cost $60 per person. Children under the age of 10 pay $30 per person. But it's free for kids under 5 (the tasting isn't included).
You will get a firsthand look at all the amazing produce that is grown on the farm, with all sorts of exotic fruits and plants, like avocadoes and turmeric. They even grow different kinds of sugar cane!
Don't worry if you were wanting a taste of chocolate. You will get a taste of chocolates from different countries so you can taste firsthand how soil affects the flavor of this tasty treat.
8. Mauna Kea Cacao
If you want to learn even more about the history and flavor of Hawaain chocolate, the Mauna Kea Cacao Farm tour is a great way to see this firsthand.
The farm uses a special heating process that molds the chocolate paste into chocolate with the perfect texture to truly make the flavor shine.
After all of this, you are left with some deliciously sustainable chocolate!
On their tours, you will get to learn about the process of how cacao is grown. You'll even get the chance to sample some fresh cacao from one of their 1,800 cacao trees.
The entire hour-and-a-half tour is $40 for adults, $15 for travelers under 17, and free for those under the age of five.
9. Hana Gold Chocolate
Francine Frost was inspired by an incredible article they read detailing Waialua Chocolate. This is why she ended up founding Hana Gold so she could try the cacao growing process herself.
The Hana Gold Plantation was originally created in 1978 and has been creating natural and luxurious chocolate products ever since.
You can visit the plantation on the Hana Coast of Maui and learn all about how the cacao beans are provided excellent fertilizer by the naturally nutrient-rich volcanic soil. This is their secret to creating some of the most unique chocolate in the world.
You can enjoy their chocolate knowing that the process to make it was environmentally friendly. You can learn more about the plantation by emailing [email protected]. Alternatively, you can call them from Monday to Saturday.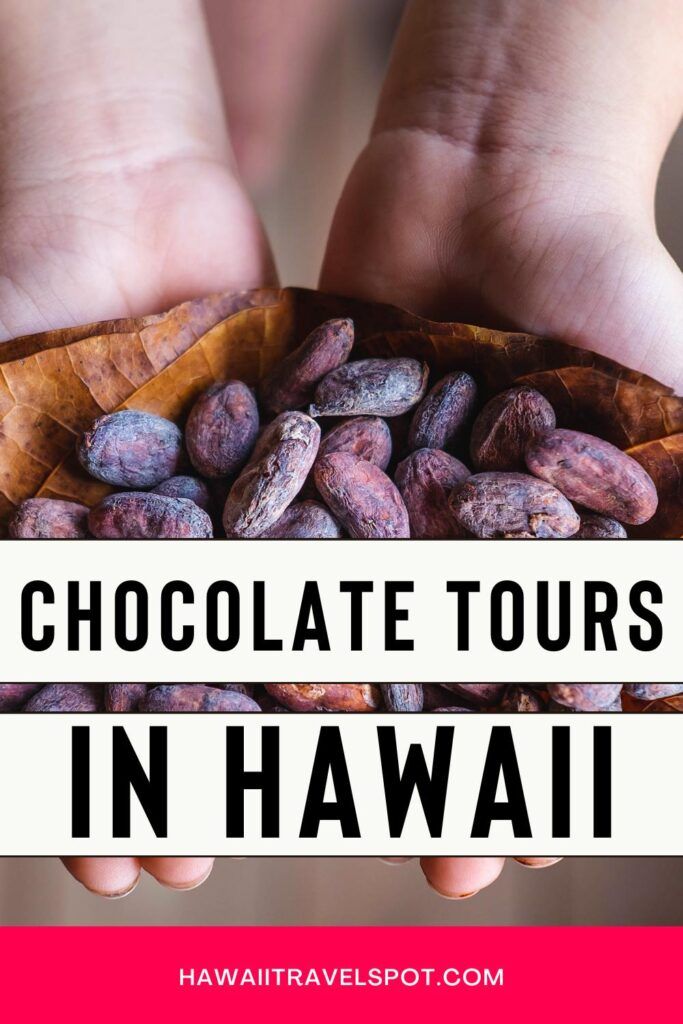 Hawaii Chocolate FAQs
Where is chocolate grown in Hawaii?
While cacao can be found all across the island, the largest producer is the Dole Food Company on Oahu's North Shore, which is the largest in the state at a whopping 80 acres!
How much cocoa does Hawaii produce?
According to a Hawaiian Cacao Survey in 2020, Hawaii harvested about 133 acres, which equates to about 32.8 tons of total dry beans!
Is cacao native to Hawaii?
Despite Hawaii's reputation for cacao, it isn't a plant native to Hawaii and was likely first introduced from a Guatemalan import.
Where Can You Buy Chocolate from Hawaii?
There are all sorts of places you can get chocolate online, but one of the most popular places you can get chocolate-covered macadamia is from Mauna Loa found here.
Big Island Candies is also another great place to get chocolate, and you can take a look at some of their chocolates here.
If you want a taste of some more luxurious chocolate, you can go to the Original Hawaiian Chocolate Factory, which is on the Big Island. You can also order chocolate from the comfort of your own home here.
Hawaii Chocolate Farm Wrap Up
Hopefully, we've inspired you to check out a chocolate farm in Hawaii on your next vacation! We've visited many of them and it's always fascinating and delicious!