Do you need some advice on planning your first trip to Kauai? Check out this list of the best resorts in Kauai for families!
This list of the best resorts in Kauai for families contains affiliate links which means if you purchase something from one of my affiliate links, I may earn a small commission that goes back into maintaining this blog.
There's no better place than Kauai for kicking back, relaxing, and breathing in the salt-infused Hawaiian air.
Rightfully referred to as the Garden Isle thanks to the tropical foliage that blankets the Island, Kauai is home to breathtaking beauty, tons of adventure, and luxury.
Yes, the island and its emerald cliffs are most famous for their adventurous hikes and amazing diving points, but Kauai isn't just for the daredevils and thrill-seekers. It also offers visitors the chance to unwind in nature's lap, away from the chaos of the more touristy locations.
Kauai's top resorts offer just this and more, but I don't blame you if you're still stuck wondering about where to stay in Kauai with kids. There's a lot to consider before you can pick the perfect place for your family vacation to Kauai.
This list of best resorts in Kauai for families covers everything from kid-safe activities to healthy dining options, so read on!
Don't have time to read a bunch of Hawaii blog posts and reviews? Here are some of our top picks for visiting Kauai with kids.
Best Kid-Friendly Kauai Tours/Activities
Mountain Tubing (this is a low-key adventure for kids ages 5+ and it's a personal favorite for my kiddos)
Private Surf Lessons for Kids (this is the BEST way for your kids to learn how to surf in Hawaii)
Kayaking Tour with Waterfall Hike (this is an awesome half-day adventure for older kids)
Luau Kalamaku (you can do a little train ride and feed farm animals before the luau)
Koloa Ziplining (this is the longest zipline on Kauai and a must-do for adventurous families)
ATV Ride (my kids LOVE this tour because you can do a little fishing, go exploring, and you'll get DIRTY)
Best Kid-Friendly Kauai Resorts
Grand Hyatt Kauai (this is a personal favorite for my kids because of the water slide and saltwater lagoon)
Royal Sonesta Kauai (my kids LOVE the pool here because it's the largest one in Hawaii)
Hilton Garden Inn (we like renting the cottages here because you can walk to a massive playground)
Want to Rent a Car in Hawaii?
One of the best places to rent a car in Hawaii is Discount Hawaii Car Rental because they get the best rates from top national companies like Alamo, Dollar, Thrifty, Avis, Enterprise, Budget, and Payless.
Want to skip all the planning and just access my detailed Kauai itinerary complete with daily schedules, fun activities, and travel hacks? Click the button below.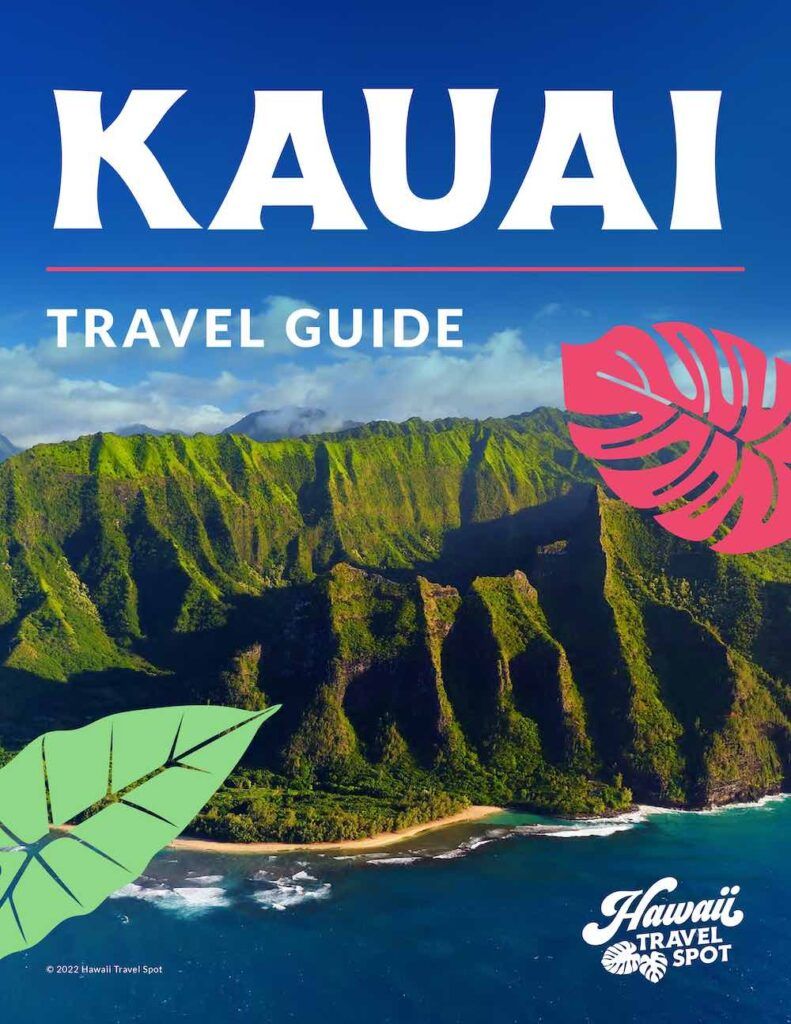 What are the Best Resorts on Kauai for Families?
1. Grand Hyatt Kauai
When staying at the Grand Hyatt Kauai, you don't have to worry about keeping the children entertained.
Located at the edge of the southern shore of Kauai, this luxury resort is packed with enough to make you want to extend your stay! If you're looking for the best resorts in Kauai for families, Grand Hyatt definitely takes the cake.
Sprawled out over 50 acres of pristine greenery along the coast of Poipu, this resort is known for its grandeur above all else. Its, well, "grand" architecture will blow you away as soon as you step foot in the lobby. Check the latest rates and availability.
After being greeted by the resort's two resident parrots in the courtyard, amble over and check out the koi pond. Kids love grabbing a bag of koi feed and watching the fish swarm around them in hues of vibrant orange.
Grand Hyatt Kauai offers both luxury rooms and suites, with mountain, ocean, or pool views, depending on what you prefer waking up to.
If you're worried about getting stuck in a ground-level room, don't worry, because you'll be trading in your views for easy access to the outdoors. It's where you'll be spending most of your time anyway. Check resort rates.
Grand Hyatt Kauai Restaurants
Start your mornings at Ilima Terrace, the on-site restaurant that serves the resort's breakfast buffet. Take in the panoramic view of the shoreline as you enjoy a huge breakfast with the sound of crashing waves to keep you and your family company.
Tidepools is the number one popular restaurant at Grand Hyatt Kauai and you'll recognize it by its thatched roof. However, getting a reservation here isn't easy, so be sure to book yourself a table at least three months in advance.
Things to do at the Grand Hyatt Kauai
The resort offers golf, a spa, and a fitness center for adults looking to take it easy or stay active. Babysitting facilities are available for an additional surcharge if you need to steal away for a bit.
The kids will love the water playground, complete with a waterslide, an adult pool, and even a lazy river that is rarely busy. It's like a mini-water park, minus the rush!
Before you spend your whole day by the pools, chalk out some time to stroll through the well-maintained gardens and walkways.
At the edge of the lush greenery lies Shipwreck Beach. It's perfect for evening walks, and if you're lucky, you may even catch some seals and turtles lounging on the white sand beach.
Note that swimming at the beach is not allowed due to strong currents, but don't be too disheartened just yet. The resort makes up for it with its very own giant man-made saltwater lagoon!
You'll also be excited to know that Grand Hyatt hosts an amazing luau at the lagoon's banks, with exotic art forms and performances from the Polynesian culture to keep you enthralled throughout the night (well, until 8 p.m. anyway!).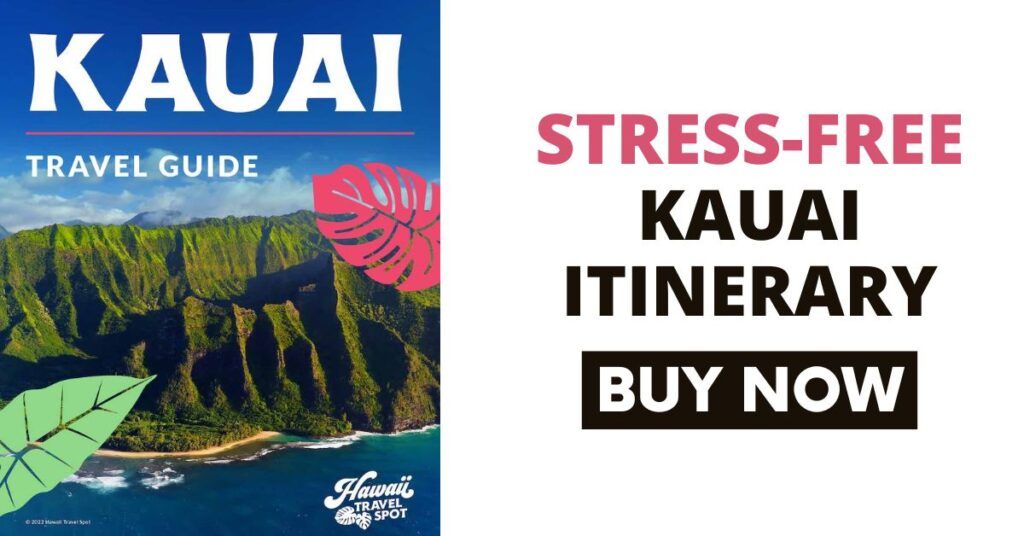 2. Koloa Landing Resort
If out-and-out luxury is what you want to treat your family to on your vacation, Koloa Landing Resort is the place to go.
Recently added to Marriott's Autograph Collection, this resort sits tucked away amid the foliage of Poipu and offers some of the largest accommodations among its rivals.
The resort's lavish suites, grand villas, and luxurious studios come with world-class kitchenettes, private washer and dryer facilities, and private verandahs or balconies to provide you with the comfort of home with a sprinkle of grandeur.
With the view of the cliffs and the oceans to greet you, you will never tire of this Hawaiian gem. Check the latest rates and availability.
Things to do at Koloa Landing Resort
If Koloa Landing Resort's architecture and state-of-the-art amenities don't impress you enough, the landscape surely will.
Set on different levels, this resort's grounds are shaped around the island's foliage with pathways and rocks incorporated. You'll find a massive signature pool with swim-through waterfalls, caves, and slides that take you through rocky tunnels.
In addition to this, a family lagoon pool and an adult pool are both perfect for relaxing. Check resort rates.
While the resort does not have private access to the seafront, Poipu Beach is only half a mile away, and yes, the beach is swimmable. Extend your stroll, and you'll find fantastic shopping and dining experiences near the resort and the beach.
Koloa Landing Resort Restaurant
Not in the mood to get wet but still want to enjoy the sights? Use the lounge chairs by the pool to bask in the sun, or head to Holoholo Grill by the pools.
It's a popular spot among visitors if you want to try out modern American cuisine combined with traditional Hawaiian delicacies. Just grab a drink for the heat and take a seat.
3. Hilton Garden Inn
Looking for the complete Hawaiian package? Check out Hilton Garden Inn, one of the most exotic locations to spend your vacation without compromising on luxury or comfort.
Designed to give you and your family the most authentic Polynesian experience, the Hilton Garden Inn is located on the seafront at Wailua Bay and has local marketplaces and shopping centers within walking distance.
Hilton Garden Inn provides you with more than 200 options to choose from, including rooms, suites, and even cottages. Cottages have a dining area, a mini kitchen with all the necessary appliances, and 2 bedrooms, making them a convenient choice for families.
Rooms at the main hotel can give you a more majestic view of the rocky cliffs and the infinite sea ahead of you, so choose wisely. Check the latest rates and availability.
Things to do at the Hilton Garden Inn Kauai
Hilton Garden Inn offers free parking, wifi, a modern fitness center, a golf course, a playground for kids to play in, and two outdoor pools. The resort is pet-friendly too, so if you have a furry member in the family, bring them along!
Tuesday nights are famous for splendid Ahi Uila fire shows, a part of Hawaiian culture that is still alive today! Take the whole gang for a hair-raising event and watch the kids marvel at the pyro dancers.
What makes Hilton Garden so special, apart from its facilities, is its proximity to a wide number of iconic spots nearby.
Lydgate Beach and the Sleeping Giant Trailhead are just two popular options among the many that are available to you, depending on what your family's idea of fun is.
Lihue Airport is also only a short 10-minute drive away from the property, making getting to and from the hotel a breeze.
Hilton Garden Inn Restaurant
Afterward, head to Mamahune's to take your taste buds on a journey through the flavors of Polynesia. Kids will get to choose between a grilled cheese sandwich, a manini burger, and chicken fingers off the restaurant's keiki menu.
4. Royal Sonesta Kauai
Royal Sonesta is located on Kalapaki Beach and is a popular choice for destination weddings and honeymoons.
With most rooms and suites facing the sea-kissed golden shore, it's a no-brainer why it is one of the best Kauai resorts for families looking for some peace as well.
Walking amid reflecting pools and botanical gardens with the sounds of the shore in the background qualifies as one of the most serene moments you'll experience on your Kauai family vacation.
Much like the atmosphere, the staff and services at the resort are also inviting and pleasant. You'll find that the resort grounds are maintained exceptionally well. So well, nearly every corner exudes the island's scenic beauty. Check the latest rates and availability.
Things to do at the Royal Sonesta Kauai
Once you've had your share of relaxation, get busy exploring the resort's many other exciting features, starting with the largest one-level pool in all of Hawaii.
With hot tubs, mini slides, and heating during the winters, the humongous pool complex is one you just have to experience if you've got water babies with you. The resort also has a luxurious spa that adds to the coastal zen atmosphere.
Curiously enough, the largest and only elevator in the state and the largest buildings are right here at the Royal Sonesta too, so check those off your list while at it!
Cinephiles will recognize the coastline from many famous movies like Jurassic Park, Raiders Of The Lost Ark, and Pirates Of The Caribbean. For a fun evening activity, spend some time recreating scenes with the kids during your sunset strolls.
Royal Sonesta Kauai Restaurants
Duke's and Kukui's are perfect for casual dining. They feature all the usual global classics along with the local Hawaiian specialties and offer keiki menus to make the dining experience fuss-free.
In addition to these, the resort also has three other dining options. There's also a luau that is hosted every Monday night. Make reservations in advance by calling the concierge and experience Hawaiian food and culture like never before.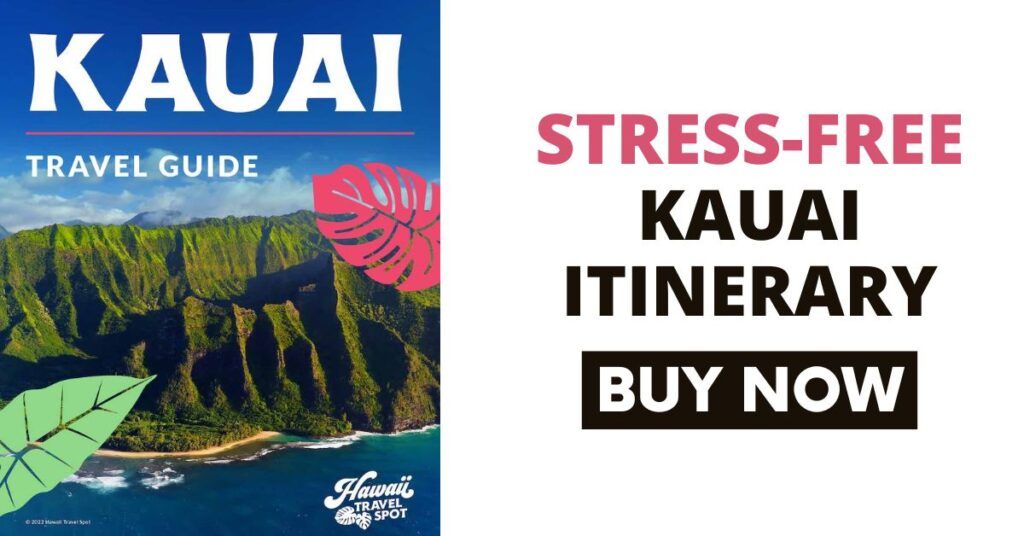 5. Westin Princeville
There is no shortage of Kauai resorts on the beach, so what about a vacation in the sky instead? Set atop a cliff 200 feet above the ocean, the Westin Princeville is considered one of the best family resorts in Kauai for offering exactly this.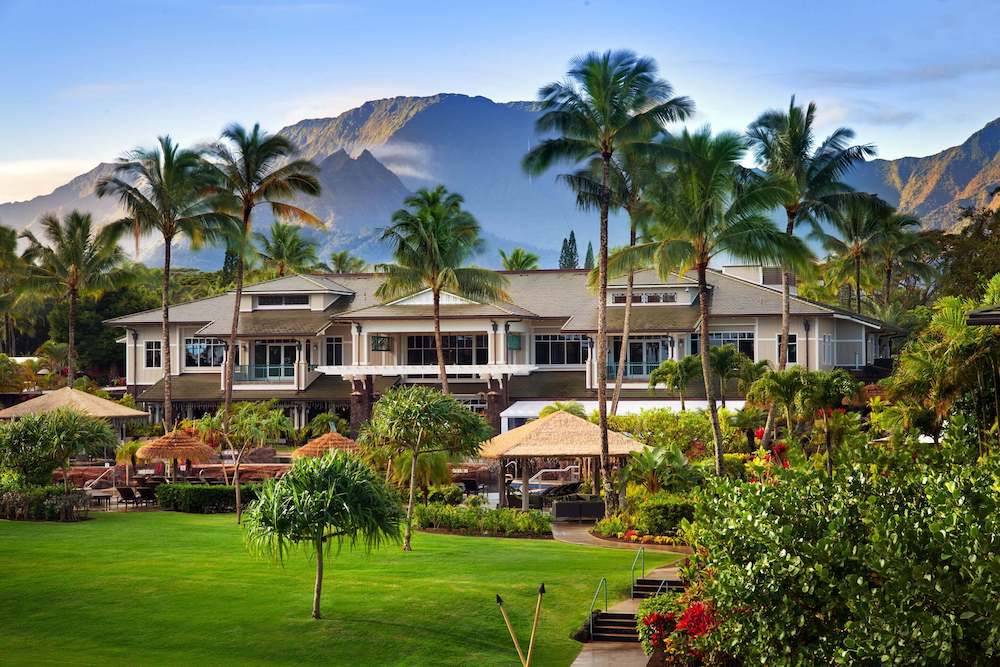 The resort consists of villas that offer generous accommodations with world-class facilities. With private lanais and welcoming views, it's clear that the villas here have been designed keeping aesthetics at the forefront.
A fully equipped kitchen, multimedia options, and a washer and dryer facility are all available within the comfort of each private villa. It's a setup that is guaranteed to make any family feel right at home. Check the latest rates and availability.
Things to do at the Westin Princeville
The Westin Princeville provides an activity schedule with fun island activities for everyone in the gang. Lei-making sessions, spa facilities, and nature walks are just naming a few.
Little ones will enjoy storytelling sessions where they will get to learn more about the island through some traditional folklore. Evenings are brought alive with a luau that showcases performances by local artists.
The swimming pool complex at the Westin Princeville features multiple plunge points and a separate kids' pool. Be sure to visit the infinity pool in the evenings to catch incredible Hawaiian sunsets reflected in the pool waters.
With the sea framing the pool in the background, it's very nearly as good as being right on the beach!
The resort has easy access to the famous Hanalei Lookout. Here, visitors get splendid views of waterfalls, Taro farms, gorgeous sunsets, and sometimes even a rainbow.
Regarding adult recreational activities, the Westin Princeville Resort & Spa offers jogging trails in addition to other sports and leisure activities. These include access to the golf course, tennis club, and fitness center.
From enjoying drinks while looking out over the ocean below to trying out action-packed activities like paddleboarding, it's easy to make the most of your vacation when staying at the Westin Princeville.
Westin Princeville Restaurants
After a fun and exhausting day, head to Nanea Restaurant & Bar for a laid-back, hearty meal.
If you're in the mood to cook something back at your villa or slap something on one of the barbecue grills found on the property instead, make a trip to the Princeville Market.
Best Kauai Family Resorts Wrap Up
Now you know some of the best resorts on Kauai for families worth staying in during your next Kauai family vacation. With kids clubs, fantastic pool areas, and on-site restaurants and luaus, these are sure to create a vacation to remember!