Planning a trip to Oahu? Keep on scrolling to find amazing things to do in Haleiwa Hawaii, the cutest North Shore Oahu town!
This list of things to do in Haleiwa Hawaii contains affiliate links which means if you purchase something from one of my affiliate links, I may earn a small commission that goes back into maintaining this blog.
Looking for fun activities in Haleiwa Hawaii? Well, there's a wide variety of things to do.
North Shore Oahu has many beautiful towns, and Haleiwa is no exception.
Haleiwa has been known globally as the hotspot for all things surfing and is a part of Hawaii's Seven-Mile Miracle. Haleiwa has some of the best surfing waves the world has to offer, and surfing fanatics from across the globe flock to Hawaii just to compete in the surfing contests held in this town.
But even if you aren't a surfer, Haleiwa is still worth the visit! If you want to embrace beautiful beaches, invigorating waves and surfing, and beautiful scenery, there are still plenty of fun things to do in Haleiwa during your stay.
There's something for everyone here. There are glistening beaches and waterfalls for the explorers and relaxers, delicious food trucks and restaurants for those who like to eat, and so many more fun things to do in Haleiwa; there's always something to do or explore.
Don't have time to read a bunch of Hawaii blog posts and reviews? Here are some of our top picks for visiting Oahu.
Popular Oahu Tours/Activities
Favorite Oahu Resorts/Hotels
Want to Rent a Car in Hawaii?
One of the best places to rent a car in Hawaii is Discount Hawaii Car Rental because they get the best rates from top national companies like Alamo, Dollar, Thrifty, Avis, Enterprise, Budget, and Payless.
Want to skip all the planning and just access my detailed Oahu itinerary complete with daily schedules, fun activities, and travel hacks? Click the button below.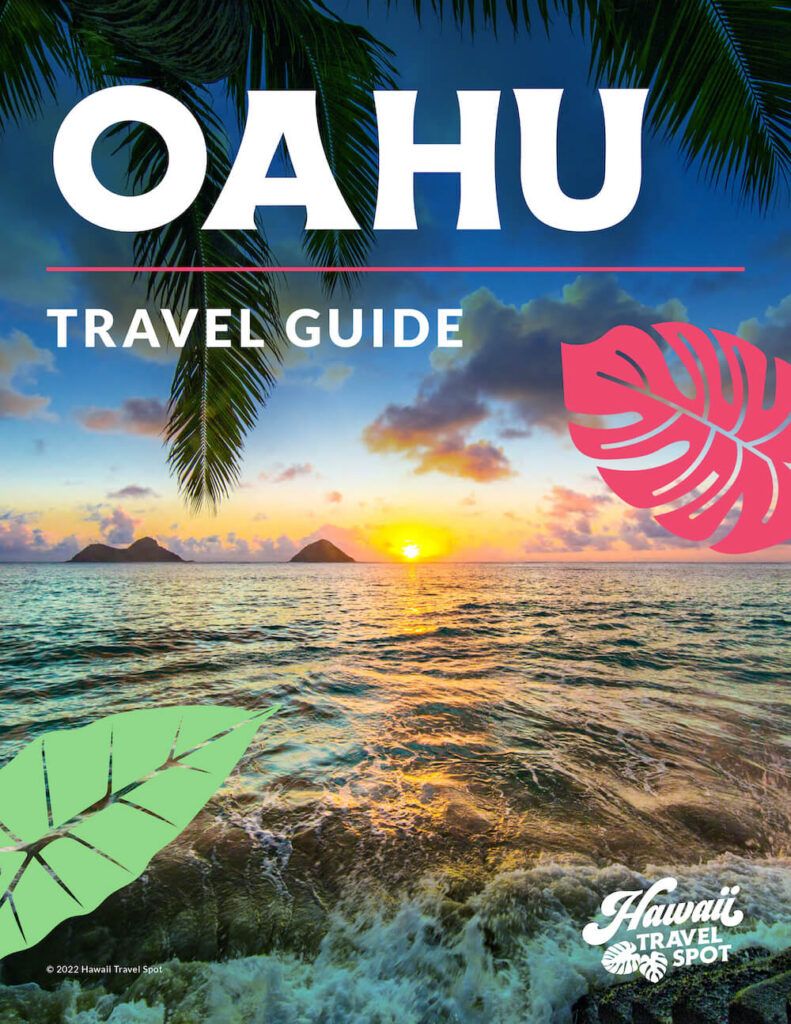 33 Things to do in Haleiwa
If you're planning a North Shore day trip from Waikiki, you should drive up when it's very early in the day. As it nears midday, the traffic will get larger and larger, so the earlier you get on the move the better.
Likewise, you should also plan your entire day at Waikiki, including eating dinner. That way, the traffic rush can calm down before you drive back.
And while you're at it, you should take advantage of just how many things there are to do in Haleiwa! If you want to learn more about all the fun you can have if you visit Haleiwa, keep scrolling down and be ready to update your vacation planner.
1. Go Shopping
As anyone would guess, one of the best things to do in Haleiwa, Hawaii is go shopping! It's just common sense.
Hawaii is famous for its beautiful products from its islands, and Haleiwa is home to many shops with these goods, all locally crafted and designed here. These boutiques are great for picking up souvenirs, gifts for your friends, or just taking in some of Hawaii's culture.
Here you can expect art galleries, surf shops, home decor stores, places for high-end specialties, souvenirs, and more.
If you're looking for some surfing gear, Haleiwa tends to have better prices than the shops in Waikiki.
2. See Sea Turtles at Turtle Beach
If you're an animal lover (especially a turtle lover) you definitely want to check this beach out if you're looking for things to do in the North Shore.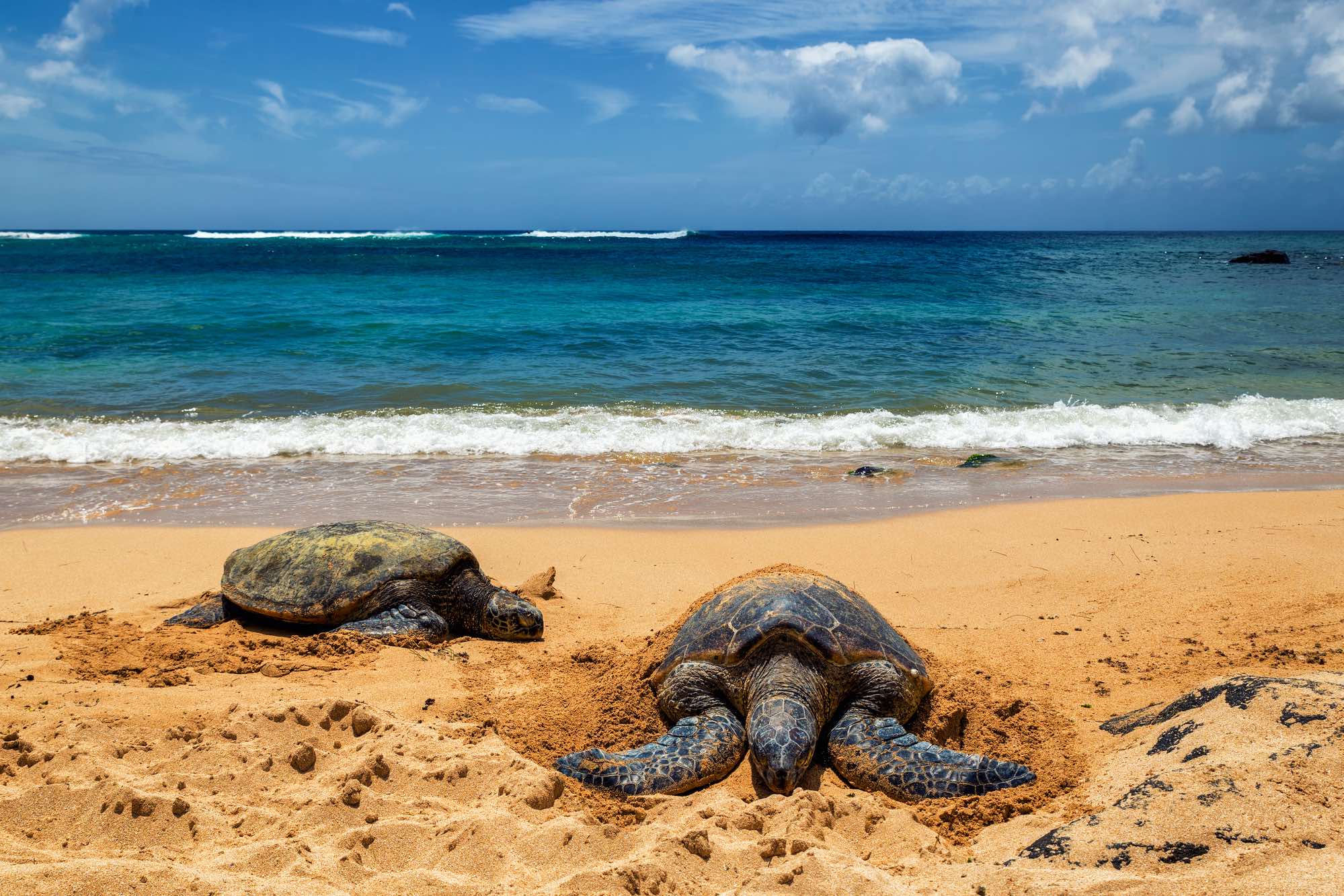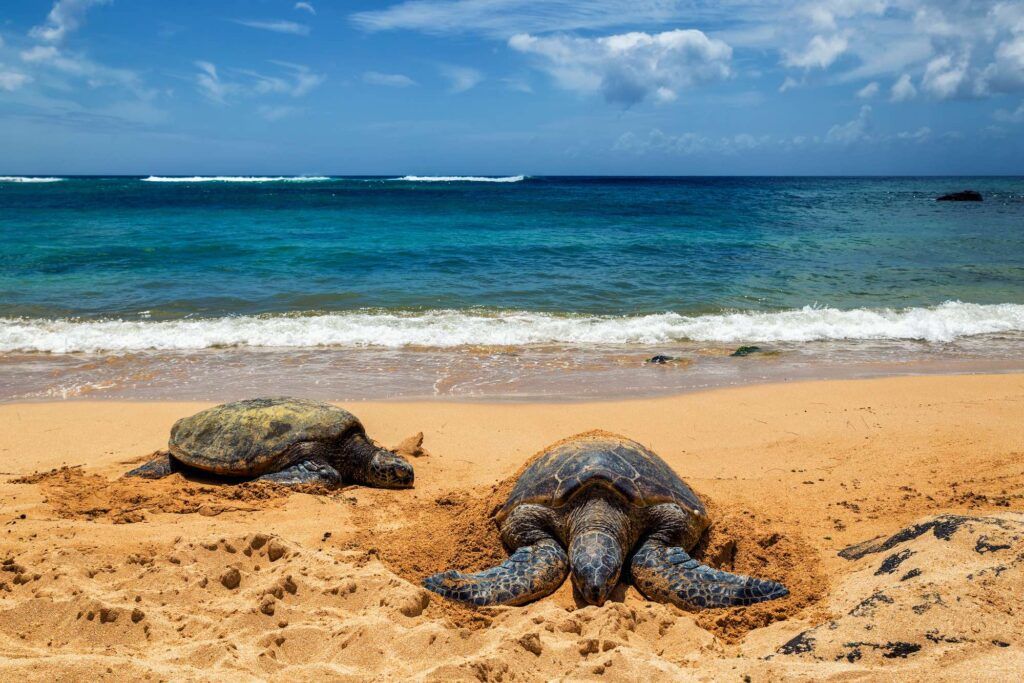 Laniakea Beach, also known as Turtle Beach, is best known for being one of the best beaches to see turtles in the world. Chances are that you'll be able to spot multiple sea turtles (some big and some small) all resting and soaking in the sun.
Though these beautiful sea creatures are out on the beach for anyone to watch, you must respect the turtles and maintain a healthy distance away from them.
It is unlawful to harass or disrespect the turtles, so be mindful when you get close to one.
3. Stop By a Shrimp Truck
Exploring the food trucks Haleiwa has to offer is definitely something you should do in the North Shore if you're a foodie. In recent times, the popularity of shrimp trucks has risen exponentially so much so that these shrimp trucks have become a North Shore specialty!
The most famous, must-visit shrimp truck is Giovanni's. You can get four different foods here: The "No Refunds" Hot & Spicy Shrimp, Lemon and Butter Shrimp, the Shrimp Scampi (shrimp coated with tons of garlic), and a Jumbo Garlic Hot Dog.
All dishes come with two scoops of rice.
When I go, I usually share a Lemon Butter Shrimp and a Shrimp Scampi with a side of mac salad (all homemade!)
If you're looking for other trucks to try, you should also check out Big Wave Shrimp, Fumi's Shrimp Truck, Honos Shrimp Truck, or Romy's Kahuku Prawns & Shrimp Truck.
Tip: Try to place your order before lunchtime. It takes them a while to make your food, and when it nears the lunch rush, the line gets crazy long.
4. Go Rock Climbing
Calling all rock climbing fans: The North Shore has two great climbing spots perfect if you're looking to do some bouldering in Hawaii.
One climb is near Waimea Bay, and the other is near Mokeul'ia Beach.
The one near Waimea bay is the smaller of the two climbs, reaching 30-35ft. While the climb at Mokeul'ia is a whopping 90 ft tall.
Remember to wear the proper equipment and climb safely.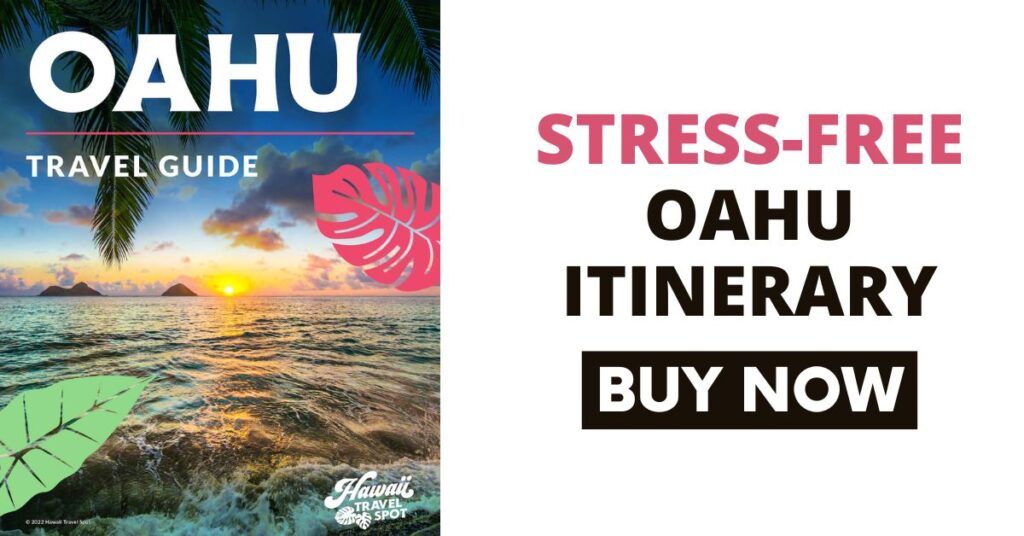 5. Go Snorkeling at Sharks Cove
Shark's Cove is one of many amazing snorkeling spots that's friendly to both intermediate and beginner swimmers, making it quite the popular spot.
The waters are typically safer than other North Shore beaches, but Sharks Cove doesn't have lifeguards. Make sure to stay aware of those who have less experience swimming.
If you are a beginner swimmer, the best times to go are during the summer months when the waters are calmer.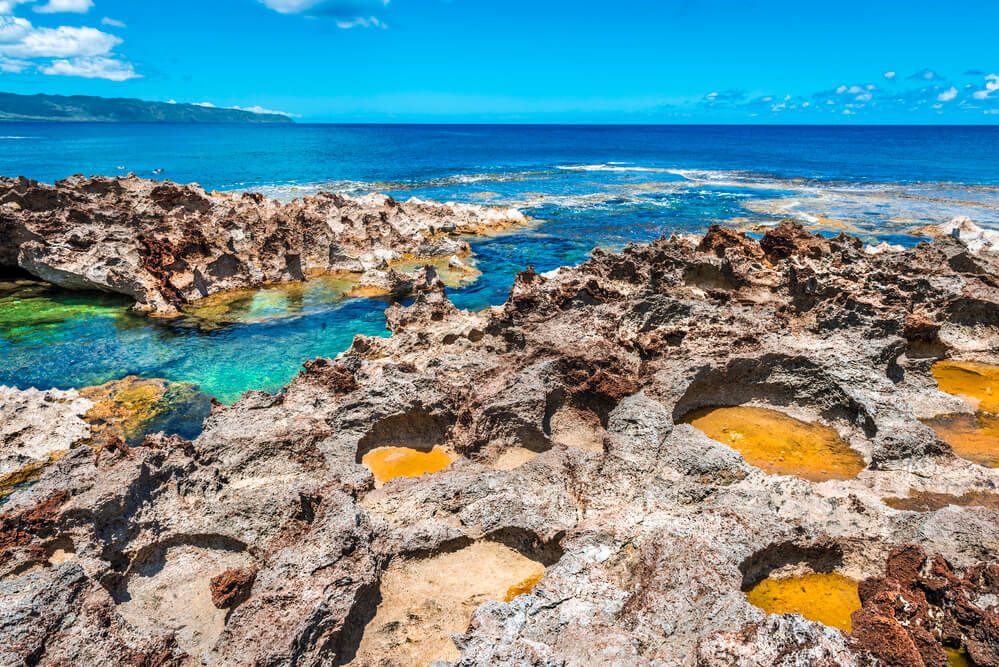 You can find Sharks Cove midway between Waimea Bay and Banzai Pipeline. Expect vast and glistening waters ranging from 8ft to 15ft deep with sea life and beautiful coral reefs. Along with that, expect to see lava tubes and, of course, caves and coves.
Even though it's called 'Shark's Cove,' don't be turned away from visiting! Sea turtle sightings are more likely than shark sightings, and even sea turtle sightings are uncommon.
If you didn't bring your own snorkeling equipment, that's alright. Nearby Sharks Cove is Foodland, where you can rent snorkeling sets and get a bite after swimming.
As for other food options, you can also go to Sharks Cove Grill. They have smoothies and food you can buy after a day of snorkeling in warm, Hawaiian waters.
Tip: Sharks Cove can get crowded, so aim for the early hours.
6. Visit Dole Plantation
One of North Shore's biggest tourist attractions is the Dole Plantation, a plantation with delicious, authentic, fresh pineapple.
Climb aboard the Pineapple Express Train Tour and learn about growing pineapples and their history in Hawaii as you ride through the plantation.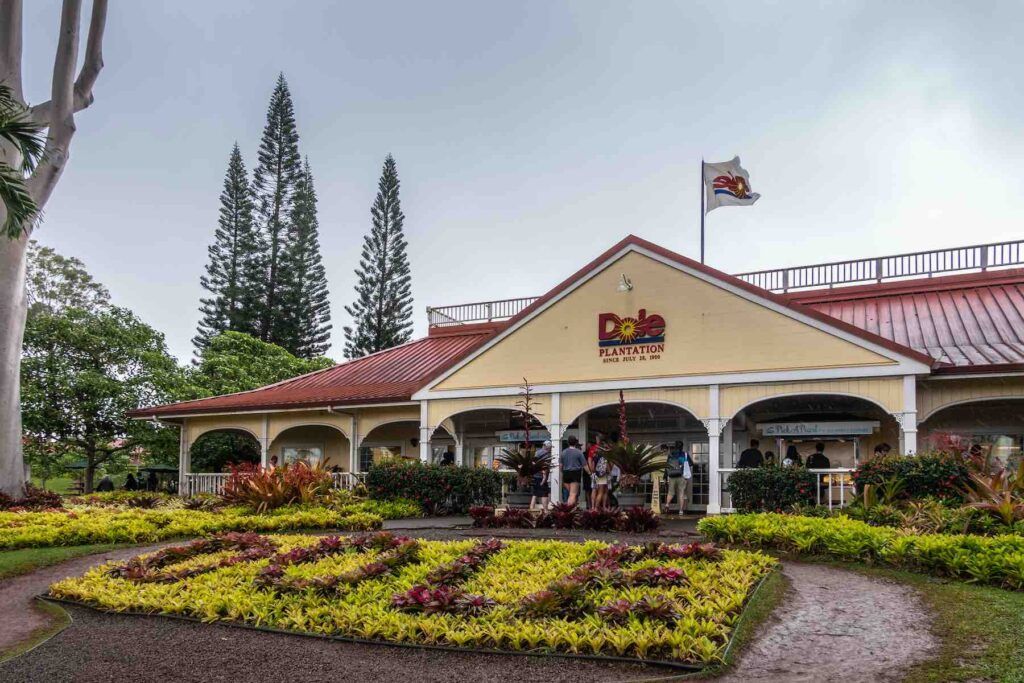 Additionally, Dole Plantation is also home to the world's largest maze that stretches over 2 acres with activity stations and endless paths for you to explore.
But, as you may guess, the main attraction is getting to taste the pineapple! The Dole Whip is their most popular treat, but they do also have other pineapple goods you can buy.
Dole Whip comes in your choice of a cone or cup, and you can customize your Dole Whip by adding on your choice of toppings.
This Oahu attraction is only 12 minutes from Haleiwa, so if you're in the area, why not stop and enjoy this delicious fruity delicacy?
You can have fun exploring the maze, learning about how growing pineapples works and you'll get to enjoy the sweet, authentic taste of Hawaiian pineapple.
7. Get an Acai Bowl
Wanna know what the hottest choice for breakfast is in Hawaii these days? It's none other than the sweet, refreshing acai bowl.
If you want an acai bowl during your stay, look no further than Kahuku Farms.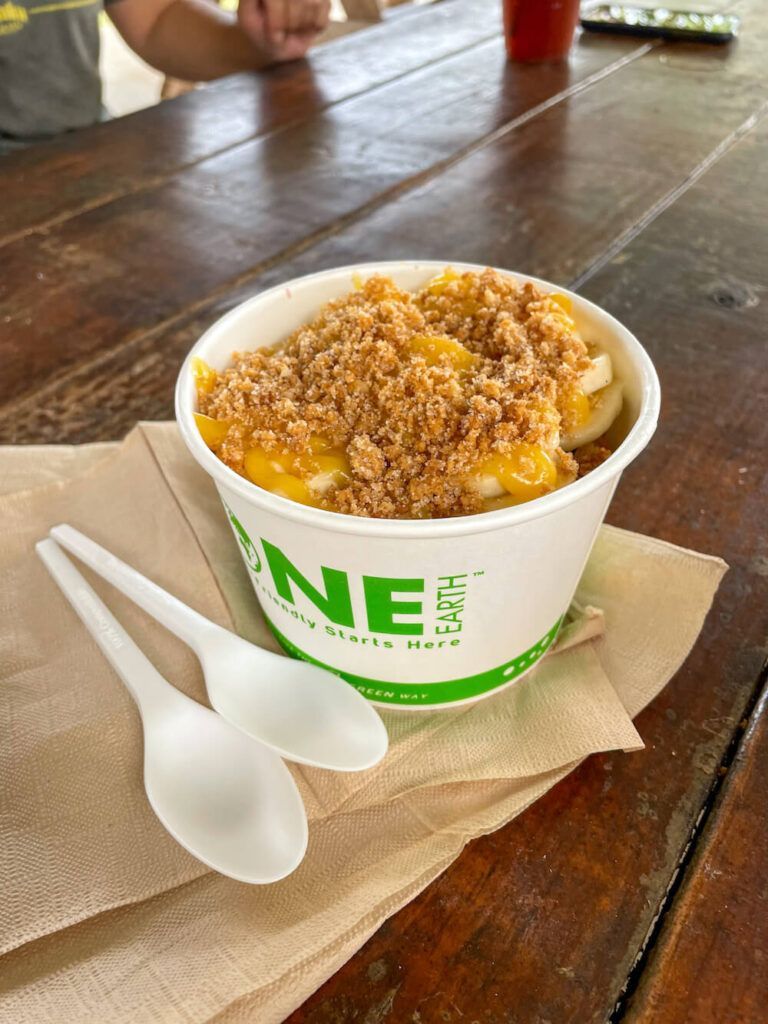 They make the best Acai Bowl on Oahu and they even grow their own Acai berries right on the farm.
Their Acai Bowls include haupia, agave, apple bananas, a yummy macadamia nut crumble, globs of lilikoi butter, and more. You can even add a scoop of ice cream for a decadent treat!
They offer a wide assortment of farm-to-table lunch items, fresh fruit smoothies, iced beverages, locally made chocolate, and more.
If you're looking for a souvenir, they also offer all kinds of amazing food products like salad dressing and syrups.
8. Swim in a Waterfall
If you're looking for places to take the perfect Instagram photo, or just want to swim somewhere that isn't your traditional pool, lake, or beach, why not try a Hawaiian waterfall?
If you're looking for a waterfall to swim in, but don't want to trek through a jungle of foliage, try out Waimea Valley! The view makes it a great place to snap that perfect Instagram selfie, and there's plenty of space for everyone in your party to splash and swim in.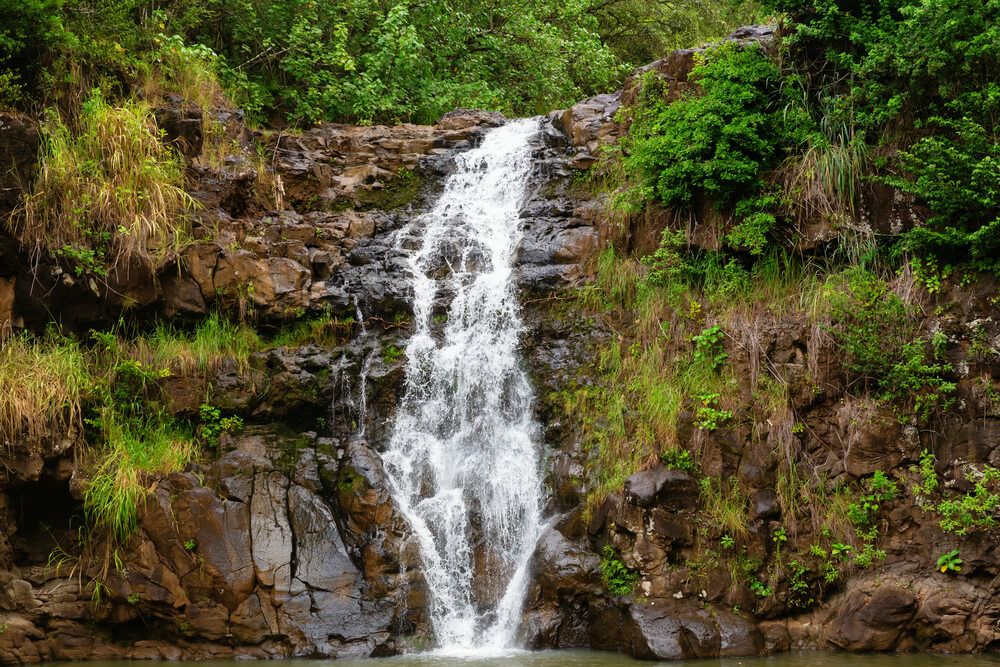 Check out this full guide to visiting Waimea Valley on Oahu.
The path to Waimea Valley is a nice paved route that's relatively stroller/wheelchair friendly, but do note it does have a few stairs and steeper inclines here and there. The walk is 0.75 miles, but if you're not in the mood for walking, shuttle rides are available.
Waimea Valley also offers a gorgeous botanical garden, tours, various activities featuring Hawaiian culture (like making leis and hula dancing), and a secluded and intimate luau known as one of the best luaus on the North Shore.
Waimea Valley is only 10 minutes away from Haleiwa, so it's a must-visit for anyone with some time to go for a swim.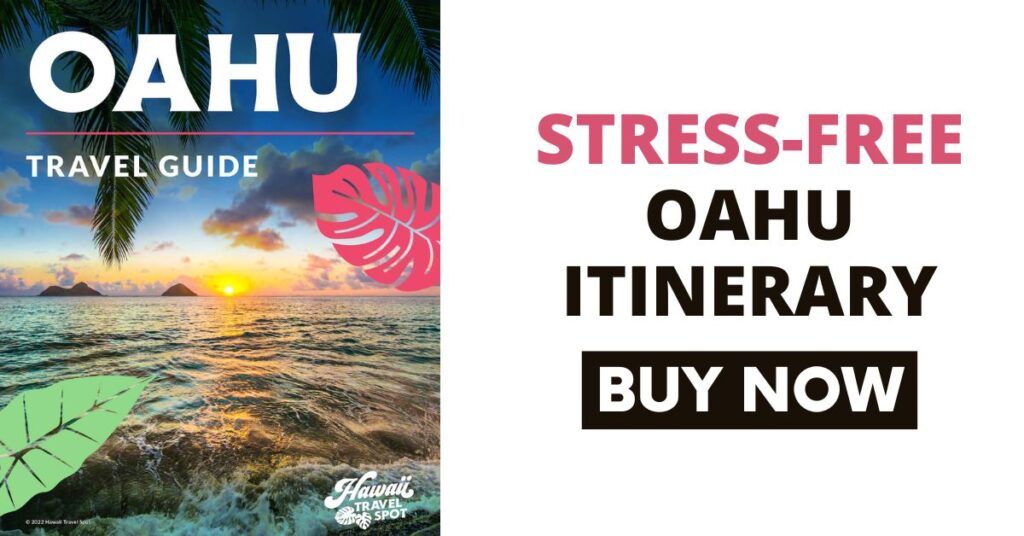 9. Go Ziplining
Oahu's longest zipline is just outside of Haleiwa, and this 3-hour guided tour is perfect for sightseers who aren't afraid of heights!
The tour begins with a ride to the top of the mountain as you ascend 2 miles just to get to the top. And from there, you'll race across ziplines ranging from 500 to 2,400 ft in length as Oahu's beautiful scenery flies by you and the wind thrums underneath your skin. Check out the latest prices and more details.
Throughout the experience, you'll come across rappels, sky bridges, boardwalks, and other beautiful views. And as you soar above Keana Farms, you'll get to learn more about the fruit right underneath your zipline.
10. Snap a Photo at Rainbow Bridge
Anahulu Stream Bridge (also known as Rainbow Bridge) is one of Haleiwa's most iconic locations.
Made in 1921, Rainbow bridge was made to replace the old wooden bridge that was there before it replaced it.
This iconic bridge connects Haleiwa town, and it's a fun place to take photos of the bridge and its outlook onto the water. This view is one of the top must-see attractions to anyone visiting the North Shore.
After snapping your photos at this Haleiwa attraction, head to the rainbow angel wings mural next to Anahulu's Shave Ice shop and grab some souvenirs at the Rainbow Bridge Gift Shop.
11. Get Shave Ice
Speaking of shave ice, Haleiwa is the perfect town to grab this delicious cold treat! Shave ice is a must-get in Haleiwa; it's delicious, refreshing, and an iconic memory for your travels.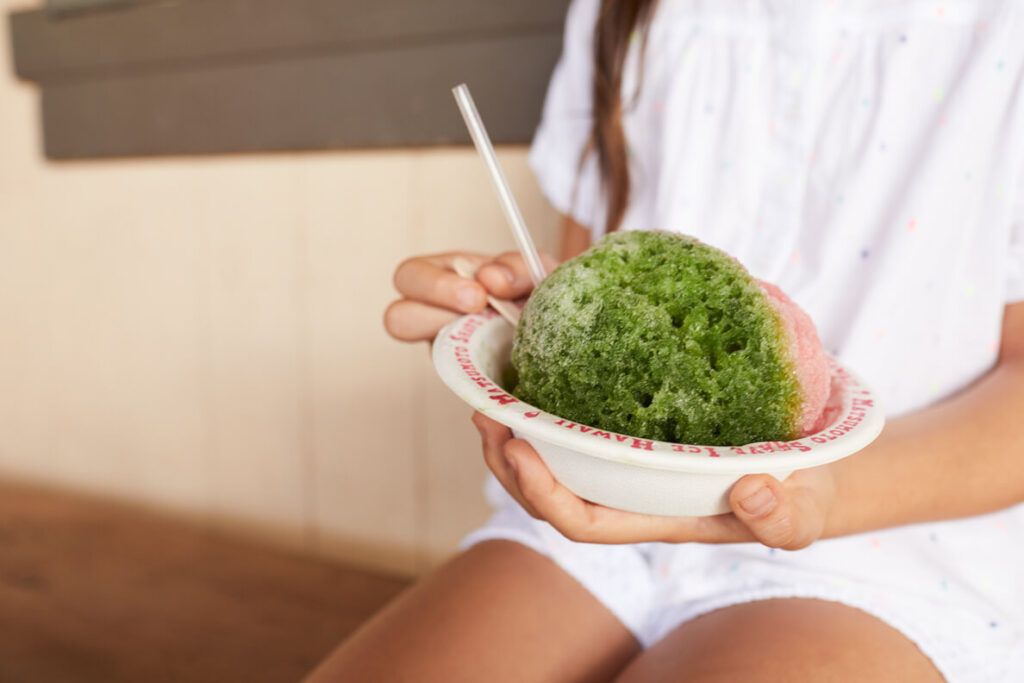 If you're looking for where to get some shave ice, you should try out the most famous shave ice in Haleiwa, Matsumoto's Shave Ice. They began as a grocery store in 1951, but once their shave ice with homemade syrup became a hit, The store grew to become one of the best shave ice shops in the world!
While the building may have changed, the shave ice is still as delicious as always. They have a flavor perfect for everyone, and you can order it with ice cream at the bottom or snowcapped (with condensed milk on top.)
But because it's world-famous, there's almost always a long line with a longer wait. If you'd prefer to get shave ice without the line, try Aoki's Shave Ice or head to Anahulu's Shave Ice by Rainbow Bridge. But even still, the line is more than worth the wait for Matsumoto's Shave Ice.
12. Watch Surfers at Banzai Pipeline
North Shore is one of, if not the best places for surfing. Watching surfers at Banzai Pipeline is another must-do while you're in Haleiwa.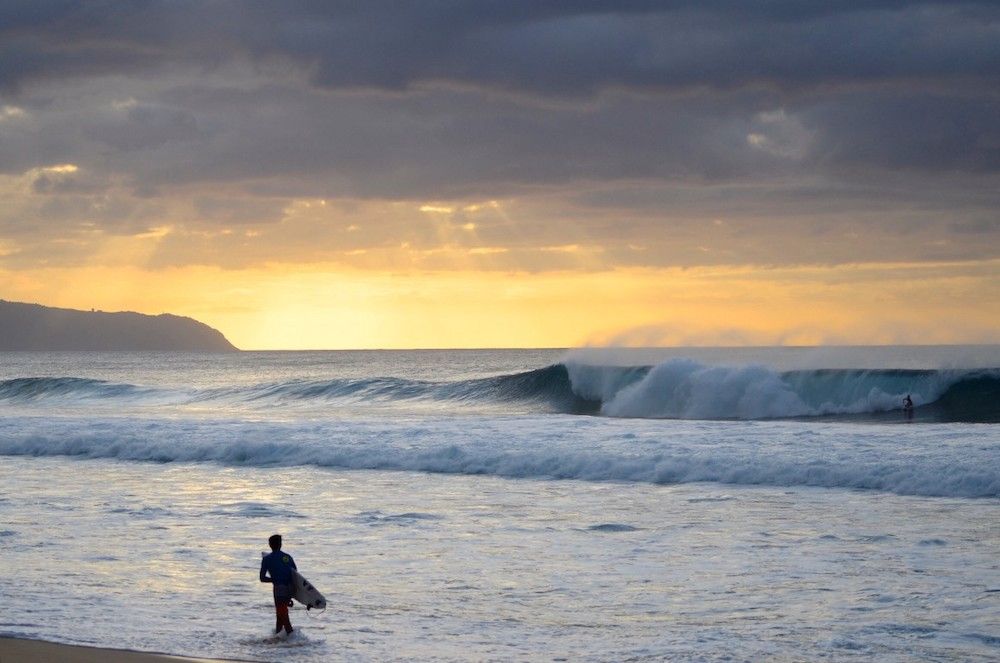 When you envision the word 'surfing,' you probably think of curling waves with vibrant blue water with a surfer in the middle. That's all thanks to the Banzai Pipeline's unique waves. It's no surprise that most photography work of surfing is done right here at the Banzai Pipeline.
Note that I say watching surfing. The waves are powerful and large and go over a dangerous reef, so it's best to leave the surfing here to the professionals.
Not only is watching surfers an activity for visiting tourists, it's also a popular activity in Haleiwa for locals.
13. Haleiwa Beach Park
Another popular beach on the North Shore is Haleiwa Beach Park. From town, it's only a 10-minute walk or a 2-minute drive.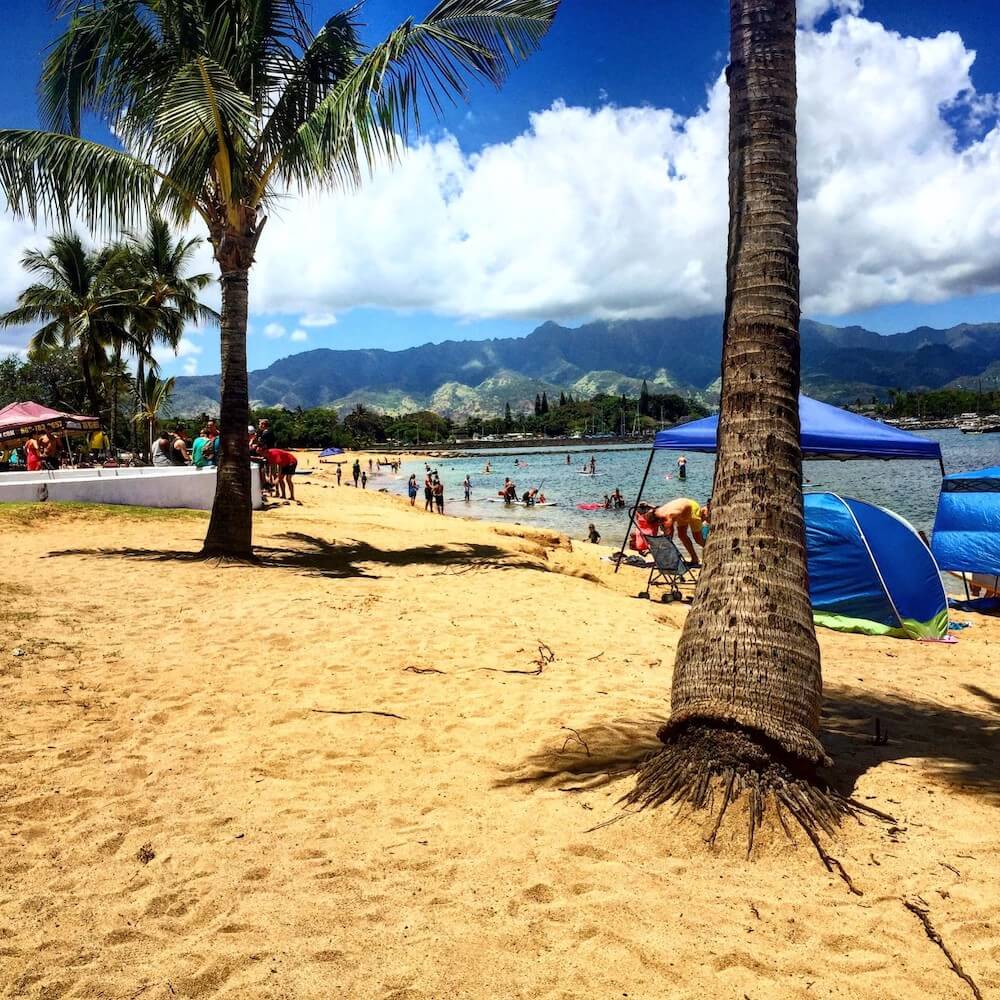 Compared to the other beaches at North Shore, Haleiwa Beach Park has calmer waters, making it popular for beginners learning to surf.
If you're looking for beaches with turtles, it's a great alternative to Lanikea Beach. It's easier to get to and there are still plenty of turtles!
Remember, it's a federal offense to disturb the turtles, so keep your distance.
14. Enjoy a North Shore Luau
If you are looking for some fun luaus on the North Shore, Toa Luau is a great choice. Toa Luau is newer to the luau scene compared to other luaus on Oahu. This luau, however, takes a new spin on your average luau.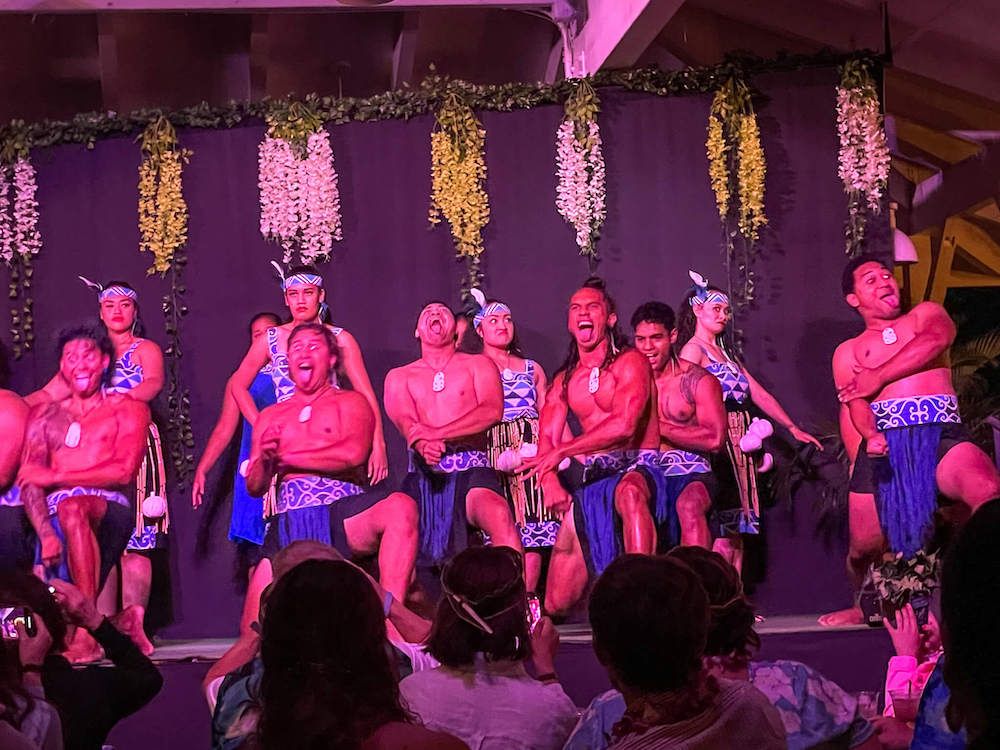 In this luau, you'll expect to experience activities that you, as the audience get to participate in, a traditional Samoan kava ceremony, and more. This luau only accepts a handful of guests, making the experience much more intimate. Check out the latest prices and more details.
Since the luau takes place at Waimea Valley, the admission ticket also provides access to this Haleiwa attraction.
If you're looking for things to do in Waimea Valley, you can swim in the waterfall and explore the botanical garden before walking to Toa Luau. You can read my full Toa Luau review here.
15. Go Diving
Hawaii is one of the best places to go Scuba diving and exploring the world of marine creatures, so why not try it out during your stay in Oahu?
Don't have the gear for diving? That's ok! Places like Hawaii Eco Divers are great places to rent diving equipment. Hawaii Eco Divers also provides lessons on diving for beginners!
And what's more, they even have tours where you can explore local sea life, caves and caverns, and lava tubes.
They also offer night dives where you can see the world of night-time sea life you wouldn't be able to see during the day.
Read my full guide to diving in Hawaii!
16. Take a Photo with Angel Wings
Looking for the right location for your Instagram photoshoot? Colette Miller's Global Angel Wings is your place to go.
This project was originally started to help remind everyone that we here are the angels of earth
While it may have started in Los Angeles, this project has steadily grown in popularity and reach. These wings have traveled far and wide and can now be found in multiple places in North America, Asia, Africa, Australia, the Middle East, and Europe!
If you want to learn more about this project, you can watch this TedX talk about it.
Hawaii has a pair of these wings, and it's located directly in front of Anahulu's Shave Ice.
17. Try Stand Up Paddle Boarding
Stand Up Paddle Boarding is a hot activity in Haleiwa, and if you've ever wanted to try out Stand Up Paddling, now's the time! Here in Haleiwa, you can find a variety of protected coves and rivers that offer calm waters for beginner and intermediate paddlers.
Paddling is a great way to exercise and if you're lucky, you might be able to spot turtles and other sea life in the water during your paddling.
If you're ready to go off on your own, there are multiple places to rent a paddleboard. But if you'd rather learn with others or just want to paddle board in a group, you can join a guided Stand Up Paddle Boarding lesson and tour. Check out the latest prices and more details.
Not only can you do regular paddle boarding in these groups, but there are also other options you can choose to change up your paddle boarding. For example, you can try twilight paddle boarding.
18. Visit a Macadamia Nut Farm
One must-see attraction in the North shore is the macadamia nut farm! Macadamia nuts are the most prevalent nut in Hawaii, but Oahu only has one working macadamia nut farm, which is on the North Shore.
If you're at Haleiwa Beach Park, you're in luck! Just a few yards away is North Shore Macadamia Nut Farm. They offer a wide variety of macadamia nut flavors such as Coconut Roasted, Cinnamon, Caramel Roasted, and, of course, the standard unflavored macadamia nuts.
These nuts are a must-buy for anyone who visits the North Shore. They are great snacks to take to the beach or as a souvenir for you to take back home.
19. Learn to Surf
Even if your surfing skills aren't honed enough to surf at the Banzai Pipeline, that doesn't mean your opportunities to surf in Haleiwa are dashed.
Plenty of places will help new/beginner surfers gain experience. For example, Sea & Board Sports Hawaii is known for its skill in helping to teach those who have never surfed or are still very new. Each lesson is either one-on-one or with a partner. Check out the latest prices and more details.
These professional classes have helped beginner surfers learn so efficiently that they're already riding the waves by many people's first lesson. But, if you want to say confidently that you can surf, you'll need about three lessons.
20. Go Hiking
If you're looking for scenic views and a little exercise, the next stop on your list of things to do in Oahu is to go hiking.
If you're looking for a popular trail, Ehukai Pillbox is one of, if not the most popular, North Shore hikes. This hike is easy to navigate and friendly to hikers of all levels.
There are actually 2 World War II pillboxes on this hike, but most hikers don't make it far enough to see the second one. The pillbox has been graffitied on a lot over the years, making it a cool photo opportunity.
There are also good hiking adventures near Kaena Point and Pupukea.
21. Grab Plate Lunch at Ted's Bakery
If you're going to Haleiwa, you have to try what is known as one of the best places to grab in Haleiwa: Ted's Bakery. Here you can get delicious breakfasts and Hawaiian-style plates for lunch.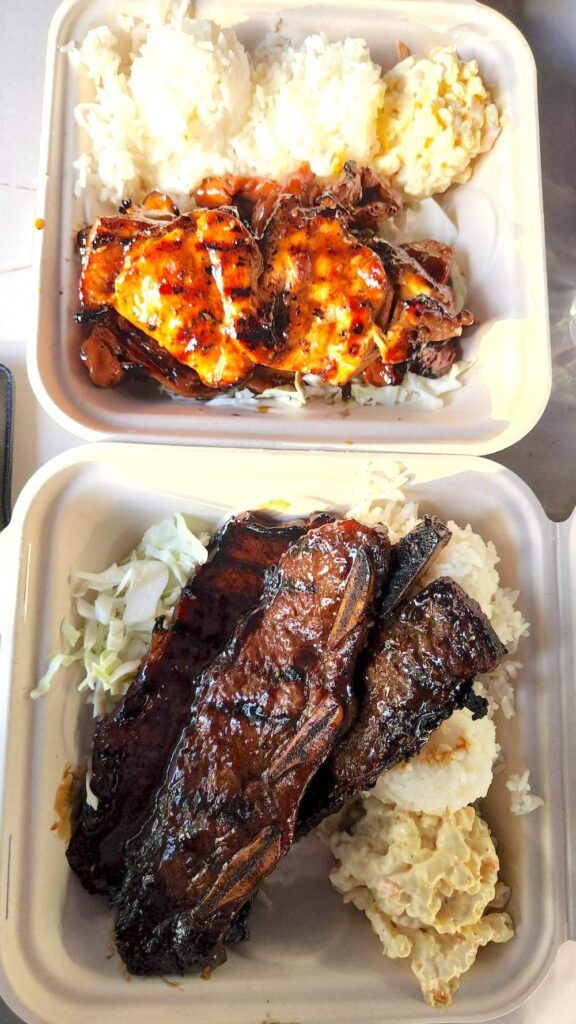 They also have a pastry section which includes bread pudding, donuts, cinnamon rolls, croissants, and so much more.
But Ted's Bakery is famous for its delicious pies! The most popular flavors include Chocolate Haupia, Pineapple Cheese, Macadamia Nut, and Haupia/coconut cream. The flavors of these pies have Hawaiian origins, so make sure to try them out!
You can grab a slice for you to take. A lot of people decide just to buy an entire pie! It's just that good!
22. Watch a Motocross Race
Motocross Racing may not be the first thing you think of when you hear the word 'Haleiwa,' but it's quite the hit! There's a track called Kahuku Motocross Track in between Turtle Bay and Sunset beach, and for just a few dollars, you can watch the motocross racing that happens on the weekends.
There are both man-made trails and trails paved by nature, and riders of all skill levels (some beginning and others pro) ride race along these trails. If you're up to the task, you can bring your bike and have some fun riding the trails yourself.
23. Try Hang Gliding
Thrill-Seekers: If you're looking for gorgeous views and a daring experience, try your hand at powered hang gliding.
Your hang gliding experience will start off with a brief explanation and lesson on how these powered hang gliders work, and then you watch the beautiful morning sunrise over the Ko'olau Mountains; you'll take flight and soar.
Hang Gliding Hawaii offers 30, 45, and 60-minute flights. All instructors are FFA-certified, so no matter how much experience you have, you'll still be able to fly with ease.
While powered hang gliders are similar to normal hang gliding, the power of technology will help you race and speed through the skies.
If you're into feeling the thrill of speeding through the air, these powered hang gliders can go up to 100 miles per hour.
24. Go Skydiving
Still looking for something else to get the daring side of you going? Why not try out skydiving? If you're aiming to do some skydiving at the North Shore here are your options: Pacific Skydiving, Oahu Parachute Center, and Skydive Hawaii.
Their skydiving opportunities include free falling, tandem skydiving, and even jumping out of a helicopter! They will also record your skydive and take photos, so when you get back home, you can proudly show off to all your friends the thrilling activities you had over your trip.
Skydiving is heavily dependent on the weather, and windy or cloudy has a good chance of causing the skydiving to be called off, so make sure to go early in the day because that's when there are the best chances of weather fit for skydiving.
25. Go Kayaking
If you're traveling to the North Shore in the summer, take advantage of the time of year and go kayaking! Summer waters are calmer during this season, and that means ocean kayaking.
If you're interested, Surf N Sea offers half-day and full-day kayak rentals. Check out the latest prices and more details.
If you're more interested in having a professional guiding you, you can join a kayaking tour.
26. Dive with Sharks
Experience a shark documentary in real life and go cage diving with sharks!
You'll start off on a boat on the North Shore, then ride deep into the Pacific Ocean as you watch out for sea life, such as dolphins, Hawaiian sea turtles, and humpback whales swimming by. Check out the latest prices and more details.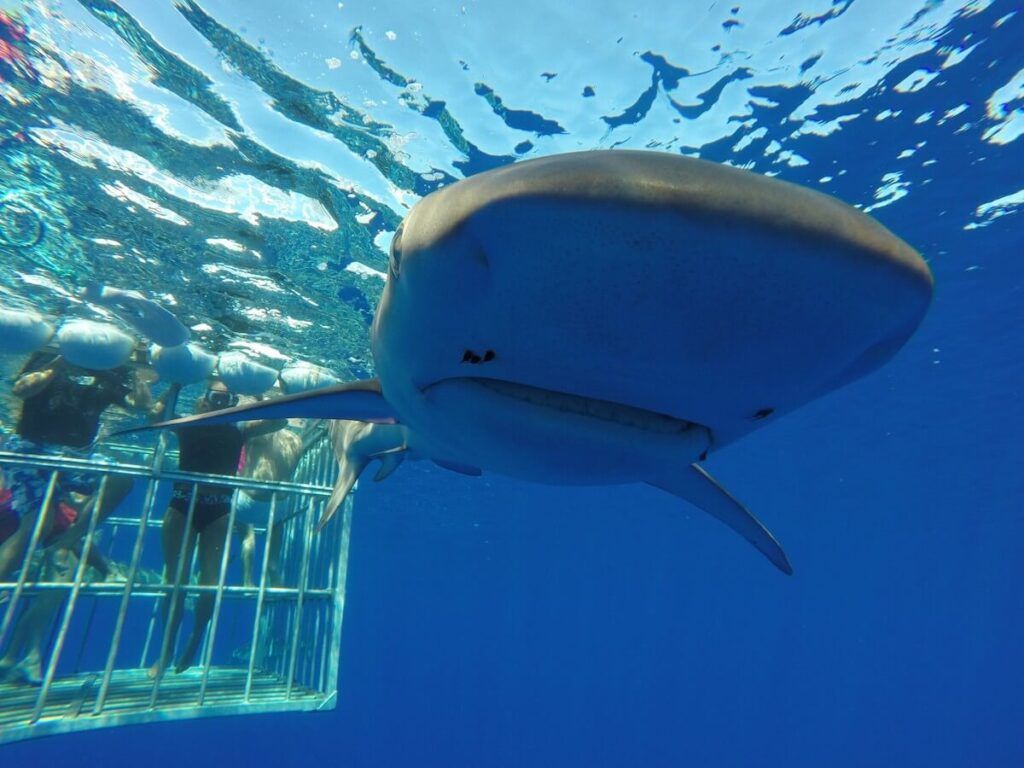 Once the boat reaches its destination, you have a choice of watching from the boat or diving under the water in a cage where you get to be face-to-face with sharks!
And after that, you'll be awed as you're surrounded by Galapagos sharks, sandbar sharks, and other various sea creatures.
And don't be turned away by getting attacked by sharks. The sharks don't see the cage as a threat or something to attack; even if they do, these cages are certified to protect you from all species of sharks.
Even though you won't be in danger, it's still one of the more thrilling things to do in Haleiwa that any sea creature enthusiast would love. Check out the top Haleiwa shark tours!
27. See Art
One of the things that makes Haleiwa special is that it's an artsy town with a wide variety of art via galleries.
The Haleiwa Art Gallery is a great place to check out local Hawaii artists. It's home to the largest collection of works by the late Al Furtado, and also has art done by fine artists, including Lace Fairly, Ed Furuike, XQ Silk Art, and Mark Howard. It's just a couple of minutes outside the center of town, so make sure to stop by.
There's also Tabora Gallery, Artopia Hawaii, Polu Gallery, Clark Little Gallery, Wy's Gallery, Rocky Point Collective, Welzie Art Studio, and the famous Kim Taylor Reece Gallery.
The art here in Haleiwa usually has better prices than those in Waikiki (up to 50% less expensive), so if you go for it now, chances are here's where you're going to get the best deal.
28. Watch the Sunset
Sunsets in Hawaii are some of the best sunsets in the world. And the North Shore is no exception; the sunsets in the North Shore are unforgettable. With the shape and orientation of the island of Oahu and how the North Shore faces the west, its position is perfect for sunsets that will blow you away.
A great spot to watch the sun go down is Sunset Beach. Predictably, its name comes from how gorgeous the sunsets along the beach are, especially in the summertime.
Most tourists will drive to Waikiki when it nears dinnertime, but you should refrain from doing that. The traffic easily gets clogged, and it's much better to stay at Haleiwa instead of sitting in traffic.
Alternatively, by staging in Haleiwa, you can enjoy a delicious dinner and then, with a shave ice in hand, relax at Sunset Beach (or any North Shore beach) and watch as an iridescent sun descending below the waterline paints the water gorgeous hues as you finish off your day with a sunset to remember.
This beautiful view that rivals anything you've seen in a movie is easily so much better than waiting in stuffy traffic.
29. Check out a Surfing Museum
Calling all surfing fans! If you're looking for things to do in Haleiwa that aren't just surfing, why not go to a surfing museum?
Since the North Shore is famous for its surfing hotspots, it's no surprise they also have a surfing museum!
Here you can learn about North Shore's surfing history, how surfboards have evolved by looking at boards of the past, how surfboards are made, go on surfing tours, and more!
30. Get Some Broiled Chicken
To all foodies looking for what Hawaii's got to offer when it comes to their meat, Ray's Kiawe Broiled Chicken is the place for you. Located in Old Town Haleiwa, Ray's Hawaiian-style huli huli chicken is second to none!
Their chickens are all roasted on skewers and spun around as they cook. With just a single bite of this chicken, you'll be blown away by an intense smoky, tender barbecue flavor you've never had before.
This is because they use Hawaiian kiawe wood to roast their chicken. Truly a unique chicken you've never tried before!
You get and eat your chicken under a tent outside and with one bite, you might be introduced to your new favorite smoky and tender chicken you'll never get anywhere else.
31. Rent a Jet Ski
If you're looking to race across Haleiwa's waters, why not rent a jet ski?
Watercraft Connection is the only North Shore jet ski rental shop in Haleiwa.
They have one or two-seat jet skis that you can take into the Pacific Ocean. The jet skis are first-come-first-served, but might also be unavailable if the waters aren't good for jet-skiing.
32. Try Body Surfing
Body surfing is surfing but without an actual board that supports your body. Many people trap on smaller board-like equipment called 'fins', but body surfing can also be done without equipment.
If you're looking for somewhere to body surf, Waimea Bay is quite popular. Even though the waves can reach over 40 feet tall, Waimea Bay's water can calm down.
Additionally, the beach break here is perfect for bodysurfing. For experienced bodysurfers, Waimea Bay is your place to go.
33. Ride a Horse
Even though you might not expect horseback riding to be a popular activity in Hawaii, there's a lot of history about horseback riding on these islands! There are cowboys in Hawaii called 'paniolos' who have a deep history here.
If you're looking for places to try horseback riding, Happy Trails Hawaii overlooks Waimea Valley and has a gorgeous view you can look at as you learn to ride a horse.
As you follow their trails on horseback, you get to look out and see Kaena Point, many gorgeous North Shore beaches, and the Waianae mountain range.
You'll also enjoy some delicious local fruit during your lesson. As you learn how to ride a horse, get a taste of mango, strawberry guava, mountain apples, star fruit, banana, and lilikoi.
Their sessions include 90-minute and 2-hour lessons where you learn to ride a horse and travel along the forests of the North Shore.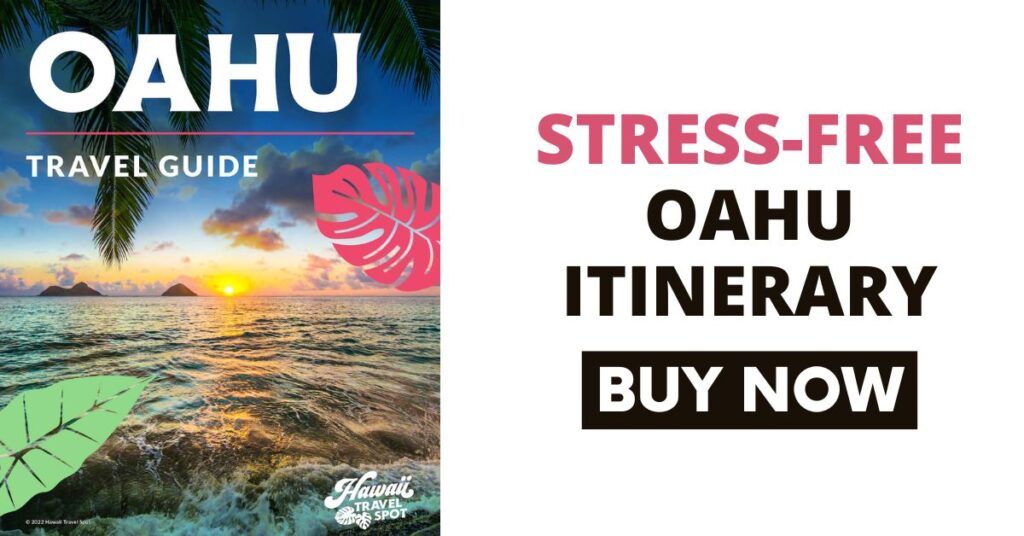 Haleiwa Oahu FAQs
When is the best season to go snorkeling at the beach?
The best times to swim are during the summer when the water is the safest.
Where can I find beaches with turtles?
Laniakea Beach, also known as Turtle Beach, is one of the best places to watch turtles. If Laniakea Beach isn't your style, then you should try Haleiwa Beach Park. It's easier to get to, and there are still quite a few turtles. Just remember to be mindful and respectful of the turtles.
What is Oahu known for? 
Though many bodies of water surround Hawaii, Oahu is home to one of the best surfing hotspots in the world: The North Shore. Surfing fans from around the world go to Oahu just to surf here. It's also where you can find the Banzai Pipeline, one of the best places to surf in the world.
How to Get to Haleiwa
The best way to get to Haleiwa (or anywhere here) is by renting a car. That way, it's up to you how much time you spend at one place or another.
However, if you're staying in Waikiki and don't have a planned schedule, you can try out a tour. There are many North Shore tours, each of which will take you to the hottest restaurants and sights to give you a well-rounded overall experience of Haleiwa.
The bus is also an option if you're looking to stop by some beaches or visit Old Haleiwa Town.
By Car:
Directions from Waikiki
Take the H-1 Hwy West to the H-2 Hwy North
Follow the H-2 Hwy to the Kamehameha Hwy (Hwy 99)
Take Hwy 99 and continue into Haleiwa Town.
By Bus:
Directions from Waikiki
Take the number 98A bus from Waikiki to the Wahiawa Armory
Transfer to Oahu Bus 88A
This bus will take you to Haleiwa Town and to the North Shore beaches
Best Places to Stay in Haleiwa
Unfortunately, Haleiwa doesn't have hotels, but they do have an alternative that might be even more fun than a hotel. Staying in VRBOs gives you a more local vibe to your stay, and that's why we like to stay in VRBOs.
Here are a few awesome places to stay in Haleiwa:
Haleiwa Things to Do Wrap Up
By now, you should know PLENTY of awesome things to do in Haleiwa Hawaii for your next Oahu vacation. It really is such a cute town and definitely worth spending some time exploring! Enjoy!