Do you need some advice on planning your first trip to Oahu? Check out this list of the best resorts in Oahu for families!
This list of the best resorts in Oahu for families contains affiliate links which means if you purchase something from one of my affiliate links, I may earn a small commission that goes back into maintaining this blog.
With its spectacular beaches, bustling nightlife, delicious cuisine, affordable accommodations, and exotic luaus, it's no surprise that Oahu is Hawaii's most famous island.
Make your visit a relaxing trip, an adventurous venture, or a mix of both. Home to some of the best resorts in Oahu for families, it's considered the top choice for those with kids; in short, a tropical paradise.
There's something for everyone in Oahu from budget-friendly rooms and luxurious villas at full-fledged resorts close to all the action at Waikiki Beach, to accommodations away from the crowds.
But what are the absolute best places to stay in Oahu for families?
I've put together this list of the best hotels in Oahu for families to answer all your questions. No more wasting time scouring the internet, just keep reading!
Don't have time to read a bunch of Hawaii blog posts and reviews? Here are some of our top picks for visiting Oahu with kids.
Best Kid-Friendly Oahu Tours/Activities
Best Kid-Friendly Oahu Resorts
Want to Rent a Car in Hawaii?
One of the best places to rent a car in Hawaii is Discount Hawaii Car Rental because they get the best rates from top national companies like Alamo, Dollar, Thrifty, Avis, Enterprise, Budget, and Payless.
Want to skip all the planning and just access my detailed Oahu itinerary complete with daily schedules, fun activities, and travel hacks? Click the button below.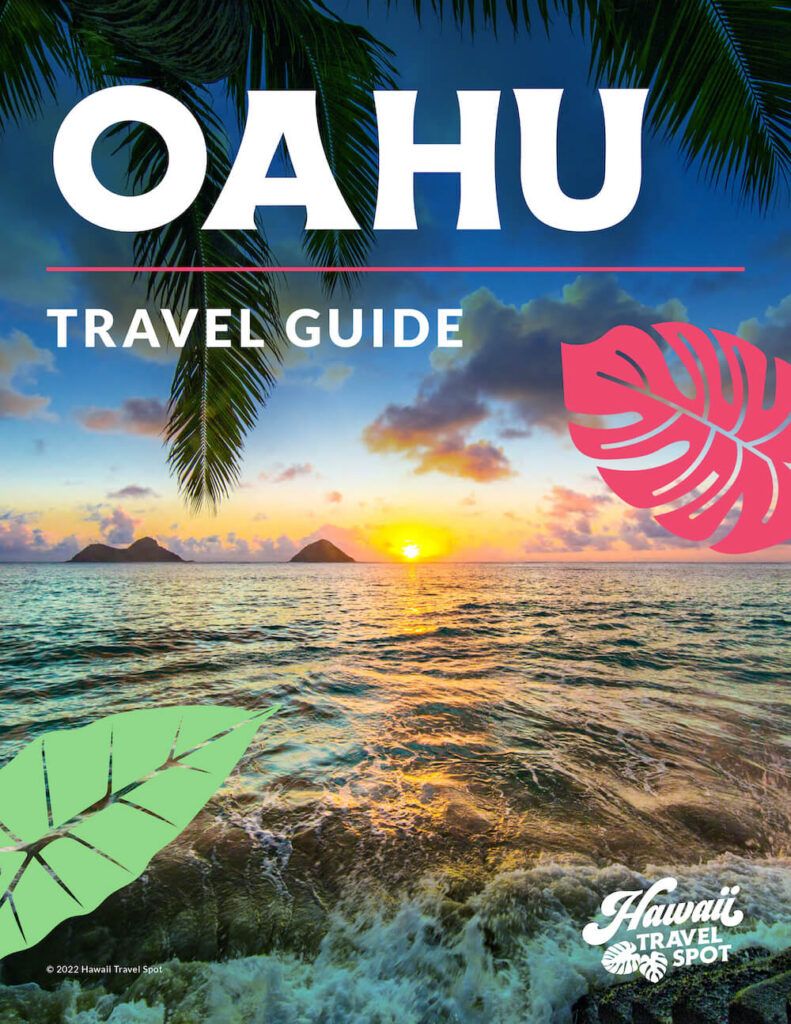 Best Hotels in Oahu for Families
1. Hilton Hawaiian Village
The Hilton Hawaiian Village Beach Resort is located on an expansive stretch of beach surrounded by white sands, palm trees, and azure waters.
Only a mile from the harbor; 2 miles from Hawaii's largest park, Kapiolani Regional Park; and surrounded by restaurants, cocktail bars, and shopping centers, it's one of the best Oahu hotels for families. Check the latest rates and availability.
Towers at Hilton Hawaiian Village
The only challenge you'll possibly face is deciding which of the five striking towers to stay in. Each offers just as much comfort as the next with spectacular views to boot!
The Ali'i Tower, with its own private pool terrace, private fitness center, Mix bar, lobby lounge, and library, is the place to be if you are looking for some solitude.
You can conveniently access the beach, lagoon, pools, and restaurants from the Rainbow Tower. You can enjoy the exotic tapa and textured Hawaiian decor at the Tapa Tower, or relax in one of the recently renovated Diamond Head Tower suites.
All the towers can guarantee picturesque views of the ocean, the harbor, the Duke Kahanamoku Lagoon, the park, or a resort view of one of the other towers. Find out the latest prices.
Hilton Hawaiian Village Pools
The retreat features five magnificent pools. These include a 10,000-square-foot Super Pool, waterfalls, and one of Waikiki's only 77-inch water slides.
Relax in a Casabella at the Super Pool or a cabana at the tropical Taba pool. The Keiki Pool, with its shallow waters, is perfect if you have little kids.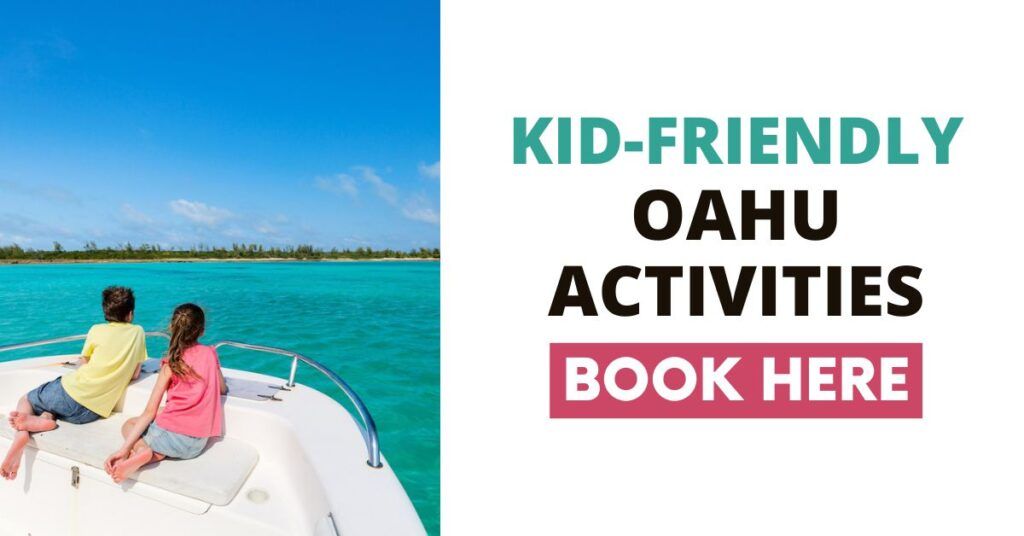 Camp Penguin Kids Club
For some kid-free pool time with your significant other, check out the special Camp Penguin Kids Club. They organize movies, craft sessions, and sightseeing trips to nearby attractions like the Honolulu Zoo and Waikiki Aquarium.
Duke Kahanamoku Lagoon
If the beach is on your mind but the kids are still a little too young, the resort's very own Duke Kahanamoku Lagoon is a good option.
Take advantage of the Deluxe Waterbees or Kayaks available for rent at the towel stand and explore your surroundings safely. Swimming, paddle boarding, and snorkeling are other fun things to try.
Remember to stick around at the beach for the free fireworks show on Friday nights.
Hilton Hawaiian Village Dining Options
Once you're all worn out, take your hungry monsters to the Hau Tree Bar on the Super Pool poolside for some delicious pick-me-up food.
If you don't like going out to eat, cook something in your room while the kids play on the PlayStation 3 with unlimited games and movie access. In the mood for some exotic seafood? Head to Bali Oceanfront instead.
Starlight Hawaiian Luau at Hilton Hawaiian Village
Hilton Hawaiian Village also hosts the Starlight Hawaiian Luau on most nights of the week. It has everything from Hula Kahiko performers and fire dancers to authentic Hawaiian cuisine, so don't miss it!
Save Money with Points
Here are the best credit card offers for people who travel and want to use points to pay for airfare and hotels in Hawaii.
2. Disney Aulani Resort
The Disney Aulani Resort provides families with a traditional Hawaiian with a Disney twist, making it one of the most kid-friendly resorts in Oahu!
It's set in an ideal location too, and offers some of the most luxurious accommodations in Kapolei.
Situated near Kahe Point Beach Park and the Ko Olina Marina, the Oahu family resort is close to cafes and tourist attractions such as Kalapawai Cafe & Deli and the Ihilani Spa which is only 0.1 miles away.
Disney's Aulani Resort offers guests views of lagoons, natural snorkeling sites, mountains, and adventure. Check the latest rates and availability.
When it comes to rooms, guests can choose between a basic standard room; a spacious suite with private bedrooms; or a grand luxury villa equipped with a full kitchen, living room, dining area, washer, and dryer.
Pools at Disney Aulani Resort
The highlight of the resort, especially for families who love the water, is its sprawling pool complex. The elaborate aquatic system features volcano-themed water slides; a lazy river called Waikolohe Stream that is adorned with exotic tropical plants; Rainbow Reef, a 3,800-square-foot private snorkeling lagoon for snorkeling with the fish; temperature-controlled pools; and more!
Kids will love the rope bridges, fountains, mini waterslides, and splash zones at the Menehune Bridge Water Playground. Find the latest prices.
Head to the smaller Wailana Pool for some peace and quiet while the kids are busy at the resort's kids club, Aunty's Beach House.
Laniwai Spa at Aulani Resort
You can also opt for Disney's in-room babysitter service for a fee and indulge in some rejuvenating treatments at the Aulani's Laniwai Spa. Aptly named "freshwater heaven", the spa is the only one in Oahu that features an outdoor hydrotherapy garden. It's one of the best spas on Oahu.
Ko Olina Lagoons
The Ko Olina Bay beach, right outside the hotel, is excellent for some fun family time. The kids can swim in the calm ocean while you lie on the beach with your favorite book.
Stop by Makiki Joe's Beach Equipment Rentals for beach chairs, boogie boards, snorkel gear, paddleboards, and more.
Participate in off-site excursions such as sea kayaking or surf lessons for some thrills. Or do a catamaran voyage through Adventures by Disney.
Disney Characters at Aulani Resort
One thing you absolutely cannot miss out on at any Disney location with kids is the character meet and greets.
Delight your kids with a fun Disney character breakfast at Makahiki while the Aunty plays the ukulele. Treat them to the Mickey Check Meals at Wailana's Keiki poolside restaurant, a kids' favorite.
Or swing by the Pau Hana Room for some crafting activities and the chance to meet and greet their favorite Disney characters.
Ka Wa'a Luau at Aulani
Remember to set aside one night to experience the resort's legendary, culture-filled Ka Wa'a Luau on the shores of Ko Olina. With its kid-friendly themes and activities, Disney Aulani is certainly one of the best Oahu resorts for families.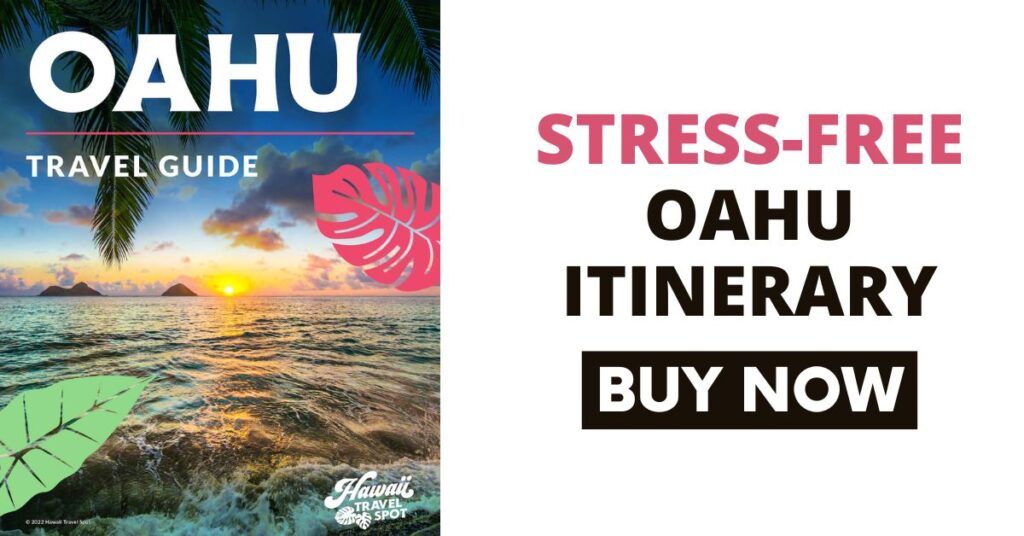 3. Turtle Bay Resort
Turtle Bay Resort boasts five miles of untouched coastline, twelve miles of stunning trails, and 1,300 acres of lush, historical land.
While the resort is close to the Waimea Valley and historic Haleiwa Town, it is separated from the hustle and bustle of the rest of the island by the golf courses and farms that surround it.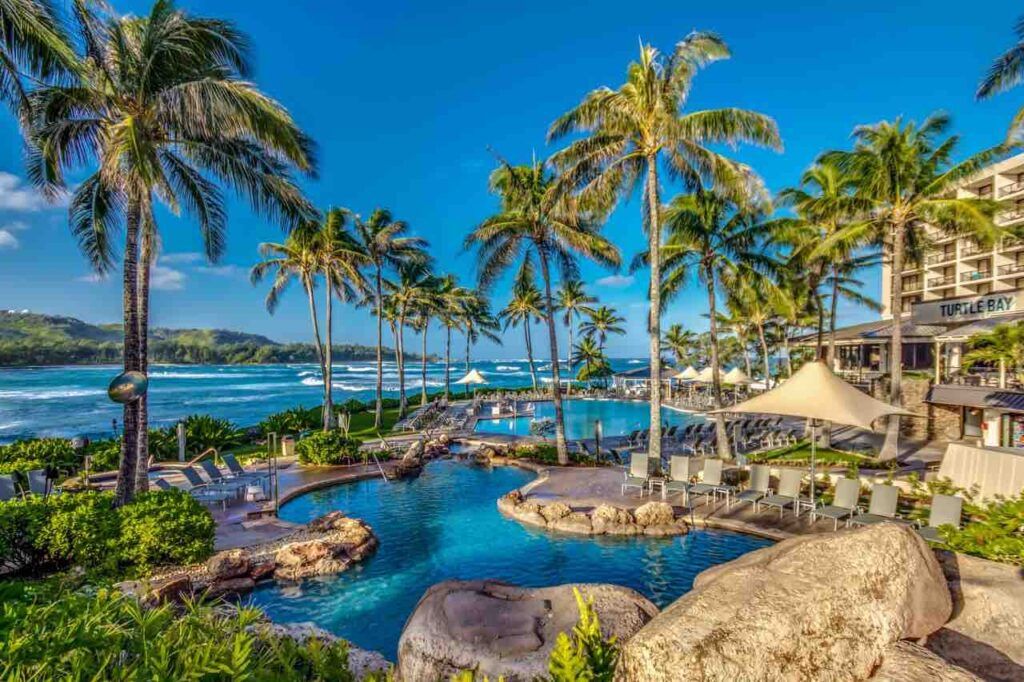 The accommodations at the Turtle Bay Resort include oceanfront bungalows, premium luxury suites, and ocean view guest rooms with walk-in showers to give you the best of luxury infused with the spirit of Aloha. Check the latest rates and availability.
Turtle Bay Resort Pools
Kickstart your stay by heading to the main resort pool. Spend time lounging in the sun while the kids get busy on the slides at the keiki pool.
Guests staying at one of the oceanfront bungalows will also have access to the Ocean Bungalows Pool along with its stunning views.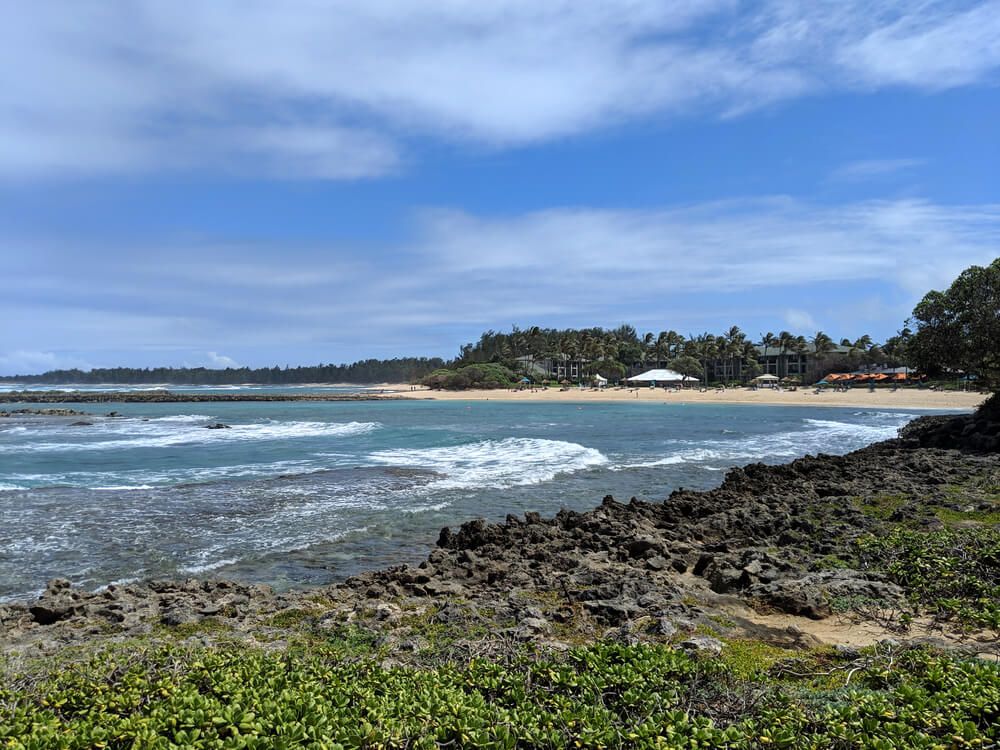 Kuilima Cove and Keiki Cove
If the beach is where you'd rather be, head to Kuilima Cove, located just a few steps from its main building. For a quieter beach experience that's as safe as can be for little ones, head to Keiki Cove. Here, the water is shallow and serene year-round.
Activities at Turtle Bay Resort
Although Turtle Bay Resort does not have a kids club, it makes up for it with many family-friendly activities and adventures. These include canoeing, paddleboarding, surfing lessons, snorkeling, kayaking, and horseback riding.
For some time away from the kids, send them on a fishing excursion. These are handled by trained guides who guarantee that every child will catch at least one fish!
At Turtle Bay Resort, you also have the one-of-a-kind opportunity to take a helicopter sightseeing tour of the island. And don't forget to take advantage of the free ukulele and hula lessons. Check the latest resort prices.
Turtle Bay Resort Restaurants
The resort offers eight different dining experiences that are each unique and authentic in their own way. Head to the Beach House to liven up your day or have a divine Hawaiian dinner at Alaia. Most of the restaurants at the resort come with specialized keiki menus to keep the kids happy.
Be sure to reserve one Thursday night dinner for Paniolo Pāʻina. This is Turtle Bay Resort's new weekly entertainment dinner held at Stables Beach.
The weekly bonanza celebrates the rich cultural heritage of Hawaiian ranching with live entertainment. There are also cocktails, delicious food that includes vegetarian options, and fun activities for the kids like meeting a pony!
Book a Hawaii Photo Shoot
Whenever we travel to Hawaii, we almost always book a photo shoot with Flytographer. They are super easy, affordable, AND it guarantees that I'll have more than just selfies. You can get $25 off if you book through this link or use the code HAWAIITRAVEL.
4. Marriott Ko Olina Beach Club
Located 30 minutes from Honolulu in the staggering gated community of Ko Olina Beach, Marriott's Ko Olina Beach Club resort spans over 640 acres of land surrounded by crystal-clear lagoons.
The resort has luxury rooms, penthouse guest rooms, and spacious villas with full kitchens and stunning views of the beach. Check the latest rates and availability.
From its fitness classes, Gold Club, BBQ grills, Aqua Bingo, and scavenger hunts to its Oceanside Theater and Hawaiian Lei Making classes, every facet of Marriott's guest experience is infused with the spirit of Oahu culture.
Marriott Ko Olina Pools
The resort comes with three sprawling pools and multiple hot tubs tucked away to blend perfectly with the indoor and outdoor landscaping. Its waterfall, cave, waterslide, and enticing kid-safe lagoon pool make it one of the best Oahu resorts for kids.
The Reflection Quiet Pool and whirlpool spa are perfect for some alone time when the kids are at the keiki club. The Kids' Club is sure to keep your kids entertained with movie nights, craft programs, kids hula, mermaid storytimes, and swimming activities! Check the latest resort prices.
Swim with the kids in the protected Ko Olina Beach Park right in front of the hotel, where the rocky barriers will protect little ones from harsh waves. If you're up for some thrills, head 3.5 miles out to Wet n' Wild Hawaii. This is a water park that offers over 25 rides and attractions.
Dining at Marriott Ko Olina
When hungry, head to Longboards Bar & Grill to savor some American cuisine and Hawaiian-style appetizers while enjoying an oceanfront setting. Kids will be provided with a keiki menu along with some coloring sheets and crayons to make dining fun.
If you are craving Italian, go to Longhi's Restaurant, the al fresco eatery, and enjoy some seafood.
For snacks, coffee, and sundries, visit The Marketplace. You can pick up some supplies and head to one of the three BBQ areas at the resort that are always clean and ready to go.
Marriott Ko Olina Luau
On Tuesdays, Fia Fia, the Polynesian Dinner Show, is a must-experience for the traditional Hawaiian food, music, fire-knife dancing, comedy, and much more.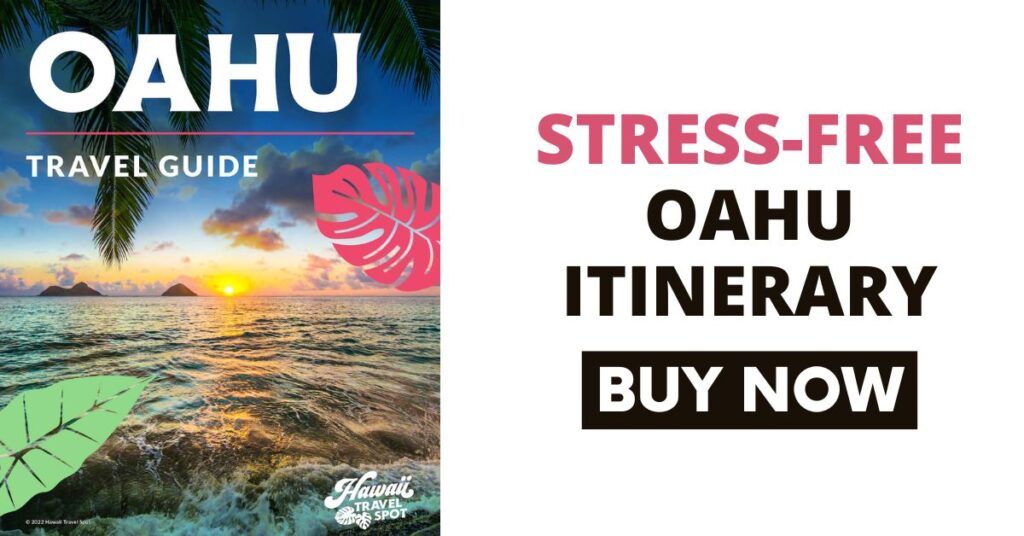 5. Waikiki Hyatt
Set by the soft sands of Waikiki Beach with views of its shimmering blue waters, the Hyatt Regency Resort and Spa is one of the best resorts in Oahu for families looking for a luxurious getaway that's got it all.
You'll find the two-tower hotel in the heart of the tourist district, only a few blocks from Honolulu Zoo and Diamond Head and right across the street from the Duke Kahanamoku Statue.
Relax in the privacy of your lanai with a Waikiki city view, or enjoy the breathtaking ocean view; Hyatt offers endless opportunities for comfort.
Every suite and room guarantees a relaxing bathroom with a tub or shower, a crisp linen bedspread, and comfortable furnishings. Check the latest rates and availability.
Hyatt Regency Waikiki Pool & Activities
The resort only has one swimming pool, but this is located only 50 steps away from the beach. So when you tire of the pool, just pick up some free pool chairs and towels from the service desk and lounge by the beach to catch a picturesque Hawaiian sunset.
Waikiki Hyatt is one of the best hotels for kids in Oahu because it's situated on a portion of Waikiki beach that is protected by seawalls. Despite being a little rocky, the safe waters are perfect for swimming with little ones.
Indulge in water activities, such as canoe paddling and surf lessons. For more adventure, head to the Atlantis Submarines Waikiki, only 2 miles from the resort. Find out the latest resort prices.
Dining at Hyatt Regency Waikiki
For some replenishment, head to Kai Coffee Hawaii and enjoy an inexpensive breakfast. In the evening, dine under the Hawaiian skies at Shor. Its buffet and exotic keiki menu with options like Seared Fish & Chips, Chicken & Veggie Rice Bowl, and more will excite you and the kids.
After dinner, head to Dylan's Candy Bar located downstairs in the Pualeilani Atrium Shops for some sweet treats.
6. Sheraton Waikiki
If you are still wondering where to stay in Honolulu with kids, say Aloha to this Hawaiian resort in the heart of Waikiki.
Located right behind the Royal Hawaiian shopping center, this 32-story Sheraton Hotel is only 30 minutes from the airport. It's also only three miles from the volcanic cone-shaped Diamond Head Crater, and only steps away from the Ala Moana Beach.
It's easy to access and packed with all the features and amenities you will want during your Oahu family vacation. Check the latest rates and availability.
Choose either a city view, partial ocean view, or oceanfront room from the resort's 1,636 rooms and suites. All designed with platform beds to provide you with the Sheraton Signature Sleep Experience as well as ergonomic workstations, fresh-air lanais, and spa-like bathrooms, this place is nothing short of a tropical utopia.
Sheraton Waikiki Pool & Kids Club
The resort features a vast outdoor pool area on the roof that includes a waterfall, a hot tub, and separate water slides for both little ones and older kids. Find out the latest resort prices.
Like most other family-friendly hotels in Oahu, the Sheraton also has a Kids Club. What sets the Poppins Keiki Waikiki Kids Club apart is that it is open to kids between 3 months and 12 years old and is not restricted to only hotel guests.
So, while the kids are kept busy at the club, you can leave your worries behind and relax in the adults-only pool. Take advantage of the infinity pool, appropriately named The Edge, and then head to the beach with the kids by taking the elevated path in front of the resort!
Free ukulele lessons, flower lei-making sessions, and hula lessons are also held at Sheraton Waikiki.
Sheraton Waikiki Restaurants
For some delicious food, head to RumFire, the beachfront restaurant with a spectacular ocean view. It has a keiki menu with various options ranging from the classic grilled cheese sandwich, Keiki Hamburger, and the Island Fruit Cup.
There is also a poolside bar if you need a refresher between dips in the pool, and The Cookie Corner is a favorite with kids.
Best Oahu Resorts for Families Wrap Up
Now you know some of the best resorts in Oahu for families worth staying in during your next Oahu family vacation. With kids clubs, fantastic pool areas, and on-site restaurants and luaus, these are sure to create a vacation to remember!
If you're traveling with other families, you might also consider booking an Oahu vacation rental.