Heading to Oahu and want to see some of the incredible Hawaiian sea life? Scroll to find exactly where to see turtles on Oahu during your next trip!
This post about where to see turtles on Oahu Hawaii contains affiliate links which means if you purchase something from one of my affiliate links, I may earn a small commission that goes back into maintaining this blog.
Do you want to see turtles during your vacation in Hawaii?
Of course, who wouldn't want to see these beautiful creatures up close and personal? We have the inside scoop on where to find the best sea turtle sightings on Oahu. Read on for information about the best beaches and snorkeling spots!
Imagine swimming with a sea turtle, it's an experience you will never forget. With our guide, you will be able to find the right spot to have this amazing encounter. So what are you waiting for? Start planning your trip today!
Keep scrolling for my list of the best places to see turtles on Oahu!
Don't have time to read a bunch of Hawaii blog posts and reviews? Here are some of our top picks for visiting Oahu.
Popular Oahu Tours/Activities
Favorite Oahu Resorts/Hotels
Want to Rent a Car in Hawaii?
One of the best places to rent a car in Hawaii is Discount Hawaii Car Rental because they get the best rates from top national companies like Alamo, Dollar, Thrifty, Avis, Enterprise, Budget, and Payless.
Want to skip all the planning and just access my detailed Oahu itinerary complete with daily schedules, fun activities, and travel hacks? Click the button below.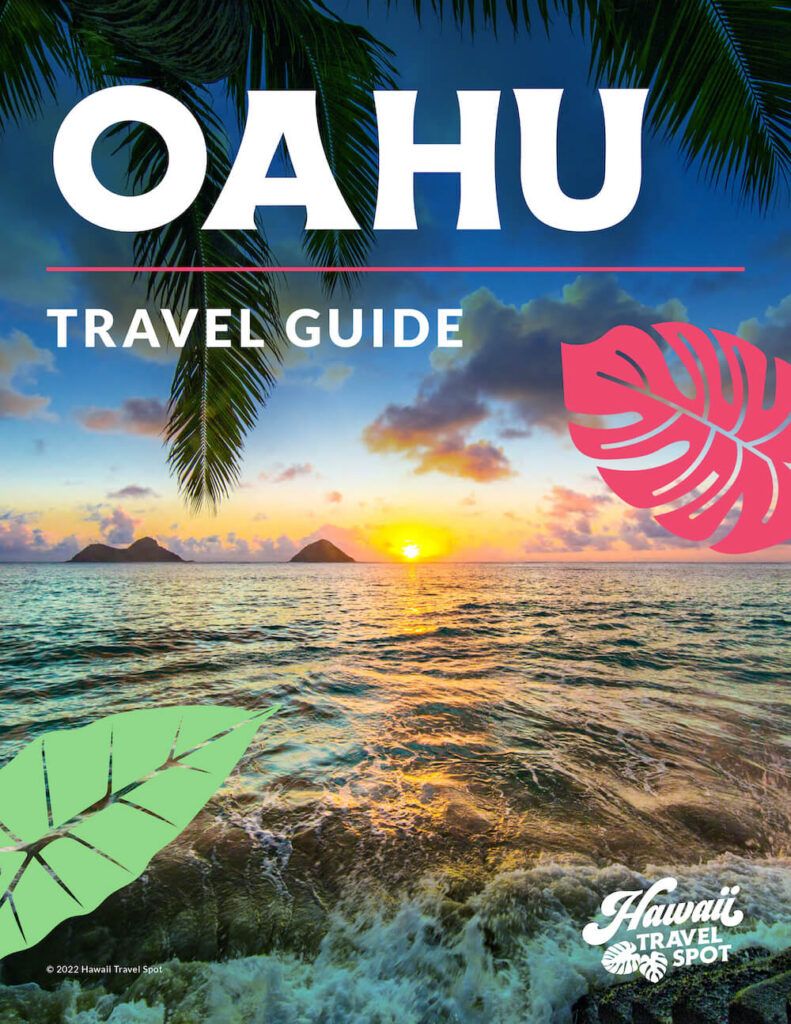 Best Time of Year to See Turtles in Oahu
The nice thing about sea turtles is that you can see them all year long on Oahu. This is mainly because the temperature stays consistent and doesn't change much between the different seasons.
However, the best time to see turtles in Oahu is during the warmer summer months when they are more active and moving around, usually between June and September.
You will usually see a lot more turtles when you go out during the day between 10:00 am to 2:00 pm.
Best Places to See Turtles in Oahu
If you want to see the green sea turtles during your trip to Hawaii, here are where to see turtles in Oahu any time of the year!
Laniakea Beach
Laniakea Beach is usually the best place to see turtles on Oahu. This beach is also known as Turtle Beach just for this reason. The turtles here will lay out on the sand and relax on the beach during the day.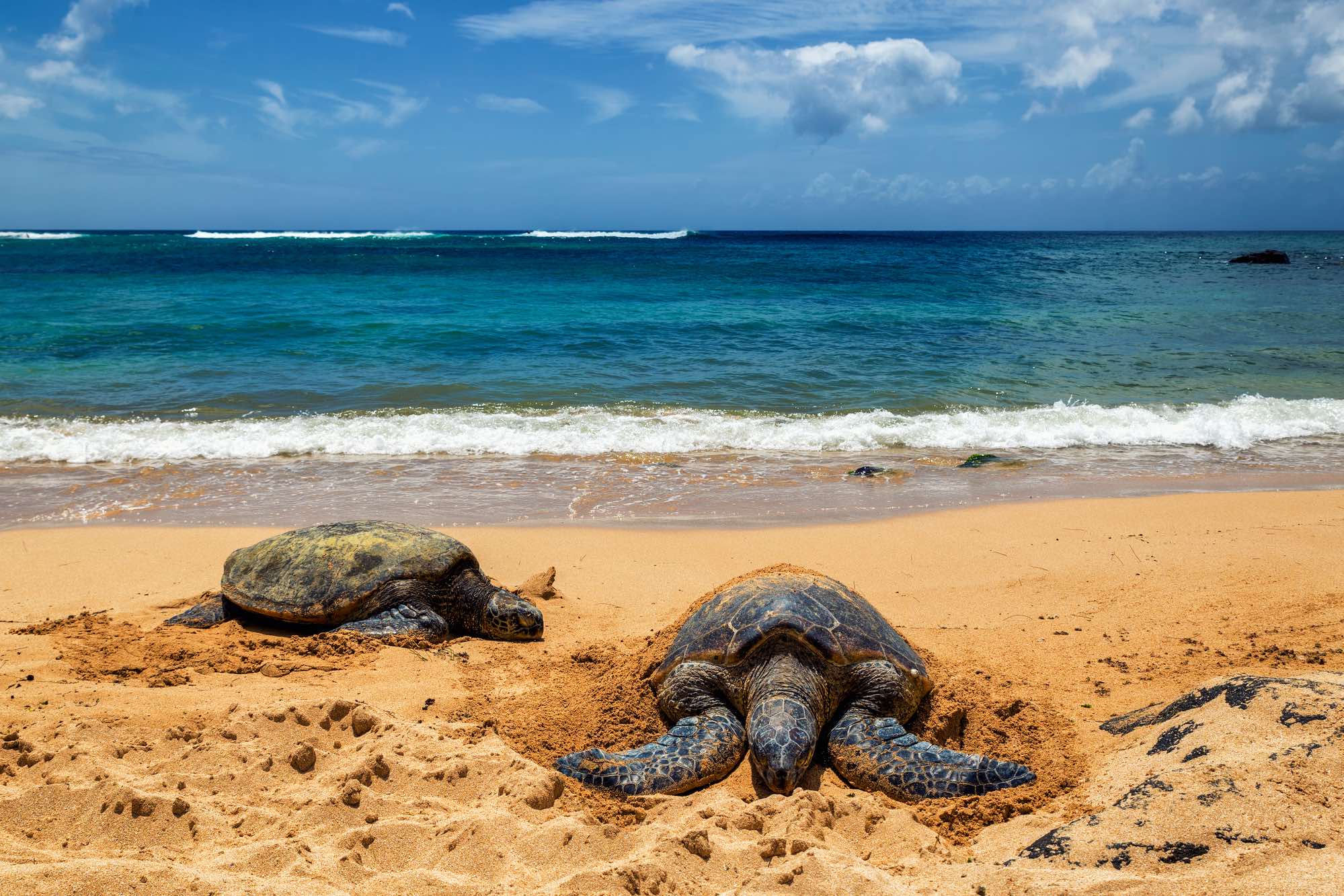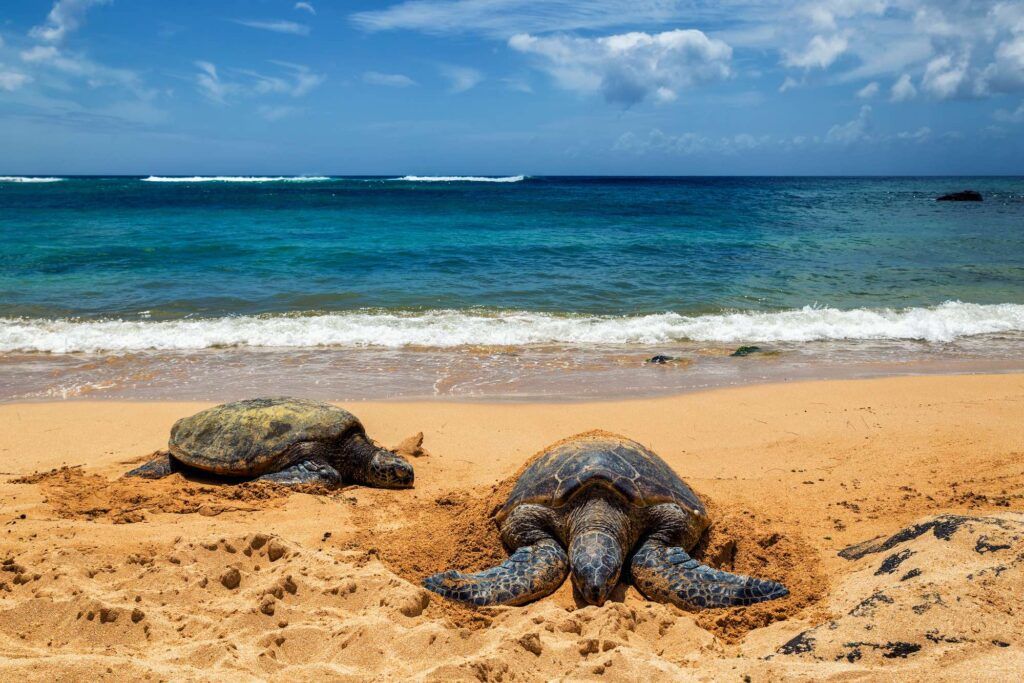 You will find this beach on the North Shore. Sometimes there is even a volunteer there who knows the turtles very well. They can teach you their names and all about these fascinating animals.
Remember to keep your distance, but you can always try to get a picture of them when you spot them on the sand.
This beach is also one of the most beautiful beaches on Oahu, so take your time and have fun at this incredible place.
Kuilima Cove
If you are a beginner at snorkeling, head to Kuilima Cove. It is also on the North Shore and is at Turtle Bay. A rock barrier protects the waters, so it is nice, calm, and even great for kids!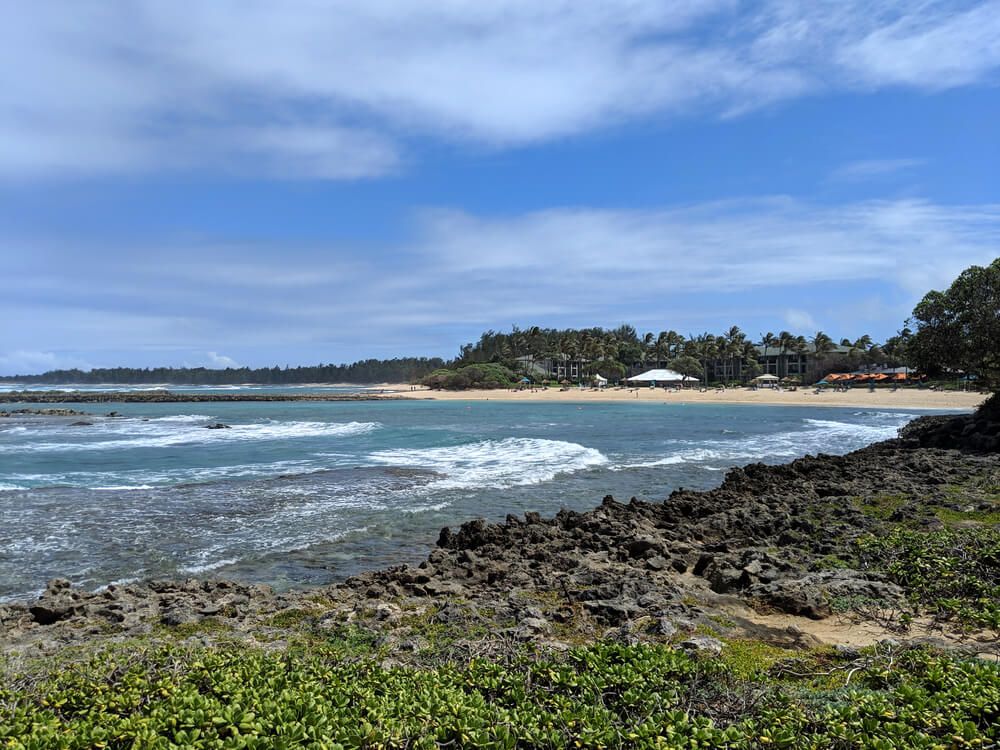 You will find crystal clear waters and tons of sea life. If you come in the morning or late afternoon, you will have a greater chance of seeing them in the water or along the shore!
Waikiki Beach
You might also be able to catch some sea turtles on Waikiki Beach near the Outrigger Reef Waikiki Beach Resort. If you go early in the morning, you might even get to see them sunbathing on the sand or eating some seaweed!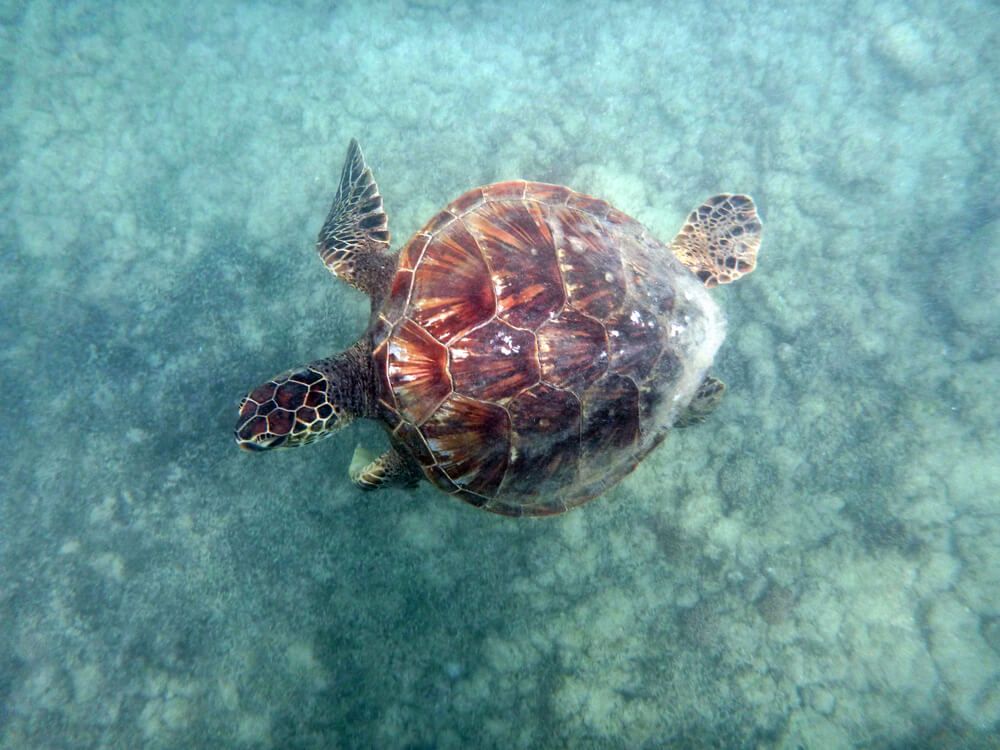 Because Waikiki Beach is so big, you can catch glimpses of sea turtles all along the beach and even as you walk on the pier from time to time.
Kaupo Bay
Also known as Cockroach Cove, Kaupo Bay has some great tide pools, which are perfect for snorkeling and seeing some turtles! This cove is located right next to the Halona Blowhole, close to Waikiki.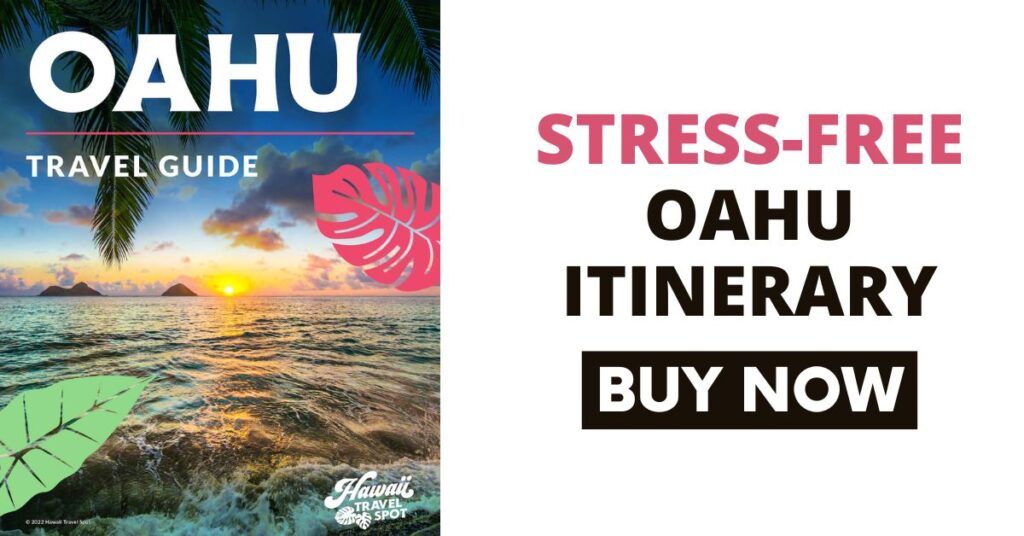 Electric Beach
Another one of the best places to see sea turtles in Oahu is at Electric Beach. Here you can see all sorts of incredible marine life, especially the green sea turtles.
Electric Beach is located on the West Side of the island, but it is definitely worth a visit to snorkel with Oahu sea turtles. It is actually called Kahe Point, but since there is an electrical plant close by, it is best known as Electric Beach.
While you may not see them out on the sand, you will typically spot a few sea turtles when you snorkel. This is one of Oahu's most popular snorkeling locations, but it is not for beginners. The waves and currents are pretty strong, so make sure to stay safe and be prepared.
You might even spot some dolphins here!
Makua Beach
Also along the West Side is the Makua Beach. Here you can snorkel with the sea turtles on Oahu. Because it is further on the West Side, many people do not come out here, so this is a perfect place to swim with the turtles and not be too crowded.
You will find clear water and incredible sea life, along with the green sea turtles.
Hanauma Bay
Hanauma Bay is another one of the best snorkeling spots on Oahu and a great place to see some turtles. This crescent-shaped crater is protected and a great place to see gorgeous tropical fish and coral.
With over 300 different species here, you will want to spend an entire day exploring and seeing all the marine life you can imagine. Because Hanauma Bay is such a popular tourist location, the sea turtles here are more comfortable around humans. But you still need to keep your distance!
At this location, you will more likely see these turtles in the more shallow areas and close to the reef.
Haleiwa Beach
Another one of the best beaches to see turtles in Oahu is Haleiwa Beach. The water is so clear and pretty here that you can easily spot the turtles around.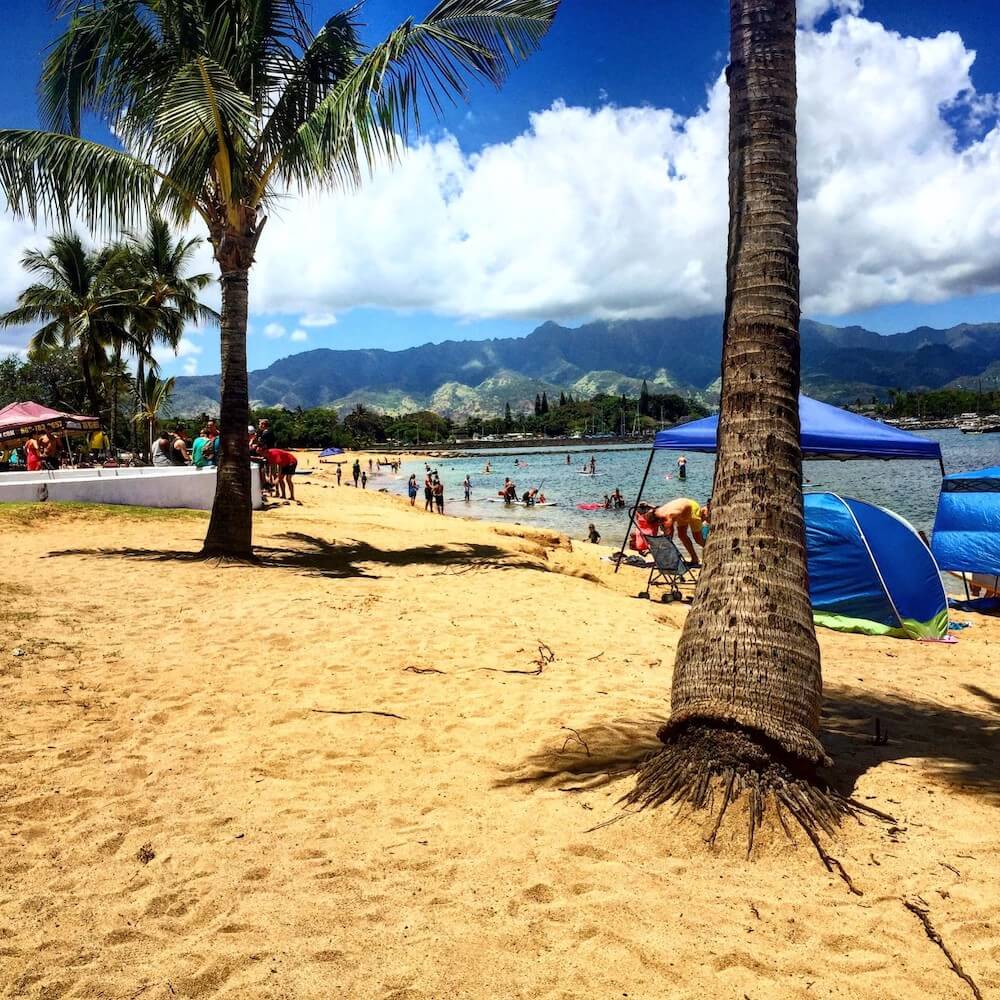 The water is pretty shallow, and the reef is super close, both of which are ideal situations for spotting some turtles.
Sometimes they are napping on the sand; other times, you will see them up catching some air or even feeding off of the seaweed!
Snorkeling with Sea Turtles in Oahu
On Oahu, snorkeling with turtles is very common. Here are some snorkeling tours that help you swim and snorkel right with the green sea turtles!
Turtle Canyon Catamaran Snorkel Cruise from Waikiki
Set sail to see some incredible sea turtles on this Catamaran Snorkel Cruise! What's great about this tour is that you will definitely see a turtle or two; if not, you get to go again for free.
During this tour, you will head to Turtle Canyon and snorkel for around two hours. During the 15 minutes it takes to get to Turtle Canyon, see if you can spot any dolphins or whales out on the ocean.
If you want to see some sea turtles while you snorkel, this is definitely the tour you want to go on. Check the latest rates and availability.
North Shore Circle Island Adventure
For an entire island circle tour that includes snorkeling with the turtles, go on this North Shore Circle Island Adventure. This tour is eight hours long and will give you an hour along the North Shore, where you can see and swim with the turtles.
Snorkeling gear is included. You will also get to see Diamond Head, the Halona Blowhole, visit a Macadamia Nut Farm and the Dole Plantation, and many more things. It is a full day's worth of adventure! Check the latest rates and availability.
Oahu Submarine Scooter Adventure
For a unique snorkeling with the sea turtles tour, try this Submarine Scooter Adventure! You will get to see the Oahu sea turtles while riding on an underwater scooter.
It is a two-hour tour that takes you across Diamond Head Crater through Maunalua Bay. Your guide will show you schools of tropical fish and plenty of awesome turtles.
It is a fun way to snorkel with sea turtles and is perfect for those who can't swim very well. Check the latest rates and availability.
Oahu Catamaran Cruise
For a snorkeling tour along the island's West Side, hop aboard this three-and-a-half-hour Oahu Catamaran Cruise. You will get a delicious Hawaiian meal and be able to see tons of incredible tropical marine life.
During this tour, you will go to a local, lesser-known location on the West Side to snorkel for an hour with all the fish and sea turtles. You might even spot some dolphins, whales, and turtles along the way! Check the latest rates and availability.
Shaka Kayaks Turtle Watching Tour
During this tour, you will get to kayak in the ocean to spot some sea turtles. You will be out on Kawela Bay along the North Shore. While out on your kayak, you will learn how to identify the Honu, watch their behaviors, and learn their sex and size.
You will get to see these incredible creatures in their natural habitats at four different locations:
Shallow areas
Deep feeding grounds
Basking rocks
Cleaning station
This tour is another one that offers a guarantee you will see turtles, or you go again for free.
Tips for Being Around Sea Turtles On Oahu
Don't get too close to the turtles. Learn what their movements mean, so you will know when to give them even more space.
Do not feed or touch the sea turtles.
Don't use the flash when you take pictures of them either.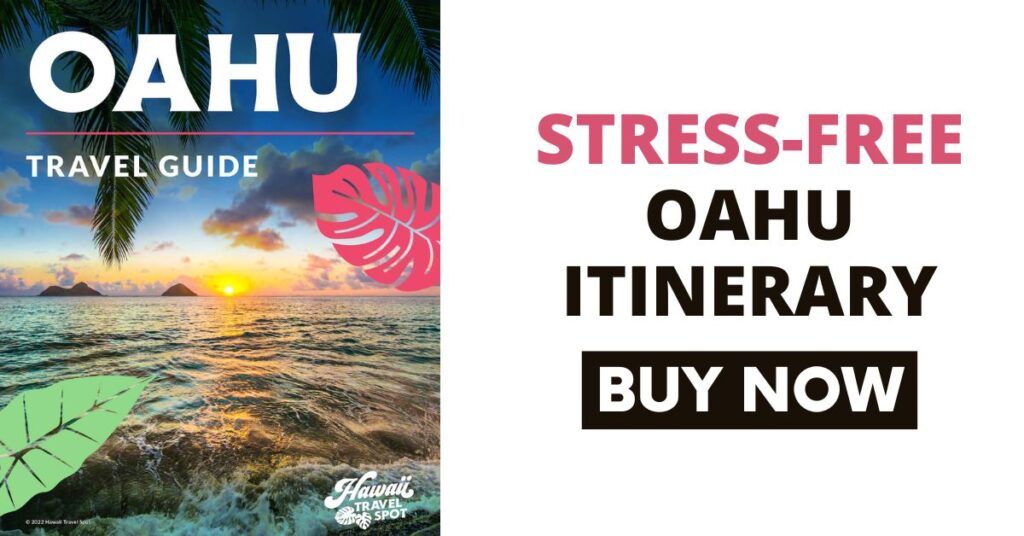 How to Swim with Turtles in Hawaii FAQs
What beaches in Oahu have turtles? 
Plenty of beaches on Oahu will have sea turtles. Some of the most popular ones include Laniakea Beach, Electric Beach, and Kuilima Cove.
Can you touch sea turtles?
NO, you cannot. It is illegal to touch sea turtles in Hawaii as they are protected under the Endangered Species Act. Getting close and touching them is very harmful. Keep your distance and help protect these beautiful creatures when you see them. You can actually get fined if you touch sea turtles in Hawaii, so make sure you stay away! Turtles are sacred in Hawaii so try to stay around 10 feet away at all times. 
What are sea turtles called in Hawaiian?
The most common turtle to see in Hawaii is the green sea turtle, which is called a honu in Hawaiian.
Oahu Snorkeling with Turtles Wrap Up
These are some of the best places to see turtles on Oahu. Next time you go to Oahu, try any of these locations on your own or go on a turtle snorkeling tour and watch these incredible sea turtles in their natural habitat!