Heading to Oahu on your next trip and want to do some hiking? Find out the coolest Oahu waterfall hikes worth adding to your Oahu itinerary.
This list of amazing Oahu waterfall hikes was written by Marcie Cheung (a Hawaii travel expert) and contains affiliate links which means if you purchase something from one of my affiliate links, I may earn a small commission that goes back into maintaining this blog.
As an island famous for its tourist attractions and big cities, Oahu's natural attractions often go underappreciated. This article is dedicated to some of the prettiest waterfall hikes out there!
Waterfall hikes are the perfect experience for anyone who enjoys nature, exercise, or both! Whether you feel up for a strenuous adventure or a relaxed stroll, Oahu has the option for you. You'll find trailheads at the North Shore, Waikiki, and even near Honolulu!
If you're looking for a breathtaking experience (quite literally) and want to enjoy the beautiful nature of Oahu, you'll want to check out this list of the best waterfall hikes in Oahu! And don't forget these Hawaii hiking essentials!
Why follow my lead? I've explored Hawaii more than 40 times, so I've got lots of advice!
Want to skip all the planning and just access my detailed Oahu itinerary complete with daily schedules, fun activities, and travel hacks? Click the button below.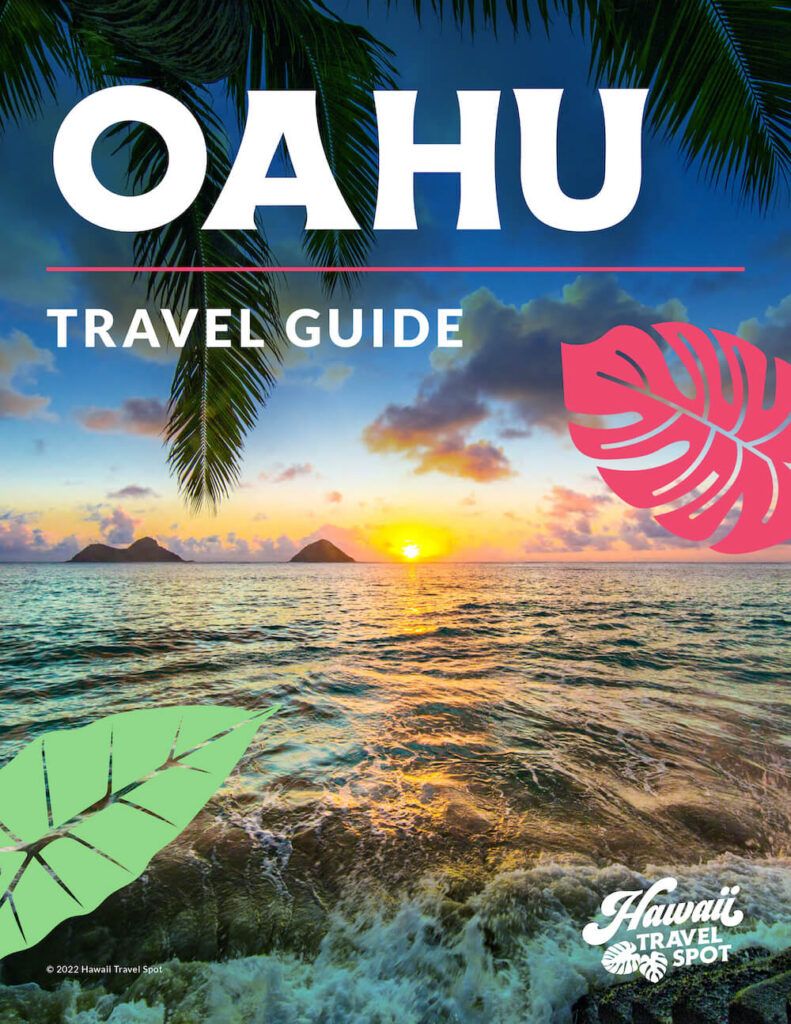 12 Best Oahu Waterfall Hikes
1. Maunawili Falls
The Maunawili Falls Trail, located in the Maunawili Valley below the breathtaking Pali Cliffs, begins in a residential area off Kelewina Street. Assuming that you'd like to stay and enjoy the waterfall, a trip there and back takes roughly 3-4 hours, as it is a 3.5-mile in-and-out hike.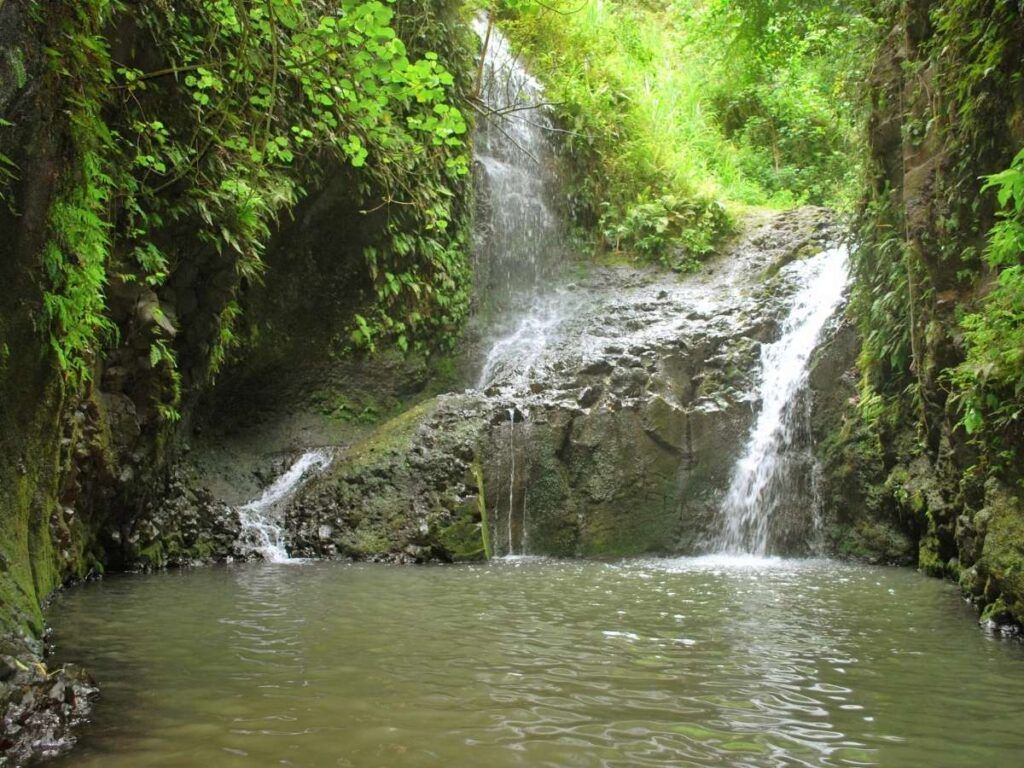 The Maunawili Falls themselves are beautiful and considered one of the top Oahu attractions. surrounded by verdant greenery and falling 25 feet into a beautiful pool where people love to swim and play. Those with a daring spirit like to jump from the waterfall into the pools.
The trail itself is well-maintained by the Hawaiian government and is surrounded by unique vegetation and wildlife, including tiny purple naupaka flowers, medicinal mamake plants, and beautiful lobelia flowers. There's even a small grove of apple trees!
The hike is not difficult or arduous, and if you're traveling with younger or less athletic people, this may be one of the best options.
One of the only concerns I'd stay aware of is that the trail is covered in overgrown roots and can be muddy – even though I'm sure you're planning on having fun at the waterfall, I'd still wear proper hiking shoes!
2. Koloa Gulch
The Koloa Gulch is likely the most challenging hike on this list but well worth the effort. There are multiple entrances – you can enter at the end of Aakahi Gulch Road, where you'll be able to see a sign indicating that the trail is private property or at the open ridge at Koolau Range.
The trail is owned privately, but there are multiple ways to gain access. You can fill out a waiver online or get a free permit from Hawaii Reserves, either online or at offices within the Laie Shopping Center.
The trail is an 8-mile round trip hike, 10 miles if you want to visit the main waterfall and the smaller one. The trail consists of two parts, the ridge, and the stream. Partway through the Kōloa Gulch hike, it will split off to the side, giving you access to a stream you'll follow to the waterfall.
Ribbons mark the entire path, but I'd pay close attention to your surroundings if you get lost. I'd also avoid hiking this trail soon after rain or if the Koloa Stream seems abnormally large for other reasons.
The trail is extremely beautiful, and many enjoy hiking along bodies of water like the stream. Vegetation around the trail includes fruit trees, 'ulei, akia, and kauna'oa.
The falls themselves are very beautiful. The giant waterfall stretches 100 feet high and is surrounded by immense rocks and vegetation, feeding into a shallow pool you can swim and relax in.
3. Laie Falls
The entrance to the Laie Falls Trail is near the Polynesian Cultural Center and the Laie Shopping Center, where you can get a permit with nearly no hassle to enter the premises.
If the district is closed, or you can't go for any other reason, you can get a permit online! It is past the Laie Field, through the yellow gate, and behind the second gate.
Although the waterfall may seem small, it is multi-tiered and extremely beautiful. The nearby ridge is immensely beautiful and contributes significantly to the experience.
Given that the trail has a relatively small number of visitors, it's perfect for anyone looking for a tranquil but challenging hiking experience. It's also perfect for those who want to try cliff-diving without danger – the waterfall is only 15 feet tall.
The trail has a lot of unique vegetation you can't find on other trails, ranging from immense bamboo grooves to strawberry plants that yield actual fruit!
I personally really loved the pool that natural walls of rock so surround the Laie Falls. That, and the fact that it was much less crowded than some other trails, made it a truly tranquil experience.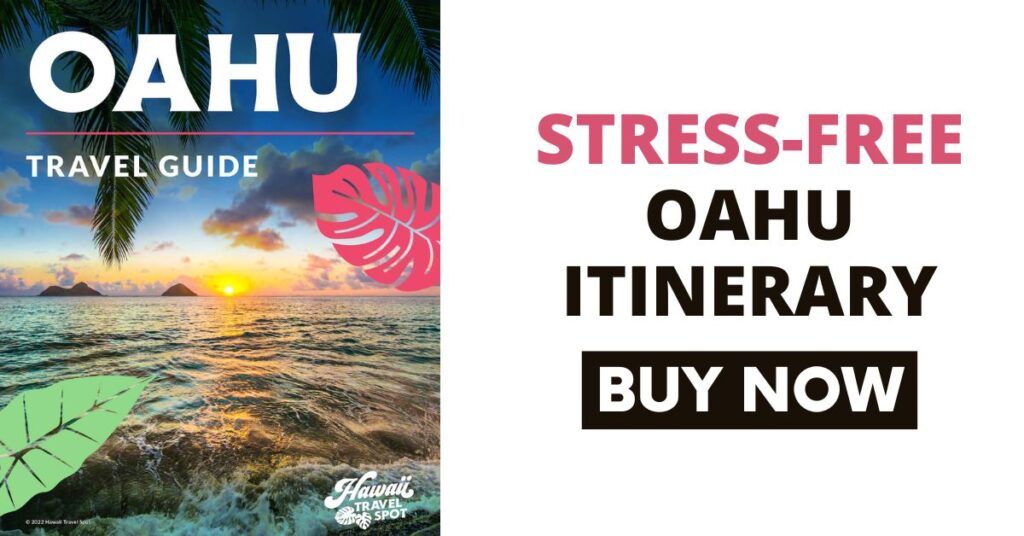 4. Jackass Ginger Pool
If you're doing the trails on this list in order, the Jackass Ginger Pool and the trail that leads to it, the Judd Memorial Trail, will be a welcome reprieve from the intense hikes above. The entrance to the Judd Memorial Trail is accessible on the side of the Nuuanu Pali Drive in a bamboo forest.
The hike itself is a one-mile round trip, surrounded by plants such as bamboo, monstera plants, eucalyptus, Cook pines, and guava.
The trail can be pretty muddy, especially after rainfall, and there are multiple small stream crossings, so I'd bring waterproof boots that are hard to slip in and clean clothes for your little ones to change into!
I'd highly recommend swimming in the pool here. Hawaiian royalty used to use the same pool, floating about its surface on massive, thick ti leaves.
There are even natural water slides made of rock, smoothened by years of water flow! The waterfall feels amazing to stand under, and there are swinging ropes you can use to jump in with style!
5. Manoa Falls
The entrance to Manoa Falls is about a 20-minute drive from Honolulu, Oahu. Before you begin on the hike, make sure you pay the parking fee!
Manoa Falls is probably the prettiest waterfall I've ever seen in Hawaii. Stretching over 150 feet tall, it's surrounded by a beautiful cliff face, verdant trees, and flowers – it's definitely worth the visit!
The trail, stretching 1.7 miles in a round trip, takes roughly 1-2 miles to complete, although it may take longer if you enjoy the water and pool. It's one of the easiest hikes Oahu offers, yet still beautiful and indescribably tranquil.
The path you walk is largely cleared of mud, but the trail may still be slippery on or soon after rainy days. It's surrounded by many local wildlife: ginger plants, eucalyptus trees, hau trees, banyan trees, and even tropical birds such as the Shama.
There are some catches, though. The falls can slow to a slight trickle if you visit too long after nightfall, and a large number of tourists may disturb the tranquility you're seeking while admiring nature. Check out my top Manoa Falls tips HERE.
6. Waimea Falls
Waimea Falls is located at the Waimea Valley on the North Shore of Oahu. The falls themselves are actually accessible through a short quarter-mile drive, but I personally wouldn't recommend that!
Waimea Valley, of course, is known for much more than the waterfall. It has various archeological sites, activities, Toa Luau, and even a botanical garden! Check out my full guide to visiting Waimea Valley.
Waimea Falls is one of the most recognizable waterfalls in Hawaii, largely because of its spiritual significance.
The area is run by a non-profit organization that takes great care to restore and maintain the waterfall and the valley surrounding it in honor and respect to the people who found it so significant.
The hike to the waterfall is less than two miles long and is well worth the effort – while the falls may be crowded, they are beautiful and the pool it feeds into is very fun to swim in. If you're worried about safety, there are even lifeguards on duty and swim gear for rent!
The only drawback, however, is that to enter the trail, you need to buy tickets to enter the Waimea Valley Park. The prices of the tickets are inconsistent, but when I was there, they weren't too costly!
7. Likeke Falls
The entrance to the Likeke Falls Trail can be found at the Ko'olau Golf Club, and the experience itself is completely free. No parking fees or ticket prices in sight!
The hike is also surprisingly easy. Taking the proper Likeke Falls Trail will take roughly 20-30 minutes to reach the falls, depending on your speed and proficiency.
The trail is unique, with beautiful views of the nearby Ko'olau Mountains! It is surrounded by tropical wildlife and a beautiful jungle. The trees around you even have arrows pointing you to your location!
Do keep in mind, however, that there are two routes to the Likeke Falls, one of which has been entirely blocked off because it is immensely dangerous.
Whatever you do, don't take the blocked route! It would take nearly four times as long to reach the waterfall, and the trail is littered with rocks and branches. However, this route begins in an entirely different place, the Pali Lookout, so I wouldn't be worried as long as you start at the right place!
The waterfall itself is beautiful, and the water is clear and unbelievably refreshing. If you ever want to experience a stunning view without a tedious and strenuous hike, I'd totally recommend Likeke Falls!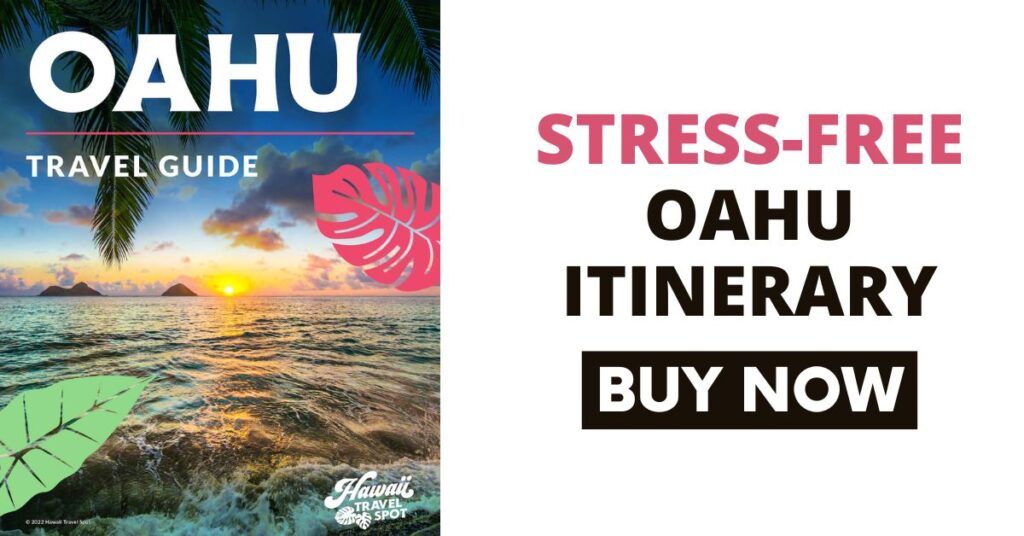 8. Kaipapau Falls
To preface discussing this waterfall, I have to say that you must play a careful game with the weather here.
Most of the hike comprises of rock hopping over the same stream for four miles. So I'd warn against going during or soon after rain to prevent increased risk and injury.
However, the waterfall is the end goal. It's important to check the weather because you might only see a tricky of water if it's been a dry season.
To access the trail, follow the paved road until you see the trailhead. Remember that the stream level rises the further you hike. So you should adjust accordingly and not be afraid to turn back!
Throughout the hike, you'll be able to follow the beautiful stream and see vegetation and even bunkers, which the trail is equally famous for. Plan in advance for the 30+ stream crossings you'll have to do, and always prioritize your safety!
9. Lulumahu Falls
Hiking the Lulumahu Falls is illegal without a permit you can purchase online from the Hawaiian Department of Forestry and Wildlife.
The government owns the trail privately, but it's absolutely worth the price! It has beautiful views and an amazing waterfall for a moderately easy hike. When you park there, be sure to place your perfect where it's easy to see.
The trailhead is notoriously tricky to find, especially for first-time visitors. It's securely hidden away on Pali Hwy, at the intersection between Pali Highway and Nuuanu Pali Drive.
The trail allows you to see the ruins of King Kamehameha III's private summer home, ancient water repositories, and stone steps. It can be muddy and slippery after rainy weather, which I'd be aware of!
Follow the red ribbons tied on trees to prevent yourself from getting lost. If you feel lost or unsure, just travel upstream – you'll get to the falls eventually! However, if it's rained recently, please don't hike here, as the stream can get swollen and dangerous.
The falls themselves are surprisingly elevated and very tranquil. It's usually much less crowded than many of the trails on this list, which creates a uniquely peaceful environment.
10. Kapena Falls
The Kapena Falls and the trail that leads to it is reportedly the home of the Kaupe, a malevolent spirit who used to rule the Nu'uanu Valley. This trail and the waterfall is a sacred spiritual area for Native Hawaiian. Please exercise caution and respect while traversing it!
While the entrance to Kapena Falls is obvious and self-explanatory, parking can be difficult. The most convenient lot is between a nearby church and a cemetery. Though if you plan on parking there I'd arrive early, as the cemetery closes at 4 pm.
A round trip stretches barely 0.3 miles – an extraordinarily short hike for an extraordinarily beautiful waterfall. While the waterfall is small, it is multi-tiered and feeds into a beautiful lagoon.
Another unique aspect of this trail is its historical significance and relics. If you look into a small cage near the trail, you'll see petroglyphs of men and dogs that documents the legend of the Kaupe spirit!
11. Waimano Falls
The Waimano Falls Trail is now one of the most famous waterfall trails on Hawaii. This is largely because it is considered an easy route that isn't too difficult for a family to handle. However, I'd still exercise caution – the trail can sometimes be steep and challenging to manage.
The entrance to the Waimano Falls Trail can be found at the chain link fence near the parking area. Be sure to bring money – there's a sneaky parking fee that I wouldn't have noticed if not for my kids!
The trail has a variety of exciting wildlife, ranging from guava and lilikoi to many beautiful tropical flowers! I'd greatly recommend bringing bug spray, as there are a lot of mosquitos and bugs that bite.
The pool is definitely the highlight of this trail, covered in mossy rocks. The waterfall is three-tiered, and the bottom pool area is immense, uniquely deep, and fun to swim in. It even has a rope swing!
If swimming isn't a thing, you can hike just a few minutes further to an overlook above the falls. Here you can enjoy a breathtaking view!
12. Waipuhia Falls
Waipuhia Falls is yet another privately owned property, requiring a free permit from the Hawaii Reserves. It is arguably only enjoyable with the right weather conditions, but worth it on a windy day soon after rain.
The entrance to Waipuhia Falls is located on the Pali Lookout, just off the Pali Highway. It's a mere 0.6 miles long and is, therefore, easily accessible.
If you catch the Waipuhia Falls on a windy day after heavy rain, you'll understand why it's nicknamed the Upside-Down Falls. The water inexplicably flows upwards, turning it into an upside-down waterfall!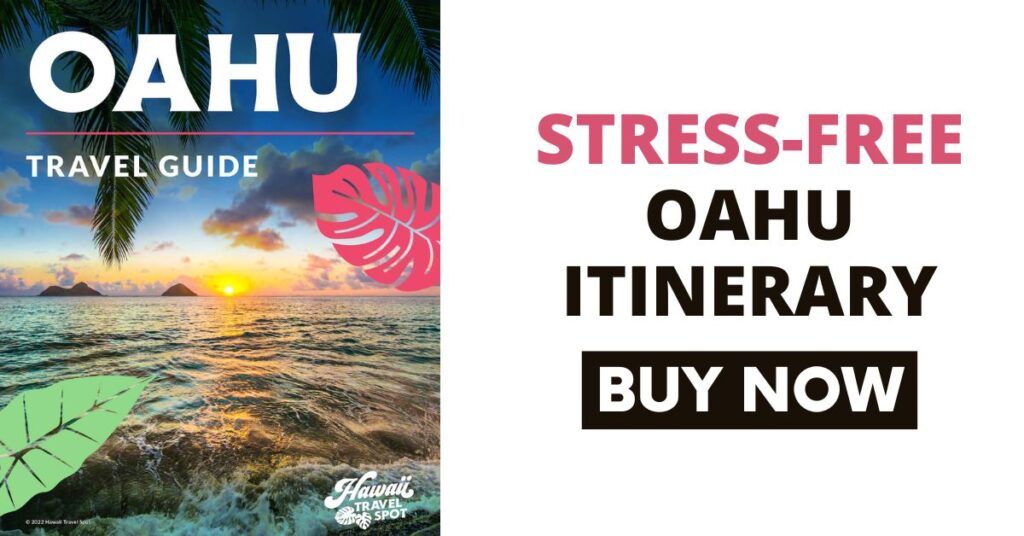 Oahu Waterfall Hikes FAQs
Are you allowed to swim in Oahu waterfalls?
Usually, yes! However, many waterfalls fall from too far above or feed into a pool too far below to allow visitors to swim safely in its pools. However, if the waterfall does allow swimming, I'd totally prepare to do so! It's a refreshing way to end a hike and is very fun. If you want to go swimming, I'd recommend Waimano Falls and Waimea Falls!
What are some of the easiest/most difficult waterfall hikes on Oahu?
On this list, I'd say that Manoa Falls, Waimea Falls, and Maunawili Falls are the easiest hikes. I'd say that the Koloa Gulch, Likeke Falls, and Laie Falls hikes are the most difficult.
What are some favorite Oahu waterfall hikes?
As you can tell from scrolling through my list, some of my favorites include Maunawili Falls, Koloa Gulch, and Laie Falls.
Best Oahu Waterfall Hikes Wrap Up
Almost any waterfall hike at Oahu is greatly enjoyable, but I've ranked some of my personal favorites on this list!
Whether you're looking for a strenuous hike through challenging terrain that requires experience or skill, or just a short, family-friendly hike, Oahu has the options for you!
When hiking, no matter how excited you are to see the beautiful falls, always prioritize safety, consider the weather conditions, and be well-prepared with gear, snacks, and water.
Also, remember to follow the law and respect culture and history. Many waterfalls require a permit, and failure to adhere to that requirement may result in legal punishment. Many trails and areas hold cultural significance to Hawaiian natives and should be respected.