Thinking about visiting North Shore Oahu? Check out these amazing things to do on the North Shore of Oahu for a day trip or longer vacation!
This list of things to do on the North Shore of Oahu contains affiliate links which means if you purchase something from one of my affiliate links, I may earn a small commission that goes back into maintaining this blog.
Planning a trip to Oahu and want to get out of Waikiki?
North Shore Oahu doesn't have as much hype as the southern part of the island. Many visitors don't know that this region is equally as beautiful as the rest of Oahu but with fewer people.
From taking a break on the beach, going hiking, snorkeling, and trying out local food, North Shore attractions have everything.
Simply pack your swimsuits, hiking shoes, goggles, sunscreen, and lots of water. You can have so much fun even just a day trip to North Shore Oahu.
Keep scrolling for my list of the best things to do on the North Shore of Oahu!
Don't have time to read a bunch of Hawaii blog posts and reviews? Here are some of our top picks for visiting Oahu.
Popular Oahu Tours/Activities
Favorite Oahu Resorts/Hotels
Want to Rent a Car in Hawaii?
One of the best places to rent a car in Hawaii is Discount Hawaii Car Rental because they get the best rates from top national companies like Alamo, Dollar, Thrifty, Avis, Enterprise, Budget, and Payless.
Want to skip all the planning and just access my detailed Oahu itinerary complete with daily schedules, fun activities, and travel hacks? Click the button below.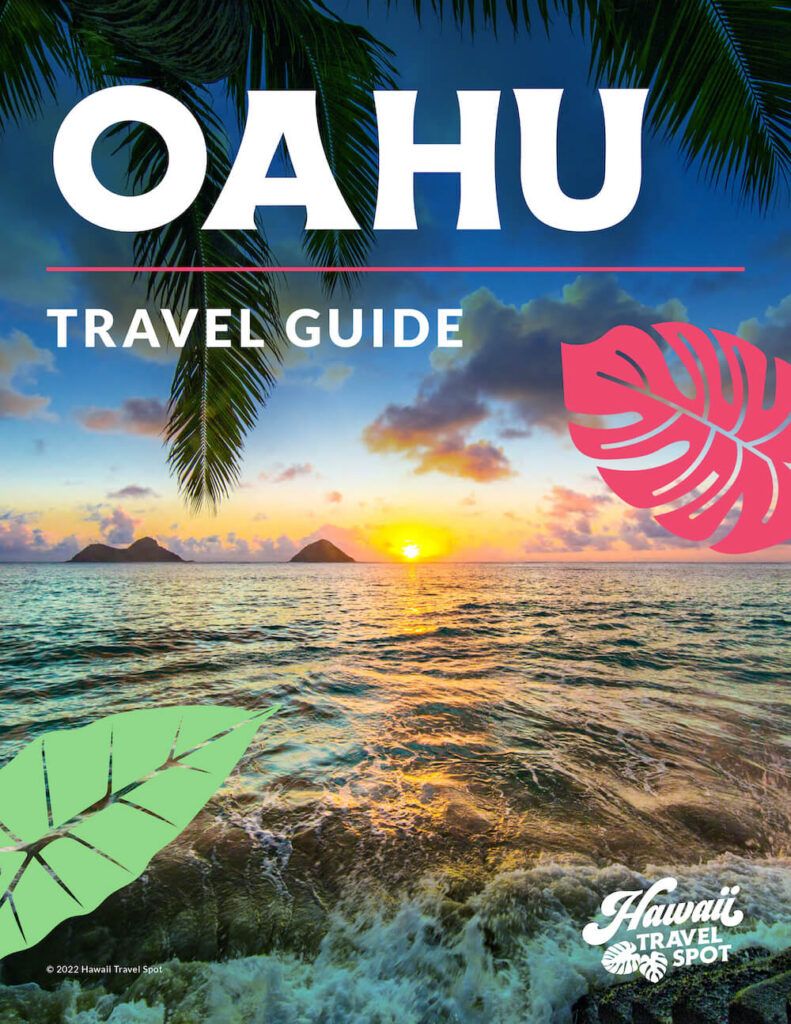 Amazing Things to do on the North Shore of Oahu Hawaii
1. Swim at Waimea Bay Beach Park
Waimea Bay Beach Park is one of the most popular North Shore Oahu beaches. Apart from its calm waters in summer, Waimea Bay is an awesome location to spot dolphins and sea turtles.
If you come during winter, this area is an incredible place to catch some amazing waves.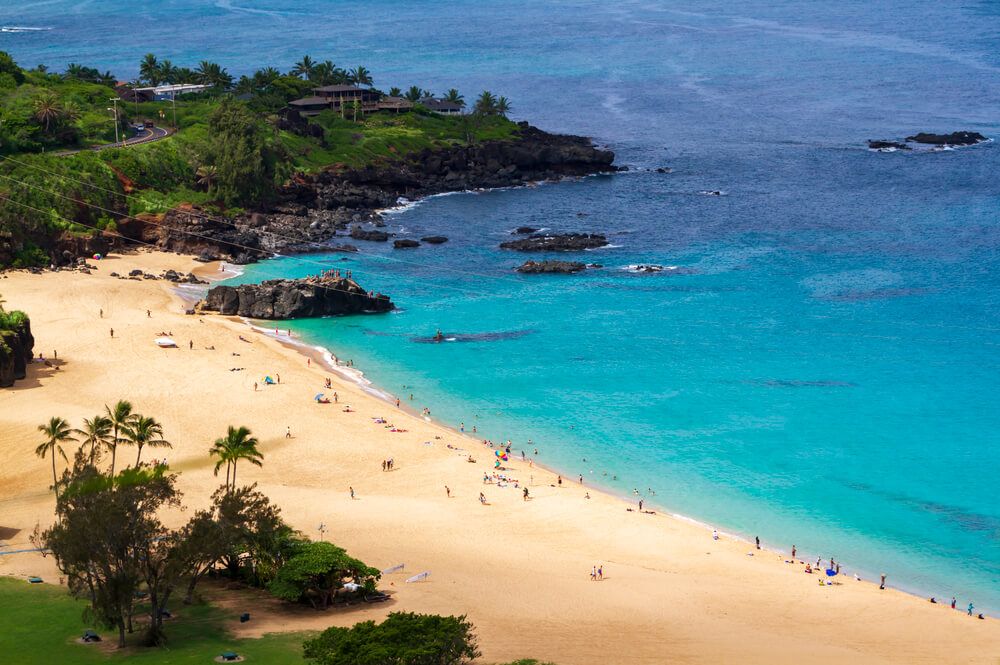 Come early to get a great spot and remember to bring swimming goggles because Waimea Bay is a great place to do snorkeling.
If you're looking for adventure, there are rock formations where you can go cliff jumping. Boogie boarding is another water activity this bay has to offer. There are lifeguards present, especially during the peak season, for visitors' safety.
2. Snorkel Near Haleiwa
You can go out a little bit further off the shoreline of Haleiwa to go snorkeling, where you can spot more marine animals. The current can be strong, so the best way to do this is by joining a tour where you will board a small boat and get to the perfect spot to find fish, rich corals, and sea turtles up close.
The tour usually lasts for 2-3 hours making it an ideal addition to your Oahu North Shore itinerary, especially if you have limited time here. Check the latest rates and availability.
3. Hike to Waimea Falls
If you want to sweat for that incredible wild swimming at Waimea Falls, you can pack a small bag and hike the Waimea Valley.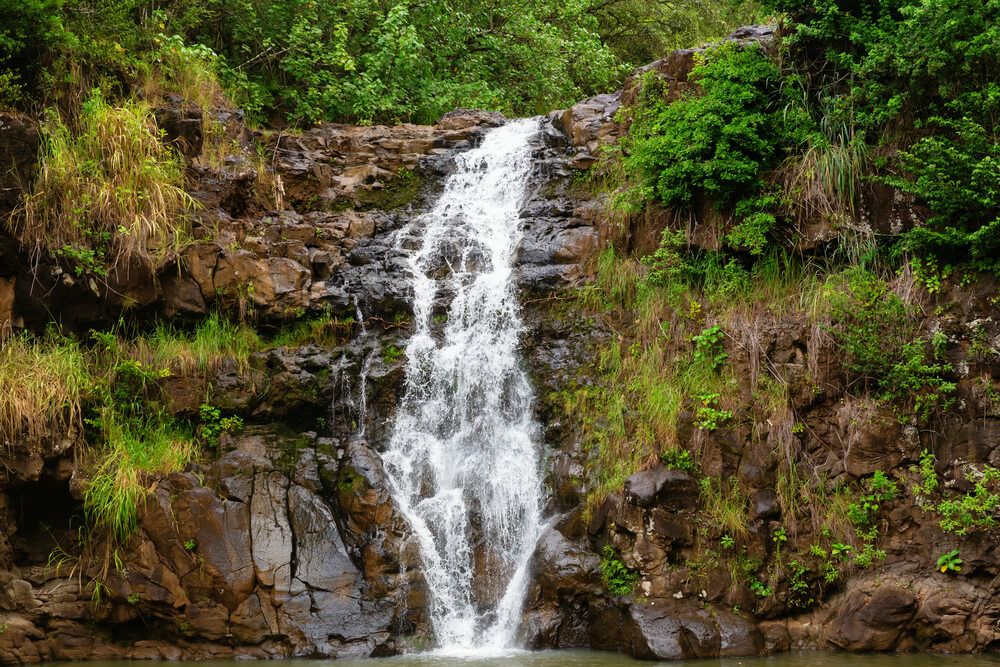 The trail starts near Waimea Botanical Garden. Simply follow the Waimea River or the trail. You won't get lost; at the end of it, a beautiful waterfall is waiting for you where you can go for a dip and cool down. This is why it's one of the best things to do in North Shore Oahu.
It's only a 2-mile loop and shouldn't take you more than an hour from start to finish. Admission is required. Check latest ticket prices.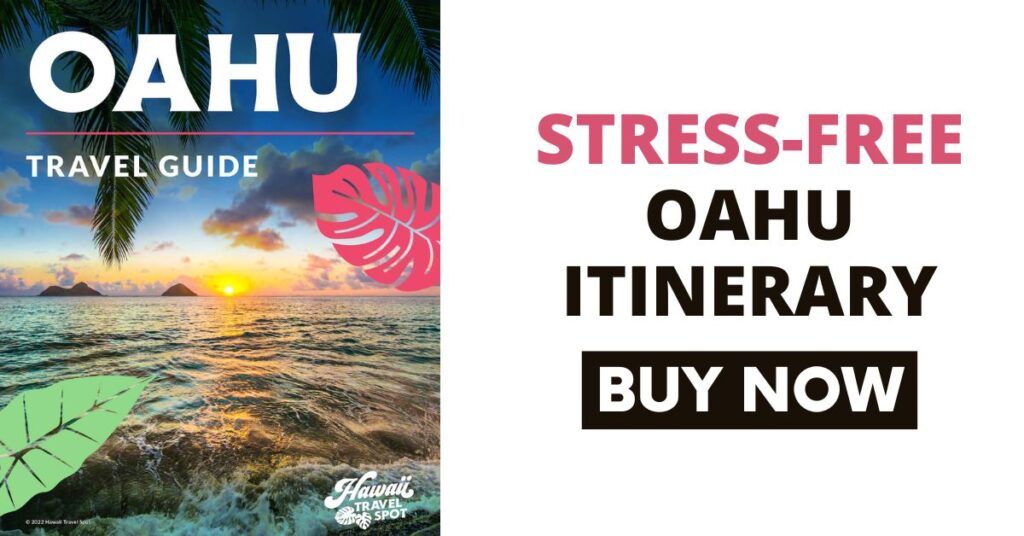 4. Toa Luau
Waimea Valley is also home to one of the most authentic luaus on Oahu: Toa Luau. Unlike the large, commercialized luaus, Toa Luau has a limited capacity making it one of the most intimate luaus on the island.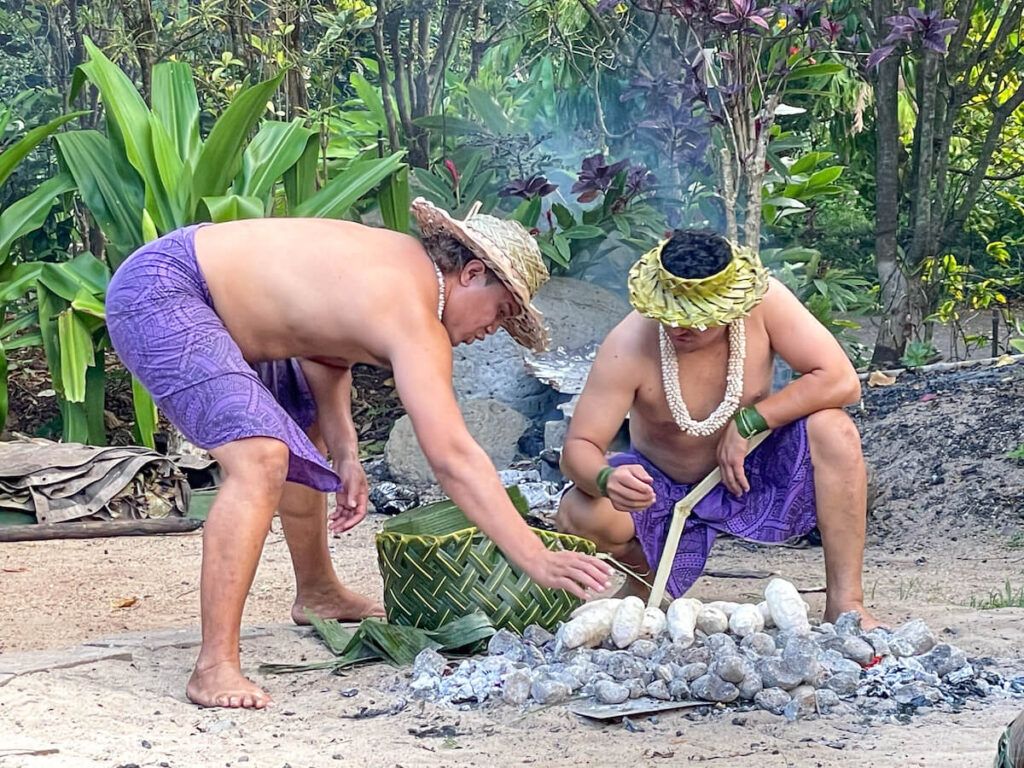 There are tons of really cool pre-show activities like prepping food, making crafts, playing lawn games, and more. And there are demonstrations like climbing up a coconut tree!
This is hands-down the best North Shore Oahu luau. They even offer an afternoon luau for people with little kids or those who don't want to drive at night. Check the latest rates and availability.
5. Surf at Banzai Pipeline
Not too far from Waimea Valley is an amazing spot for surfing. Keep in mind that these waves are big and recommended for intermediate and expert level surfers. These waves are so great the Banzai Pipeline even hosts an annual Billabong Pipe Masters Competition.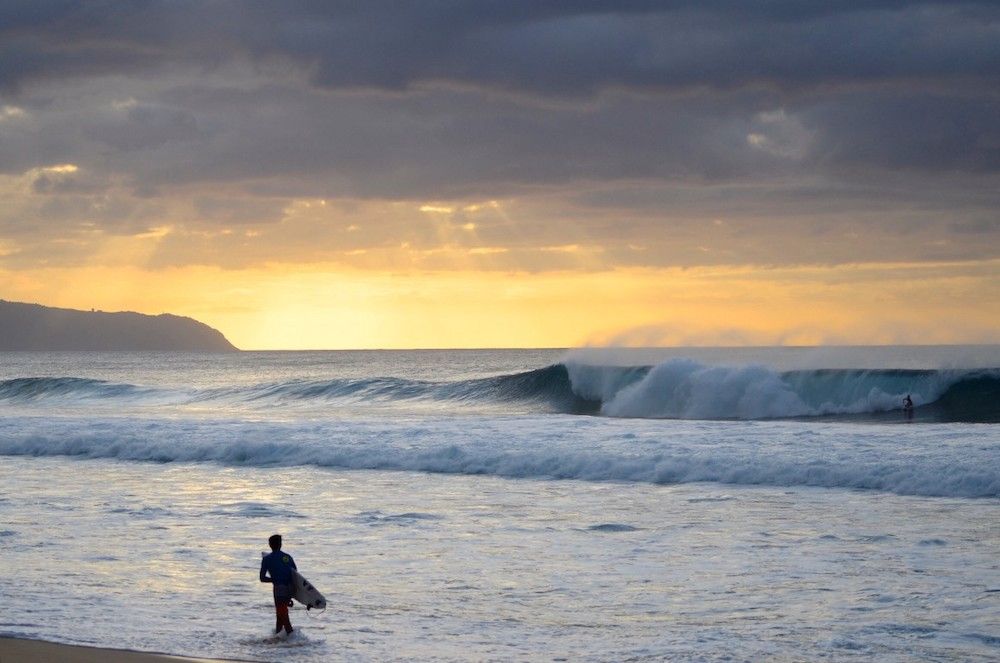 If you're not a surfer yourself, just watching the waves is very soothing and entertaining, you can also relax on its sandy beaches. Plenty of shops sell food, snacks, and other interesting local products.
6. Zip Line and Farm Adventure
This is another adventure that suits all ages. Spend 3 hours doing fantastic and thrilling activities such as zip lining, 4WD driving, rappelling, and rope bridges. This is a fun North Shore activity for families, couples, and friends seeking some exciting things to do.
This tour is about 3 hours long, you can easily book the snorkeling tour in the morning and this adventure trip in the afternoon with a nice lunch break in the middle. Check the latest rates and availability.
7. Tour Kahuku Farms
One of the best stops on a day trip to North Shore Oahu is Kahuku Farms. This is a family owned and operated farm that has been thriving for generations.
They have an amazing cafe that sells farm-to-table entrees, fresh fruit smoothies, and the best acai bowl I've ever had. Kahuku Farms grows the acai right on the property!
They also have a cool tractor tour that takes people around their farm. It's one of the best farm tours on Oahu for families.
8. Spot Sea Turtles at Laniakea Beach
Laniakea Beach is the best location in the North Shore Oahu to find sea turtles. Because of its rocky beach, many sea turtles seek refuge here, especially during hatching season.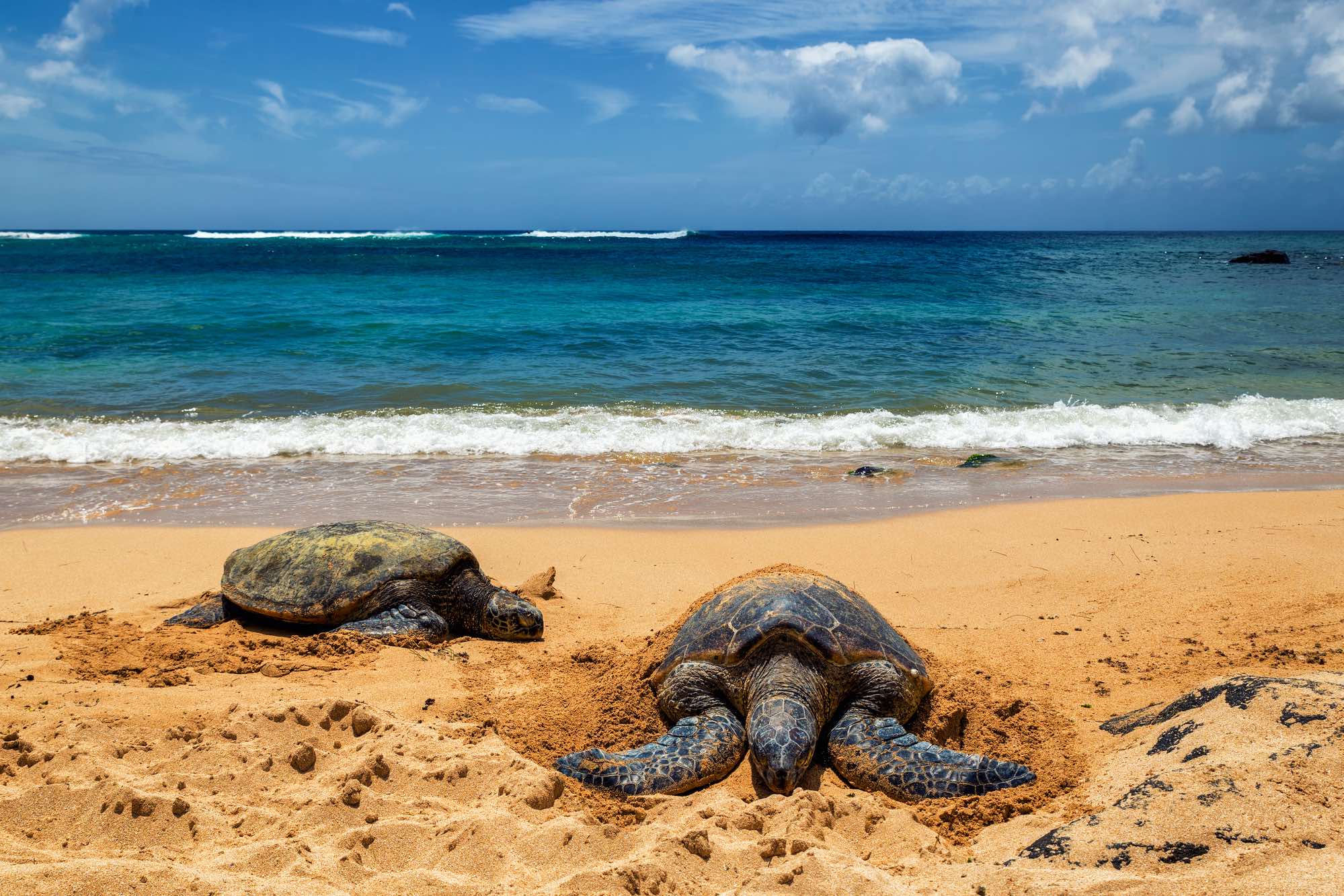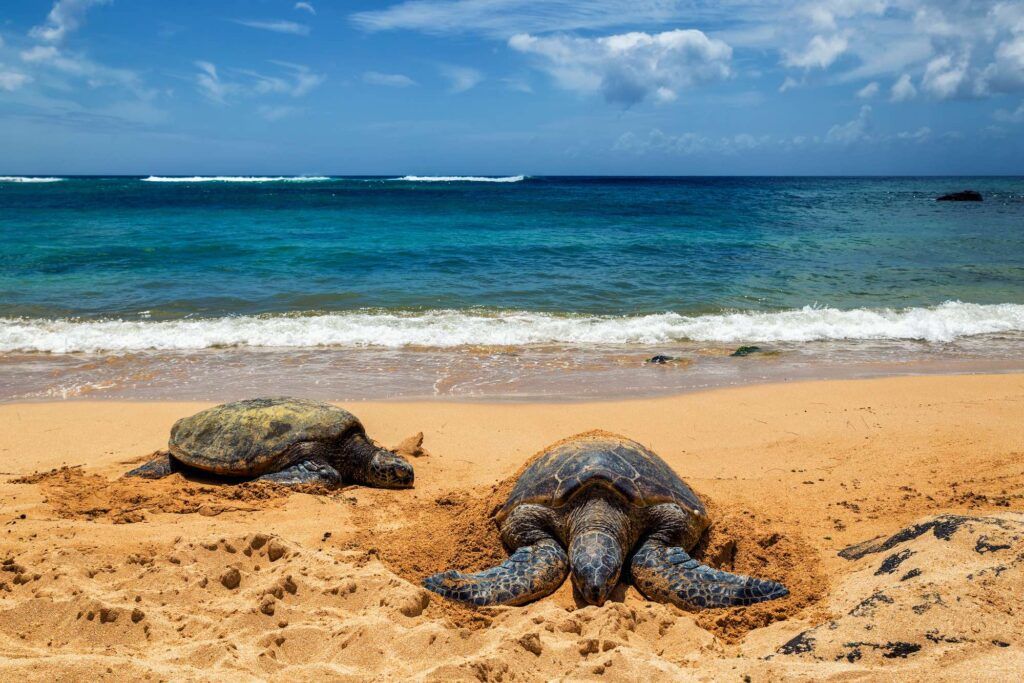 You should be able to find sea turtles all year round. The months of June to October are the hatching season. It's important to respect and give plenty of space to the animals during this time.
Although the beach is equally wonderful, it's not recommended for swimming, especially for young children, due to the rock and big waves.
Laniakea Beach is a public place with very limited parking space, it's advisable to simply stop by this area and get going after an hour.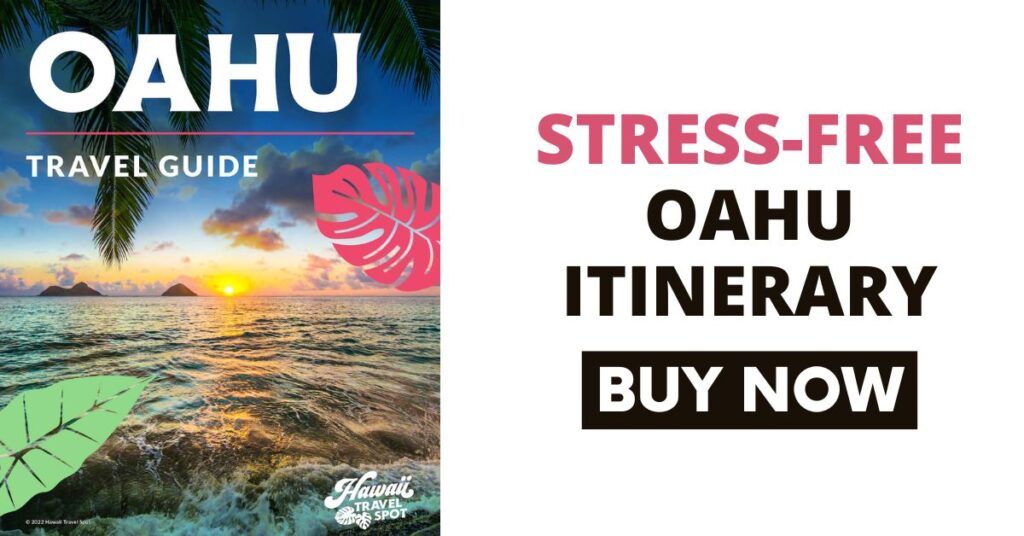 9. Drive the Scenic Kamehameha Highway
For road trippers, the Kamehameha Highway is one of the best scenic drives on Oahu. Apart from its fantastic road and scenic views, along the trail, are numerous exciting shops to stop by for food and souvenir shopping.
During peak season, the surfing months from November to March, the traffic can be heavy since Kamehameha Highway only has one lane road on both sides.
10. Explore Dole Plantation
One of the world's largest manufacturers and distributors of canned juices, Dole has a plantation located on the North Shore of Oahu, and it's open to the public.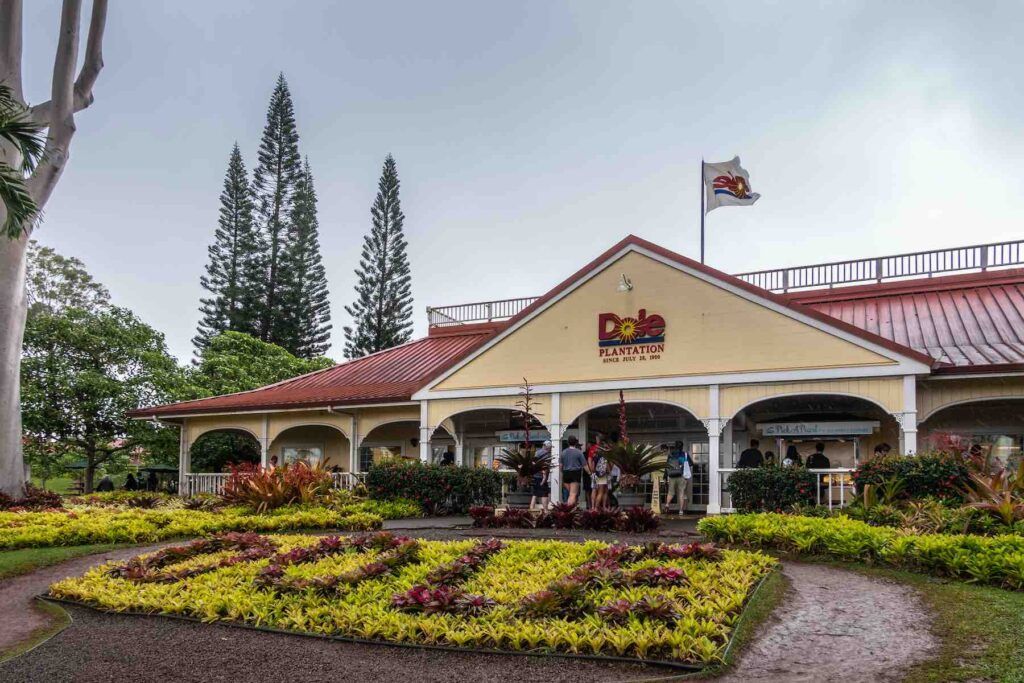 You can visit the factory and learn about the process of making its products, there's also a nice train ride that will take you through the farmland and a maze which young children will surely enjoy.
There are also products that you can try, taste, and buy if you enjoy them. Some of these products can only be found on this plantation and not in commercial stores.
Plan to spend about an hour during your visit. You can also book a tour that includes exploring the North Shore Oahu and visiting Dole Plantation, which is suitable for people with a tight schedule. Check the latest rates and availability.
Book a Hawaii Photo Shoot
Whenever we travel to Hawaii, we almost always book a photo shoot with Flytographer. They are super easy, affordable, AND it guarantees that I'll have more than just selfies. You can get $25 off if you book through this link or use the code HAWAIITRAVEL.
11. Go on a Food Adventure
If you don't know what to do in North Shore Oahu, try out its local food. Go enjoy a lot of the region's amazing food shacks, food trucks, and restaurants as you take a break from exploring.
While the North Shore of Oahu has limited accommodation options, the choices when it comes to dining are massive.
There's something for everybody from breakfast, lunch, snacks, and even dinner. Dining out and trying out different restaurants is one of the best Haleiwa attractions.
If you only have a day in this area, you can do snorkeling in the morning, take a lunch break, do ziplining in the after, and then have a delicious dinner before you leave North Shore.
Here's a quick list of the best places to eat around Oahu North Shore:
Giovanni's Shrimp Truck
Pupukea Grill
Haleiwa Bowls – açai bowls
Matsumoto Shave Ice
Uncle Bo's Haleiwa – bar and food
KillerTacos
Spaghettini
Haleʻiwa Beach House – seafood
The Sunrise Shack
12. Full Day North Shore Exploration
If you have limited time on the North Shore of Oahu, booking a full-day tour is best to explore this region. This trip highlights all the major attractions of the northern part, such as Oahu's Windward Coast, Sunset Beach, Banzai Pipelines, North Shore, Haleiwa, Laniakea Beach, and Dole Plantation.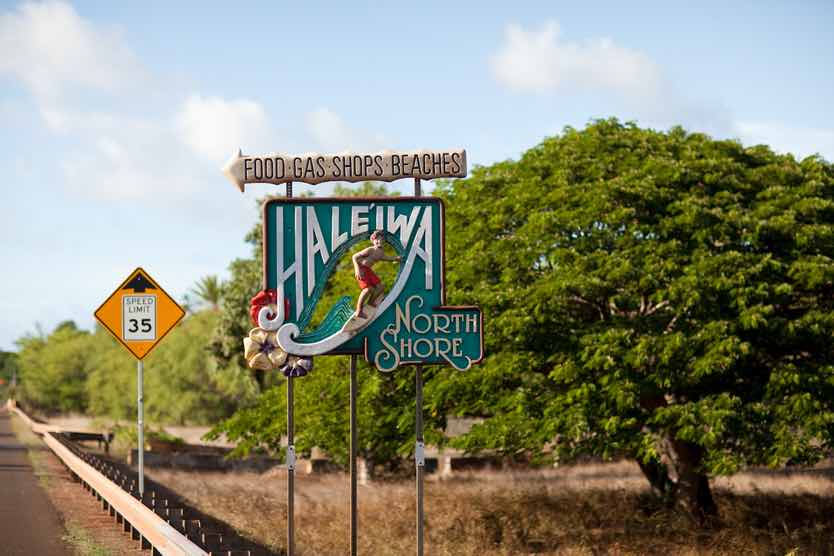 It also includes round-trip transport to your accommodation so you can relax and enjoy the day, a local guide, and gear for the activities such as snorkeling goggles, boogie board, bike, kayak, or SUP board.
A yummy lunch is included, but make sure to have breakfast and bring some snacks since this trip lasts an entire day, and you will be on your feet for the most part. Check the latest rates and availability.
13. Canoe and Kayak at Tsue's Farm
Enjoy the calm waters of North Shore by visiting Tsue's Farm and renting a canoe or kayak for the day. Cruise through the lovely Anahulu River and enjoy the serene environment away from the tourists.
Young children will also find the farm animals, such as chickens, fun to be around and feed. There are shaded picnic tables where you can enjoy some food that Tsue's Farm is serving.
14. Bike or Hike the Pūpūkea-Paumalū Forest Reserve or Ehukai Pillbox Hike
There's a little nature preserve on the northeast side of North Shore, which is a great area where you can do mountain biking or hiking. Walking through Pupukea-Paumalu, you'll see native plants, and exotic flowers and enjoy the tranquility of the area.
Finish your visit by climbing the very steep location of the pillbox, which was a WWI bunker. Reward yourself with an amazing view on the top facing the exquisite Pacific Ocean. Remember to bring water with you because there are no places to buy any drinks until you get back down to the Banzai Pipeline.
15. Go Skydiving
One of the most thrilling and heart-stopping activities you can do in North Shore Oahu is signing up for sky diving. If zip lining seems too juvenile, get yourself strapped on licensed and expert skydivers and enjoy the scenic view of the Pacific Ocean and Oahu Island from above.
This activity requires planning, make sure you have plenty of time to visit a sky diving center, consult your plan, and book a suitable day.
The weather will also play a big part, it's best to do this during the summer season and avoid the rainy months when sky diving is not permitted to go. Check the latest rates and availability.
16. Hike to Kaʻena Point Nature Area Reserve
Kaʻena Point Nature Area Reserve is the most western point on the island of Oahu. This part of North Shore Oahu is a beautiful rocky area where you can spot monkey seals, whales, and albatrosses.
There's also a cool pillbox. When you stand on it, you can see both sides of the island, an incredible spot to take photos.
You can reach Ka'ena Point Nature Reserve in two ways. First, you can either take the North Shore side by starting at Ka'ena Point Trail near Mokulē'ia Army Beach. The hike will take 40-minutes, 1.9 miles for one way.
You can also come from the southside via the Farrington Highway near Keawaula Beach. That one is a little longer, about 2 hours roundtrip, 5.4 miles.
If you want to make this hike a bit more challenging, You can also start from Keawaula Beach, reach Ka'ena Point Nature Reserve then continue your hike to Kaʻena Point Trail.
Doing the three-point route will take less than 3 hours, which is around 7.1 miles. If you do the entire loop, that's about 5 hours and 14.2 miles.
Both routes don't have a lot of tall trees for shade, so make sure to pack lots of sunscreen and water. The trail is a mixture of rocks and sand, you might want to consider wearing shoes or hiking boots. Whatever you decide on doing, this is a great day trip to North Shore Oahu.
17. Snorkel at Shark's Cove
Not too far from Waimea Valley is a fantastic location where you can go snorkeling. The water at Shark's Cove is shallow and filled with beautiful corals and marine animals. There are also pine trees around offering shade if you simply want to relax and enjoy a book.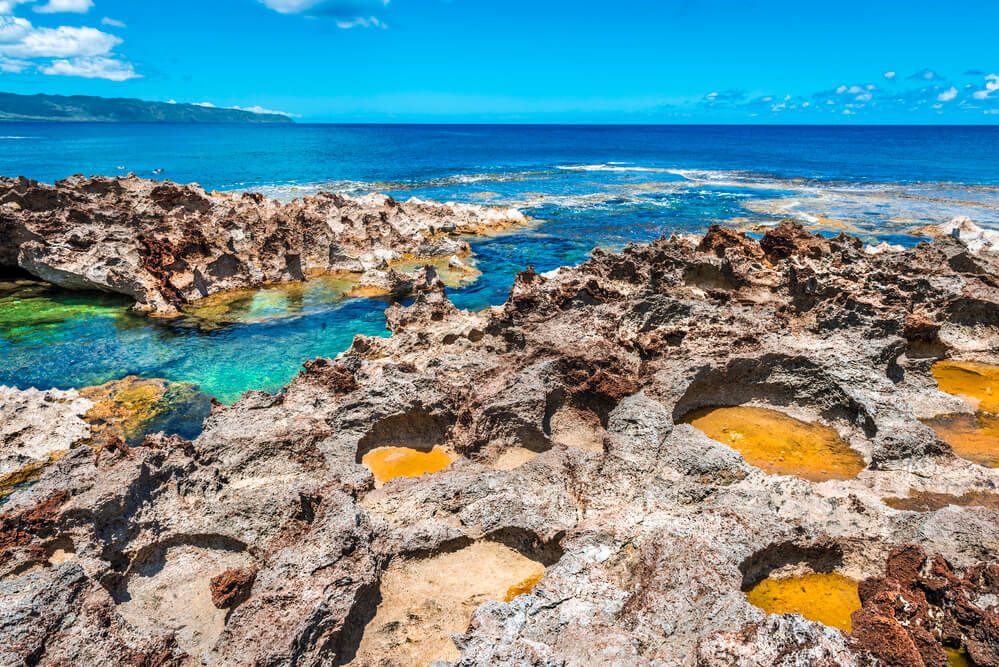 Since it's a rocky spot, remember to bring water shoes to avoid injury from the rocks. You should also be mindful when stepping to not kill any coral as you snorkel around.
The area has food trucks, restaurants, shops, and public bathrooms and showers. You can park at Pupukea Beach Park Parking.
18. Relax at Hanaka'ilio Beach
Hanaka'ilio Beach is located on the most northern point of the North Shore of Oahu. Since it's not reachable by car, it has less crowd making it an ideal place to get away from tourists and enjoy a quiet morning or afternoon.
The beach is spacious and stretches more than 2 miles, you will surely find a spot for yourself.
You can park your vehicle near Turtle Beach and buy some drinks and snacks before you make your way to Hanaka'ilio Beach, that's also where you will find the trail map.
There are no shops near that area, best to have lots of liquid with you. The beach also offers great waves for beginner surfers.
19. Polynesian Cultural Center
One of the most popular North Shore attractions is the Polynesian Cultural Center in Laie. This is an immersive experience where visitors can see Polynesian demonstrations and participate in activities.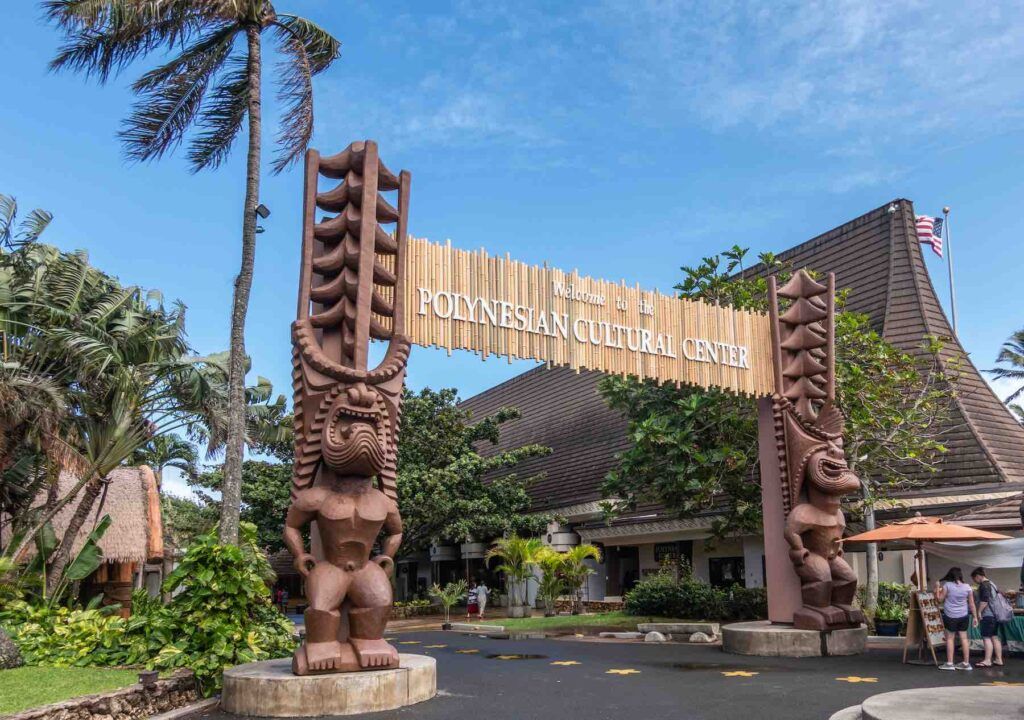 They also offer an evening luau and theatrical show. Personally, we prefer to just get admission tickets to PCC and do our luau at Toa Luau. There's also the Hukilau Marketplace that has awesome shopping and tasty restaurants. Check the latest rates and availability.
20. Shop the Boutiques
Haleiwa is a great place to hit up local boutiques. You can find made-in-Hawaii products, surf brands, local clothing, jewelry, kids products, and more.
Everything is spread out in Haleiwa and parking can be tricky, so I recommend parking where ever you can and walking to as many nearby shops as you can.
There are also awesome food trucks and shave ice spots to keep you fueled up!
Where to Stay in North Shore Oahu
If you'd like to stay in North Shore Oahu, there are a few options. Most accommodations up here are vacation rentals (Airbnb or vrbo) but there are two hotels, which I'll talk about below.
Turtle Bay Resort
Turtle Bay Resort is the premier place to stay in North Shore Oahu. It's luxury all-the-way. It's no wonder movies like Forgetting Sarah Marshall were filmed here!
It was completely renovated in 2021 and it's the perfect place for people who want to unplug and enjoy a gorgeous resort in Hawaii. Check the latest rates and availability.
Courtyard by Marriott North Shore
A much more affordable North Shore Oahu hotel is the Courtyard by Marriott North Shore in Laie. It's a pretty basic hotel but it's in a fabulous location right next to the Polynesian Cultural Center. Check the latest rates and availability.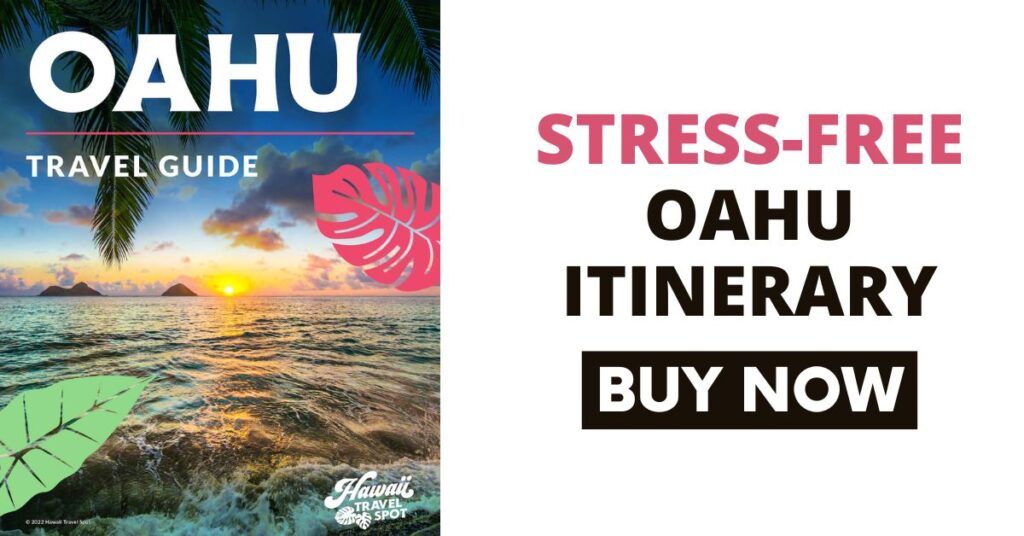 North Shore Oahu Travel FAQs
How long is the drive from Honolulu to North Shore?
When there isn't traffic, it typically takes 45 minutes to drive from Honolulu to the North Shore. However, it can take up to 2 hours if you go during the morning or evening rush hour. Always check traffic conditions before you head out. There's often road construction that can delay traffic.
Is it worth staying in North Shore Oahu?
If you're trying to decide where to stay on Oahu, the North Shore can seem like an interesting choice. It's pretty far from Waikiki, so you'll want to map out your activities and check drive times to see if staying in North Shore Oahu makes sense.
Is North Shore Oahu safe?
Crime-wise, the North Shore is about as safe as the rest of the island. Just use common sense and don't leave valuables in your car. Some of the beaches have strong surf, so always be on alert if you want to swim or surf.
What towns are considered North Shore Oahu?
When people refer to the North Shore of Oahu, they usually mean the stretch of road between Hauula and Mililani. The main North Shore Oahu town is Haleiwa.
North Shore Oahu Activities Wrap Up
If you want to get away from the overwhelming crowd of Honolulu, plan a day trip or drive to North Shore Oahu and do some activities that can't be found in the southern part of the island.
This includes the best areas for surfing, skydiving, unique hiking trails, and spending your day enjoying less touristy beaches.