Planning a trip to Oahu and want to check out some Hawaii sunsets? Keep scrolling for the most magical Waikiki Beach sunset spots worth checking out!
This list of the best Waikiki Beach sunset spots contains affiliate links which means if you purchase something from one of my affiliate links, I may earn a small commission that goes back into maintaining this blog.
Ready to see the most beautiful sunsets in the world?
Waikiki Beach is known for its world-famous sunsets. With two miles of beach, there's plenty of space to find the perfect spot to watch the show. It's so popular that people come from all over to witness them.
Imagine watching the warm colors of the sky reflect off the ocean as night falls. It's a breathtaking sight that you won't want to miss. Make sure to add Waikiki Beach sunset viewing to your list of things to do while in Hawaii!
We've put together a guide on the best spots to catch a Waikiki Beach sunset so you can make sure you don't miss out. And trust us – you don't want to!
Don't have time to read a bunch of Hawaii blog posts and reviews? Here are some of our top picks for visiting Oahu.
Popular Oahu Tours/Activities
Favorite Oahu Resorts/Hotels
Want to Rent a Car in Hawaii?
One of the best places to rent a car in Hawaii is Discount Hawaii Car Rental because they get the best rates from top national companies like Alamo, Dollar, Thrifty, Avis, Enterprise, Budget, and Payless.
Want to skip all the planning and just access my detailed Oahu itinerary complete with daily schedules, fun activities, and travel hacks? Click the button below.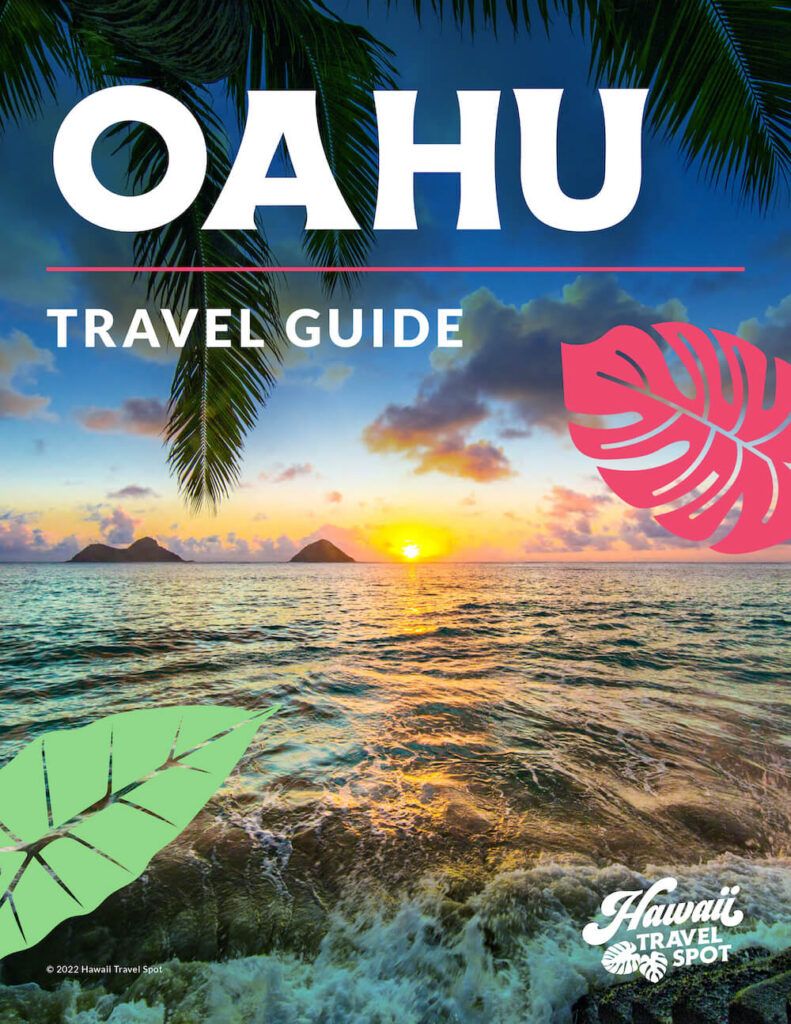 Best Places to Watch the Sunset in Waikiki
Here are some of the best places to capture the beautiful sunset in Waikiki! You'll find plenty of spots, so you can easily head to another if one is too crowded for you. Try to watch from a few different places each night of your trip to see which one is your favorite.
1. Waikiki Beach
Of course, the sunset on Waikiki Beach is truly amazing; it is one of the best spots you'll find on the island.
With it being two miles long, there are eight main sections of Waikiki Beach, with seven of them giving unique sunset views.
Duke Kahanamoku Beach
Kahanamoku Beach is located right outside the Hilton Hawaiian Village. Here you will find calm, beautiful, clear waters, along with soft white sand. There is also a man-made lagoon that is very nice as well.
As you watch the sunset here, you will see it from the beach, all the way to Diamond Head. It is so beautiful from this location.
Fort Derussy
This section of Waikiki Beach is not as developed as most of the other areas, meaning it is usually a lot less crowded. There is more shade here, and it even has a few bars and a volleyball court to enjoy while you wait for the sunset.
Fort Derussy is a great place to take a nice walk on the beach as you bask in the beauty of the sunset. Or, you can enjoy a nice drink with this beautiful backdrop.
This is one of the only areas in Waikiki Beach that has plenty of grass and picnic tables. So grab takeout from a Waikiki restaurant and enjoy dinner with a view!
Royal Hawaiian Beach
The Royal Hawaiian Beach is part of the heart of Waikiki Beach. This is usually where you will take a catamaran ride out on the ocean, and it is very busy. It begins right outside the Royal Hawaiian Hotel and is the start of the hotel strip.
If you want to catch a beautiful sunset here, be sure to come early to get a good spot. This is the area that usually is very crowded. If you want to go out on the ocean in a canoe to watch the sunset, this is where you will head out as well.
Prince Kuhio Beach
Prince Kuhio Beach is another one of the best spots to watch the sunset at Waikiki Beach. It is another popular section of the beach and is full of tourists. Because there are two walls built around the beach here, it is a great place to swim and enjoy nice, relaxing waters.
If you want to watch a Waikiki Beach sunset, be sure to head out before it gets too crowded. Because it is right in the middle, you will get a gorgeous view of the blues, purples, and pinks that fill the sky at night.
Kapiolani Beach
After all the hotels, you will find Kapiolani Beach. It is less busy than the previous two and is another great place to watch a beautiful sunset at night. Here you will find the Waikiki Wall, which is always fun to sit on while you watch the sunset. It offers a great view unlike any other.
This is the area of Waikiki Beach that has a screen and plenty of live performances. Check and see if there will be live shows during your trip, and watch the sunset while you sing and dance along to the Hawaiian music!
Sans Souci Beach
Sans Souci Beach is the best place to snorkel in Waikiki. Snorkel out on the ocean in the evening and watch the sunset unfold underwater with the fishes.
Sometimes the tide is high, so there is not much beach to it, so you might want to check before heading over there. If it is, just keep walking along the shore until you find more sand at the other spots along Waikiki Beach.
Kaimana Beach
At Kaimana Beach, you will find more coral reefs to snorkel at and enjoy all the tropical fishes. There are a few hotels, but not much is around here, so if you want to eat and drink while watching the sunset, you will have to bring your own!
With this beach, you get a whole west side view of the sunset at Waikiki Beach, and it is quite beautiful. It is also a very wide area with tons of sand to relax on while you take stunning pictures of the sunset.
2. Sunset Dinner Cruise
The Sunset Dinner Cruise will show you another truly magical Waikiki sunset while eating an amazing dinner. Nothing beats watching the sunset across the ocean while being on the ocean itself!
While there are many Oahu sunset cruises, this Waikiki Beach sunset cruise takes you along Waikiki Beach all the way to Diamond Head and back.
Watch the sunset while eating a romantic dinner with your spouse during your honeymoon or vacation. It is one of the most romantic places to eat on Oahu. Check the latest rates and availability.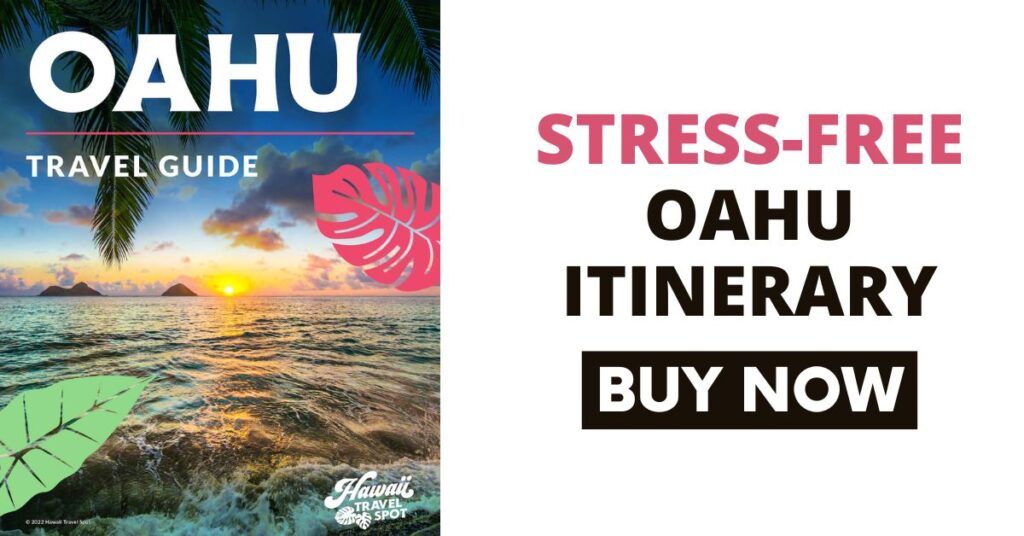 3. Kuilei Cliffs Beach Park
For another view of the sunset in Waikiki, head to Kuilei Cliffs Beach Park. This is not the best park to swim at, but many surfers love it. You might see some while you watch the sunset!
Kuilei Cliffs Beach Park is located close to Diamond Head, only a few minutes away from Waikiki Beach. What makes this a great location for watching a gorgeous Waikiki Beach sunset is that it has multiple lookout locations, so you can clearly see everything.
One of the best lookouts is the Amelia Earhart Memorial. It was built to honor her as she was the first one to fly solo from Hawaii to North America. It is a great place to go and see a beautiful sunset close to Waikiki.
Book a Hawaii Photo Shoot
Whenever we travel to Hawaii, we almost always book a photo shoot with Flytographer. They are super easy, affordable, AND it guarantees that I'll have more than just selfies. You can get $25 off if you book through this link or use the code HAWAIITRAVEL.
4. Manu Kai Catamaran Waikiki Sunset Cruise
For this Waikiki sunset cruise, you will set sail and enjoy some nice cocktails, beers, and drinks while taking in the gorgeous sunset. On this Waikiki sunset catamaran cruise, you will get three free beers of mai tai cocktails and unlimited soda or water.
This cruise is different as it has only drinks and is more upbeat while you enjoy the sunset. There is music and dancing, and it is just full of fun times! Check the latest rates and availability.
5. Magic Island
Another one of the best Waikiki Beach sunsets is at Magic Island. This is actually a man-made island with a lagoon in the middle and is located right next to Waikiki Beach. It is part of the huge Ala Moana Beach Park and is the perfect place to watch the sunset over Waikiki.
You can enjoy the sunset while relaxing on the sand or in the water, or you can sit on the picnic tables spread throughout the grassy areas of the park.
6. Tantalus Lookout
For a completely unique view of the sunset at Waikiki Beach, head to the Tantalus Lookout, located at Puu Ualakaa State Wayside. Take a drive up 15 minutes from Waikiki for an absolutely breathtaking view of a Hawaiian sunset.
When you arrive, you will find a huge lawn; you could easily pack a picnic and eat dinner while you watch the sky light up with gorgeous colors. You will get a panoramic view of all of Waikiki as you will go up a very steep hill. The best part is that it doesn't require any hiking either!
This is one of the best sunset views at Waikiki Beach because you get to see the sun set on everything, from the city, tall buildings, and the beach. This should definitely make your list to check out during your trip!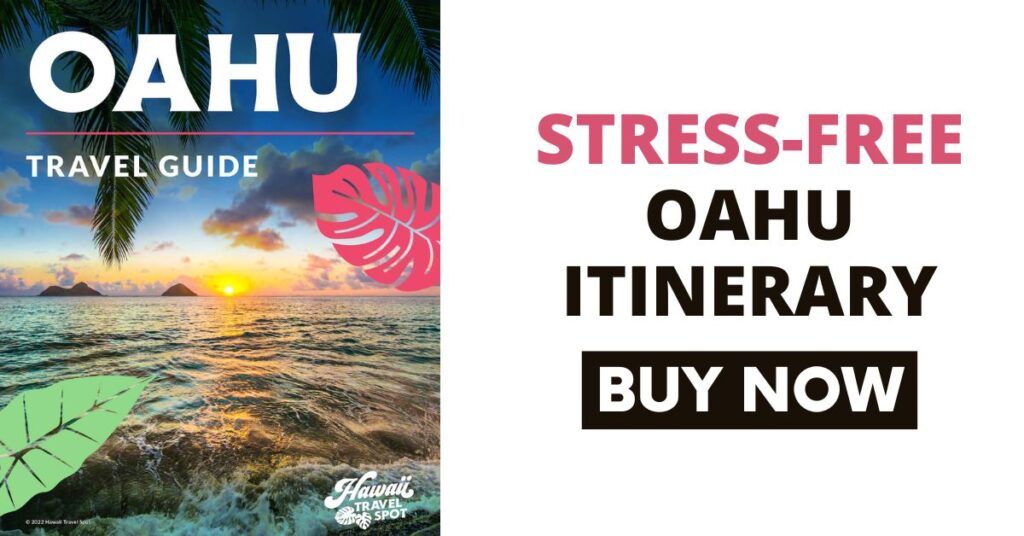 Sunset at Waikiki FAQs
When is the Waikiki sunset time?
The Waikiki Beach sunset time is usually between 7:00 and 7:30 pm during the summer season and 5:45 to 6:15 pm during the winter time. The sunset Waikiki time will vary depending on many things, but it is usually close to the same time every evening. You can always check while you are there to ensure you don't miss it! 
Where can I watch the sunset in Oahu?
You can watch the sunset from all over Oahu, but one of the best spots is right at Waikiki Beach! There are plenty of great spots all along Waikiki to get a view of the most stunning sunset you've ever seen!
What colors are the Hawaiian sunsets?
You will find all sorts of colors for each Hawaiian sunset. Some days you will see pink, purple and blue, while on other days, the sunsets in Hawaii are red, orange, and yellow. No matter what, each one is absolutely gorgeous! 
Are the sunsets at Waikiki Beach really that great?
Waikiki Beach truly is one of the best places to see a stunning Hawaiian sunset during your trip to Oahu. Be sure to visit there at least once at any of the spots mentioned below to see one of the best sunsets ever!
Waikiki Sunset Wrap Up
The sunset at Waikiki is one of the most magical sunsets you will ever experience. At least once during your trip to Oahu, be sure to head to any of these Waikiki Beach sunset spots for an experience you will never forget. Don't forget to bring your camera!