Planning a family trip to the Big Island and starting to think about your Big Island activities? Keep scrolling for the best things to do on the Big Island with family!
This list of things to do on the Big Island with family contains affiliate links which means if you purchase something from one of my affiliate links, I may earn a small commission that goes back into maintaining this blog.
Planning a trip to the Big Island with your family?
The Big Island is one of the best Hawaiian islands for families! With plenty of activities to keep kids and teens entertained, you'll have a blast on your vacation.
Check out our list of the best things to do on the Big Island for kids and teens and add them to your itinerary.
You won't want to miss any of these amazing attractions – they're sure to make your trip unforgettable. So what are you waiting for? Start planning your vacation today!
Keep scrolling for our 50 best things to do on the Big Island with family!
Don't have time to read a bunch of Hawaii blog posts and reviews? Here are some of our top picks for visiting the Big Island with kids.
Best Kid-Friendly Big Island Tours/Activities
Best Kid-Friendly Big Island Resorts
Want to Rent a Car in Hawaii?
One of the best places to rent a car in Hawaii is Discount Hawaii Car Rental because they get the best rates from top national companies like Alamo, Dollar, Thrifty, Avis, Enterprise, Budget, and Payless.
Best Things to do on the Big Island with Family
1. Pu'uhonua o Honaunau National Historical Park
If you're curious about Ancient Hawaii, the Pu'uhonua o Honaunau National Historical Park should definitely be on your Big Island itinerary!
Back in the days of Old Hawaii, this was a Place of Refuge where people could escape the harsh penalties of the law if they were able to get to this spot.
Today, it's an educational park where you can see replica Hawaiian structures, heiau, and even some tiki statues!
Download the NPS app to learn about each exhibit as you walk around.
Pro tip: If you're visiting with babies or toddlers, DON'T bring a stroller. Try a baby carrier instead.
2. Cultural ATV Tour
There's no better way to see the hidden gems of Hawaii than on an Aloha Adventure Farms ATV tour.
You'll get to go on the backroads to experience traditional Polynesian cultures and participate in hands-on activities in this unique Polynesian village setting!
This Kona activity is perfect for families looking for adventure and culture… all rolled into one unforgettable experience that will leave everyone feeling like they've experienced something truly special! Check the latest rates and availability.
3. Pana'ewa Rainforest Zoo
If you're heading to Hilo with younger kids, definitely plan to spend a half day at the Pana'ewa Rainforest Zoo.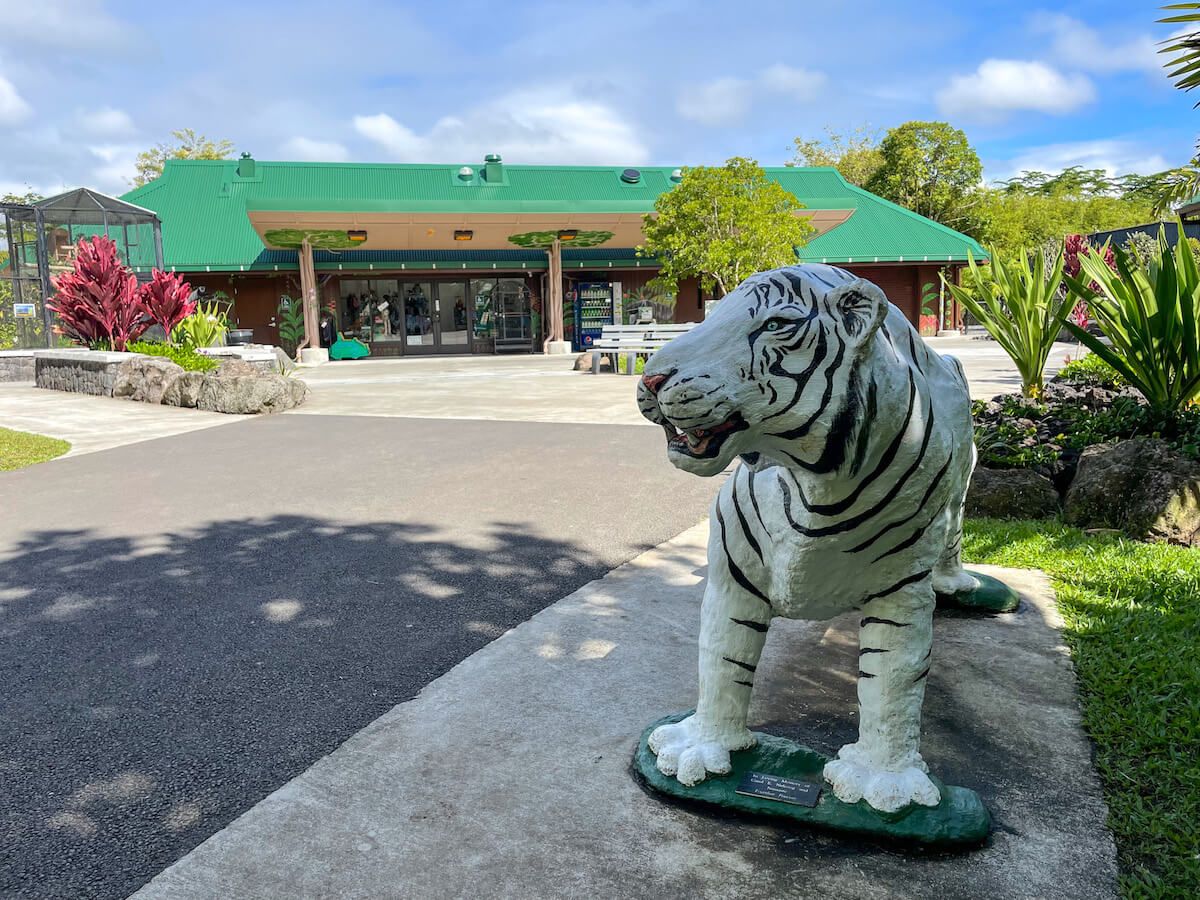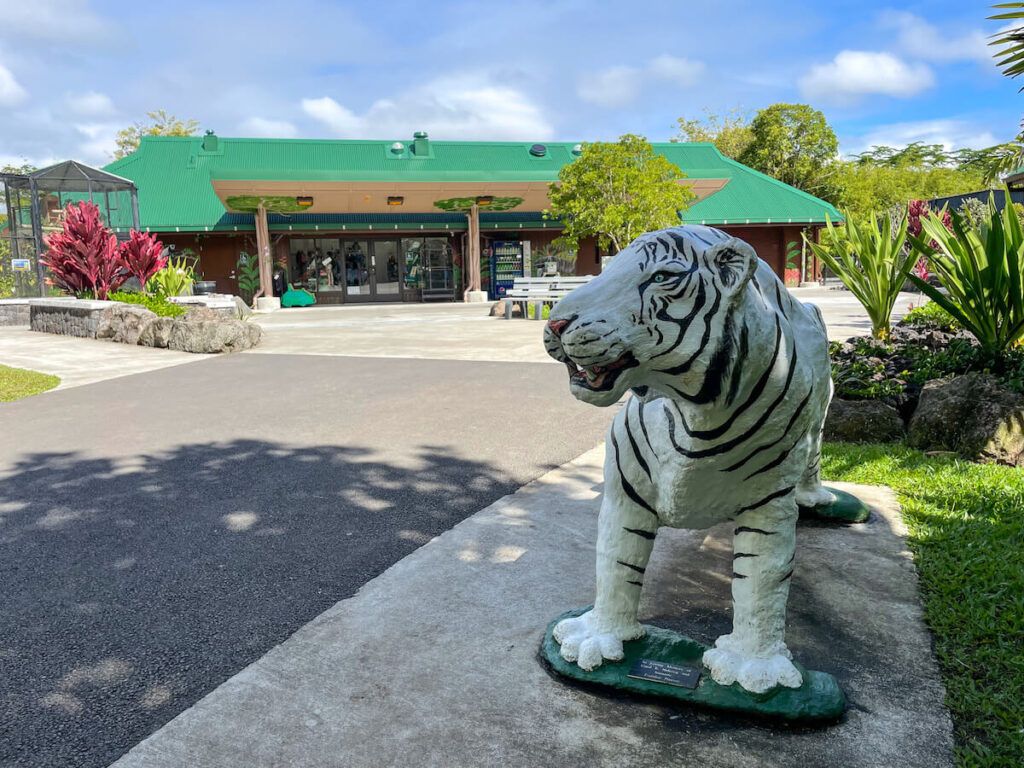 Not only do they have a lot of cool animals to visit, but they have a really nice play area. It's perfect for enjoying a picnic lunch and stroll before naptime.
It's one of the best free things to do on the Big Island with kids!
4. Hawaii Volcanoes National Park
If you're planning a Big Island vacation, you'll definitely want to visit Hawaii Volcanoes National Park. It's an easy day trip from Hilo or Kona, and it's always a hit with kids.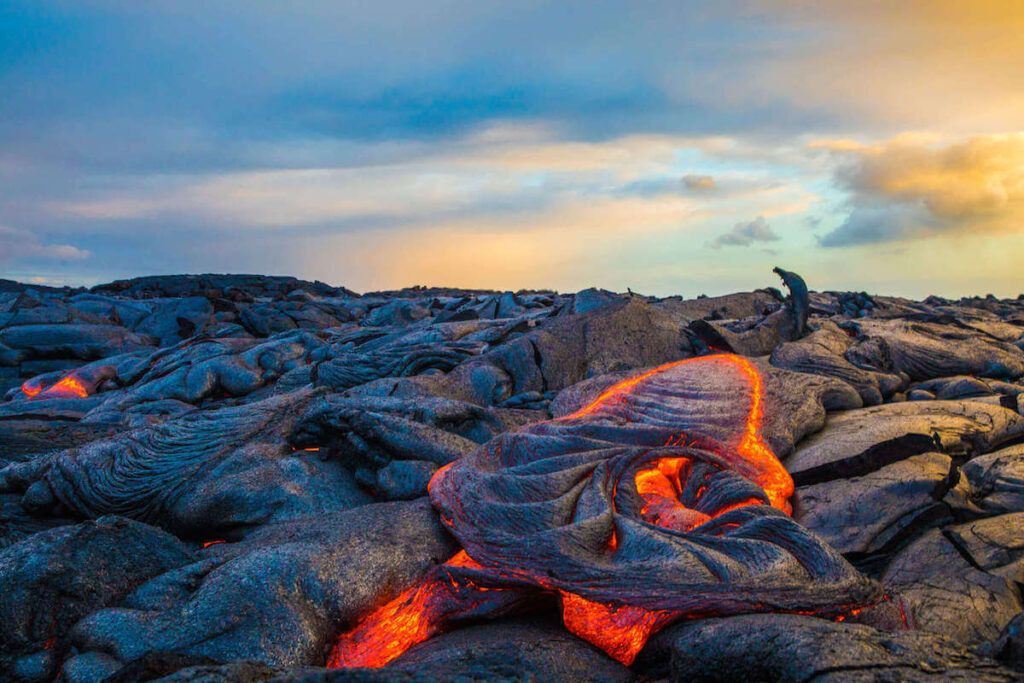 Here, you'll be able to walk through old lava tubes, go hiking on lava rocks, and even get to see the lava glow (when Kilauea is active). There are tons of amazing Big Island volcano tours.
Another cool thing to do is spend the night AT the volcano. The Volcano House Hotel is a historic hotel that overlooks the crater. It's an amazing experience to see the lava glow from your bed!
5. Go Swimming with Dolphins
What's more fun than swimming with dolphins? Not much! With Dolphin Quest at the Hilton Waikoloa Village on Hawaii's Big Island, you can do just that.
You can even learn some new hand signals, so it's easier for you to communicate directly with the dolphins. This is one experience your kids will never forget from this vacation.
What's extra cool is that they have programs for toddlers, kids, teens, and adults. And they have a professional photographer ready to capture this experience of a lifetime. Check the latest rates and availability.
The Kona Atlantis Submarine is a great way to explore the underwater world without getting wet. It's located at Courtyard by Marriott King Kamehameha Beach Hotel, where you'll spend about 50 minutes exploring tons of coral and fish!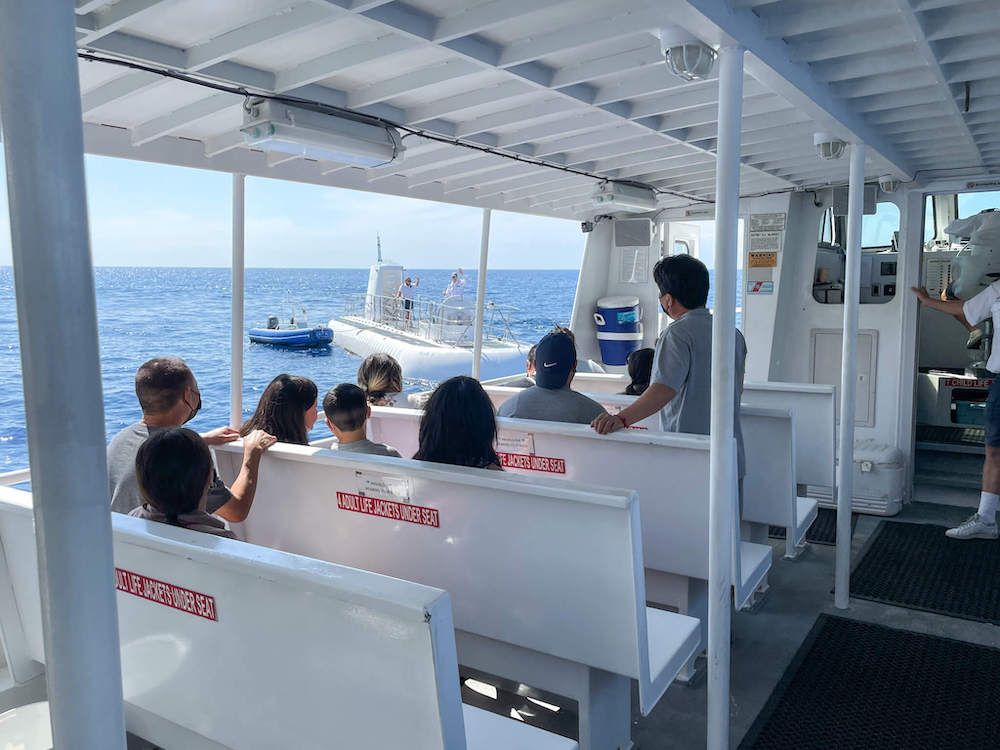 There are even a few shipwrecks hiding in between all this beauty – which makes it even more special than most other places on land. So don't miss out if your family wants an adventure today! Check the latest rates and availability.
7. Hit the Beach
There are a TON of kid-friendly Big Island beaches worth a stop. If you're staying in Kona, head over to Anaeho'omalu Bay (aka A Bay) for a small lagoon perfect for younger kids.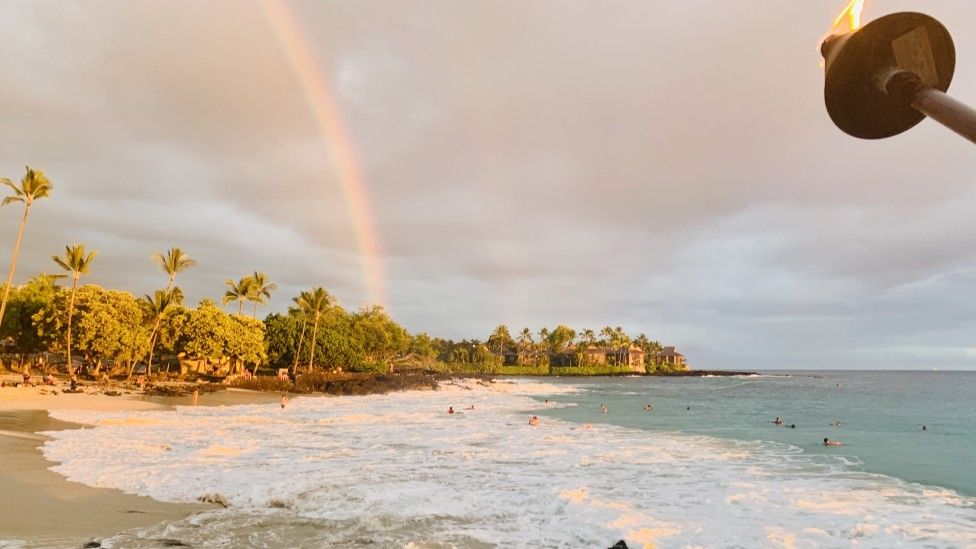 There's also La'aloa Beach Park (aka Magic Sands), that's great for older kids who want to try boogie boarding or just want to swim in calm water.
And on the Hilo side, head to Onekahakaha Beach Park. This is a great spot to play in the water and keep an eye out for Hawaiian Green Sea Turtles!
8. Hilo Farmers Market
The Hilo Farmers Market is the perfect place to get fresh produce and baked goods when visiting this beautiful island.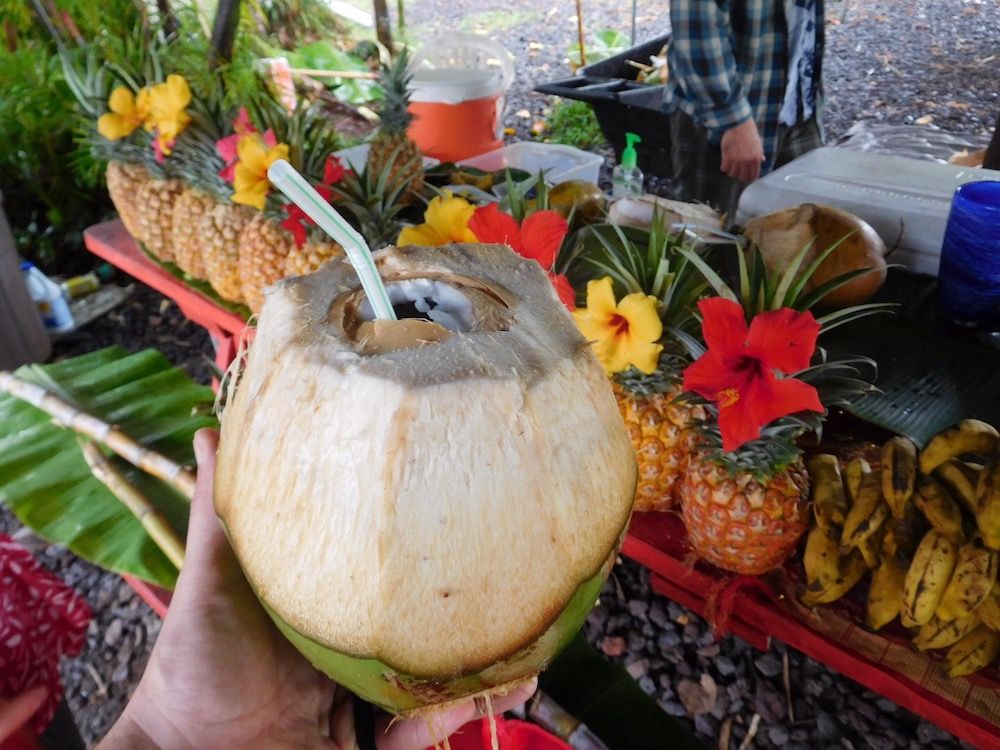 It's one of the largest farmers markets in Hawaii, and it's a great place for kids to practice buying items with cash and tasting new foods!
9. Mauna Loa Visitors Center
One of the most famous macadamia nut factories in Hawaii is Mauna Loa, which is located in Hilo, Hawaii.
The Mauna Loa Visitors Center is a great place to learn about the process it takes to dry the macadamia nuts and get them ready to sell. Plus, they have free macadamia nut tasting.
Since you'll probably be buying macadamia nuts to take home as souvenirs, you might as well buy them from the source!
10. Kaloko-Honokahou National Historical Park
Another really cool Big Island historic site is the Kaloko-Honokahou National Historical Park in Kona. There are actually 3 sections to this park.
The main area (with the visitor's center) is where you can walk along a path learning about the history of the area and Hawaiian culture.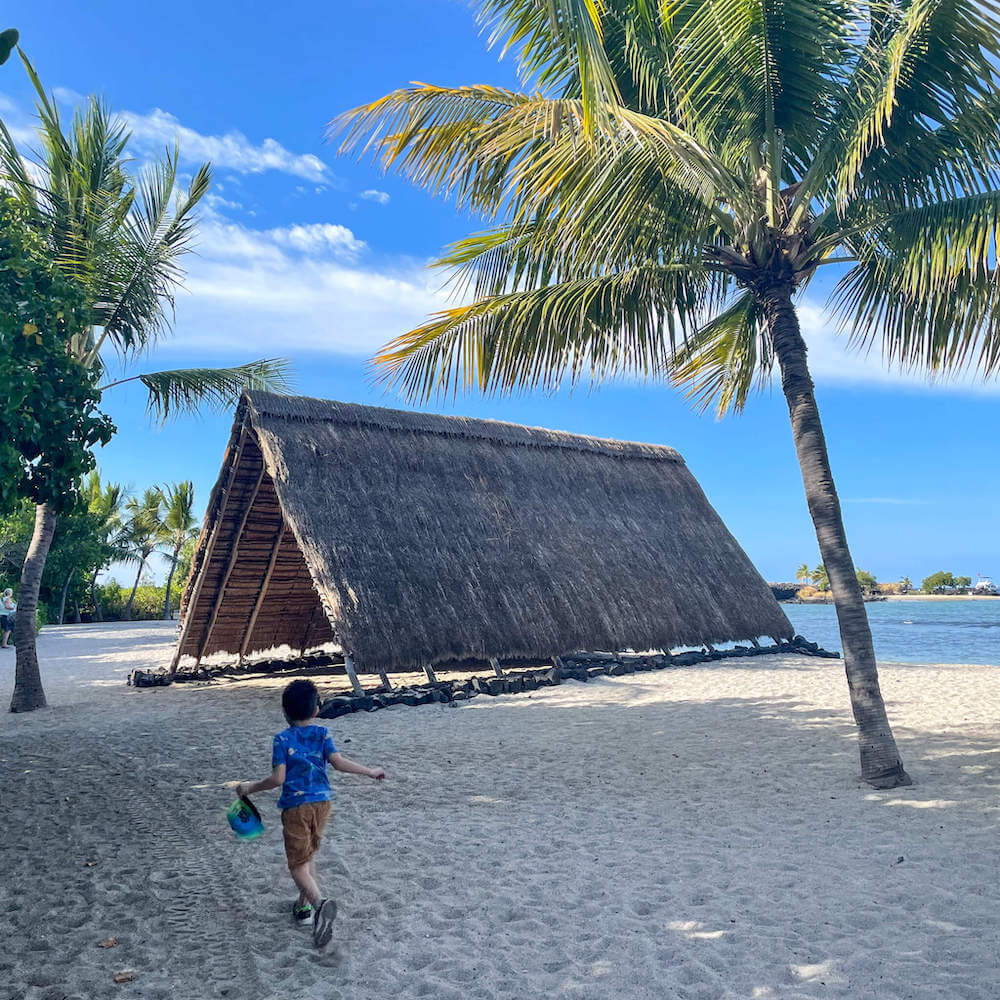 Then, you'll head over the beach where you can check out a replica fishing hut, a Hawaiian heiau, and most likely see Hawaiian Green Sea Turtles swimming in the bay.
There's also the marina where you can see ancient Hawaiian fishponds and learn a bit about what it was like to catch fish.
Pro tip: If you are heading there with little kids, you can drive and park to get to both the beach and marina instead of hiking in the direct sunlight.
11. Hawai'i Tropical Bioreserve & Garden
The East Shore of the Big Island is incredibly lush and beautiful. One of the best Big Island botanical gardens is the Hawaii Tropical Bioreserve & Garden.
While there is an admission fee, it's totally worth it. Here, you'll get to see a little waterfall, a big tiki statue, tons of tropical plants and flowers, and hear birds chirping.
You'll feel like you are on a trek through the jungle. But, the path is paved and easy for kids to run around.
12. Go to a Luau
There are tons of amazing Big Island luaus worth checking out, so it's easy to find one that fits in your Big Island itinerary.
Luaus are a fun way for families to learn a bit about Polynesian culture, see some cool dancing, participate in activities, and eat yummy food.
My top picks are the Voyagers of the Pacific Luau at the Royal Kona Resort, Legends of Hawaii at the Hilton Waikoloa Village, and the Island Breeze Luau at the Courtyard by Marriott's King Kamehameha Hotel.
13. See Rainbow Falls
If you need an easy "win" with your family, head to Rainbow Falls. It's just a few minutes from Hilo Town and it's literally just a few steps from the parking lot. No hiking required!
It's awesome for cute photos or to just take a few moments to appreciate Hawaii's beauty as you drive around the island.
14. Night Snorkeling with Manta Rays
One of the coolest Big Island snorkeling tours is a night-time Manta Ray tour. There are plenty of tours to choose from, but this kid-friendly Manta Ray tour is geared for families. Plus, kids ages two and younger are free!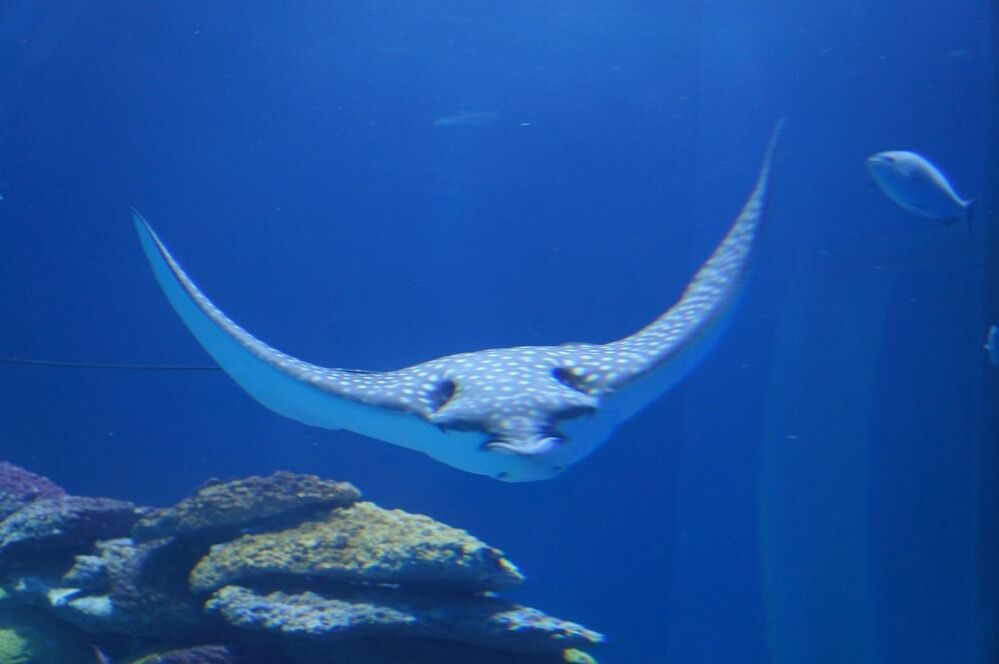 This snorkeling activity isn't offered on any other Hawaiian islands, so it's a unique thing to do on the Big Island of Hawaii. Check the latest rates and availability.
15. Glass Bottom Boat Tour
If you're traveling to the Big Island with kids who are too young to snorkel on their own, you might consider a glass bottom boat ride in Kona.
This Kona boat ride is pretty affordable, plus kids ages 2 and younger are only $5. Check the latest rates and availability.
16. Grab Shave Ice
Shave ice is the BEST treat you can find in Hawaii! And they sell it all across the Big Island so you'll have no problem finding somewhere close to your hotel or activities.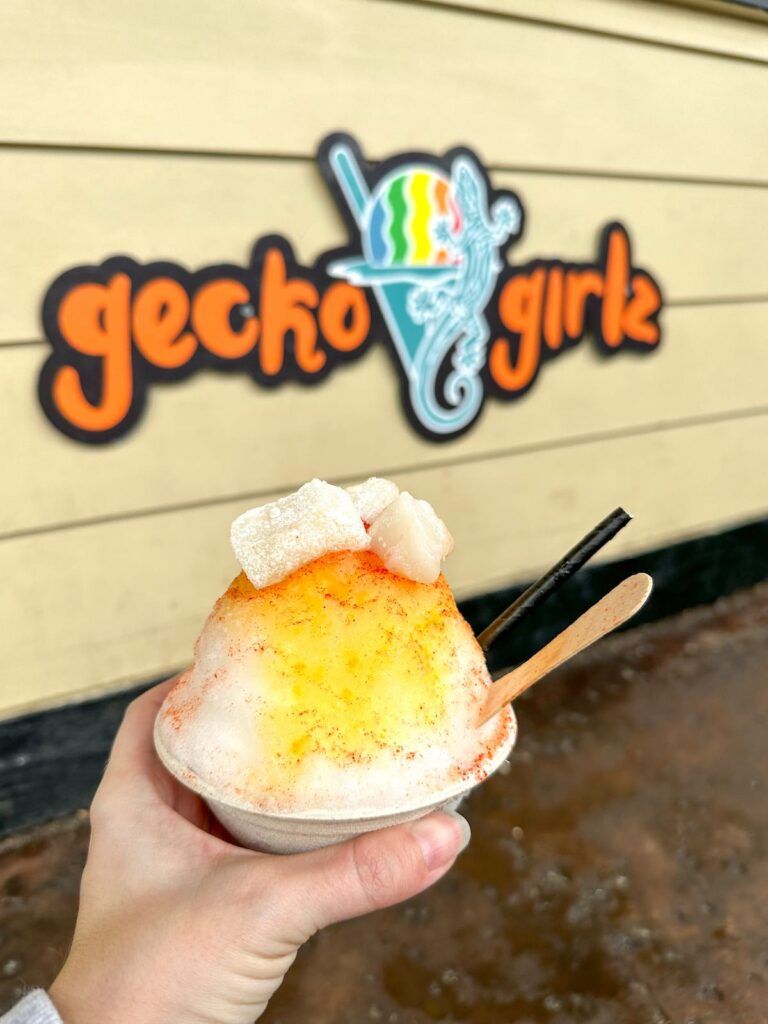 A few of our favorite spots include Scandi's, Gecko Girlz, and Ululani's Shave Ice.
17. Hawaii Keiki Museum
Did you know that there's a children's museum in Kona? The Hawaii Keiki Museum is a really cool, interactive science-based museum that is geared for kids ages 1-10.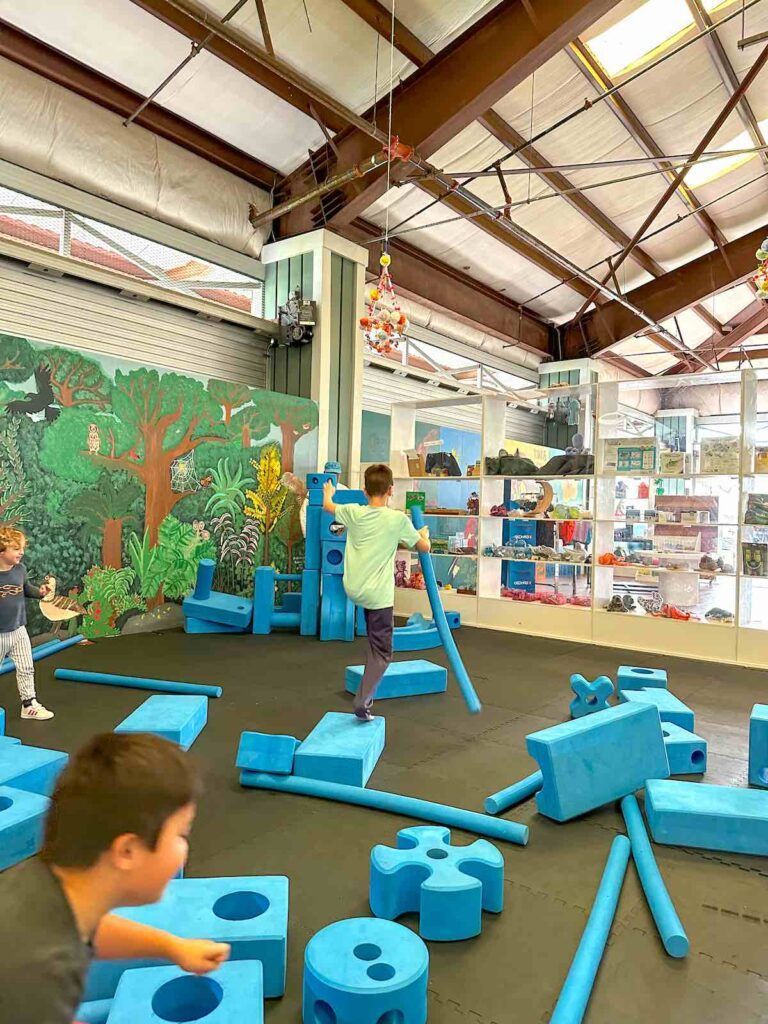 There are lots of hands on activities that incorporate both science and Hawaiian culture. Plus, there are usually workshops and special events. I highly recommend planning to spend an hour or two here with your kids.
18. Lavaloha Chocolate Farm Tour
The Big Island is famous for its locally made chocolate. And many of the Big Island chocolate farms have tours and tastings available.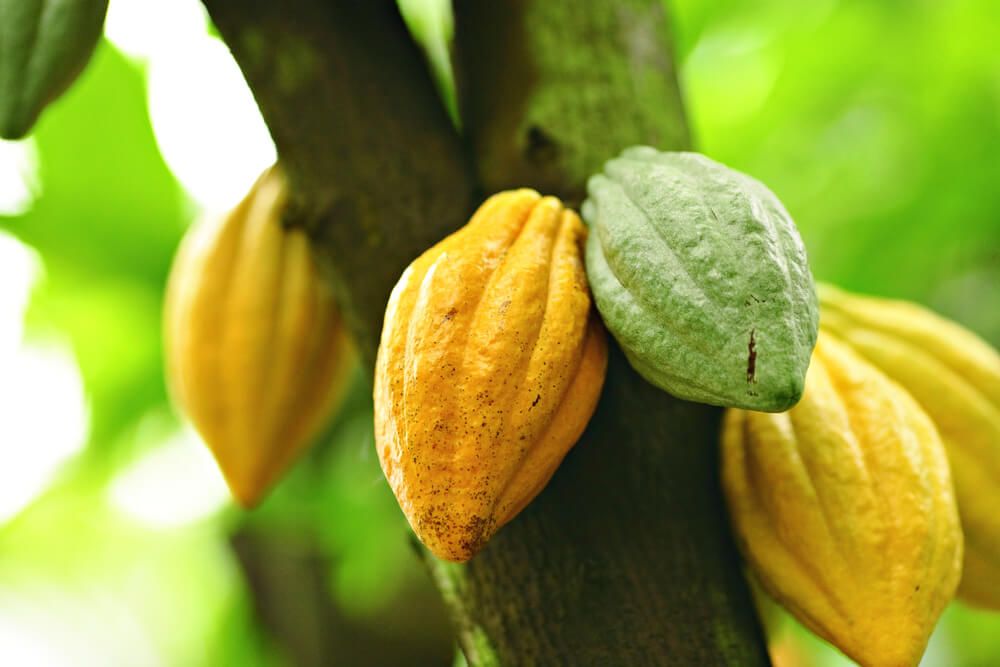 We like the Lavaloha Chocolate Farm Tour in Hilo. You can ride an electric mini-bus and learn all about growing cacao, meet farm animals, and even see a secret waterfall!
Plus, they have an awesome gift shop where you can buy chocolate (of course) but also other locally made products.
19. Plan a Big Island Photo Shoot
Professional photoshoots with our family are one of the best ways to make lasting memories. We get so many awesome photos that will last us a lifetime, and we can enjoy them at any time on vacation or even just when being reminded about how much fun we had!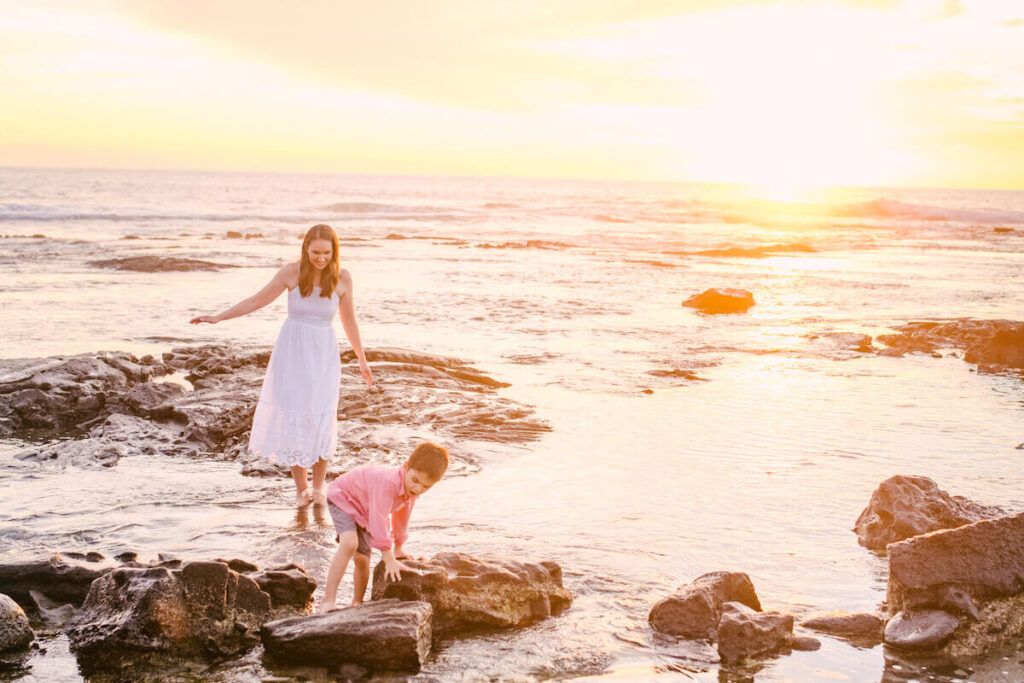 There are several Big Island photographers to choose from. We like to use Flytographer because it's easy to find an affordable Big Island vacation photographer who is available during our trip. Check out the latest prices and more details.
20. Enjoy a Sunset Cruise
The views of Hawaii's gorgeous sunsets are best experienced from a boat, and this dinner cruise offers an authentic Hawaiian experience for families.
The best part? Kids ages five or younger get in free! Check the latest rates and availability.
21. Try Plate Lunch
The food in Hawaii is SO good and there's usually something even the pickiest eater will try. I recommend heading to Ka'aloa's Super J's in Captain Cook if you want to try incredible kalua pork and lau lau plate lunches.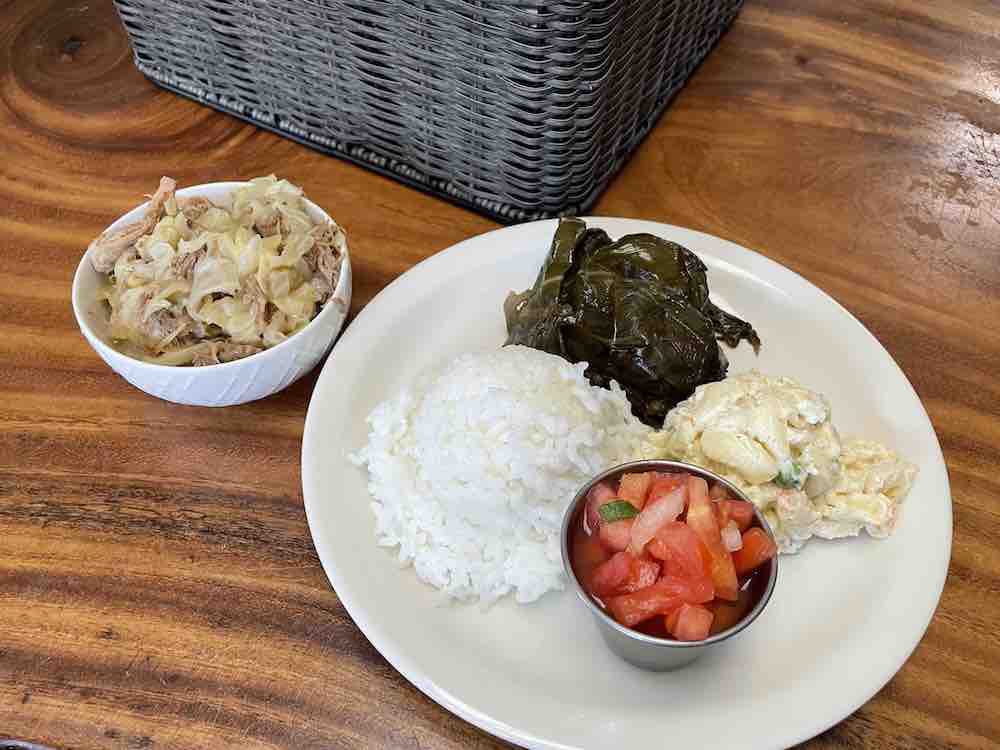 Cafe 100 in Hilo is the best place to try the world-famous Hawaiian Loco Moco. This is where it all started! Plus, they have a bunch of other things on their menu.
22. Walk to Akaka Falls
While technically, you could call this a Big Island hike, the entire loop trail is paved, and it's easy for kids of all ages.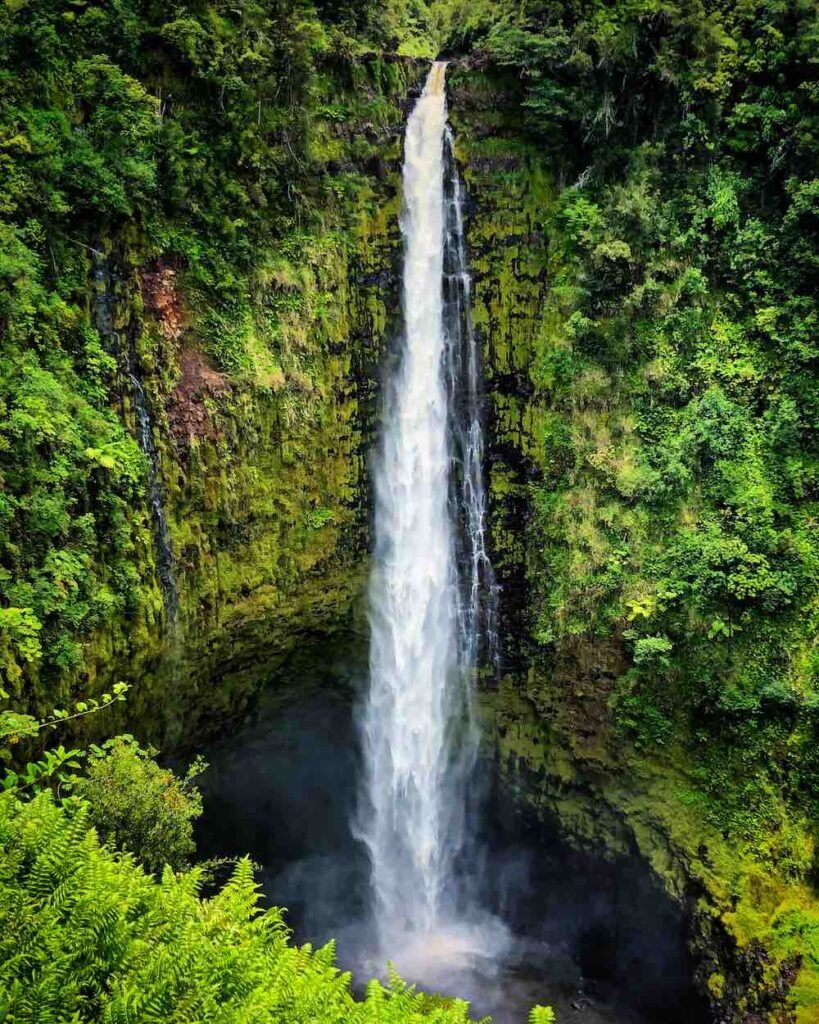 You can head to the left for a short walk directly to Akaka Falls, or you can head to the right and see another waterfall before heading to the Akaka Falls lookout. Both options are short and shouldn't take much time.
23. Get an Audio Guide
If you're visiting Kona for more than a few days, you'll want to get out and explore more of the Big Island.
Take advantage of Shaka Guide's audio tours! This unique app gives your turn-by-turn navigation and interesting narration about the history/culture while guiding visitors around some amazing places on this island. Download the app.
24. Check out Waimea Town
The big playground in Waimea Town is a must-see for any family with kids. It has plenty of things to keep the little ones happy and loads more fun stuff throughout town that you'll want to explore too!
There are several little shops, cafes, and sit-down restaurants. The cooler weather makes it perfect for days when you need a break from the sun.
25. Punalu'u Black Sand Beach
The kids will love the black sand beach at Punalu'u, and you can enjoy it too! It's pretty accessible, which makes for a great stop on your trip.
But, what's even cooler is that it's also one of the best places to see Hawaiian Green Sea Turtles on the Big Island! They like to sunbathe in the sand here.
26. Learn about Kona Coffee
Kona is a mecca for those looking to experience authentic Hawaiian coffee. With tons of farms all over the Big Island, you'll never run out and can visit at least one in your journey!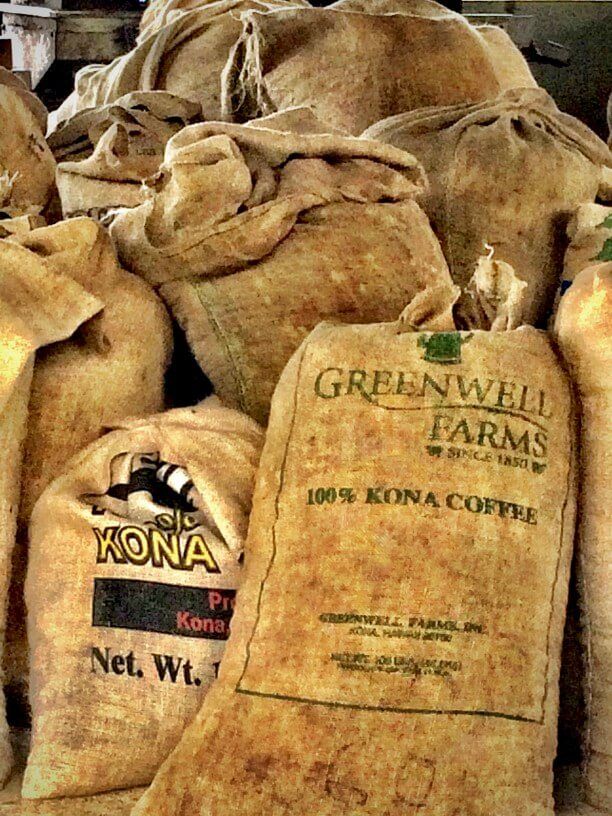 Greenwell Farms is a popular Kona coffee farm worth a visit. You can take a free guided tour where you can learn exactly how to make coffee and what makes Kona coffee so special.
27. Try Ziplining in Hawaii
There are tons of places to go ziplining in Hawaii. The Big Island has lots of exciting options. This Hawaii Zipline Tour was voted the best zipline in Hawaii.
The extra cool thing is that it takes place at a Big Island waterfall. Kids as young as 10 years old can participate. Check the latest rates and availability.
28. Check Out the Stars
Plan a stop at the Imiloa Astronomy Center in Hilo Hawaii to discover the ancient art of Polynesian wayfinding.
They also have a cool planetarium. This is a great backup plan if your kids are too young to go stargazing at Mauna Kea.
29. Kanaloa Octopus Farm
If you want to learn about Hawaii's sea animals, head straight for Kanaloa Octopus Farm in Kailua-Kona. They offer one-hour tours where they can show off their resident octopuses and answer all your questions!
Plus, it's super close (and easy) from the airport, so this makes an excellent last stop before taking off on the plane back home
30. Get Malasadas
The state of Hawaii is pretty famous for malasadas and you can find them at many places on the Big Island. Malasadas are Portuguese donuts covered in sugar.
A few top spots include the Punalu'u Bake Shop and Tex Drive-In. While these are usually a breakfast item, you can enjoy them any time of day.
31. Visit the Hamakua Macadamia Nut Factory
There are a lot of fun things to do in Hawaii with kids, one good example being the Hamakua Macadamia Nut Factory.
You can take a free tour of their factory and see how they make all your favorite nuts! They have an informative video that shows you everything from start-to-finish. And you can stock up on all kinds of macadamia nut products.
32. See the Painted Church in Hawaii
One of the most beautiful churches in Hawaii is St. Benedict's Church. Most people referred to it as the Painted Church because of the gorgeous murals inside.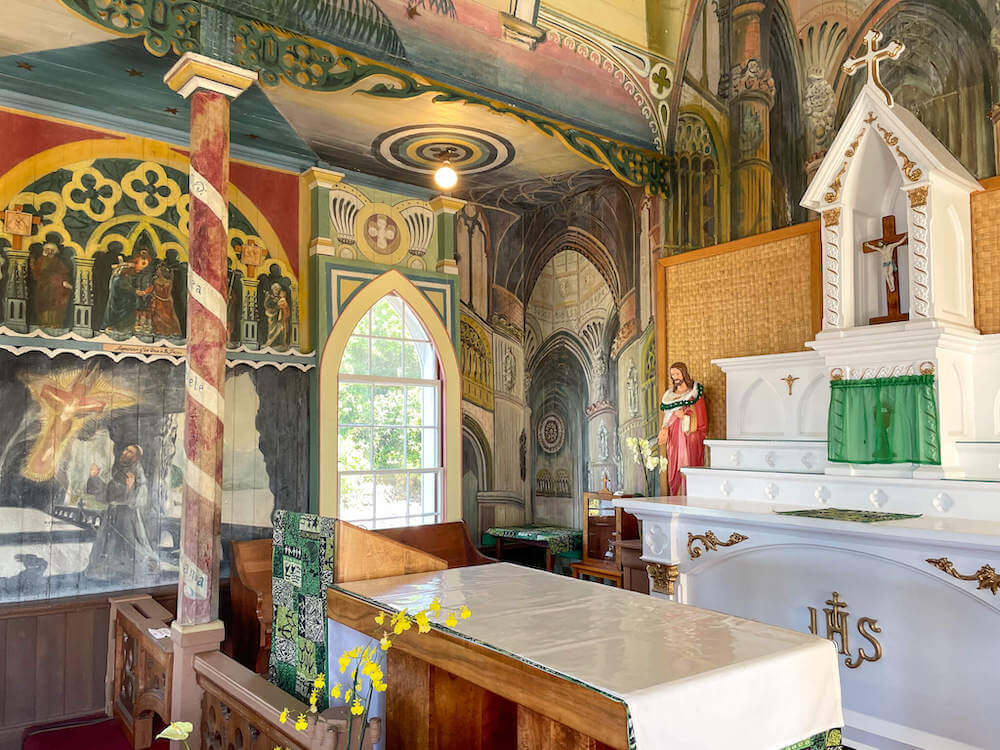 You won't want to miss this beautiful church when you are traveling through Hawaii. It's located in Honaunau right next to the town of Captain Cook.
It's free to enter, but if you feel moved there are donation boxes available inside so that people can support this beautiful place!
33. Visit a Honey Bee Farm
Have you heard of the Big Island Bees in Captain Cook? You can learn a lot about the honey-making process as well as enjoy some samples from their delicious harvest.
There are also other bee sanctuaries around the island, so it's easy to find one to stop and learn more about these fascinating creatures. Read my full review.
34. Kayak at Keauhou Bay
Kayak on the beautiful Kona Coast on this Keauhou Bay kayaking tour. Paddling through sea cliffs, over underwater lava tubes, and into caves is an adventure you won't want to miss!
Watch for dolphins as well. You may even spot manta rays or sea turtles while out exploring this Big Island eco tour destination with your friends/family members. Check the latest rates and availability.
35. See the Kona Cloud Forest Sanctuary
Take your children on an eco-friendly adventure to the Kona Cloud Forest Sanctuary, where they can learn about ecosystems and enjoy a real cloud forest!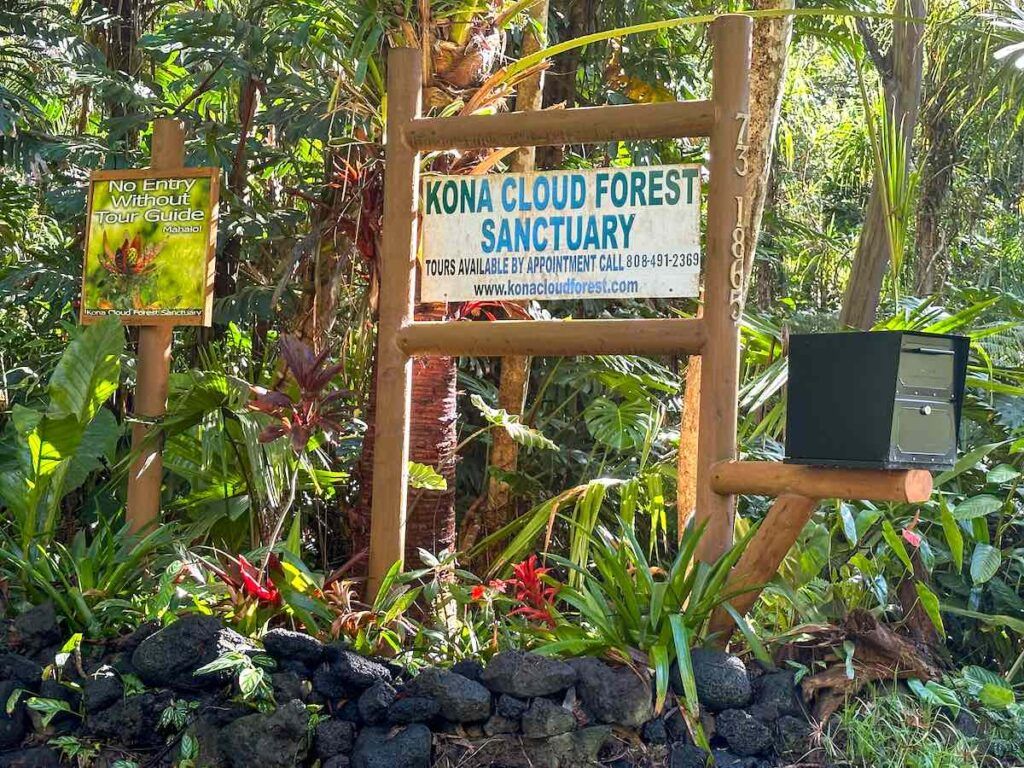 It's definitely unlike any other Hawaii botanical garden you've seen!
36. Stargazing at Mauna Kea
There's a whole new world out there for you and your family to explore! Join an expert guide as they take on Mauna Kea, home of some incredible stargazing opportunities.
This tour is geared toward families with kids who are at least five years old. The tour guide is an astro-photographer and will take epic photos of you with the Milky Way. Check the latest rates and availability.
37. Catch a Free Hula Show
If you want to watch Hawaiian dancing but don't want to splurge on a luau, head to one of the free hula shows on the Big Island.
You can usually find free hula shows in Waikoloa at the Kings' Shops and Queen's Marketplace.
38. Go Horseback Riding
The Big Island of Hawaii is famous for its cowboy culture. You can go on an open-range horseback riding adventure onto a 12,000-acre working cattle and sheep ranch where the beauty of North Kohala unfolds before your eyes!
Each ride will be tailored specifically to your experience level, so whether you're new or have some know-how under your belt there's something perfect waiting here. Check the latest rates and availability.
39. Swim at a Waterfall
While there are a few places to swim in a waterfall on your own, this eco-friendly tour is perfect for anyone who wants to head off the beaten path and experience something new in Hawaii.
You'll start your day with an exciting off road drive through lush tropical rainforests, see seven waterfalls along Pololu Valley before taking a refreshing dip at its last pool after swimming amidst gorgeous sea cliffs view! Check the latest rates and availability.
40. Take Photos with King Kamehameha
The King Kamehameha Statue is a must-see while you're in Hilo. It's easy for kids to see from the car, and there are plenty of spots around that offer great views as well!
I recommend hopping out so you can take photos or find out more about this important Hawaiian historical figure.
41. Learn How to Surf
Hawaii Lifeguard Surf Instructors will teach you how to surf in Kona with their #1 rated private and semi-private lessons!
They offer one on ones for those who want personal attention or share the experience of riding a wave together as friends. As always, safety comes first at this family-owned business.
They take kids as young as three years old! Check the latest rates and availability.
42. Explore a New Playground
Families heading to the Big Island with toddlers and preschoolers will appreciate the number of cool playgrounds all over the Big Island.
A few of our favorites include the free play area at the Pana'ewa Rainforest Zoo in Hilo, Kamakana Playground near Kona, and Waimea Community Park.
43. Do a Whale Watching Cruise
If you are heading to the Big Island in Winter (December-March), you might have the chance to see humpback whales!
The best way to do this is by booking a Big Island whale watching cruise. This 90-minute cruise has an on-board naturalist who will make sure you find whales and enjoy your adventure at sea! Check the latest rates and availability.
44. See Seahorses
Have you heard of the seahorse farm on the Big Island? It's a unique place for kids and adults alike. You can learn all about these incredible creatures and even hold them if your heart desires.
45. Hawaiian Canoe Paddling Adventure
The most unique and fun adventure in Hawaii is finding an old Hawaiian canoe. You'll take a trip down the Big Island's beautiful Kohala coast.
You'll feel its power as you navigate through treacherous waters to reach black sand beaches with stunning views of mountainsides covered by lush jungles – all without relying on any motors! Check the latest rates and availability.
46. Look for Rainbows
I had to include this on the list because Hawaii has some of the most beautiful rainbows on the world. It's easy to spot them in Hilo since that's the rainy side of the island.
47. Go Cliff Diving
If you're visiting the Big Island with teens who are good swimmers, head to South Point. This is the most popular place to go cliff diving on the Big Island.
Just make sure to ask the locals whether or not the conditions are safe before you jump.
48. Explore Tidepools
Since there are SO many lava rocks on the Big Island, many of the beaches also have tide pools where you can spot little sea animals like crabs and urchins.
We enjoy walking around the tide pools at Old Kona Airport.
49. Search for Petroglyphs
The ancient Hawaiian petroglyphs are some of the most fascinating rock carvings you'll ever see. They date back hundreds of years ago.
They can be found all across Hawaii Island – including at Hawaii Volcanoes National Park, Kaloko-Honokohau National Park, and the Puako Petroglyph Archeological Preserve.
50. Waipio Valley
I'm ending this list with one of the most beautiful places on the Big Island: Waipio Valley. If you don't want to hike down, your best bet is using the Waipio Valley Shuttle.
They will talk to you about the amazing history of the area and what life is like for the people who currently live there.
There are also horseback riding tours in the valley as well as a black sand beach.
Things to do on the Big Island with Kids Wrap Up
As you can see, there are tons of cool things to do on the Big Island with family, no matter their ages or interests. From water adventures to historical sites to amazing cultural experiences, the Big Island has it all!