Are you planning a trip to the Big Island and want to know where to get the most famous Hawaiian shave ice? Scroll to find out the best Big Island shave ice spots worth a stop on your next Hawaii vacation.
This list of the best Big Island shave ice spots contains affiliate links which means if you purchase something from one of my affiliate links, I may earn a small commission that goes back into maintaining this blog.
You can find the best shave ice on Big Island from the busy shores of Kailua-Kona to the remote, winding roads of the North Shore! Shave ice is Hawaii's favorite way to cool off and enjoy an authentic island treat.
Fun fact: shave ice is also called ice shave on the Big Island! But it's never "shaved ice." Just like the name, you should take your shave ice the way the locals do- fluffy and piled high with fruity syrups and yummy homemade toppings.
Whether you're coming off the white sand beaches of Kona or exploring urban Hilo, this creamy, cold dessert is a must-try. Keep reading for the top 10 places to get shave ice on the Big Island!
Don't have time to read a bunch of Hawaii blog posts and reviews? Here are some of our top picks for visiting the Big Island.
Popular Big Island Tours/Activities
Favorite Big Island Resorts/Hotels
Want to Rent a Car in Hawaii?
One of the best places to rent a car in Hawaii is Discount Hawaii Car Rental because they get the best rates from top national companies like Alamo, Dollar, Thrifty, Avis, Enterprise, Budget, and Payless.
Want to skip all the planning and just access my detailed Big Island Itinerary complete with daily schedules, fun activities, and travel hacks? Click the button below.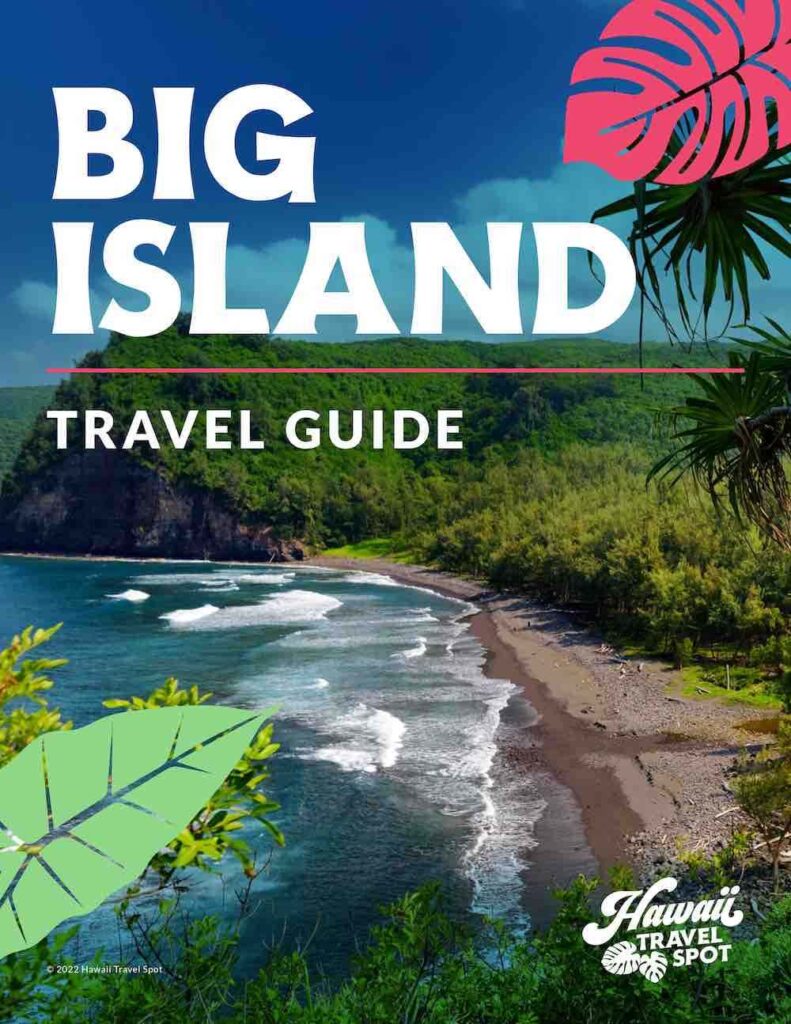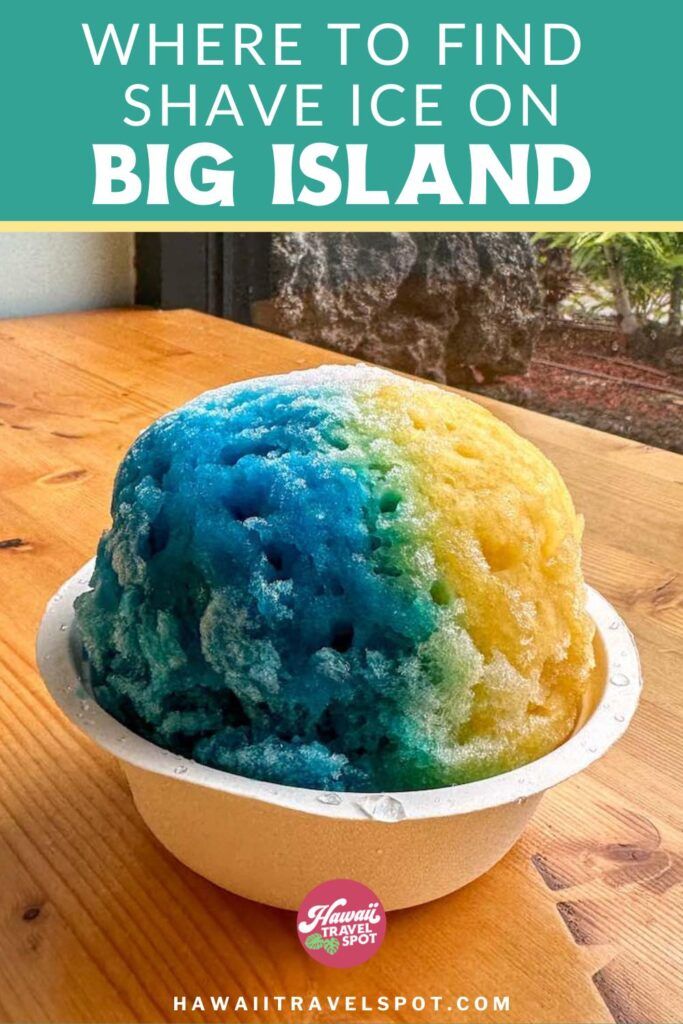 How to Order Shave Ice
When you're visiting a faraway place, it can be a little intimidating to know how to order (and eat) local specialties the correct way! And while it's easy to understand that you want to look like you know what you're doing, don't be afraid to embrace your tourist status and ask for help.
In fact, shave ice vendors are super helpful and willing to walk you through the process. Also, most places offer a list of popular shave ice combinations that make ordering super easy!
But while you're trying the best shave ice on Big Island, these are the steps for ordering your own creation.
Pick a Size
Most shave ice places serve heaping cups of the stuff! Some only offer one size, but I've noticed more places offering 2 or more. This often includes a keiki-sized shave ice, which is great if you have little ones. And let them know if you're ordering more than 1.
Decide on A Combo or Build-Your-Own
Shave ice places have come up with some delicious combos the workers and regulars love! For example, Ululani's Hawaiian Shave Ice has the Lahaina that's made with pineapple, coconut, and banana syrups. They also suggest adding Snowcapped for $.50.
Choose Your Bottoms
This might be new to you! Bottoms are add-ins that you put in the bowl before adding the shave ice. You'll usually see 3 or 4 options on the menu for bottoms, including ice cream, azuki beans, and mochi.
Pick Your Flavors
It's typical to see 1-3 flavors included for free with each order. Flavors are the syrups poured over the top that soak into the shave ice. Traditionally, syrups are fruit-based and made with sugar cane. Sometimes these are super homemade and are thick like jam! But artificial, neon-colored syrups are also popular, with names like Pink Bubble Gum and Lemon-Lime.
Order Toppings
This is the truly fun part! You can go with fresh tropical fruit, mochi balls, or my favorite, li hing mui powder. Snowcapped is the most popular and it's a must for your first time! A lot of places offer red azuki beans, coconut flakes, chocolate shavings, and more.
Pay and Pick It Up
Much like any other café or shop, you'll order and then pay. A lot of smaller stands and shave ice food trucks only accept cash. But a lot more places now accept credit and debit cards, whether it's through an app or a traditional register.
Then you just wait for it to be ready and enjoy your Hawaiian treat!
10 Spots for the Best Shave Ice on the Big Island
Below you can read about the 10 places to get the best shave ice on Big Island. It's not uncommon to hear visitors say they tried a different shave ice spot every day!
But even if you only get a chance to try it once, the shave ice spots on my list will leave you satisfied.
Gecko Girlz
For the best shave ice in Kona, make sure to give Gecko Girlz a visit. They're a trendier spot in Kailua-Kona, but definitely give them a try! What's great here are the fun flavors and the creative "artisanal creations," as they call them.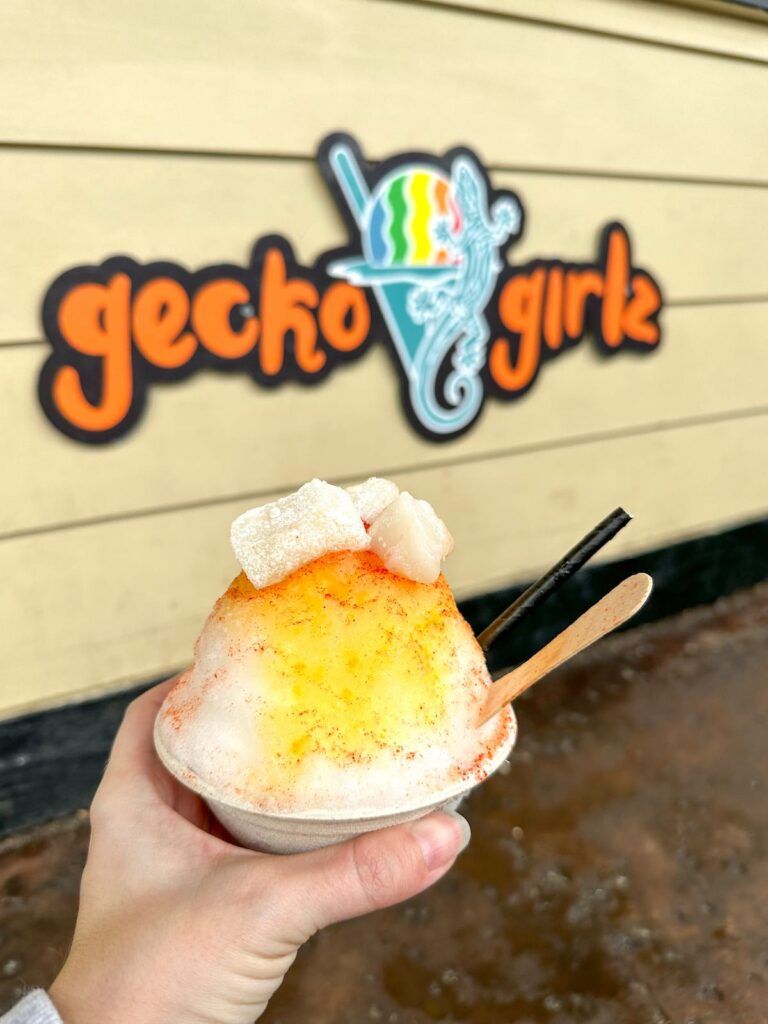 Gecko Girlz has classic artificial syrups, as well as all-natural syrups with unique options like yuzu sour and Kauai cherry. They also offer a great list of gourmet ice cream flavors.
And this spot has a great location with shaded picnic tables right next to some sand volleyball pits.
Kula Shave Ice
Kula Shave Ice is serving up some of the best shave ice in Hilo in the heart of downtown. You can't miss their turquoise storefront, right next to the Hilo Farmers Market. They're also a short walk to the waterfront Russell Carroll Mo'oheau County Park!
A family-owned business, the owners of Kula Shave Ice have a passion for quality. They make all their syrups, toppings, and ice cream, and even freeze their own ice so they can control the quality of it. And they have a focus on sustainability, even encouraging customers to BYOB (bring your own bowl)!
Impressively, this is the only shave ice shop I've seen selling poi and soursop as shave ice toppings! They also sell iced coffee drinks, acai bowls, and smoothies.
Ululani's Hawaiian Shave Ice
Ululani's Hawaiian Shave Ice is a shave ice staple in Kailua-Kona. They're located at the Courtyard by Marriott King Kamehameha Kona Beach Hotel.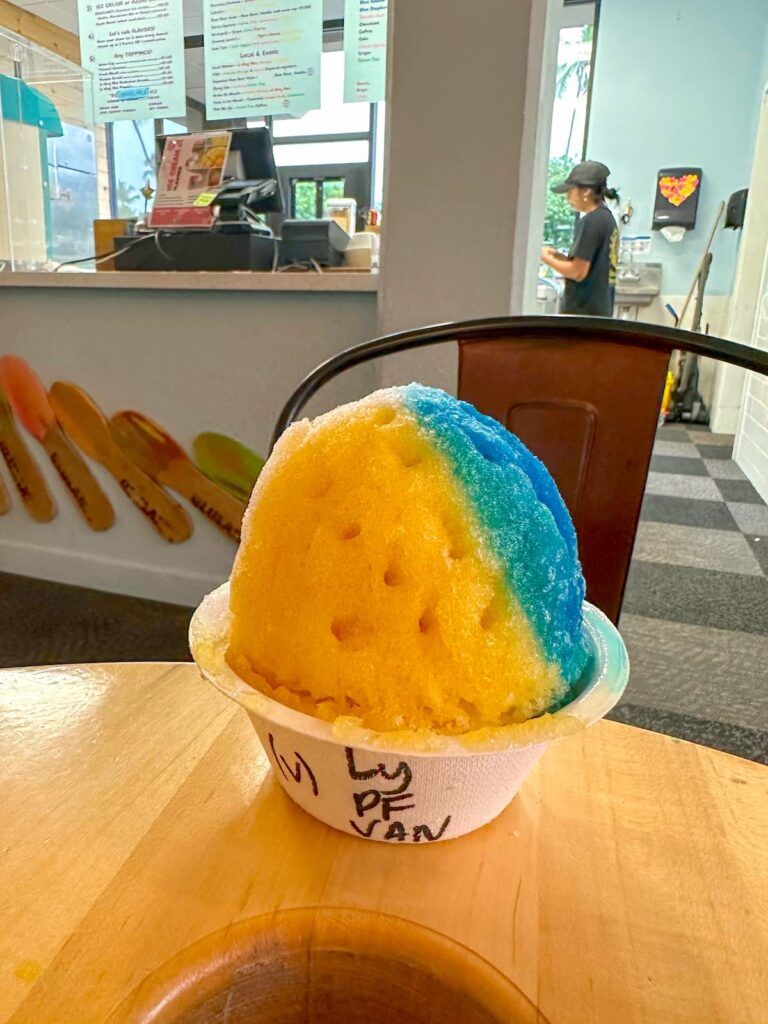 The original Ululani's is on Maui, and they're one of my favorite shave ice spots there. So this is a must if you're on the Big Island.
Ululani's is popular for using Roselani homemade ice cream, a local Hawaiian brand. I recommend the macadamia nut ice cream in the center of your shave ice! They're also known for their variety of flavors, including green tea, pickled mango, and more.
Wilson's By the Bay
You'll find Wilson's By the Bay near the corner of Mamo Street and Kilauea Avenue in downtown Hilo, across from the Army Surplus. This tiny storefront offers a classic shave ice experience with very classic syrups and toppings.
In fact, you come to Wilson's for the flavor syrups and decent prices. They sell 3 sizes, all for less than $5, and you get up to 3 flavors per cup. Every order also comes with ice cream and azuki beans (if you want them!). And you can add crème or li hing mui seeds or powder for $1 each.
Scandinavian Shave Ice
Whether you're shopping on Kailua Bay or exploring all the historic sites, you'll want to stop for a refreshing shave ice at Scandinavian Shave Ice.
This is a local favorite, lovingly referred to as "Scandi's!" Come here for the sheer variety with 64 different flavors and countless combinations to choose from.
There are classic, natural, and sugar-free flavors. Try their ever-popular Lava Flow, which is strawberry and pina colada with vanilla ice cream in the center and Snowcapped drizzled on top!
Da Hawaiian Brain Freeze Shave Ice & Ice Cream
After a day exploring Hilo Bay, take the crew to Da Hawaiian Brain Freeze Shave Ice & Ice Cream. This ice cream parlor is perfect for a picky crew, selling top-notch shave ice among other sweet frozen treats! You'll see them in the Hilo Shopping Center, a strip mall on Kilauea Avenue.
The ice is shaved super fluffy and snowy, and they pile it high in your bowl! There's a keiki or regular-sized bowl, and you have dozens of flavors to choose from. I love that they have interesting flavors like ramune and ube cream. You can also experiment with adding different flavors of ice cream to your shave ice, since it's an ice cream shop!
Kiloa Gifts
While you're exploring all the amazing things there are to do in Captain Cook on the Big Island's western coast, take a detour to stop by Kiloa Gifts.
Find this tiny roadside stand on the winding side of Napoopoo Road, just south of the Captain Cook Monument Trailhead. Blink and you'll miss, but it's some of the best shave ice on Big Island!
This hidden gem is a gift shop where you can pick up beach essentials, bags of chips, and excellent shave ice. They have about a dozen classic flavors, 2 sizes, and a few toppings. But what I love about them is their snowcapped options. Choose sweetened condensed milk, marshmallow cream, coconut milk, or even ube!
Kona Wave Café
For a secret spot with some of the best shave ice on Big Island, go to Kona Wave Café. This is a coffee shop across from Splashers Grill on Ali'i Drive that does delicious acai bowls.
The shave ice feels almost secondary, but it's absolutely a must, especially if you prefer natural ingredients.
They have several signature shave ice combos that are all delicious and topped with different fresh fruits, or you can create your own. And I love that it's really easy to pick the most natural and least processed ingredients on their menu!
Original Big Island Shave Ice Co.
Of course, I had to include Original Big Island Shave Ice Company! It's probably the best shave ice on Big Island and it's inside the Waikoloa King's Shops.
Back in 1957, it started as a one-woman show and the first Big Island shave ice truck. Today her family honors her legacy at their location in the mall.
I love that they have 3 different lists of flavors to choose from. You can try artificial flavors like Tiger's Blood, cream-based flavors, and a variety of real fruit flavors. And the combinations here are the bomb! The Halo Halo has ube ice cream in it, a nod to the Filipino dessert!
Anuenue Ice Cream & Shave Ice
A North Shore favorite, Anuenue Ice Cream & Shave Ice is a necessary pit stop on a road trip around the Big Island.
You'll see it in the Kawaihae Center strip mall right after you turn on the Akoni Pule Highway heading north. It's a walk-up window, and there are always a few people in line. It's that good!
This is just a solid place to get classic shave ice with tons of flavor that won't let you down. They also sell ice cream cones, smoothies, and coffee. And don't forget to bring cash for payment.
FAQ on Hawaii Shave Ice
Is it "shave ice" or "shaved ice"?
It's shave ice, and it gets its name from Hawaiian slang for shaved ice. But don't call it shaved ice! If you want the real thing, look for places that call it by the correct name. In every country and in every era across history, people have come up with ice-based treats. They all have similarities and elements that make them unique. You've most likely found genuine Hawaiian shave ice if it's called by its local name.

What is the oldest shaved ice in Hawaii?
Waiola Shave Ice in Honolulu is thought to be the oldest shave ice spot in Hawaii still in operation. They opened in 1940! Matsumoto Shave Ice in Haleiwa, Oahu is another original, opening in 1951. They're one of the most popular shave ice locations.
What dessert is Hawaii known for?
There are so many amazing Hawaiian desserts to choose from! If you like mochi, Hawaiian mochi is its own fun thing. Shave ice is the best beachfront option and a great way to cool off. For the adventurous, haupia is a local coconut "pudding," though it can be a bit of an acquired taste! And one of my all-time favorite Hawaiian desserts is the one and only chocolate haupia pie from Ted's Bakery on North Shore Oahu.
Don't Miss Out on the Best Shave Ice on Big Island
The best shave ice on Big Island is in Hilo, Kailua-Kona, and the hidden gems along the western and northern shores. Shave ice is the perfect way to cool off after a day snorkeling in the reefs off the coast of the Big Island. Or it's the ideal pick-me-up after a morning on the beach.
Grab one before you head into historic Kailua or on between activities at your resort. Each of the spots on my list has something that makes it a unique stop, and that just means you may have to visit them all!