Planning a trip to the Big Island? One of the top things to do on the Big Island is experience a traditional Hawaiian luau. Find out the best luau in Kona for your next trip.
This list of the best luaus in Kona Hawaii contains affiliate links which means if you purchase something from one of my affiliate links, I may earn a small commission that goes back into maintaining this blog.
You might be looking for the best luau in Kona Hawaii for your trip to the Big Island. I've been to different luaus on all the Hawaiian Islands, and Kona has some top-notch options.
You might not understand the hype if you've never been to a luau. Or you might think they're all the same. Maybe you've been to a luau before and you think that you can check that tourist experience off your list.
Let me tell you that luaus are exciting cultural experiences meant to welcome guests. While they tend to follow the same routine, I love going to different luaus for the unique things you'll find at each one!
In 25 years, I can't even count how many luaus I've been to. I used to go as a child and now I love to go with my children.
Below you'll find my best advice on how to choose a Kailua Kona luau, as well as my top picks for the best ones in the Kona region. So, keep reading so you know how to choose the best luau on the Big Island.
Don't have time to read a bunch of Hawaii blog posts and reviews? Here are some of our top picks for visiting the Big Island.
Popular Big Island Tours/Activities
Favorite Big Island Resorts/Hotels
Want to Rent a Car in Hawaii?
One of the best places to rent a car in Hawaii is Discount Hawaii Car Rental because they get the best rates from top national companies like Alamo, Dollar, Thrifty, Avis, Enterprise, Budget, and Payless.
Want to skip all the planning and just access my detailed Big Island Itinerary complete with daily schedules, fun activities, and travel hacks? Click the button below.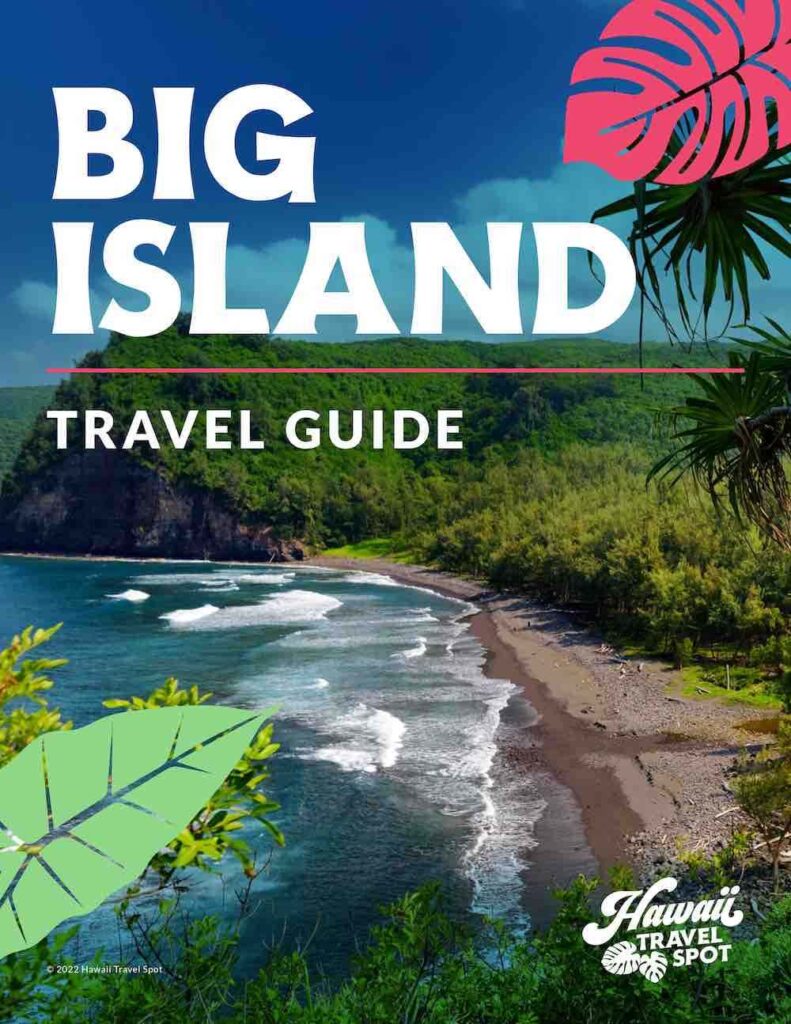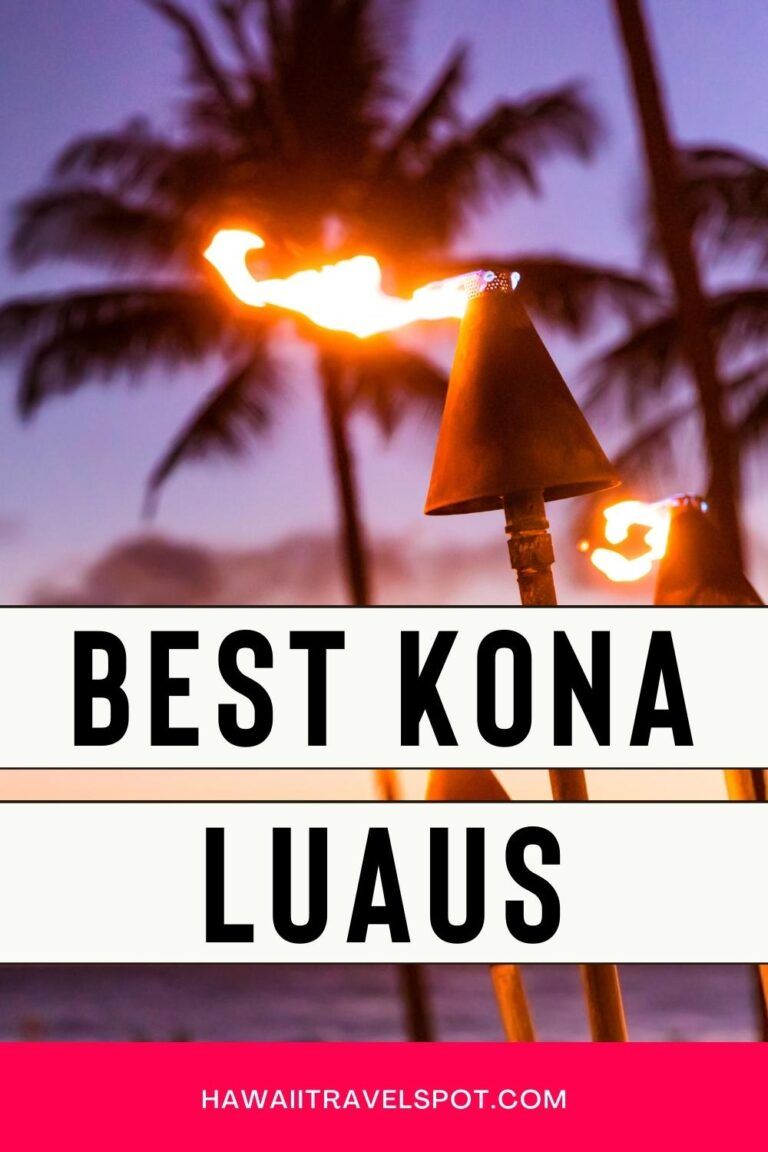 Tips for Choosing Best Luau in Kailua Kona
The best luau in Kona Hawaii will be different for everyone. You might be on your honeymoon or your 50th anniversary. Maybe it's your big family vacation with all the kids or you finally booked that solo trip to Hawaii.
There really is a luau for everyone. All the tips below will help you choose a luau you'll love!
Don't Think All Luaus are the Same
Most luaus follow the same itinerary: there are usually drinks and a cultural activity before dinner. And then there's a show that involves Polynesian storytelling through song, dance, and exciting performances.
Sometimes the night begins with an imu ceremony or a tiki torch lighting ceremony. Sometimes the show is during or after dinner. A lot of shows have unique cultural activities, or they focus on a specific Polynesian culture.
My point is that you'll never be bored at a luau and you'll probably have a lot of fun learning something new!
Also, classic Hawaiian luaus have typically been large events with cheesy, touristy entertainment, and there's nothing wrong with that!
But these days, more people want something smaller and more culturally unique and authentic. Productions are listening to what people want. Today you can find a mix of both classic touristy luaus and niche, intimate affairs.
This also means you can find tableside service and private tables rather than the buffets and family-style dining of larger luaus. And if you have dietary restrictions, you can still eat at most luaus! Most menus have gluten-free options and food for vegetarian and vegan guests.
Look for Something in Your Budget
Typically, luaus these don't go below $115 per person. Remember that you're paying for several hours, including drinks, souvenirs, dinner, a show, and more.
But there are ways to save. Most luaus let young children come for free. Sometimes, transportation is complimentary or guests receive a lower rate if the luau is at their hotel or resort.
I find that the cheapest Hawaii Big Island luaus are in Kona. Also, I recommend that you read Kona Hawaii luau reviews to decide if it's worth it to pay for add-ons like VIP tickets.
Book in Advance
Unless you decide to go to a luau last minute, like once you're actually in Hawaii, it's best to book your tickets well before your trip. Many of the best luaus sell out weeks ahead of schedule. And smaller more intimate luaus will sell out fast because there are just fewer seats available!
Also, if you have any dietary restrictions like a nut allergy, make a note when you book. Most reservations have a space where you can leave a message and they'll call you back. If nothing else, you're always welcome to call the luau that you'll be attending.
Wear Something Fun
The great thing about luaus is how welcoming they are to guests! Some people dress up while others come in streetwear. Personally, I love going in a tropical print dress and my husband usually wears a Hawaiian shirt and khakis or linen pants.
Also, you'll probably receive a beautiful lei, and photographers are often at luaus. Enjoy making a memory with great photos to go with it! And wear comfortable shoes. You wouldn't want to be stranded in heels if your luau is on a grassy lawn.
I haven't yet seen a luau with a dress code, but I suggest looking at Big Island luau reviews and pictures. This will show you what people typically wear to the luau you're going to attend. I just don't recommend showing up in beachwear.
My Pick for the Top Kona Luau
Voyagers of the Pacific Luau
The Voyagers of the Pacific Luau, or the Royal Kona Resort luau, is on Kailua Bay in downtown Kona. It's considered to be the best luau on Big Island Hawaii.
When you arrive at the oceanfront resort, there's a photographer there to take a complimentary photo of you! Then you can enjoy the open bar with complimentary drinks until dinner begins.
Dinner is a buffet and you'll sit at long tables. When we went, I was really impressed with the delicious food at this luau, and there was so much variety! Check the latest rates and availability.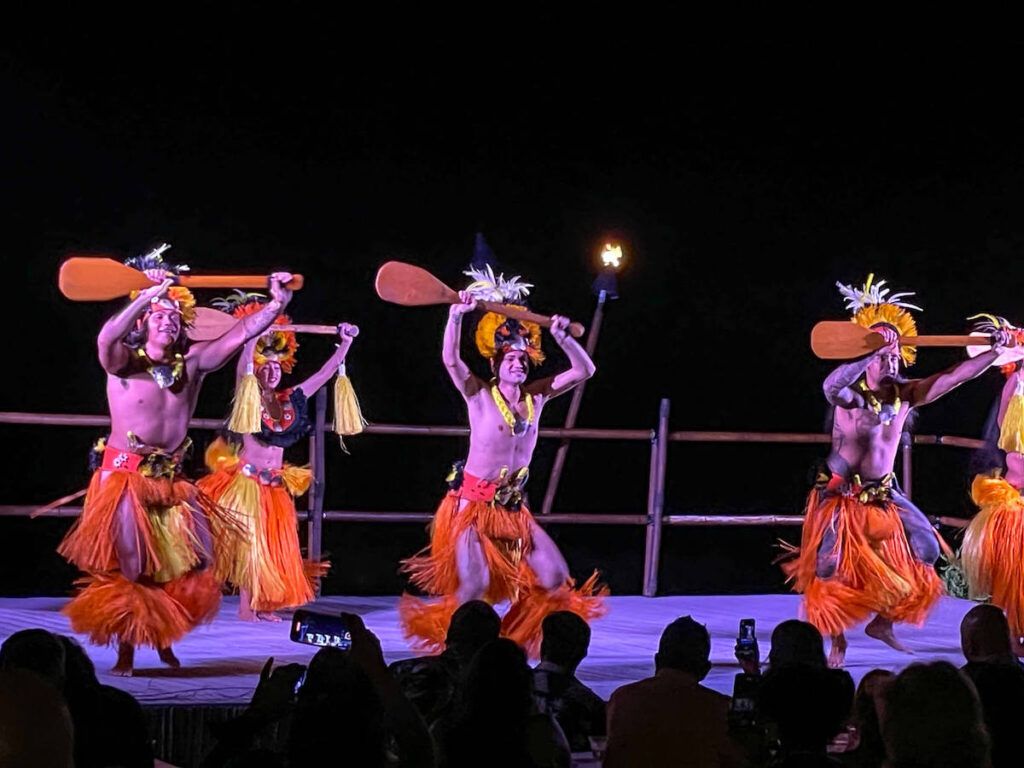 Watch contemporary hula dancing while you eat, and then there's a torch lighting ceremony to begin the show. The main performance featured cultural demonstrations and authentic dances from several different Polynesian groups.
This is a great show for everyone. They accommodate families, and kids under 5 are free. They sing the Hawaiian Wedding Song for any couples celebrating an anniversary or honeymoon! Plus, they're really accommodating to those with dietary restrictions. Read my full Voyagers of the Pacific Luau review.
Island Breeze Luau
Another contender for the best luau in Kona Hawaii is the very popular Island Breeze Luau. You can see it at the Marriott King Kamehameha Kona Beach Hotel on Kailua Bay. I would consider it a luxury luau because of the high price point, but you really get what you pay for here!
Start the night with an open bar and fun cultural activities, including arts and crafts for the kids. Then there's an imu ceremony followed by tableside service for dinner. I also noticed fewer guests at this luau with smaller tables, though they're still family-style. Check the latest rates and availability.
After dinner, you watch King Kamehameha and his royal court arrive by outrigger canoe to begin the night. The luau is unique because it's located next to the historic estate of the king, which is why they do this. Then there's a really impressive show with storytelling, dances, songs, and more covering Polynesian history and culture.
Overall, I recommend this luau to anyone willing to spend a little more. Children under 3 are free and you can enjoy complimentary drinks all night, so there's something for everyone. And it's in a prime location near several Kona hotels.
Pilikana Luau
A new addition to downtown, the Pilikana Luau is making waves with its attention to detail and high-quality production. It's put on at the downtown Kona Inn Shopping Village, but don't let that turn you away.
This intimate luau is in a private setting on a great lawn beyond the shopping center. It's considered one of the best luaus in Kona Hawaii.
Start your evening by participating in a variety of cultural activities like hula dancing, lei making, and even a fire knife demonstration! Then dinner begins with a ceremony where conch shells are blown.
The buffet is presented by the local favorite Umekes Fish Market Bar & Grill and it's out of this world. Drinks will be available for purchase at the Pilikana Luau. Check the latest rates and availability.
You'll listen to live Hawaiian music while you eat. After dinner, there's a show featuring Polynesian dances and a fire knife show. The whole event is in a great outdoor location on the grass with the ocean beyond the stage. How romantic to watch a gorgeous sunset at your luau!
Couples will love this luau. If you bring the family, just note that they don't give leis to children under 4 years. And make sure to book the Pilikana Luau in advance. It's only on Mondays and tickets sell out fast.
Feast & Fire Luau
For the best luau near Kona, head to the Feast & Fire Luau at the Outrigger Kona resort on Keauhou Bay. It's perfect if you're looking for that classic luau experience in a beautiful setting.
Before dinner, there are interesting cultural activities that include cooking demonstrations. And you can shop some local artisan booths for Hawaiian souvenirs. You can enjoy Hawaiian storytelling and hula dancing during your sit-down dinner at private tables.
The big draw at the Feast & Fire Luau is the main performance. This show is famous for being performed by the musical Lim Family of Kohala, whose lineage can be traced back to Alapa'i Nui. This makes them royal descendants of an ancient ruler of Hawaii!
For this show, I recommend getting VIP tickets so you have the best seats for the fire knife show at the end. Also, if you have children, their tickets are half-price.
Sunset Luau at Waikoloa Beach
When you're looking for the best luau in Big Island Hawaii, consider the Sunset Luau at the Waikoloa Beach Marriott Resort & Spa. It's also the best luau in Waikoloa known for its amazing gourmet cuisine and an open bar.
You'll love the gorgeous setting with palm trees and ponds beyond the stage while further out everything is framed by the ocean at sunset. After an imu ceremony, guests can enjoy a buffet prepared by Executive Chef Jayson Kanekoa. Then there's a show with a variety of performances from different Polynesian cultures.
Sunset Luau is a small-scale luau, so it's a good choice for those looking for a more intimate event. And it's the best luau on a budget on my list with general tickets running about $115 while children under 5 are free.
FAQ about Big Island Luaus
What is Kona Hawaii known for?
You probably think of amazing coffee when you think of Kona Hawaii! And yes, that's definitely one thing that Kona is known for. But Kona is also known for its amazing beaches where you can snorkel and see colorful coral. And the waters off Kona are ideal for deep-sea fishing.
What is the best time of year to visit Kona?
Kona is pretty awesome any time of year. And because it's on the southwestern side of the Big Island, it tends to have warm, dry weather most of the time! I would just say that if you want to beat the crowds, plan your visit for the shoulder seasons. August through November and January through April are a bit less busy and still offer lots of things to do in Kona.
How many luaus are on the Big Island?
Currently, you'll find 10 different luaus on the western side of the island. There are big and small productions, so you have different options, depending on your taste when you're looking for the best luau on Hawaii Big Island. And the most luaus are in the Kona region.
What do you eat at a luau?
Luaus traditionally serve an all-you-can-eat buffet made up of traditional Hawaiian foods, like Kalua pig, Huli Huli chicken, long rice, and always macaroni salad! There are usually Hawaiian desserts like haupia and fresh local fruit. And at many luaus, you'll find children's menus with American favorites for the picky eater in your family!
Choose the Best Luau in Kona Hawaii for You
When you're looking for the best luau in Kona Hawaii, you have your work cut out for you! There are so many amazing options in the Kona region. Now you have my pick for the top Kona luaus so you can make the best choice for your next trip to the Hawaiian Islands!