Are you on the lookout for the best beaches on the Big Islands for your next trip to Hawaii? Keep on scrolling to learn about the best Big Island beaches in Kona and beyond.
This list of Big Island beaches was written by Marcie Cheung (a Hawaii travel expert) and contains affiliate links which means if you purchase something from one of my affiliate links, I may earn a small commission that goes back into maintaining this blog.
Planning a trip to the Big Island?
Make some room in your schedule because the Big Island has some of the most beautiful beaches in the world! Here you'll find glistening pale white sand to ashy black sand all in one place.
Each and every beach has gorgeous clear water, bright sun, and soft sand. So make sure to stop by a beach or three on your visit.
Why follow my lead? I've explored Hawaii more than 40 times, so I've got lots of advice!
Scroll down to see my list of recommended Big Island beaches for your trip. I promise you won't be disappointed!
Want to skip all the planning and just access my detailed Big Island Itinerary complete with daily schedules, fun activities, and travel hacks? Click the button below.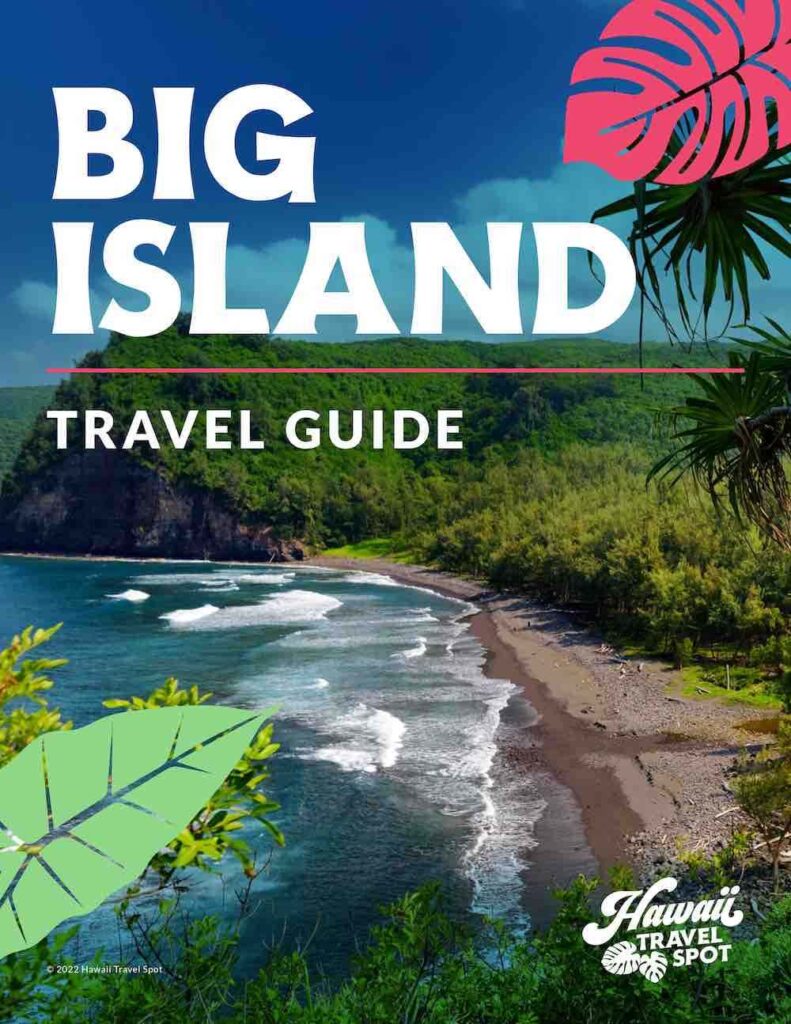 Epic Beaches on Big Island Hawaii
1. Mauna Lani Resort Beach
Mauna Lani Resort Beach is a lovely resort beach that is open to everyone even if you're not staying at the resort. It's one of the fancier beaches on the Big Island and once you arrive, treat yourself to a beautiful beach and resort-provided amenities.
If you're looking for places with fewer people and more sea creatures, a small cove nearby is a quieter beach with more serene waters.
2. Maniniowali Beach
One of the best beaches near Kona is Maniniowali Beach because of its mesmerizing slopes and crystal clear water.
If you're looking for the best beaches in Kona for swimming, you're in luck! When the waters are calmer, the waters can't get any more perfect for swimming.
There are still moderate waves, so if you want to swim and do some surfing or bodyboarding after, this is the best place to go.
3. Waipio Beach
If you're looking for a unique beach experience, head over to Waipio Valley and visit Waipio Beach, where you'll be able to find a black sand beach.
But while the waves are strong and not one of the best places for swimming, Waipo Beach is one of the best beaches on Big Island because of its perfect view for whale watching.
Whale migration happens in the months from November to March, and during those times, you can see majestic whales swimming across the waters right in front of your eyes.
However, if you'd like to travel to this beach, do note that you'll have to hike to the beach or take the Waipo Valley Shuttle.
Note, the road to Waipio Valley is currently closed with a re-opening date of TBD.
4. Anaehoomalu Bay Beach (aka A-Bay)
If you're looking for great Big Island snorkeling spots, Anaehoomalu Bay Beach is a great option! Not only that, but it's also a great place for other water adventures, such as kayaking and paddleboarding!
The beach also has two fish ponds you can visit where you can take a glimpse into the past and learn about ancient Hawaii!
5. Hookena Beach
Hookena Beach is a perfect, calm beach to swim in when the waves are dormant and perfect for surfing when the waves pick up.
Additionally, there are also showers and restrooms on the beach.
Make sure to check out the severity of the waves before going.
6. Old Kona Airport State Park
If you're on the hunt for the best beaches in Kona Hawaii, why not try out Old Kona Park?
This remodeled airport landing strip has a good variety of fun things to do. From your average snorkeling and swimming to finding rock pools and exploring, the Park has a ton of fun for you to try out.
If you're looking for where everyone's hanging out, move toward the northern side. If you're a fan of the quieter side, aim further south.
You'll also find picnic tables splayed out, open grass areas to sit down and relax on, and toilets and showers.
7. Hapuna Beach
Sandwiched between Mauna Lani Resort and Mauna Kea Beach Resort is Hapuna Beach, one of the very best beaches on Hawaii's Big Island; it's even got an award to prove it. Its golden crescent lagoon transports you to the epitome of a beach paradise.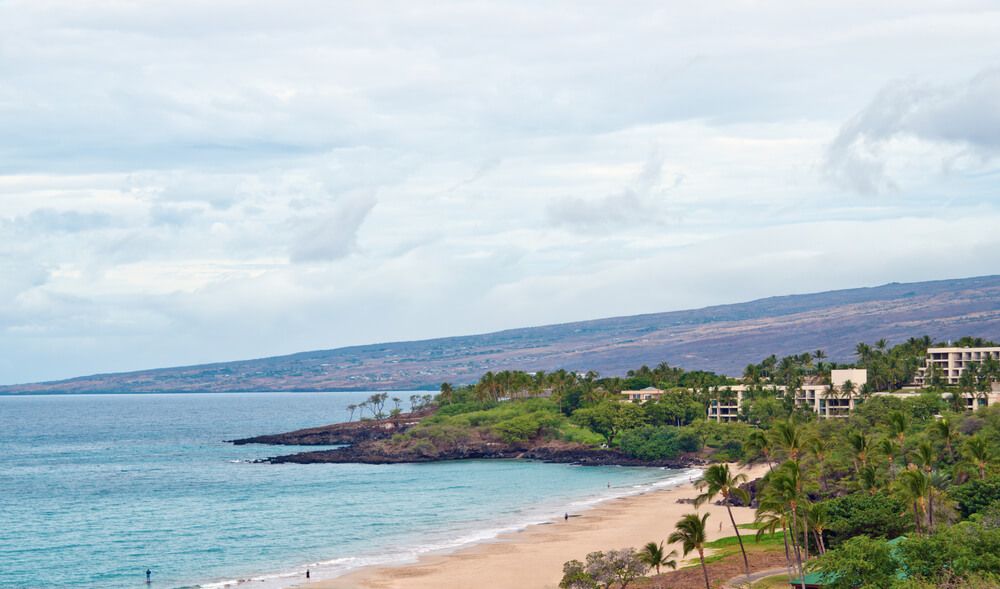 Hapuna Beach is great for some casual body boarding when the waves are higher and a cathartic gentle slope into crystal clear, rhythmic waters on calm days.
8. Onekahakaha Beach Park
One of the golden examples of great Hawaiian beaches is Onekahakaha Beach Park. It has warm rays, white sand, and relaxing water, perfect for swimming.
Additionally, here is where you'll find one of the best beaches for swimming in Hilo Hawaii, and even one of the best swimming beaches on the Big Island. They have attentive lifeguards on duty so your swimming experience is safe with them.
You can also take a shot at some amazing snorkeling! Breakwaters help give ample opportunities to spot little hubs full of sea life!
This beach is the textbook example of a great beach, making it one of the best beaches on the Big Island.
9. Honaunau Bay
To all snorkelers: Honaunau Bay Beach is your must-go if you're looking for the best tropical snorkeling of your life.
As you swim beneath the water, you'll find yourself blown away as turtles, eels, dolphins, sharks, and vibrant and colorful fish swim by.
The waves are fairly calm, so you won't need to worry about currents and swell.
If you're not up to snorkeling but still want to look at the marine life in Hawaii, there are also smaller ponds nearby where you can look at the sea life.
10. Mauna Kea Beach (Kaunaoa Beach)
Many beaches in Hawaii keep the rustic and natural essence of beaches and don't have amenities, giving a serene, natural feeling to your day at the beach.
But if you're looking for a beach with close-by amenities and facilities to stop by too, head to Mauna Kea Resort where you'll find Kaunaoa Beach.
This beach is a wave rider's paradise with a high surf, perfect for bodyboarding and surfing, but maybe not for swimming.
You'll also be able to see some amazing sights! Mauna Kea Volcano is visible from the beach, perfect for some pictures. Additionally, as night approaches, plankton starts to gather, which means you'll be able to spot manta rays!
However, this beach is one of the ones that disappear when the tide is fully in, so be mindful of that when spending the day there. A great spot for families with young children.
11. La'aloa Beach Park (aka Magic Sands)
Yet another one of the best beaches for swimming on the Big Island, La'aloa Beach Park is a great beach for swimming enthusiasts.
The calm waters make it one of the beaches that locals like to go to, and the smaller waves are perfect for people looking for beaches for snorkeling and swimming.
However, keep in mind that this beach will be submerged when the tide is fully in, so stay up to date with the behavior of the water when you go.
12. Kikaua Point Beach
While relaxing on the beach surrounded by the sun is nice, sometimes you'd rather be in a spot where the sun isn't directly shining down on you. And for those looking for a spot where you can find both, Kikaua Point Beach is a great beach for just that.
Lava rocks and palm trees provide relaxing shade and an expanse of grass perfect for getting in your Vitamin D. On top of that, the beach is situated right next to a golf course.
13. Aiopio Beach
If you're looking for hidden gem beaches, Aiopio Beach is a smaller and less popular beach, but it's one of the best snorkeling beaches on the Big Island!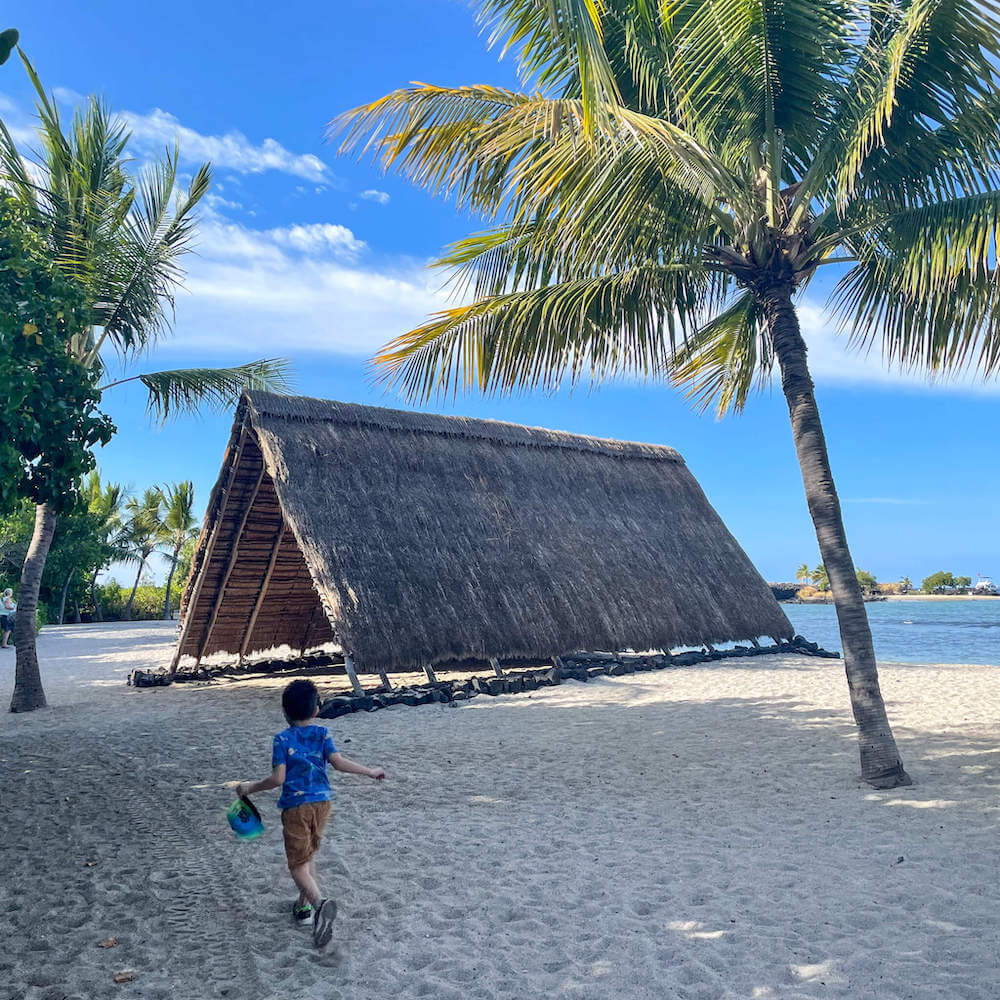 The waters are relaxing and you even might be able to catch a few turtles swimming by!
It's more of a hidden gem at Kaloko-Honokohau National Historical Park, but still definitely a must-see beach if you're looking for the hidden secret spots of Hawaii.
14. Mahana Beach (Papakōlea Beach)
Another one of the best beaches on the Big Island, Mahana Beach is located on the more southern side of the island and is known not for its swimming but for its beautiful rocks.
As you explore the shoreline, search through the rocks and explore the beautiful beach.
The water is strong, and there is no shore break, so make sure to stay clear of the water.
15. Puako Beach Park
If you're looking for a beach just simply to relax on, Puako Beach Park is a great beach to do that! The beach is great for walking along the sand, with the water splashing at your ankles and the warm sun shining down on you. You can even spot marine life at the beach, such as sea turtles.
Additionally, the location is easy and convenient, making it a great beach to frequent.
16. Spencer Beach
Spencer Beach is the perfect beach for chill relaxation; it has low to mild waves, showers, and picnic tables all easily accessible.
On the northern side, there's also a shaded sitting pool for anyone who wants to take a little creak from the sun or the ocean breeze.
17. Wawaloli Beach
If you're headed to Wawaloli Beach, get ready because it's a great spot to spend the entire day soaking in the sun, splashing in the water, and soaking in the essence of Hawaii's tropical paradise.
Here, you can find any amenities you'd need, such as showers, toilets, picnic tables, and even a BBQ pit for you to enjoy!
What's more, you can even see beautiful views of Hualalai Volcano and the Kona Coast, making it one of the best beaches on the Kona coast you have to try if you're in the area.
18. Makalawena Beach
For people looking for the best beaches on the Big Island for surfing, you must check out Makalawena Beach. It's great for high surf, and bodyboarders and surfers alike will get a kick out of this beach.
Sit back on the white sand as you watch people ride the waves or catch a wave yourself as you feel the adrenaline rush of the wave.
Makalewena Beach also has a few other fun things to do! For example, you can check out the sand dunes and search for sea turtles.
And as you wrap up your trip to the beach, rise and clean yourself off in a nearby freshwater pool just inland of the beach.
19. Punalu'u Beach (Black Sand Beach)
If you're looking for the best beaches on the Big Island, why not try out one of the best-rated beaches on the Big Island, Punalu'u Beach?
The waves are a bit stronger, so you might want to hold back on swimming if you're not experienced. However, the beach is better known for its relaxation and marine life.
This beach is well known for being one of the best beaches to relax and unwind on and a great place for turtle spotting.
As you relax on the beach, take advantage of the beach's high appearance rate of turtles. In fact, Punalu'u Beach is one of the best beaches on the Big Island to see these marine creatures in their natural habitats and a must-see for any turtle enthusiasts.
Big Island Beaches FAQs
Can I swim on the Big Island?
Yes, and it's one of the best places to do it! Some great beaches for swimming and snorkeling are Onekahakaha Beach, which is widely regarded as one of the best swimming beaches on the Big Island, Honaunau Beach, which is great for snorkeling, and many other beaches on this list!
What colors of sand are on the Big Island?
On the Big Island, you'll be able to find white, black, and green sand.
Should I snorkel at Hilo or Kona?
When comparing Hilo and Kona, Kona is easily the better choice. Hilo's waters get rougher and not as enjoyable for snorkeling. On the other hand, Kona has calmer waters better for snorkeling and prettier snorkeling views to go with it.
Best Big Island Hawaii Beaches Wrap Up
Hopefully, this list could give you a new and wider perspective on the beaches of the Big Island. Make sure to visit at least one of these on your trip to Hawaii!