Planning a Hawaii vacation and want to check out some Hawaii historical sites? Keep scrolling for a list of the coolest historical places in Hawaii worth checking out!
This list of historical places in Hawaii worth visiting contains affiliate links which means if you purchase something from one of my affiliate links, I may earn a small commission that goes back into maintaining this blog.
Hawaii is considered by many to be an idyllic wonderland, for good reason. The island, covered in rainforests and tropical beaches, practically defines popular tourism.
Many, when thinking of Hawaii, almost immediately think of its tourist attractions: beaches, palm trees, delicious food, and volcanoes. Equally as important, however, is Hawaii's deep cultural history, which one can learn about through the historical landmarks, ancient villages, petroglyphs, and preserves scattered throughout the islands.
Teaching yourself and your family about the culture of Hawaii should be a top priority when creating your bucket list of destinations. Some popular sites include the Old Sugar Mill of Koloa, Iolani Palace, Bernice Pauahi Bishop Museum, and Honokohau Settlement.
If you're thinking of adding these or more to your itinerary, here're some of my favorite historical Hawaii landmarks to visit with the whole family.
Want to skip all the planning and just access my detailed Hawaii itineraries complete with daily schedules, fun activities, and travel hacks? Click the button below.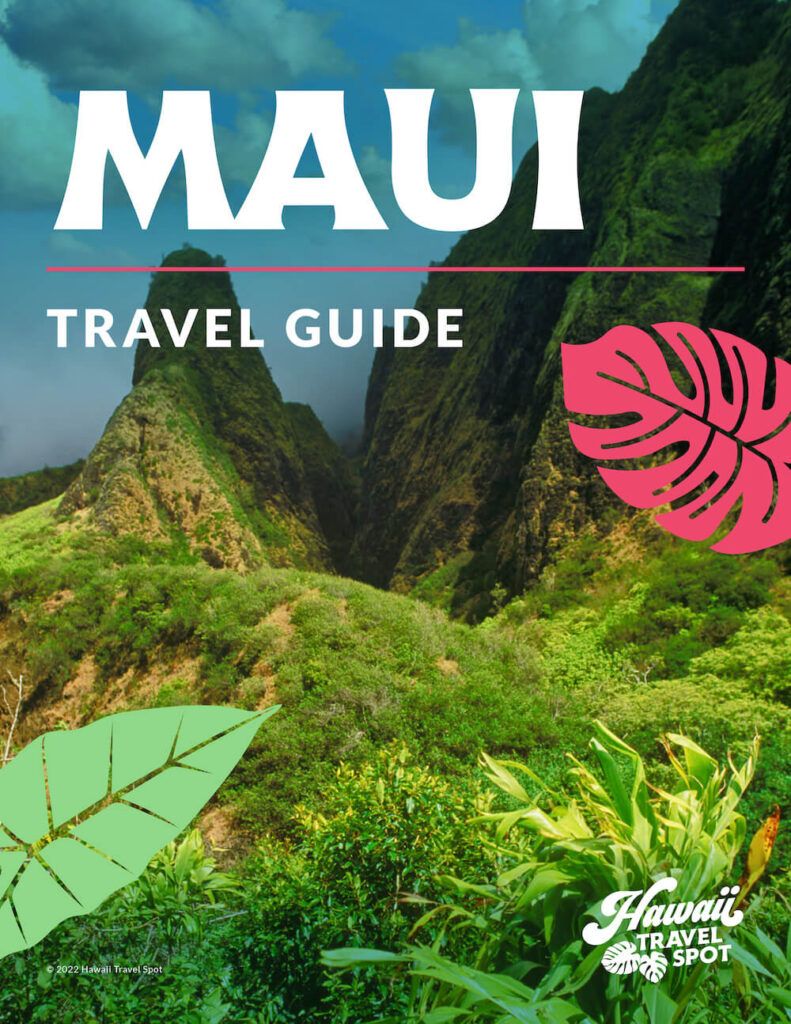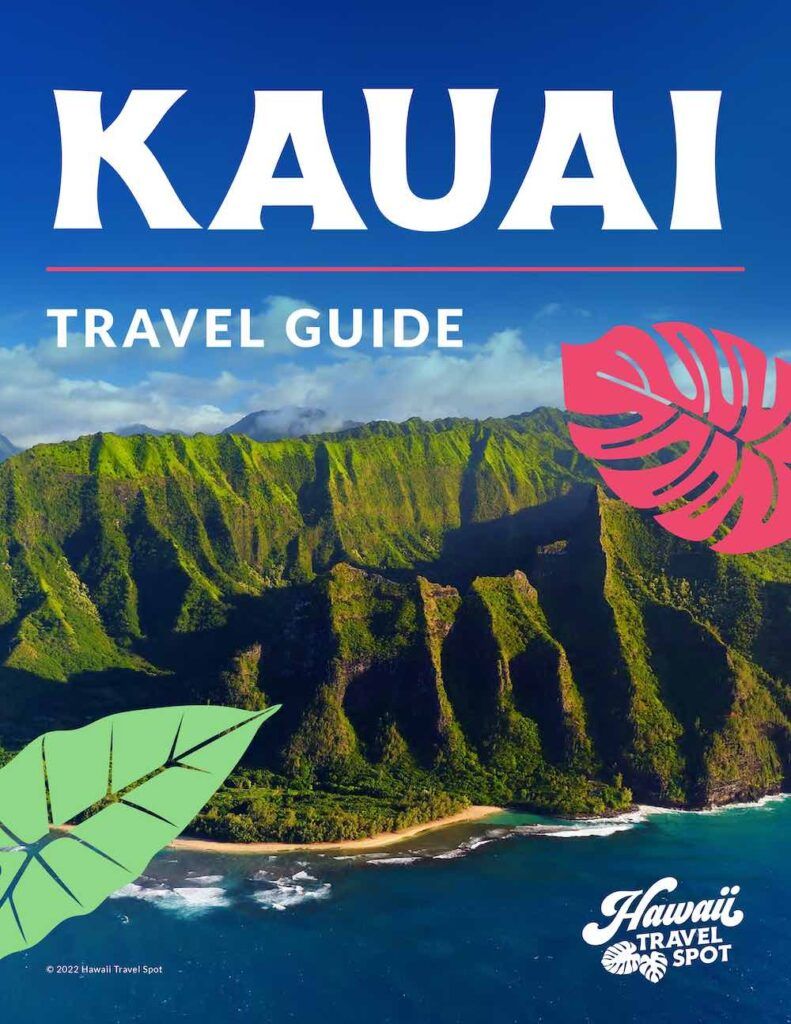 Incredible Historical Places in Hawaii You Should Check Out
1. Hawaii Volcanoes National Park
Hawaii Volcanoes National Park is a site of geological history. After all, the volcanoes in this area are largely responsible for the creation of the Hawaii Islands and are still active today, slowly expanding the island through slow-spewing lava.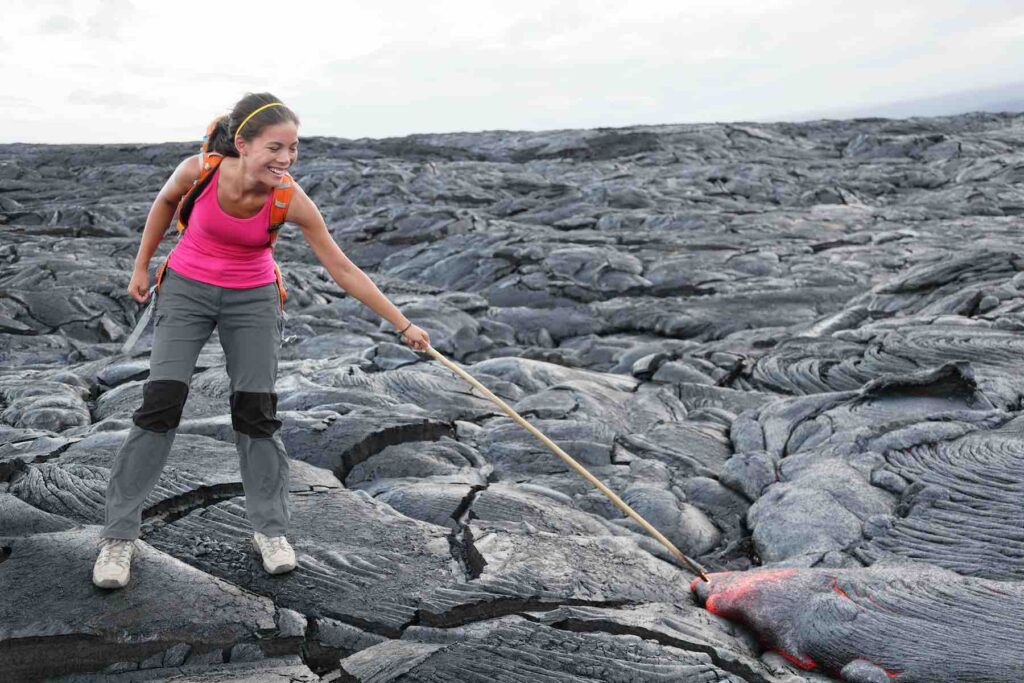 The most widespread and popular attraction at the Hawaii Volcanoes National Park is the fields of lava, which stretch over dozens of miles and form unique structures and shapes you can't find elsewhere.
Hawaii Volcanoes National Park is also one of the most popular places to see immense lava tubes, also known as pyroducts. Due to the fact that some lava vents there are still active, you can see live magma glowing within the Halema'uma'u Crater and steam rising from vents!
For those wanting a bit more adventure, you can also visit by helicopter tour. Note that Jagger Museum is permanently closed due to an earthquake in 2018. Check out the latest prices and more details.
2. Iolani Palace
Iolani Palace has a rich and varied history – commissioned by King Kalakaua in 1882, the center of royal decadence eventually became the site of Queen Liliuokalani's imprisonment and overthrow by American imperialists.
Before you go, I'd highly recommend you read Hawaii's Story by Hawaii's Queen, written by Queen Liluokalani herself.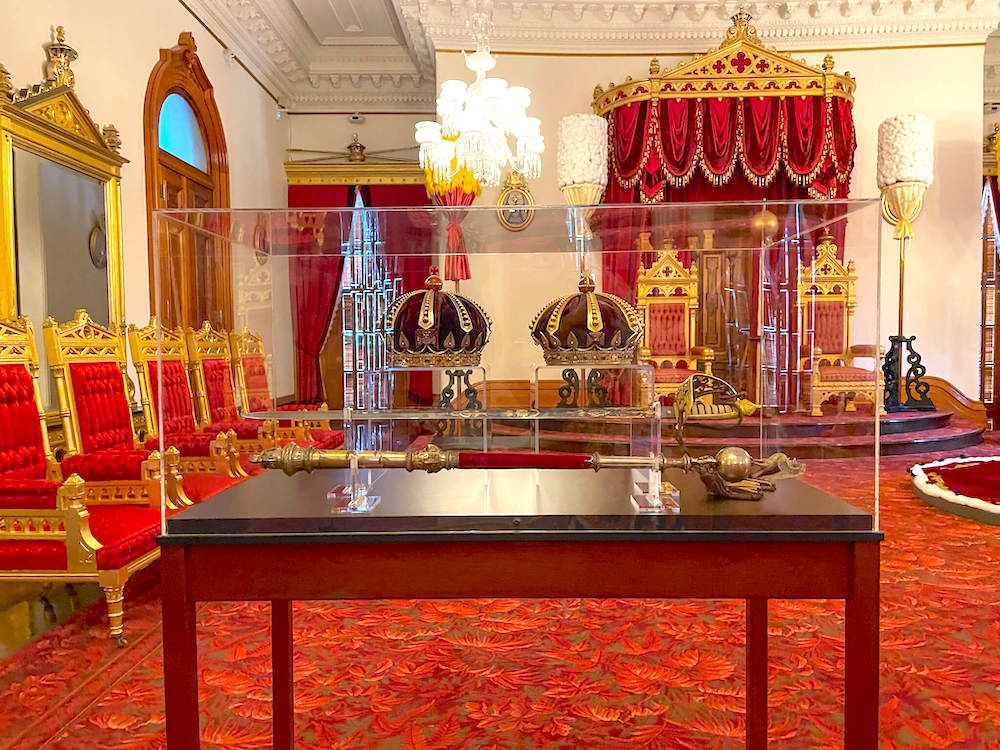 Through a tour of the King and Queen's suites, Music Room, Imprisonment Room, the Grand Hall, the Blue Room, the Throne Room, and more. You'll be able to both tour a royal palace and learn about Hawaii's history and identity.
Beyond a tour of said rooms, Iolani Palace also hosts several events and tours, such as the White Glove Tour on Thursdays, the Fashion Fit For Royalty Tour and Hawaii's Royal Connection to Japan Tour on Wednesdays, and the Chamberlain's Tour on Wednesdays, Thursdays, and Fridays.
Read my full guide on Iolani Palace in Oahu.
3. Watch a Luau at the Polynesian Cultural Center
The luau at Polynesian Cultural Center, termed the Ali'i Luau Buffet, is an all-you-can-eat traditional Hawaiian feast. They feature a huge variety of traditional Hawaiian food on their menu, such as Imu Pua'a Pork, steamed Kona Kampachi, Kalua pork, local fruits, a variety of poke, and even Ube ice cream!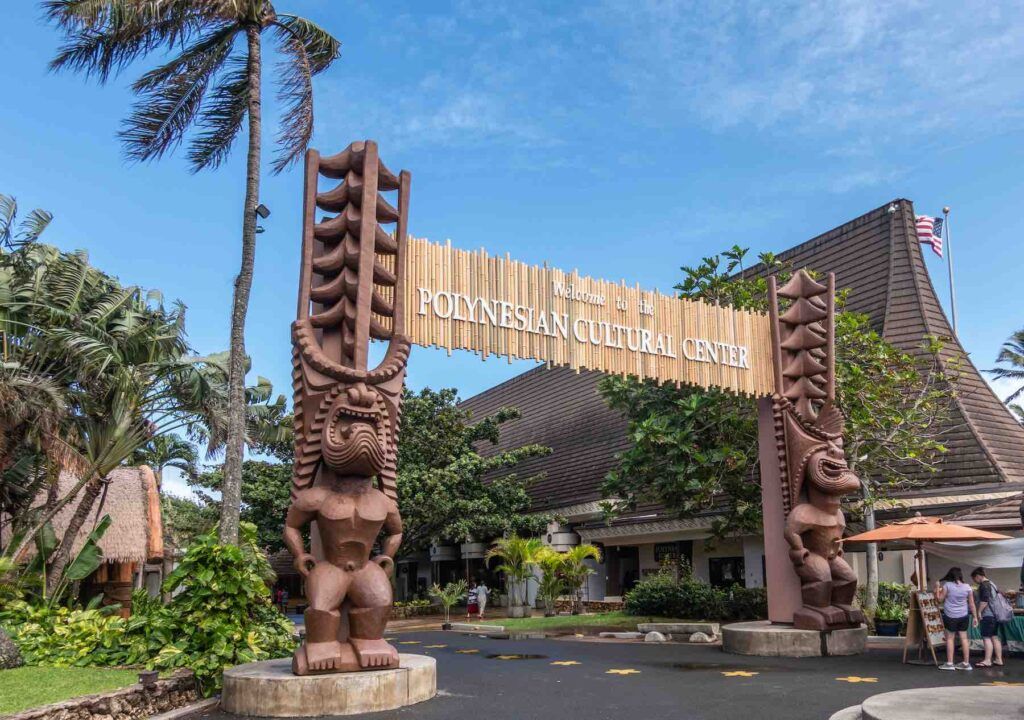 For many, though, the highlight of the luau is not the food but the extravaganza of dance and song that leads you through a history of Hawaiian culture. Check out the latest prices and details.
The Polynesian Cultural Center is worth a day trip to and is widely considered the top attraction on Oahu. Stretching 42 acres, it features traditional hands-on activities, authentic villages, and the award-winning Hā: Breath of Life evening show, where over a hundred natives come together to create the best experience possible.
4. Ni'ihau
Ni'ihau island, also known as the Forbidden Isle, is home to a group of natives and the Robinson family descendants, where common Western aspects of life such as stores, police departments, cars, and restaurants, are strictly forbidden. Roughly 130 Native Hawaiians live here off of solar power.
Ni'ihau natives practice the ancient art of crafting lei pūpū – traditional Hawaiian leis crafted from shells that they collect and polish by hand. Only invited guests, government officials, and the U.S. Navy are allowed to enter the island.
Ni'ihau island can be enjoyed through helicopter tours or boat tours.
5. Puukohola Heiau National Historic Site
Puukohola Heiau was originally built by King Kamehameha during his quest to unite Hawaii during a bloody civil war. His priest (kahuna) advised him to dedicate the heiau to the Hawaiian war god, Kukailimoku.
The heiau was built using a unique system, hand-by-hand from Pololu Valley. It is considered one of Hawaii's last and most well-preserved historical sites. The visitor center features videos and exhibits and a small museum, Puukohola.
Beyond the Puukohola Heiau, the park itself has many other historical sites. At Hale o Kapuni, a submerged heiau, you can occasionally spot sharks swimming over the ruins – which is ironic, as it was built to honor the shark gods.
6. Pearl Harbor
Pearl Harbor's historical significance is self-explanatory – being the site of the infamous Japanese strike on U.S. territory that killed 2,403 U.S. personnel and symbolic of the start of U.S. involvement in WWII, it's a place of irreplaceable historical importance.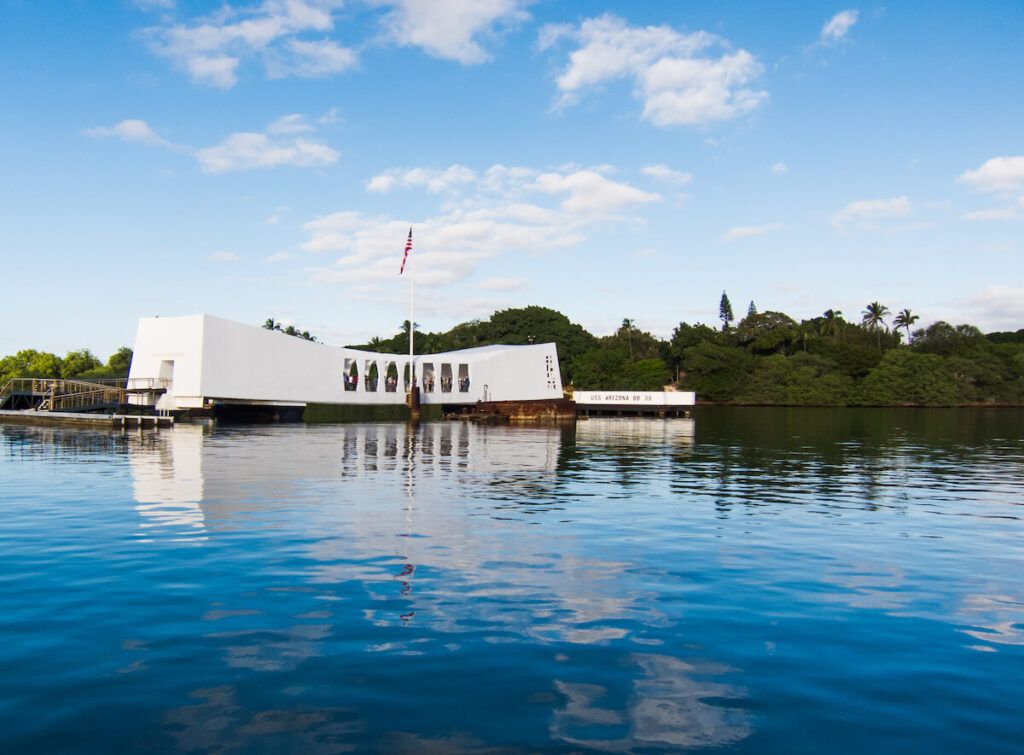 There are several popular sites and places to visit within the park, such as the USS Arizona Memorial, accessible by boat, and the USS Battleship Missouri, where Japan signed the peace treaty that ended WWII.
Pearl Harbor is also the site of the Pearl Harbor Aviation Memorial, where you can learn about authentic World War II warcraft, the history and effects of the war on Hawaii, see bullet holes from the attack, and even talk to history experts who tour you through the museum and answer any questions you may have!
There are lots of easy ways to get to Pearl Harbor from Waikiki.
7. Road to Hana
The Road to Hana is not only about reaching Hana – it is an experience that one should enjoy.
Whether you decide to rent a car or book a van tour and local tour guide, the Road to Hana, a 65-mile stretch that begins from Kipahulu and ends at the small town, is covered in lush forests, beaches, waterfalls, hiking trails, and local wildlife.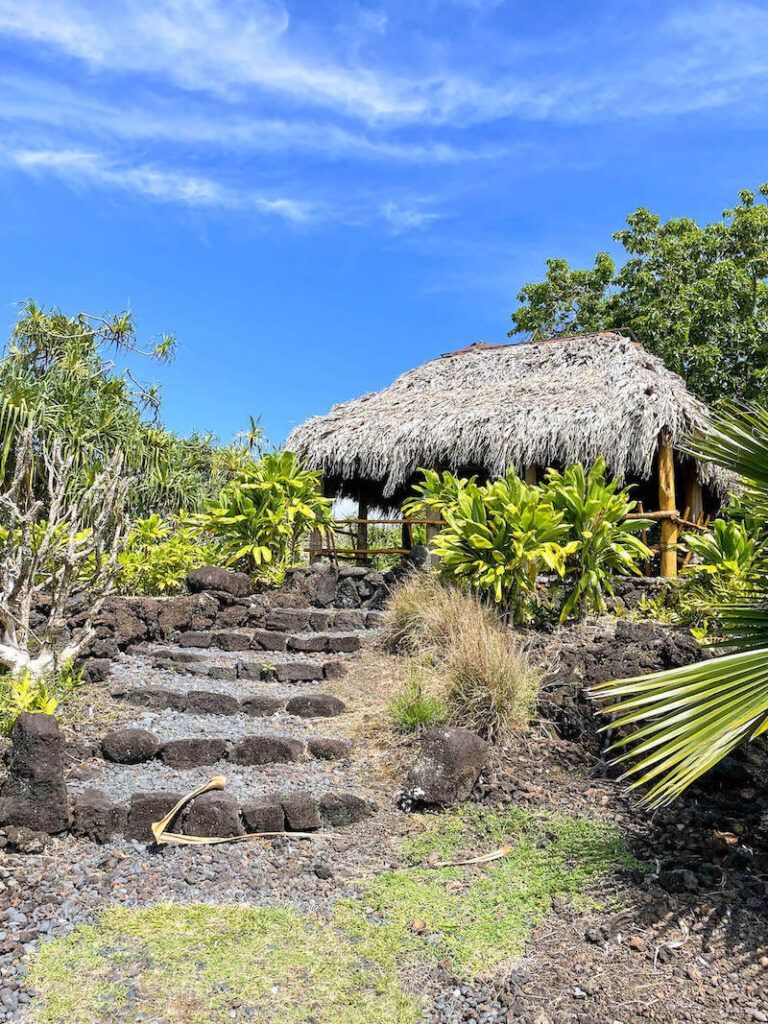 Other than such views, the Road to Hana also passes by dozens of cultural landmarks where Hawaiian culture believes gods fought and left their mark.
In order to fully enjoy your experience here, I'd recommend learning about the stories and mythology surrounding the area.
8. Kealakekua Bay State Historical Park
The Kealakekua Bay State Historical Park signifies multiple historical instances, most importantly, Captain James Cook's first arrival in Hawaii, where he made the first exclusive contact between Europeans and Hawaiian natives.
Fun fact – Captain Cook originally named Hawaii the "sandwich islands" in honor of the Earl of Sandwich.
Despite its unfortunate history, Kealakekua Bay has plenty of opportunities for fun and enjoyment – the beach of Nāpōʻopoʻo has immense boulders and a beautiful wharf, and the Hikiau heiau is a sacred and beautiful historical site (though visitors are forbidden from entering).
There are even snorkeling and kayaking opportunities!
If you're curious about the historical background of Europe's settlements within Hawaii, Sarah Vowell's hilarious and comprehensive book Unfamiliar Fishes would be perfect for you.
9. Queen Emma Summer Palace
Queen Emma Summer Palace, also called Hanaiakamalama, is a beautiful secluded mountain home that Queen Emma inherited from her uncle, John Young II. She and the royal family used it as an escape from the stress and oppressive heat of Honolulu.
In 1915, the historical site narrowly avoided deconstruction in favor of a baseball field. Now, it's considered a museum, filled with Queen Emma's furniture, personal belongings, and royal artifacts. It's currently being managed by the Daughters of Hawaii.
10. Kalaupapa National Historical Park
Located on Molokai, the only way to access Kalaupapa National Historical Park is through a guided mule tour down the world's highest sea cliffs – it's a beautiful and scenic ride, but not the reason why this park is one of the most famous amongst Hawaii's national parks.
During the 1800s, this settlement was transformed into a colony for individuals who suffered from symptoms of Hansen's Disease, or leprosy, who were exiled here to live out the rest of their lives to prevent the spread of the disease.
Although history is fascinating, its tragedy is important to remember. The park holds 2,000 unmarked graves and a cemetery with countless headstones – we know now, better than ever, the tragedy of disease.
I've found it best expressed in Moloka'i, a historical fiction novel about a young girl exiled here for life.
Despite seeming intimidating, it's quite easy for anyone to plan a day trip to the Kalaupapa National Park.
11. Kona Coffee Living History Farm
Kona Coffee Living History Farm is the only one of its kind in the nation and a "must-see" when visiting Hawaii. The farm and its activities depict the Japanese immigrant's experience when first arriving in Hawaii.
It's an entirely self-guided experience – as you stroll through the farm's grounds, you can watch as farmers demonstrate how to use the kuriba and hoshidana to make their world-famous coffee, meet a free-roaming donkey (also known as a "Kona Nightingale," and even try some modern Kona products for yourself!
If the self-oriented approach seems overwhelming, don't worry – tour options are available for any visitor of any age! Check out the best Kona coffee farm tours available.
12. Nu'uanu Pali Lookout
Nu'uanu Pali Lookout is a beautiful natural attraction, offering a birds-eye view of the Windward Coast and Koolau Cliffs. It's also one of the windiest places I've ever been to, so be sure to pack warm clothing!
Beyond its natural beauty, Nu'uanu Pali Lookout is a place of deep cultural significance, where King Kamehameha I fought the Battle of Nuuanu.
This battle claimed thousands of lives and was the battle that allowed King Kamehameha to conquer Oahu, completing his quest to unify Hawaii.
13. Na Pali Coast State Wilderness Park
The Na Pali Coast is really stuff out of dreams – from its seemingly endless verdant greenery, filled with thriving wildlife to the gem-like turquoise sea, it's a sacred place of immense natural beauty.
Hundreds of waterfalls spill from the "Wall of Tears." Nothing truly compares to the tranquility one feels when overlooking the ocean.
Although there are countless ways to explore the Na Pali Coast, the safest way is with a vehicle. Tours by helicopter depart from Lihue Airport allow you a birds-eye view of the coast's beauty, while boat tours from Port Allen bring you close to cliff faces and the beautifully clear water.
If you're looking for a challenge, multiple trails stretch across the coast, the most challenging of which is the Kalalau Trail, which stretches across twenty-two miles and five valleys.
14. Bernice Pauahi Bishop Museum
Established in 1889, the Bishop Museum is the oldest standing museum built to preserve Hawaiian culture and history. Ranging from artifacts to biological specimens, the Museum's wide array of 24 million items allows you to learn about almost anything in Hawaii, from its cultural history to its wildlife.
Beyond that, the Bishop Museum also has a wide variety of special exhibitions that shift often – be sure to check out the details here to accurately plan out when to go, in order to catch these exhibitions! Also popular is the stunning J. Watumull Planetarium, "Hawaii's gateway to the stars."
Read my full guide on the Bishop Museum here and book discounted Bishop Museum tickets.
15. Honokohau Settlement
The Honokohau Settlement may be an unconventional national park, but it's an amazing experience nonetheless. Located on an old Hawaiian settlement, its focus is on how Hawaiian natives sustained everyday life.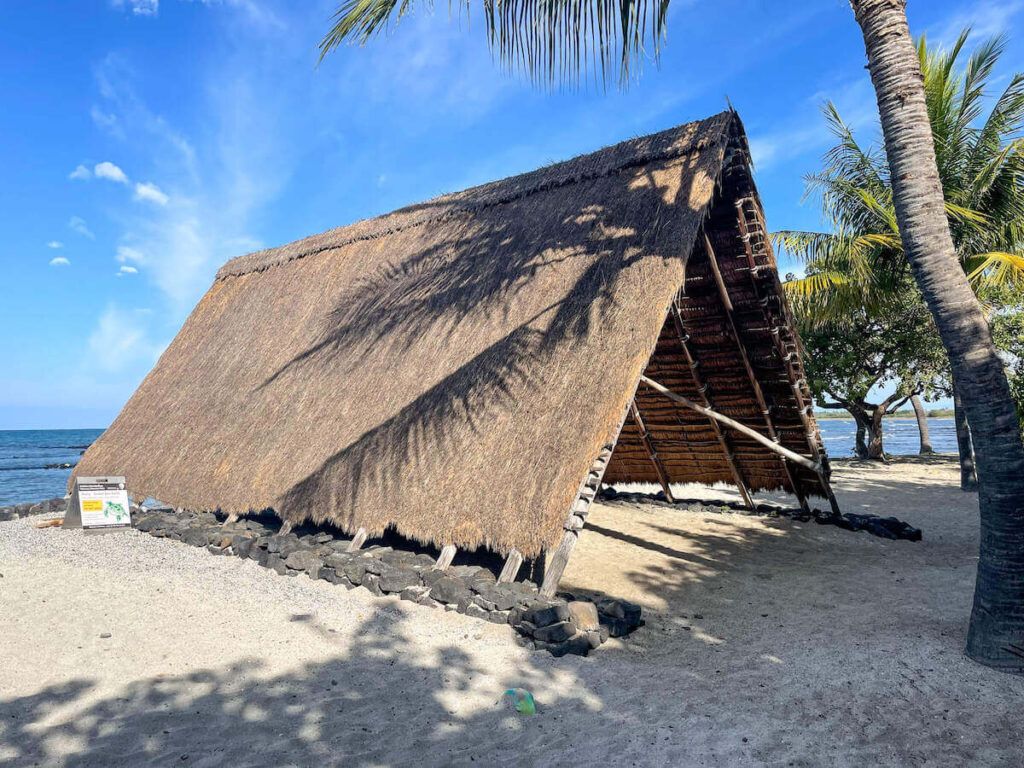 While walking the dirt trails of the Honokohau Settlement, you'll be able to see an immense variety of wildlife. Depending on the time of day, you could see exotic vegetation, birds, fish, and even green sea turtles (honu). Be sure to stay 20 feet away from them for their safety.
You can also see a variety of ancient petroglyphs (kii pohaku), old lava fields, fish ponds, sacred temples (heiau), and four ahupua'a – sea to mountain land divisions. Perhaps most notable is the 'Ai'opio Fishtrap, a pond used to trap fish that is an excellent example of the ingenuity of people of the past.
16. Wailua Heiaus
Heiaus are ancient Hawaiian temples of all shapes and sizes, places of worship where the natives conducted rituals of worship for their gods. They are hands down some of the coolest historical relics, and although they are on each Hawaiian island, my personal favorites are the four in Wailua on Kauai.
Hikinaakala Heiau: Hikinaakala means "the rising sun" in Hawaiian – fitting for a heiau used to celebrate the sunrise. Petroglyphs depicting fish and geometric shapes are visible to the north of the heiau, although the river and sandbank usually submerge them.
Malae Heiau: this is the largest heiau on Kauai. Legends say they were built by the "little people" (menehune).
Holoholoku Heiau: although only the stone foundation remains of the original construction, the historical significance of the Holoholoku Heiau still remains – it was used as a place of childbirth, where members of the royal family went to deliver their babies.
Poliahu Heiau: legend says that the Poliahu Heiau, located across from the Opaeka'a Falls, was built by mythical "little people" (menehune).
17. Hanauma Bay Nature Preserve
This marine bay was formed within a volcanic cone. Thousands of marine life enthusiasts come to this park each year to snorkel, see tide pools, and learn how pollution and damage have affected the world around them.
It's immensely important to follow the laws to conserve the wildlife there for years. If you're a newcomer, there are even nearby snorkeling lessons and transportation from Waikiki! Find the latest details and prices here.
Hawaii Historic Places FAQs
What're the origins of the people in Hawaii?
The indigenous peoples of Hawaii were Indigenous Polynesian people from the Marquesas Islands who rowed 2,000 miles to reach the islands. They lived in peace for hundreds of years until English colonizers arrived in 1820. 
Why does Hawaii have a royal palace?
Hawaii's first king was King Kamehameha, who united all the islands of Hawaii in 1809 and ruled throughout the initial time period of white settlement. The system of royal rule lasted until the 1880s.
Does Hawaii have a state flag?
Yes! Hawaii was named the 50th state in 1959 and looks a lot like the British flag, but its eight stripes represent the eight biggest islands.
Wrap Up
As you can see, many historical places in Hawaii are worth checking out. And these are just a few of them! Plan on adding a few of them to your Hawaii itinerary to get a better understanding of Hawaiian history and culture!