Are you planning a trip to the Big Island of Hawaii and want to know which waterfalls are worth visiting? Check out these beautiful Big Island Hawaii waterfalls worth a stop!
This list of Big Island Hawaii waterfalls contains affiliate links which means if you purchase something from one of my affiliate links, I may earn a small commission that goes back into maintaining this blog.
Are you planning to travel to the Big Island of Hawaii?
The Big Island is filled with tourist attractions! Stretching 93 miles long, it's nearly four times as big as Maui. Plus it has numerous attractions, from volcanic rock formations to beautiful waterfalls. It's no wonder that you might be having issues deciding where to go.
You'll never run out of things to do here. Whether you'd like to hike or bike along tranquil trails, visit scenic overlooks, snorkel, or just relax on the shore of a sunny beach, the Big Island won't disappoint.
Although the Hawaiian archipelago has a multitude of famous waterfalls, especially on Oahu, Maui, and Kauai. The Big Island, however, also has breathtaking waterfalls. Some of which are so beautiful that they inspired some of Hawaii's most popular songs.
This article covers seven of the Big Island's most beautiful waterfalls! Be sure to pay at least a few of them a visit and create some unforgettable memories that you'll treasure forever!
Don't have time to read a bunch of Hawaii blog posts and reviews? Here are some of our top picks for visiting the Big Island.
Popular Big Island Tours/Activities
Favorite Big Island Resorts/Hotels
Want to Rent a Car in Hawaii?
One of the best places to rent a car in Hawaii is Discount Hawaii Car Rental because they get the best rates from top national companies like Alamo, Dollar, Thrifty, Avis, Enterprise, Budget, and Payless.
Want to skip all the planning and just access my detailed Big Island Itinerary complete with daily schedules, fun activities, and travel hacks? Click the button below.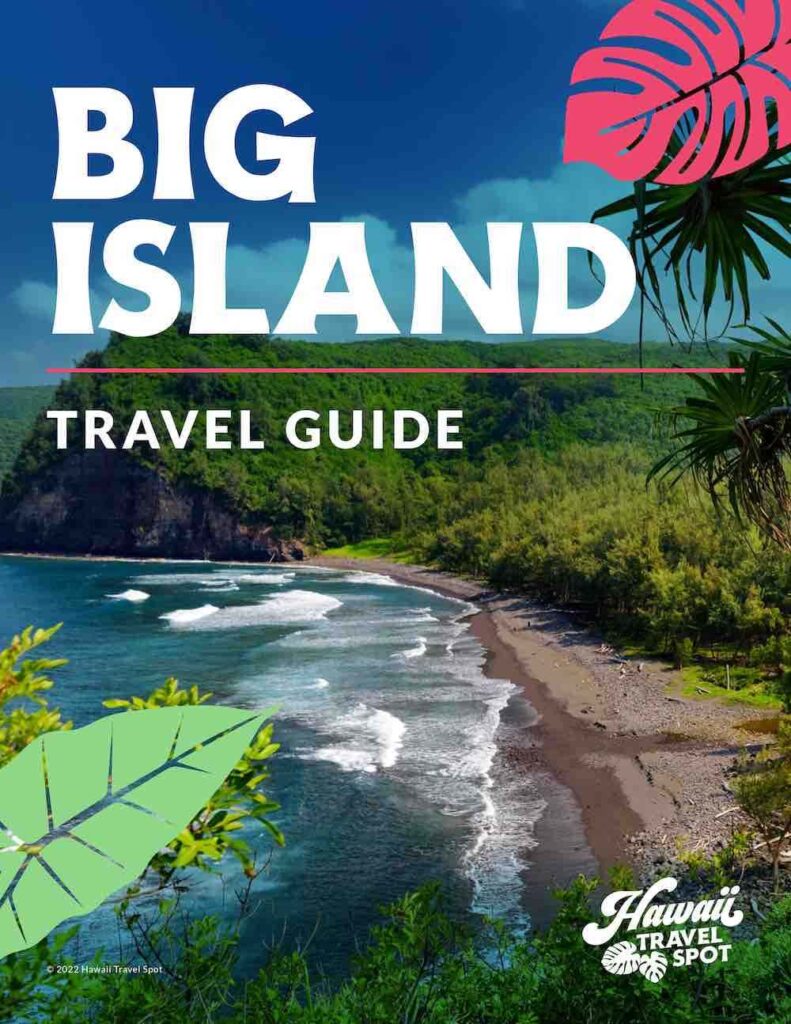 7 Gorgeous Big Island Hawaii Waterfalls
Amidst the countless natural attractions on the Big Island, I've picked seven of the top waterfalls on the Big Island to check out!
Hi'ilawe Falls
Hi'ilawe Falls is a magnificent waterfall located in Waipio Valley on the Kohala Coast of the Big Island. It's a 1,450 feet tall waterfall, although most of it drops 1,201 feet, making it one of the tallest waterfalls in Hawaii.
Hi'ilawe Falls is visible only within the valley or from the air, as the Waipio Valley is very steep. The hike down is very easy and can take as little as 20 minutes. However, because you descend over 900 feet in such a short distance, the hike up is immensely steep and challenging to manage.
At the bottom of the valley, take a left and walk for roughly 5-10 minutes to see the falls. The area beyond that is private property, so be aware of where you're going! If you're thinking of driving a 4×4 vehicle down, I'd be careful and ensure that it has enough horsepower and gas to make it back up.
Hi'ilawe Falls is one of the best Big Island waterfall hikes. The trail is surrounded by beautiful vegetation and singing birds, and the falls are absolutely worth the effort!
Rainbow Falls
Rainbow Falls, located along the length of the Waikuku River and well-known for its beauty and accessibility, is one of the most popular waterfalls on the Big Island.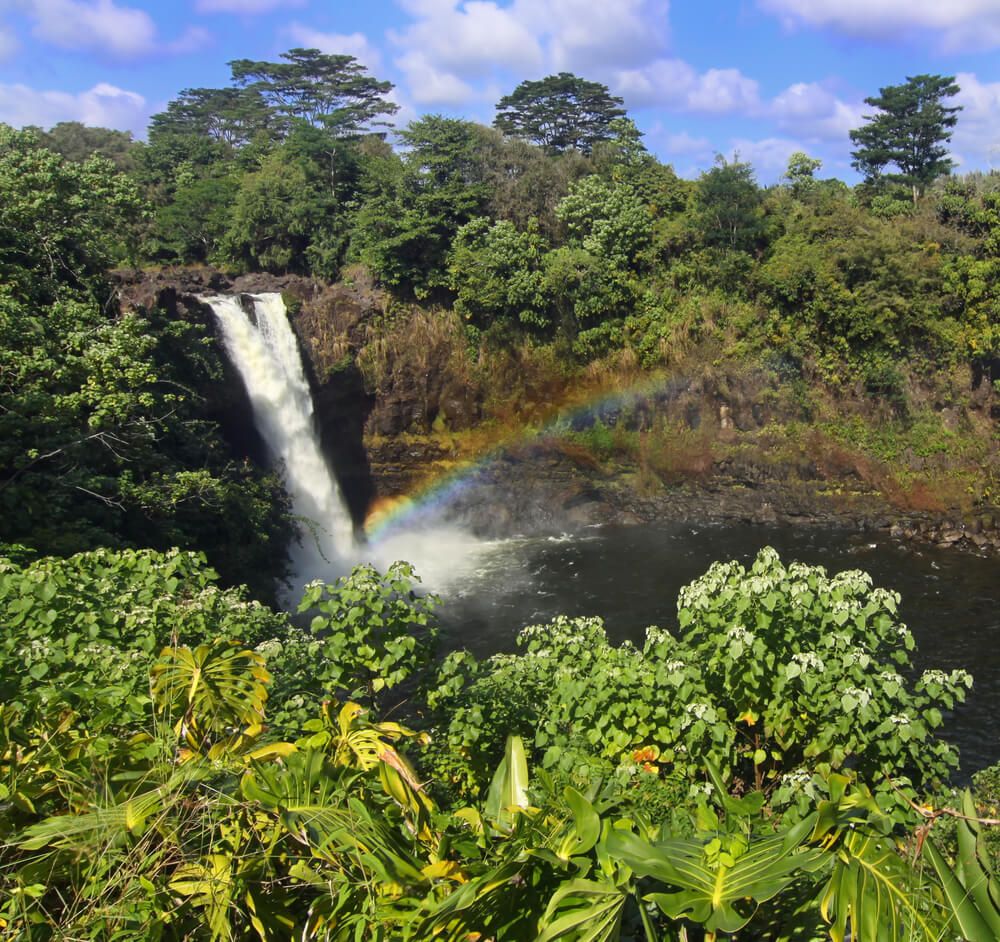 Although it is dwarfed in size by its beautiful neighbors, the Pe'epe'e Falls and the 'Ayaka Falls, its unique feature that inspired its namesake makes it worth a visit. Commonly, especially if you visit in the early morning, the positioning of the Rainbow Falls sends a rainbow arching from its base into the water.
The hike to the Rainbow Falls is immensely short, and although reaching the top of the falls may seem intimidating, it's both simple and worth the effort. You'll be treated to an entirely new and equally beautiful view of the waterfalls.
Along the way, you'll see verdant vegetation and immense, ancient Banyan trees, overgrown by fig vines and moss.
'Akaka Falls
'Akaka Falls is located within the 'Akaka Falls State Park, roughly 3.6 miles south of Honomu on the Hilo Coast. This gorgeous waterfall stretches 442 feet high and descends into a beautiful gorge eroded over time by water, which now lays dozens of feet below ground level.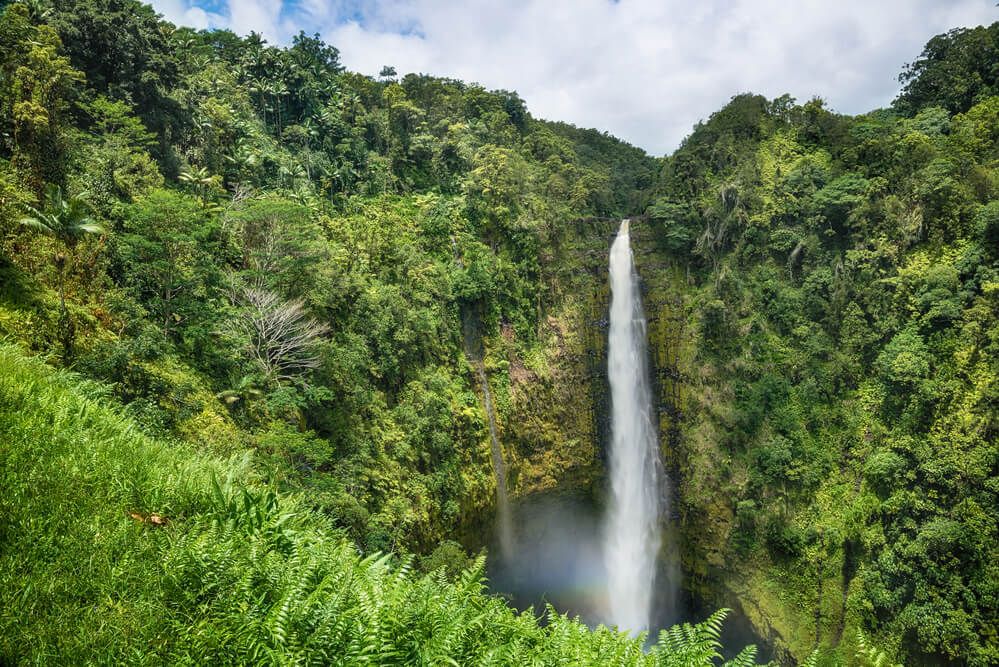 'Akaka Falls are extremely accessible, as the trail to the waterfall stretches only 0.4 miles long. It takes less than an hour to hike leisurely and is only somewhat sloped uphill. The hike is beautiful, surrounded by bamboo groves and delicate wild orchids.
If you follow the path, you'll see the beautiful Kahuna Falls along the way just before you see 'Akaka Falls. Although smaller, the Kahuna Falls is similarly beautiful.
Both waterfalls are beautiful Big Island attractions. If you're considering visiting 'Akaka Falls, check out my full guide HERE.
Nanua Falls
Nanua Falls is a series of waterfalls on the Hamakua Coast, about 18 miles north of Hilo. Many people stop their journey at the lower waterfall. However, if you continue hiking along the trail in the area and do some stream scrambling, you'll be able to see more of nature's beauty.
The hike itself can be challenging and involves multiple stream crossings. I'd be sure to go at least a few days after heavy rain to avoid flash flooding and a swollen stream.
Due to its relative obscurity, especially compared to the rest of the waterfalls on this list, going to this waterfall and relaxing in the area may seem like a scene out of a movie. The tranquility and solitude you'll feel there is truly unmatched.
The government or any private party does not manage Nanua Falls. So no one is taking care of it and ensuring the area remains clean. That means, you should take extra care to make sure you leave it as you saw it!
Umauma Falls
Umauma Falls is a three-tiered waterfall surrounded by lush vegetation. It is one of the most idyllic and beautiful waterfalls in the world. It's accessible through several different methods and gorgeous no matter how you see it.
The most popular way to observe the Umauma Falls is from a tranquil overlook accessible through the World Botanical Garden. However, you need to pay a fee to access the private viewing deck.
Another popular way to observe the Umauma Falls is through a short 1.7 mile hike within the World Botanical Garden that most consider to be unchallenging. Along the way, you'll be privy to various wild orchids.
If you'd like to dabble in something slightly more adventurous, you can go ziplining or rappelling over the area. This allows you to experience a birds-eye view of the waterfall!
Onomea Falls
Onomea Falls is a stunning multi-tiered waterfall set amidst a beautiful botanical garden: the Hawaii Tropical Botanical Garden. It stretches over 120 feet high, although the tiers make it difficult to measure accurately. And it is surrounded by immense boulders and greenery.
The Onomea Falls is located within the Hawaii Tropical Botanical Garden, This s private property owned by Dan Lutkenhouse, first opened in 1984. You'll need to pay an entrance fee to enter the area.
The path to Onomea Falls is stunning in itself. A 20-acre rainforest greenhouse, the area is filled with beautiful plant life and wild animals. The visit is well worth your time, even just to enjoy the tranquility of this Hawaiian rainforest.
Kulaniapia Falls
Kulaniapia Falls is once again located on private property, this time belonging to The Inn and usually reserved exclusively for residents there. The waterfall, however, is worth the effort it takes to access it. It stretches hundreds of feet tall and is surrounded by greenery.
One of the coolest ways to experience Kulaniapia Falls is by booking a spot in one of the Experience Packages available at the property. You can also book a stay at The Inn, a high-quality resort that's well worth the money.
The Experiences Package allows you to water rappel. This is an activity in which you descend the rocks surrounding the waterfall with a harness and equipment ensuring your safety. It's a way to connect with nature and experience the waterfall closer than otherwise.
Other than water rappelling, the Experiences Package offers a multitude of other activities. These include stargazing and helicopter tours and is absolutely worth the time and money.
Big Island Waterfall Tours
If the idea of planning a self-guided waterfall trip causes you anxiety, or if you simply want to sit back and enjoy the view, you can always book one of these tours!
Majestic Waterfalls Tour
The Majestic Waterfalls Tour is one of the best tours on this list. It aims to take you on an unforgettable journey through the Hamakua Coast. As you travel, you'll stop at the famous Big Island Candies store, where you'll be treated to some of the best candy on the Big Island! Sign up for this discounted Majestic Waterfalls Tour.
During the tour, you'll travel along the coastline. So keep an eye out for honu (green sea turtles) and admire the coast! The tour will stop at Rainbow Falls, Akaka Falls, and Richardson Beach Park. Check out the latest prices and more details.
Deluxe ATV Waterfall and Swim Experience
For those with a daring spirit, the Deleuze ATV Waterfall and Swim Experience tour is for you. As you tour, you'll be able to enjoy amazing photo spots and unparalleled views of the Pacific Ocean, waterfalls, and the Mauna Kea. Check out the latest prices and more details.
Get prepared to go off the beaten road (literally) and be stained with mud as you go off-road in a Honda ATV or a Side x Side ATV! Be sure to bring extra clothing. Sign up for this discounted ATV Waterfall and Swim Experience.
Historic Hilo Bay Waterfalls by Kayak
If you're an old soul, this Hilo Bay Waterfalls by Kayak tour was made for you. Starting in Hilo town, this tour takes you on a slow-paced kayaking trip through the waters of Hilo Bay, where you'll learn about some of the culture and history of the area. Check out the latest prices and more details.
As you travel, you'll be privy to the views of obscure but beautiful hidden waterfalls, coasts, and beaches. If you're lucky, you may be able to see honu (green sea turtle) and even dolphins! Sign up for discounted Hilo Bay Kayaking Tickets.
Magical Waterfall Tour
The Magical Waterfall Tour is an airborne tour that takes you on a visit to the coastline of Waipio Valley and Waimanu Valley. For a beautiful view and unforgettable experience, sign up for a discounted Magical Waterfall Tour.
Kohala Waterfalls Small Group Adventure Tour
Although this tour doesn't take you to any of the immensely popular waterfalls on the Big Island, you'll be treated to a view of seven obscure and uncrowded Kohala waterfalls, where you'll be allowed to swim and picnic. Sign up for a discounted Kohala Waterfalls Adventure Tour.
Aside from waterfalls, you'll also be able to see red-hot lava flows, the Kohala Mule Station lookout, and more! Keep in mind that you'll need to clear a full day of your itinerary for this. Check out the latest prices and details.
Legends of the Waterfalls & Volcano Full-Day Tour
This tour takes you on a journey through Hilo, stopping by at the Rainbow Falls, tidepools, and ocean beaches. Sign up for a discounted Legends of the Waterfalls and Volcano Tour.
This tour is unique in that it focuses almost entirely on the history and culture of Hawaii. Join this tour to see waterfalls and the stunning Hilo scenery and learn about King Kamehameha the Great and his preference for the area. Check out the latest prices and details!
Waterfalls of Kohala
One of the most unique tours on this list, the Waterfalls of Kohala tour takes you on a helicopter journey that allows you a unique birds-eye view of some of the prettiest waterfalls on the Big Island. Check out the latest prices and details!
As you're admiring the view of the Kohala Coast, you'll also be privy to commentary about the history and culture of the area by the pilot. Get your discounted Waterfalls of Kohala Tour.
Big Island Kohala Zip and Dip Tour from Kona
This ziplining tour is the option for those who love a thrill. Meet with a local driver and travel to North Kona to experience multiple zip-lines that stretch over beautiful landscapes, including waterfalls. Check out the latest prices and details here!
This full-day tour will also introduce you to delicious Hawaiian cuisine in the Pololu Valley and even allow you to swim in a waterfall! Get your discounted Kohala Zip and Dip Tour.
Big Island Waterfalls FAQs
Which waterfalls are you not allowed to swim in?
Of this list, you're not allowed to swim in both Rainbow Falls and 'Akaka Falls, as it is both dangerous and illegal. However, I'd always watch for signs near waterfalls and follow their instructions if they indicated not to swim.
Which is the largest waterfall in Hawaii?
The Olo'upena Falls is the tallest waterfall in Hawaii, located on the tiny island of Molokai, stretching an immense 2,953 feet high.
Are these waterfalls easily accessible?
It depends on which one you choose! While some are hidden behind long and strenuous hikes, many waterfalls on the big island and other islands are visible from the road or after an easy hike.
Waterfalls on the Big Island Wrap Up
I hope that these waterfalls and tours will give you an idea of what you can add to your itinerary for your trip to the Big Island! While you're enjoying these natural attractions, be sure to take lots of pictures!