Planning a trip to the Big Island and starting to think about your Big Island packing list? Keep scrolling for the best packing list for the Big Island of Hawaii you'll find!
This Big Island packing list for Hawaiian vacations contains affiliate links which means if you purchase something from one of my affiliate links, I may earn a small commission that goes back into maintaining this blog.
Ready to go on a fantastic vacation to the Big Island?
We know that packing for a trip can be daunting, but don't worry – we're here to help! We've put together a comprehensive list of what you'll need to bring with you on your trip to Hawaii.
With this Hawaii packing list, you'll be able to pack everything you need without overpacking or forgetting anything important. And don't forget – Hawaii is a tropical paradise, so pack your swimsuit and sunscreen too!
Check out our packing list for the Big Island and start packing today!
Don't have time to read a bunch of Hawaii blog posts and reviews? Here are some of our top picks for visiting the Big Island.
Popular Big Island Tours/Activities
Favorite Big Island Resorts/Hotels
Want to Rent a Car in Hawaii?
One of the best places to rent a car in Hawaii is Discount Hawaii Car Rental because they get the best rates from top national companies like Alamo, Dollar, Thrifty, Avis, Enterprise, Budget, and Payless.
Want to skip all the planning and just access my detailed Big Island Itinerary complete with daily schedules, fun activities, and travel hacks? Click the button below.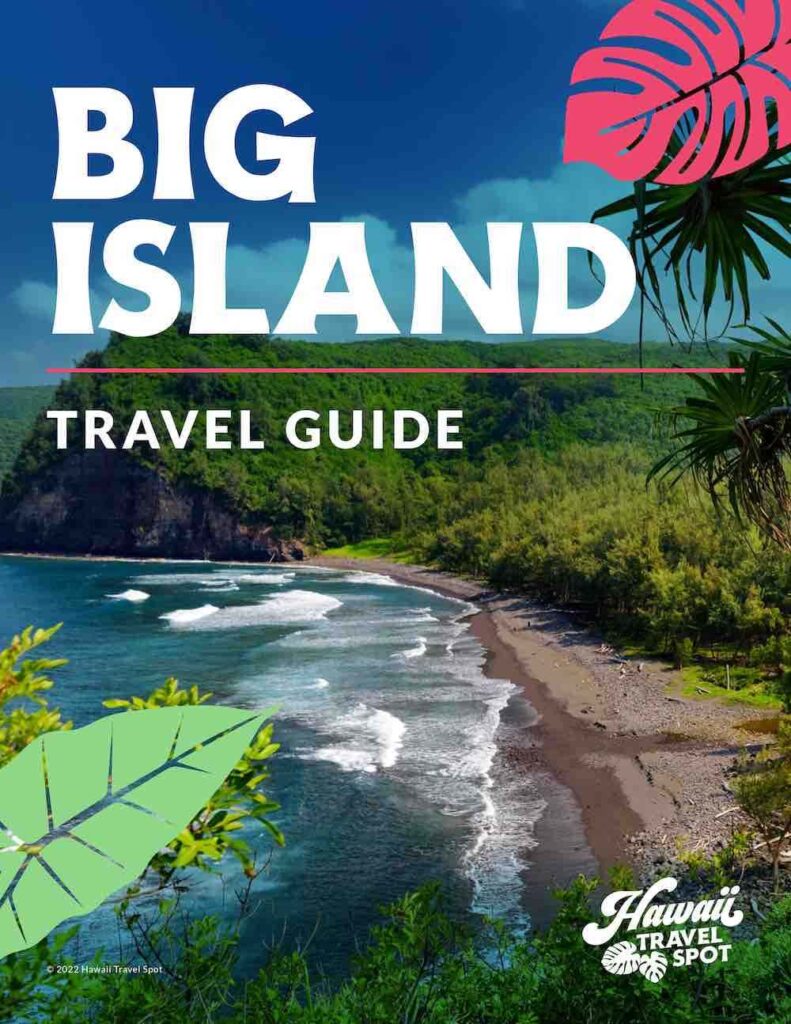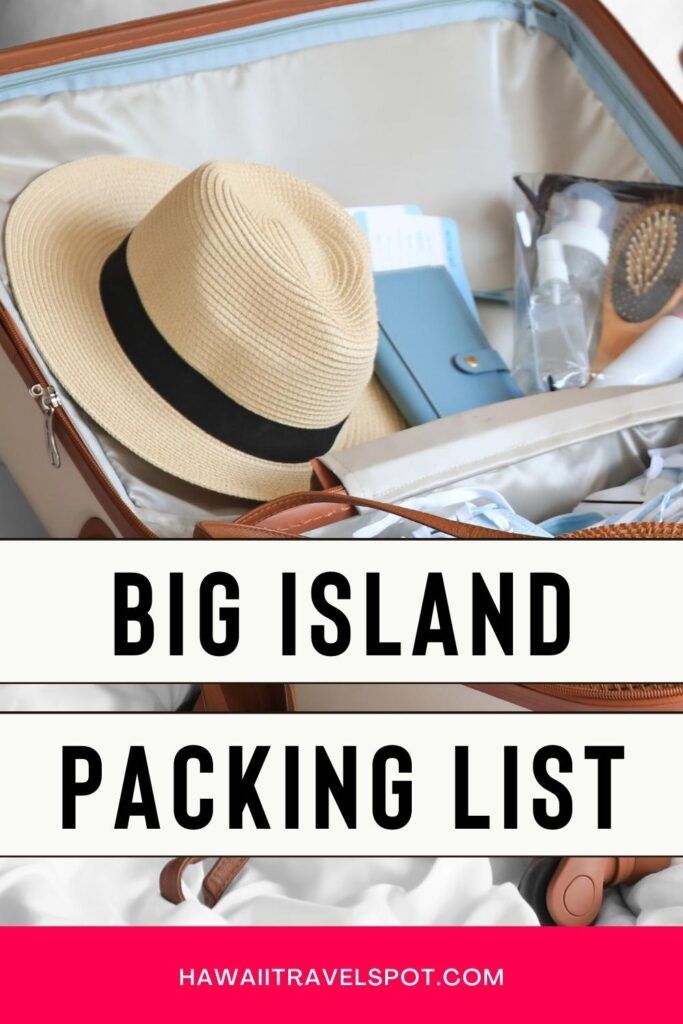 Flying to the Big Island: What to Wear on the Airplane
It's easy to forget that you need warm clothes when packing for your trip to Hawaii.
The flight to Hawaii can be pretty uncomfortable without adequate preparation. Dress appropriately for the airport (which often has very cold terminals) as well on the plane. Most flights stopped handing out blankets but still crank up some chilly air anyway.
I recommend wearing a fleece jacket, sweater, or sweatshirt, and long pants.
Plus, you'll probably use these items later if you go up to Hawaii Volcanoes National Park. It's chilly up there!
If you're planning on doing some Big Island adventures, you might as well wear your hiking shoes on the airplane. That saves you space and weight in your suitcase.
When it comes time for your next vacation, don't forget about the importance of footwear.
Wearing flip flops or sandals on the airplane is not a great idea. It's easy for your luggage to fall onto them and break your sandals. That can be frustrating when you are looking forward in getting some rest after traveling all day!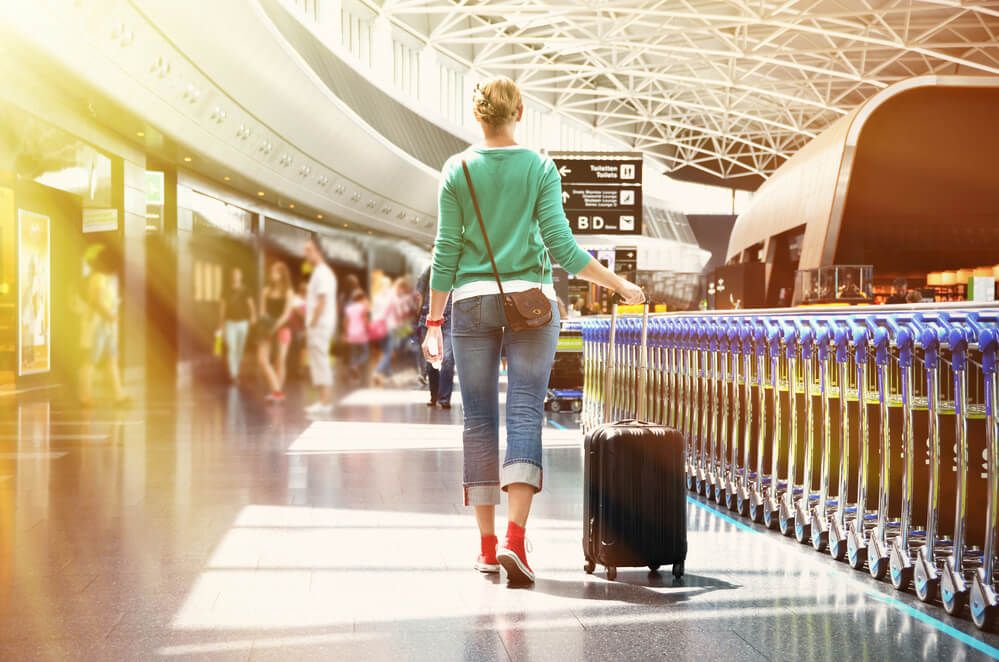 What to Pack in Your Hawaii Carry-On Bag
Packing for a trip can be tricky. But don't worry! Some essentials will keep everyone happy and comfortable no matter what flight they're traveling on – including toys to entertain your young ones or snacks handy at all times.
But some items work for any type of traveler.
Snacks and Drinks
Packing your own snacks when you travel is a must these days. The last thing anyone wants during an uncomfortable flight with limited food options.
So try to pack smart and bring something easy for everyone in the family that won't melt or spoil too quickly-like jerky, granola bars, or crackers!
I also recommend bringing a reusable water bottle. You can fill it up with water at your home airport or leave it empty and fill it up with the free drinks on the airplane. That way, you won't worry about knocking over a plastic cup on those crowded airplane trays.
Noise-Cancelling Headphones
If you're looking for a way to enjoy your flight on the Big Island, try using some Bose noise-canceling headphones.
These will help cut down background sounds so that it is easier (and less distracting) when watching movies or listening to an audiobook!
You might also get good use out of these headphones if you want to watch Netflix while people in your hotel room are still sleeping.
Gadgets/Technology
My family and I love traveling with our laptops/tablets because we tend to research things to do on the Big Island while in our hotel room. We appreciate that those screens are much bigger than phone screens!
Our kids also bring their iPads and Nintendo Switches. We have cool iPad cases for kids that protect them and help the kids prop them up to watch movies.
However, none of us ever check the technology in our luggage. Instead, they stay safe by sticking them into carry on backpacks. This helps us avoid the dreaded "lost" bags or worries about them getting stolen.
Plus, we can use our technology during flight delays at the airport.
Charging Cords
To avoid being that person on the airplane with a dead phone, make sure you bring all your charging cables!
Many seats now have USB outlets which are perfect for plugging right into. However, if they don't, then be prepared to bring an extra battery pack. These are especially great for charging tablets because the airplane USB outlets sometimes aren't strong enough to charge them.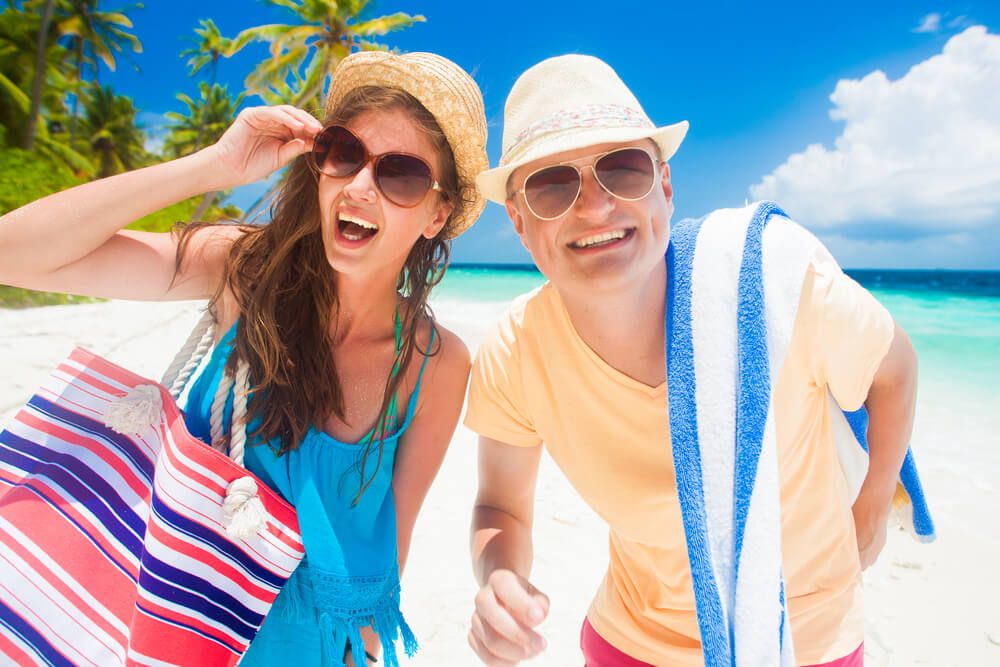 What to Wear in Hawaii
The casual fashion on the Big Island knows no bounds. You can wear anything from a dress to shorts pretty much anywhere.
You'll mostly see people in Hawaii wearing shorts, dresses, t-shirts, and tank tops. You can never go wrong with a classic Hawaiian shirt, either!
And, of course, swimsuits are also a Big Island packing list essential. And remember to bring reef-safe sunscreen! If you want to take your Big Island wardrobe to the next level, we love these family-matching swimsuits!
If you're staying at Kona resort, you'll also want to pack some sort of swimsuit coverup to wear to/from the pool area or to grab lunch at a resort restaurant.
And it's a smart idea to pack along a sun hat and sunglasses to protect yourself from the strong Kona sun.
Attending a wedding? Here's what to wear to a wedding in Hawaii!
Book a Hawaii Photo Shoot
Whenever we travel to Hawaii, we almost always book a photo shoot with Flytographer. They are super easy, affordable, AND it guarantees that I'll have more than just selfies. You can get $25 off if you book through this link or use the code HAWAIITRAVEL.
What to Wear in Big Island in December-March
The winter on the Big Island can be a great time to visit if you're looking for quieter beaches and lower crowds.
However, it's important not only to pack accordingly but also to be aware that temperatures tend toward chilly at night when people dine outdoors or attend luau festivities.
So bring along some light sweaters as well! It often rains more during this season too so don't forget your rain jacket (I always like having one handy!).
The Big Island is beautiful any time of year, so if you're planning a winter trip, just be sure to pack for the weather, and you'll have a great time. Check out my full list of what to pack for Hawaii in December!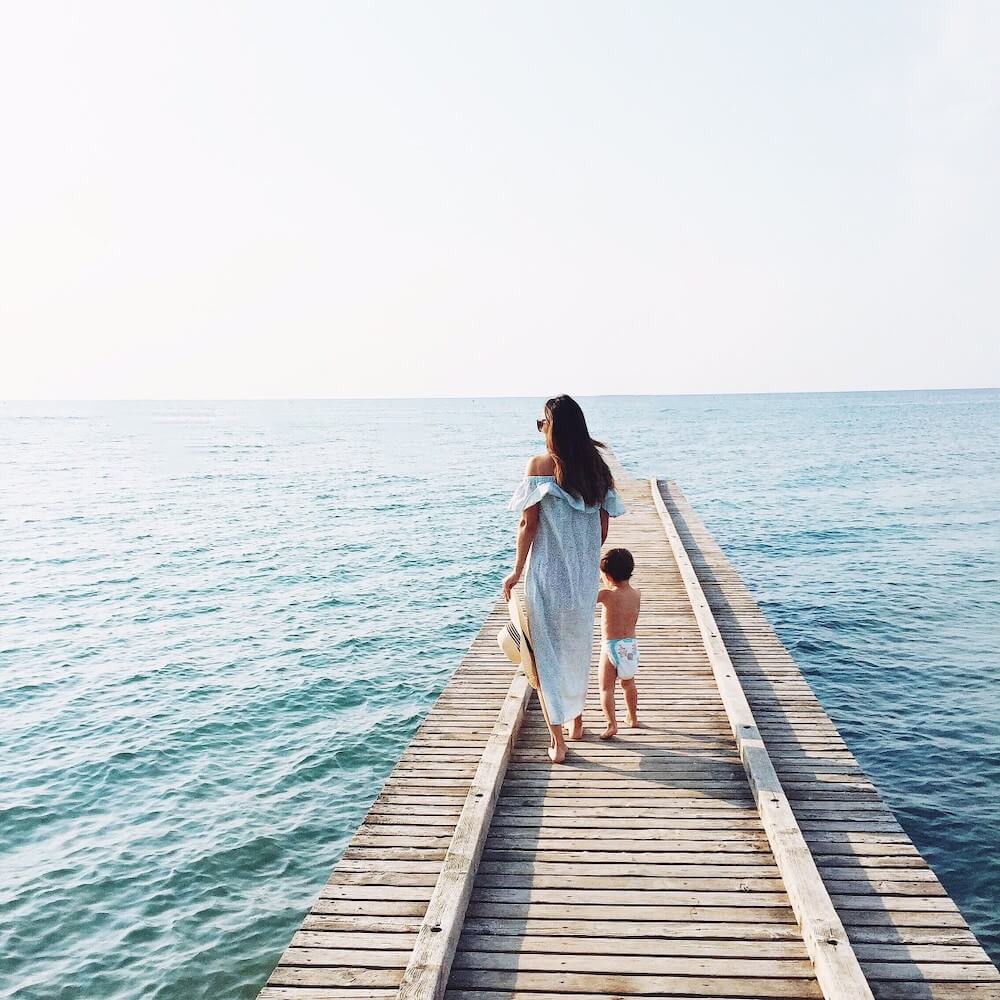 Things to Pack for the Big Island with Babies and Toddlers
Your family will be able to enjoy a stress-free vacation on the beautiful Hawaiian island of Hawaii if you plan ahead.
For families with young children, pack enough clothes and toys that they can use throughout their trip, as well as extras in case anything goes wrong along the way!
It's also easiest to pack your own diapers, wipes, bottles, formula, pacifiers, medications, etc. Things are expensive in Hawaii, and you won't want to race around the Big Island looking for these items.
You'll also need swim diapers if they're not potty trained yet. SPF swimsuits and rashguards are also super helpful for babies and toddlers.
For footwear, toddlers who are walking should have a pair of sandals and water shoes.
Make sure to figure out which tours/activities you'll be doing and see if you need anything specific (like long pants or closed-toe shoes). With a little planning, the Big Island can be the perfect vacation spot for families with young children.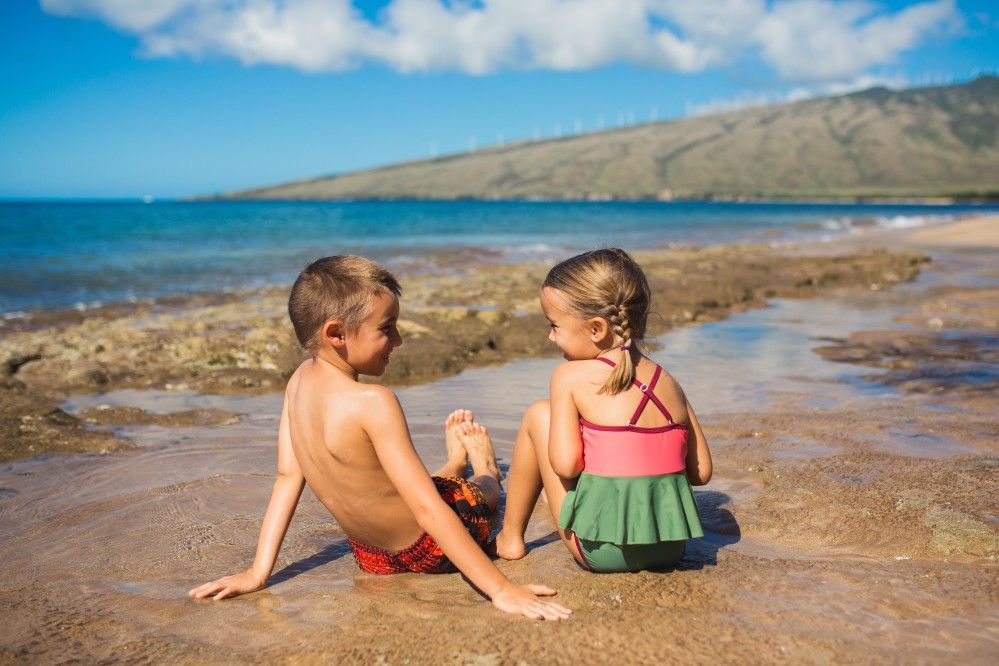 What to Bring to Hawaii with Kids
The Big Island of Hawaii is all about having an outdoor adventure, so make sure to pack plenty of swimsuits and protection from the sun. You'll also need a hat to protect your face when out in nature!
It's also a good idea to wear old comfortable clothes because they might get holes torn during your trip. Those lava rocks are sharp!
Kona and Waikoloa are also home to some pretty amazing restaurants, so it's worth packing one "nice" outfit in case you want to go out for dinner or do a luau.
And speaking of luaus, if you're planning on attending one, it's customary to wear Hawaiian-print clothing. You can usually find Hawaiian-print shirts and dresses in Kona, but there aren't as many options as on the other islands.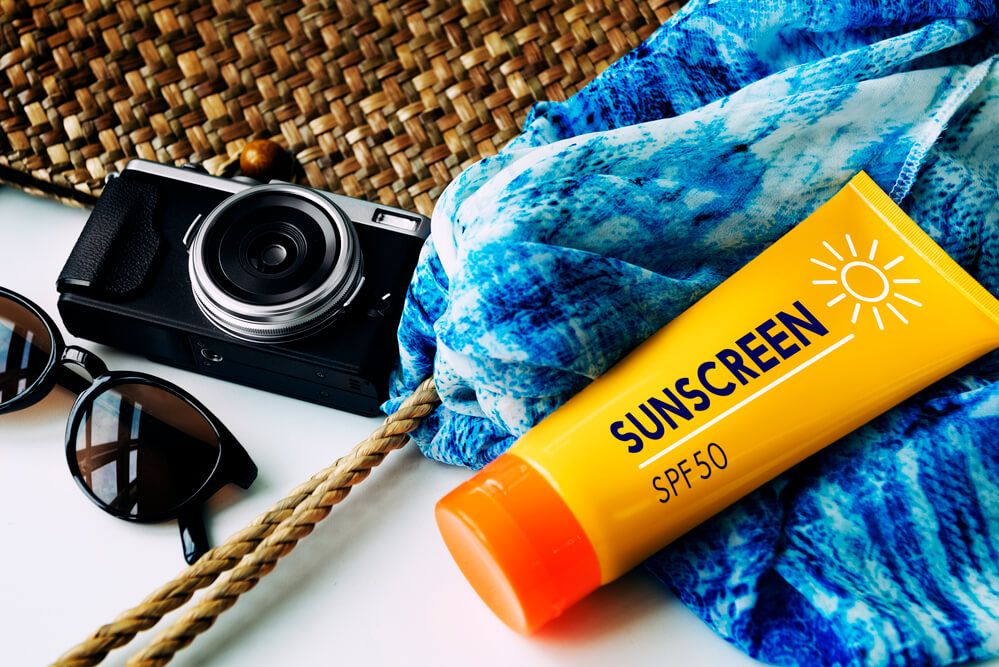 Hawaii Essentials Worth Packing
There are a lot of things you should add to your packing list for Hawaii. These tend to vary from person to person so I'm just going to list my top packing essentials for Hawaii that apply to everyone.
Reef-Safe Sunscreen
The state of Hawaii has banned the use of certain sunscreens on Big Island beaches to protect delicate coral reefs.
All sunscreen products that are sold within the state must be reef safe and do not contain oxybenzone or octinoxate. So you can enjoy your time in paradise without worrying about harmful chemicals hurting local sea life!
While this may seem like a hassle, it's quite easy to find reef-safe sunscreen. You can buy it when you get to the Big Island (it's the only kind they sell), or you can purchase it ahead of time.
Just make sure to add it to your Big Island packing list!
Reusable Bags
On the Big Island of Hawaii, they have a ban on plastic bags. This means that if you're planning to do any shopping while there – which is almost everyone!- then be prepared with your own supply. Stores usually don't provide them for customers' use.
I'm a fan of nylon bags because they fold up and hardly take up any space. Plus, you can use them as extra carry-on bags or stash dirty clothes on your way home.
So, be sure to add a couple of nylon bags to your Big Island packing list.
Beach Bags
The perfect beach day awaits you in Hawaii, but it's not complete without a packed bag full of essentials.
Of course, you'll want to pack your sunscreen and swimsuit, but you'll also want a few other items to stay comfortable during your time on the Big Island's beaches.
Wet/dry bags are really helpful for keeping your swimsuit separate from the rest of your belongings, and a travel beach towel will come in handy when it's time to dry off.
You can also pack an extra set of clothes to change into after swimming, and don't forget your sunglasses and hat to protect you from the sun.
With these items in your beach bag, you're sure to have a fun and relaxing time on Hawaii's beaches.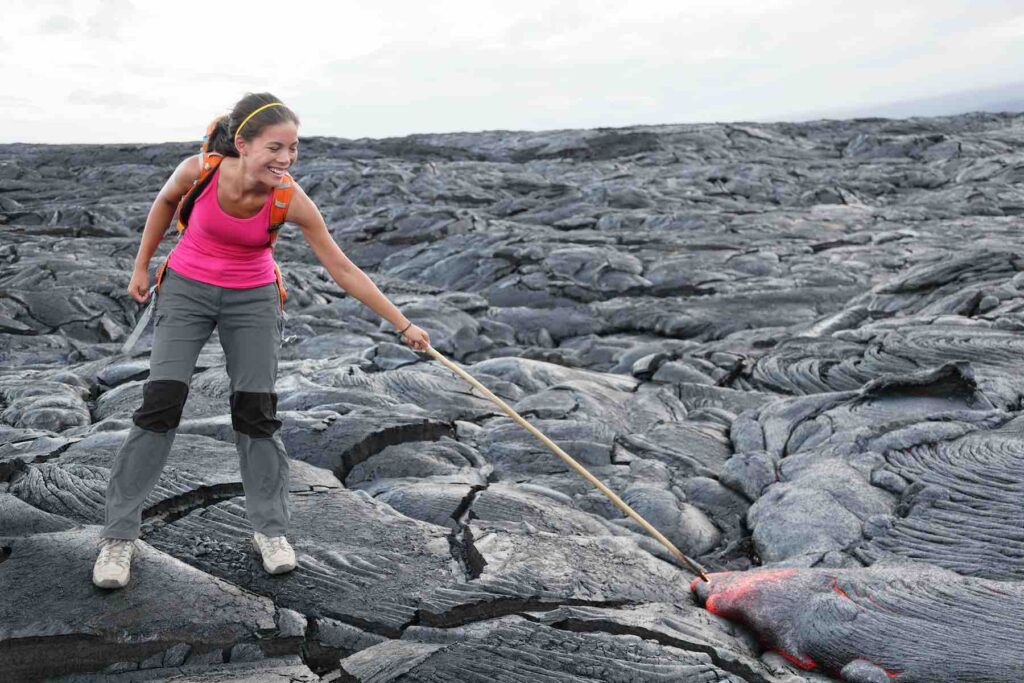 What to Bring to Hawaii Volcanoes National Park
One of the most popular things to do on the Big Island is visiting Hawaii Volcanoes National Park. It's about 40 minutes from Hilo and about 2 hours from Kona.
It's a spectacular national park in Hawaii with lots of places to explore. Some of the top stops include the visitor's center, seeing Kilauea's crater, exploring the Thurston Lava Tube, hiking the Kilauea Iki trail, seeing petroglyphs, etc.
However, most tourists show up wearing swimsuits or tank tops/shorts, and they are too chilly to enjoy the volcanoes.
It's often in the 60s at Hawaii Volcanoes National Park, and it's a good idea to bring along a long pair of pants, a sweatshirt, or even a rain jacket. Yes, it does rain frequently there.
I also suggest closed-toe shoes. There is a lot of lava rock (hello, it's a volcano), and those can be super sharp and cut your toes if you are wearing flip flops or sandals.
You might also want to bring along a flashlight or headlamp. That's because the best time to see the lava is right before sunrise or right after sunset. That means the trail is dark. And no, your iPhone flashlight won't cut it!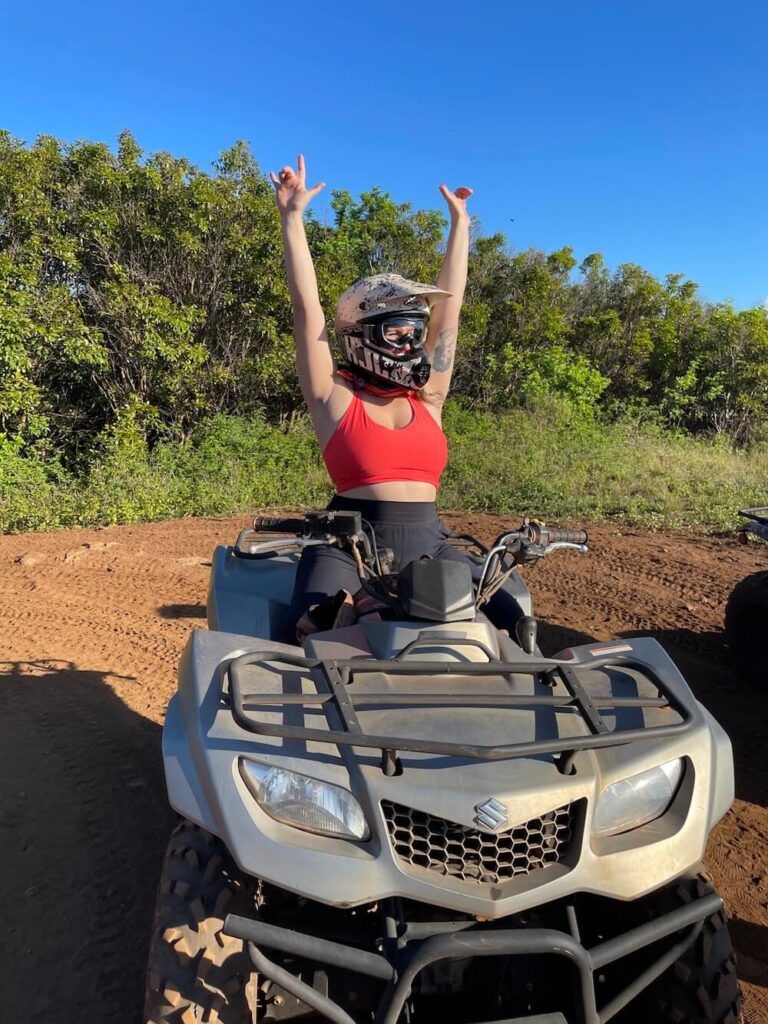 What to Pack for ATV Rides
Another popular Big Island activity is riding ATVs across the rugged landscape. Of course, you'll want to check directly with your Big Island ATV tour company to know exactly what to wear/pack, but I'll share some general tips.
Usually, you'll need to wear long pants and closed-toe shoes. This is to protect yourself from the terrain.
If your tour does not provide goggles, definitely bring sunglasses to keep the dust out of your eyes.
I also suggest either a face mask or bandana/gator. Otherwise, you'll have a mouthful of dirt and possibly bugs!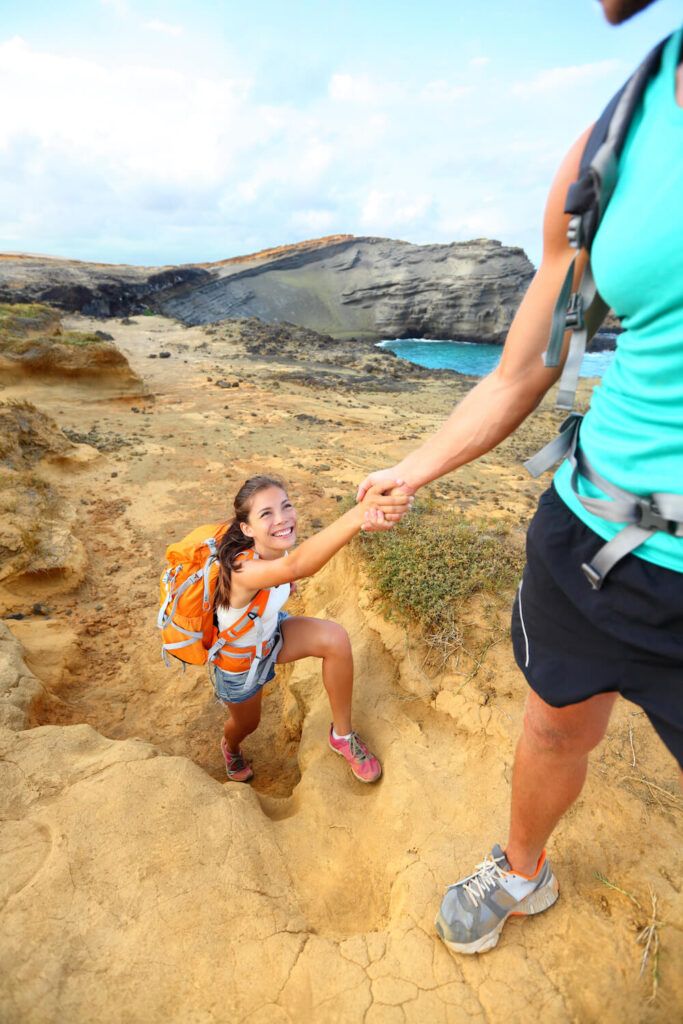 Packing List for Big Island Hiking
Hiking is one of the most popular activities on the Big Island. With its lush landscape and diverse terrain, it's no wonder why!
You'll want to pack bug spray, sunscreen and a sun hat before hiking the Big Island.
Sturdier shoes or hiking sandals are better since flip flops aren't ideal for this type of activity. It helps if your footwear has some cushioning already worn into them, so you don't get painful blisters on your feet!
Finally, depending on the intensity of your hike, you may want to bring additional items such as snacks, water, and a first aid kit.
By following this Big Island packing list, you'll be sure to have a safe and enjoyable hike.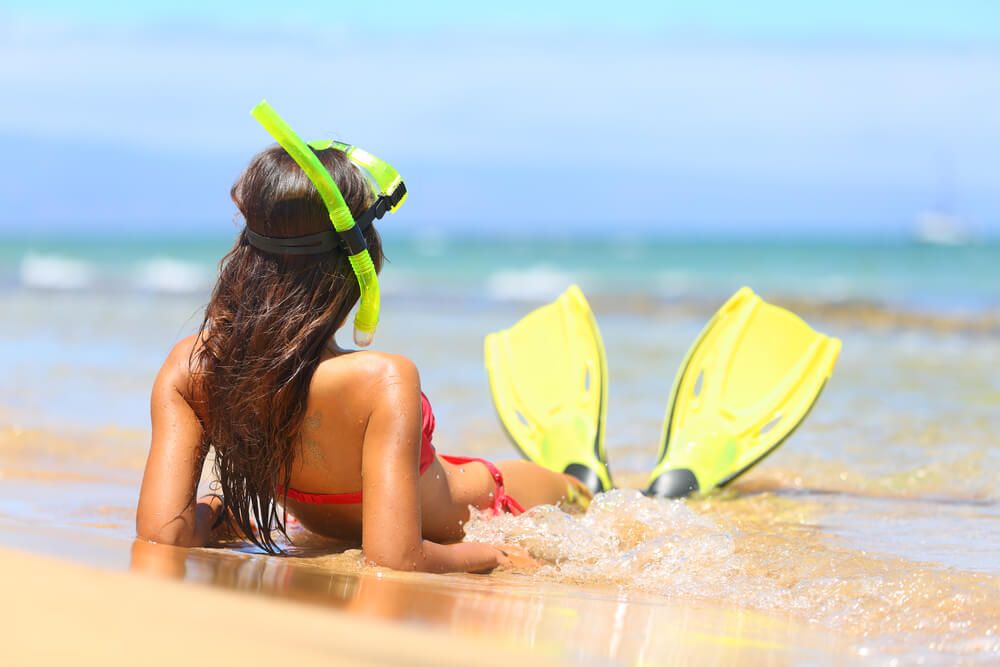 What to Bring Snorkeling in Big Island
If you are looking for an unforgettable experience, then snorkeling in the beautiful waters off of Kona might be just what your soul needs.
Whether you're exploring underwater worlds by yourself or taking part in an exclusive Kona tour, there are a few necessities that should be included when packing your bag for this adventure!
First, you'll need a swimsuit and a rash guard. Rash guards are great for preventing sunburn, and they also help to keep your skin from chafing when you're swimming.
If you are doing a Kona snorkeling tour, remember to read the information carefully to see what to wear on the boat and what to bring with you. They will usually provide all the snorkeling gear.
If you are snorkeling in Kona on your own, it's usually cheaper to buy a snorkel set rather than renting one. You can buy a snorkel set at any sporting goods store or even at some grocery stores.
And last but not least, don't forget to pack some mask defogger. Mask defogger is great for keeping your mask clear and fog-free while you're snorkeling.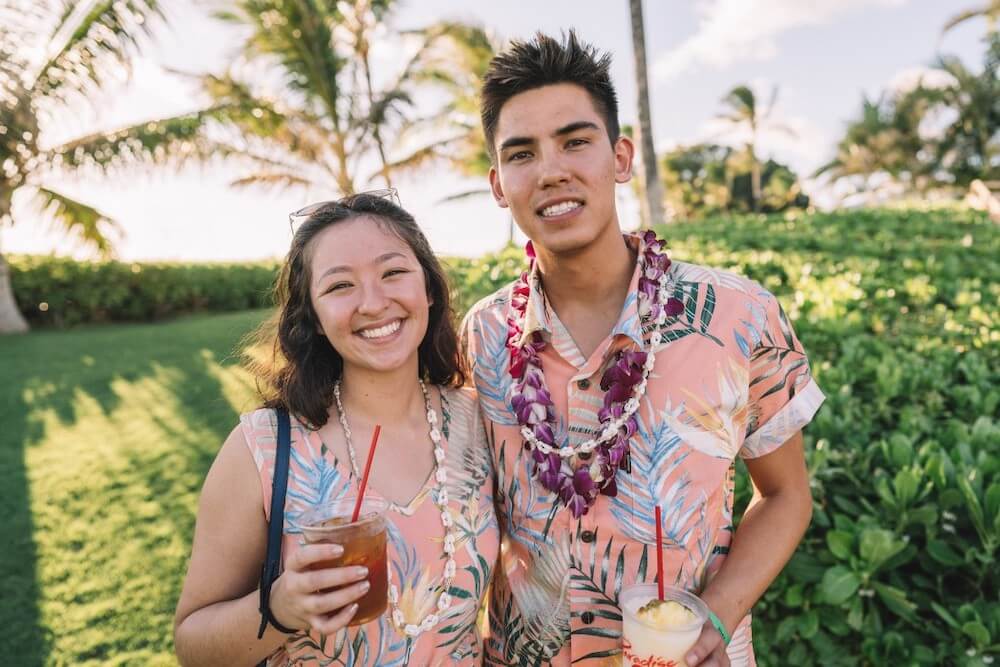 What to Wear to a Kona Luau
There's a lot to see and do in Kona, but one of the most popular activities is going on an authentic luau. You get to experience some traditional Hawaiian culture while also having fun with friends at this event!
For men, wear khaki shorts or pants together with either a collared shirt or an Aloha shirt. Just make sure not to go overboard by wearing something formal you're still in the tropics.
What should women wear? A dress is always a great idea. You can do something short, something long, or even tie a pareo into a dress. Another option is to wear an Aloha shirt and nice pants.
The main thing is that you don't want to look too casual, but you also don't want to be dressed to the nines. The goal is to look like you're enjoying yourself without being too formal.
As for kids, they can pretty much get away with anything. A lot of families dress their kids in Aloha shirts or dresses, but any clothes that are comfortable and appropriate for the weather will work.
And for footwear, avoid wearing heels. Some luaus take place in grassy areas or on the beach, so flats work best.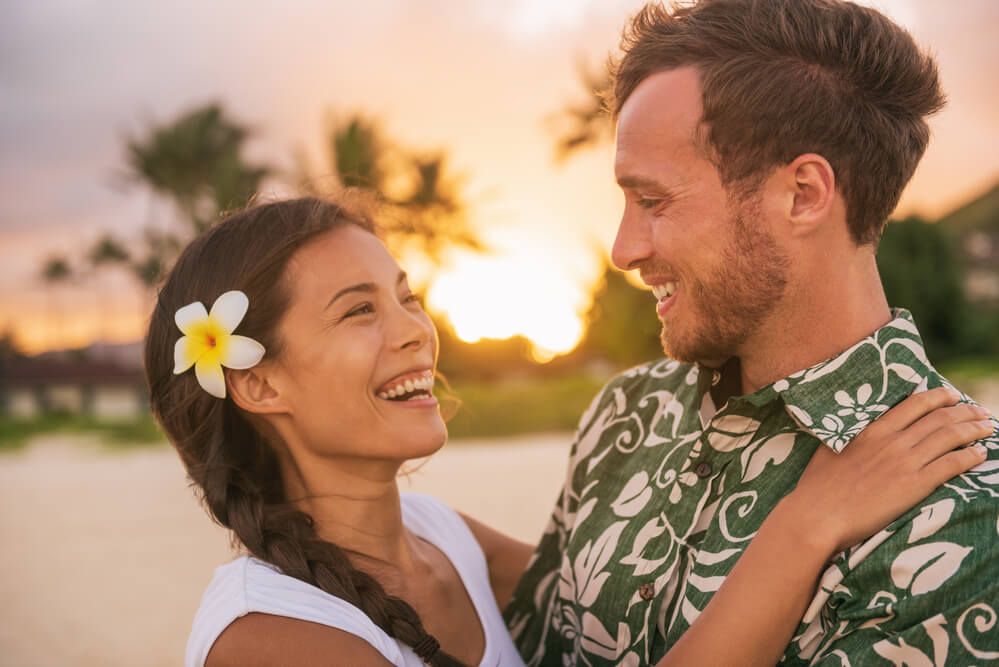 What to Wear for a Big Island Photo Shoot
If you are looking for an unforgettable experience while visiting the beautiful Island of Hawaii, then consider booking a photography session at your destination. The Big Island provides infinite opportunities to capture memories that will last forever.
Most families choose to dress up a bit for their Kona photo session, with men/boys wearing collared shirts and women/girls wearing dresses.
Wearing all white can look nice either on the beach or near the black lava rocks. And wearing Aloha prints is always a good idea.
Big Island photographers are used to shooting in all types of lighting conditions, so you'll be sure to get some great shots no matter what time of day you book your session. However, I recommend aiming for close to sunrise or sunset for the ultimate lighting.
Another way to take your Kona photos to the next level is to get fresh flower leis to wear. There are even haku leis (like a flower crown) that are so stunning in photos.
Packing for Hawaii List FAQs
What should I pack for a week in Hawaii?
You'll want enough clothing to last the full week, as you might not have time to do laundry. I also suggest two swimsuits (so you can alternate), water shoes (for lava rocks in the ocean), sun protection, and one nice outfit to wear to a luau or restaurant.
What should you not wear in Hawaii?
If you want to blend in, you'll need to leave your white sneakers at home. Not only do they scream "tourist," but they will probably get super dirty. You'll also want to avoid super fancy clothing (anything dry clean only) and high heels.
Does everyone get a lei when they arrive in Hawaii?
No, but it's easy to order an airport lei greeting for when you land in Kona. This can make a Big Island honeymoon or family vacation extra special.
What to Pack for Big Island Wrap Up
There are so many things to do on the Big Island, it will be hard not having an adventure! From hiking and surfing in nature parks or enjoying a night under the stars at one of Hawaii's luaus, there truly is something for everyone here.
Hopefully, you have a better idea about Hawaii vacation clothes to pack, as well as other things to add to your Hawaii checklist.