Are you traveling to Oahu and want to know the prettiest places to take photos? Check out these most beautiful places in Oahu worth a stop!
This list of the most beautiful places in Oahu Hawaii contains affiliate links which means if you purchase something from one of my affiliate links, I may earn a small commission that goes back into maintaining this blog.
Oahu is one of the largest Hawaiian islands and one of the most popular tourist destinations in the world.
From breathtaking waterfalls to towering mountains, this island has almost any natural attraction you could dream of – and it has beautiful cities, well-managed resorts, and world-class restaurants!
Whatever you're looking for, whether it's hiking trails to ancient heiau to peaceful beaches to historic plantations, Oahu has options for you! Oahu's natural beauty has something to offer if you want to find unique photography backdrops or simply enjoy nature.
In this article, I've ranked fifteen of Oahu's most awe-inspiring, magical destinations. These are all awesome for both personal enjoyment and Instagram posts!
Don't have time to read a bunch of Hawaii blog posts and reviews? Here are some of our top picks for visiting Oahu.
Popular Oahu Tours/Activities
Favorite Oahu Resorts/Hotels
Want to Rent a Car in Hawaii?
One of the best places to rent a car in Hawaii is Discount Hawaii Car Rental because they get the best rates from top national companies like Alamo, Dollar, Thrifty, Avis, Enterprise, Budget, and Payless.
Want to skip all the planning and just access my detailed Oahu itinerary complete with daily schedules, fun activities, and travel hacks? Click the button below.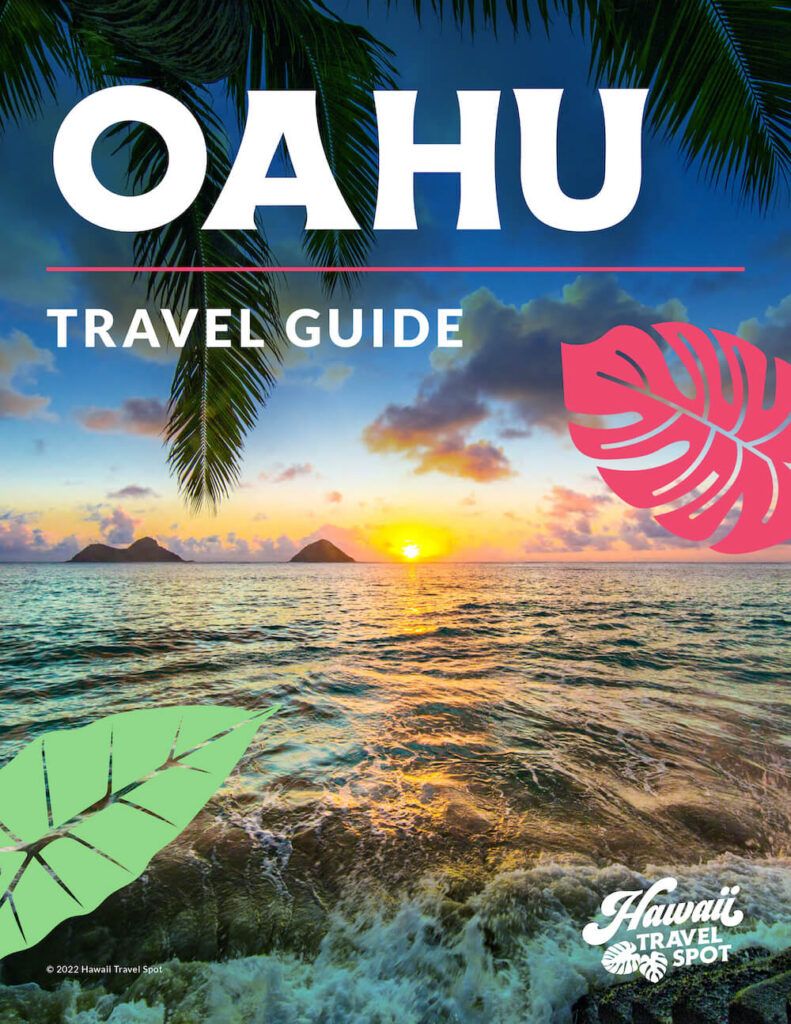 15 of the Most Beautiful Places in Oahu Hawaii
No matter where you're staying on Oahu, the immense amount of natural attractions on the island means you'll always have a beautiful activity near you!
Scroll through this list to see my rankings of the best beautiful places on Oahu.
1. Tantalus
Tantalus' original name was "Pu'u 'Ualaka'a," or "Hill of the Rolling Sweet Potato," a charming name for an absolutely charming place. Now it's largely known as Tantalus, named after the Greek king of the same name.
High above sea level and overlooking the capital of Hawaii, Honolulu, Tantalus Lookout is a mere four miles north of Waikiki and provides visitors with a beautiful, panoramic view of the city and mountains beyond it.
The area itself is tranquil and peaceful, populated by wildlife and beautiful local plants. Whether you're here to picnic or take pictures, be sure to pause and listen for the melodic calls of the white-rumped shama, a passerine with a black head and yellow-orange body.
As you pose for pictures or take a stroll along the road that runs through the area, you might see other wild animals such as wild pigs, mongooses, and even Jackson chameleons! Remember to never get too close to the animals for the safety of both parties!
If you're looking for a paradise-like place to hike or picnic, this is the place for you!
2. Laniakea Beach
Laniakea Beach is also known simply as Turtle Beach because you'll almost always be able to see turtles sunning themselves on the sandy shores. If you're visiting to admire the wildlife, be sure to come to this beach during the summertime, when turtles most often sunbathe.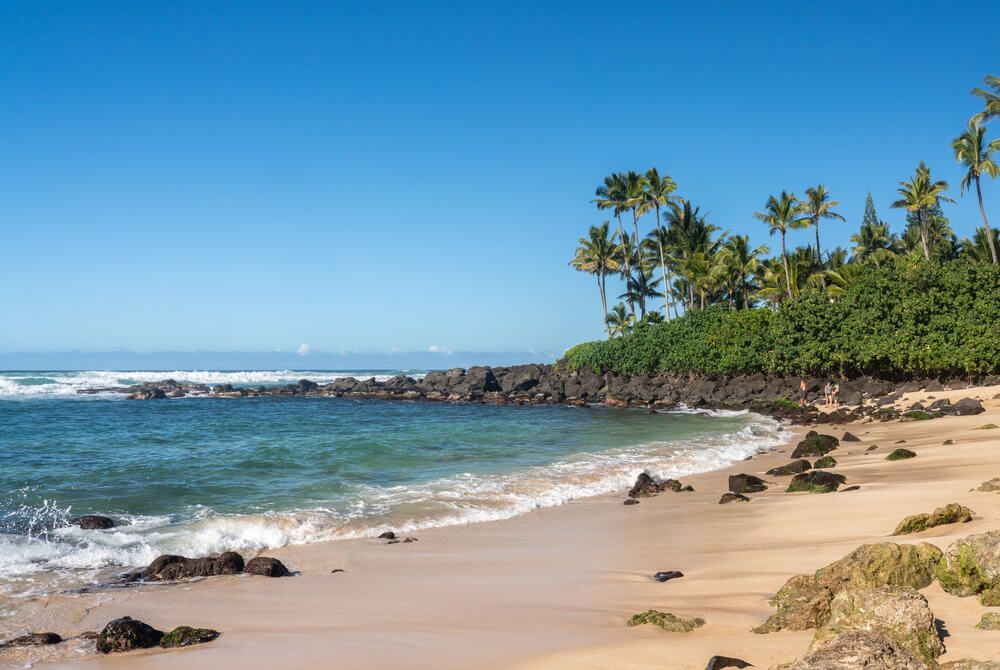 Aside from being a turtle-filled paradise, Laniakea Beach is actually part of the 7-Mile Miracle, a stretch of seven miles of beaches with over 30 unique surfing spots. Whether you're an expert or just starting to learn, the 7-Mile Miracle has the spot for you.
When visiting Laniakea Beach, stay a safe distance away from the turtles and take any trash you produce with you to keep the beaches clean and safe.
Also, remember that the Laniakea Beach and the 7-Mile Miracle are places of cultural significance. Treat the environment and people there with respect.
3. Hanauma Bay
One of the best snorkeling spots on Oahu is Hanauma Bay. You'll need to make reservations or book a tour to visit but it's definitely worth it.
Here, you'll get beautiful views of the coral reef as well as sweeping mountains surrounding it. And if go snorkeling, you have a good chance of seeing some incredible Hawaiian sea life.
My top tip is to visit early in the morning when the beach is the least crowded. But, this is a popular spot and it might be tricky to avoid getting people in your photos.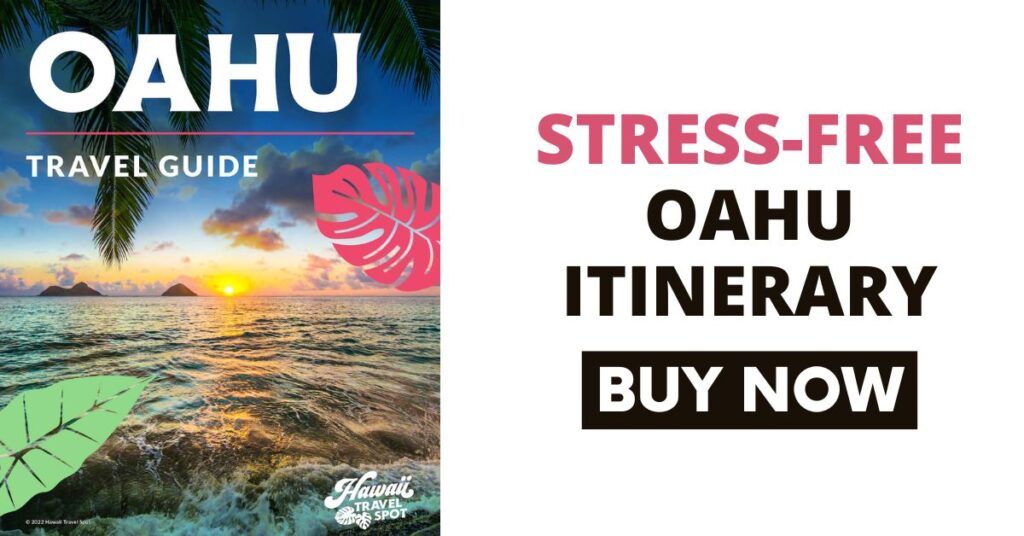 So, it might seem weird to include a highway on this list of prettiest places on Oahu, but once you drive it, you'll understand why.
This winding highway has the most gorgeous views of the Ko'olau Mountains. There's even tunnels through the mountains so you'll get to see them up close.
I suggest getting someone else to drive so you can fully look around. This is one of the most scenic drives on Oahu that everyone should do.
5. Kailua Beach
Kailua Beach truly fits the vision of what we imagine when we think about beaches. From its fine golden-white sand to the beautifully clear ocean, it's in every way a tropical paradise, perfect for anyone to enjoy.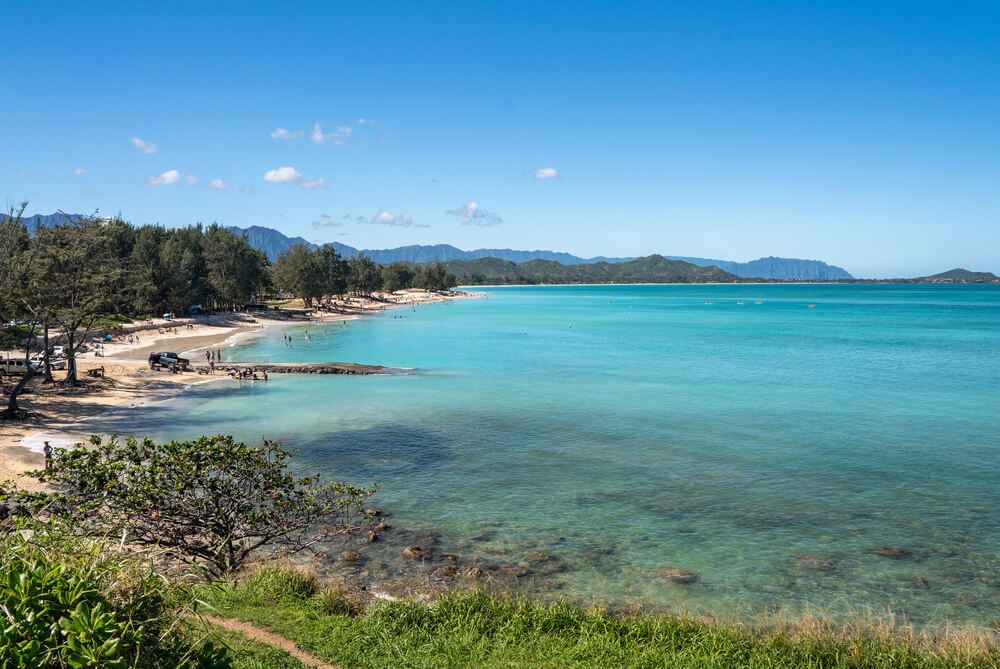 If you're looking for a relaxing beach day on a shore with calm waves and beautiful views, this should be on the top of your list.
The area offers not only the beach but picnic tables, restrooms, showers, beach volleyball courts, and even a fireworks show on the Fourth of July! You can even go paddle-boarding and kayaking!
If you look off to the West while on the beach, you can even see the Chinaman's Hat, a small island!
6. Kualoa Ranch
Kualoa Ranch holds some of the world's most popular wedding venues for good reason. While it is geographically in the same place as the Ka'a'awa Valley, I placed it separately on this list because I view them as two distinct areas.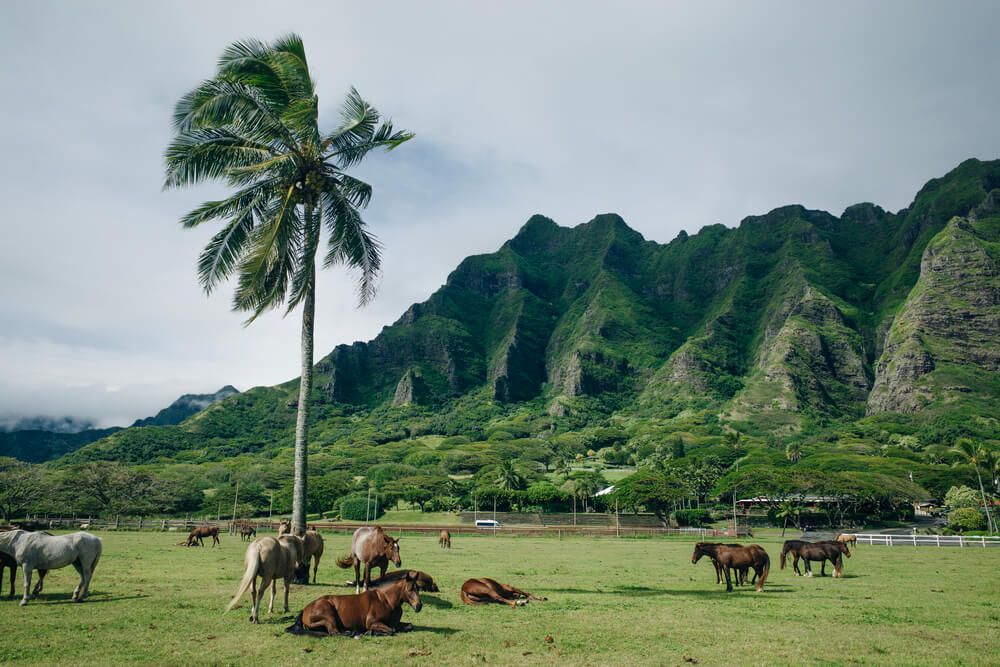 Kualoa Ranch, 4,000 acres big, is a place of pure beauty, ranging from secluded beaches to historical structures to lush mountains.
There are a variety of tours, such as movie tours or UTV tours, that would suit any tourist, ranging from Jungle Jeep Expedition to the Malama Eco-Adventure. The tour guides are all friendly and knowledgeable, able to inform you of the historical importance or geological histories of the areas you'll visit.
For active tourists, Kualoa Ranch also offers bike tours, ziplining tours, on-foot visits to beaches and mountains, and even horseback riding tours!
Book a Hawaii Photo Shoot
Whenever we travel to Hawaii, we almost always book a photo shoot with Flytographer. They are super easy, affordable, AND it guarantees that I'll have more than just selfies. You can get $25 off if you book through this link or use the code HAWAIITRAVEL.
7. Lanai Lookout
Lanai Lookout is one of the more secluded options on this list, as many tourists and bloggers overlook it. One thing to keep in mind is that parking is very limited. The area only has 15-20 nearby parking spots!
The lookout offers a stunning overhead panoramic view of unique rock formations, crashing waves, and the Koko Crater. It's a perfect place to just sit back and relax, enjoying the sounds of nature. You might even get the chance to see humpback whales, especially during the winter months!
If you're up to the task, the sunrise here is immensely scenic and unmatched in beauty. No matter when you come here, however, I'd recommend keeping any young children or elderly people away from the edge of the lookout and wearing proper shoes.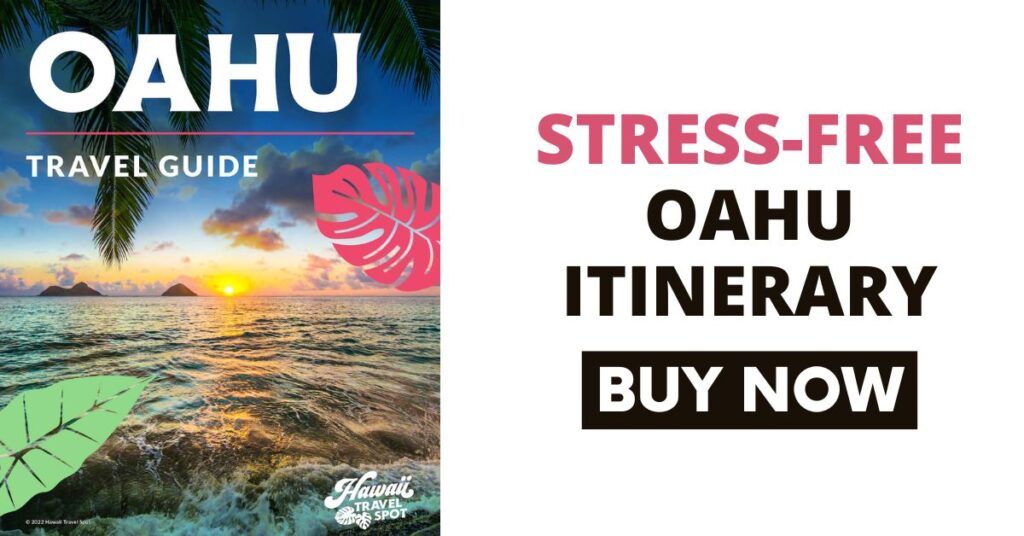 8. Manoa Falls
Manoa Falls and the trail that leads to it are both immensely beautiful and worth a visit. It's one of the most beautiful Oahu waterfall hikes out there!
The jungle trail is fairly easy for all ages and abilities. Just be sure to check the weather as it can get slippery in the rain.
There are plenty of photo spots along the trail but the big payoff is seeing Manoa Falls. It's a hidden gem on Oahu that a lot of people forget to add to their Oahu itinerary.
9. Kaneohe Sandbar
Found at the center of the reef-protected Kaneohe Bay, the Kaneohe Sandbar is located between the Chinaman's Hat, also known as the Mokoli'i Island, and the Coconut Island, also known as Moku O Lo'e.
You'll need a kayak or boat tour to reach the area, as the sandbar is more than a mile from shore. The depth of the water depends on the tide levels, but generally doesn't rise enough to submerge an average adult's head.
Many individuals like to come to the Kaneohe sandbar to unwind on a pool floatie, admire the views of the nearby mountains and islands, and relax amidst tranquil turquoise waters. It's one of the best things to do in Kaneohe Hawaii!
10. Waikiki Beach
Waikiki Beach, despite being one of the most crowded beaches in Hawaii, is still one of the most beautiful places on Hawaii.
Unlike the rest of the beach, the end of the beach near Diamond Head is much less crowded and much more tranquil. From there, you can truly admire the natural beauty around you as well as the unique scenery of Diamond Head.
This beach also commonly sees turtles napping by the shore or snacking on seaweed, especially before sunset. If you're interested, there's also snorkeling opportunities where you can try to swim with the turtles!
11. Waimea Valley
Waimea Valley has many activities and natural attractions you can visit, the most popular of which is its many botanical gardens. With over 50 themed gardens for you to pick from, you'll never get bored!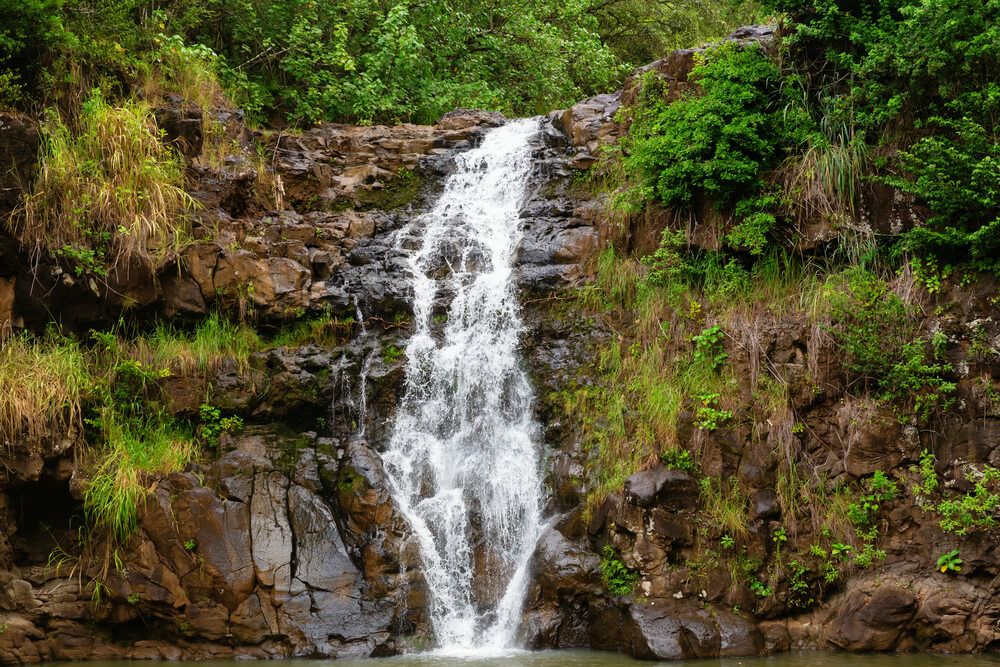 The Waimea Valley is also home to the gorgeous Waimea Falls. The falls and the swimming pool it feeds into are both gorgeously photogenic spots.
12. Nu'uanu Pali Lookout
A mere five miles from downtown Honolulu, the Nu'uanu Pali Lookout is accessible by drive and is one of the most beautiful lookouts on Oahu.
From the lookout, you'll be able to see a gorgeous, sprawling, panoramic view of Honolulu, the windward coast, smaller nearby cities, mountains, and verdant green fields. Be sure to take plenty of pictures!
Keep in mind that the wind here is very strong and chilling. Dress properly to ensure you don't get sick!
13. Royal Hawaiian Hotel
The Royal Hawaiian Hotel is the only attraction on this list that isn't cultural or natural, however, it is still a unique wonder you'll be hard-pressed to find anywhere else in the world.
Located on the coastline near sandy beaches and palm trees, the hotel is nicknamed the "Pink Palace" for its beautiful design and unique color. The interior design is similarly gorgeous, with facilities and architecture that'll make you feel like a royal family member.
While you're in the area, be sure to check out the Oahu luau and other activities the hotel has to offer!
14. Ho'omaluhia Botanical Garden
The Ho'omaluhia Botanical Garden is doubtlessly one of the most photogenic destinations on this list. This botanical garden is a paradise of tropical tranquility, covered in aesthetic placements of local plants and even the occasional wild animal.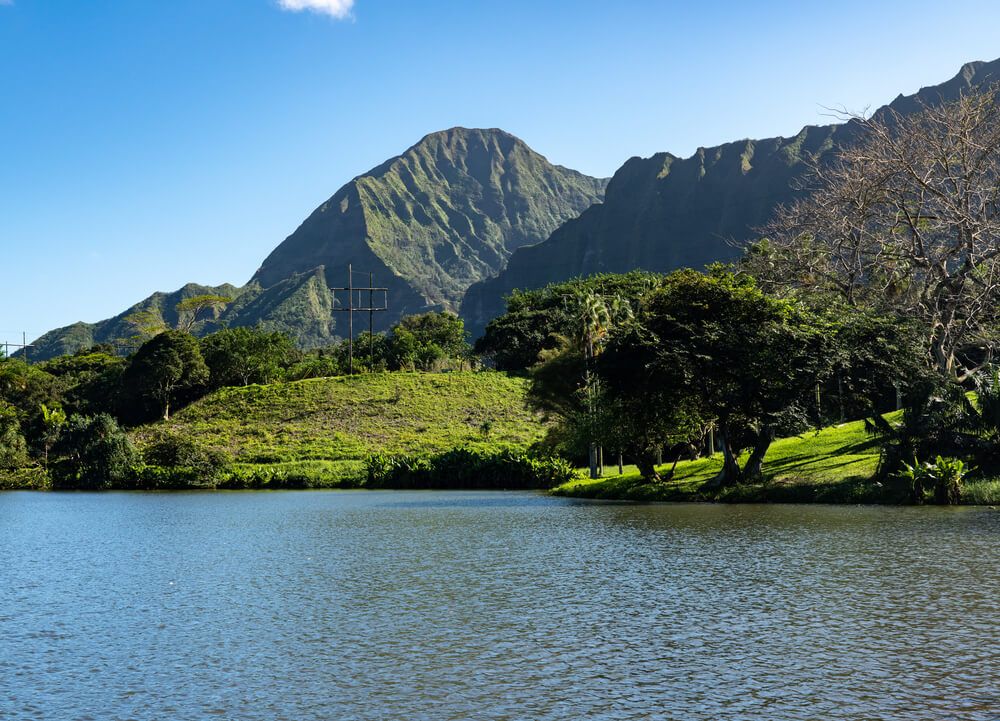 While you're here, you'll have plenty of opportunities for unmatched photography due to the immense amount of beautiful backdrops. Whether you're looking to stand on the road or take pictures on hikes or even the parking lot, this place is a gold mine for any photographer!
While you're here, be sure to respect the effort and money that goes into maintaining the cleanliness and beauty of the area. Be sure to not cause environmental damage by littering!
15. Byodo-In Temple
Established in 1968 to commemorate the centennial of the Japanese arrival to Hawaii, the Byodo-In Temple on Oahu is a botanical garden, cultural site, and breathtaking temple all in one!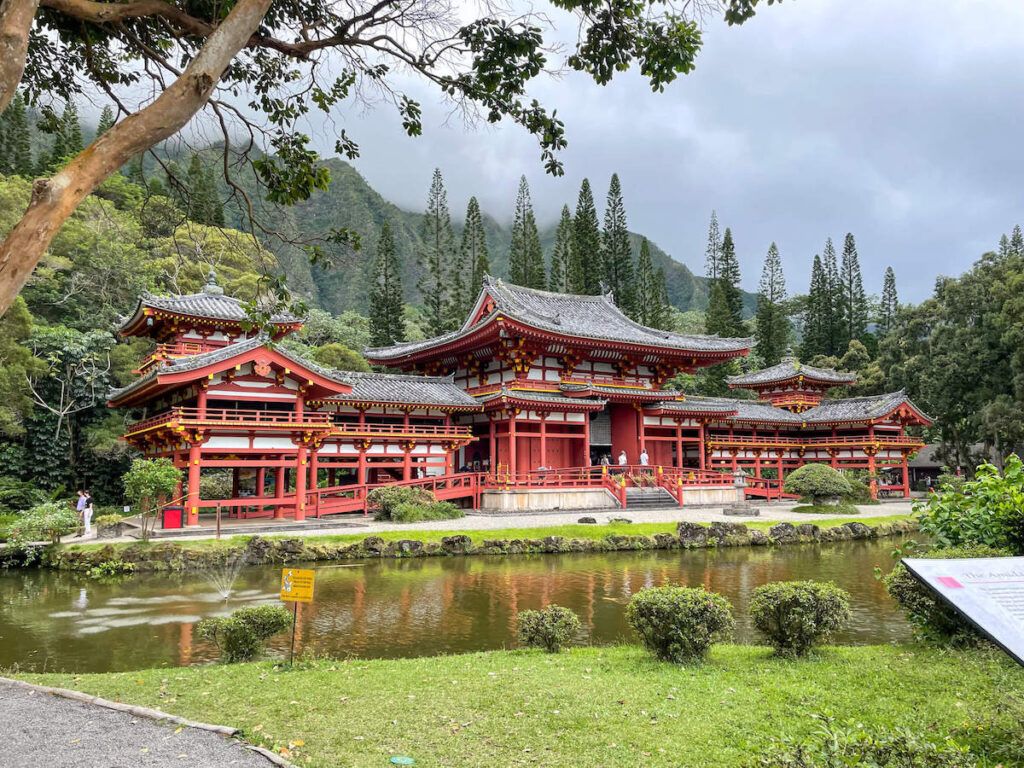 When you arrive here, it's said that you'll feel an unmatched sense of deep tranquility. The grounds include beautiful koi ponds, statues, and even wild peacocks.
Hire an Oahu Vacation Photographer
If you want to make the most out of these photogenic areas and create some memories you'll never forget, consider hiring an Oahu vacation photographer.
Although I've hired photographers from many different companies in the past, I'd personally recommend Flytographer, as they are high-quality, low-cost, and very convenient! Check out the latest prices and details.
Flytographer connects you with independent photographers, each with different styles of shooting, specialties, tools, and portfolios, so you can choose the photographer that best meets your needs.
The process is simple, convenient, and fast, and the photos themselves often take very little time to process, which is a welcome divergence from the main trend in professional photography.
If you're interested, you can save 10% on your first hired professional Flytographer!
I'd totally recommend hiring a professional photographer! While the cost may scare you, it's completely worth it to preserve such wonderful memories!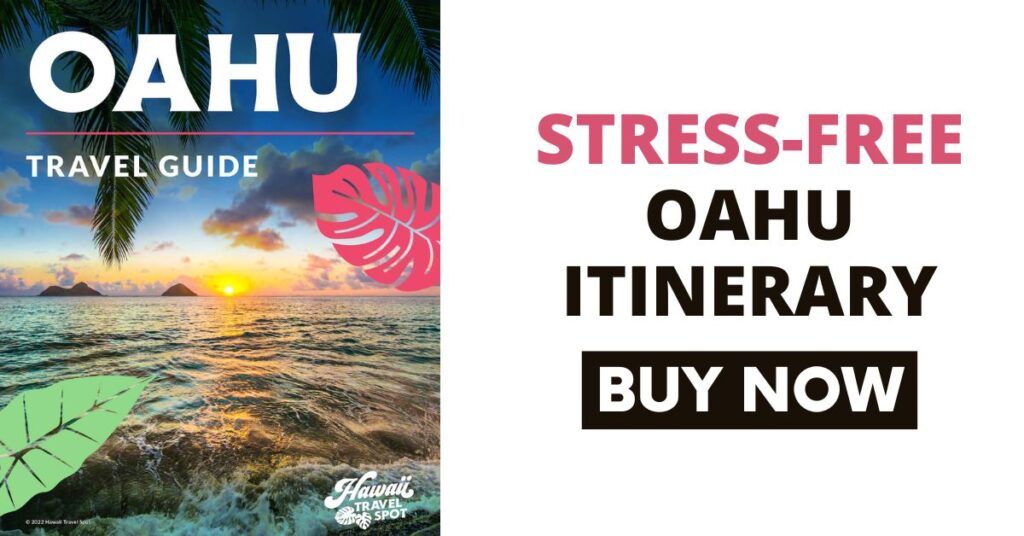 Beautiful Places on Oahu FAQs
What're your personal favorite places to visit on Oahu?
As you'll be able to see by reading through the article, some of my favorite destinations are Tantalus Lookout, Turtle Beach, and the Crouching Lion trail!
When is the best time to visit Oahu?
Since Oahu is a tropical island, the weather at almost any time of day is mild and agreeable. The best months for whale-watching are between January and early April, when humpbacks travel to Hawaii's warmer waters as a part of their migration cycle.
Why would you recommend visiting Oahu?
Despite being a repository of natural attractions, Oahu is also the most developed island in Hawaii and therefore has many unique attractions such as high-class shopping, fine dining, an immense variety of Hawaiian cuisine, and exciting nightlife!  
Prettiest Places to See in Oahu Wrap Up
Now that you know some of some of the most photogenic and beautiful places in Oahu, be sure to add these destinations to your itinerary!