Are you planning a trip to Hawaii but aren't sure when to go? Keep scrolling to find out the best time to visit Hawaii.
This guide to the best time to visit Hawaii contains affiliate links which means if you purchase something from one of my affiliate links, I may earn a small commission that goes back into maintaining this blog.
Hawaii is a popular travel spot, known for its beautiful beaches, green mountains, and unique culture.
Many people dream of visiting this paradise. But when is the best time to go?
I've visited during peak season, school breaks, and when there were fewer crowds. Here are a few things to think about before planning a trip.
The weather can be different throughout the year. Winter months are during the rainy season and summertime is during hurricane season.
There are special events and festivals that happen in certain months. Also, some times of the year might be more expensive or crowded than others.
In this guide, we'll look at each month to help you pick the best time for your trip to Hawaii. We want to make sure you have the best time possible!
Want to skip all the planning and just access my detailed Hawaii itineraries complete with daily schedules, fun activities, and travel hacks? Click the button below.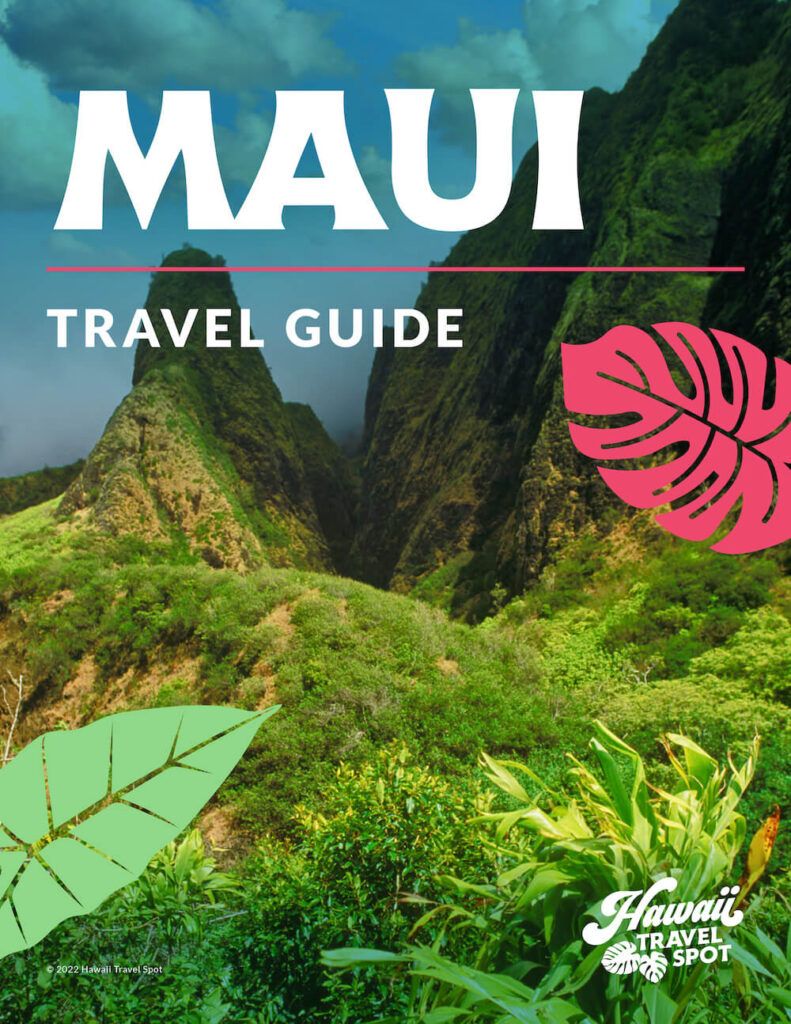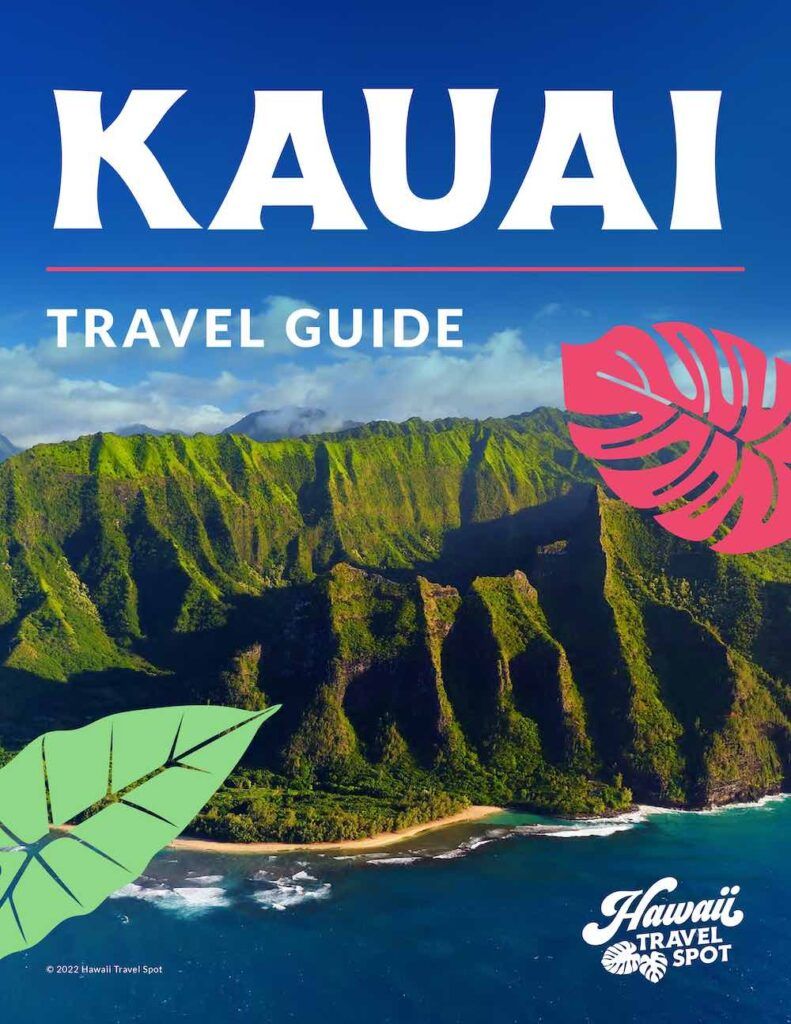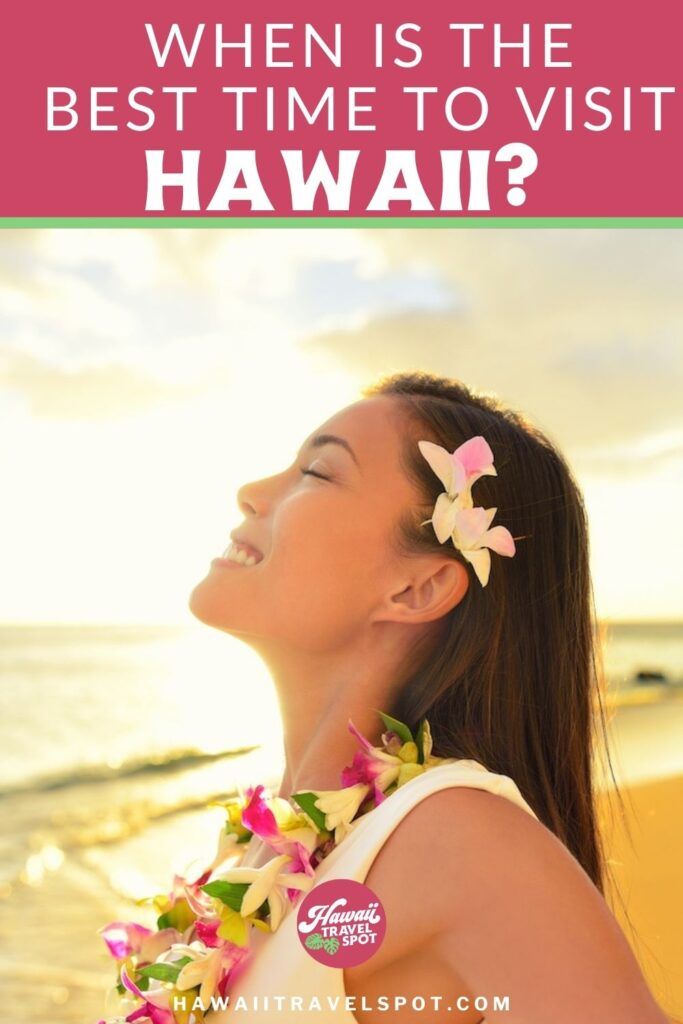 Best Time to Go To Hawaii
Visiting Hawaii in January: A Fresh Start to the Year
January in Hawaii offers a refreshing change from the typical winter scene. While the mainland may be in the grip of cold, Hawaii greets visitors with cooler but pleasant temperatures, making it a cozy time to explore.
But the real treat?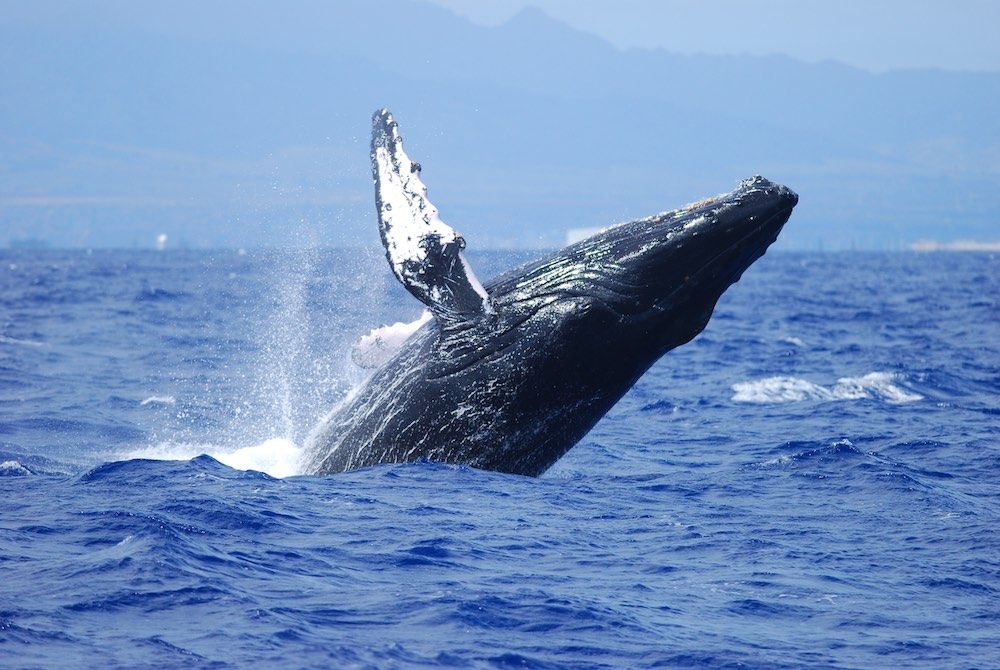 January is prime whale-watching season. Grab your binoculars, because the majestic humpback whales grace the Hawaiian waters during this time, presenting a spectacular natural show.
We usually have the best luck seeing whales on Maui!
For sports enthusiasts, the island of Oahu buzzes with excitement as the PGA Tour's Sony Open takes place in Honolulu. It's a grand event that attracts golfing aficionados from around the world.
As for the crowds, January sees a mix. The early part of the month still holds onto the holiday rush, but as the month progresses, the crowd thins out, and there's a slight drop in prices.
It's a fantastic balance of vibrant events, natural wonders, and serene moments.
Hawaii in February: Romance and Revelry
February in Hawaii continues to be a prime time for nature enthusiasts, as the humpback whales remain the stars of the show, gracing the waters with their majestic presence.
These gentle giants provide unparalleled viewing experiences that resonate with both first-time visitors and returning fans.
However, the islands also burst into a lively mood with the Waimea Town Celebration on Kauai. This vibrant event is a beautiful mix of Hawaiian culture, music, and food, making it a must-attend for anyone visiting Hawaii during this period.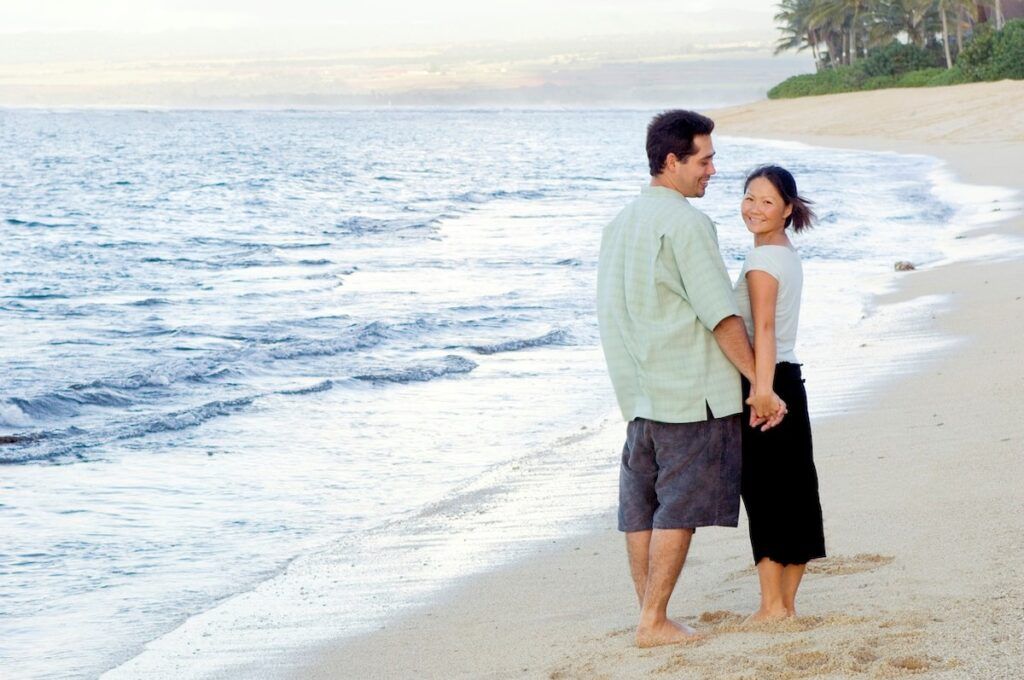 And, speaking of special moments, imagine spending Valentine's Day in paradise! Hawaii in February offers a romantic backdrop like no other.
Whether you're strolling on moonlit beaches or enjoying a candlelit dinner with ocean views, the Aloha spirit makes Valentine's celebrations even more magical.
February truly captures the heart and soul of Hawaii's charm.
One thing to point out is that a lot of travelers take advantage of February holidays (like President's Day) and some schools have a mid-winter break.
March in Hawaii: Spring Awakens
As winter gives way to spring, Hawaii undergoes a gentle transformation in March.
The islands experience a delightful shift in weather, with temperatures beginning to warm up and nature bursting into vibrant hues, echoing the rejuvenating spirit of spring.
A highlight of the month is the Honolulu Festival.
Celebrated primarily on Oahu, this event showcases the rich cultural tapestry of the Pacific region. With dance performances, art displays, and grand parades, the festival draws visitors and locals alike into a world of shared heritage and unity.
However, with spring's arrival, so comes the influx of Spring Break travelers. Popular spots like Waikiki Beach or the North Shore can get bustling, as families and students flock to enjoy the sun and surf.
It's a lively time to visit, with a contagious energy in the air, but those seeking solitude might prefer the quieter corners of the islands.
April in Hawaii: Traditions and Tranquility
April in Hawaii welcomes visitors with mild temperatures and the promise of clearer skies, as the rainfall becomes a tad less frequent.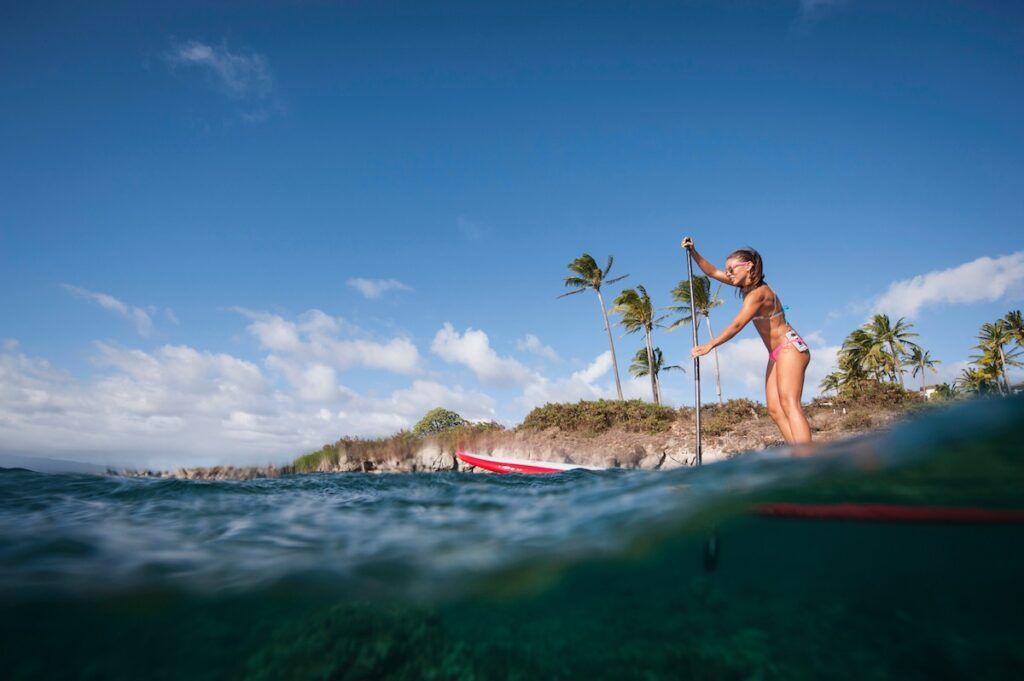 The landscapes gleam in the gentle sun, making it a picturesque time to explore the islands.
An event that truly embodies the spirit of Hawaii in April is the Merrie Monarch Festival.
Hosted in Hilo on the Big Island, this week-long celebration is dedicated to King David Kalākaua and is a grand showcase of Hawaiian culture, especially hula. Dancers from across the globe participate, making it a vibrant and unforgettable spectacle.
If you're considering a trip around Easter, you're in for a treat.
While Hawaii embraces its unique traditions, Easter festivities blend seamlessly. Beachside Easter egg hunts and sunrise services are quite popular.
However, do note that this period might see a slight surge in visitors, given the holiday season.
Our kids usually have spring break in April and we definitely notice larger crowds and higher airfare in early April.
Plan ahead for a smooth vacation experience.
May in Hawaii: A Serene Prelude to Summer
May is a gem of a month to visit Hawaii. As the islands bask in dry and calm weather conditions, it offers the perfect prelude before the high energy of summer sets in.
The balmy days and slightly cooler nights make for comfortable explorations, whether you're hitting the beach or trailing through the lush rainforests.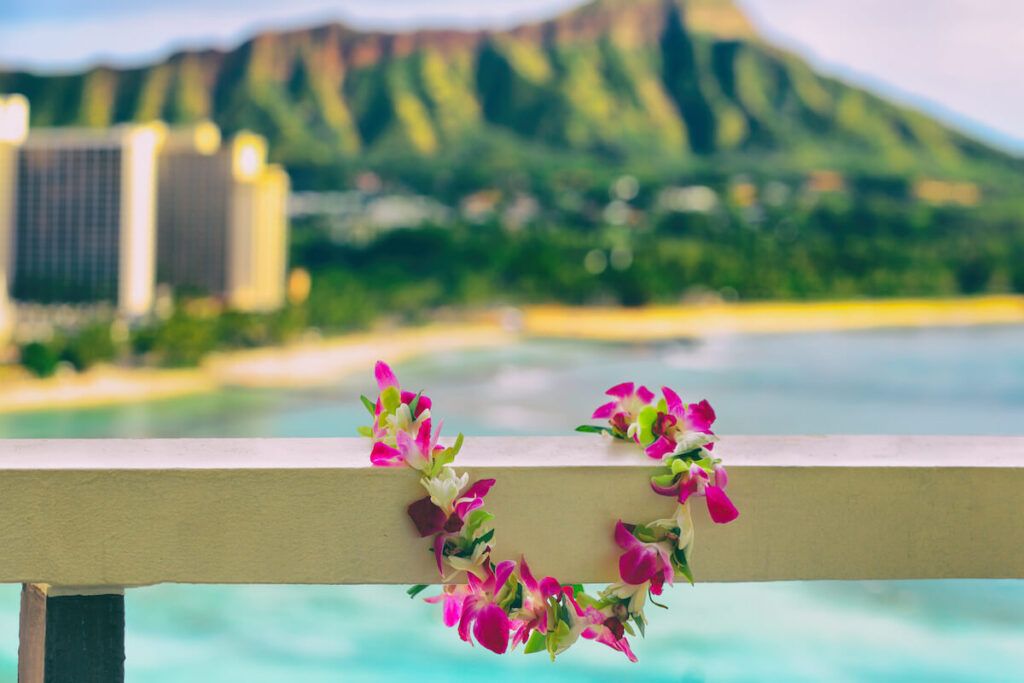 One of the most heartwarming events in May is the Lei Day Celebration.
An ode to the Hawaiian tradition of lei-making, this day sees locals and visitors donning these fragrant garlands, reflecting the Aloha spirit in full bloom.
Traveling to Hawaii in May comes with the distinct advantage of the shoulder season. Not only do you get to avoid the peak summer crowds, but you often find better deals on accommodations and flights.
In essence, May promises an intimate Hawaiian experience, blending tradition, weather, and travel perks seamlessly.
May is hands-down one of my favorite times to visit Hawaii. That's because flight prices are usually decent and the weather is comfortable.
June in Hawaii: Summer Splendor Begins
As the calendar flips to June, Hawaii welcomes the onset of summer with sun-kissed beaches and azure waters beckoning travelers to dive into paradise.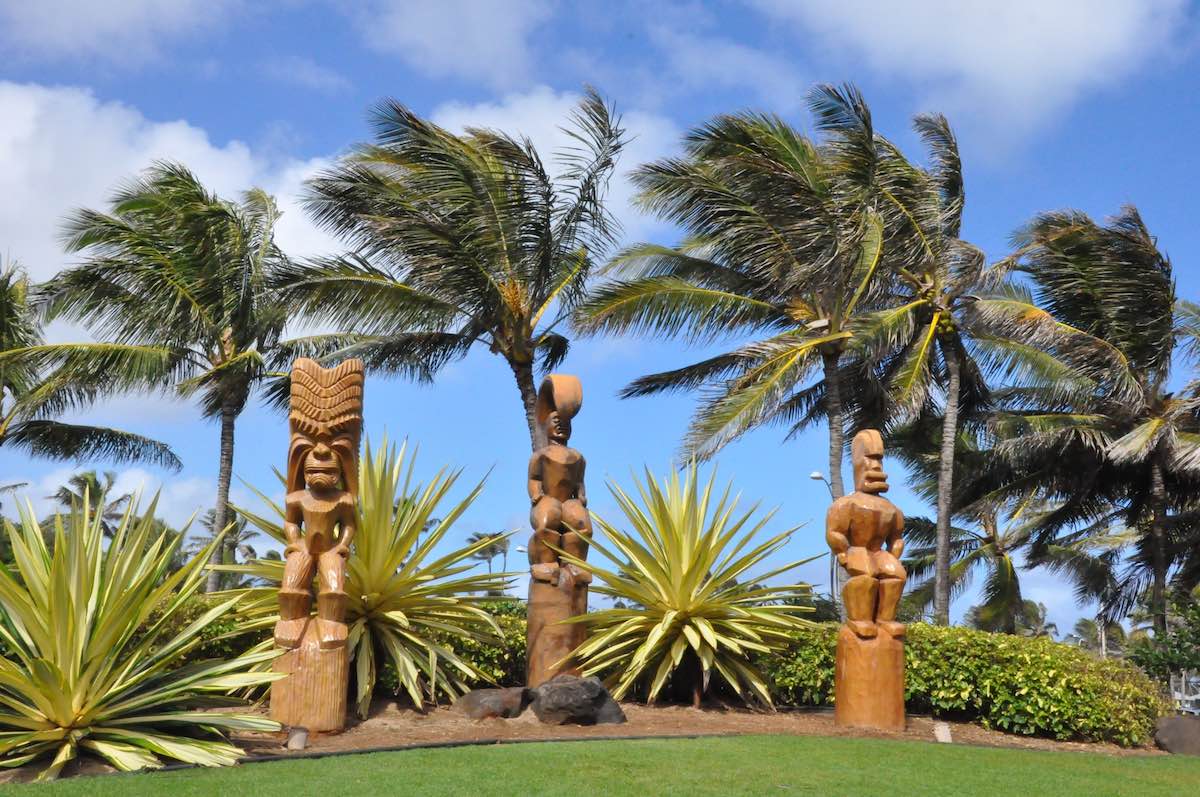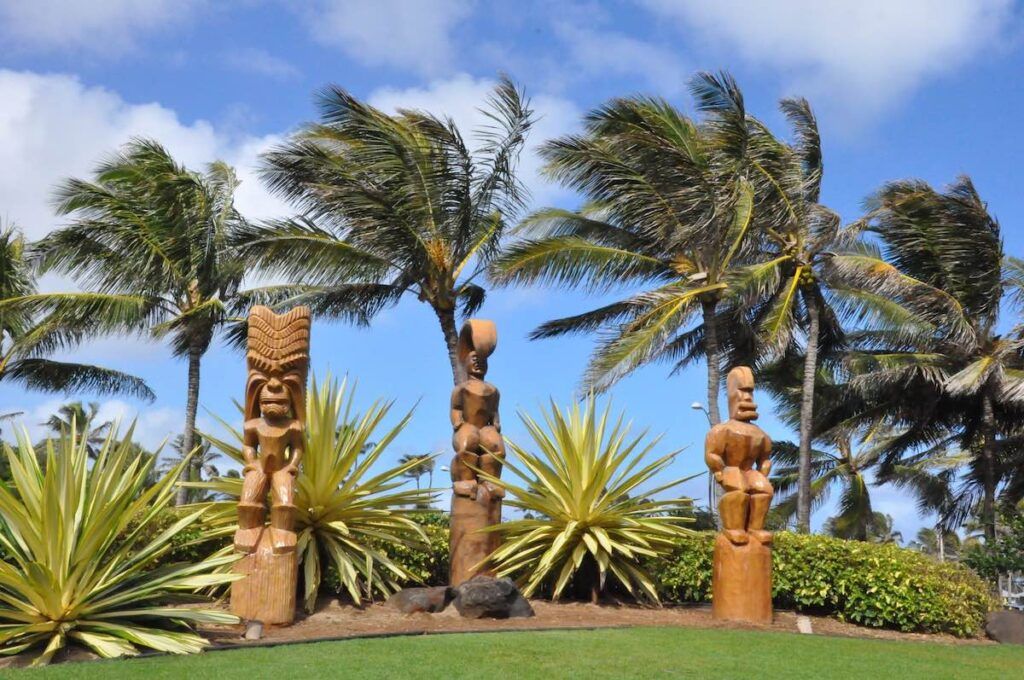 The weather turns warmer, but the gentle Pacific breezes ensure comfort, making it ideal for sunbathing or taking a refreshing dip.
A significant highlight of June is King Kamehameha Day.
This day commemorates the legendary king who united the Hawaiian Islands. Across the state, grand parades, hula performances, and vibrant floral processions honor his legacy, offering visitors a deep dive into Hawaii's rich history and traditions.
However, with summer's arrival comes the school holidays. Families flock to the islands to make the most of their break, which means popular tourist spots might get a bit crowded.
If you're seeking tranquility, consider venturing into lesser-known areas. Nonetheless, June's allure lies in its blend of history, sunshine, and island festivities.
July in Hawaii: Sizzling Summer Delights
As July rolls around, Hawaii truly embraces its tropical charm. With warm temperatures bathing the islands, it's the epitome of a sun-soaked paradise.
The balmy days, complemented by refreshing ocean breezes, create the quintessential beach holiday mood, inviting everyone to indulge in island adventures.
A gastronomic treat awaits in July with the Hawaii Food & Wine Festival.
This event attracts foodies from all over, celebrating the culinary diversity of the islands. Local chefs team up with international culinary stars, presenting dishes that are both an art and a sensory delight.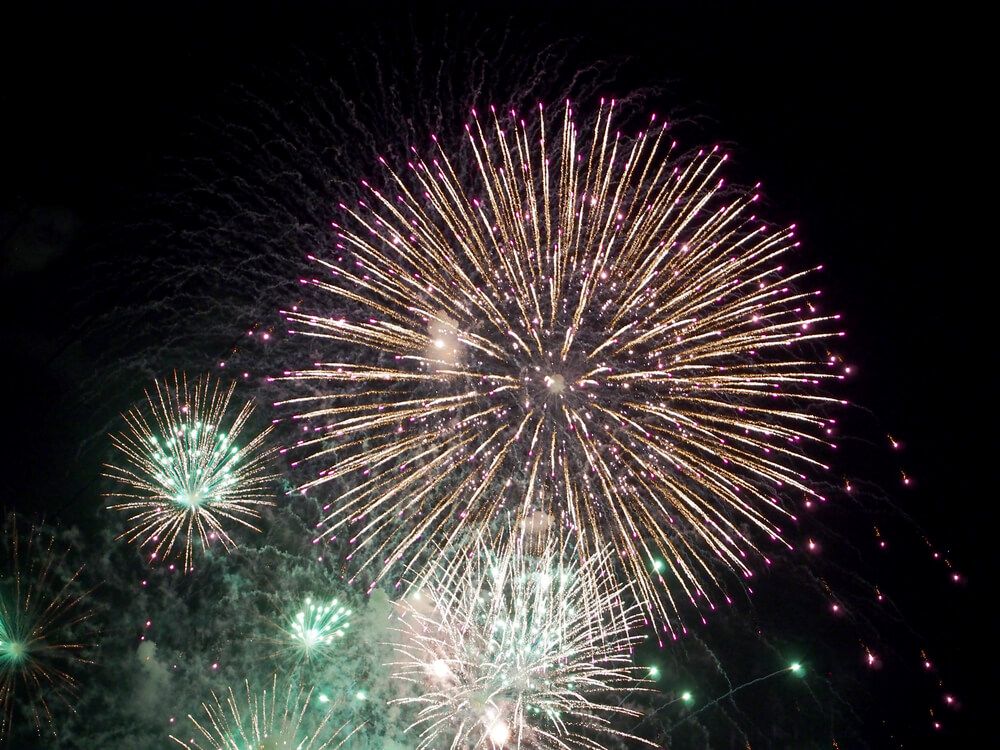 Moreover, the Fourth of July, or Independence Day, is fun in Hawaii. While traditional BBQs and beach picnics are common, what truly stands out are the mesmerizing fireworks displays, especially in areas like Waikiki.
Amidst the summer fun, July in Hawaii offers a blend of culinary escapades and patriotic festivities.
August in Hawaii: Sunlit Serenades and Summer's Farewell
August is the hottest month in Hawaii. In fact, it can be downright muggy.
It feels super tropical and sunny. The beaches are bright and inviting, making it hard to stay away from the sparkling water.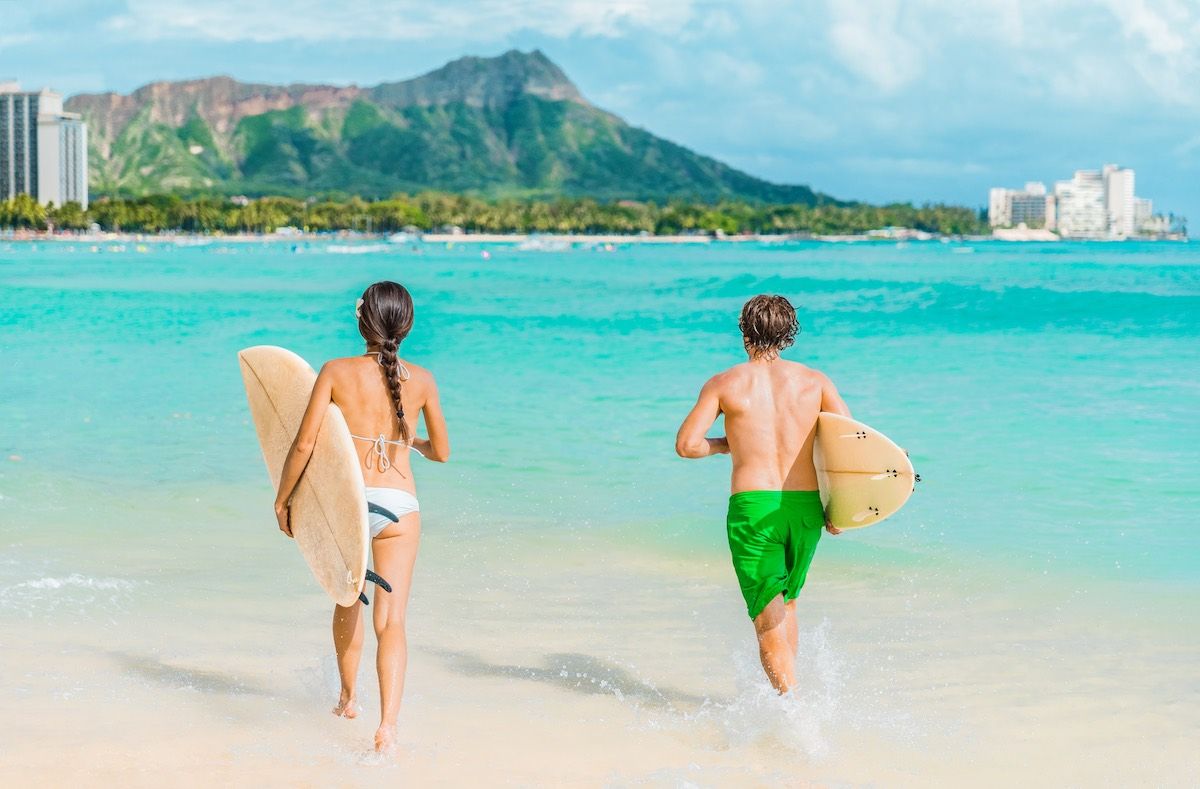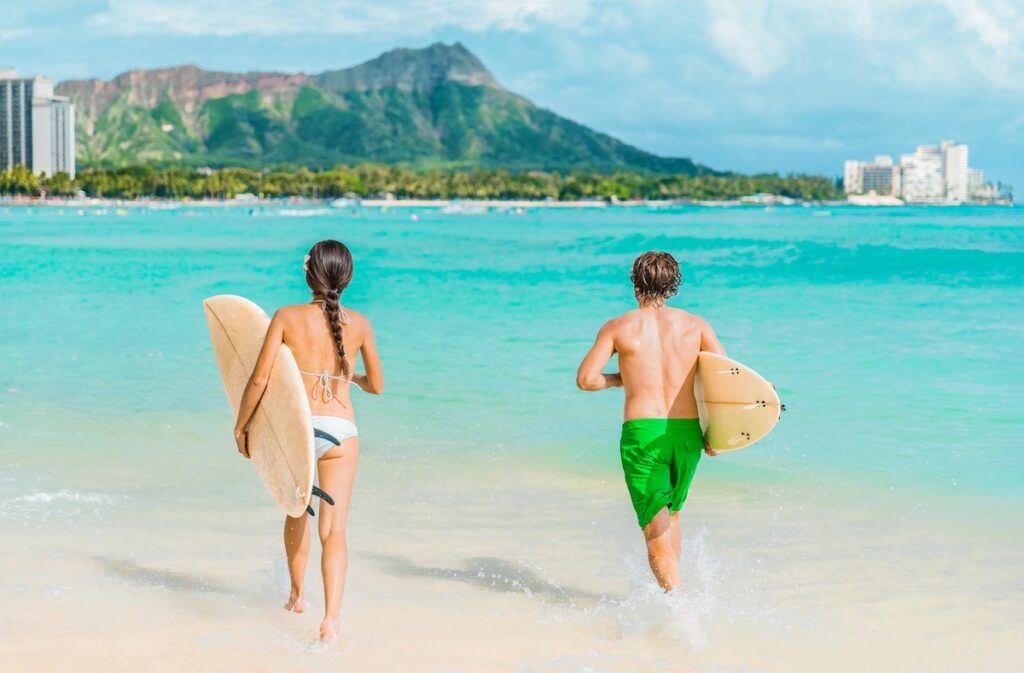 Yet, even in this warmth, Hawaii's trade winds bring a cooling relief, making outdoor activities and ocean plunges all the more inviting.
For those with an ear for music, August hosts the Hawaiian Slack Key Guitar Festival, an event that celebrates one of Hawaii's most beloved musical traditions.
The melodious tunes of the slack key guitar, played against a backdrop of palm-fringed horizons, is a soul-soothing experience few other places can offer.
As August in Hawaii nears its end, the islands experience the wind-down from the summer holidays.
While the early weeks still resonate with the vibrant energy of summer vacationers, the latter part of the month brings a more relaxed atmosphere, setting the tone for early fall.
September in Hawaii: Welcoming Fall with Aloha
September in Hawaii marks the gentle shift from the height of summer to milder, more temperate days. The intense warmth starts to wane, giving way to softer, more comfortable temperatures.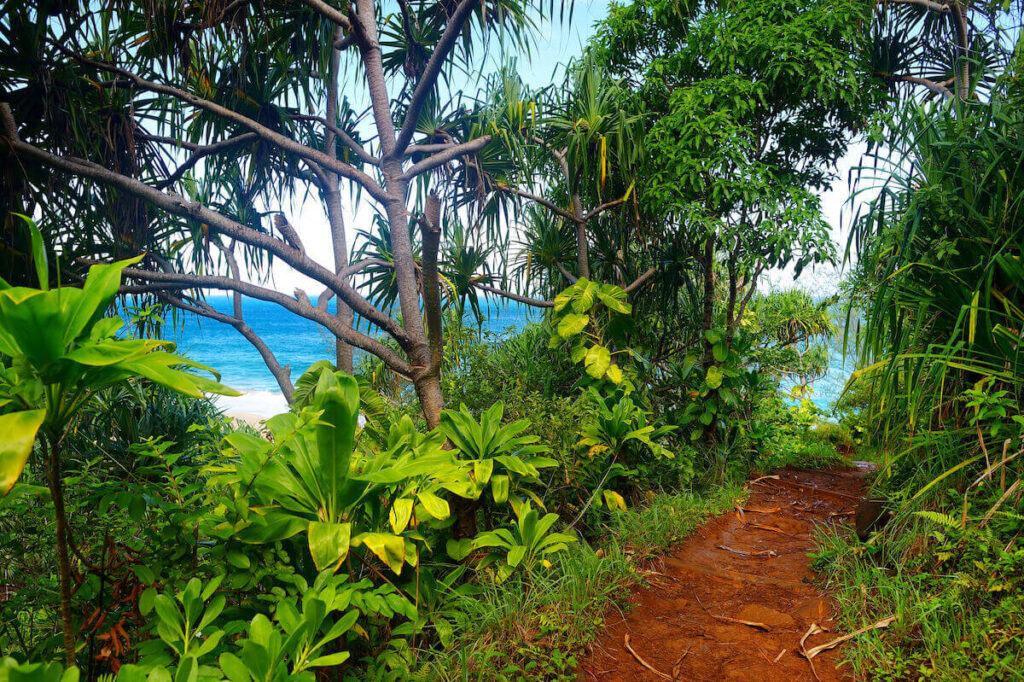 This transitional phase bathes the islands in a delightful blend of sun and breeze, making it an ideal month for those seeking a balanced tropical experience.
The month is also home to one of Hawaii's most cherished celebrations: the Aloha Festivals.
This statewide cultural extravaganza honors Hawaii's music, dance, and history. With parades, hula shows, and traditional chants, it's a vibrant showcase of the islands' rich heritage and the spirit of 'Aloha'.
One of September's best-kept secrets?
It's a month that often sees fewer visitors, thanks to school sessions resuming. This low crowd advantage means quieter beaches, shorter queues at attractions, and a more intimate, relaxed Hawaiian vacation experience.
October in Hawaii: Cinema, Celebrations, and Calm
October in Hawaii greets visitors with a refreshing ambiance.
While the temperatures remain comfortably warm, there's a noticeable increase in occasional rainfall, draping the Hawaiian islands in a fresh, rejuvenated glow.
These brief showers, often followed by rainbows, add to the magic of the Hawaiian landscape.
For film enthusiasts, October is a treat. The Hawaii International Film Festival takes center stage, showcasing a curated selection of global cinema, with a special emphasis on Pacific-Asian films and narratives.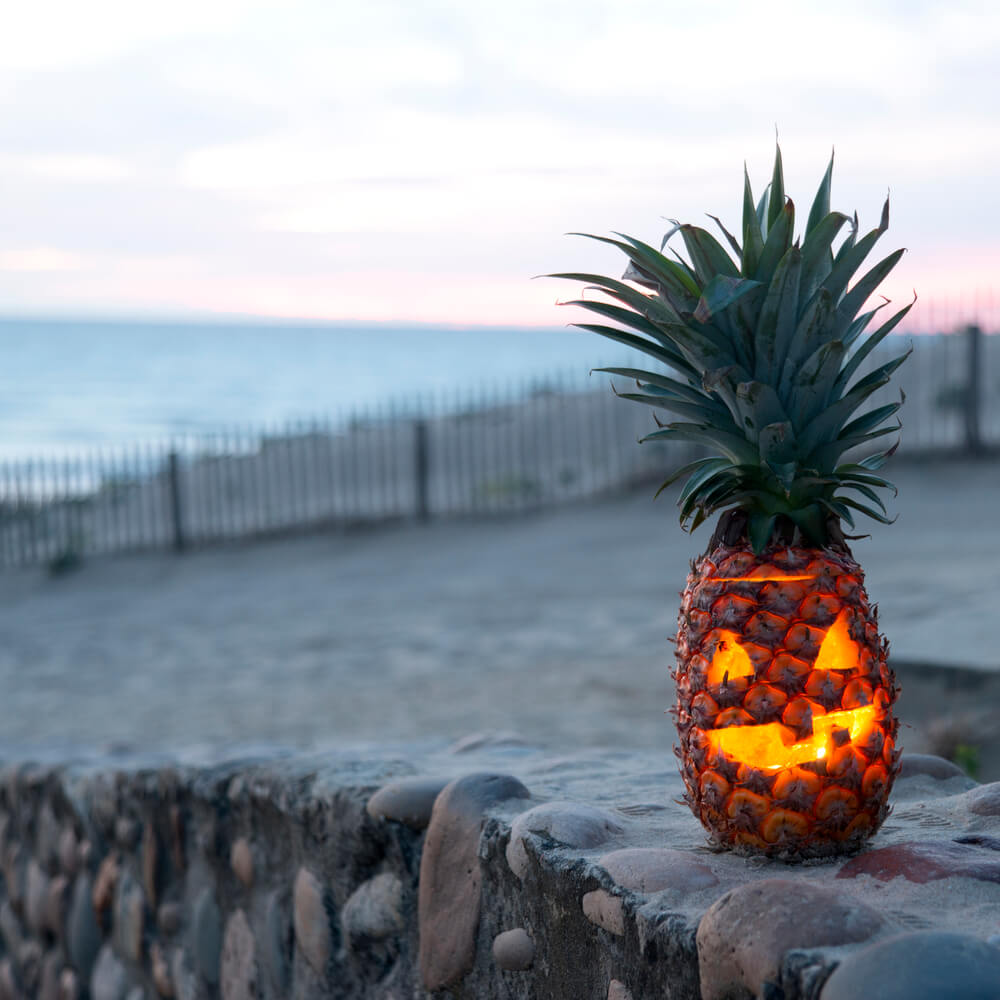 As the month concludes, Halloween festivities kick in. From themed beach parties to spirited street parades, Hawaii embraces the spooky season with its unique island twist.
Traveling in October also offers the benefits of the fall shoulder season.
With fewer tourists around, you can enjoy better deals on accommodations, reduced wait times at popular spots, and a tranquil atmosphere that makes exploring Hawaii even more serene.
November in Hawaii: Raindrops, Revelry, and Retail
November in Hawaii marks the onset of the islands' rainy season.
While sun-drenched moments still abound, brief, scattered showers paint the landscapes in richer shades of green, offering a fresh and vibrant aura to Hawaii's iconic vistas.
The festive mood begins to build, especially with the Waikiki Holiday Parade. Commemorating Pearl Harbor survivors and veterans, the parade is a colorful spectacle of music, floats, and Hawaiian culture that lights up Honolulu's streets.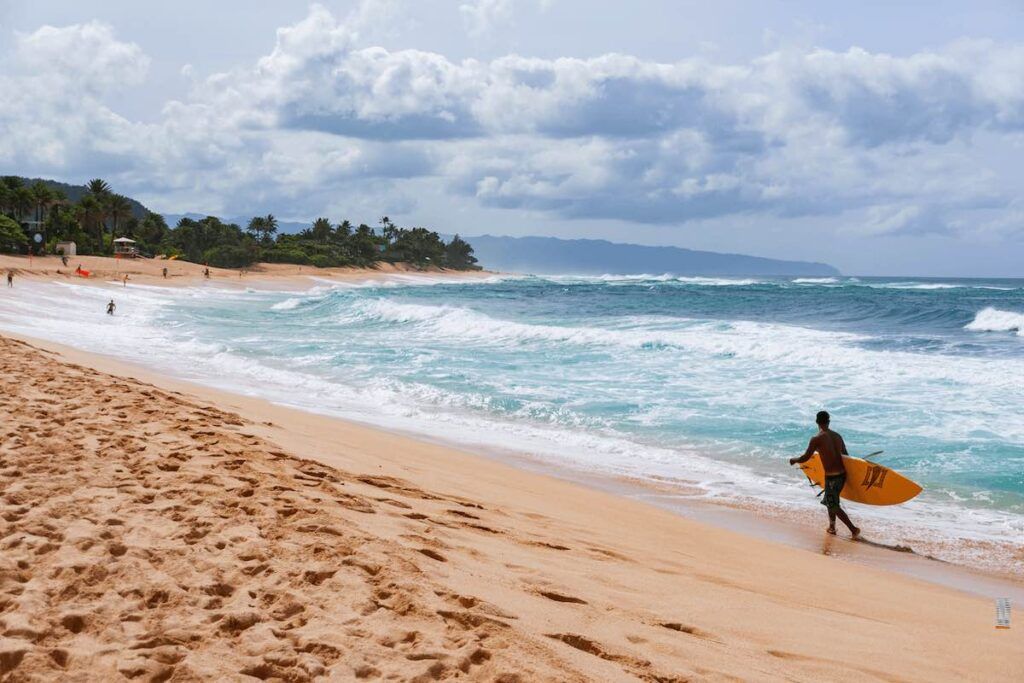 And as Thanksgiving rolls in, Hawaii adds its island flair to traditional celebrations. Imagine feasting on roasted turkey with a side of fresh pineapple and coconut pie, all with the soothing sounds of the ocean nearby!
For those eyeing holiday deals, Black Friday in Hawaii doesn't disappoint.
From bustling malls in Honolulu to local boutiques, shoppers can find both global brands and unique island gifts, making November a blend of nature, festivities, and retail delights.
December in Hawaii: Festive Lights and Island Nights
December brings a refreshing coolness to Hawaii, with temperatures dipping just enough to remind visitors of the winter season, albeit with a tropical touch.
The occasional rain showers further enhance the Hawaiian islands' lush beauty, setting the stage for a magical end-of-year escape.
Honolulu City Lights is a star attraction, turning the city into a radiant wonderland. Giant Yuletide figures, shimmering trees, and festive decorations line the streets, offering a captivating contrast to the palm-fringed horizons.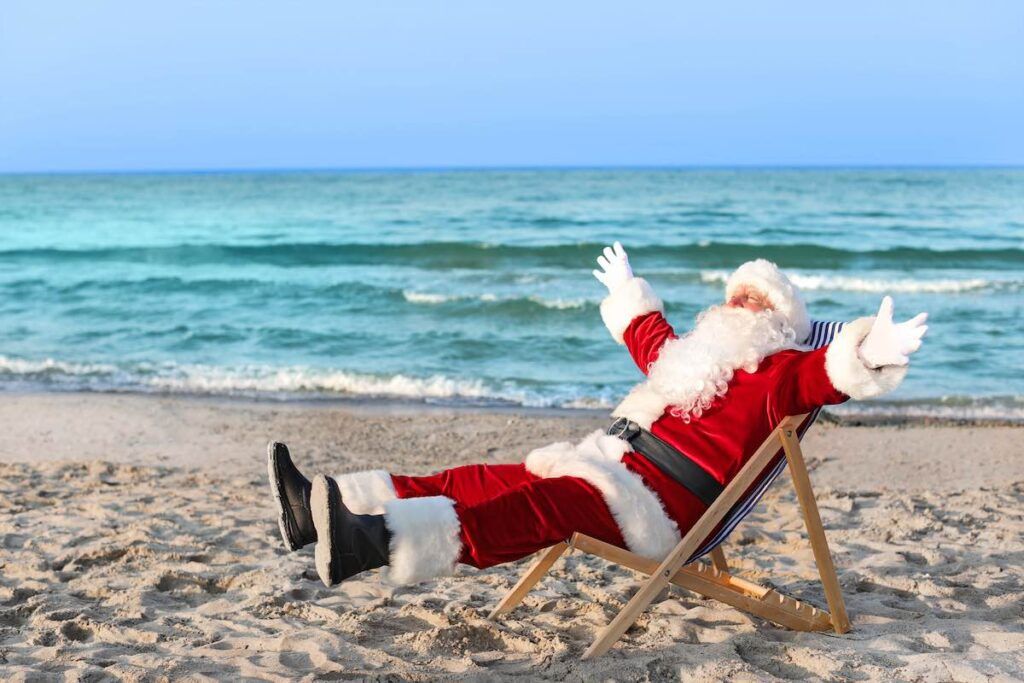 Christmas in Hawaii is a harmonious blend of traditional festivities and island customs. Think Santa arriving on a canoe or Christmas trees adorned with seashells!
As the month draws to a close, the New Year's Eve celebrations kick into high gear.
Spectacular firework displays light up the night sky, luaus come alive with dancing and music, and the Aloha spirit ushers in a new year with hope, warmth, and joy.
Save Money with Points
Here are the best credit card offers for people who travel and want to use points to pay for airfare and hotels in Hawaii.
Handy Hawaii Travel Tips: Be Ready for Paradise
Book Early
Hawaii is a dream destination for many! To ensure you get the best deals and choices, book your flights and places to stay well in advance. You'll save some cash and skip the last-minute stress.
Island Hopping
Why stick to just one island when Hawaii has so many treasures? Consider hopping between islands to experience a mix of adventures, from fiery volcanoes to tranquil beaches. Each island has its own unique vibe.
Pack Smart
Hawaii's weather can change with the season. If you're visiting Hawaii in the summer, pack light clothes, swimsuits, and sunscreen. For winter, throw in a light jacket for cooler nights.
Always keep a rain poncho or umbrella handy—sudden showers can surprise you!
Best Time to Travel to Hawaii FAQs
What is the cheapest month to go to Hawaii?
The cheapest months to visit Hawaii are typically during the off-season: mid-April to early June and September to mid-December. And Oahu is usually the cheapest Hawaiian island to visit.
However, it's essential to consider factors like airfare sales, special hotel promotions, and other factors that could affect prices. Always keep an eye out for deals, as they can pop up anytime!
What is the rainy season in Hawaii?
Hawaii's rainy season typically runs from November through March, although the Hawaiian islands can experience rain at any time of the year.
What is the best island to visit in Hawaii for the first time?
Oahu is often recommended for first-time visitors. It offers a mix of natural beauty, beaches, and historical sites. Honolulu, the state capital, is on Oahu and provides a blend of urban and island experiences, including Waikiki Beach, Pearl Harbor, and the North Shore.
When is the peak tourist season in Hawaii?
The peak tourist seasons in Hawaii are during the winter holidays (mid-December to early January) and summer (June to August), when families vacation while school is out.
What month is off-season in Hawaii?
The off-season in Hawaii, when tourism tends to be lower and you might find better deals, is generally from mid-April to early June and from September to mid-December.
When is the best time for whale watching in Hawaii?
The prime time for whale watching is from December to April when humpback whales migrate to Hawaii's warm waters.
Are flights and accommodations cheaper during certain months?
Yes, the shoulder seasons, which are the periods between peak and off-peak seasons (typically April to early June and September to mid-December), often offer better deals on flights and accommodations.
When are the biggest cultural festivals in Hawaii?
Festivals like the Merrie Monarch Festival take place in April, while the Aloha Festivals are celebrated in September.
Is it a good idea to island-hop, and when's the best time?
Island hopping lets you experience the unique character of each island. The best time depends on your preferences, but the shoulder seasons offer a good balance of weather and affordability.
How should I pack for Hawaii?
Always pack beach essentials. For summer, light clothing suffices. If you're visiting in the cooler months or planning to explore higher elevations, bring some warm layers. Don't forget rain gear, as showers can be spontaneous.
When is hurricane season in Hawaii?
While hurricanes are rare, Hawaii's hurricane season is from June to November. It's always a good idea to check forecasts and have travel insurance.
Book a Hawaii Photo Shoot
Whenever we travel to Hawaii, we almost always book a photo shoot with Flytographer. They are super easy, affordable, AND it guarantees that I'll have more than just selfies. You can get $25 off if you book through this link or use the code HAWAIITRAVEL.
Best Time of Year to Travel to Hawaii Wrap Up
So, when's the best time to visit Hawaii? Well, every month has something cool to offer! If you love sun and beach fun, summer's perfect.
If festivals are your thing, spring and fall have some great events. And if you enjoy watching whales and cooler days, winter's your season.
Remember, Hawaii is special all year long. It's always filled with the friendly "Aloha" feeling. It's a good idea to think ahead about what you want to do and see. That way, you can pick the best month for your trip.
No matter when you choose to visit, get ready for awesome adventures, from rainy days to sunny beaches. Hawaii is always ready to make your trip special, any time of the year.
So, when are you packing your bags?
Looking for more Hawaii travel resources? Check out my top planning tips for Oahu, Maui, Kauai, and the Big Island!