Looking to escape the cold winter and celebrate Valentine's Day in Hawaii? Read on for the best events and activities that will knock your socks off!
This post about celebrating Valentine's Day in Hawaii contains affiliate links, which means if you purchase something from one of them, I may earn a small commission that goes back into maintaining this blog.
Setting your heart on a romantic getaway for Valentine's? Look no further than the island of your dreams—or practically anyone's dreams for that matter!
A tropical paradise for lovebirds, Hawaii is the prime destination for the date of a lifetime.
We've listed ways how to best spend Valentine's Day in Hawaii based on our personal experience. From hotspots to hidden gems and thrilling events and activities, we got you, cuz!
Want to skip all the planning and just access my detailed Hawaii itineraries complete with daily schedules, fun activities, and travel hacks? Click the button below.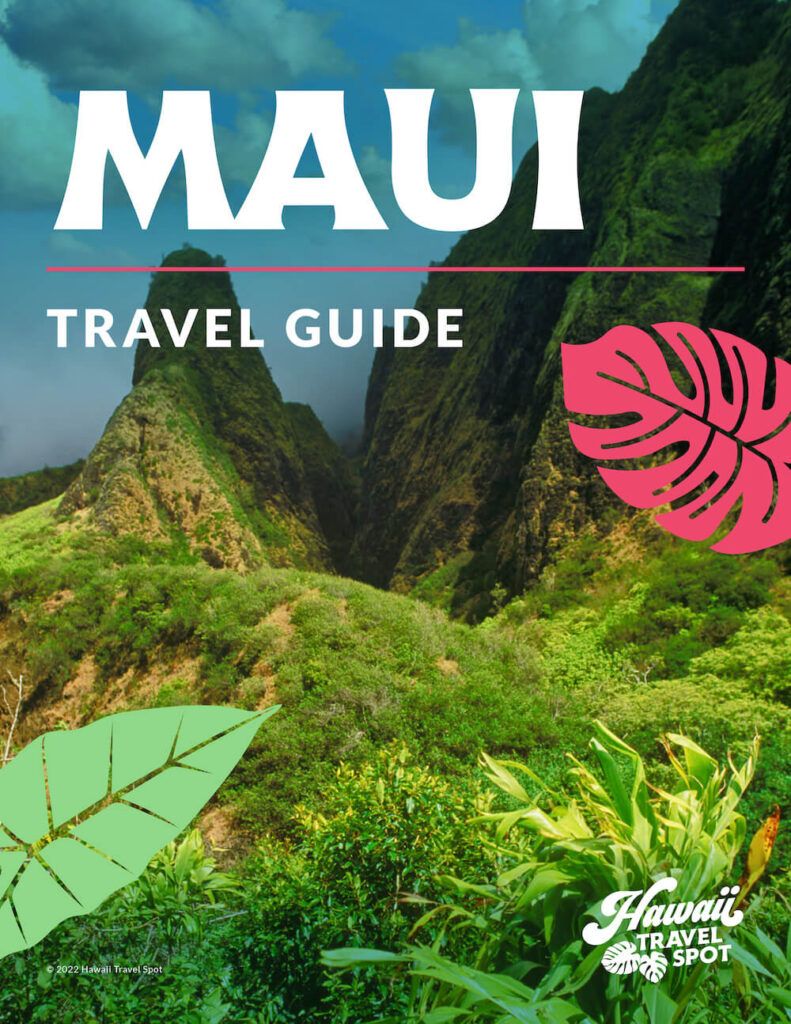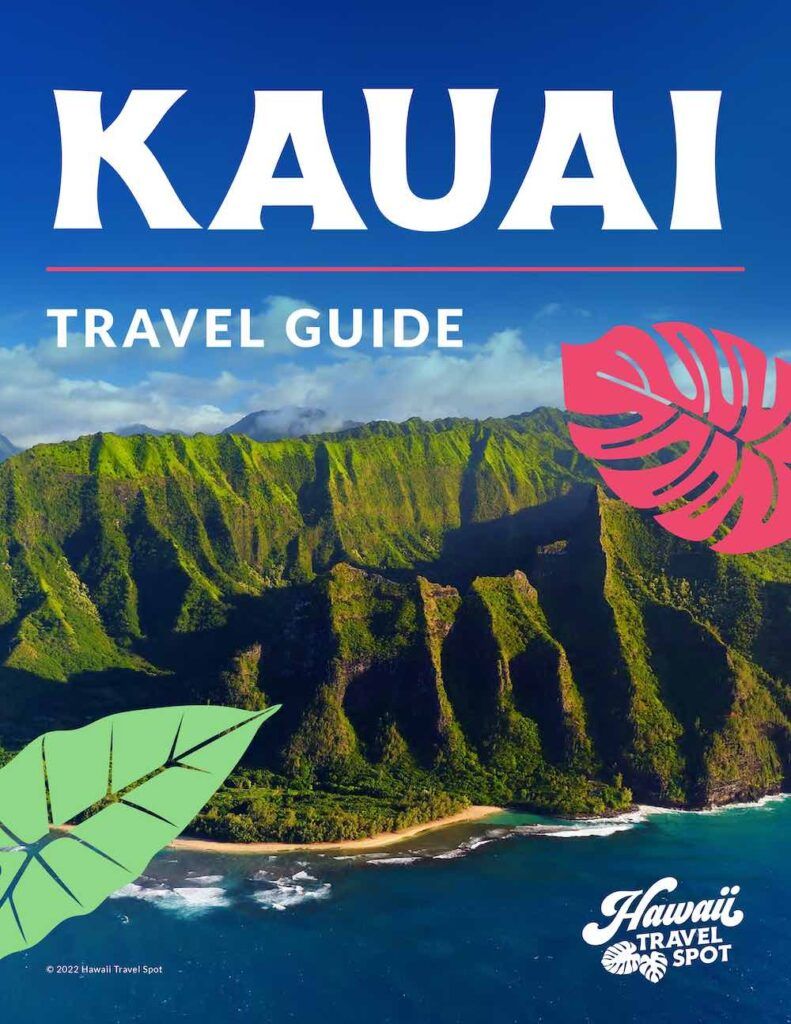 Quick Guide for Hawaii Valentine's Day
Here are our top picks from the best Valentine's Day activities in Oahu, Maui, Kauai, or Kona (The Big Island). Get reading, get going, and get intimate! Be excited and discover the most magical moments you can have in the state.
Sunset Cruises
When you think of Hawaii, there's nothing more romantic than the sea under a scarlet sky. Climb aboard the famously elegant Star of Honolulu or the casually iconic Manu Kai Catamaran in Oahu!
Feel the cool breeze on your skin as you cruise the waters while dining on delectable dishes and refreshing cocktails.
You might find that cruises in Oahu are the most well-known, but there are plenty of great options on the other islands too!
Festive Luaus
Embrace the local lifestyle with a Hawaiian feast featuring live traditional music, fire dancing, and a scrumptious buffet. The oceanfront Maui Nui Luau at the Sheraton Maui Resort & Spa in Kaanapali is one of the best on the island.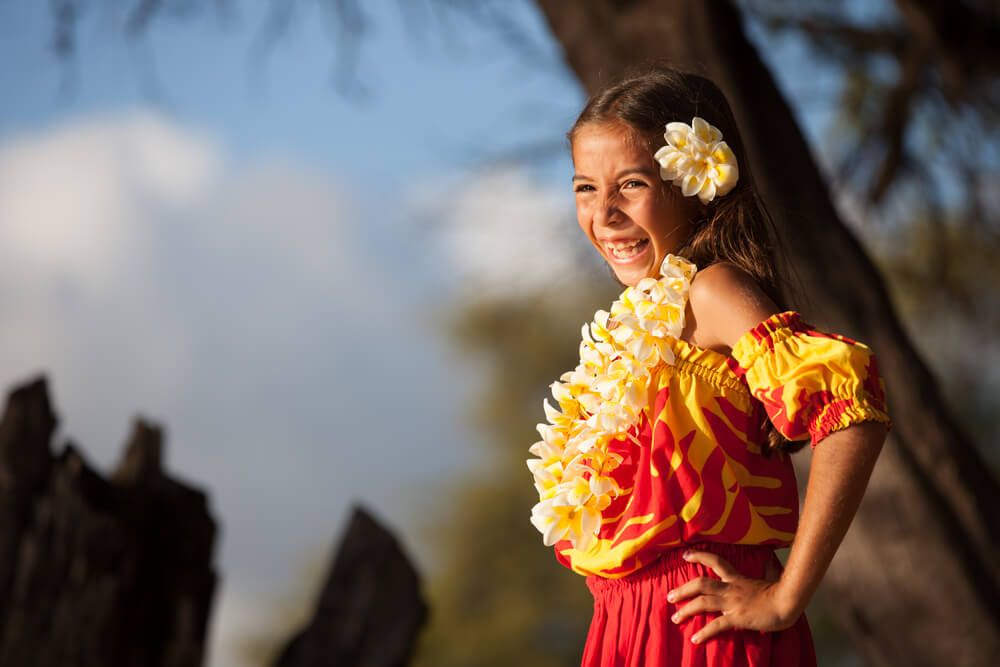 As for Kauai, the Luau Kalamaku with its open bar and buffet dinner is yet another marvelous night to remember!
There's no shortage of luaus across the islands, and most of them are hosted by popular hotels and resorts. This is the most convenient, hassle-free activity if you just want to relax and minimize travel time.
Tropical Adventures
If you and your partner are the adventurous types, there's a lot more to Hawaii than sparkling waters and banging beaches!
Embark on an air tour of the magnificent garden island that is Kauai—flying over waterfalls and breathtaking attractions. Ziplines, raft adventures, and hikes are a few exhilarating alternatives for adrenaline junkies as well!
We recommend Kauai if you're going on an air tour because it's simply the prettiest, most captivating island with its verdant jungles and lovely coastlines. Nevertheless, every island has a unique charm of its own!
Aquatic Tours
Of course, romance isn't limited to blazing sunsets and exquisite dinners!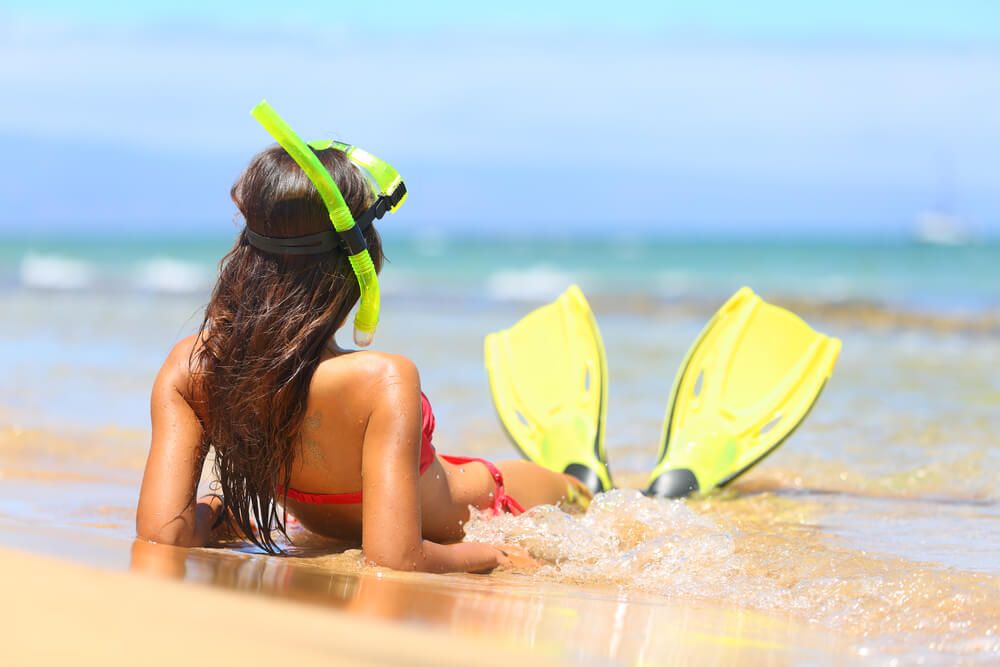 Underwater enthusiasts can share their love through a Manta Ray Night Snorkel in Kona, an experience where magic and curiosity intertwine. Relish the sunset as you make your way to a world-famous Manta Ray Village for the moonlit exploration of a lifetime!
If you don't want to get your hair wet, try out the Atlantis Submarine Tour in Kona or the Oahu Submarine Scooter Adventure which are both exciting expeditions even for non-swimmers!
Best Places & Activities for Valentine's in Hawaii
We've selected our favorite endeavors and made a list fitting for any kind of couple! Whether your definition of quality time is thrilling adventures, exotic flavors, or just rest and relaxation, we're sure that you'll find something you like below.
Oahu, Maui, Kauai, and The Big Island are the most prominent Hawaiian islands among many, so we've outlined our favorites in each destination!
Valentine's Day in Oahu, Hawaii
Oahu Valentine's Day ideas? We've got you covered! Home to the state capital Honolulu and the popular Waikiki beach, Oahu is bustling with activities and is considered the center of tourism in Hawaii.
This diverse city is the largest in the state and is also known as The Gathering Place, a name quite fitting for its lively environment and robust nightlife.
Star Cruises & Catamaran
The Star of Honolulu is indisputably the most recognized cruise ship in Oahu. Spacious and luxurious, you will have some of the most intimate moments and photographs with the setting sun as your backdrop.
Packages are available depending on whether you'd like a relaxed evening or a more premium experience! Check the latest rates and availability.
For a more casual and exuberant setting, the Manu Kai Catamaran is the perfect alternative. It's smaller and less intimate, but the views of the horizon are just as magnificent.
Plus, free-flowing drinks are provided on this merry booze cruise! Check the latest rates and availability.
Celebrations in Waikiki
Valentine's Day in Honolulu isn't complete without a stay or visit to Waikiki! Here, you'll find the most enjoyable luaus hosted with years of experience.
At the Waikiki Luau Buffet, guests are welcomed with Mai Tai before an evening of mouth-watering dishes and cocktails with hula shows!
A ticket to the timeless Rock-A-Hula Show with fire knife dancing may also be enjoyed. Check the latest rates and availability.
The Paradise Cove Luau offers a more flexible selection that you can customize to your liking. Pick from three packages including dinner and souvenirs.
Savor the freshest seafood while being entertained by musicians, dancers, and fire twirlers! Check the latest rates and availability.
Book a Hawaii Photo Shoot
Whenever we travel to Hawaii, we almost always book a photo shoot with Flytographer. They are super easy, affordable, AND it guarantees that I'll have more than just selfies. You can get $25 off if you book through this link or use the code HAWAIITRAVEL.
The Longest Zipline
Looking for that Valentine's bloodrush? Ziplines as long as 2,400 feet might just do the trick!
The gorgeous scenery is a marvel of its own, but if enjoying the view isn't enough for you, might as well add some thrill to the activity, right? North Shore's three-hour zipline tour also includes an ATV adventure to the top. Check the latest rates and availability.
ATV Adventure
For some great pictures in nature and a relaxing excursion of Hollywood's blockbuster film locations, the Jurassic Valley ATV Raptor Adventure Tour at Kualoa Ranch is your best bet!
Drive at your own pace with a knowledgeable and entertaining tour guide. Check the latest rates and availability.
Swim with the Sharks
Okay, we've got to admit that this is one heck of a date! For this with a different idea of the ideal getaway, this perfectly safe activity is a Shark Cage Dive on the North Shore.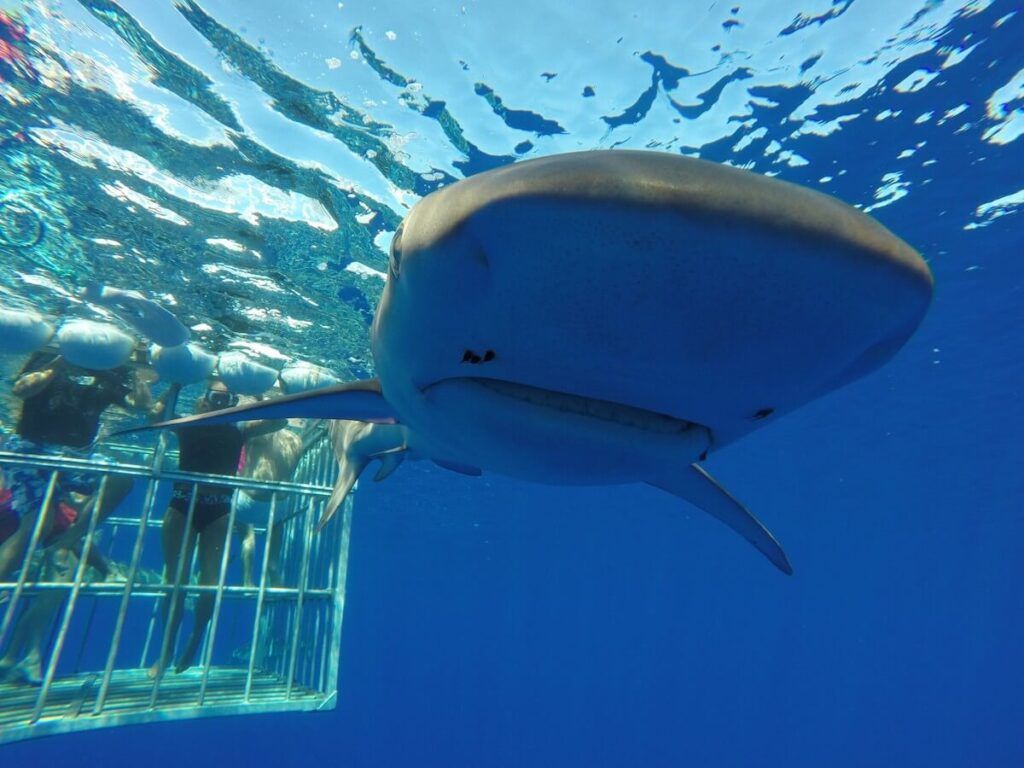 You can see the sharks up close from the safety of the sturdy metal fixture, and a certified guide will be with you all throughout. Trust us—it's a rather unique experience that's very much worth it! Check the latest rates and availability.
Valentine's Day in Maui, Hawaii
The Valley Isle known as Maui is the second-largest island in Hawaii, yet it has a more relaxed atmosphere away from the city life and crowds in Oahu.
While it is known for its lavishness and alluring seascapes and sceneries, the activities certainly cater to a wider audience!
Sunset Dinner & Dance Cruise
Take a cruise from Lahaina Harbor and be greeted by the blazing sunset. This sunset dinner and dance cruise is truly a prime, movie-like endeavor complete with live music, starlight, and an exquisite three-course meal.
Free cocktails for two are provided, and an open bar is available as well. If you're lucky, whale-watching may be possible too! Check the latest rates and availability.
Luaus at Resorts
The Sheraton Maui Resort & Spa hosts the Maui Nui Luau with an appetizing self-service buffet on the oceanfront. You'll feel right at home as you're welcomed intimately with a traditional lei greeting.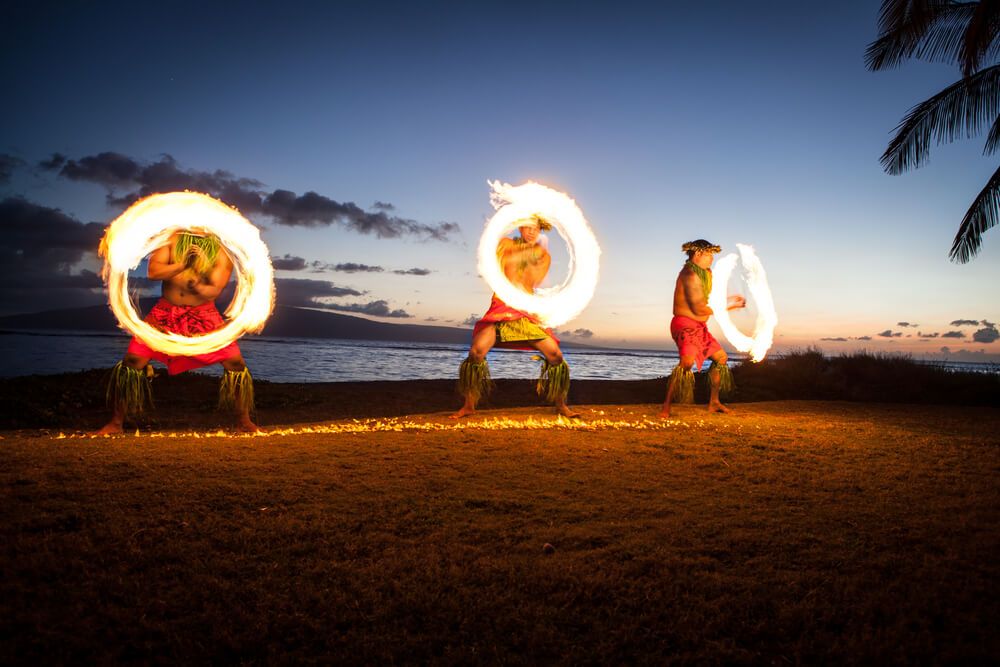 Polynesian dance shows and a striking sunset await you and your partner at this sumptuous venue! Check the latest rates and availability.
The Te Au Moana Luau at The Wailea Beach Marriott Resort is another option on the higher end. As you feast on an amazing selection of local food and drinks, a dazzling fire knife show and a portrayal of Polynesian ancestry is told through dance. Check the latest rates and availability.
Bike Rides & Stargazing
The resplendent sunrise is just as beautiful as any sunset on this paradisiacal island. The Haleakala Bike Tour first takes you to the peak of a dormant volcano by vehicle.
From this phenomenal vantage point, witness the magnificence of the heavens, and then ride a bike downhill at your own pace with a tour guide. Check the latest rates and availability.
In the evening, the Stargazing Tour & Haleakala National Park Sunset Experience is another majestic sight. You'll be assisted by an expert guide as you get the perfect view of the moon and the galaxies with a provided GPS telescope.
Indeed, an unexpected astronomy lesson in Hawaii can be romantic in its own way! Check the latest rates and availability.
Watch Whales & Turtles
For some couples, family-friendly aquatic activities are their idea of an awesome date! Whale-watching in Lahaina is a seaside spectacle where you can witness the grandest humpback whales with firsthand narration from the captain and crew. Check the latest rates and availability.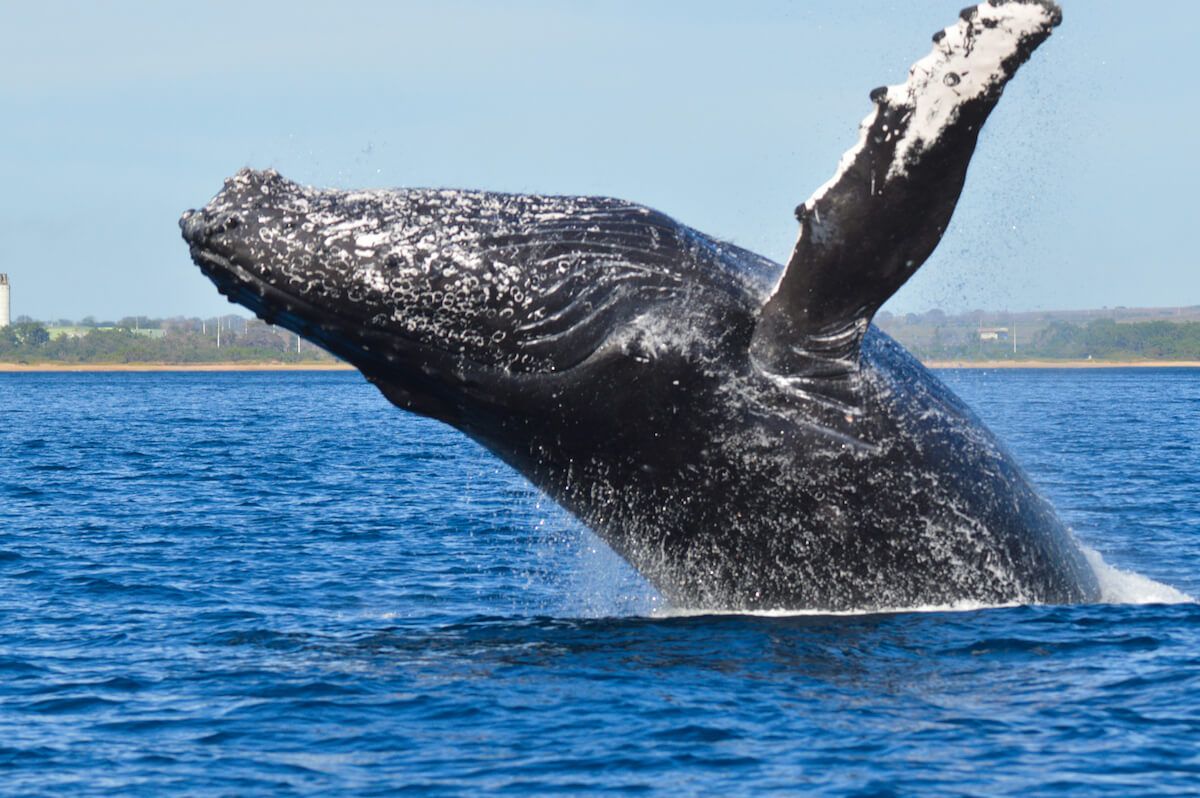 If you're both more enthusiastic about snorkeling and swimming, you can't miss the Turtle Town Adventure aboard Malolo. You'll explore a sunken volcano while searching for sea turtles and fish at the Coral Gardens—a crystal-clear quest you won't ever forget. Check the latest rates and availability.
Lastly, a Glass Bottom Boat Tour is your go-to if you want to watch the sea creatures without having to splash around! Check the latest rates and availability.
Valentine's Day in Kauai, Hawaii
Lush rainforests, cascading waterfalls, and pristine waters—the Garden Isle known as Kauai is an emerald gem that has captivated nature-lovers and seclusion-seekers everywhere. If you desire peace and quiet, this island is a sensational escape from all your woes!
Na Pali Sunset Tour
Climb aboard a luxury catamaran and take a tour of the breathtaking Na Pali coast at sunset! You can enjoy dinner and drinks while having quality time with your loved one on calm, clear waters.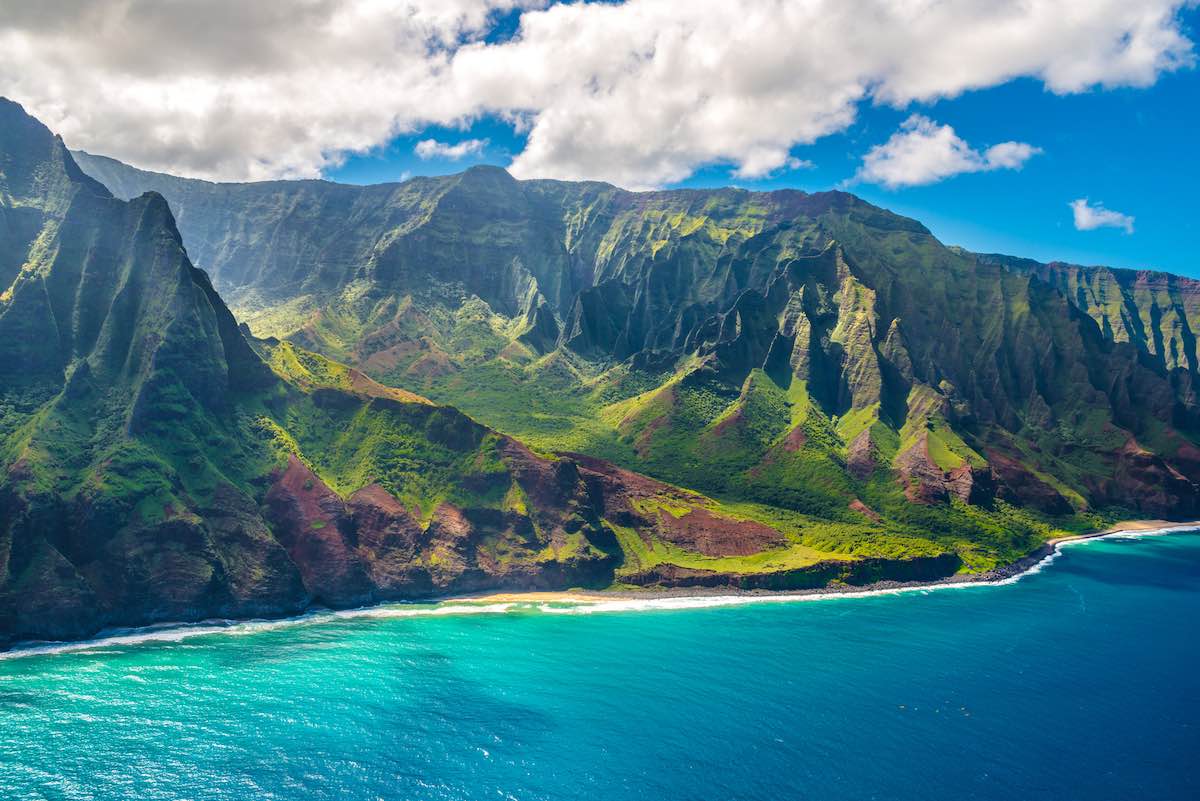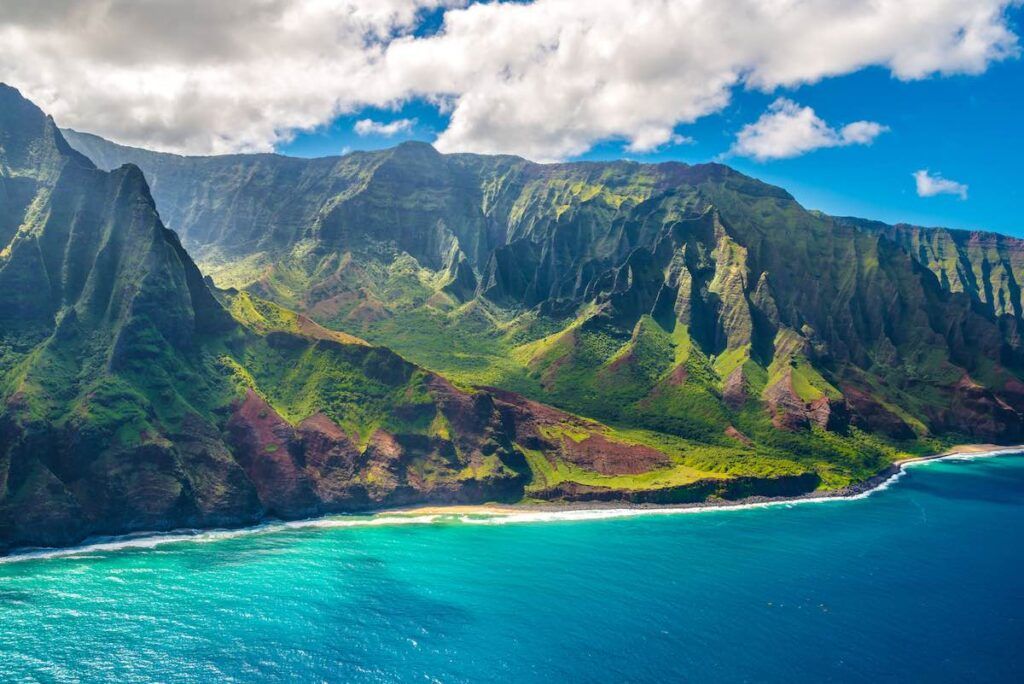 Guests can also learn a bit about local history from the hospitable crew given their valuable years of experience. Check the latest rates and availability.
Luau Kalamaku
Hawaii is spectacularly different when you're immersed in its rich culture and tradition. Luau Kalamaku interweaves culture and entertainment with the best local delicacies, hula dancers, and fire twirlers.
For a momentous evening that's sure to set the mood for romance, this open bar and buffet dinner is a great start! Check the latest rates and availability.
Aerial Escapades
What's enchanting about Kauai is that there are many hidden areas discoverable from up above!
A sightseeing flight over the Napali Coast & Waimea Canyon unravels the diverse landscape of the island—from vibrant forests to scarlet-red cliffs. Check the latest rates and availability.
A more upscale alternative is the ECO Adventure Helicopter Tour. Business class-style seats, wide windows, and wheelchair accessibility are provided. In our experience, an air tour is worth every second as you can simply gaze at the surreal island all day! Check the latest rates and availability.
Sightseeing and thrill-seeking combine in the Koloa Zipline, an eight-track course where you behold the most stunning views as you fly through the forest. Taking in the glorious surroundings while hanging from a zipline will literally leave you breathless! Check the latest rates and availability.
Tubing, Rafting, & Kayaking
For a laid-back aquatic endeavor, the Mountain Tubing Tour promises the best lazy river experience you can get! Soak in the fun as you peacefully drift across the waters and enjoy your splendid surroundings. Check the latest rates and availability.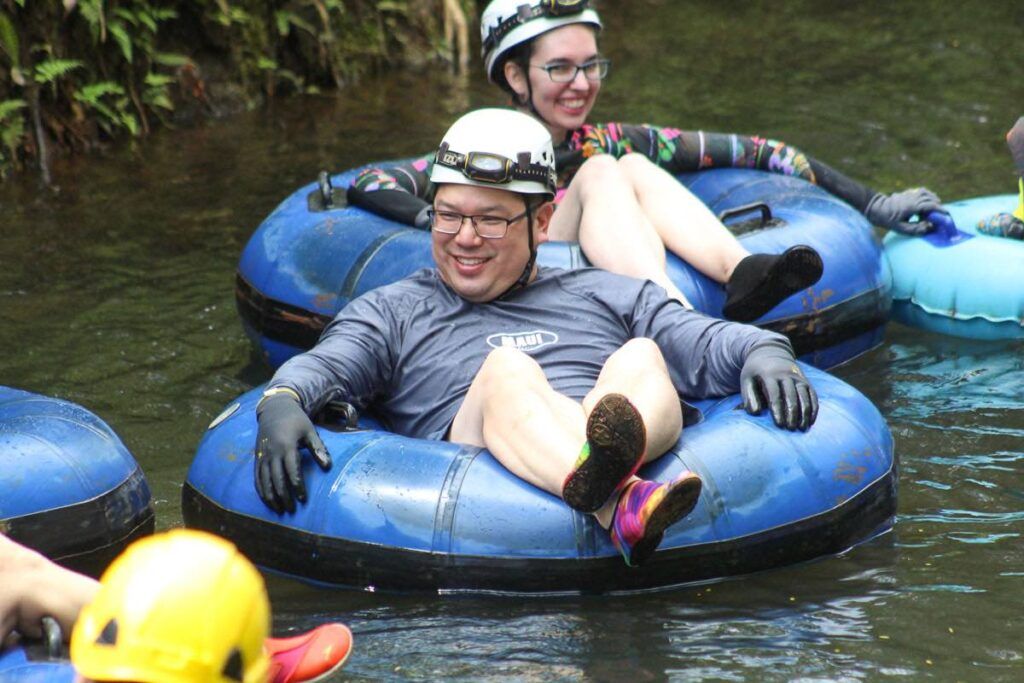 Traveling by motorized raft through the Na Pali Coast is a wet, wild, and bumpy adventure that more active couples can enjoy! Snorkel equipment will also be provided as you pass through sea caves, reefs, and waterfalls. Check the latest rates and availability.
Lastly, the Wailua River and Secret Falls Kayak and Hiking Tour provides a paddling lesson for your journey to the secret Uluwehi Falls—the perfect place to cool off before making your way back. Check the latest rates and availability.
Valentine's Day in Kona (The Big Island), Hawaii
Kona is the iconic district in the Big Island, which is the largest and most diverse of them all in terms of landscape and natural environment.
The area is rich with history, teeming with exciting tours and activities that will fit just right in your Valentine's Day itinerary!
Historical Dinner Cruise
Love and history mix well on a Dinner Cruise to Kealakekua Bay. What sets this cruise apart from the ones in other islands is the emphasis on the cultural past. We're not complaining, though, because they even have a local historian onboard!
Live entertainment, a complimentary cocktail, and flavorful dishes make this a pretty well-rounded experience. Check the latest rates and availability.
Voyagers of the Pacific Luau
At the Royal Kona Resort, the Voyagers of the Pacific Luau offers a traditional imu ceremony (with roasted pig), fire and hula dancing, mai tais, and a complimentary dinner.
The food is notably delicious, and the festivity is a good way to personally understand the culture and tradition behind it! Check the latest rates and availability.
Sightseeing & Surfing
Learning can be one of the ideal aphrodisiacs for a lot of lovebirds out there! Since the Big Island is such a diverse destination, a day-long tour is best to get acquainted with the brilliance of this cultural gem.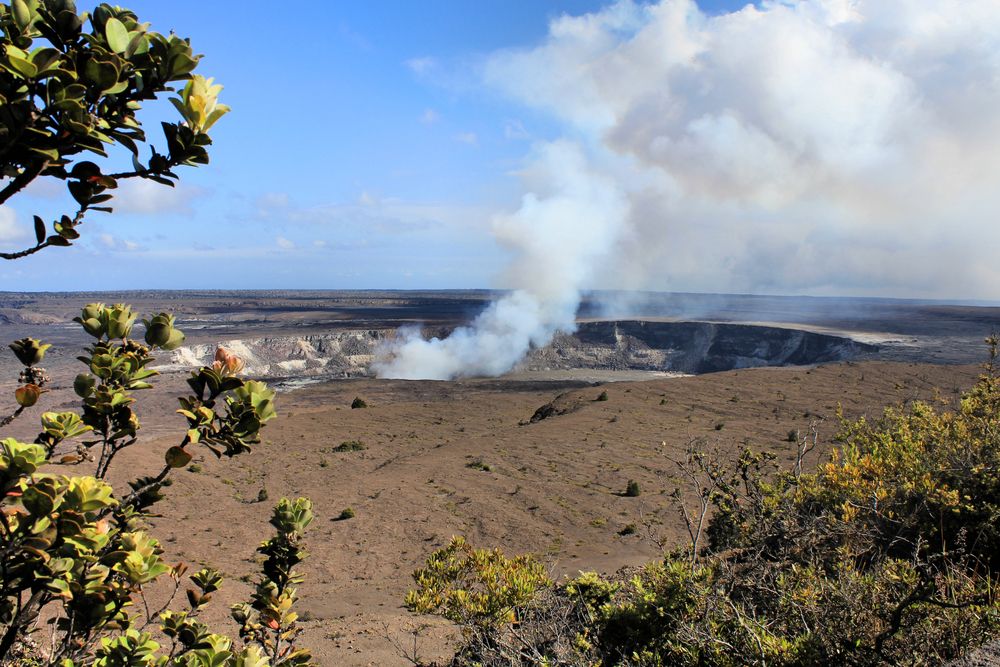 A twelve-hour tour might seem too much, but trust us, we were surprised by how enjoyable it was as well! Check the latest rates and availability.
On the other hand, if you're both new to surfing, a Group Surf Lesson can be loads of fun. A small group and a professional instructor on Kahaluu Bay is the perfect venue for surfing beginners! Check the latest rates and availability.
Evening Swim with Manta Rays
Moonlight and Manta Rays? You're unlikely to find it anywhere else other than a Manta Ray Night Snorkel in Kona! The crew is very accommodating and the activity is a fantastic way to encounter nature up close and personal.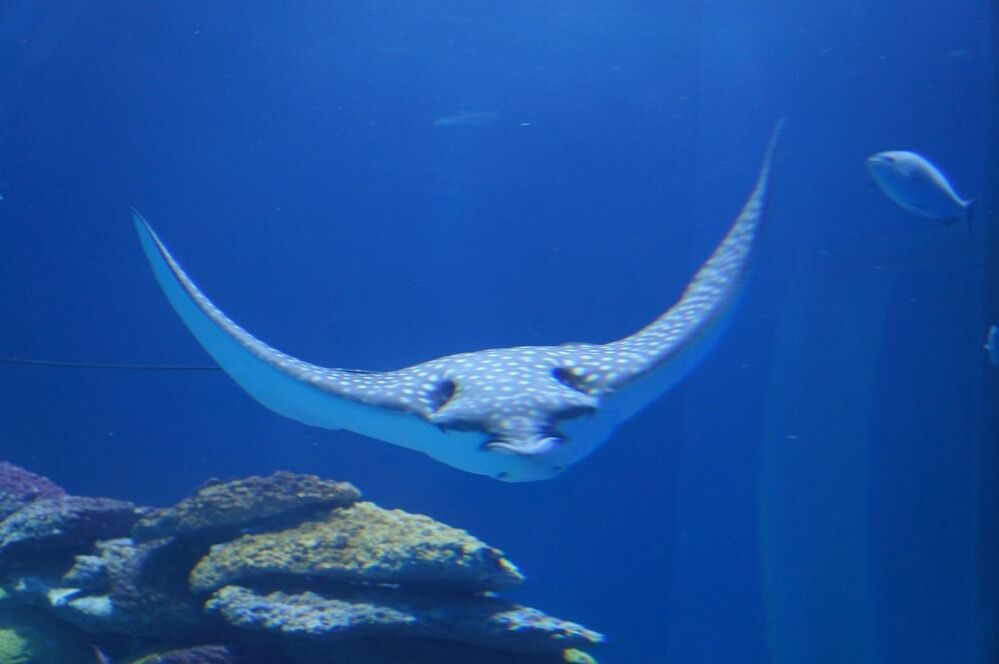 The Travel Channel actually praised it as one of the ten things to do in your lifetime. Check the latest rates and availability.
Deep Sea Adventures
If you and your partner share a common interest in marine life, then dive deeper than ever before on the Atlantis Submarine in Kona! Vivid sea creatures, clear waters, an excellent tour guide all make this one-of-a-kind exploration worthwhile.
Hopefully, you might even see a shark passing by for even more fascination! Check the latest rates and availability.
Hawaiian Valentine's FAQs
Indeed, everyone wants to have their Valentine's date be a smashing success! That's why you might be overthinking or have a few questions on your mind. Hopefully, though, we can help you clear a few things up.
Which is the most romantic island in Hawaii?
To be honest, we have a hard time choosing between Maui or Kauai! Both are undoubtedly divine, but the distinction between them may lie in variety and tranquility. Maui may have a greater variety of adventures and activities to offer, but Kauai's seclusion gives it a more peaceful and refreshing ambiance. Nevertheless, any island (including Oahu and The Big Island) can be more or less ideal based on you and your partner's preferences. What's romantic for you and me can be very different!
When should I book reservations?
As soon as you know what you exactly want to do. Since we're talking about one of the most commonly shared dream destinations for lovers, families, and friends, you can be sure others will do their best to book in advance too (even a couple of months before). Not to mention, it's Valentine's Day! To avoid the hassle of finding vacant slots, it's best to make reservations for everything once you can.
Are there alternatives for wheelchair users?
Yes, there are plenty of wheelchair-accessible activities including luaus, cruises, and even helicopter tours! Just be sure to check out whether the activity indicates it (usually it's specifically tagged as either wheelchair-accessible or not). If there is no indication, it's best to inquire first before making the reservation.
Hawaii Valentine's Day Wrap Up
Hawaii is a destination anyone can easily fall in love with, making it a blissful haven for couples, partners, and spouses everywhere.
Hopefully, you'll find whatever you need in this article to make your Valentine's as close to perfect as possible. As long as you have your loved one's happiness in mind, we're sure you can't go wrong with doing your very best. Mahalo, readers, and get to booking as soon as you can!
Looking for more Hawaii Valentine's Day ideas? Check out the most romantic things to do on Oahu, Maui, Kauai, and the Big Island!