Are you visiting Hawaii in November and want to know all the Hawaii Thanksgiving activities and events? Keep scrolling to find out how to spend Thanksgiving in Hawaii for a memorable Hawaiian vacation.
This post about what to do in November in Hawaii at Thanksgiving time contains affiliate links which means if you purchase something from one of my affiliate links, I may earn a small commission that goes back into maintaining this blog.
Planning a Thanksgiving trip to Hawaii?
You picked a great time! November is the perfect time to visit Hawaii! The weather is pleasant, and you can enjoy outdoor activities every day.
Check out some of the best things to do during your stay in Hawaii – from snorkeling and hiking, to celebrating Thanksgiving with locals! You won't want to miss a minute of your vacation.
With crystal clear waters and amazing hikes, Hawaii is the perfect place to spend Thanksgiving. Not only will you get to enjoy the holiday spirit, but you'll also be able to take in some of the most beautiful scenery in the world.
If you're planning a trip to Hawaii during the holiday season in November and want to enjoy some Thanksgiving celebrations during your vacation, you're in luck!
Keep reading to learn about how to plan the perfect trip to Hawaii during the Thanksgiving season!
Want to skip all the planning and just access my detailed Hawaii itineraries complete with daily schedules, fun activities, and travel hacks? Click the button below.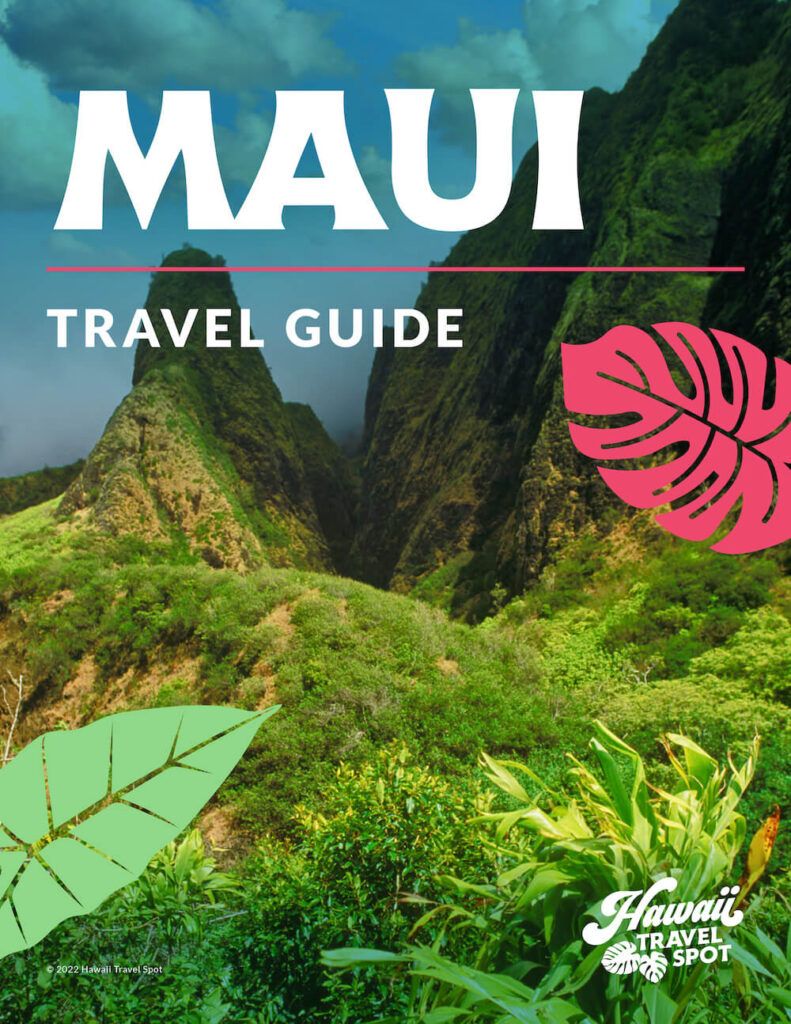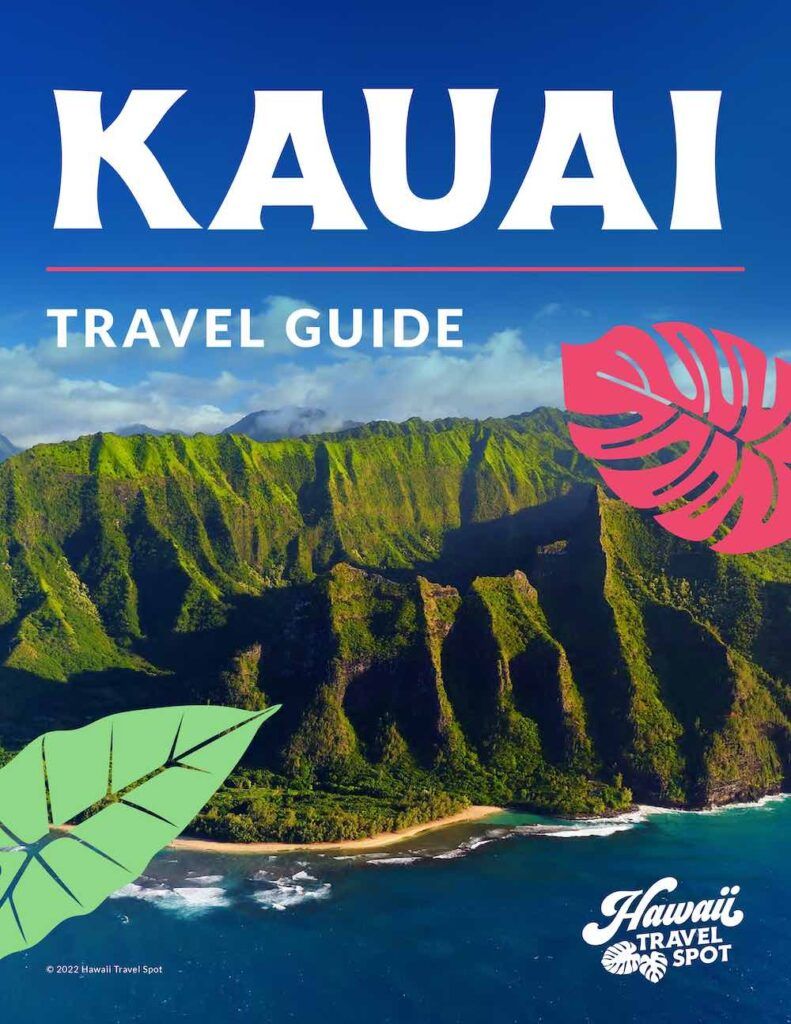 Does Hawaii Celebrate Thanksgiving?
In the modern day, yes! Thanksgiving is widely celebrated across Hawaii, similar to the Mainland. You'll be able to find delicious food and parades, but sadly no football games.
It is noteworthy that the celebration of Thanksgiving in Hawaii is a recent development, as Native Hawaiians were not connected to Thanksgiving's historical origin relating to pilgrims and Native American.
Instead, in the past, Native Hawaiians had a celebration called Makahiki with somewhat similar themes and traditions. Makahikiki was the Hawaiian New Year Festival. Natives would exchange gifts, pause conflicts, and practice gratitude to honor Lono, the Hawaiian god of agriculture.
Now, while Makahiki is still in practice on the islands, islanders often celebrate Thanksgiving with immense feasts similar to those on the mainland due to increased Western influence that began roughly a century ago.
Another important aspect of Thanksgiving celebrations in Hawaii is that they do not emphasize the arrival of Pilgrims as an aspect of the celebration. Instead, they focus largely on the spirit of thankfulness.
While you're in Hawaii, be sure to observe any unique culture and traditions of the mainlanders who celebrate Thanksgiving!
How do Hawaii Locals and Residents Celebrate Thanksgiving?
When Americans think of celebrating Thanksgiving, they often think of huge family gatherings and a feast filled with foods: mashed potatoes, gravy, and of course, a whole roasted turkey with cranberry sauce.
Hawaiian Thanksgiving celebrations are similar – but, unsurprisingly, incorporate many aspects from traditional Hawaiian culture that makes the holiday celebrations arguably even more special!
When Native Hawaiians think of feasts, instead of turkey and mashed potatoes, they think of a traditional luau. Even without festivities or holidays, luaus are considered traditional Hawaiian feasts meant to bring families together.
Thanksgiving dinner in Hawaii therefore often incorporates Hawaiian luau aspects alongside mainland Thanksgiving dishes.
While you may feel hesitant at the change to the age-old Thanksgiving menu, I can guarantee that you'll enjoy the food. I'd definitely recommend trying the kalua pig, which is often served as a main course, covered in taro leaves and slow-roasted in an imu (underground oven).
Of course, there are many other delicious Hawaiian thanksgiving dishes as well, such as turkey roasted in an imu, poke and poke bowls, deliciously seasoned rice, and many poi – a traditional Polynesian staple food made by mashing cooked starch against a wooden board with a pestle.
Book a Hawaii Photo Shoot
Whenever we travel to Hawaii, we almost always book a photo shoot with Flytographer. They are super easy, affordable, AND it guarantees that I'll have more than just selfies. You can get $25 off if you book through this link or use the code HAWAIITRAVEL.
Is November A Good Month To Visit Hawaii?
Although it depends on your personal preferences, I'd argue that overall, November is an amazing time to be visiting Hawaii!
November is the perfect time to be visiting Hawaii if you're a budget-minded tourist. Because it's one of the least popular time periods to be visiting the islands, resorts, airplane tickets, and vacation rentals cost much less than they would during other times.
Another benefit to visiting during November is that because of the popularity mentioned above, no matter which island you stay at or what attractions you visit, there will generally be much less tourist activity, which makes activities more enjoyable and easier to access.
One of the only negatives to visiting Hawaii during November is that November is part of Hawaii's winter rainy season. While the weather will still be pleasant, sunny, and warm enough during the daytime to continue swimming or snorkeling, you'll experience more rain and chillier nights.
What's the Weather Like in November in Hawaii?
Hawaii is widely known for its wonderful weather: warm sunny weather, clear blue skies, and no gray clouds. It maintains this paradise-like environment during the winter, which makes it a welcome contrast to the dreary gray cold of mainland November weather.
Hawaii's weather in November is tropical and warm. Similar to December and October, temperatures remain in the mid 80s during the daytime but sink to the low 60s during the nighttime.
While packing for your trip to Hawaii, remember the chillier nights, frequent rainstorms, and windier weather mentioned above. I'd definitely recommend bringing some warmer clothing, such as jeans and sweaters, especially if you're planning on extensive outdoor activities.
The promise of slightly rainier and colder weather may put you off, but I assure you that with a light raincoat and a close eye on the rain, you will definitely still have a stress-free, amazing time during your vacation!
Is Hawaii Crowded in November For Thanksgiving?
To the surprise of many tourists, November is one of the least crowded months for Hawaii tourism! If you give a lot of weight to the possibility of crowds when planning vacations, I'd definitely go to Hawaii during November to make your life easier.
November is one of the least crowded months for many reasons. Most children are at school for the vast majority of the month, and time periods like spring break, summer break, and winter break are generally more popular times to visit.
Families also generally prefer to stay home during the short Thanksgiving break, as schools commonly only give kids a few days of break.
If you were hoping to enjoy tourist attractions and spend time with nature without the hassle of dealing with other tourists and large crowds, November is one of the best months to do so!
Does it Cost More to Visit Hawaii in November During Thanksgiving Week?
Although it depends on what week in November you travel to Hawaii in, you will generally find that traveling to Hawaii will cost less during the month of November. This is because there are less tourists, meaning plane tickets and vacation rentals will cost much less.
Do keep in mind that although Hawaii is not the most popular Thanksgiving destination, you will still experience an increase in costs during the week of Thanksgiving. However, it'll definitely cost less than during winter break or the springtime – so take the chance to travel now!
Thanksgiving Events To Look Forward To While In Hawaii
Waikiki Holiday Parade
A good holiday parade is one of the best ways to get into the holiday spirit! You'll be surrounded by tourists and locals alike who are immersed in the joy and positive energy of Thanksgiving. It's an amazing way to set the mood for a vacation!
The Waikiki Holiday Parade is a nighttime holiday parade that happens on the Friday of Thanksgiving week, also known as the anniversary of Pearl Harbor. It's dedicated to the veterans and lives lost from the historic attack on Pearl Harbor.
While you're at the holiday parade, you'll notice some differences between the Waikiki parade and your average Macy's Thanksgiving parade – you'll be able to witness many aspects of Hawaiian culture such as live Hawaiian music and skilled dancers.
Thanksgiving Luaus
While luaus are a historical Hawaiian tradition, they are perfect for a Thanksgiving celebration. Luaus are Hawaiian feasts dedicated to the celebration and joy, which perfectly fits the festivities of Thanksgiving!
Luaus are one of the best ways to enjoy Thanksgiving spirit and food while also learning about Hawaiian culture and tasting traditional Hawaiian cuisine! They're also one of the easiest events to access, no matter which island you're on.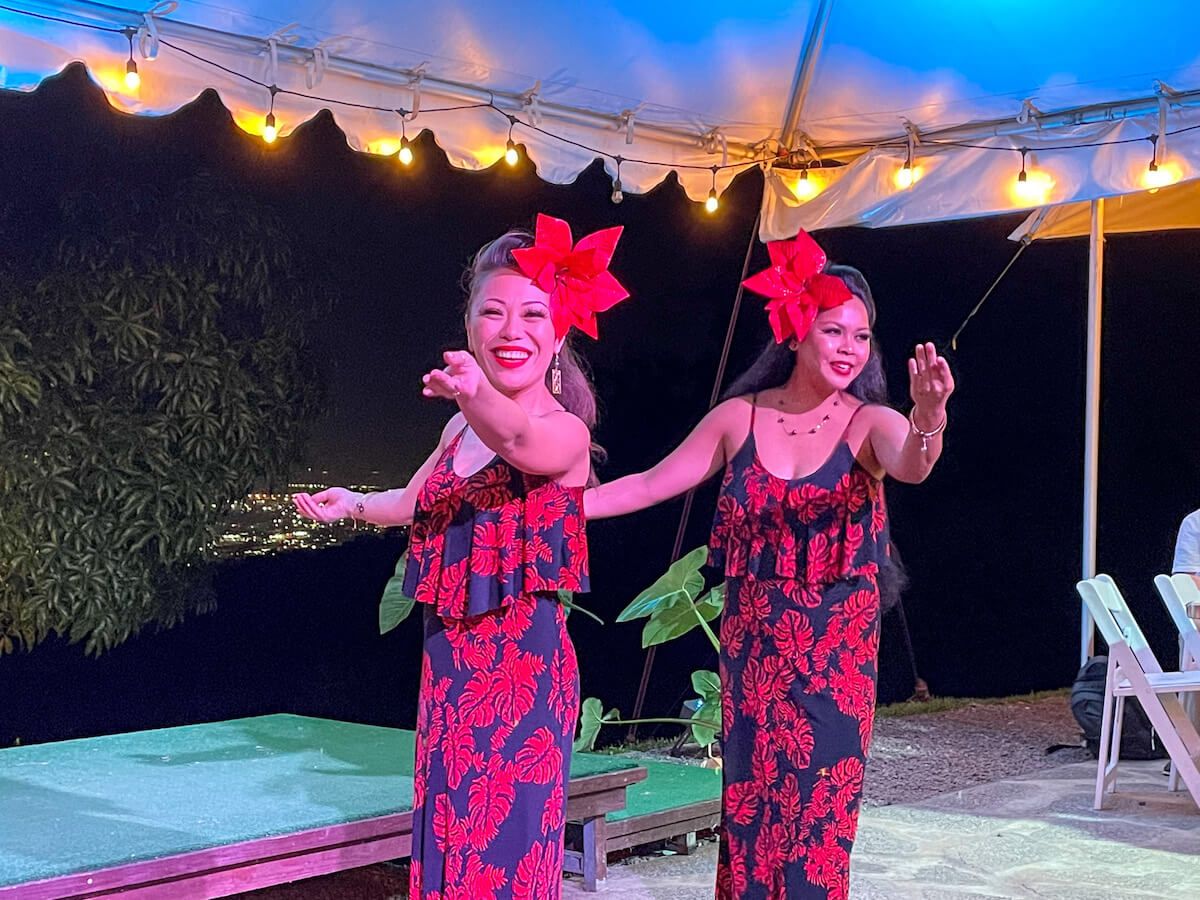 One of the best aspects of luaus is the live entertainment, where dancers and live musicians come together to create a beautiful show rooted in Hawaiian history!. Although they usually depict aspects of Hawaiian culture or history, that may change for a Thanksgiving luau.
If you ever come across a luau that offers a turkey cooked in an imu (underground oven), I'd immediately take that chance – I've never tasted better turkey!
Here are some of the best places to find Thanksgiving luaus.
Thanksgiving Luaus on Oahu:
Thanksgiving Luaus on Maui:
Thanksgiving Luaus on the Big Island:
I couldn't find any open for Thanksgiving 2022.
Thanksgiving Luaus on Kauai:
Best Places To Eat Thanksgiving Dinner In Hawaii
While traveling to Hawaii during November is fun, it can be difficult to find restaurants and attractions that are open during Thanksgiving Day, which is especially inconvenient for tourists. Here are some of the best places to eat Thanksgiving Dinner on Thanksgiving Day!
The Royal Hawaiian Resort on Oahu
While it is common for hotels to serve a full Thanksgiving dinner with traditional dishes such as turkey and mashed potatoes, the Royal Hawaiian Resort definitely has one of the most special Thanksgiving dinners possible!
While you're at the Royal Hawaiian Resort, you'll be able to enjoy a unique fusion of Thanksgiving food and traditional Hawaiian cuisine, allowing you to enjoy deliciously juicy turkey and seafood at the same table.
Complete with multiple courses, personal pampering, friendly servers, and a beautiful eating area, the Royal Hawaiian Resort is one of the best places to eat a delicious Thanksgiving dinner in Oahu!
Duke's Waikiki
Duke's Waikiki is well-known for their high quality of food and locally sourced ingredients. They stay open on Thanksgiving Day and offer their regular menu to visitors, so it's a perfect bet for a normal dinner with delicious Hawaiian cuisine.
However, if you're looking to enjoy a delicious traditional Thanksgiving feast, they also offer special options on Thanksgiving Day such as roasted turkey, cranberry sauce, fragrant gravy, and much more.
The Grand Wailea Resort on Maui
The Grand Wailea Resort holds a delicious Thanksgiving feast on Thanksgiving Day. They offer traditional Thanksgiving feast fare such as roasted turkey and cranberry sauce alongside vegetarian options!
The Grand Wailea Resort is definitely one of the most popular options on this list, so I'd book a reservation for the feast ahead of time, or at least between 2:00 pm and 9:00 pm on Thanksgiving Day to secure a spot.
Hilton Waikoloa Village on the Big Island
Although the Hilton Waikoloa Village's Thanksgiving dinner can seem a bit generic in the face of so many unique options, it's perfect for those just looking for a classic Thanksgiving feast! Read our full Hilton Waikoloa Village review HERE.
Meals to Go
Suppose you have a packed itinerary or simply want to enjoy a Thanksgiving dinner in the quiet and tranquility of your resort room. In that case, there are plenty of high-quality to-go options from restaurants for your Thanksgiving dinner.
Foodland, Duke's Waikiki, Deck, and Hula Grill all offer packaged, pre-cooked Thanksgiving dinners or convenient to-go packaging that makes it easy for you to enjoy a Thanksgiving dinner in the comfort of your residence.
Thanksgiving on Oahu Celebrations to Attend
Thanksgiving at Rock-A-Hula®
The Rock-a-Hula show in Waikiki is the best way to create a new and exciting Christmas tradition! With dazzling performances and a delicious buffet dinner, you'll be able to create some memories you'll never forget!
As you plan out your itinerary, be sure to consider their 4 distinct packages, all of which have different amenities and positives!
The most common are the original Waikiki Luau package and the VIP Waikiki Luau package, which offers a delicious buffet dinner, a fresh orchid lei, a seat for Waikiki's biggest live show, a post-show meet-n-greet, and much more!
The show itself is famous across the islands for a good reason. Sit back, relax, and watch in awe as skilled dancers and live musicians teach you about Hawaii's history and culture through a unique and unforgettable format! Check the latest rates and availability.
Islandwide Christmas Craft and Food Expo
This Christmas Craft and Food Expo occurs the weekend after Thanksgiving. It's one of the best ways possible to simultaneously have hands-on experiences surrounding the cuisine and culture of Hawaii while having a lot of fun!
Whether you'd like to admire art exhibits of Polynesian art, sculptures, blown glass, and much more, or taste delicious hand-made Polynesian food from island vendors, you'll definitely have an amazing time at the event! Be sure to add this to your Oahu itinerary if you're visiting in the month of November.
Vans Triple Crown of Surfing
Surfing is just one of those sports that's inseparably linked to Hawaii. That's really no big surprise, seeing as Hawaii's beautiful beaches are some of the best for surfing in the world. The Vans Triple Crown of Surfing is an event dedicated to the holiday season, centered around surfing!
Whether or not you're traveling with people interested and invested in the sport, I'd still say this event is worth your time. There's something magical about watching these skilled athletes ride the waves – so be sure to add this to your itinerary!
Thanksgiving on Maui Unique Events
Thanksgiving Dinner Cruise
Celebrate Thanksgiving on a luxury cruise! Enjoy a gourmet dinner complete with delicious Thanksgiving fare, a full bar, live music, and even whale-watching! Check out the latest prices and more details.
Paddle for Hunger
The Paddle for Hunger event is a "for-fun" paddling race through the oceans of Hawaii with the end goal of raising support for the Maui Food Bank! They even have a silent auction at the end that's lots of fun to watch or participate in.
This is a great way to give back to Hawaii as a community, and you can do it for free! I'd definitely recommend giving a donation. To participate, just bring any sort of water vessel you can paddle with.
Turkey Trots
Participating in a Turkey Trot is yet another amazing way to contribute to the community! Have fun in these 5-kilometer or 10-kilometer races to win awards and donate to food banks! This is an amazing outdoor activity.
November in Hawaii Wrap Up
Spending your Thanksgiving in Hawaii is an amazing way to have an unparalleled holiday season. Be prepared to enjoy the tranquility and isolation, lower prices, delicious foods, and amazing activities as you make memories that will last you a lifetime!