Are you thinking about planning a trip to Hawaii in June? Get all your questions answered. Plus, find out some of the best things to do in Hawaii in June that are worth adding to your itinerary!
This list of things to do in Hawaii in June contains affiliate links which means if you purchase something from one of my affiliate links, I may earn a small commission that goes back into maintaining this blog.
June is such a lovely time to visit Hawaii! This is when school gets out so it's a really popular summer vacation destination.
We've visited Hawaii in June many times and while it's the start of high season, it's still worth the trip. And the weather is usually fabulous!
Whether you are planning your trip to Hawaii in June or still just thinking about it, I'll answer all your top questions in this post!
Want to skip all the planning and just access my detailed Hawaii itineraries complete with daily schedules, fun activities, and travel hacks? Click the button below.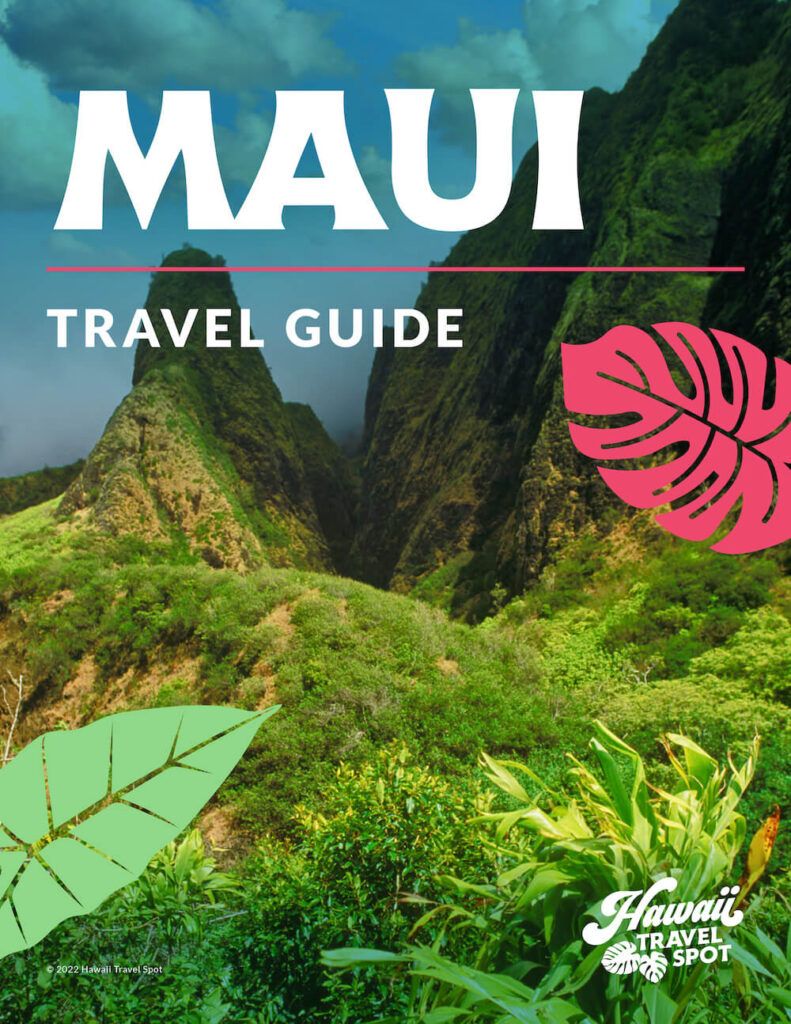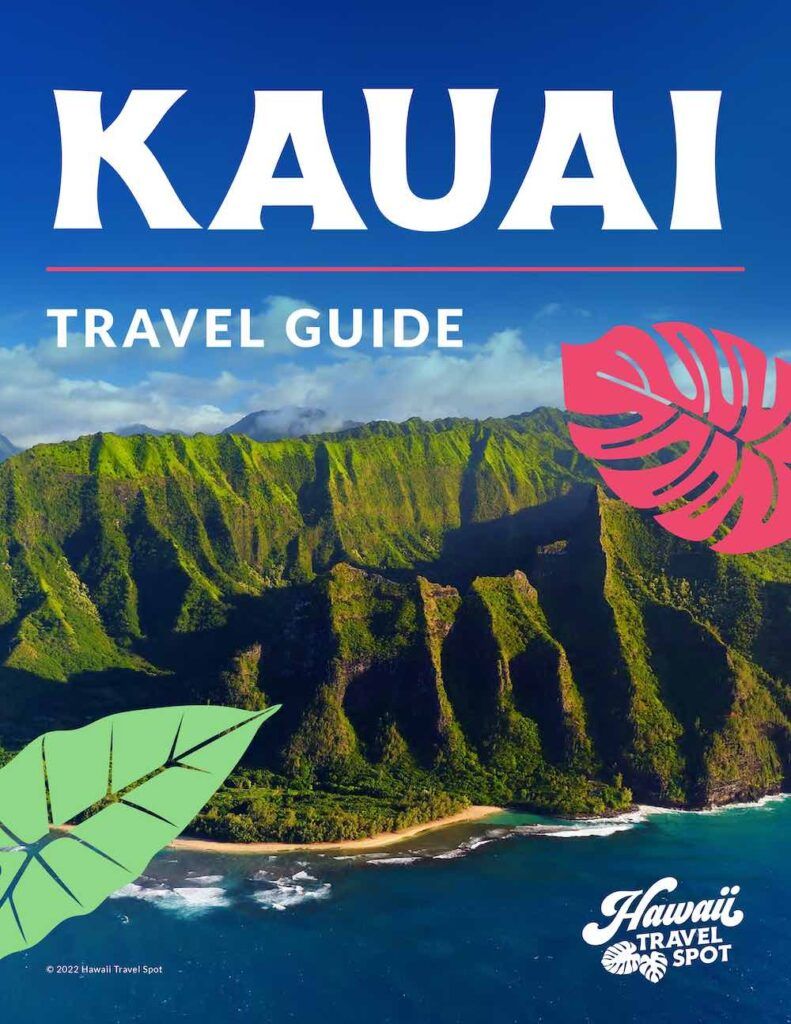 What is the Weather Like in Hawaii in June?
June is a wonderful time to visit Hawaii as it falls during the dry season, known locally as "Kau." This means you can expect plenty of sunshine and minimal rain.
Average daytime temperatures across the islands typically range from the mid to high 80s Fahrenheit (about 27-31 degrees Celsius), while nighttime temperatures drop slightly to the low 70s Fahrenheit (around 21-24 degrees Celsius).
Humidity levels can be quite high in June, often between 60-85%, but the constant ocean breezes can make it feel more comfortable.
While each of Hawaii's islands has its own microclimate, generally, the leeward (western) sides of the islands are drier and sunnier, while the windward (eastern) sides are a bit cooler and can receive more rain.
Is June a Good Time to Visit Hawaii?
Absolutely! As a seasoned Hawaii traveler, I can tell you that June is a fantastic time to visit this tropical paradise.
During June, Hawaii is transitioning from spring to summer, and you'll find pleasant, warm weather across the islands with average temperatures ranging from the mid-70s to the mid-80s (°F).
While some summer showers are expected (it is the tropics after all), they typically roll in and out pretty quickly, leaving behind clear skies and stunning rainbows.
These brief showers also keep the islands' landscapes lush and green, and the waterfalls will be in their full splendor.
The ocean is usually calm, providing excellent conditions for snorkeling, swimming, and surfing. Plus, the summer sunsets here are truly mesmerizing, painting the sky with breathtaking hues of orange and pink.
June also has fewer tourists than the peak winter months, meaning you can explore popular spots without the crowds.
What are the Crowds Like in Hawaii in June?
In June, Hawaii sees a moderate level of tourist crowds, but it's usually not as busy as the winter months when people flock to the islands to escape colder climates.
However, keep in mind that with the onset of summer vacation for many families, there is a gradual increase in tourists, especially towards the end of the month.
That being said, it's still possible to find quieter, less crowded spots if you venture off the beaten path.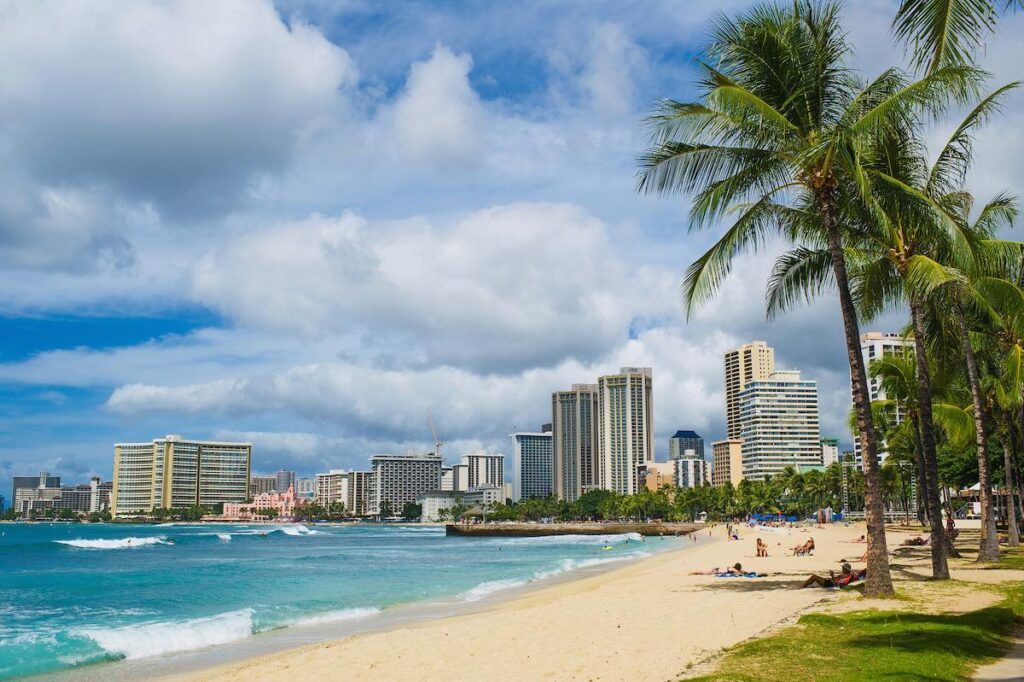 The most popular areas, like Waikiki Beach on Oahu or the beachfront resorts in Maui, will be busier, but if you head to the more local or remote parts of the islands, you can find your own slice of Hawaiian paradise.
As always, the key is to plan your day wisely. Aim to visit popular attractions early in the day, and consider booking any tours or activities in advance.
Despite the influx of visitors, the Aloha spirit of Hawaii ensures that the islands never feel too crowded. So, you can definitely look forward to enjoying your Hawaiian vacation in June!
Book a Hawaii Photo Shoot
Whenever we travel to Hawaii, we almost always book a photo shoot with Flytographer. They are super easy, affordable, AND it guarantees that I'll have more than just selfies. You can get $25 off if you book through this link or use the code HAWAIITRAVEL.
Are There Any Special Events or Festivals in Hawaii in June?
King Kamehameha Day
One of the most significant events is King Kamehameha Day, which is celebrated every June 11th.
This public holiday honors the memory of King Kamehameha who united the Hawaiian Islands into one royal kingdom in 1810. The celebration features floral parades, hula shows, and lei draping ceremonies across various islands.
Pan-Pacific Festival
Another notable event is the Pan-Pacific Festival, usually held in mid-June. This cultural celebration features performers from across the Pacific Rim, sharing their music, dance, and traditions. The festival culminates in a grand parade down Kalakaua Avenue in Waikiki.
Note: The 2023 event has been canceled but it will be back in 2024.
Maui Film Festival
The Maui Film Festival also typically takes place in June, showcasing independent films under the stars at the stunning outdoor Celestial Cinema.
Obon Festivals
June also marks the beginning of the Obon season, a Buddhist tradition to honor the spirits of one's ancestors.
Throughout the summer, Obon festivals are held at temples across the islands, featuring food, traditional music, and Bon Odori dancing.
What Activities are Available in Hawaii in June?
Oh, where do I even start? Hawaii is bursting with activity in June! The weather is perfect and the islands are calling for exploration.
Snorkeling and Diving
In June, Hawaii is a veritable paradise for snorkeling and diving enthusiasts. The summer months generally offer calmer ocean conditions, clear visibility, and balmy water temperatures.
This makes it a fantastic time for underwater exploration.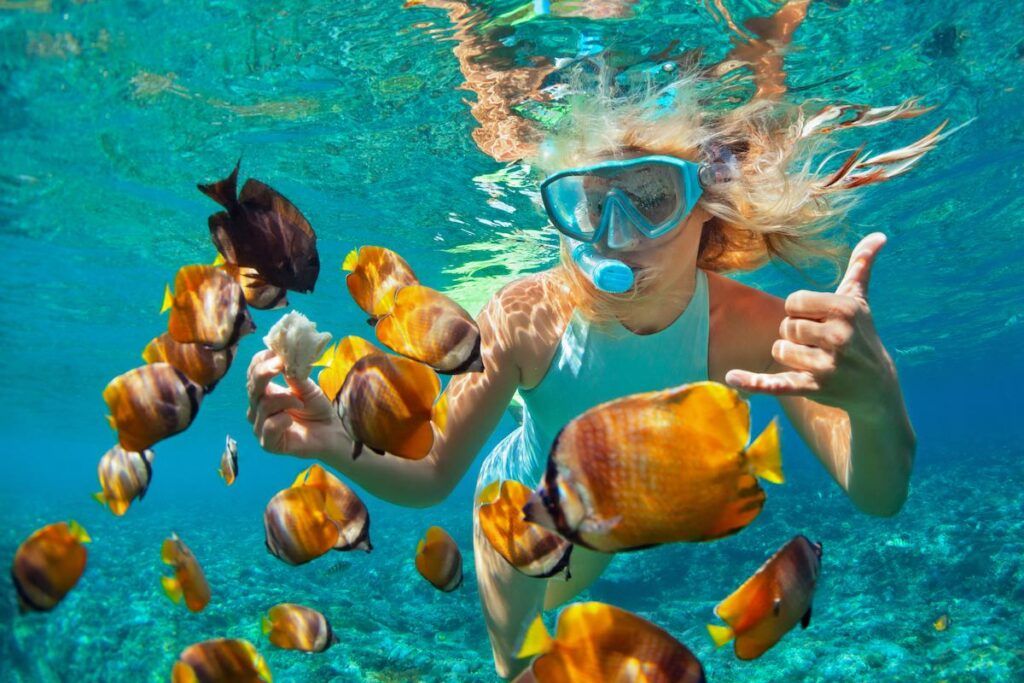 Hawaii's rich marine life and vibrant coral reefs make it a top destination for snorkeling. You can often spot green sea turtles, colorful tropical fish, eels, and even reef sharks. There are numerous snorkeling spots across all the islands, suitable for a range of skill levels.
Some notable spots include Hanauma Bay Nature Preserve on Oahu, Kealakekua Bay on the Big Island, and Molokini Crater off the coast of Maui. Equipment can be easily rented, or you can join a guided snorkeling tour.
For the more adventurous, scuba diving opportunities are abundant. The clear, calm summer waters offer excellent dive conditions.
From intricate cave systems to impressive lava formations and wreck dives, the underwater landscape is diverse. Not to mention the rich marine life – with a bit of luck, you may encounter dolphins, manta rays, or even the elusive octopus.
Surfing
June is a great time to hit the waves in Hawaii, but where you'll find the best surf can depend on the island you're visiting.
On Oahu, the South Shore, including spots like Waikiki and Ala Moana, sees a consistent swell during the summer months, making it a fantastic place for both beginners and experienced surfers.
For beginners, Waikiki Beach is iconic and perfect with its long, rolling waves and numerous surf schools offering surfing lessons.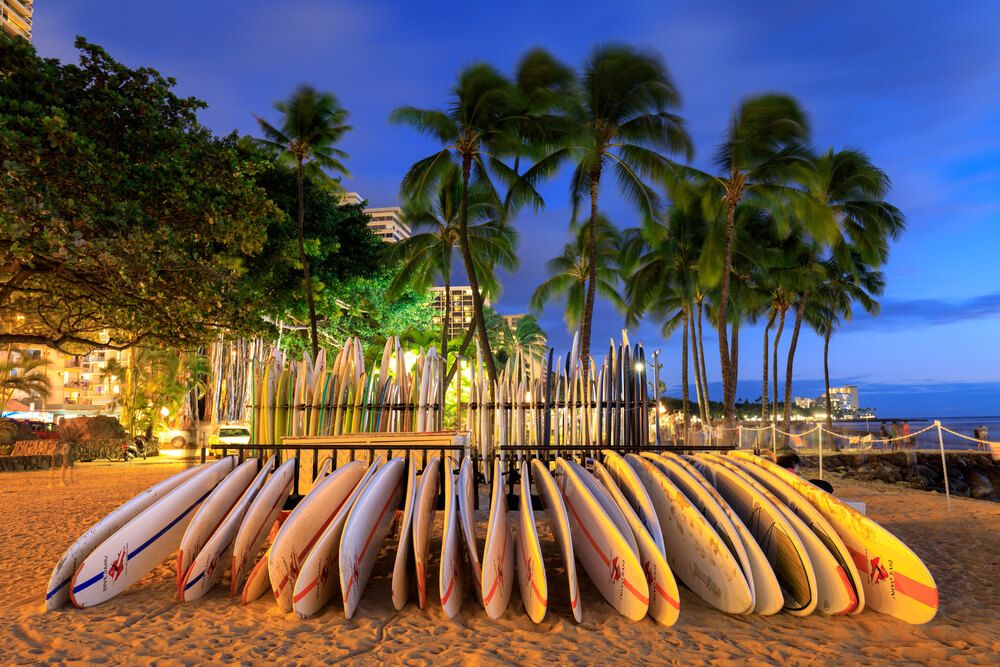 For more advanced surfers, the summer swells on the South Shore can produce some bigger waves, especially when a summer storm stirs things up.
Areas like Ala Moana Bowls and Diamond Head can be excellent for more experienced surfers looking for a challenge.
On the other hand, the North Shore of Oahu, famous for its big wave surfing during the winter months, is usually quite calm during the summer. It's an excellent time for beginners to try out spots that might be too challenging during the winter swell season.
The other islands also offer good surfing conditions in June, but you'll generally find the best consistency on Oahu's South Shore.
Hiking
June is an excellent time to go hiking in Hawaii! The weather is generally sunny and warm, and while there may be some rainfall, it typically doesn't last long and helps keep the island's landscapes lush and vibrant.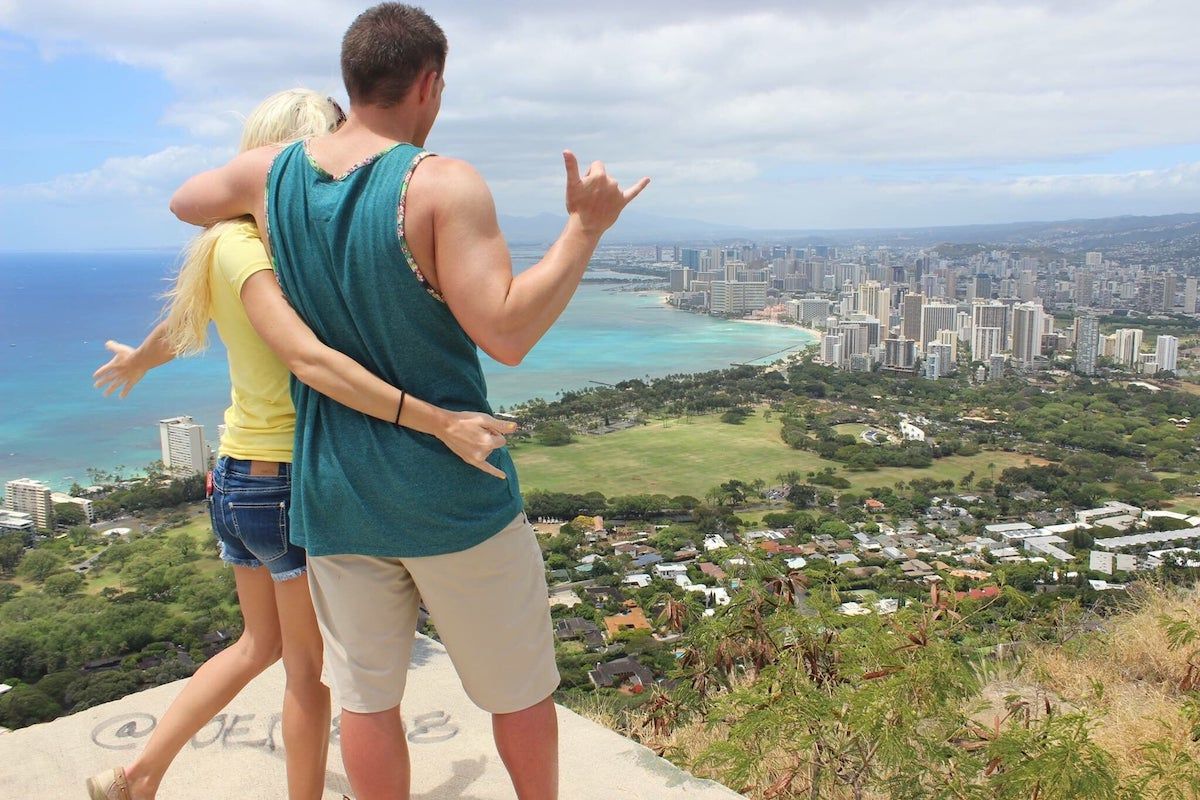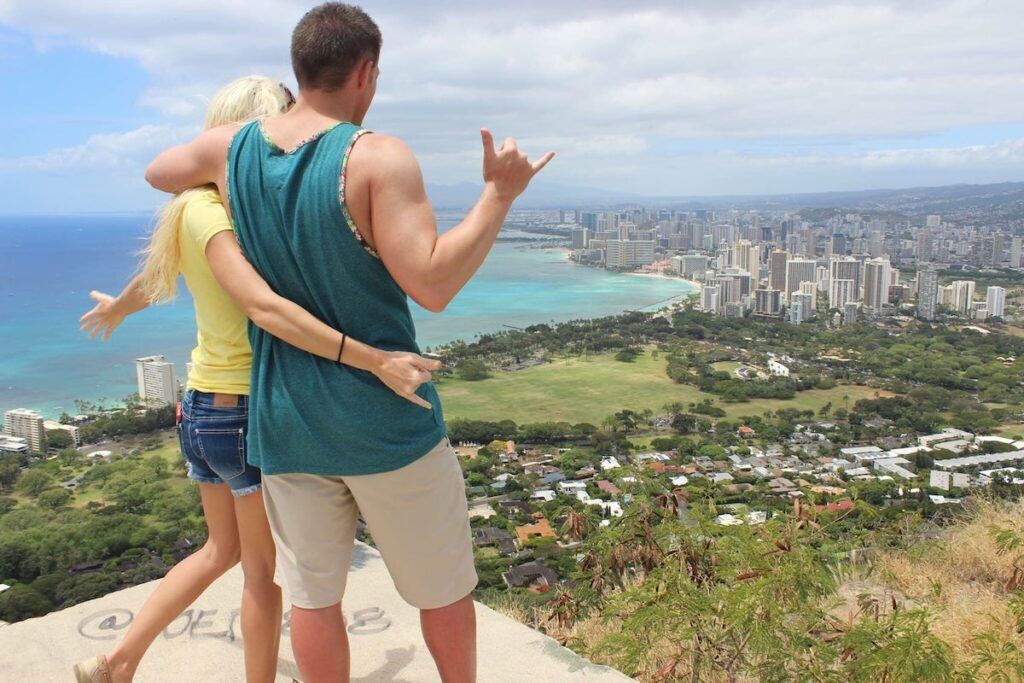 Additionally, hiking trails tend to be less crowded compared to the peak winter tourist season.
With the pleasant weather, you can take your pick from a wide range of hikes. Hawaii boasts an extensive network of trails that cater to all fitness levels and offer a variety of sceneries – from volcanic landscapes to tropical rainforests, stunning coastlines, and majestic waterfalls.
Here are a few popular hikes across different islands:
Kauai
The Kalalau Trail along the Na Pali Coast offers some of the most breathtaking views in all of Hawaii. Remember, this 11-mile trail is strenuous and often muddy, so it's recommended for experienced hikers.
Oahu
Diamond Head Crater hike is relatively easy and offers panoramic views of Waikiki and the rest of the island. For a lush rainforest experience, try the Manoa Falls Trail which leads to a stunning waterfall.
Maui
The Pipiwai Trail in Haleakala National Park takes you through a bamboo forest to the beautiful 400-foot Waimoku Falls.
Big Island
Hike in Hawaii Volcanoes National Park where you can see active volcanoes, walk through a lava tube, and witness the power of nature.
Golfing
June is a fantastic time to go golfing in Hawaii! The weather is generally sunny with mild temperatures, creating ideal conditions for hitting the links.
Hawaii is a golfer's paradise with over 80 courses spread across the six major islands, each offering unique layouts and breathtaking views.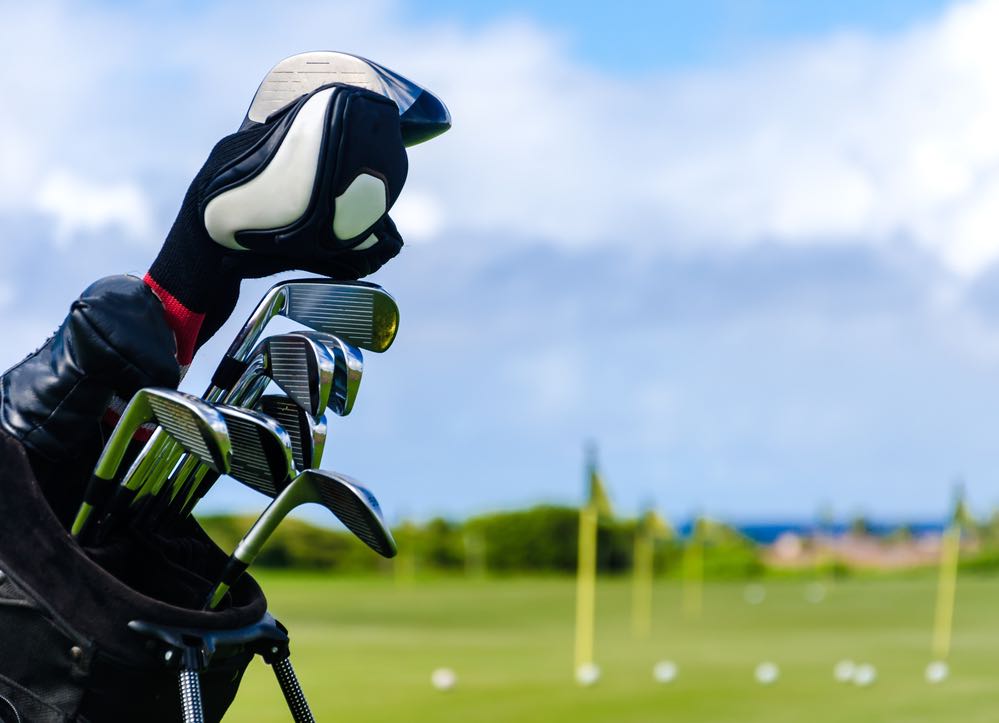 From championship courses that have hosted PGA and LPGA events, to local municipal courses, there's a wide variety to choose from.
If you're on Maui, don't miss the chance to play at Kapalua's Plantation Course, known for hosting the PGA's Tournament of Champions. Over on the Big Island, the Mauna Kea Golf Course is another gem with beautiful ocean views.
Oahu houses the renowned Waialae Country Club, which hosts the Sony Open, while Kauai boasts the Princeville Makai Golf Club, known for its stunning seaside holes.
During June, the courses are typically less crowded compared to the high winter season, so you can enjoy your round at a relaxed pace.
Just remember to book your tee times in advance and check the individual course guidelines, as some may have specific dress codes.
What are the Best Beaches to visit in Hawaii in June?
Visiting the beaches in Hawaii in June is a dream, with perfect weather, warm waters, and fewer crowds than during the peak winter season.
Here are some beaches across the Hawaiian islands that you should consider visiting:
Waikiki Beach on Oahu
This iconic beach is a must-visit. Although it can be crowded, its calm waters are perfect for swimming, surfing lessons, and other water sports.
Lanikai Beach on Oahu
Known for its crystal-clear turquoise waters and powdery white sand, Lanikai Beach is one of the most beautiful beaches in Hawaii. It's perfect for swimming, kayaking, and relaxing under the sun.
Ka'anapali Beach on Maui
This is one of Maui's best beaches. It offers excellent snorkeling opportunities, especially around Black Rock, which is known for its abundant marine life.
Wailea Beach on Maui
This beach is family-friendly and perfect for swimming and snorkeling. It's surrounded by high-end resorts, and you might even spot some sea turtles!
Hapuna Beach on the Big Island
Hapuna Beach is one of the best white sand beaches on the Big Island. Its clear, calm waters make it a great location for swimming, and its size ensures that it doesn't get too crowded.
Hanalei Bay on Kauai
This two-mile stretch of beach is surrounded by mountains, offering beautiful views. The calm summer waters make it a great place for swimming, paddleboarding, and boating.
Poipu Beach on Kauai
Known for its excellent snorkeling, Poipu is a favorite for families and has a great picnic area.
What are Some of the Best Places to Visit in Hawaii in June?
There are many great attractions to visit in Hawaii in June, some of which include:
Hawaii Volcanoes National Park on the Big Island
Visiting Hawaii Volcanoes National Park on the Big Island in June is a fascinating experience. This time of the year is particularly appealing because of the pleasant weather and relatively fewer crowds, which makes it a great time to explore the wonders of this unique park.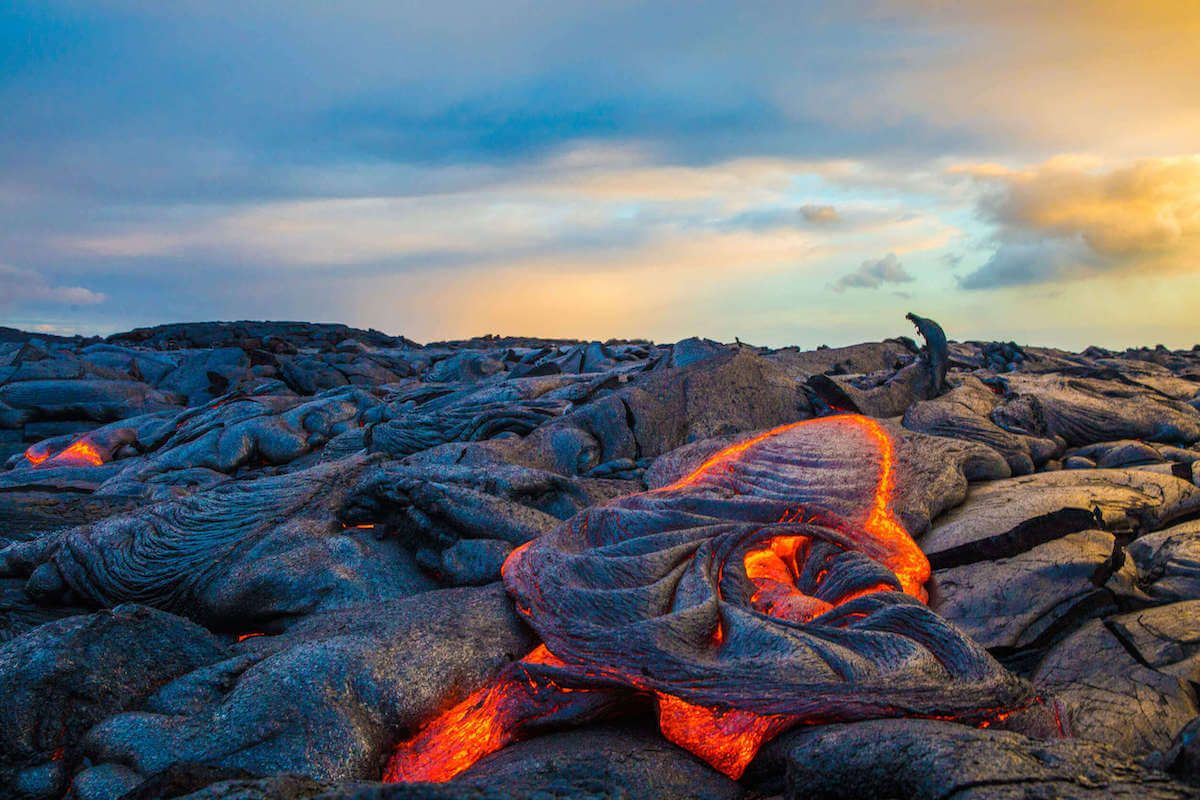 The park is home to two active volcanoes, Kīlauea, one of the world's most active volcanoes, and Mauna Loa, the world's most massive shield volcano.
This park is one of the few places in the world where visitors can come face to face with an active volcano—a truly breathtaking experience!
Road to Hana on Maui
Driving the Road to Hana is one of Maui's most famous activities, and June is a great time to embark on this epic journey.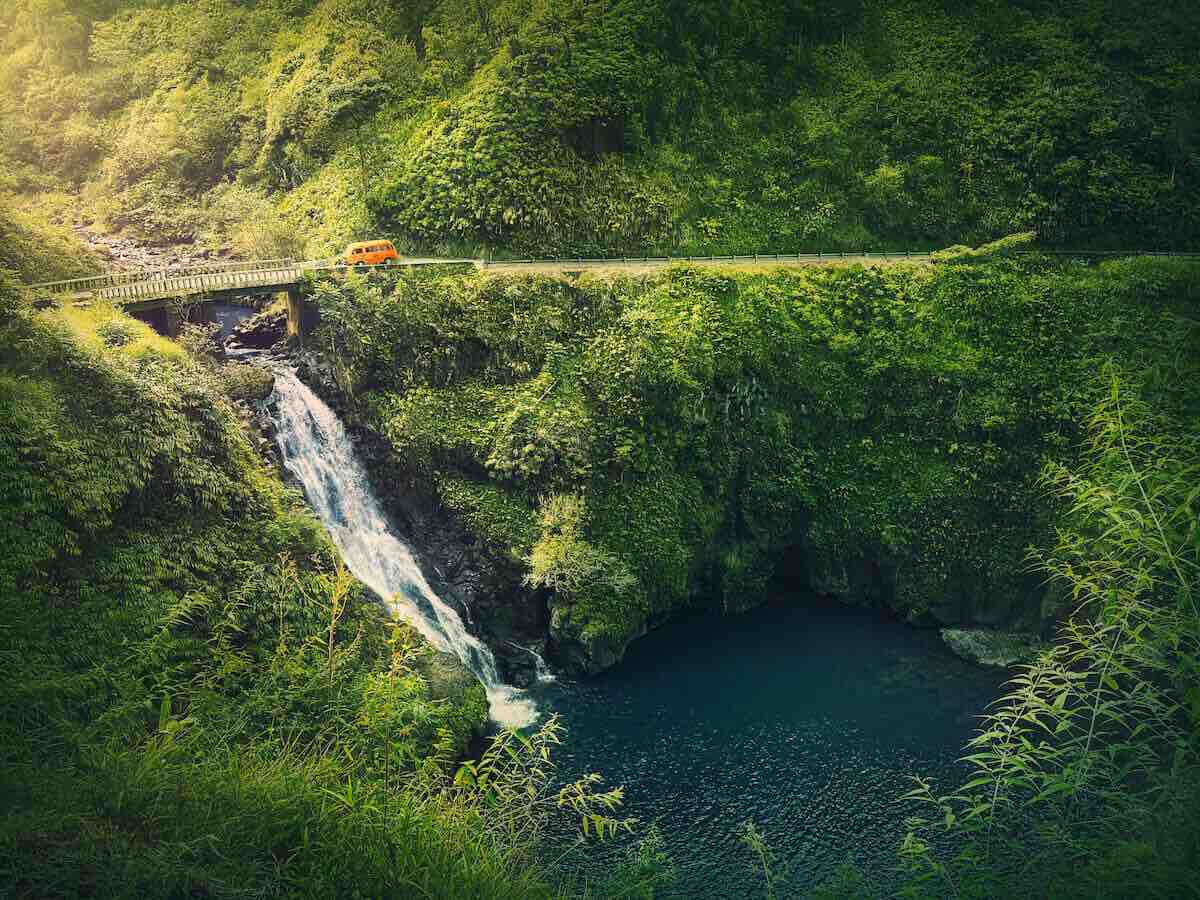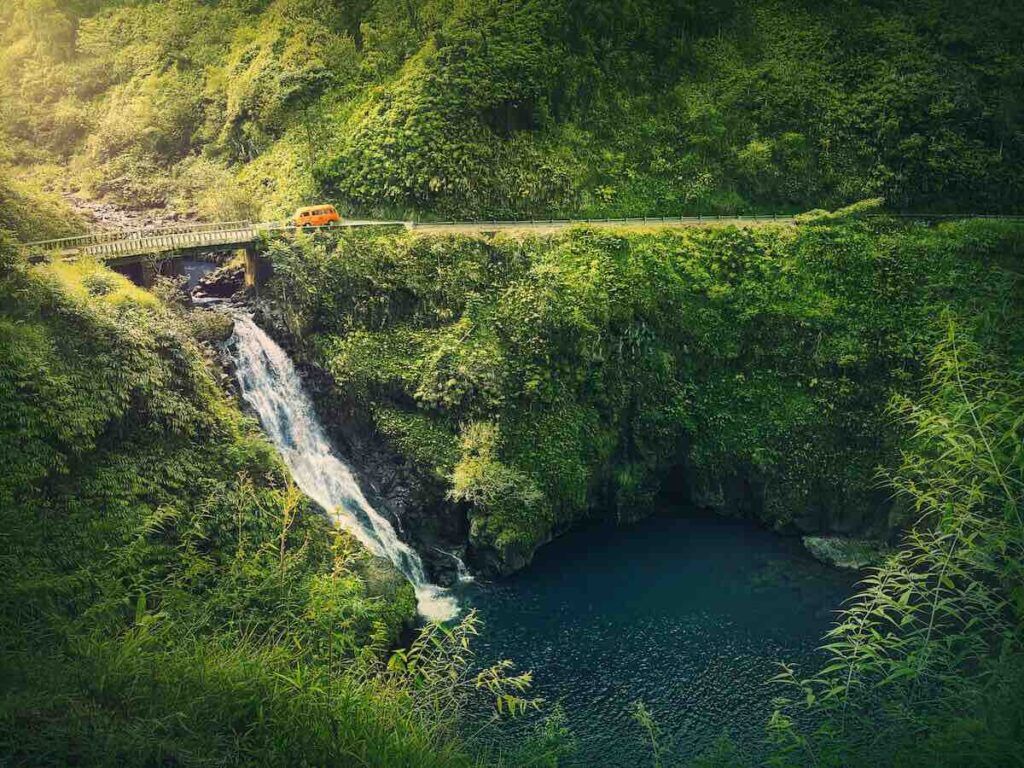 The weather is typically sunny and warm, the waterfalls will be flowing, and you'll likely encounter less traffic compared to the busier winter months.
The Road to Hana is a 64.4-mile long stretch of Hawaii Routes 36 and 360 which connects Kahului with the town of Hana in east Maui.
This drive is renowned for its scenic beauty, offering stunning views of lush rainforests, magnificent waterfalls, dramatic sea cliffs, and panoramic ocean views.
Pearl Harbor on Oahu
Visiting Pearl Harbor on Oahu in June is a deeply moving experience that offers both historical context and a deeper understanding of the events of December 7, 1941.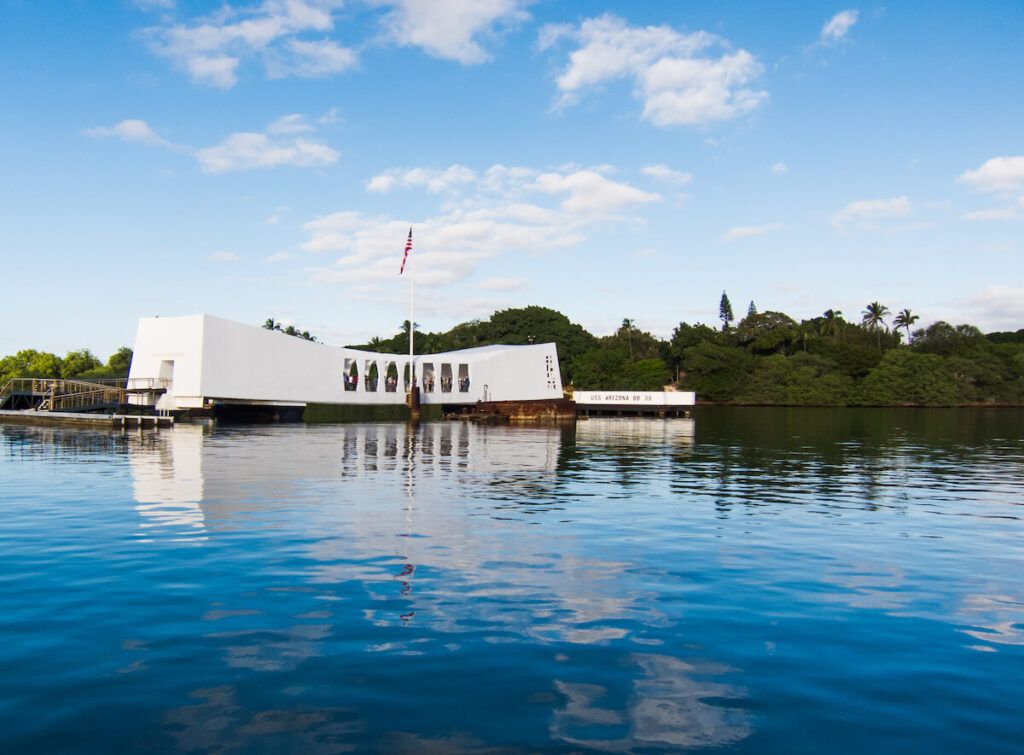 This historic site, where World War II began for the United States, is a must-visit for anyone traveling to Oahu.
I personally recommend exploring the USS Battleship Missouri, the USS Arizona Memorial, and the Pearl Harbor Aviation Museum. This is the ticket package you want to get.
Waimea Canyon on Kauai
Waimea Canyon on Kauai, often referred to as the "Grand Canyon of the Pacific," is a sight to behold, and June is a fantastic time to visit. The weather is usually sunny and warm, providing excellent visibility to appreciate the canyon's dramatic vistas.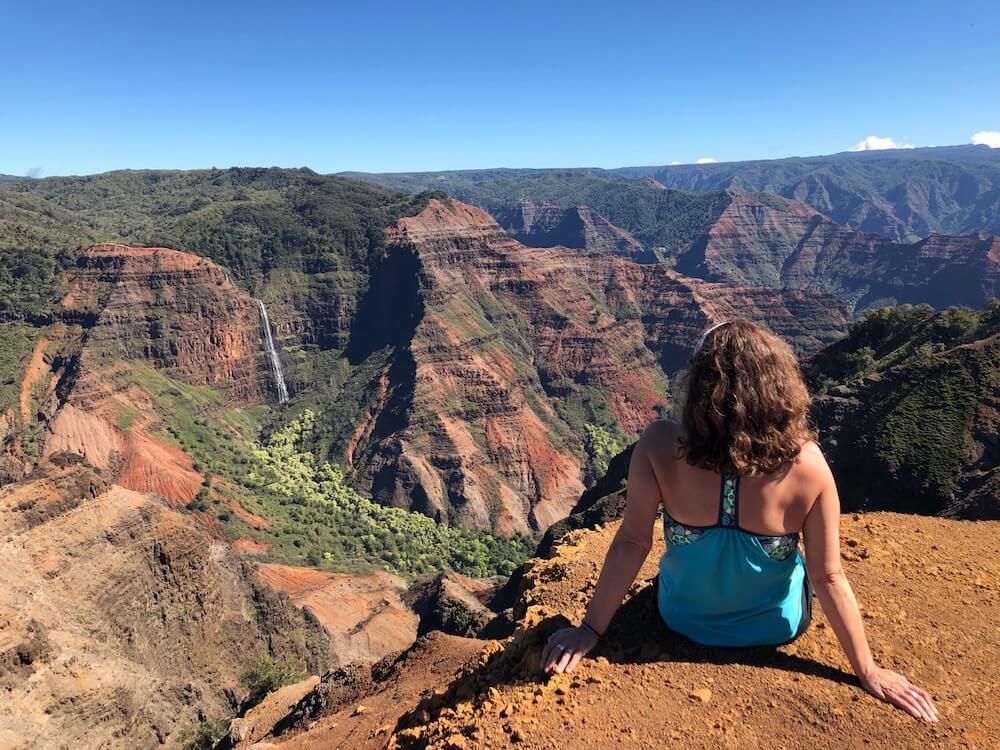 The canyon, approximately ten miles long and over 3,600 feet deep, is a colorful array of red, brown and green hues, created by the erosion of the island's central peak, Mount Waialeale.
The play of light and shadow throughout the day continually changes the appearance of the landscape, making it a captivating sight at any hour.
Haleakala National Park on Maui
Haleakalā National Park on Maui is a truly unique place to visit, and June is a great time to explore it.
With warm weather and less rain compared to other times of the year, you'll be able to fully enjoy the park's diverse landscapes—from its famous summit sunrise to its lush coastal regions.
The centerpiece of the park is the breathtaking Haleakalā Crater. Despite its name, it's actually a massive erosional depression.
The views here are otherworldly with stark, moon-like landscapes, multi-colored sands, and towering cinder cones.
Many visitors make it a point to watch the sunrise from the summit, which is a truly magical experience.
Note: You will need a reservation for the sunrise. However, sunset is also a good time to visit and no reservations are required.
Iolani Palace on Oahu
Iolani Palace in Honolulu, Oahu, is a significant cultural landmark as it's the only official royal residence in the United States. A visit here is like stepping back in time to the era of Hawaiian royalty.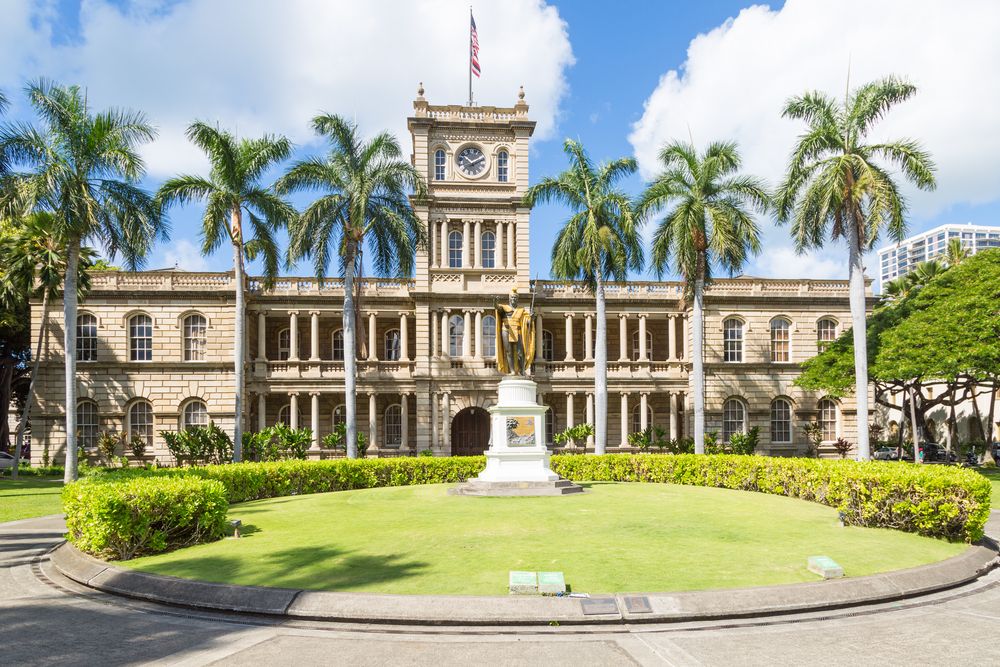 The palace was built in 1882 by King Kalakaua and was later the residence of Queen Liliʻuokalani, the last reigning monarch of the Hawaiian Kingdom.
Today, it's beautifully restored to its former glory and open to the public as a museum. You'll find remarkable artifacts, and elegant furnishings, and learn about the rich history and culture of Hawaii.
Na Pali Coast on Kauai
Exploring the Na Pali Coast on Kauai in June is an unforgettable experience. The weather is typically warm and dry, which makes it an ideal time for various outdoor activities along this magnificent coastline.
The Na Pali Coast is one of Hawaii's most iconic landscapes, featuring towering sea cliffs, lush green valleys, cascading waterfalls, and secluded beaches. Its natural beauty is truly breathtaking.
Boat tours are a fantastic way to see the coastline and are particularly popular in June when the sea is often calmer. You'll have a chance to see the cliffs up close, enter sea caves, and often spot dolphins and sea turtles.
Akaka Falls on the Big Island
Akaka Falls State Park is located in the Hamakua District, approximately 11 miles north of Hilo.
The park is home to two stunning waterfalls: Kahuna Falls and the park's namesake, Akaka Falls, which plunges 442 feet into a gorge below—a truly breathtaking sight.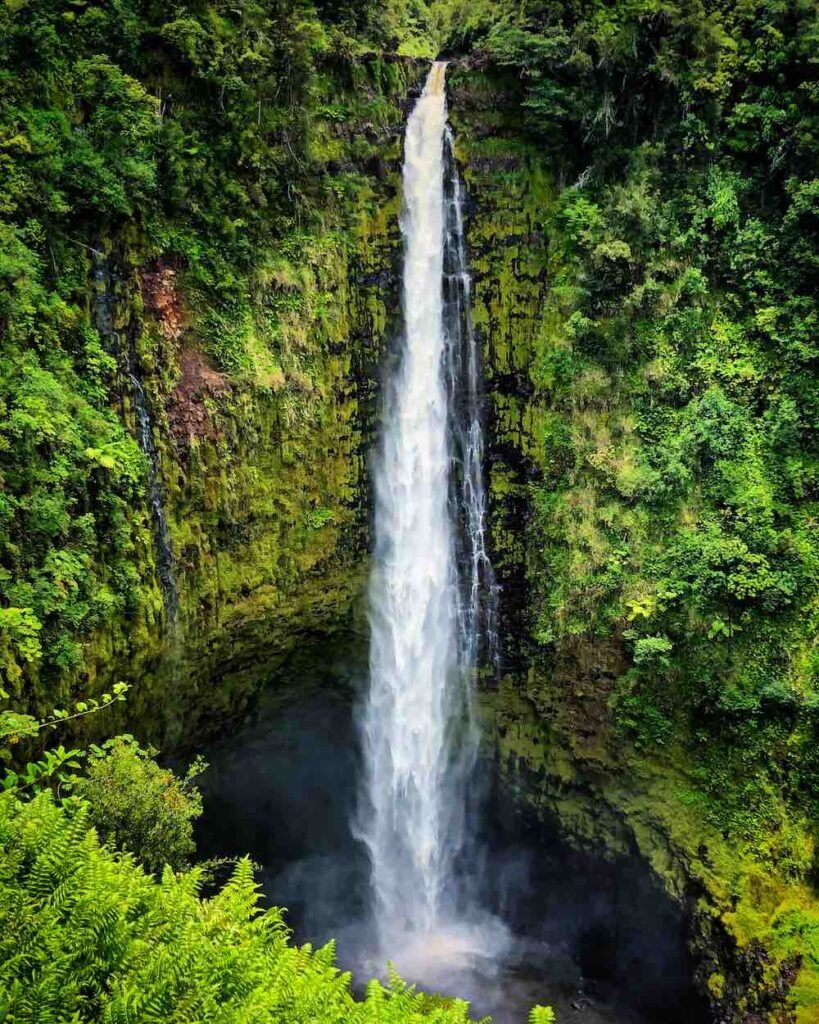 Visiting the park is straightforward. After parking, you'll find a well-maintained loop trail that takes you through a lush rainforest filled with wild orchids, bamboo groves, and ferns.
The trail is about 0.4 miles long and is paved with steps in certain areas. It's suitable for most visitors, though there is some uphill walking involved.
What is the Water Temperature Like in Hawaii in June?
The water temperature in Hawaii in June is typically quite warm and inviting, averaging between 77 and 82 degrees Fahrenheit (25-28 degrees Celsius).
This makes June an excellent time for all sorts of water activities, from swimming and snorkeling to surfing and paddleboarding.
The warm waters are teeming with marine life, offering incredible opportunities for underwater exploration.
Remember to always follow safety guidelines when engaging in water activities and respect Hawaii's precious marine ecosystem.
What Should I Pack for a Trip to Hawaii in June?
Packing for a trip to Hawaii in June is all about preparing for warm, tropical weather, beach activities, and some light rain showers, as well as respecting the local culture and environment.
Here's a suggested packing list:
Lightweight Clothing
Lightweight and breathable clothing is essential. Pack T-shirts, shorts, sundresses, and a light sweater or jacket for cooler evenings.
If you're planning to visit higher elevations, like Haleakala or Mauna Kea, warmer clothing will be necessary as it can get quite chilly.
Swimwear
You're likely to spend a lot of time in or near the water, so bring a couple of swimsuits. A cover-up, rashguard, or a shirt for sun protection is also useful.
Footwear
Waterproof sandals or flip flops are perfect for the beach. Bring a pair of hiking shoes if you plan on doing any hikes or walking on rough terrain. Pack comfortable walking shoes for sightseeing.
Accessories
A hat and sunglasses for sun protection are essential. Also, consider a reusable water bottle, and if you're planning to do some shopping or picnicking, a reusable bag could be useful.
Rain Gear
June can sometimes see a bit of rain, so a light waterproof jacket or an umbrella can come in handy.
Sun Protection
High-SPF reef-safe sunscreen is a must to protect your skin and the environment. You may also want to pack some after-sun care, like aloe vera gel.
Snorkeling Gear
If you plan to snorkel and have your own equipment, consider bringing it along. Otherwise, you can rent gear on the islands.
June in Hawaii Wrap Up
June is a fantastic time to visit the stunning islands of Hawaii. The weather is typically beautiful, the crowds are manageable, and the opportunities for adventure are abundant.
Whether you're hiking the verdant trails of Kauai, snorkeling the vibrant reefs of Maui, exploring the rich history of Oahu, or marveling at the natural wonders of the Big Island, you're in for a real treat.
Just remember to pack smartly, respect the local culture and environment, and savor every moment of your Hawaiian journey.
So go ahead, embrace the Aloha spirit, and create memories that will last a lifetime. See you in Hawaii this June!
Looking for more Hawaii travel tips? Check out my top planning tips for Oahu, Maui, Kauai, and the Big Island!