Trying to figure out the perfect places to get Instagram photos in Hawaii? Keep scrolling down to learn about some of the best Hawaii waterfalls that look incredible!
This list the best Hawaii waterfalls contains affiliate links which means if you purchase something from one of my affiliate links, I may earn a small commission that goes back into maintaining this blog.
I can still remember it like it was yesterday when I went on my first trip to Hawaii for a visit to my grandma, who lived on Kauai.
On that trip, she took me to some of the most gorgeous waterfalls on the island, which is something that I will always remember.
If you are ever going to head to Hawaii, there are so many majestic waterfalls that you have to check out, whether you're looking for a place to look out at the beauty or want to go on a fun hike to get the rewards of a waterfall at the end, there are so many ways to take advantage of these amazing places!
Now that I've traveled to Hawaii more than 40 times, I think I've found the best Hawaii waterfalls that everyone should add to their Hawaii bucket list! Keep scrolling to see what they are!
Want to skip all the planning and just access my detailed Hawaii itineraries complete with daily schedules, fun activities, and travel hacks? Click the button below.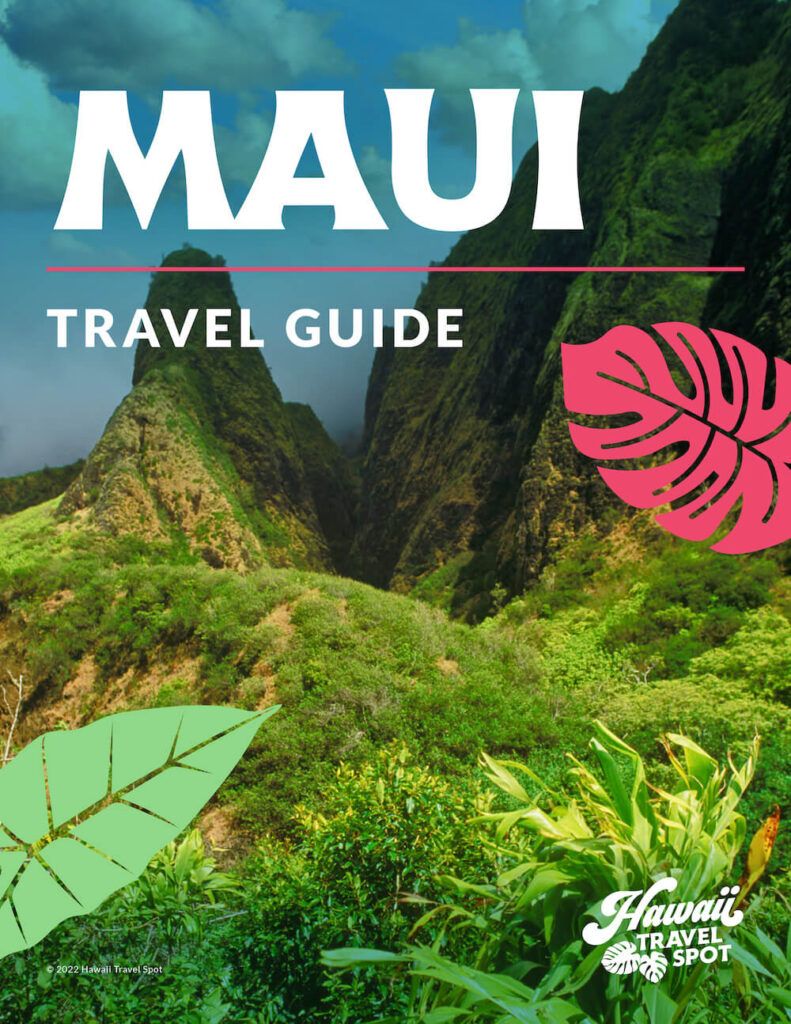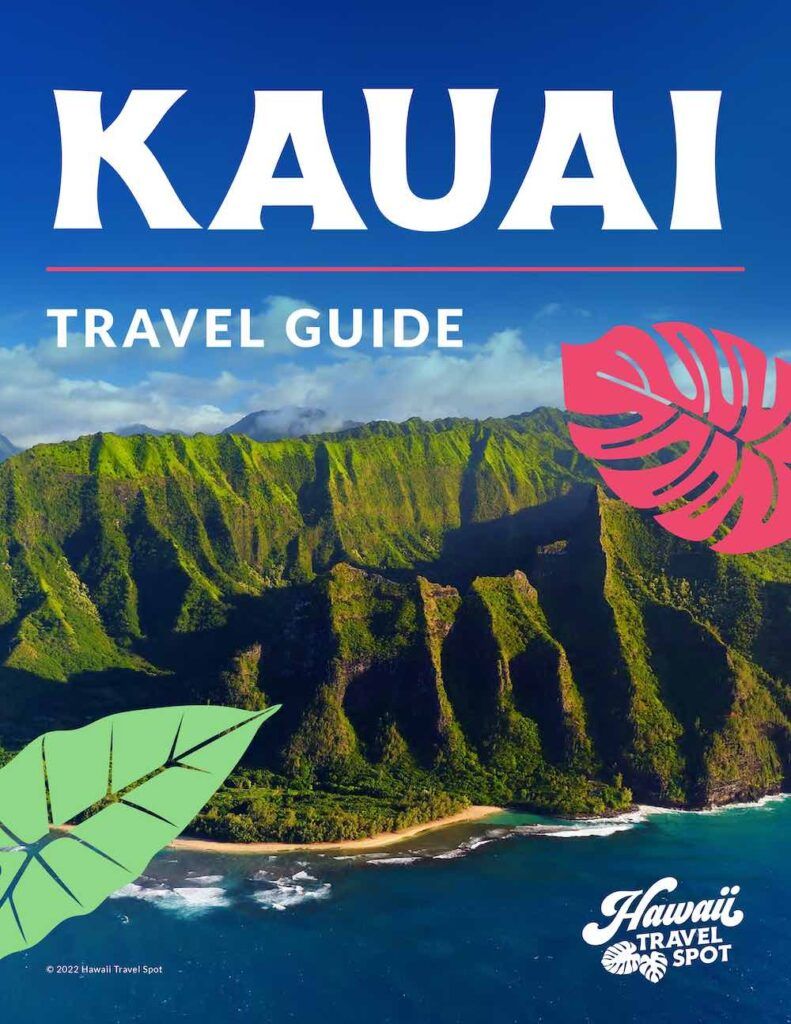 Best Hawaii Waterfalls That Will Blow Your Mind
Prettiest Hawaii Waterfalls on Oahu
Lulumahu Falls
If you want an amazing and memorable hike to add to your Oahu itinerary, then this waterfall with a trailhead by the Pali Highway is definitely the thing to check out!
The hike will take you through an amazing forest of bamboo, and as you head on, the hike will get more challenging. That is why you want to have some hiking shoes on to make things a little easier.
The trail itself isn't super well marked, so you want to make sure you have the map beforehand downloaded so you don't get turned around.
You will also want to keep some bug spray on you because the mosquitoes can get pretty bad in the jungle.
The hike can also get pretty tiring as you will have to weave around trees and scramble on top of rocks, but it is totally worth it at the end when you get to see the 50-foot waterfall!
Manoa Falls
If you'd like to do a fun waterfall hike on Oahu that isn't too far from Waikiki, Manoa Falls is a great option.
You'll hike through the rainforest until you hit an epic photo spot. It's great for selfies or you can have another hiker take a group shot.
What's extra cool about this Oahu waterfall is that there's usually a stand in the parking lot where you can get fresh fruit smoothies and other items to refuel.
Waimea Falls
If you want to check out one of the most beautiful waterfalls in all of Oahu, then you definitely want to take a look at Waimea Valley, the home of Waimea Falls.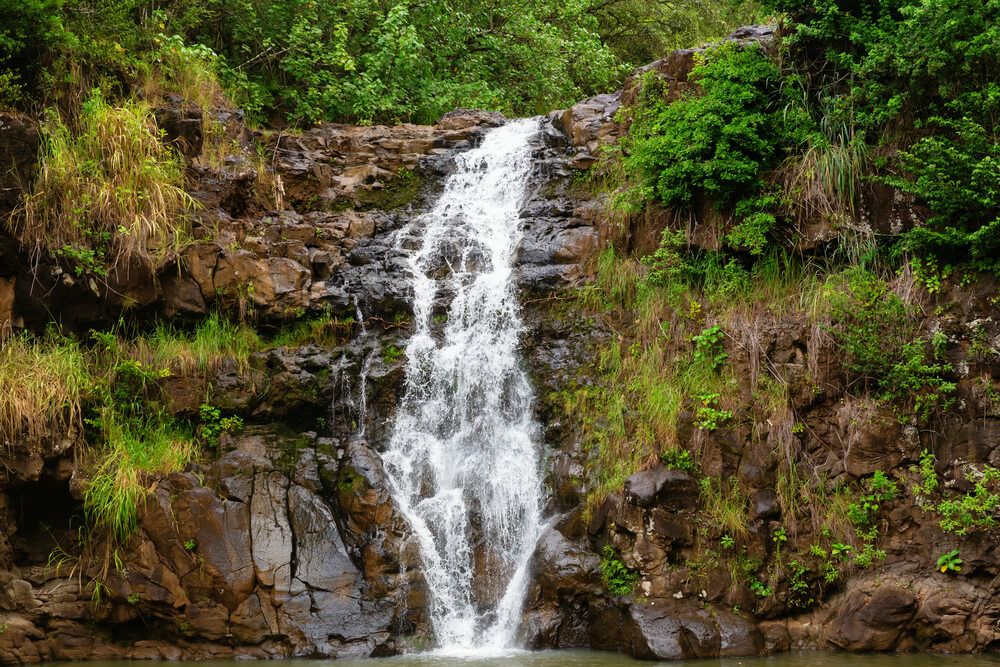 You can reach the falls by going a calming mile-long hike through the park, where you will be able to see beautiful flowers and plants surrounding you. This alone makes this one of the best hikes in Oahu.
You can even take a swim in the falls if you are up for it, although you will need life jackets to do so. These are included in the ticket that allows you to get into the park.
To gain entrance to Waimea Valley, you will have to pay $12 for adults, although currently, adults can get in for $8 as the park is offering a discounted cost.
If you don't want to go on the hike, there is a shuttle that will take you around for $14, and there are other things to check out as well, like the North Shore luau, which you can check out for an extra cost.
Prettiest Hawaii Waterfalls on Kauai
Wailua Falls
Although there are a ton of amazing things you can do outdoors in Kauai, one of the best things to do in Kauai is to check out Wailua Falls.
This tourist attraction can actually be found in the opening credits of the TV series Fantasy Island.
It is good to know that while they do have a small parking lot by the viewing area, it can get crowded pretty quickly, so you will want to head there early if you are hoping to get a spot.
Despite how beautiful the falls may look, definitely DO NOT try to hike to them, as it is dangerous and illegal.
If you do want to enjoy it to the fullest extent, get there early so you can take some great pictures of the falls. Then take some time to relax and enjoy the sights!
Uluwehi Falls
Also known as the "Secret Falls", you can find Uluwehi Falls in a rainforest deep in the Wailua River area.
These falls are so secret because the only way to get there is by kayak and then hiking up the falls.
If you are interested in this experience, I recommend getting a kayaking tour that will provide you with all the gear and other equipment you may need along the way.
A tour will also be helpful as the guide will help you figure out the current as well as the weather conditions. Check the latest rates and availability.
The paddle over to the falls is a relaxing 45 minutes, and the hiking trail is pretty flat and easy, but it can get wet, so you will want some good footwear.
At the end of it all, you will happen upon an amazing waterfall that falls into a perfect swimming area!
This is a great spot if you want to see an amazing waterfall and take a dip afterward. The main things you will need are some swimming clothes, snacks, some good shoes, and of course, some sunscreen.
Opaeka'a Falls
One of the easiest Kauai waterfalls to visit is Opaeka'a Falls in the Wailua uplands. You'll see signs off the highway that will take you all the way up to a gorgeous viewpoint.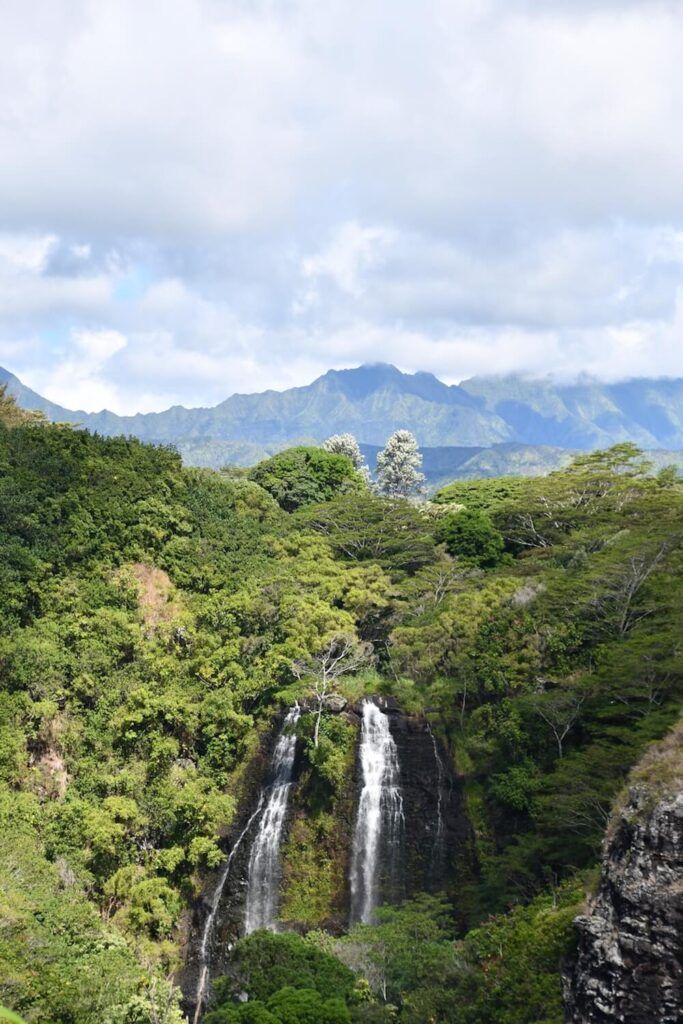 There's a large parking lot so it's easy to swing by on a Kauai scenic drive. I suggest walking along the fence the entire way for different angles of the waterfall.
And you should walk across the street for an epic view of the Wailua River and the valley surrounding it. You can even head down the street a bit further to check out ancient Hawaiian heiau.
Prettiest Hawaii Waterfalls on Maui
Waimoku Falls
While the island of Hawaii has a lot of amazing waterfalls, you can find a lot of amazing waterfalls on the island of Maui, found within the Haleakala National Park.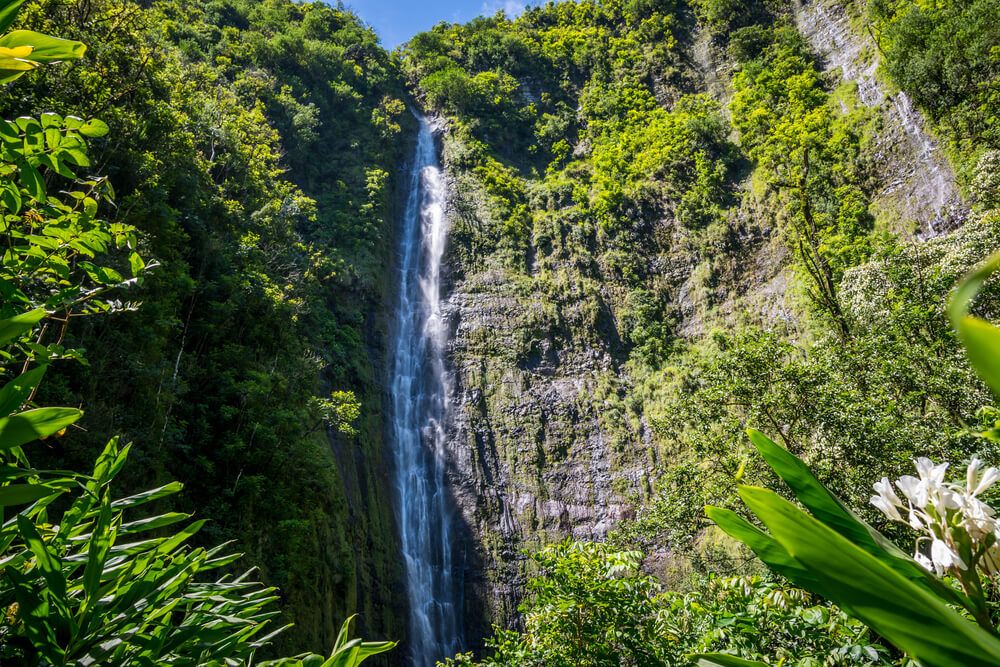 Getting to the park is an adventure in and of itself, as only one road will get you there, and that is along the famous Road to Hana.
The Pipiwai Trail within the park is easily one of the best hikes on Maui, which will take you through an amazing bamboo forest, and then ultimately end with a view of the waterfall.
While you won't be able to swim here, you can still enjoy the 400-foot waterfall from afar, as the huge waterfall dumps the water into the rocky pool at the bottom.
Make sure to have some good shoes as the first part of the trail is pretty slippery and can be dangerous.
While the trail is four miles long, the hike itself is majestic by itself, so I would highly recommend it!
Pua'a Ka'a Falls
Another great Road to Hana waterfall is Pua'a Ka'a Falls. There isn't really any hiking involved to see it. You'll park across the street and walk over to the viewing area.
This is perfect for people who want to swim in a waterfall without hiking to Twin Falls (also on the Road to Hana).
There are picnic shelters, restrooms, and plenty of places to walk around and hang out at this Maui waterfall. That's why it's one of the best Road to Hana stops worth making.
Prettiest Hawaii Waterfalls on the Big Island
Akaka Falls
Located at Akaka Falls State Park, Akaka Falls is also known for its great views and the tallest waterfall on the island!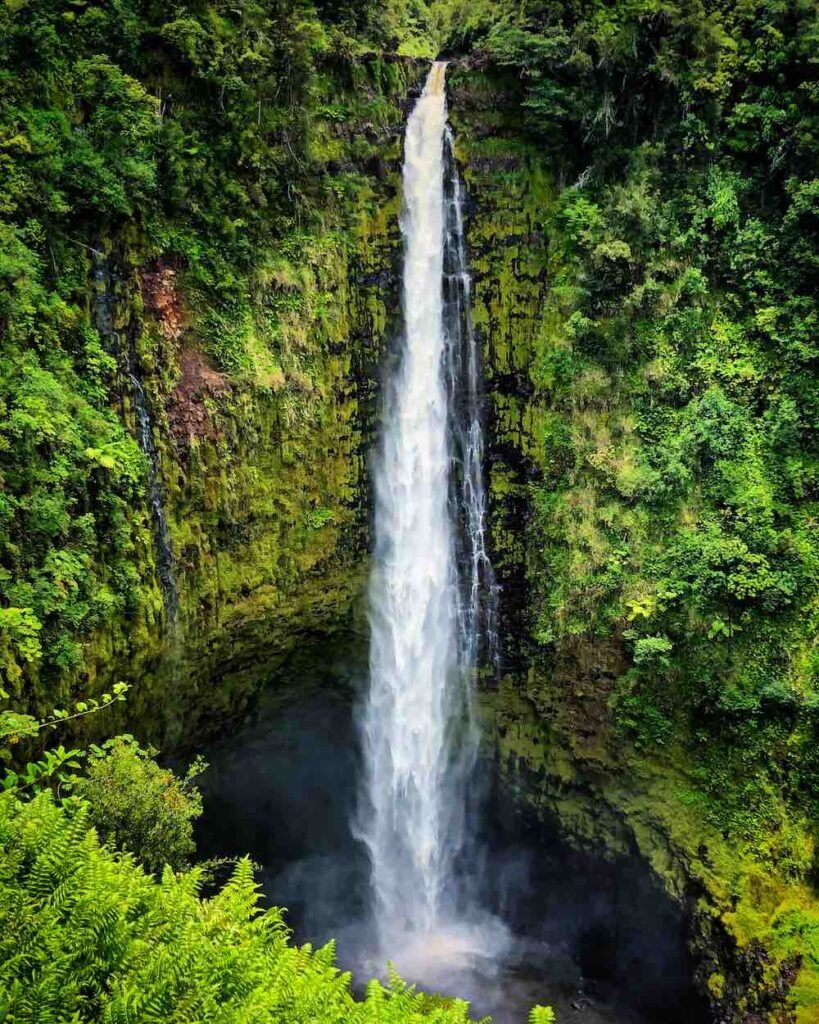 This is another easy Big Island waterfall to see. There is a paved 0.4-mile loop trail that makes it easy for all ages. If you take the trail to the right, you'll get to see a bonus waterfall! There are some stairs though, so it's not wheelchair or stroller-friendly.
If someone in your party has mobility issues, you might want to head to the left of the entrance, which will give you a good view of the falls without the hike.
You will need to pay a parking/entrance fee, but the money goes back to supporting Hawaii parks. This is my favorite Big Island waterfall hike.
Rainbow Falls
Hilo is best known for its gorgeous waterfall, Rainbow Falls. There is a pathway that leads to an amazing observation point by the falls, which is a really cool sight to see!
This is one of the easiest Big Island waterfalls to get to because it's just a few steps from the parking lot. And it's only a few minutes from downtown Hilo.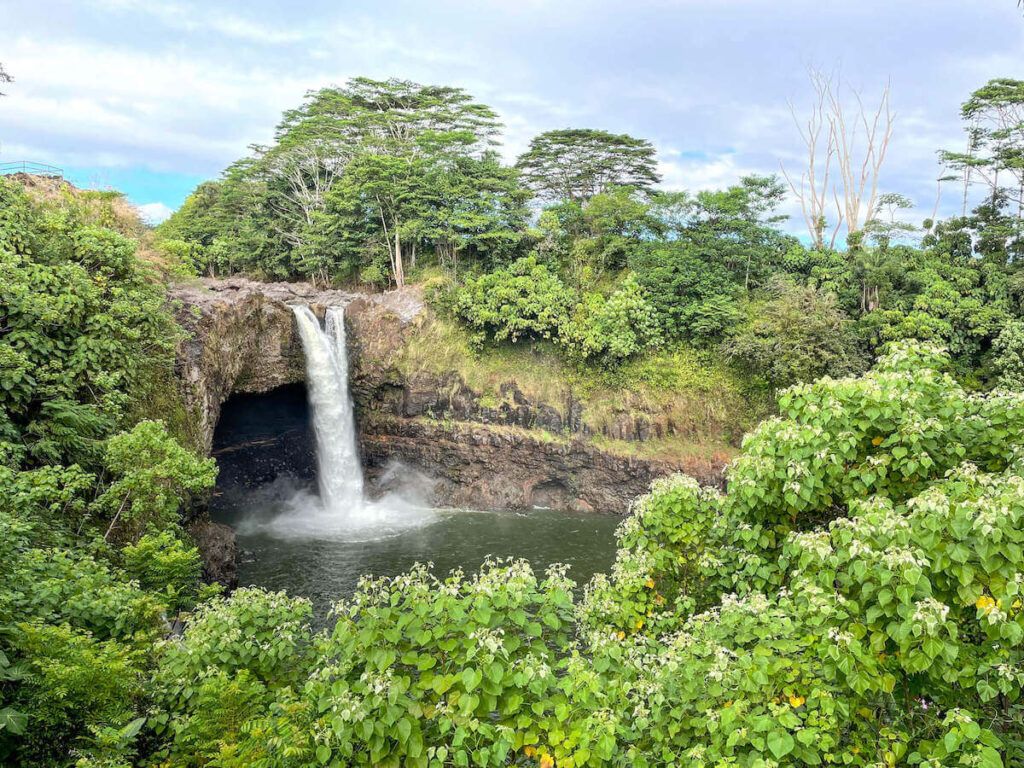 There are plenty of places to get your perfect selfie or you can ask another tourist to take a cute couple's shot.
As you feel the mist around you as the water comes crashing down, you will see rainbows glistening in the sun, which is where the name comes from!
And on rainy days, you will be able to watch as the rain flows down on the rocks and crashes into the water for an even cooler scene.
You can go on some paved steps to the left of the falls to get an amazing view, or you can go up the trail a little longer to get to a forested area with all kinds of trees surrounding you. It's definitely worth a stop on a Big Island scenic drive.
Umauma Falls
Lastly, we have Umauma Falls, which does have a fee to enter. However, it is totally worth it, as this waterfall is the only triple-tier waterfall on the entire island.
They even have a zip-line tour if you want to get an absolute thrill out of the experience! This is perfect for adventurous families or honeymooners.
Hawaiian Waterfalls FAQs
What Hawaii island has the best waterfalls?
Although all of the islands have some incredible waterfalls in their own right, Maui is fantastic because they are amazing, and many of them are pretty easily accessible so everyone can partake in the beauty!
Where are the most waterfalls in Hawaii?
This award is going to go to Kauai, which has countelss waterfalls. Many of these aren't accessible by walking there, which is why you will need a helicopter to see some of these waterfalls.
Can you swim in the waterfalls in Hawaii?
Definitely! There are a lot of waterfalls in Hawaii that has a pool that you can take a dip in. However, be sure to research beforehand and look out for signs that indicate any dangers or prohibit swimming there.
Hawaii Waterfalls Wrap Up
Now you know some of the best Hawaii waterfalls worth adding to your bucket list! Many of these are easy to get to, while others require hiking. When it comes to beautiful waterfalls, Hawaii does not disappoint!