Are you planning a Hawaii honeymoon but don't know which island to pick? Keep scrolling to find out the best Hawaiian island for honeymoons that are packed with romantic adventures and luxury resorts!
This post about the best Hawaiian island for honeymoons contains affiliate links which means if you purchase something from one of my affiliate links, I may earn a small commission that goes back into maintaining this blog.
Planning a Hawaii honeymoon and don't know where to start?
You're in luck! I've been to Hawaii 40 times. That includes many trips to Oahu, Maui, Kauai, the Big Island, Moloka'i, and Lana'i and I have a LOT of opinions about them!
In this post, I'll compare the different islands in Hawaii so you can figure out the best one for your honeymoon.
If you want an easy-to-read guide that will help make choosing between these four amazing islands easier then keep reading because this article is just what you need!
After reading this post, you'll have all the information you need to choose the perfect island for your honeymoon in Hawaii.
So what are you waiting for? Start planning your dream vacation today!
Want to skip all the planning and just access my detailed Hawaii itineraries complete with daily schedules, fun activities, and travel hacks? Click the button below.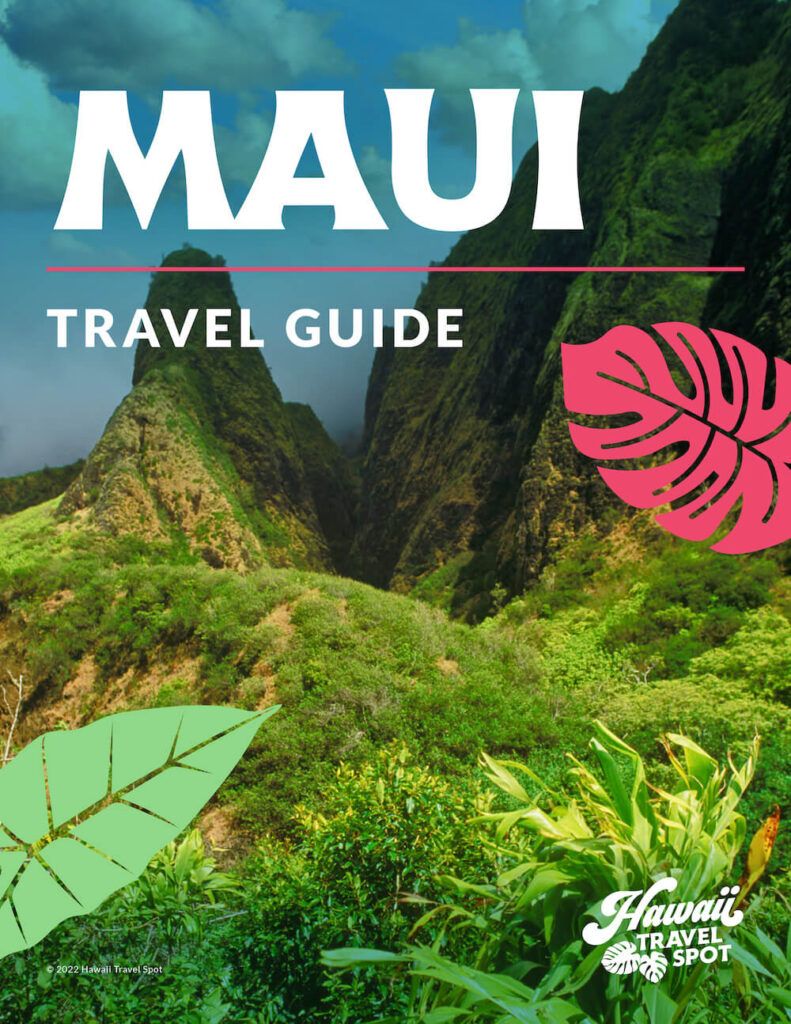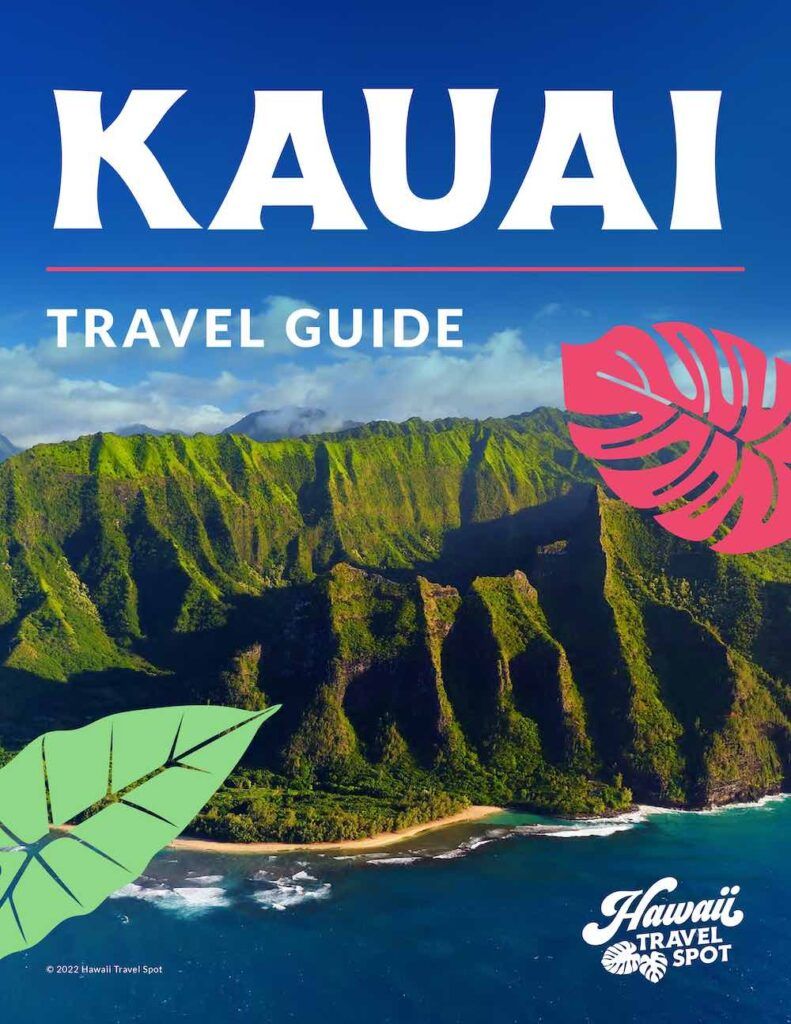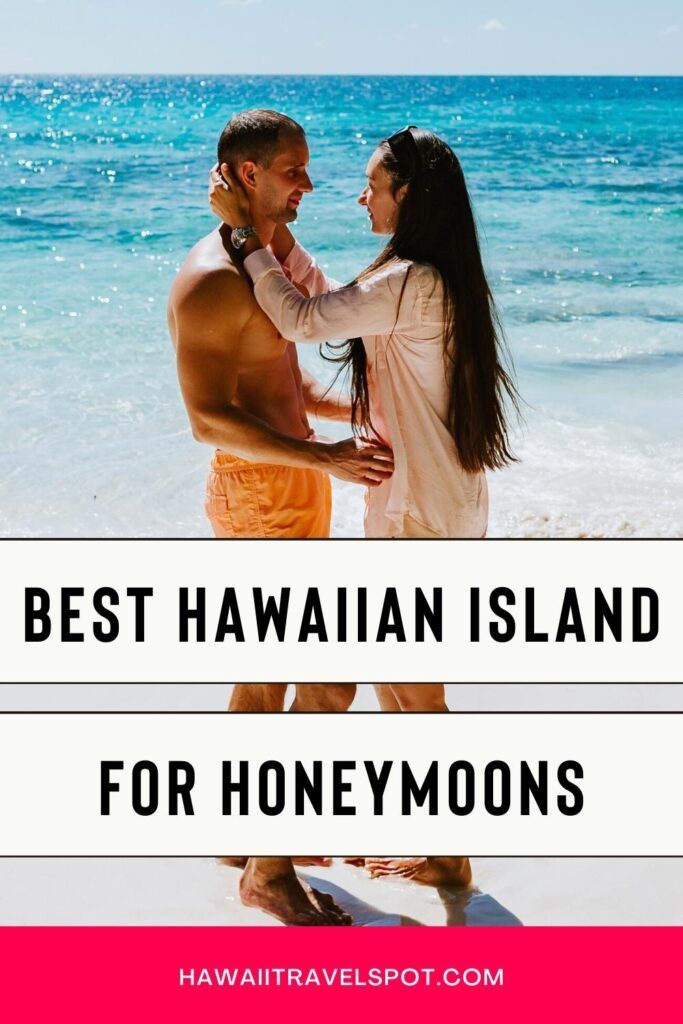 Best Hawaiian Island to Honeymoon FAQs
What's the most romantic Hawaiian island?
It really depends on what you consider romantic. Oahu and Maui have a lot of romantic restaurants and adult-only experiences. Kauai has a lot of adventures that are perfect for honeymooners. And if you're looking to really unplug and not do a lot, Lana'i has some luxury resorts that will blow you away.
What's the most affordable island in Hawaii for a honeymoon?
If you're not looking for a resort vacation, you can find a lot of affordable hotels and vacation rentals on the Big Island. Many of the activities on this island are pretty cheap and there are plenty of outdoor adventures. But, you can also find some pretty good deals for Oahu if you do some research. Since it's the most populated island, there are a lot of hotels and resorts and some of them run pretty good sales.
What's the best Hawaiian island for young adults?
Since there are often extra fees for renting a car if you're under 25 years old, Oahu is a pretty good island for young adults visiting Hawaii. There's the Waikiki Trolley and tons of Uber/Lyft options for the Waikiki area. Plus, most of the tours/activities offer transportation from Waikiki hotels.
Are There All Inclusive Hawaiian Honeymoons?
I know that a lot of couples are looking for ​​Hawaii all-inclusive honeymoons, but I have to report that these don't really exist in Hawaii. That's more of a Mexico or Caribbean thing.
The majority of luxury resorts in Hawaii have several on-site restaurants and dining options. You can charge your meals to the room, but it's not part of your Hawaii honeymoon package.
How to Find the Best Island for a Hawaii Honeymoon
Before I break down the different islands in Hawaii, let me point out what you can find on ALL of them.
Each main Hawaiian island has gorgeous beaches, stunning hiking trails, and resorts that offer amazing pools to cool off in! You'll also be able to explore farmers markets, go to luaus, and get beautiful photos.
There are a lot of things to do on all four main Hawaiian islands, but each one has its own unique personality.
Below, I'll tell you the things that set each island apart from the others so you can choose the best Hawaiian island for couples wanting a tropical honeymoon.
Consider this your ultimate guide to the best Hawaiian island for honeymoons!
Oahu Honeymoon
I'm kicking off this list with Oahu because that's the island most people are familiar with. It's home to Waikiki Beach which is a top beach honeymoon location.
Top Oahu Attractions for Couples
Oahu is one of the most popular honeymoon destinations in the world, and it's no surprise that Pearl Harbor is one of the island's most popular attractions. After all, this is where Japan bombed the United States, leading to our entry into World War II.
Today, the USS Arizona Memorial is the most popular place to visit, but there's also the Pearl Harbor Aviation Museum (it's incredible), the USS Battleship Missouri, and the USS Bowfin Submarine.
While it's not exactly romantic, it is one of the most popular places to visit in Hawaii. So if you're looking for something a little different on your Oahu honeymoon, be sure to add Pearl Harbor to your list of places to see.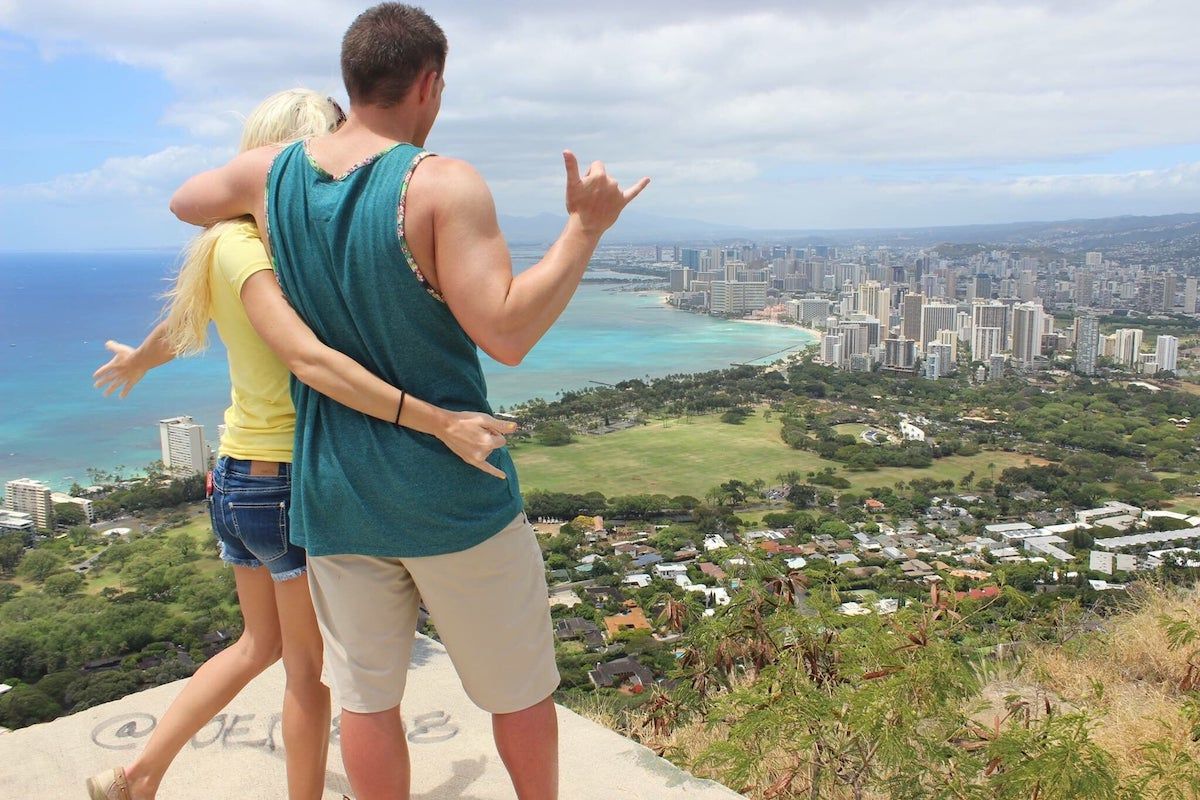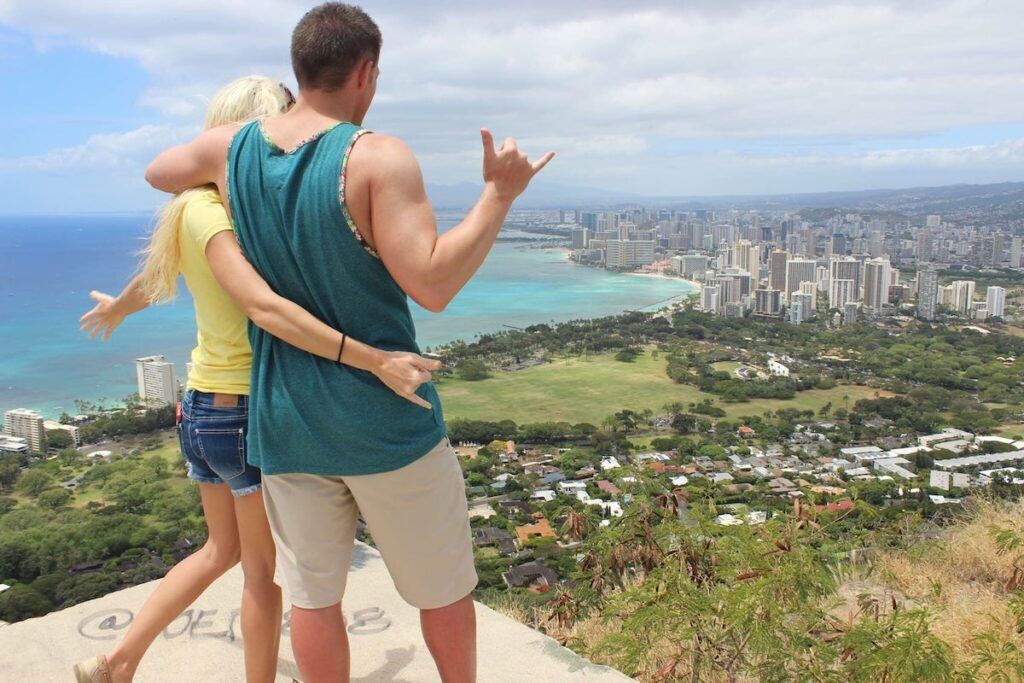 Another one of the most popular attractions on the island is Diamond Head. It's best to head up there close to sunrise so you can climb up all the stairs to get to the scenic viewpoint before it gets too hot (or crowded).
They say couples that sweat together stay together, right? This is a great opportunity to test that theory out and see if you can make it to the top without killing each other.
Once you reach the top, you'll be rewarded with stunning views of the ocean and Honolulu. If you're lucky, you might even see a rainbow. Just be sure to snag a reservation before you go!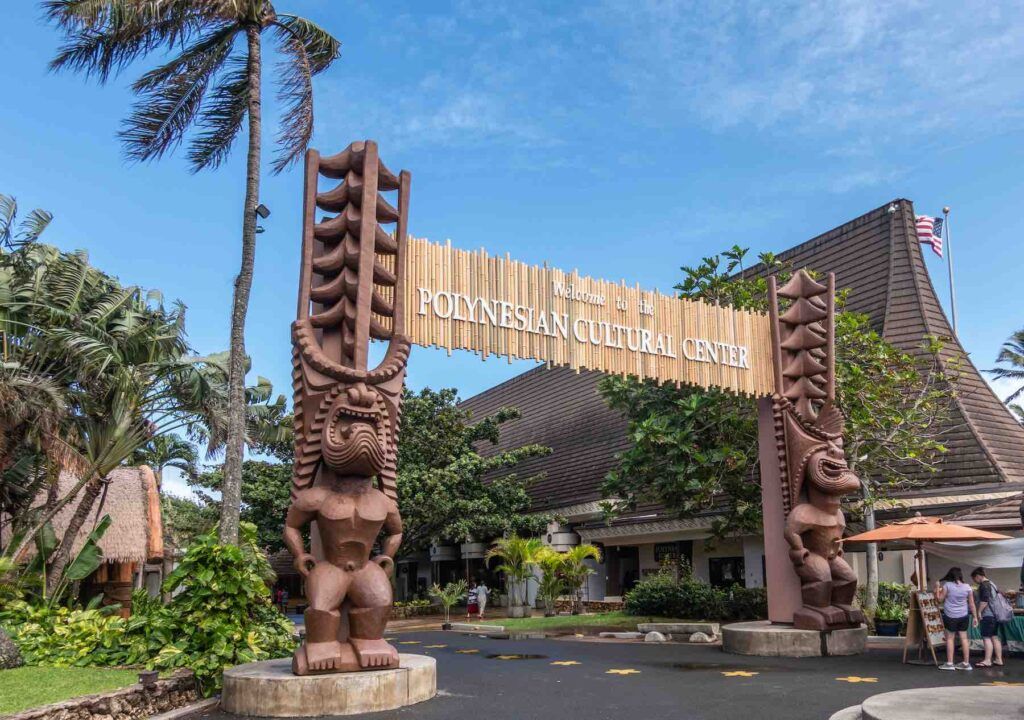 if you're looking for something a little more cultural, you should consider visiting the Polynesian Cultural Center.
Here, you can learn about the cultures of the main Polynesian islands and even participate in hands-on activities. The highlight of the night is watching the Ha: Breath of Life show, which is an amazing performance that you won't want to miss.
Save Money with Points
Here are the best credit card offers for people who travel and want to use points to pay for airfare and hotels in Hawaii.
Things to do on an Oahu Honeymoon
Kualoa Ranch is a popular TV and movie filming site that covers 4,000 acres of green pastures, sprawling mountains, and picturesque valleys.
The ranch has been used as a backdrop for over 60 Hollywood movies and TV shows, including Jurassic Park, Godzilla, Pearl Harbor, and Hawaii Five-O.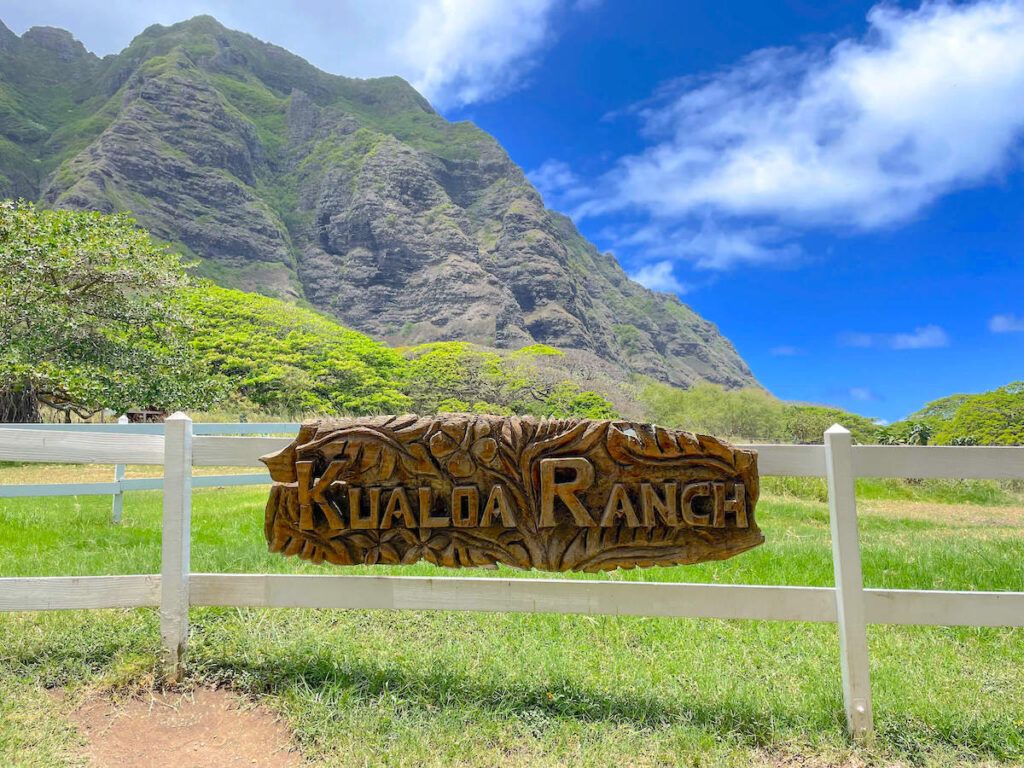 Adventurous couples will definitely want to explore Kualoa Ranch. I highly recommend the ATV tour that takes you to Jurassic Park sites and has the most beautiful views of Oahu. You can also do horseback riding, ziplining, a movie tour, and even go to a secret island.
Oahu is also the perfect place to experience a luau on your honeymoon! Toa Luau and Experience Nutridge Luau are both small, intimate events that you can't find anywhere else in Hawaii.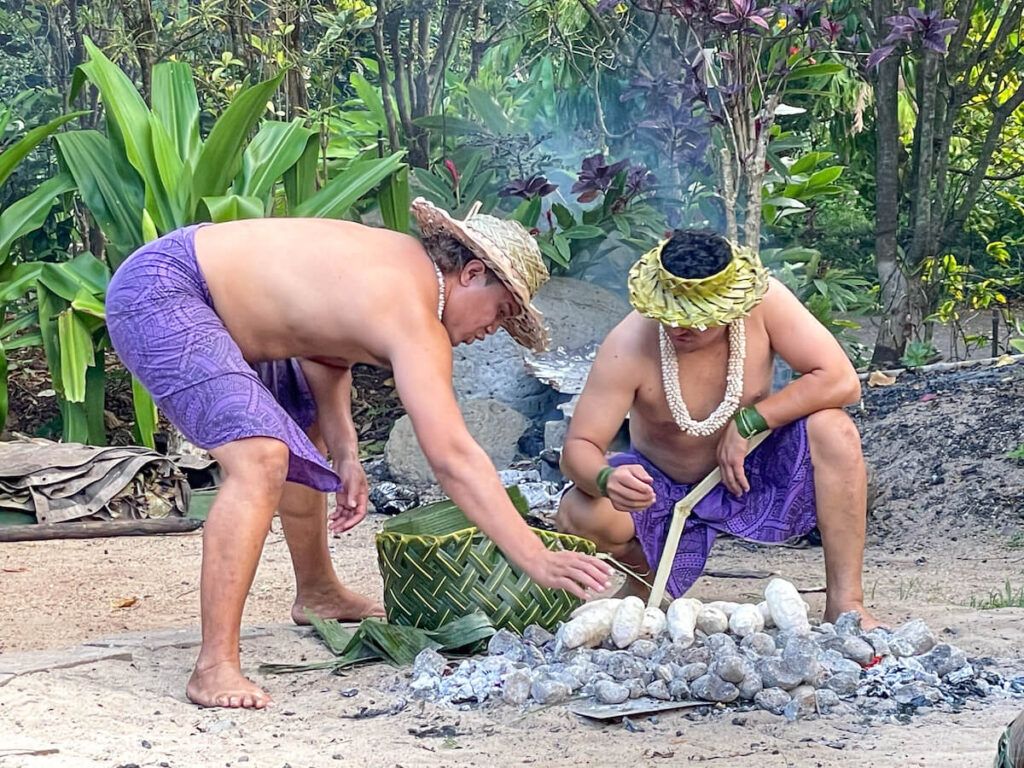 They're located in North Shore and Honolulu respectively, so you can easily get to them no matter where you're staying on the island.
And, of course, they both offer the most authentic luau experience you can find in Hawaii.
So if you're looking for an intimate, authentic luau experience on your Oahu honeymoon, look no further than Toa Luau or Experience Nutridge Luau!
There are also tons of opportunities to see Hawaiian sea life. You can swim with dolphins at the Kahala Hotel & Resort. There's a cool shark cage diving experience in North Shore Oahu. And there are lots of Oahu snorkeling tours.
Book a Hawaii Photo Shoot
Whenever we travel to Hawaii, we almost always book a photo shoot with Flytographer. They are super easy, affordable, AND it guarantees that I'll have more than just selfies. You can get $25 off if you book through this link or use the code HAWAIITRAVEL.
Romantic Oahu Resorts and Hotels
Oahu is one of the most popular honeymoon destinations in the world, and it's easy to see why. From the bustling city life of Honolulu to the tranquil shores of North Shore Oahu, there's something for everyone on this island paradise.
And when it comes to finding the perfect place to stay, there are plenty of options for honeymooners in Oahu.
If you're looking for a classic Waikiki experience, the Royal Hawaiian Hotel is your perfect option. Nicknamed the "pink palace," this iconic hotel is as Instagrammable as it gets.
For a more modern take on Waikiki, check out the Surfjack Hotel. This hip property is great for couples who want to be right in the heart of the action. And they have a poolside bar.
Or, if you're looking for some truly unique amenities, consider the Alohilani Resort. This property features a massive aquarium in the lobby and a DJ at their rooftop pool.
If you don't like the hustle and bustle of Waikiki, head up to Turtle Bay Resort in North Shore Oahu. It was completely renovated in 2021 and they have lots of spaces to just relax. It's also where they filmed Forgetting Sarah Marshall!
No matter what type of experience you're looking for, you'll find the perfect place to stay in Oahu for your honeymoon.
Maui Honeymoon
For many years, Maui was known as the "honeymoon island" because so many people came here for their Hawaiian honeymoon. It has a great mix of nightlife and outdoor adventures. And you'll find some of the most luxurious resorts in Hawaii.
Top Maui Attractions for Couples
Maui is a bucket list destination for many honeymooners, and Haleakala National Park is one of the main reasons why.
The park is famous for its epic sunrises and sunsets, and there are few better places in Maui to watch the colors of the sky change than from the top of Haleakala.
You can drive up to the park on your own, but I recommend taking a tour. The tour will not only save you the hassle of having to find parking and driving in the dark, but it will also give you a chance to learn about the history and culture of Maui from your guide.
And if you're interested in exploring more than just the sunrise/sunset experience, there are also some great hiking trails within the park boundaries.
No matter what you choose to do at Haleakala National Park, it's sure to be a memorable experience during your Maui honeymoon.
Maui is also home to some of the best pineapples in the world. And what better way to enjoy Maui's delicious pineapples than on a Maui honeymoon?
The Maui Pineapple Tour is a great way to learn about how pineapples are grown and to taste some of the sweetest (and freshest) pineapples in Hawaii.
During the tour, you'll get to go into the fields to see how the pineapples are grown. You'll also get to taste some of the Maui-grown pineapples. And it's not just delicious pineapple that you'll get to taste on the Maui pineapple tour.
The Maui pineapple tour is also right next to a distillery, so you can taste a bunch of locally made spirits after the pineapple tour!
I'ao Valley State Park is the perfect place to hike if you're not a serious hiker like me. The easy hiking trail is only 0.7 miles long and the path is either paved or has stairs that lead up to a scenic viewpoint.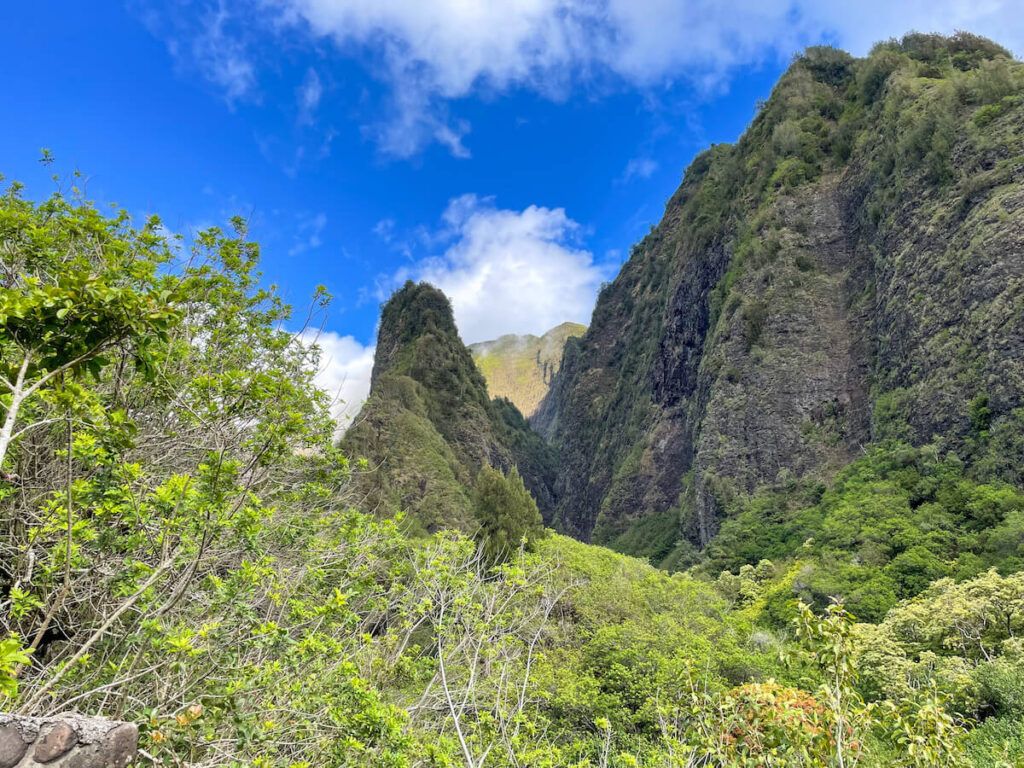 Plus, there's a cute swimming hole if you want to hang out a bit. This is really close to the airport so it's an easy stop on your way to or from the airport. And if you're looking for a more challenging hike, there are plenty of options nearby as well.
Things to do on a Maui Honeymoon
One of the best ways to experience all that Maui has to offer is to drive the Road to Hana. This windy road snakes its way along the coast, with stops along the way that offer everything from hiking to swimming to sightseeing.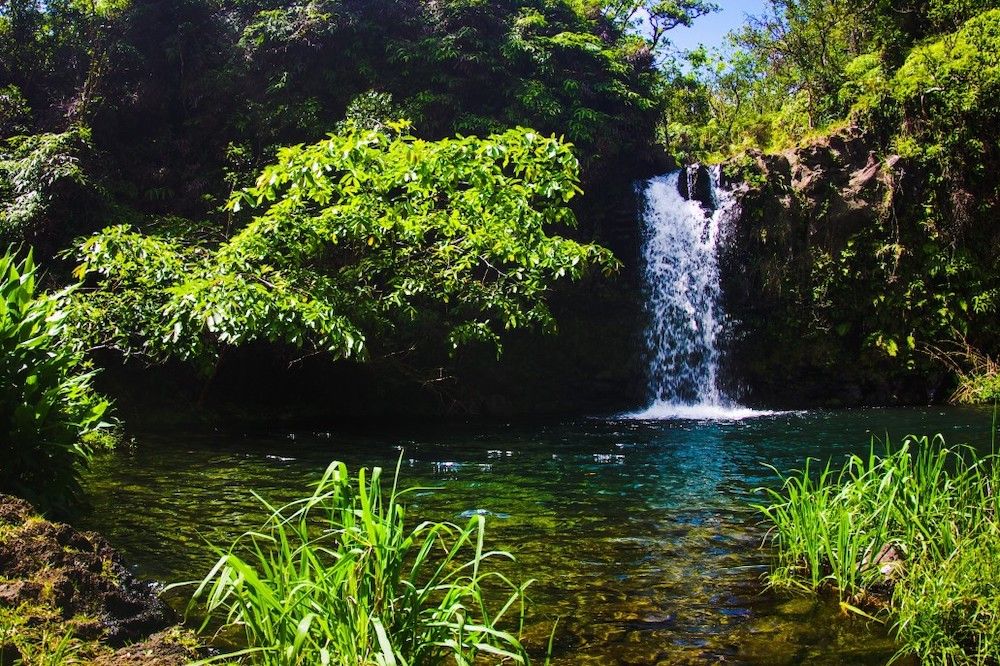 The best stops for couples include hiking to Twin Falls, exploring the Garden of Eden, seeing a black sand beach, and hiking through a bamboo forest. This is such a cool adventure that you might consider spending the night in Hana so you have more time to explore.
For couples looking for a romantic adventure, the Road to Hana is the perfect way to start their Maui honeymoon.
You'll probably also want to book a luau in Maui. The swankiest Maui luau is the Feast at Mokapu. It's located at the Andaz Maui in Wailea and it's incredible.
It features a plated, 3-course farm-to-table meal, tasty tropical cocktails, and some of the best Polynesian entertainment. And it's all oceanfront.
We've been to a LOT of luaus in Hawaii and the Feast at Mokapu is by far the top one I recommend for Hawaii honeymoons!
Molokini Crater is one of the most popular Maui honeymoon activities and for good reason – it's gorgeous!
You'll need to take a snorkeling boat tour to get to Molokini but it's definitely worth it. The water is so clear and you have a good chance of seeing Hawaiian Green Sea Turtles.
Some of the boats even have water slides on board, which makes for the perfect half-day or full-day Maui adventure!
So if you're looking for something fun to do on your Maui honeymoon, be sure to check out Molokini Crater. You won't be disappointed!
Romantic Maui Resorts and Hotels
Maui is a great place for a honeymoon because there are so many romantic resorts to choose from. Andaz Maui is a Wailea resort that has world-class dining, the best luau in Maui, and an amazing pool area.
Hyatt Regency Maui is a Ka'anapali resort with tons of food options and one of the best pools in Maui.
Royal Lahaina Resort is pretty fabulous and close to Whaler's Village, home to lots of restaurants and shops.
So whether you're looking for a resort with great food options, an amazing pool, or one that's close to shopping and restaurants, Maui has it all!
Kauai Honeymoon
While Kauai used to be a Hawaiian island that was considered "under the radar", Kauai has quickly become a top honeymoon destination in the United States. It's perfect for adventurous couples as well as foodies.
Top Kauai Attractions for Couples
Kauai is one of the most beautiful places on earth, and honeymooners will find plenty to do on this lush island. One of the most popular Kauai attractions is the stunning Na Pali Coast.
There are a few different ways to experience it. You can take a helicopter ride, hike into the Kalalau Valley, or take a Na Pali boat cruise.
Whichever way you choose, you'll see lush valleys, tropical rainforests, and secret waterfalls. It will seriously take your breath away.
Another one of the most popular Kauai attractions is Waimea Canyon, nicknamed the "Grand Canyon of the Pacific". Here you'll find cool photo spots, scenic lookouts and hikes for all levels. Plus, there are some cool waterfalls in the red dirt on the drive up to Waimea Canyon.
From Waimea Canyon, I suggest heading up to Kokee State Park just up the road for a completely different experience. It can get a bit chilly, so bundle up!
Wailua Falls is one of Kauai's most famous attractions and it's easy to see why. It's a beautiful Kauai waterfall that was featured in the classic TV show Fantasy Island.
You can easily drive to the scenic lookout or you can kayak up the Wailua River to see the falls. Either way, it's a great Kauai honeymoon spot.
Things to do on a Kauai Honeymoon
Kauai is an amazing honeymoon destination for couples who want to experience a little bit of everything. The Kauai Rum Safari is a great way to learn about the history of rum in Hawai'i, see some amazing sights, and taste some delicious rum.
You'll be taken around a lush plantation where you'll see exotic plants, tropical fruit and vegetable orchards, and many more beautiful sites. You'll learn about the history of Rum in Hawai'i and why Koloa Rum is so good, all before your first rum tasting.
The Kauai Rum Safari is a great way to spend a day on your honeymoon and learn about the rich history of rum in Hawaii. Plus, it's unlike any tour on Kauai!
Speaking of unique experiences, the Kauai Jungle Tub is super romantic. It's a photography session that takes place in a secluded backyard. An outdoor tub is filled with tropical leaves and flowers for a gorgeous photo shoot.
It comes with professional hair and makeup so you will look and feel like a real supermodel. Plus, it's fun to have your partner hop in the tub with you for some candid shots.
And if you're looking for a Kauai adventure that isn't too strenuous, check out this Kauai Mountain Tubing tour.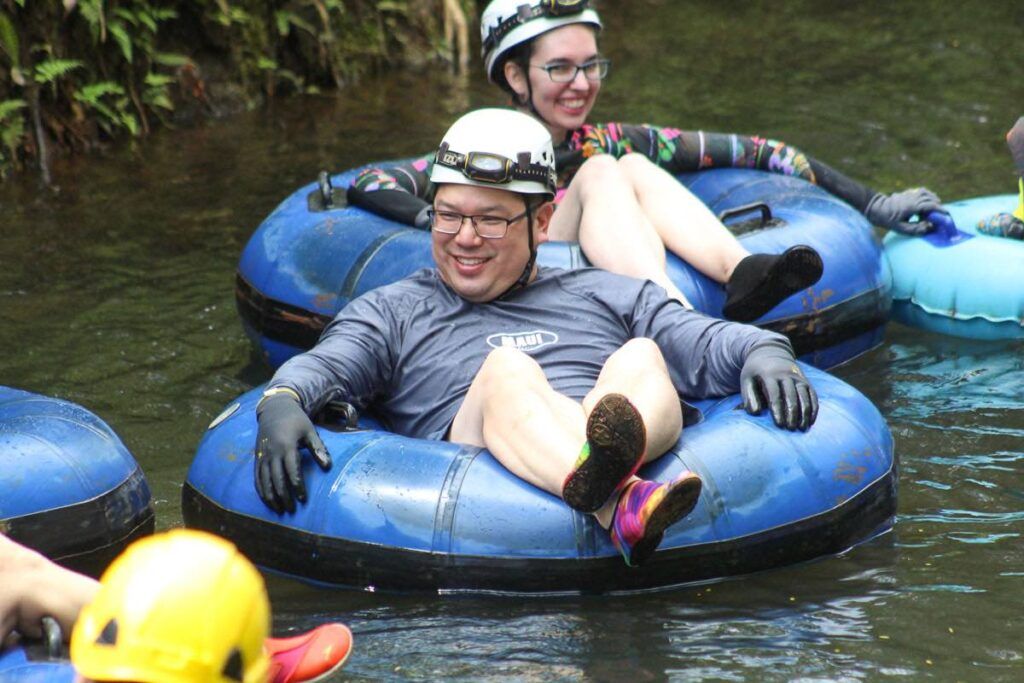 They take you onto private property in Mt. Waialeale so you can float on an inner tube down an abandoned sugar cane canal. You even get to go through a few tunnels.
It's not remotely scary but you'll feel a bit adventurous.
Romantic Kauai Resorts and Hotels
There are plenty of Kauai resorts and hotels that cater to couples looking for a romantic getaway. The 1 Hotel Hanalei Bay opens in October 2022 and is the premier place to stay in North Shore Kauai.
There's also the Grand Hyatt Kauai that is right on Shipwreck Beach and features several nice restaurants and an on-site luau.
And the Koloa Landing Resort has one of the best swimming pools in Hawaii and it's right next to the Shops at Kukui'ula.
So whether you're looking for a luxurious North Shore Kauai resort or somewhere in sunny Poipu, Kauai has plenty of romantic options for you to choose from.
Big Island Honeymoon
The Big Island is the ultimate Hawaii honeymoon destination for couples that love the outdoors and want to explore a volcano in Hawaii.
Top Big Island Attractions for Couples
Big Island is Hawaii's largest island and home to two of the world's most active volcanoes, Kilauea and Mauna Loa.
Hawaii Volcanoes National Park is the best place to see active lava flow and offers a variety of lava viewing sites. The park also has hiking trails, a lava tube, a visitors' center, and the Volcano House hotel.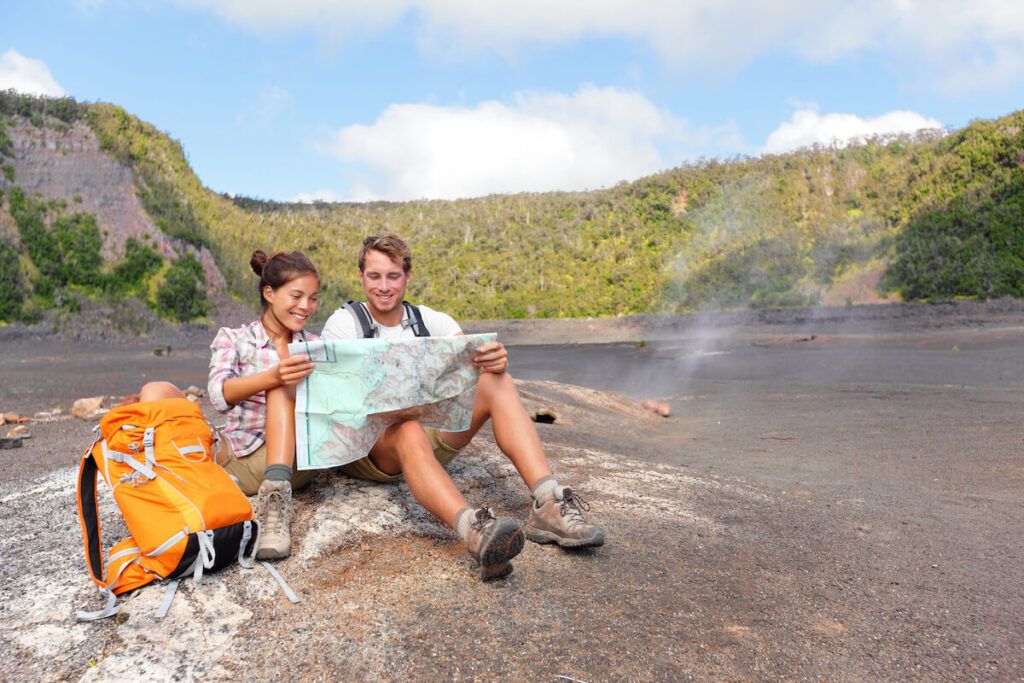 You can easily do a day trip to Hawaii Volcanoes National Park from Kona or Hilo or plan on spending the night.
The Big Island is also the home of Kona coffee, one of the world's most coveted coffee beans. Kona coffee is grown on the volcanic slopes of Hualalai and Mauna Loa, which gives it a unique flavor.
If you're a coffee lover, a visit to the Big Island is a must. There are lots of different Kona coffee farms to choose from, and many offer tours of the coffee plantations. Of course, there will be plenty of opportunities to sample the coffee.
If you're looking for a romantic Big Island honeymoon destination with lots of gorgeous waterfalls, the Hilo side is definitely worth a visit!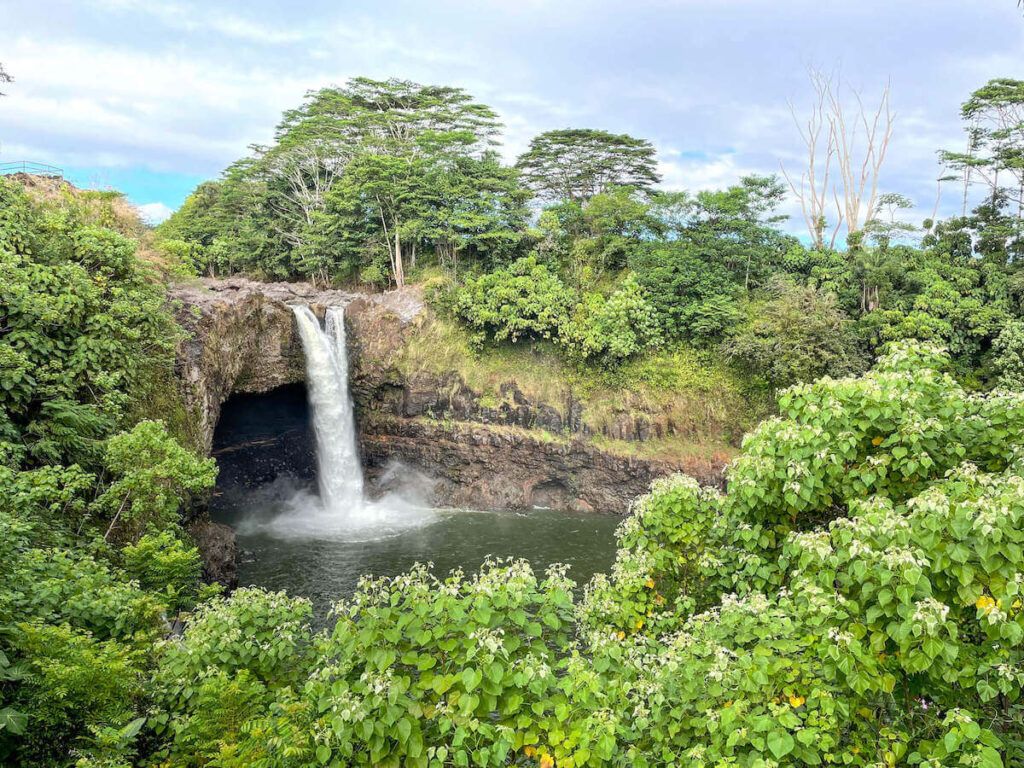 Rainbow Falls is really easy to get to and just steps away from the parking lot. And there's also Akaka Falls, which has a nice paved path with several scenic viewpoints.
Plus, the Hawaii Tropical Biosphere & Garden has a really cute waterfall inside that's definitely worth checking out.
Things to do on a Big Island Honeymoon
If you're looking for a truly unique activity to add to your Big Island honeymoon, look no further than night swimming with manta rays.
While most people think of snorkeling as a daytime activity, swimming with manta rays is best done at night.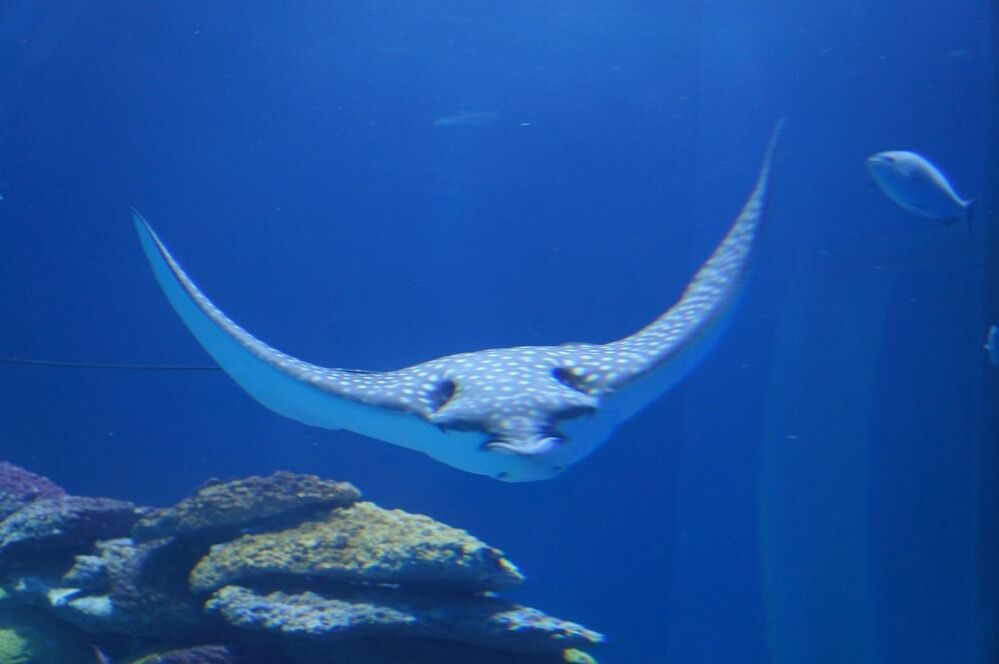 You can join one of the many snorkeling or diving tours that operate in Kona. Swimming with manta rays is an incredible experience that you won't find anywhere else in Hawaii.
If you're looking for an adventurous way to experience the Big Island's culture, the cultural ATV ride with Aloha Adventure Farm is a must-do.
You can either ride your own ATV or hop in a UTV with a guide if you're not feeling confident. Either way, you're in for a wild ride. You'll stop at little villages where you'll see cultural presentations and participate in hands-on activities.
They even have a Polynesian wood carving experience you can do. You won't find anything like this on any other island in Hawaii.
Horseback riding in Waipio Valley is the perfect activity for couples looking to get away from it all and enjoy the beauty of nature.
You'll feel like you've stepped back in time as you ride through lush green foliage and across bubbling streams. And, of course, the views of Hi'ilawe Falls are simply breathtaking.
If you're planning a Big Island honeymoon, horseback riding in Waipio Valley is an absolute must! All Waipio Valley tours are currently closed due to roadwork.
Romantic Big Island Resorts and Hotels
There's no shortage of luxury hotels on the Big Island of Hawaii, so couples planning a Big Island honeymoon have plenty of options to choose from.
I suggest staying at the Big Island's first resort, the Mauna Kea Beach Hotel. Couples can indulge in romantic private dining in tiki-torch-lit locales around the resort or get in the Hawaiian spirit during the on-property luau.
There's also the incredible Four Seasons on the Kohala Coast. This is where you'll find private bungalow-style rooms and suites.
And for those who want to indulge in a little spa time on their Big Island honeymoon, there's the Fairmont Orchid, which has a spa with outdoor huts.
No matter which hotel you choose, you're sure to have a memorable Big Island honeymoon.
Lana'i Honeymoon
Most people have only heard about Lana'i because this is where Bill Gates got married years ago. It continues to be a quietly popular honeymoon spot in Hawaii because it's so private.
Top Lana'i Attractions for Couples
Honestly, there aren't too many actual attractions on Lana'i. There's the Lana'i Ferry that will take passengers to and from Maui. That can be fun to do for a dinner out or to go shopping.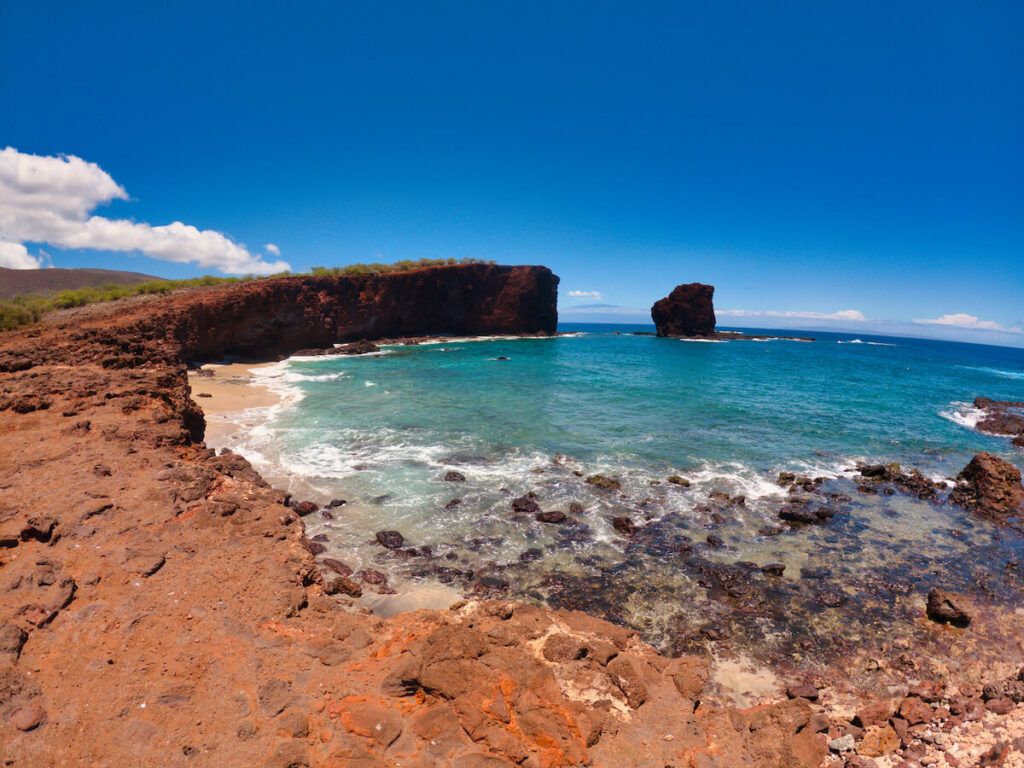 Sweetheart Rock is also worth seeing, especially on a Lana'i honeymoon. It's just a natural landmark but it's cute for some photos.
There's also the Garden of the Gods. You'll need to either rent a 4×4 vehicle or book a tour to see this Hawaii park. There are some cool rock formations, but it's mostly rolling hills of dirt. It's just so unlike other Hawaii landscapes that you'll just need to see it in person.
Things to do on a Lana'i Honeymoon
The Hawanawana Spa at the Four Seasons Lana'i is the perfect place to unwind after a long day of exploring Lana'i. With its soothing atmosphere and luxurious treatments, the Hawanawana Spa is sure to please any bride and groom.
For those looking for something a little more unique, Sensei Lana'i offers a variety of unique spa experiences. From Thai massage to body wraps and traditional Hawaiian lomi lomi massage, Sensei Lana'i has something for everyone.
So whether you're looking to relax or rejuvenate, Lana'i has the perfect spa experience for you.
Lana'i is the perfect place to enjoy a honeymoon, and NOBU LANAI is the perfect place to enjoy Lana'i. This cliff-side restaurant offers stunning views of the ocean, along with delicious Japanese cuisine.
You can even book a teppan experience or book private dining somewhere in the resort.
Romantic Lana'i Resorts and Hotels
On the Southeast coast of the island, the Four Seasons Lana'i sits just a moment away from many of the most scenic spots. Guests can enjoy lagoon-style pools, gorgeous botanical gardens, the Hawanawana Spa, or fabulous restaurants.
There's also Sensei, which is located in the spiritual uplands of Lana'i. It features an incredible sculpture garden, spa facilities, and lots of outdoor activities.
Lana'i is the perfect place to honeymoon if you're looking for an intimate and exclusive experience.
Moloka'i Honeymoon
I've added Moloka'i to this comparison of the best Hawaiian islands for honeymoons because it's gorgeous, but I recommend island hopping from Maui. That way you can do a few adventures/activities on Maui and then really unplug and relax on Moloka'i.
Things to do on a Moloka'i Honeymoon
Since there aren't a lot of "tourist attractions" on Moloka'i, let's just right into things to do on Moloka'i.
There's a small Moloka'i Plumeria Farm off the side of the road. You can pick your own flowers and learn how to string a fresh flower lei. It's really easy to do (trust me) and it makes a fun souvenir while it lasts.
One of the prettiest drives in Hawaii is the road to Halawa Valley. It's similar to the Road to Hana on Maui except there are a lot more sections with one-lane roads and hairpin turns. However, it's totally worth it for the epic views.
You can even book a tour with a local guide who will take you on a cultural hike into the Halawa Valley where you can see a secret waterfall.
And while this may not seem like a romantic thing to do in Hawaii, getting hot bread on Moloka'i is a must-do.
Basically, you head down a dark alley at night to buy bread fresh from the bakery ovens. They smear toppings like cream cheese, mango, blueberry, or strawberry preserves and it's incredibly delicious. It's one of the stories that you will tell to all your friends and families.
Finally, one of the most famous things to do on Moloka'i is visit Kalaupapa National Historical Park. This is the site where people with leprosy (now called Hansen's disease) were sent to live out the remainder of their days.
I definitely wouldn't consider it a "honeymoon" activity, but it's fascinating and part of American history that many people don't know about.
Romantic Moloka'i Hotels
There's actually only one hotel on Moloka'i and it's aptly named Hotel Moloka'i. It's a quaint hotel with a beach bungalow style. There are a lot of different types of rooms.
A few cool things about Hotel Moloka'i is that there are lots of hammocks throughout the property, they have a nice restaurant with live music, and it's right on the water.
Other than Hotel Moloka'i, you can stay in a condo or a vacation rental home.
So What's The Best Hawaii Island for Honeymoons?
It really depends on your travel style, budget, and what you'd like to see in Hawaii. The four main islands (Oahu, Maui, Kauai, and the Big Island) are the easiest to get to. But, Lana'i and Moloka'i make easy day trips. And there are fantastic Hawaii honeymoon resorts everywhere you look.
And you can also island hop in Hawaii if you want to experience more than one island. I hope this helps you plan your perfect Hawaii honeymoon!