Are you planning your first trip to Hawaii and don't know where to start? Keep scrolling to find out my top tips for visiting Hawaii for the first time!
This list of tips for visiting Hawaii for the first time was written by Marcie Cheung (a Hawaii travel expert) and contains affiliate links which means if you purchase something from one of my affiliate links, I may earn a small commission that goes back into maintaining this blog.
Are you looking for the best tips on how to visit Hawaii for the first time?
If you are a Hawaii newbie, you are in for a real treat. Hawaii is absolutely incredible and is definitely a place you will want to go back to time and time again. There's a reason I've been more than 40 times!
Let me share some of the best tips for visiting Hawaii for the first time.
Here you will learn the best way to experience Hawaii, where to go, what to see and do, and all the best Hawaii travel tips, so you get the most out of your first time in Hawaii!
Want the best Hawaii advice? I've visited over 40 times and have tons to share!
Want to skip all the planning and just access my detailed Hawaii itineraries complete with daily schedules, fun activities, and travel hacks? Click the button below.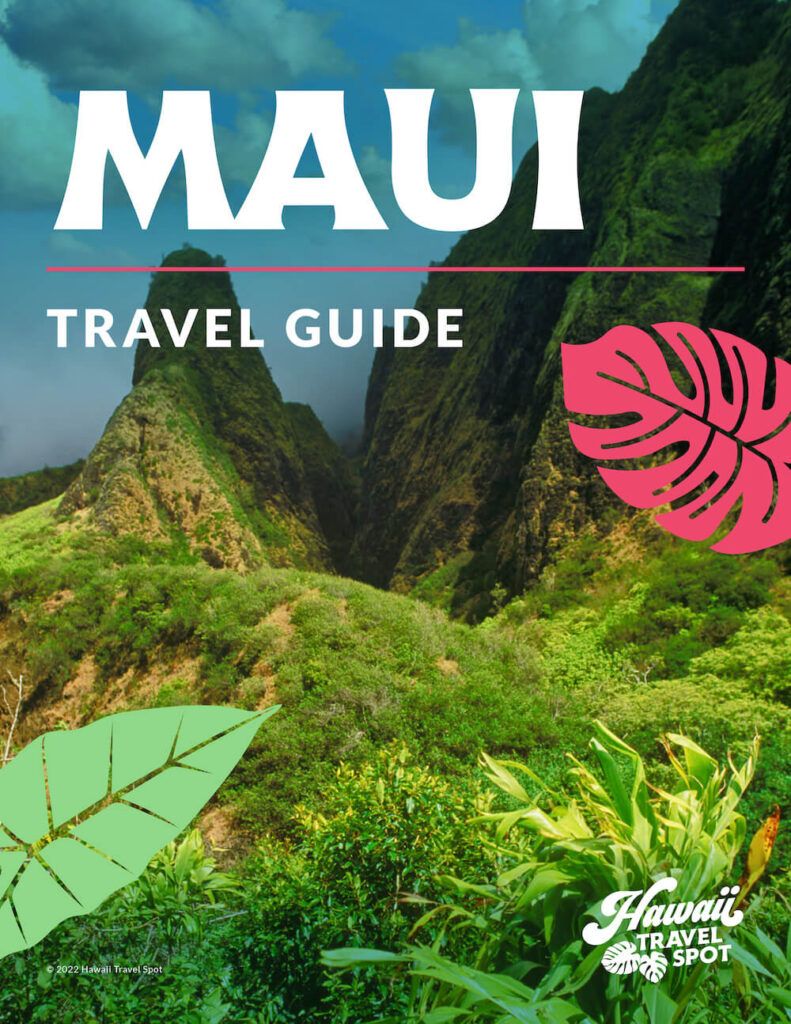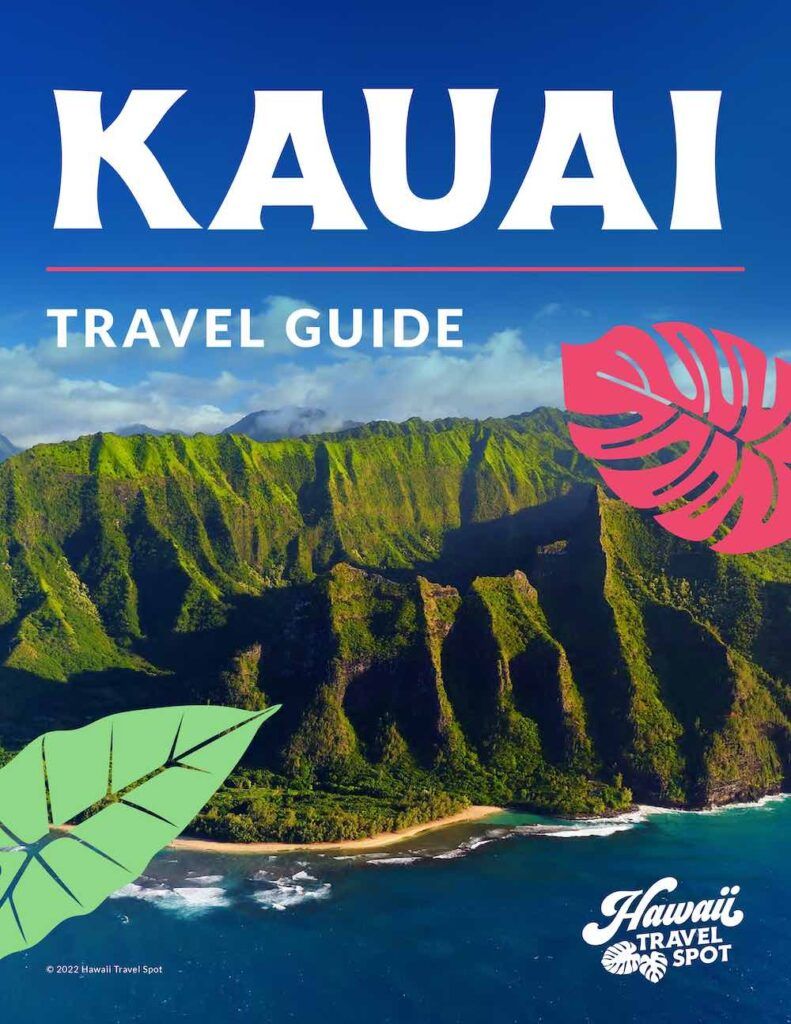 Best Place to Stay in Hawaii for First-Timers
One of the best ways to visit Hawaii for the first time is to stay at a hotel. Many hotels will have their own accommodations and tours that will take you places.
If you stay at an Airbnb or vrbo, you might struggle with figuring out where to go. Plus, you won't always have luxurious amenities like air conditioning, meals, spas, and other things you will want for your first-time visit to Hawaii.
Save Money with Points
Here are the best credit card offers for people who travel and want to use points to pay for airfare and hotels in Hawaii.
Best Way to Travel in Hawaii
The best way to travel to Hawaii is, of course, by plane. However, once you arrive, the best way to truly experience all Hawaii has to offer is by renting a car. If you are on a strict budget, you can get by without one, but you are more limited to time and where to go exploring.
For your first time, I highly recommend getting a car to see the entire island! Renting a car is the best way to see Hawaii instead of relying on the bus system or tours.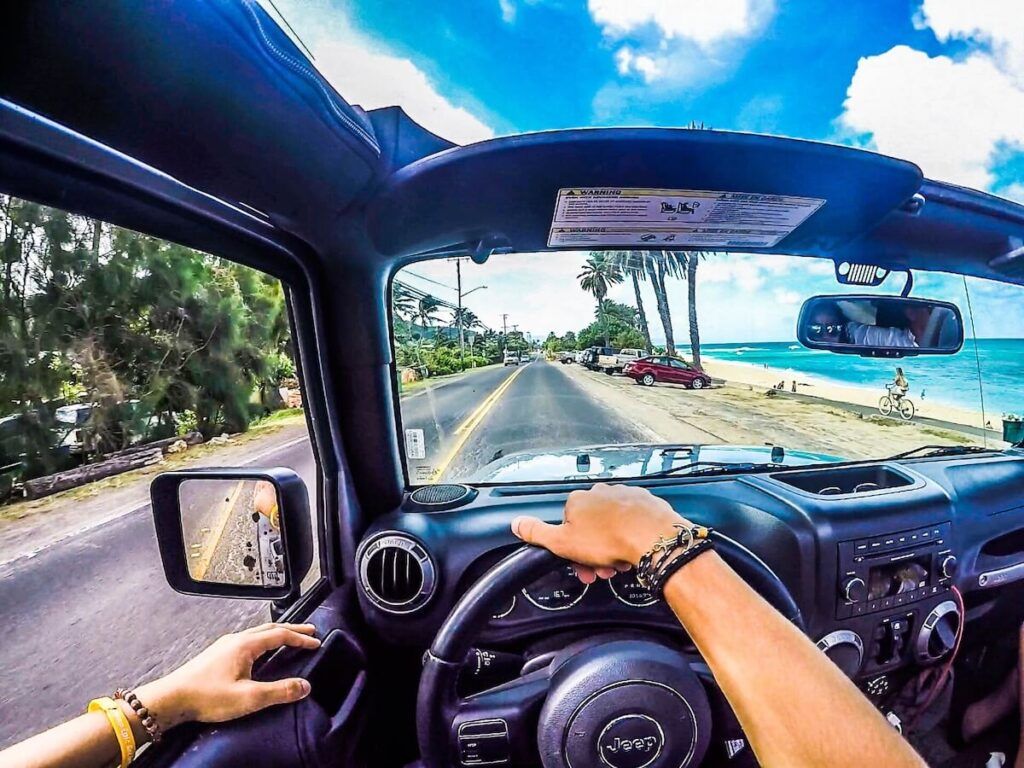 Discount Hawaii Car Rentals
We all like to save money while we travel, right? Well, we've found that we can usually save a lot of money by booking through Discount Hawaii Car Rentals.
Basically, they get amazing deals on rental cars from well-known companies like Alamo, Dollar Car Rental, Avis, Thrifty, Enterprise, Budget, and Payless.
And then they pass the savings onto you.
Plus, they can often get free extra drivers or reduce the young driver rate. It's definitely the way to go when visiting Hawaii for the first time. Check out the latest prices and more details.
Best Hawaii Vacation Tips
Now that you know what island to visit and where to stay, here are some of the best tips for visiting Hawaii for the first time so you relax and enjoy your vacation to the fullest. These are the best things to know before going to Hawaii!
1. Don't Pack Your Schedule Full
Part of the charm of Hawaii is the laid-back, relaxing lifestyle. At least one day on your first trip to Hawaii, don't plan anything and just go with the flow. If you want to spend all day at the beach just relaxing and soaking up the sun, do it!
If you are constantly rushing to get to the next fun activity, you won't truly experience Hawaii at its best. Take the time to slow down and enjoy your journey, whatever comes your way.
Plus, it's great to leave some flexibility in your schedule in case an activity needs to be rescheduled due to weather.
2. Go to One Island
When going to Hawaii for the first time, you will want to stay on one island. This is especially true if you are going for a week or less. Island hopping is fun, but it does take time, and you won't get to experience the islands to their fullest by constantly switching places.
Instead, choose one island and stay there the entire time! You will be able to relax more, enjoy the beauty surrounding the island, and have fun exploring all the activities available on that one island.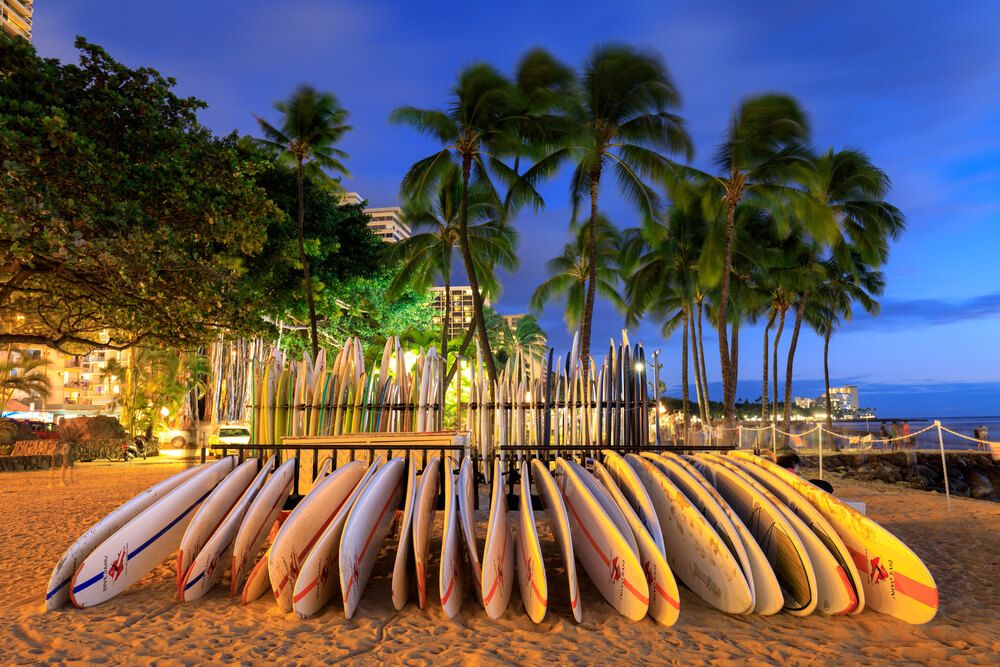 Oahu is a pretty popular island for first-time Hawaii visitors. That's because it's home to Pearl Harbor, Diamond Head, and Waikiki. Maui is popular for people who don't want to go to Oahu, but want some nightlife and cool excursions.
3. Do Your Own Tours
One easy way to plan a Hawaii trip is to do your own tours. Circle island tours are great and show many great features of the entire island, but this is something you can easily do yourself with no time limit when you rent a car.
Create your own tour and choose different places you want to explore all around the island. This will make your first time to Hawaii a much better experience as you get to decide everything you do instead of leaving that in other people's hands.
The only time I DO recommend a circle island tour for first-timers is if you are on Oahu and aren't renting a car. Then, you'll want to do a Hawaii Bucket List tour. You get to pick where you go and leave the driving (and sometimes dicey parking) to the professionals.
Book a Hawaii Photo Shoot
Whenever we travel to Hawaii, we almost always book a photo shoot with Flytographer. They are super easy, affordable, AND it guarantees that I'll have more than just selfies. You can get $25 off if you book through this link or use the code HAWAIITRAVEL.
4. Prepare for the Time Difference
Depending on where you live, there will be a significant time difference when you arrive, leaving you feeling jet lag.
Remember to factor that into your plans, as you might end up being too exhausted to do something at night for the first two days. You'll definitely want to hold off doing a luau or night adventure until later in your trip.
5. Visit During the Off-Season
You can take a trip to Hawaii any time, and you will be greeted with warm, sunny beaches. However, if you visit during the off-season, you can save your money and have fewer crowds around you while you explore.
The off-season of Hawaii is usually the wintertime or any month that doesn't involve a holiday. During the winter, you can expect a little bit more rain and cooler weather at night, but nothing extremely different from the summer in Hawaii.
6. Use Reef-Safe Sunscreen
You don't want to hurt the sealife during your first trip to Hawaii. Respect the island, the people, and the ocean life by using reef-safe sunscreen!
A lot of traditional sunscreens have so many harmful chemicals not just for humans but also for marine life. Hawaii has actually banned any sunscreen that is not reef-safe to further protect the environment.
There are four main ingredients banned in Hawaii, which include oxybenzone, octinoxate, 4-methyl benzylidene camphor, and butylparaben.
Blue Lizard, Sun Bum or Maui Vera are great options for adults. If you aren't sure what sunscreen to bring, you can always buy one during your stay there at Long Drugs, Foodland, or Walmart.
7. Try the Local Food
Hawaiian food is absolutely delicious! Don't be afraid to try any, especially from food trucks. You can find Hawaiian plate lunches, fish tacos, and garlic shrimp on all the islands.
Insider tip: Grab some poke (raw fish) from Foodland as soon as you arrive because you will probably want to eat it every day while you are on the island!
8. Clean Up After Yourself
Hawaii is a beautiful place you do not want to leave messy. Be respectful to the people and island and clean up after yourself. If you see trash on the beach or side of the road, clean it up, even if it isn't yours.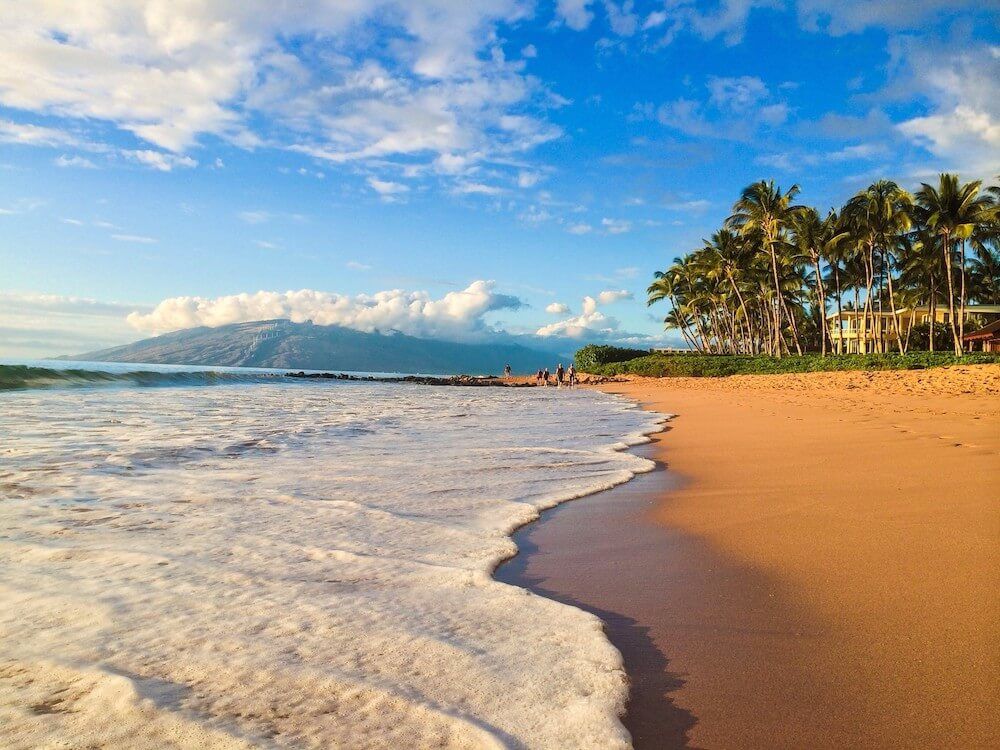 Taking care of the earth is a huge part of Hawaiian culture, so make sure to respect it during your trip. Malama the aina.
9. Embrace the Culture
One of the best tips for visiting Hawaii for the first time would be to fully embrace the culture. Eat all the local food you can find, visit the museums, learn about the people and culture, and talk to locals about their lives.
Learn as much as you possibly can about Hawaii, and you will love Hawaii in a totally new way. It makes your visit more special, and it'll help you embrace the aloha lifestyle in your own life too!
10. Go On a Hike
The hikes on each island of Hawaii are magnificent. You will want to try at least one hike during your first visit to Hawaii, even if it is short.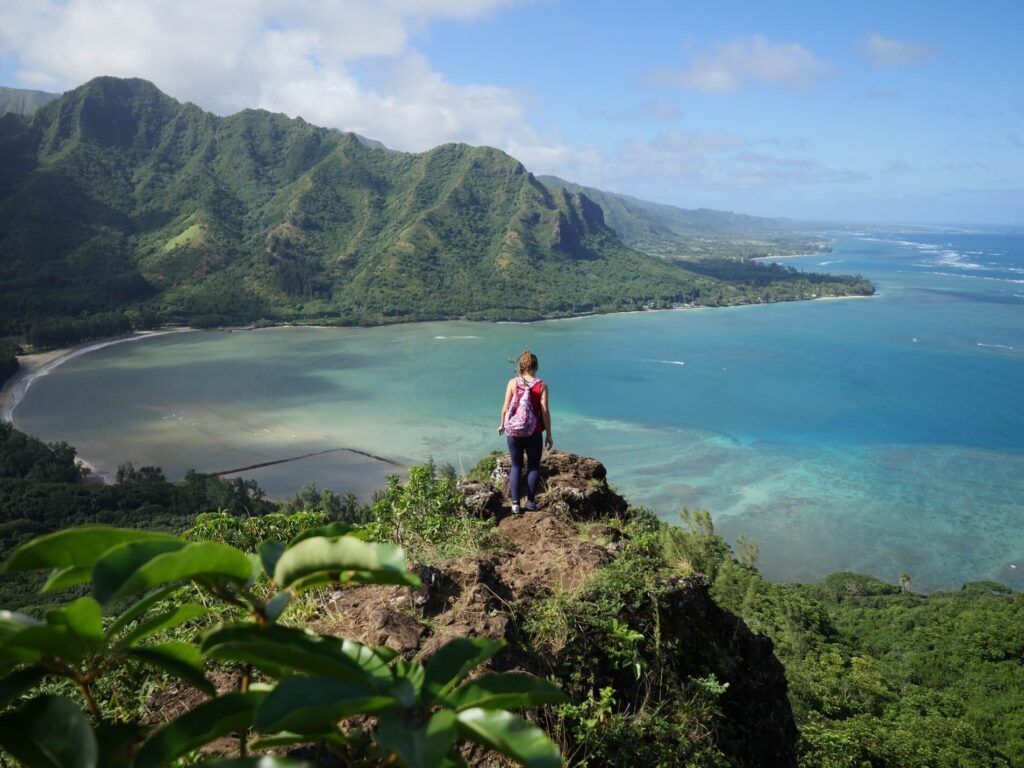 Going on a hike will help you enjoy being in the beautiful luscious green nature and a stunning view of the ocean surrounding you when you reach the top.
11. Do Not Touch the Turtles
While it may seem like the perfect bucket-list item, it is actually illegal to touch Hawaii's sea turtles. You can take a picture of them from a short distance but do not touch them.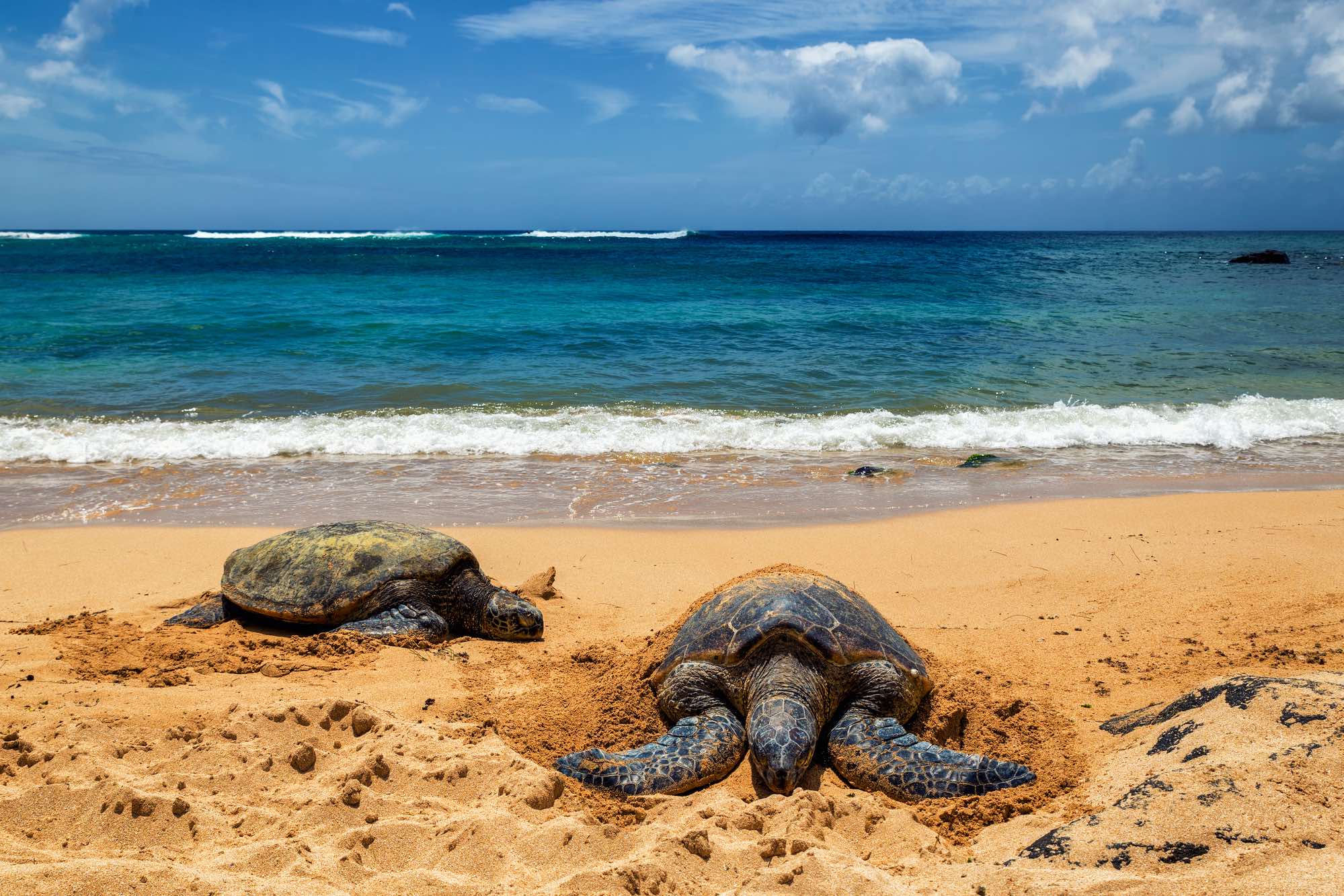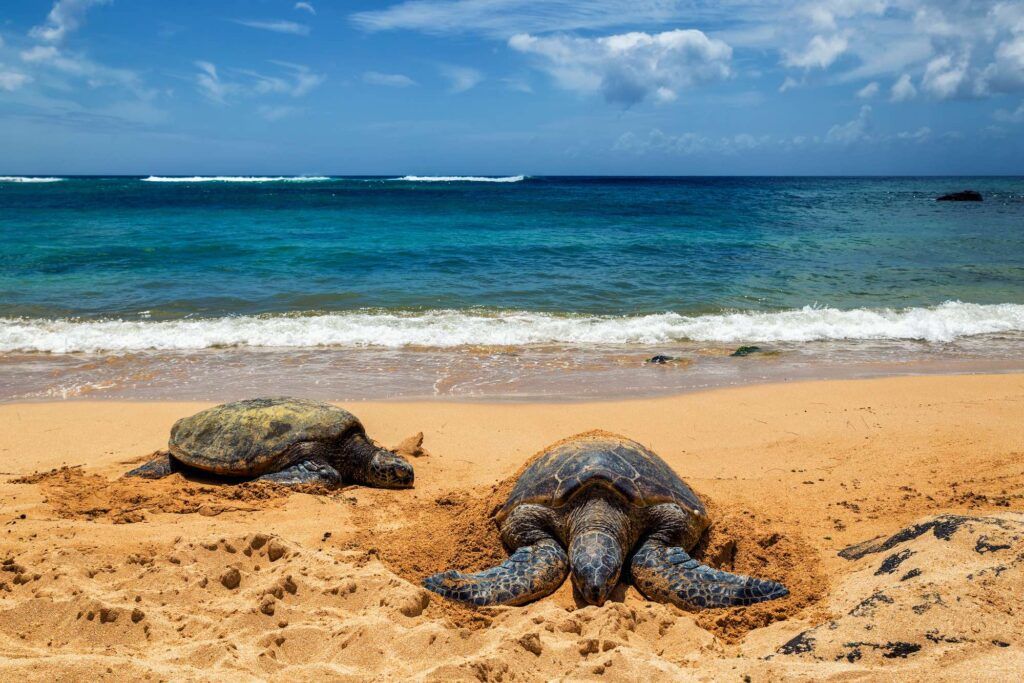 The government protects the sea turtles, so do not do anything that can disturb them. Do your part to protect the green sea turtles!
12. Learn a Few Hawaiian Words
You probably know aloha, but do you know any other Hawaiian words? Here are a few of the most common ones:
Mahalo: thank you
Poke: raw ahi tuna
Ohana: family
Keiki: kid
Kamaaina: local
Many items at a restaurant might use Kamaaina and Keiki, so be sure to learn at least these words, so you understand what is going on around. If you aren't sure, don't be afraid to ask either!
How to Plan a Hawaii Trip FAQ
Is Hawaii worth visiting?
Yes, absolutely! Hawaii may be expensive, but the culture, lifestyle, and all the fun adventures you can do there are definitely worth it. This is the best place to visit for a relaxing vacation or for thrilling outdoor adventures. Many of the things available in Hawaii are unique from anywhere else in the world!
How long should I go to Hawaii for the first time?
If you can, try to stay at least a minimum of 7 days; 10 days would be even better! Jet lag can be hard to overcome, so you want time to adjust and experience all that the islands have to offer before heading back home.  If you can take a 10-day trip to Hawaii, you will love it!
What is the best island in Hawaii to visit for the first time?
If you are wondering where to go in Hawaii for your first trip there, Oahu would be the best option. Oahu is the best Hawaiian island for first-time visitors because it is full of beautiful beaches and plenty of tourist attractions to enjoy. It is also the best Hawaii island for first-timers because it has both countryside and a city side to accommodate both types of travelers. Oahu is a great Hawaiian island that you will love visiting, especially for the first time. Many people also enjoy their first time in Hawaii on Maui instead. It is the second most visited island and also has plenty of things to experience. 
How to Plan a Hawaii Trip Wrap Up
For your first time visiting Hawaii, use this guide on how to plan a Hawaiian vacation so you can have the best experience possible during your trip.
Planning a trip to Hawaii for the first time might seem a bit overwhelming. Be sure to take it nice and slow, and incorporate all these first-time Hawaii travel tips, and you will have a relaxing and fun vacation!