Are you planning a trip to Oahu and want to explore the island? Keep scrolling for this list of the prettiest Oahu scenic drives worth adding to your Oahu itinerary.
This list of Oahu scenic drives contains affiliate links which means if you purchase something from one of my affiliate links, I may earn a small commission that goes back into maintaining this blog.
There are so many things to do on the island of Oahu that it can be hard to pack it all into one trip. A popular way to enjoy the breathtaking views is to go on any number of Oahu scenic drives.
Below you'll find some of the most popular drives that allow you to see the most beautiful places in Oahu from the comfort of your car. Some of the drives are longer, and some you can enjoy on your way to your destination.
I'll give you the one-way distance of each drive in miles and how long they take to drive without stopping. So, keep reading to plan your ride to see the best views in Oahu!
Don't have time to read a bunch of Hawaii blog posts and reviews? Here are some of our top picks for visiting Oahu.
Popular Oahu Tours/Activities
Favorite Oahu Resorts/Hotels
Want to Rent a Car in Hawaii?
One of the best places to rent a car in Hawaii is Discount Hawaii Car Rental because they get the best rates from top national companies like Alamo, Dollar, Thrifty, Avis, Enterprise, Budget, and Payless.
Want to skip all the planning and just access my detailed Oahu itinerary complete with daily schedules, fun activities, and travel hacks? Click the button below.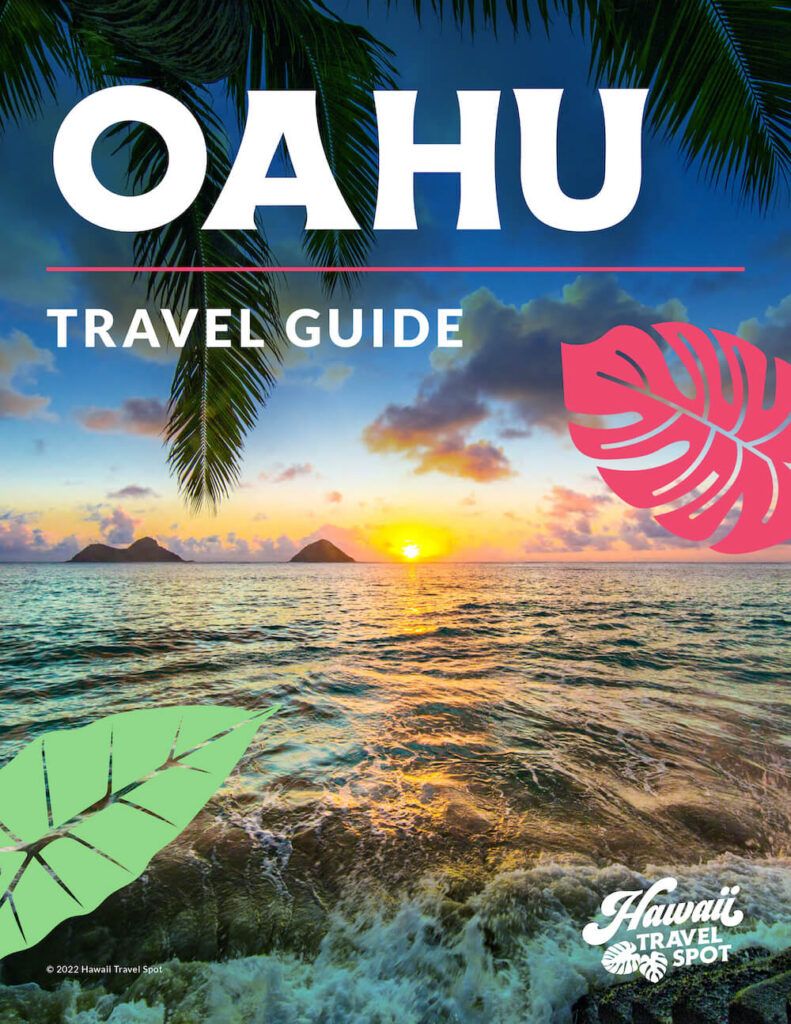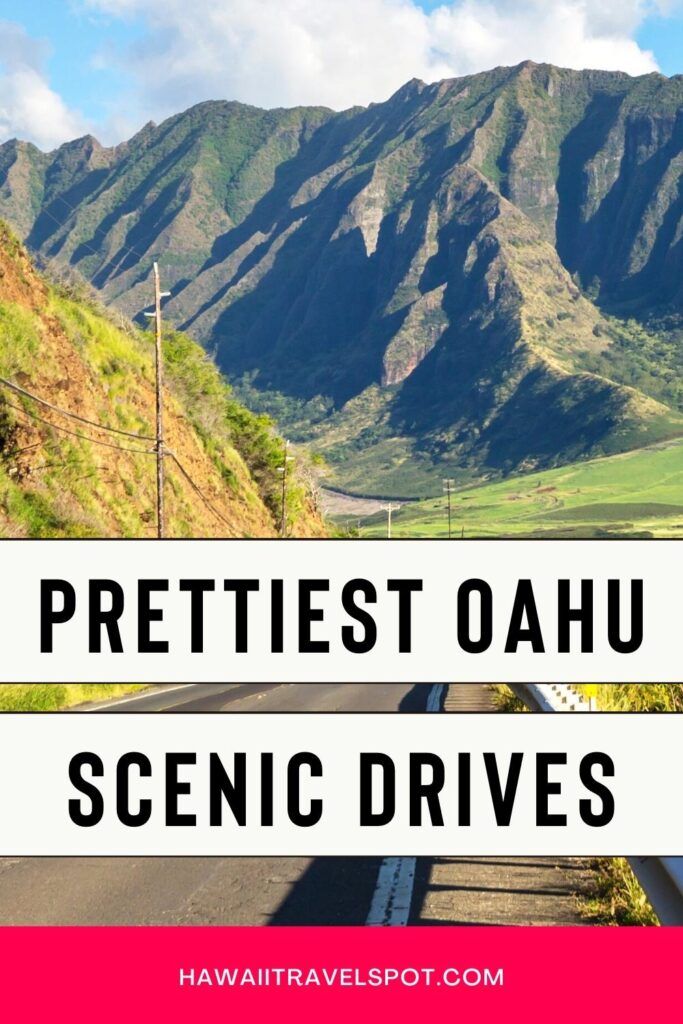 6 Best Scenic Drives in Oahu Hawaii
Best Scenic Drive Around Oahu: Kamehameha Highway Loop
For the best drive around Oahu, take a day and ride the Kamehameha Highway Loop. While you can't drive the entire way around the island, this is a good start! In fact, many people consider this loop to be one of the most beautiful scenic routes in the world.
There are different ways people take this loop, but the traditional way to travel Oahu's main highway is to start from Honolulu along H-1. Then turn onto H-2 before transferring to the long-stretching Kamehameha Highway north.
It'll curve up and around the North Shore and back south along the Leeward Coast until you reach Kaneohe.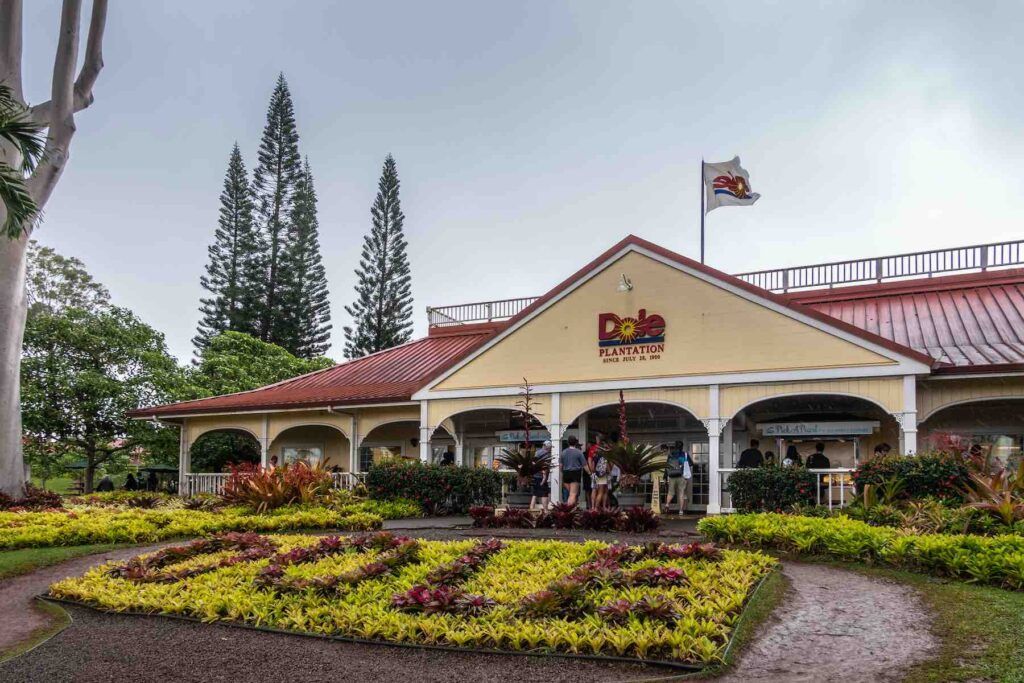 Along the way, you can plan for all kinds of family fun! Stop at Green World Coffee Farm's roadside café for a cup of Hawaiian coffee. Heading north, you could check out the Dole Pineapple Plantation or stop at Matsumoto Shave Ice in Haleiwa.
And on the North Shore, you must visit Ted's Bakery. Pick up some of their famous chocolate haupia cream pie and head to Sunset Beach Park to watch surfers ride the waves!
There's also the northernmost Turtle Beach, where you might catch some sea turtles sunning on the sand. As you enter the Leeward Coast, consider spending a chunk of your day at the Polynesian Cultural Center or arriving in time for an evening luau.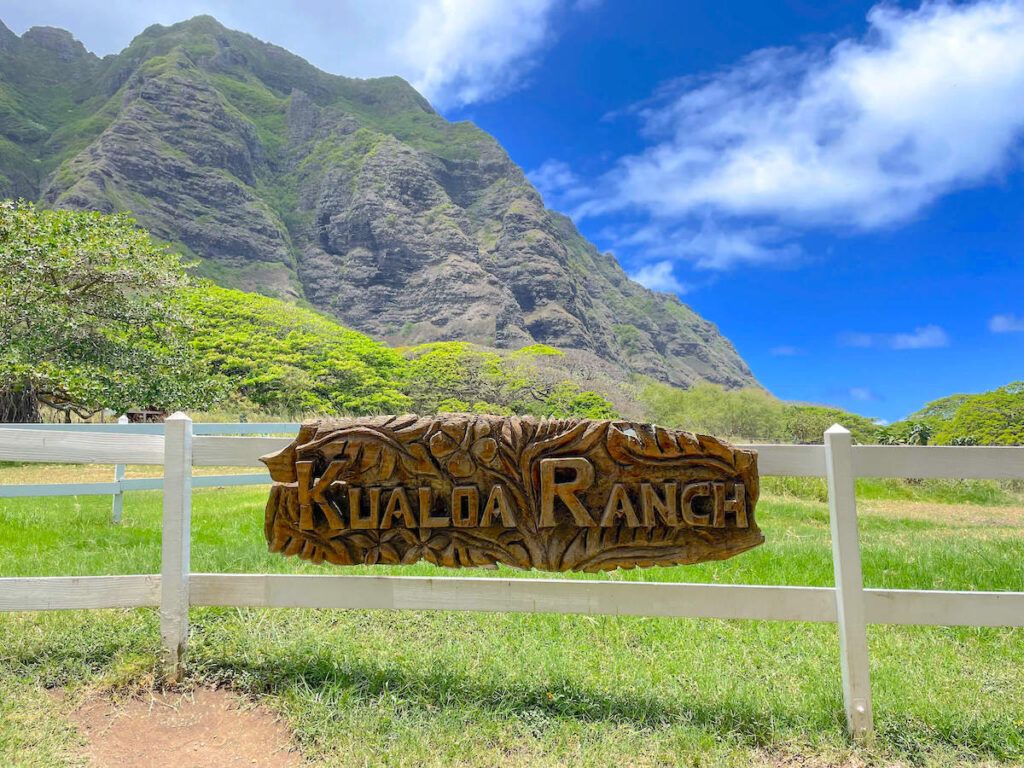 And another fun stop is Kualoa Ranch, where the likes of Jurassic Park and Lost were filmed! Take a tour or go on an adventure before heading towards Kaneohe and then home.
The Kamehameha Highway Loop is the longest on the list of Oahu scenic drives at around 3-hours if you drive it without stopping (which you shouldn't!). It's probably close to 70 miles. But this isn't exact because it depends on where you start and stop before you head back to your lodgings.
Best Honolulu Scenic Drive: Diamond Head Road
Because most people stay in Honolulu and Waikiki, one of the most popular Oahu scenic drives is along Diamond Head Road. As the road curves along the foot of Diamond Head, it's the best drive in Honolulu for cliffside ocean views.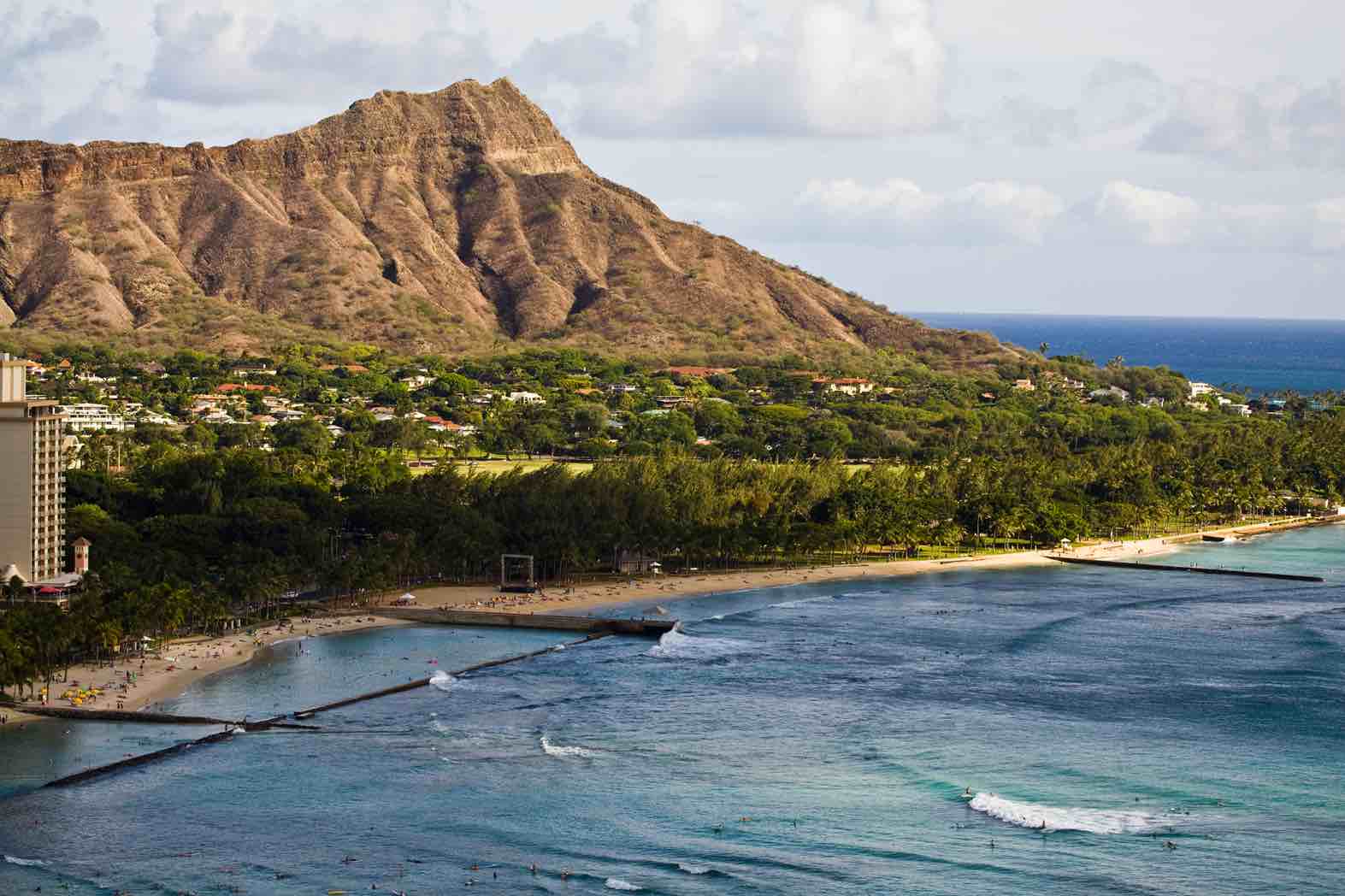 You'll start your drive on Kalakaua Avenue on the east side of Waikiki. It runs through the city's popular Kapiolani Park. Here you'll find attractions like Honolulu Zoo and Waikiki Aquarium. There's also plenty of public parking in the park, so it's a popular starting point for drives.
At a 3-way fork, you'll continue into Diamond Head Road and round the foot of Diamond Head. If you want to stop, you'll need to get reservations here.
This scenic road climbs uphill, cutting into the cliffside for stunning views of the ocean. There are several scenic overpasses along the way, and people stop on the side of the road to enjoy them.
Continue downhill, and Diamond Head Road turns into Kahala Road. It'll carry you into the upscale neighborhood of Kahala, where you'll see beautiful million-dollar homes. Finally, you'll finish your drive at the beautiful Waialae Beach Park.
The entire ride is about 4-miles long in 1 direction. You can complete it in about 10-minutes if you drive it straight through. But most people stop at the outlooks or the beaches along the way.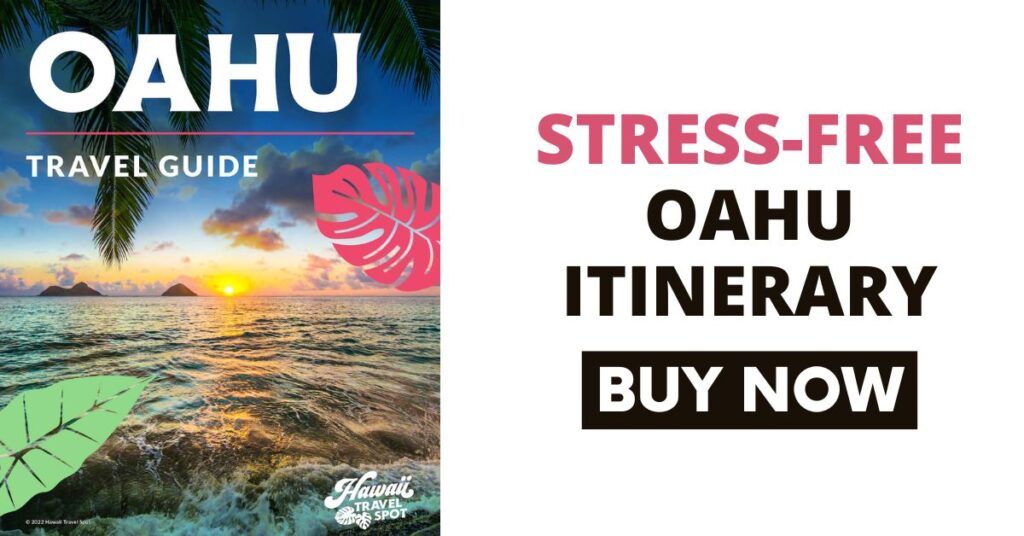 Best North Shore Drive: Farrington Highway North Shore
If you're looking for a scenic drive to North Shore Oahu, try the northern part of Farrington Highway. You'll start in the city of Waialua and drive west on the highway until it dead ends at the Kaena Point Trailhead.
As you make your way out of town, you can enjoy the distant verdant Waianae Mountains on the southern side of the road. You'll pass Dillingham Airfield, where you can watch all kinds of planes and gliders land.
All along the northern shore are scenic beaches that are perfect for snorkeling and swimming. And you'll probably see sea turtles here, too!
One of the most popular beaches along the way is the Lost Survivors Beach Camp. To find it, look for the parking lot on the airport side of the road, just after you leave the town behind.
This is a spacious, isolated beach where the show Lost was filmed! Fans of the show Lost will love coming to this iconic filming location. Just beware that it's a short hike to the beach from the road.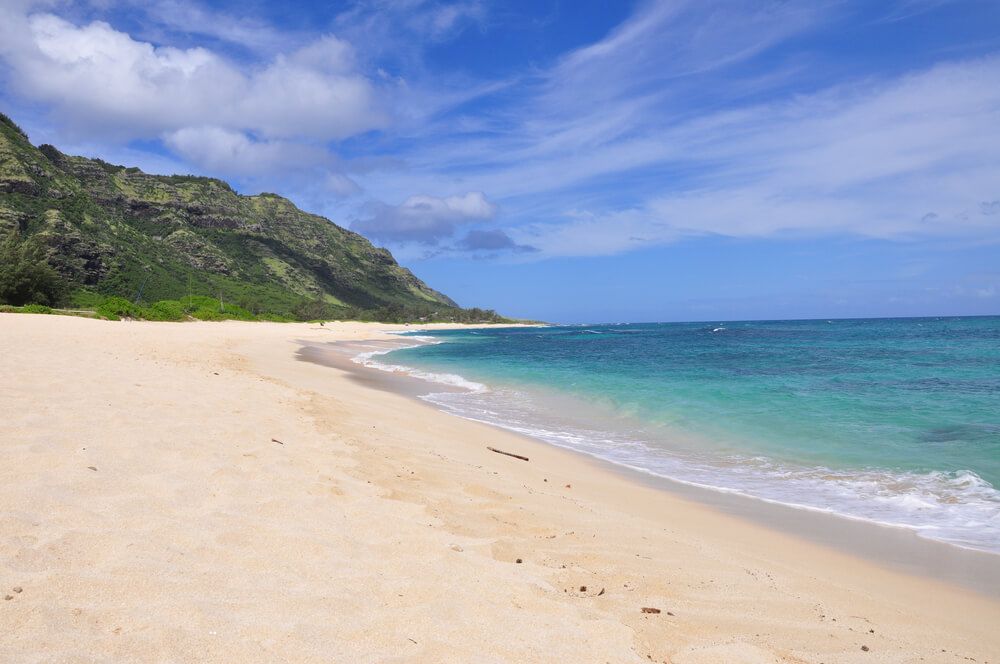 Mokuleia Beach Park is another nice beach with a sandy beach and a ton of grassy lawns and picnic tables where you can spread out. Pass even more beaches, and you come to the end of this side of Farrington Highway!
At the end, there's the Kaena Point Parking Lot and Trailhead. And here you'll turn around.
This Oahu North Shore scenic drive is just over 8 miles long and takes about 15 minutes if you drive it straight to the Kaena Point Parking lot.
Best Leeward Coast Drive: Farrington Highway West Shore
For longer scenic drives on Oahu, consider the West Shore portion of Farrington Highway. If you're looking for a long, leisurely drive and want to get out of the resort area, this is a great option.
You'll start in or near Ko Olina and head northwest along Farrington Highway. You'll pass the Mermaid Caves and several spacious sandy beach parks along the way. You can stop and enjoy a swim or just keep driving!
Cruise through towns and less developed areas, but for the best views, hold on until you leave the town of Makaha.
From here, enjoy over 7 miles of countryside until Kaena Point with the Waianae Mountains on your right and the ocean on your left. Stop at Makua Beach to watch surfers and enjoy iconic views (especially at sunset!).
After that, you'll enter the forest reserve, where you can find trailheads off the highway. You'll end up at Jeep Trailhead at Kaena Point State Park.
This is one of the longer rides on my list of Oahu scenic drives, at just over 18 miles long. It takes about 45-minutes to drive one way if you don't stop.
Best Central Oahu Drive: H-2 from Pearl City to Haleiwa
If you start around Pearl City, you can enjoy another one of the best Oahu scenic drives. With this drive, I suggest planning on driving straight through to your destination, which is the surfer town of Haleiwa!
I think this is one of the best drives in Oahu because you get to see so many different terrains! From Pearl City, get on H-2 North. Enjoy a drive through the city until it fades away into the rainforest around Waipio. From the highway you'll see the rainforest from above, making for a fascinating view.
After Wahiawa, turn onto HI-99 North until it turns into Kamehameha Highway, and take it all the way into Haleiwa. At this intersection, the road opens up, and the land flattens out as the highway cuts through farmland.
Stop at the shops at Green World Coffee Farm for a cup of coffee. You'll see coffee farms, cacao farms, and all kinds of fruit farms giving way to the Waianae Mountain far to the south.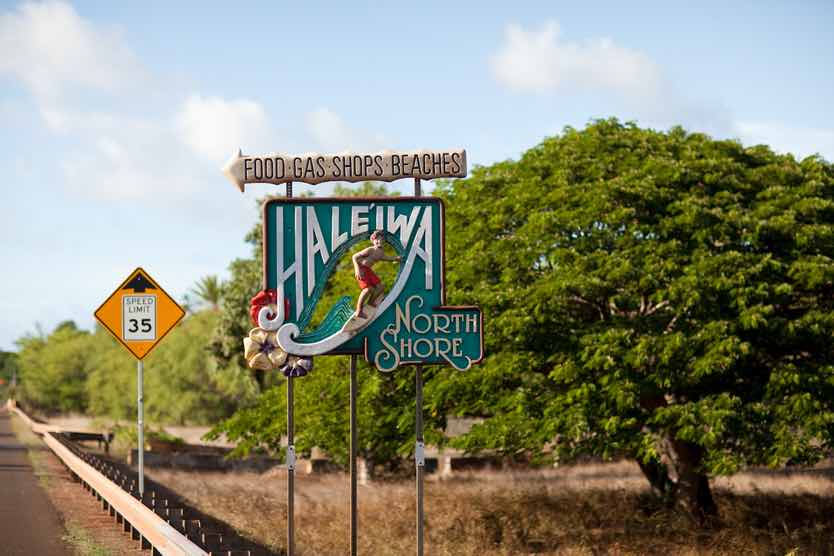 As you get close to Haleiwa, the road gets a little more winding. You'll climb hills before you cross the bridge into the cute coastal town. Take some time to explore! There are plenty of places to eat, get some shave ice, and do some souvenir shopping. Then head to the beach parks along the water.
The entire trip is about 20 miles in 1 direction and takes about 45-minutes, depending on the time of day. Try to avoid driving the highways between 3 and 6 PM, but also 6 to 8 AM during the morning commute.
Prettiest Oahu Scenic Drive: Pali Highway to the Pali Lookout
The final route on my list of Oahu scenic drives is the Pali Highway. This major road connects Honolulu to the Winward Coast. It winds through the verdant Koolau Mountain Range. This is one of the prettiest places in Oahu with rippling cliffs and sprawling tropical meadows at their feet.
Enjoy the ride to Pali Lookout as you wind through tunnels and along lush emerald mountainsides. From the lookout, you can take in breathtaking views of the Windward Coast and read educational markers. Learn about the historical significance of this 300-year-old site before getting back in the car.
On your way back to Honolulu, I suggest turning onto Nuuanu Pali Drive, a road that runs along the highway. You'll get to experience a short 5-minute drive through a lush rainforest that's so dense that it blocks out the sun, even during the day! Eventually, Nuuanu Pali Drive joins back up with Pali Highway.
Overall, the drive out to Pali Point is about 10-minutes or about 6 miles in 1 direction. It's a nice trip out of the city and one of the most beautiful scenic drives in Oahu!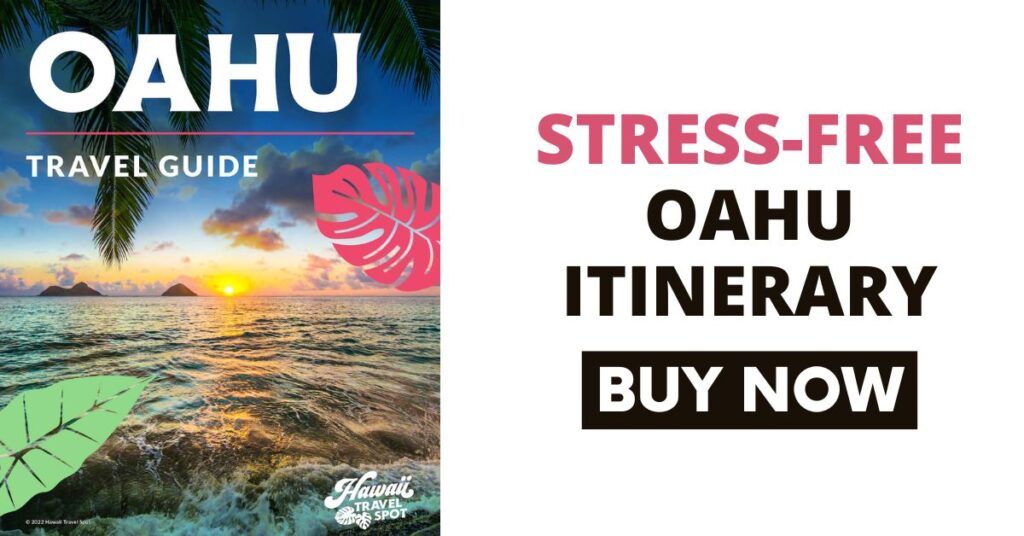 FAQ About Scenic Drives in Oahu
Do you need a car in Oahu?
You can definitely get around Oahu without a car! There are all kinds of great options for short-distance travel if you plan on staying close to your lodgings. But if you want to get out, explore, and do some Oahu scenic drives, you'll need to rent a car.
Can you drive around Oahu in one day?
You can't drive around the entire island of Oahu, because there are impassible places on the Leeward Coast. But you can drive around most of the island in 2-3 hours if you don't stop. But I suggest taking a whole day and enjoying stops along the way!
Is driving in Oahu easy?
Driving around Oahu Island is pretty easy because the roads and highways are paved and in good condition with good sign coverage. It's actually the only Hawaiian Island with freeways! The most you'll have to deal with places without shoulders.
What are the main roads around Oahu?
The main roads are H-1, H-2, H-3, and H-201. When you're planning your Oahu scenic drives, you might see these roads on a map as Lunalilo Freeway and Queen Liliuokalani Freeway, Veterans Memorial Freeway, John A. Burns Freeway, and Moanalua Freeway. But locals just call them H-1 and so forth.
Which of the Best Oahu Scenic Drives Will You Take?
While I consider the Kamehameha Highway Loop to be the best scenic drive around Oahu, you have so many options! On my list, you saw drives of different lengths, some with destinations and some with countless opportunities to stop along the way.
You might plan on heading out to Kaena Point State Park for a hike or to Haleiwa to check out the shops. So why not enjoy a scenic drive along the way? Or take a day to rest from sightseeing and go for a leisurely drive through a rainforest. It's up to you!