Are you planning a trip to Kauai and want to know the best food spots? Find out where to eat on Kauai with kids for families who love tasty food!
This list of kid-friendly Kauai restaurants may contain affiliate links, which means if you click on the link and purchase the item, I will receive an affiliate commission at no extra cost to you. All opinions remain my own.
Planning a trip to Kauai with the family? Interested in finding some great kid-friendly restaurants? You've come to the right place!
Kauai is known for its beautiful scenery and delicious food – both of which your family can enjoy together at one of the many kid-friendly restaurants on the island.
With this guide, you'll have all the information you need to find the perfect restaurant for your family's needs. No more guessing or worrying about where to eat – we've got you covered!
Here is your ultimate guide on finding the best kid-friendly Kauai restaurants!
Don't have time to read a bunch of Hawaii blog posts and reviews? Here are some of our top picks for visiting Kauai with kids.
Best Kid-Friendly Kauai Tours/Activities
Mountain Tubing (this is a low-key adventure for kids ages 5+ and it's a personal favorite for my kiddos)
Private Surf Lessons for Kids (this is the BEST way for your kids to learn how to surf in Hawaii)
Kayaking Tour with Waterfall Hike (this is an awesome half-day adventure for older kids)
Luau Kalamaku (you can do a little train ride and feed farm animals before the luau)
Koloa Ziplining (this is the longest zipline on Kauai and a must-do for adventurous families)
ATV Ride (my kids LOVE this tour because you can do a little fishing, go exploring, and you'll get DIRTY)
Best Kid-Friendly Kauai Resorts
Grand Hyatt Kauai (this is a personal favorite for my kids because of the water slide and saltwater lagoon)
Royal Sonesta Kauai (my kids LOVE the pool here because it's the largest one in Hawaii)
Hilton Garden Inn (we like renting the cottages here because you can walk to a massive playground)
Want to Rent a Car in Hawaii?
One of the best places to rent a car in Hawaii is Discount Hawaii Car Rental because they get the best rates from top national companies like Alamo, Dollar, Thrifty, Avis, Enterprise, Budget, and Payless.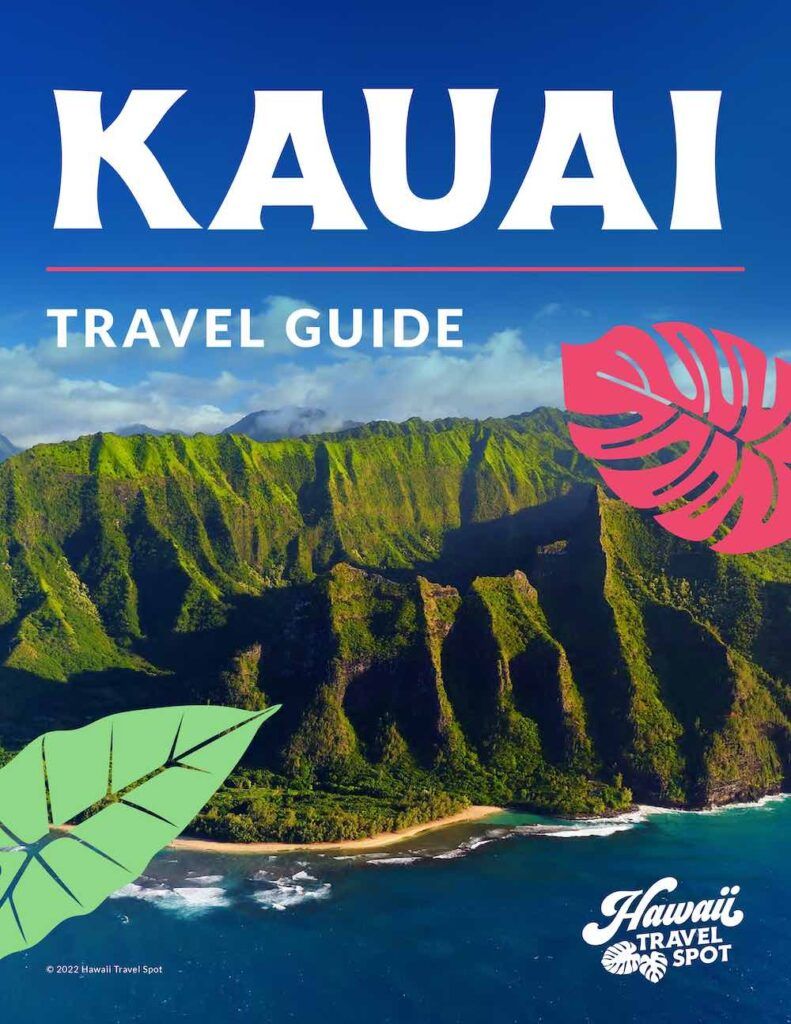 Best Kid-Friendly Kauai Restaurants
Here are some of the best restaurants in Kauai that are kid-friendly!
1. Brennecke's Beach Broiler
Brennecke's Beach Broiler is a great place to stop for lunch while on the North Shore and is one of the top Poipu restaurants. The restaurant offers outdoor seating with a great ocean view and mountains. Kids will love being able to see and be so close to the ocean while eating at a restaurant!
The menu is large, so there is something for everyone, including burgers, sandwiches, salads, and seafood options. A kid's menu also includes chicken tenders, pasta, fish and chips, grilled cheese, and more.
You can visit Brennecke's Beach Broiler any day of the week!
2. Duke's Kauai
One of the best Lihue restaurants is Duke's Kauai. It is another restaurant on the beach, and it is super close to the airport. The restaurant has indoor and outdoor seating, so you can get in as quickly as possible or enjoy a table next to the beach.
There is a kid's menu at Duke's, and you can order a single serving of one of the items on the menu to make sure everyone gets what they want. From mac and cheese to fried chicken, coconut shrimp, and ahi, you will love eating at Duke's Kauai!
3. Duane's Ono-Car Burger
Duane's Ono-Char Burger is another one of the best places to eat in Kauai. This roadside shack is famous for its burgers and for serving the freshest fish and local produce, so there is a great selection.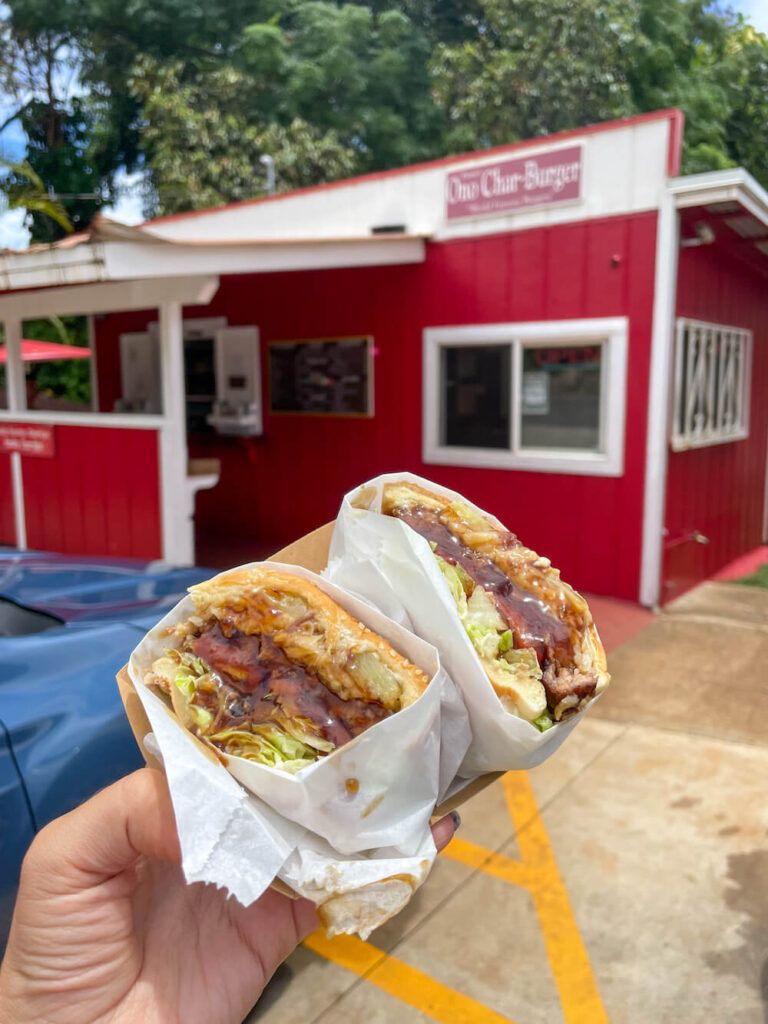 You can order a variety of burgers or get one of the other types of sandwiches on the menu, including vegetarian options.
You will find this food truck close to Anahola Beach. It is open every day from 10:00 am to 6:00 pm.
4. Porky's
If you are visiting Kauai on a budget, head over to Porky's for some delicious cheap eats. Even though there are only four items on the menu, your kids will love whatever they get!
Choose from a rice bowl with pulled pork, a Hawaiian-style grilled cheese sandwich, a delicious hot dog, or a pork sausage with pineapple on top.
Everyone loves whatever they get at Porky's, and because of the simplicity of the items, your kids will too. Porky's is located in Waimea and is open Tuesday through Saturday from 11:00 am to 3:00 pm.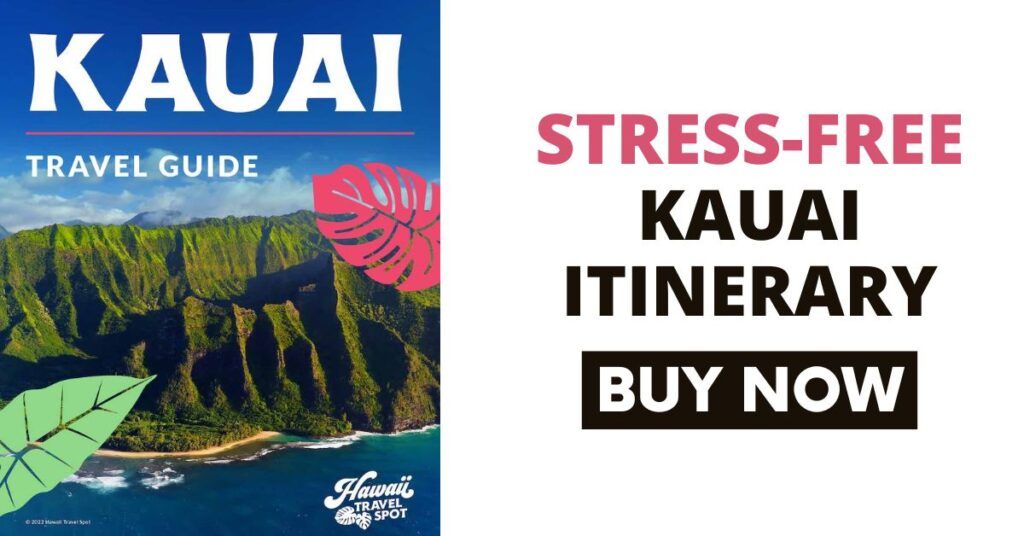 5. Smith Family Garden Luau
If you have older kids and want to take them to a traditional luau, stop by the Smith Family Garden Luau, located in Kapaa. Here you can get a traditional Hawaiian meal, including lau lau, poi, and other dishes, plus it is a buffet, so the entire family can eat as much as they'd like!
After the Imu ceremony and the buffet, the entire family can enjoy a fun hula show with music, dancing, and fire knife dancing!
6. Tropical Taco
If your family loves tacos, stop by Tropical Taco for some of the best tacos on the island! This is one of the top Hanalei restaurants that you will want to try at least once.
You have the option of building your own taco, which is great for kids who are picky eaters. Other options are also on the menu, including burritos, tortas, and quesadillas. For younger kids, order a smaller plate lunch or even just a side of something.
Tropical Taco is open every day of the week, with shorter hours on the weekends.
7. Brick Oven Pizza
Brick Oven Pizza offers a variety of different pizzas, including vegetarian, ultimeat, BBQ chicken, and Hawaiian pineapple, amongst others. You will also find other items on the menu, from salads, pasta, sandwiches, and plenty of other great appetizers.
This is a great place to eat one night if your family wants some good pizza. Grab a large one and share it with everyone to save lots of money!
You will find Brick Oven Pizza in Kalaheo. It is open every day except Tuesday from 11:00 am to 9:00 pm.
8. Bubba Burgers
Another one of the great Kapaa restaurants is Bubba Burgers. This is another one of the best cheap eats in Kauai because you can get a 100% grass-fed, 2 patties burger for only $7.50.
They also offer teriyaki chicken, chili dogs, corn dogs, chicken sandwiches, and a variety of other items, making this a great stop to eat during your family trip to Kauai.
There are two locations on Kauai, one in Poipu and the other in Kapaa. Both are closed every Sunday and Monday.
9. Keoki's Paradise
For some of the best food in Kauai, head to Keoki's Paradise. Your entire family will feel at home in the completely family-friendly atmosphere at this restaurant. Plus, most nights, there are live hula shows too!
From coconut shrimp to seared ahi, fish and chips, prime rib, burgers, and more, there is something for everyone to enjoy. Plus, it even has a special Keiki menu for kids 12 and under!
Keoki's Paradise is open until 9:00 pm every day of the week and is located in Koloa.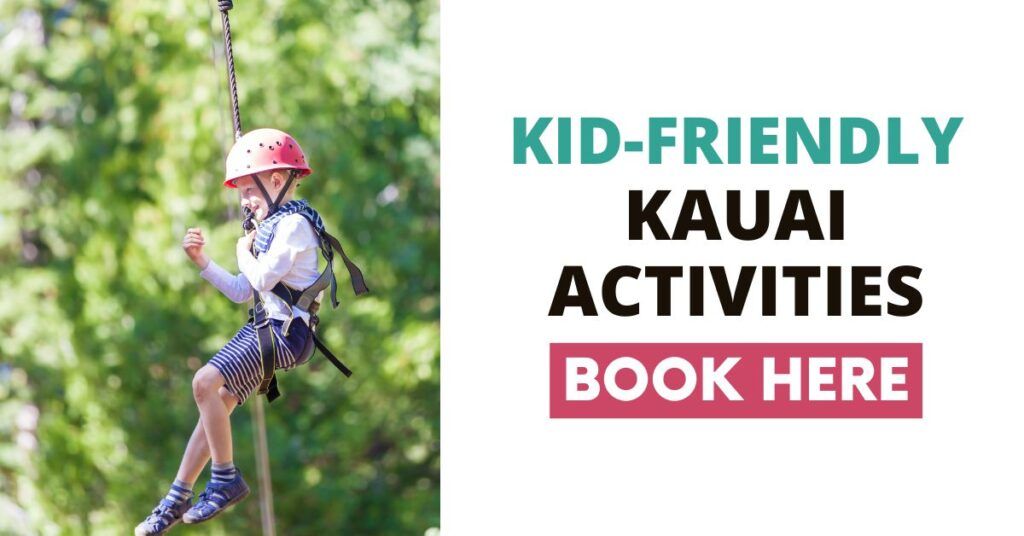 10. Tiki Tacos
For a mix of Hawaiian food and Mexican food, head to Tiki Tacos. It is a very casual place to eat that is very affordable.
Here you will find a wide variety of tacos, from shrimp to pork, beef, roasted chicken, and more. If your kids love tacos, you'll definitely want to stop by here one day!
Tiki Tacos is open every day from 11:00 am to 8:30 pm and is located in Kapaa.
11. Puka Dog
If your kids love hot dogs, stop by the best hot dog stands on the island! At Puka Dog, you can make your own polish sausage however you'd like. It is a great option for kids who want a very particular hot dog.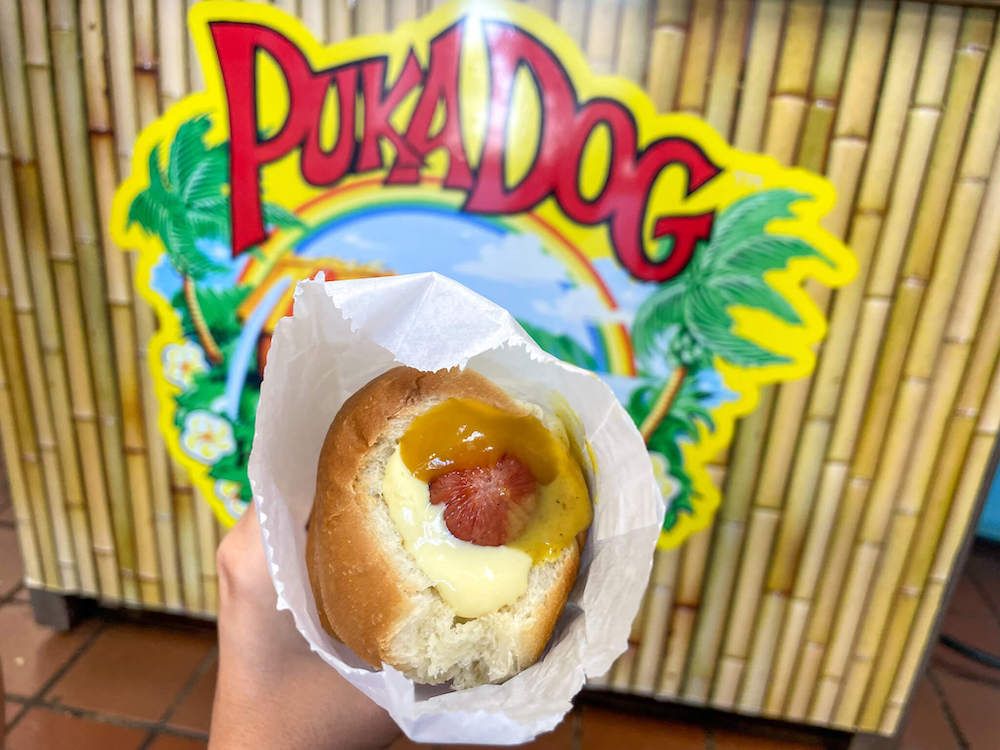 You can grab a normal hot dog or try some of the Hawaiian tropical sauces for which this place is known.
Puka Dog is right across from Poipu Beach Park and is open every day from 10:00 am to 7:30 pm.
12. Nana's Snack Shack
If you are looking for something light and easy for a quick lunch, you will love Nana's Snack Shack. This is not a typical restaurant as it mainly focuses on smoothies and acai bowls.
You will also find some sandwiches and wraps, but the best organic fresh produce is here. Your kids will love to try a frozen chocolate-covered banana, drink a delicious fruit-filled smoothie, or branch out and try a traditional Hawaiian acai bowl. Whatever you grab here will be absolutely amazing!
Stop by Nana's Snack Shack in Kapaa for a nice, refreshing lunch option.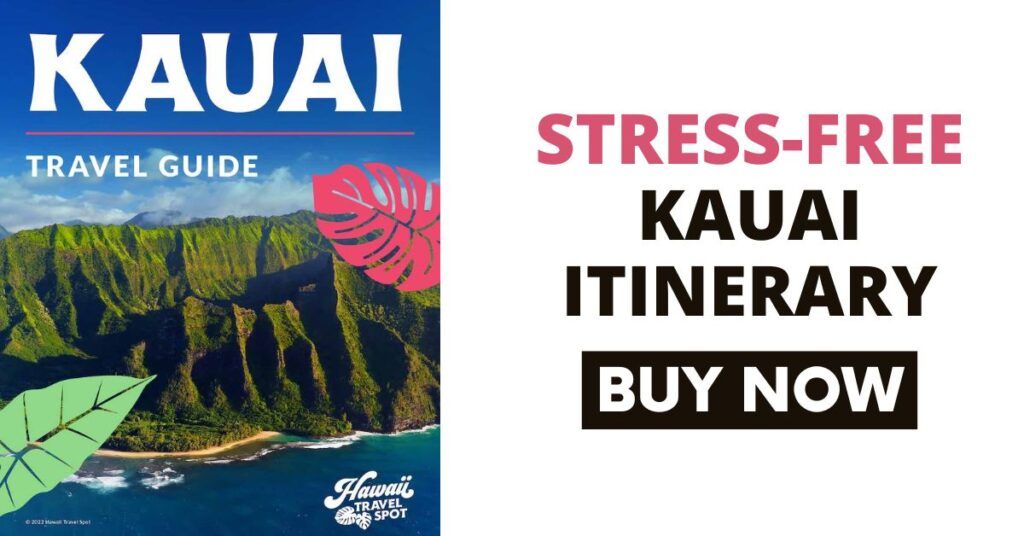 13. Hukilau Lanai
At Hukilau Lanai, you will have some great meals and live music to enjoy while eating most nights of the week.
Here you will also find a great Keiki menu that offers pasta, chicken tenders, hot dogs, meatloaf, and fresh fish caught in Hawaii. They also offer a gluten-free dinner menu, which most restaurants don't have.
This place is open from 5:00 pm to 9:00 pm, Tuesday through Saturday.
14. Sam's Ocean View
Another one of the best Kauai restaurants is Sam's Ocean View. While this can be a very romantic place to eat in Kauai, it is also a great kid-friendly option as well.
Enjoy the ocean view while you eat some delicious food, including chicken, fish and chips, shrimp, smoked salmon, and more. There are small plate options that are perfect for children.
Sam's Ocean View is open every day except Tuesday and Wednesday from 4:00 pm to 9:00 pm and is located in Kapaa.
15. Merriman's Kauai
Merriman's Kauai is one of the best restaurants in Poipu. This is a bit fancier than most other restaurants on this list, so it is best for older kids.
Here you can find a small Keiki menu for kids under ten years old that includes fish, steak, or a quesadilla. Or, you can choose from the dinner menu, which has crab cakes, salads, lamb, ceviche, and more.
A couple of nights a week, you can enjoy some live music while you eat your dinner. This restaurant is open from 4:00 pm to 9:00 pm every day of the week.
Where to Eat on Kauai with Kids Wrap Up
If you plan to visit Kauai with kids, these are some of the best kid-friendly restaurants in Kauai. Each place to eat on this list has a variety of food that your children will enjoy. Eat at as many as you can during your family vacation to see which ones you like the best!