Are you planning a trip to Kauai and want few fun Kauai activities to add to your itinerary? Find out the best things to do in Hanalei Bay, in North Shore Kauai.
This list of the best fun things to do in Hanalei Hawaii was written by Marcie Cheung (a Hawaii travel expert) and contains affiliate links which means if you purchase something from one of my affiliate links, I may earn a small commission that goes back into maintaining this blog.
Planning a trip to Kauai?
Kauai is one of the most beautiful islands in the world, and it offers tourists plenty of opportunities to get close to nature.
From hiking and mountain biking to scuba diving and more, there's something for everyone on this island paradise.
I've been to Kauai more than 20 times and I'd really recommend spending time in Hanalei. While it may not be the famous Kauai town, it's got amazing attractions and a charming, laid-back surfer vibe that makes it a perfect vacation destination.
While there, you may have trouble choosing which activities to put on your itinerary. After all, the selection is so wide and varied that any tourist would struggle, especially first-time travelers!
In this post, I've compiled the top things to do in Hanalei, Kauai, ranging from restaurants to tours to outdoor activities. Keep scrolling to check them out!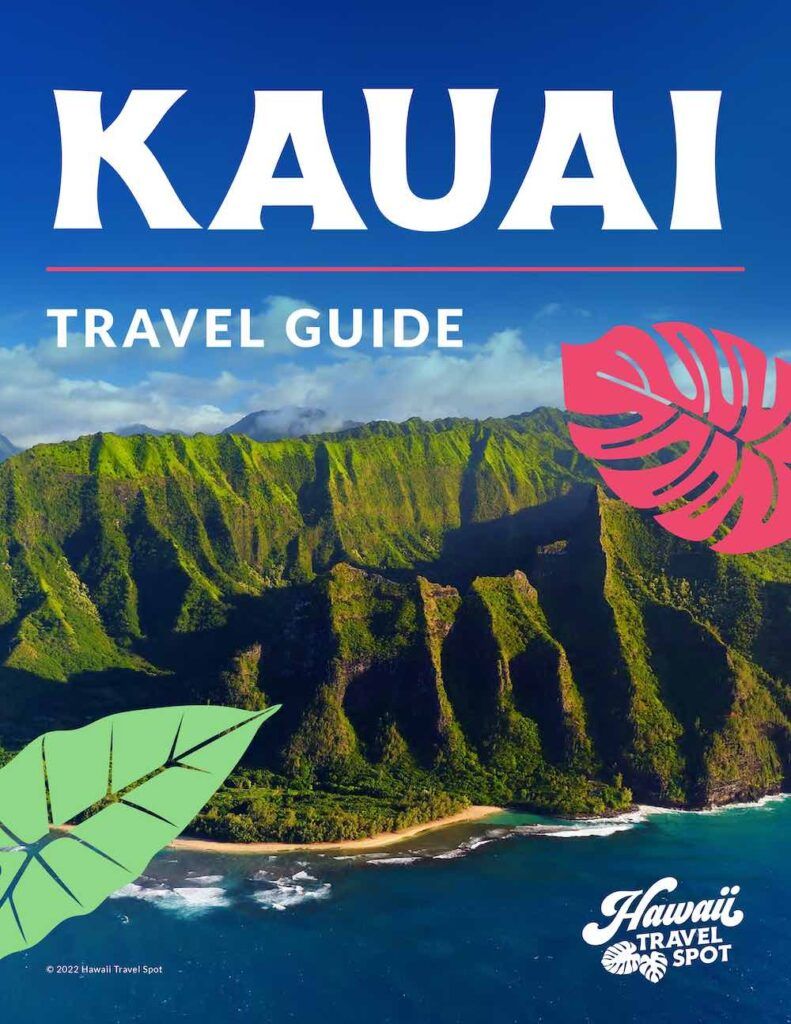 27 Incredible Hanalei Activities
Are you planning a trip to Kauai? Here are 27 of the best Hanalei activities for any tourist to enjoy!
1. Go Golfing
Many will be surprised by golfing being an entry on this list. But, considering Hawaii's beautiful landscapes and tranquil atmosphere, it should be unsurprising that golfing is so enjoyable in this tropical wonderland!
The best golf course in Kauai is undoubtedly the Princeville Makai Golf Course. It was named America's "Top 5 Golf Settings" by National Geographic for its beautiful landscapes and views.
If you're an amateur golfer or want to learn a new skill, check out their golfing lessons for beginners. Not planning on golfing at all? Check out their beautiful sunset golf cart tours to witness an oceanfront view of Hawaii's famously beautiful sunsets.
2. Relax at Hanalei Beach
Hanalei Beach is one of those seashores that perfectly fit what you imagine when you think of paradise. With flawless white-sand shores and clear blue waters, it's the perfect place for activities such as sunbathing and snorkeling. It's one of the top North Shore Kauai beaches.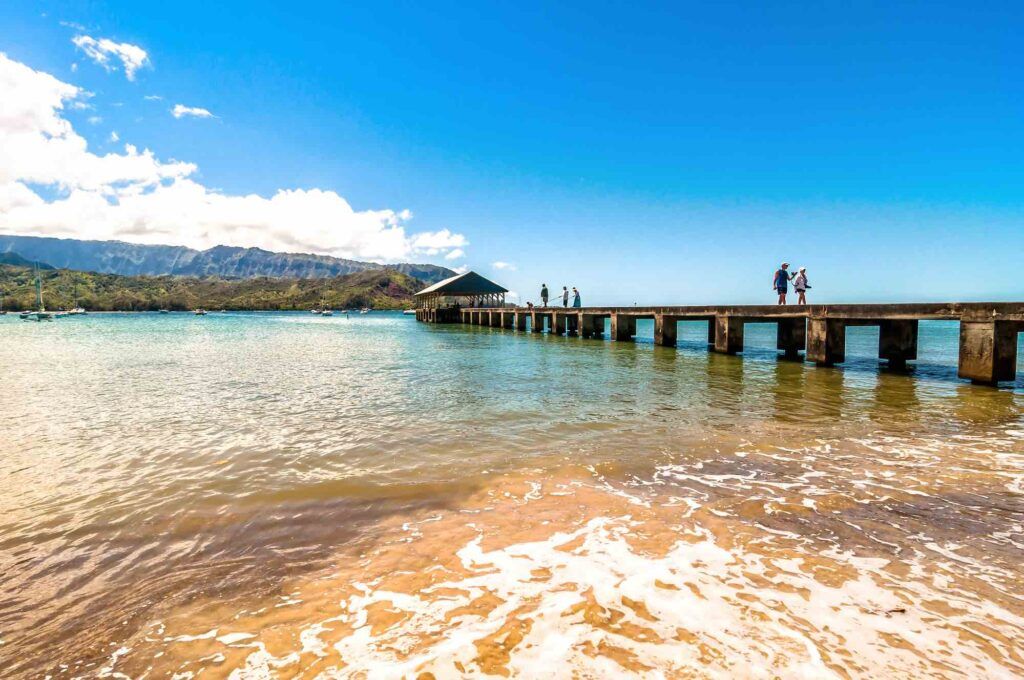 The area is well-known for being one of the best beaches for surfing in Hawaii. While you're there, be sure to check out the immense pier and enjoy the beautiful mountain views that surround you!
Hanalei Beach also offers picnic tables, showers, bathrooms, and BBQ grills. This makes it perfect for families and a relaxed afternoon of grilling! It's also the filming site of multiple famous TV shows and movies such as The Descendants or South Pacific.
3. Go Snorkeling at Tunnels Beach
Tunnels Beach, despite being one of the best places to go off-shore snorkeling in all of Hawaii, is considered by many to be a "hidden gem." It's quite likely that you won't run into any crowds of tourists while you're here.
Although it can be somewhat difficult to find, snorkeling is worth the inconvenience. I'd make sure to get here earlier or later in the day to secure a parking space and even witness a beautiful sunset!
Snorkeling is one of the best ways to get first-hand experience with Hawaii's unique underwater ecosystem. As you snorkel at Tunnels Beach, keep an eye out for thriving coral reef systems, Hawaiian green sea turtles, schools of tropical fish, and manta rays!
4. Get Taro Donuts at Holey Grail
Donuts are some of the world's most widely acclaimed – and unhealthy – comfort foods. No matter what flavor or variation, they're perfect after a long day or at the beach. What better way to try donuts in Hawaii than with a Hawaiian taste?
The Holey Grail food truck is located at 5-5100 Kuhio Hwy Hanalei, Hawaii 96714 and open every day of the week aside from Monday. It serves entirely unique doughnuts made from taro – a traditional Polynesian staple food.
The taro dough makes the doughnuts the Holey Grail makes unbelievably tender and light enough to melt on your tongue! They also come in a pretty impressive variety of flavors, from tropical fruit to locally-made chocolate.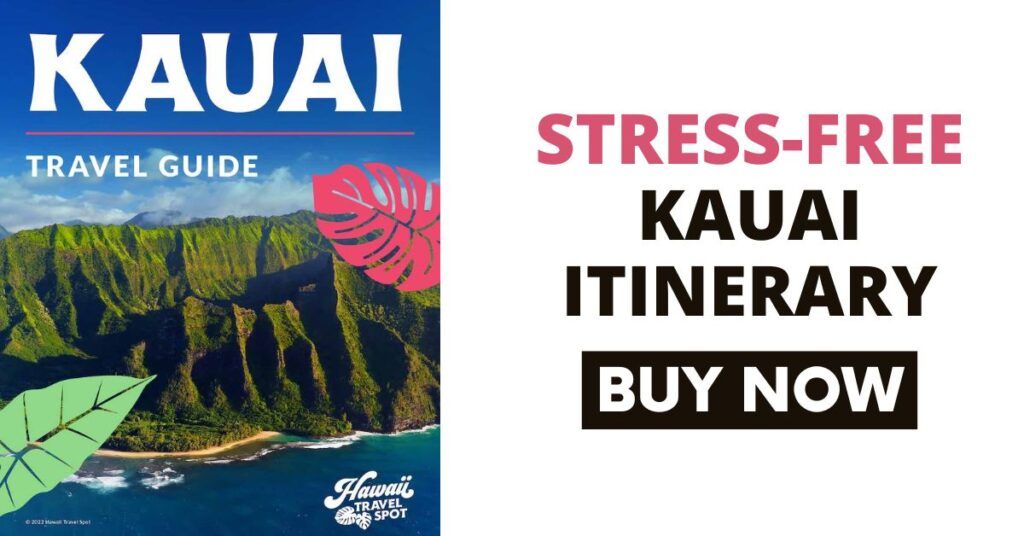 5. Go See the Wet and Dry Caves
The Kauai caves on the North Shore are beautiful attractions jam-packed with significance and geological history. They're the perfect attraction for those hoping to go on a once-in-a-lifetime adventure!
Some of the best Kauai caves are the Maniniholo Dry Caves, which the Menehune carved to escape the Polynesians, or the Waikanaloa Cave, which is partially submerged in water. Be sure to bring a flashlight as you visit!
6. Explore Na Aina Kai Botanical Gardens
"Na Aina Kai," meaning lands by the sea, is an appropriate name for the stretch of natural wonderland first founded by Joyce and Ed Doty. With a mix of artistic and horticultural visions, the botanical garden is still maintained today and is widely loved by both locals and tourists!
Dedicated to increasing future sustainability, the gardens preserve Hawaii's endemic and endangered flora and provide tourists with an unforgettable artistic experience. The Na Aina Kai Botanical Gardens & Sculpture Park is home to hundreds of species of trees, Hawaiian flowers, ferns, and much more.
While you're in the area, be sure to check out the three main aspects of the garden: the Poinciana Maze, the Ka'ula Lagoon, and the International Desert Garden. Theres's also a birds-eye overlook area and huge variety of guided tours!
7. Take Photos at Lumahai Beach
Lumahai Beach, despite having beautiful views and amazing photo ops, is one of the less frequented beaches in Kauai. This makes it perfect for a tranquil afternoon of sunbathing and photoshoots.
Do keep in mind that due to extremely strong waves, the waters are usually not safe for swimming or any underwater activities. You'll only see the most daring of surfers frequent these shores!
Lumahai Beach's beautiful surroundings were made famous through the classic movie South Pacific and is now featured on many postcards and magazines. For your very own unforgettable pictures, visit Lumahai Beach!
8. Get Shave Ice at Wishing Well
Shave ice is a classic Hawaiian dessert, refreshing and perfect on a hot sunny day. Despite being so associated with Hawaii, it actually originated in Japan. It was brought to the islands by immigrants who first made the dessert from hand-shaved ice flakes and sugar syrup.
Over the course of many years, local flavors such as lilikoi (passionfruit) and coconut have been incorporated into the dessert, making it truly unforgettable. For some delicious shave ice that isn't cloyingly sweet, check out Wishing Well Shave Ice in Kauai!
Wishing Well creates all of its flavors from organic fruit and cane sugar, topped with slices of fruit! Their charming storefront is also one of the most Instagrammable places on this list.
While you're in the area, be sure to check out nearby souvenir shops that sell handmade accessories and eco-friendly clothing! It's an amazing way to give back to the community by supporting local artisans rather than chain companies.
9. See the Hanalei Valley Lookout
The Hanalei Valley Lookout is one of the most breathtaking attractions on this list. It overlooks miles of verdant green meadows, immense mountains, cascading waterfalls, and charming taro fields! As you admire the view, you'll never want to leave.
It's rumored that the stunning view seems to change colors depending on the water or the time of day. So I'd definitely visit more than once, especially if you're staying at Hanalei!
If you weren't planning on staying near the North Shore, I'd take the chance while visiting the Hanalei Valley to explore the rest of the North Shore, including its fun water activities, quaint shops, and amazing dining opportunities!
10. Take a Kauai Food Tour
For foodies or culture enthusiasts, a Kauai food tour is one of the best ways to experience Hawaii's unique cuisine. Shaped by its one-of-a-kind ecosystem and diverse historical background, Hawaii's cuisine is both unique and delicious!
Tour through a huge variety of delicious foods, sample exotic tropical fruits, drink delicious tea, and learn about some of Hanalei's best restaurants in this 6-tasting tour. Check out the latest prices and more details.
11. Hit up the Hanalei Farmers Market
There are so many benefits to visiting a farmers market in Hawaii that it's tough to explain them in just a few paragraphs! The Hanalei Farmers Market is located in the heart of the town and is open every Saturday morning, from 9:30 am to 10:00 pm. It is one of the best farmers markets in Kauai.
Visiting a farmers market is an easy way to give back to the community by supporting local farmers and artisans. While you're there, you can also meet many friendly people who may give you valuable insights on life – or amazing recipes!
Farmers markets are also the best place for you to buy farm-to-table produce at a reasonable price. This gives you the chance to taste amazing fruits and vegetables! I'd especially recommend them if you're living in an Airbnb and have access to your own kitchen.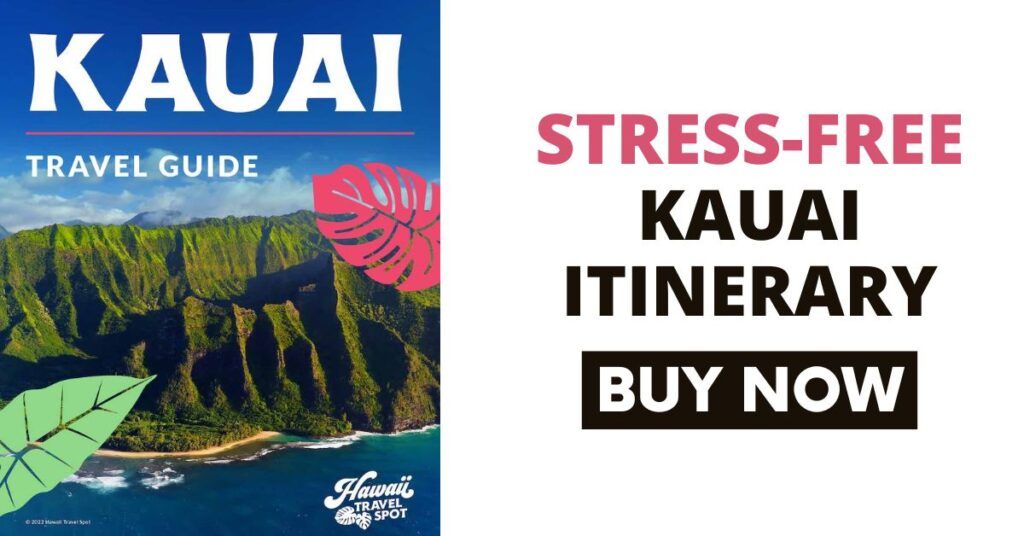 12. Grab Pizza at the 76 Station
This entry on the list may make you raise your eyebrows, but I can guarantee you that the pizza at 76 Station will be the best you'll ever taste. The store is located in the North General Store at the 76 Station in Kauai.
The pizza 76 Station serves is baked in an oven specially imported from NYC. It incorporates local ingredients, putting a unique spin on this classic comfort food. We tried it during the Tasting Kauai food tour and had to go back the next day!
Whether you'd like a whole pizza for an afternoon at the beach or to enjoy at the bar seating near the store, 76 Station is the perfect option!
13. Learn to Surf
Surfing is just one of those things that's strongly associated with Hawaii – and for good reason. Hawaii's beautiful sandy shores and immense waves are considered by many to be a surfer's wonderland!
If you've ever wanted to learn how to surf but felt overwhelmed and unsure where to start, check out surfing lessons in Hawaii! With the guidance of seasoned professionals, you'll be surrounded by beauty and cruising the waves in no time! Check out the latest rates and more information.
Your expert instructor will be able to offer you a multitude of options. These range from public classes to semi-private to completely private, though most sessions will last 2 hours. You'll be provided with surf boards and any required safety gear. So just bring your swimsuit and some reef-safe sunscreen.
14. Enjoy Kombucha at Kauai Juice Co.
Kauai Juice Co. is a company aiming to uplift local farmers and provide their high-quality goods to communities across the world, all while remaining ecologically sustainable and spreading health, happiness, and Aloha!
Their kombucha is famous for being hand-made and flavorful, incorporating Hawaiian fruits such as guava and lilikoi (passionfruit). Bottled or from the tap, it's undoubtedly delicious!
If you're not a kombucha type of person, don't worry – they have a huge variety of other high-quality drinks and menu items such as grab 'n' go salads, cold pressed juice, caffeinated drinks, and elixirs.
15. Drive up to Ke'e Beach
Ke'e Beach is a classic white-sand Hawaiian beach a little off the beaten road, so if you're looking for some tranquility and beautiful views, this is the right option.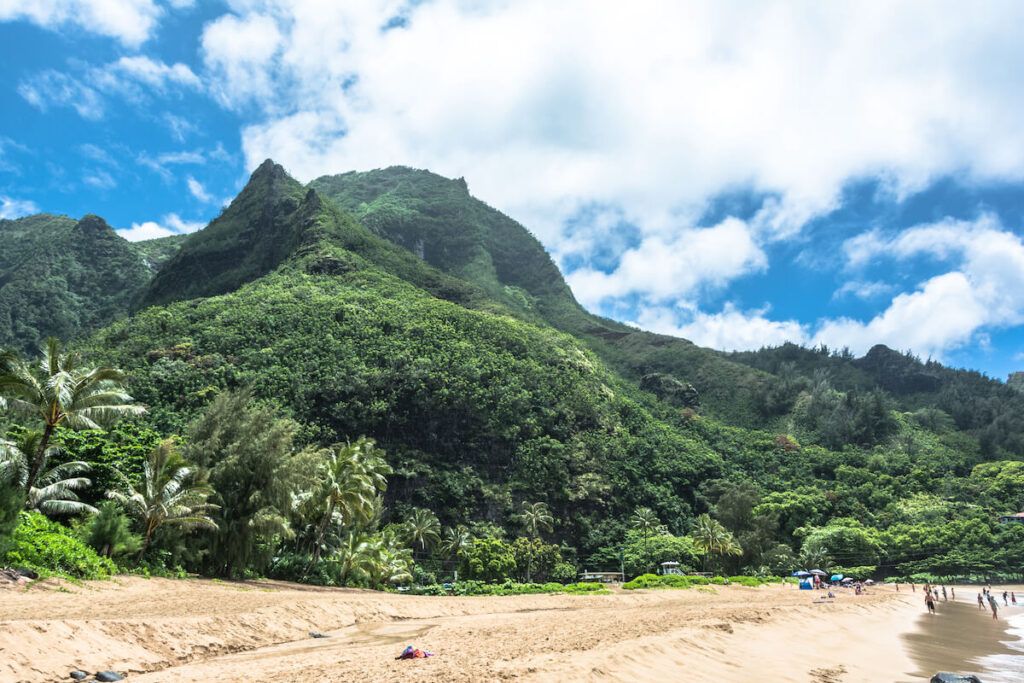 Due to its gentle tides and soft sand, Ke'e Beach is perfect for activities such as swimming, snorkeling, surfing, and much more! I especially recommend snorkeling, as there are many honu (Hawaiian green sea turtles) that frequent the waters.
16. See Art Galleries
One of the underappreciated aspects of Hanalei is its charming artisiness, which is most clearly seen in the number of art galleries you'll find in its premises! Consider visiting an art gallery to support local artists and have a lot of fun.
Some of our favorite galleries in Hanalei alone include (but aren't limited to) Michal Arts, Halele'a Gallery, Havika Oceanic and Tribal Art, and Infinite Arts. You'll be able to find a huge variety of art styles and themes, ranging from oil paints to acrylic!
These art galleries are also some of the best ways to purchase some unique souvenirs to remember your vacation! Many sell notecards, art prints, stickers, postcards, and much more!
17. Explore Kaulu Paoa Heiau
The Kaulu Paoa Heiau, located on the Ke'e Beach, is accessible through a short hike and a designated opening. It's a place of immense cultural and historical significance, so I'd definitely recommend visiting.
Considered the birthplace of hula by Hawaiian legend, this heiau is dedicated to Laka, the graceful goddess of dance who is rumored to visit during full means. It is also rumored to be the place where Pele fell in love with Lohiau.
In the past, this heiau was the place where hula dancers first practiced the tradition of chanting that accompanies hulas. While you visit, be sure to treat this historical site with the utmost respect and leave no trace – clean up any trash that you may produce.
18. Embark on a Kauai Scavenger Hunt
This Kauai scavenger hunt is one of the best ways to become personally involved in the culture and lives of Hawaii locals! Lasting roughly 2 hours, this event breaks away from traditional tours to bring you a hands-on event that you'll never forget.
For these magical two hours, roam the surrounding areas, searching for good stories and the solution to puzzles to win the scavenger hunt. This is an entirely private event, so you'll only be playing with teammates you know.
The only downside to this unique activity is that you need to be moderately fit. The costs are quite reasonable, starting at $37 per person and adjusting depending on the group size. Check out the latest prices and more details.
19. Join a Na Pali Coast Boat Tour
A Na Pali Coast boat tour is one of the best ways to experience the elusive beauty of the Na Pali coast! Considered nigh inaccessible through land, the Na Pali Coast is one of the most beautiful places in all of Kauai. Check out the latest prices and more details!
20. Flytographer Photo Shoot
I've always said that the best way to make sure you never forget your Hawaii vacation is through taking some amazing pictures. As eager as travelers are to do so, they often are unable to replicate the skill and results of professional photographers.
Flytographer photo shoots provide you with the professionality and flexibility needed for you to enjoy your vacation while getting some amazing pictures! The photographers will adjust to your schedule and destinations, and you're ensured satisfaction or a refund.
Seeing as Hanalei has some stunning photo ops and a huge variety of ideal destinations and backdrops, booking a Flytographer photo shoot is absolutely worth your money! Check out the latest rates and more information.
Book a Hawaii Photo Shoot
Whenever we travel to Hawaii, we almost always book a photo shoot with Flytographer. They are super easy, affordable, AND it guarantees that I'll have more than just selfies. You can get $25 off if you book through this link or use the code HAWAIITRAVEL.
21. See Wai'oli Hui'ia Church in Hanalei
The Wai'oli Hui'ia Church was first built by Christian missionaries in 1834. Through centuries of rebuilding, it has become a charming example of classic American gothic architecture, with a forest green body and dark gray roof.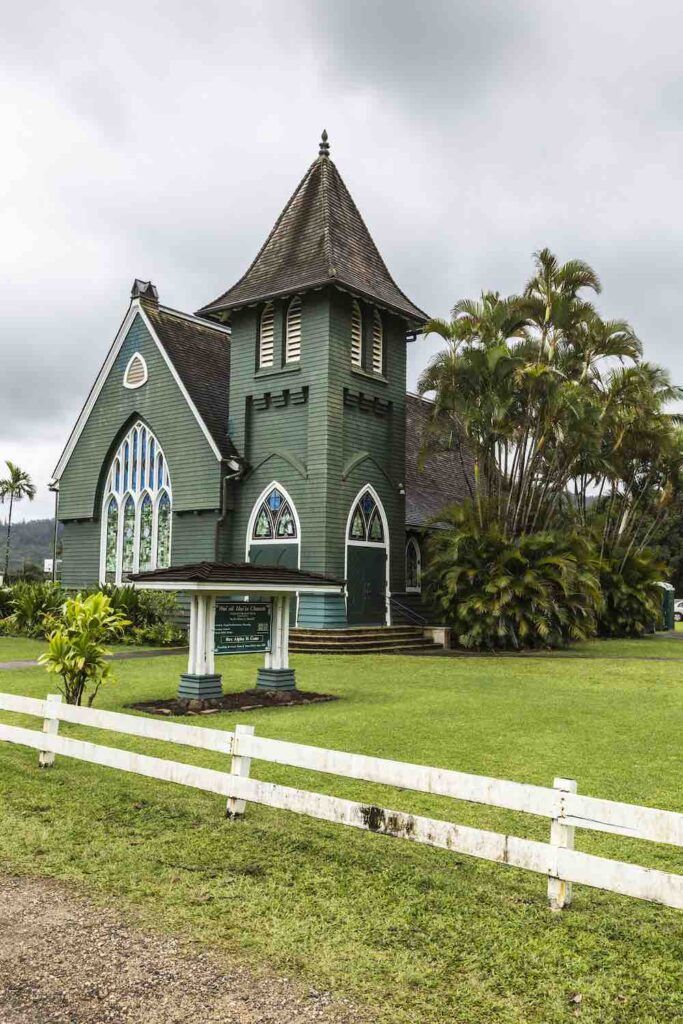 Whether or not you believe in the religion, this church is a charming destination that's perfect for a quick stop-by if you're in the area!
If you're part of a Christian denomination, no one will stop you from stopping by during service and enjoying the Church hymns, usually sung in Hawaiian.
22. Try Poi at Hanalei Taro & Juice Co.
If you've ever wanted to try poi, a traditional Polynesian staple food made from taro root, be sure to visit Hanalei Taro & Juice Co.! This Hanalei food truck serves unmatched handmade poi along with other traditional Hawaiian cuisine and American comfort food.
Poi is a delicious and unique dish made from taro root. It's thought that poi was first created to sustain Polynesian natives through their journey to the Hawaiian islands. It's made through a painstaking process of mashing cooked starch against a wooden board with a pestle.
23. Eat at Tahiti Nui
One of the best parts of traveling to Hawaii is experiencing the cuisine. Hawaii's food is one of the most unique cuisines in the world, crafted in part by its unique ecosystem and also by its melting pot of cultures.
Tahiti Nui, an iconic bar symbolizing a place where lives intersect and memories are made, is an amazing place for you to stop by! They serve delicious fusion foods such as delicious build-your-own Tikiman pizza, coconut shrimp, poke bowls, and much more.
Tahiti Nui is one of the most laid-back yet high-quality restaurants I've ever been to, and they even have an extensive number of cocktail options and live music! I'd say it's one of the best restaurants in the area.
24. Join a Kauai Movie Tour
This Kauai Movie Tour is perfect for movie enthusiasts! Tour through dozens of filming sites, learn obscure fun facts, and have fun with fellow tourists on this full-day journey through the wonderland of Kauai.
On this movie tour, you'll learn about and witness first-hand the sites where many famous movies such as The Descendants, Jurassic Park, Pirates of the Caribbean, Raiders of the Lost Ark, and many more were filmed.
During the tour, you'll also be treated to lunch at either Calypso Restaurant or Tahiti Nui, and traveling with a friendly and knowledgeable tour guide. Check out the latest prices and more details!
25. Shop the Boutiques
Shopping in boutique shops in Hanalei is an amazing way to support local shop owners and buy some truly unique and one-of-a-kind souvenirs!
As you stroll through shops in Hanalei, you'll be greeted by a charming mix of art galleries, musical instruments, clothing, handmade jewelry, and much more! I can guarantee that you won't leave empty-handed.
Hanalei shopping is one of the best ways to fill an early morning – you can even stop by a local eatery or food truck for lunch! Some of my favorite boutiques include The Root, I Heart Hanalei, The Barn 808, and Pualani Hanalei.
26. Explore Limahuli Garden
Botanical gardens are one of the best ways to spend time with nature, and the Limahuli Garden is a prime example of this. This 17-acre botanical garden is truly a hidden gem, nestled between the mountains and the Pacific Ocean.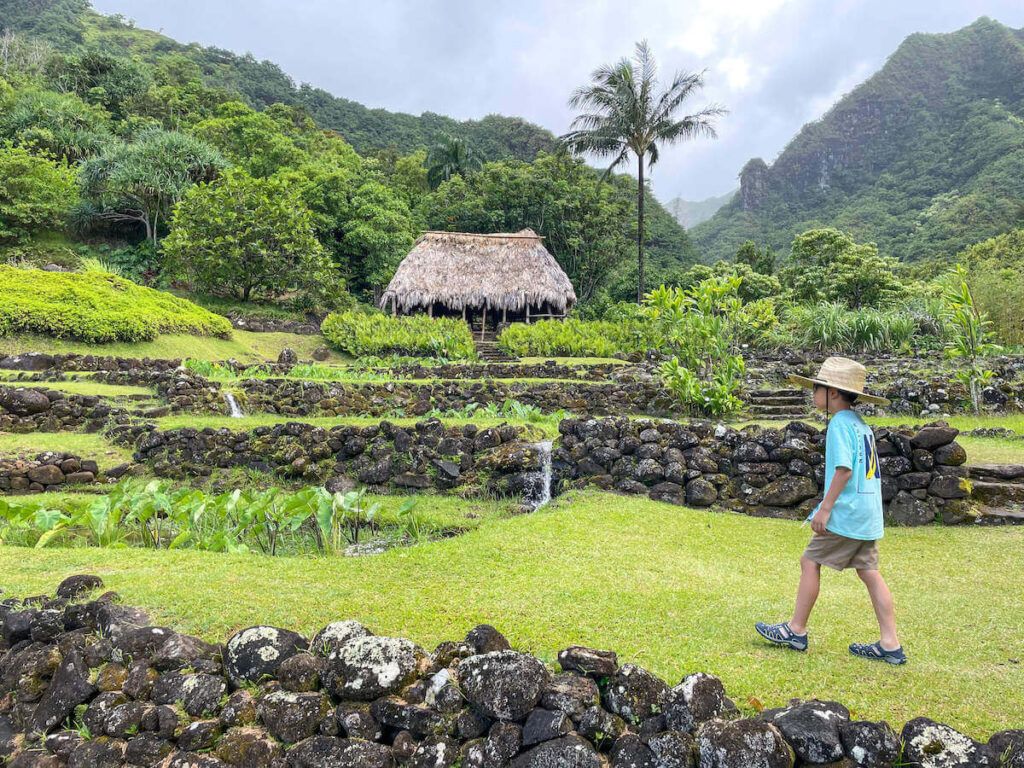 While you're here, witness fields of taro plants, hundreds of colorful tropical flowers, lava rock terraces, and even a replica of an old Hawaiian house. You'll also learn a lot about conservation of water and the world around you on this simple loop trail.
27. Go Kayaking
Kayaking is one of the best ways to experience the wonder and beauty of the blue oceans of Hawaii. Most are considered to be a relaxing activity, so if you've ever wanted to go on an ocean adventure without the hassle of snorkeling, consider kayaking!
If you're new to kayaking or concerned about safety, consider this popular Kauai snorkel tour that fuses kayaking and snorkeling into one fun opportunity! Start off by kayaking to your snorkeling destination, then ditch the boat and explore the underwater world first-hand.
While you prepare for this tour, remember that all gear and equipment will be provided – just sit back and enjoy the trip! Check out the latest prices and more details!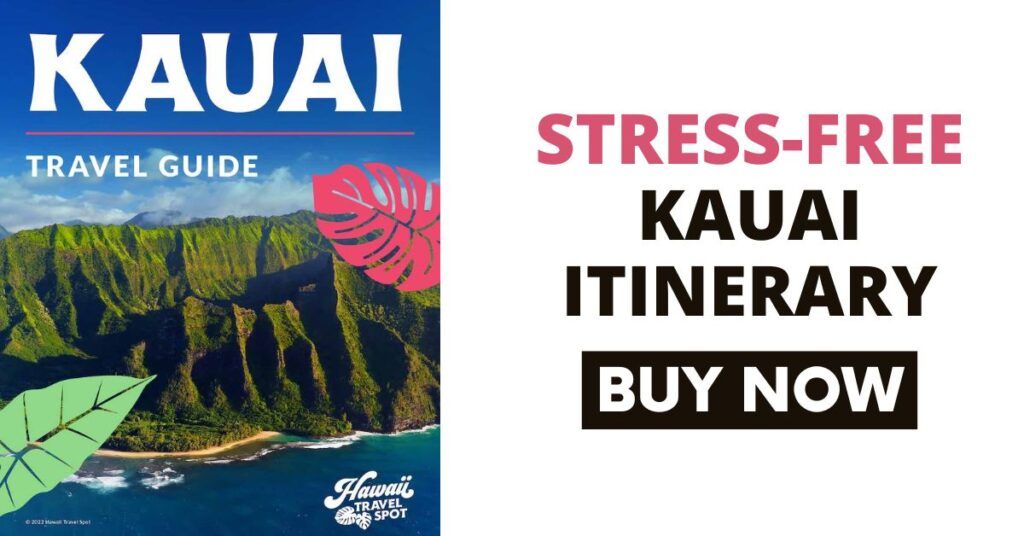 Hanalei Kauai FAQs
What should I pack on my vacation to Hanalei?
Hawaii is well-known for its pleasant weather: warm sunny temperatures, clear blue skies, and not a cloud in sight. Kauai is no exception, so I'd pack lots of summer clothing. However, seeing as Kauai is famous for its outdoors activities, I'd bring proper clothes and gear for those as well.
What can I do in Hanalei, Hawaii?
Hanalei is a wonderfully charming small town with laid-back vibes and beautiful views! Whether you'd like to sit back and admire views of the surrounding landscape, visit places where famous films such as The Descendants and South Pacific were filmed, visit farms and historical plantations, or attend tours, you can have a lot of fun at Hanalei.
How far is Hanalei from…?
Poipu: 1 hour, 32 minutes
Koloa: 1 hour, 26 minutes
Lihue: 1 hour, 5 minutes
Waimea Canyon State Park: 1 hour, 57 minutes
Taking the Shuttle from Hanalei to Haena
If you were thinking of visiting the Haena State Park, you're unsurprisingly in the majority – the Haena State Park is one of the most popular attractions on the island of Kauai, and as a result, commuting there can get hectic!
Specifically, I've always had trouble on the road from Hanalei to Ke'e Beach due to a lack of parking spaces and horrible traffic. One of the best ways to avoid this is by taking a shuttle from Princeville. Learn more HERE.
Luckily, you can easily get around commuter stress and difficulties by booking a parking reservation up to 14 days before your visit to Haena State Park, which makes your life much easier. Make your parking reservation.
Where to Stay in Hanalei
Now that you know about 27 of the best activities in Hanalei, you should also know about some of the best places to stay on the North Shore!
If you're looking for a classic rental home from Airbnb or other sources, I have a few recommendations – check out Hale Hoku and Hale Naninoa. There are also tons of North Shore Kauai vacation rentals for families.
For some high-quality rooms with full accommodations and many amenities, you should definitely check out the Hanalei Colony Resort! They even have beautiful views and beach access.