Are you planning a trip to Kauai on a budget? Scroll to find out the best Kauai cheap eats that taste amazing!
This list of Kauai cheap eats and restaurants on Kauai on a budget contains affiliate links which means if you purchase something from one of my affiliate links, I may earn a small commission that goes back into maintaining this blog.
Kauai is one of the most beautiful and welcoming islands in the world, but it can be expensive to visit.
That's why we've put together this guide to Kauai cheap eats – so you can enjoy all the delicious food this island has to offer without breaking the bank.
From local favorites to regular food you know and love, these Kauai cheap eats will offer you a variety of dining options at an affordable price.
So you can focus on enjoying your vacation and not worry about your budget. These restaurants will offer amazing food at a fraction of the cost. Check them out now!
Keep scrolling to check out my ultimate guide to finding all the cheap eats in Kauai!
Don't have time to read a bunch of Hawaii blog posts and reviews? Here are some of our top picks for visiting Kauai on a budget.
Best Budget-Friendly Kauai Tours/Activities
Best Budget-Friendly Kauai Hotels
Want to Rent a Car in Hawaii?
One of the best places to rent a car in Hawaii is Discount Hawaii Car Rental because they get the best rates from top national companies like Alamo, Dollar, Thrifty, Avis, Enterprise, Budget, and Payless.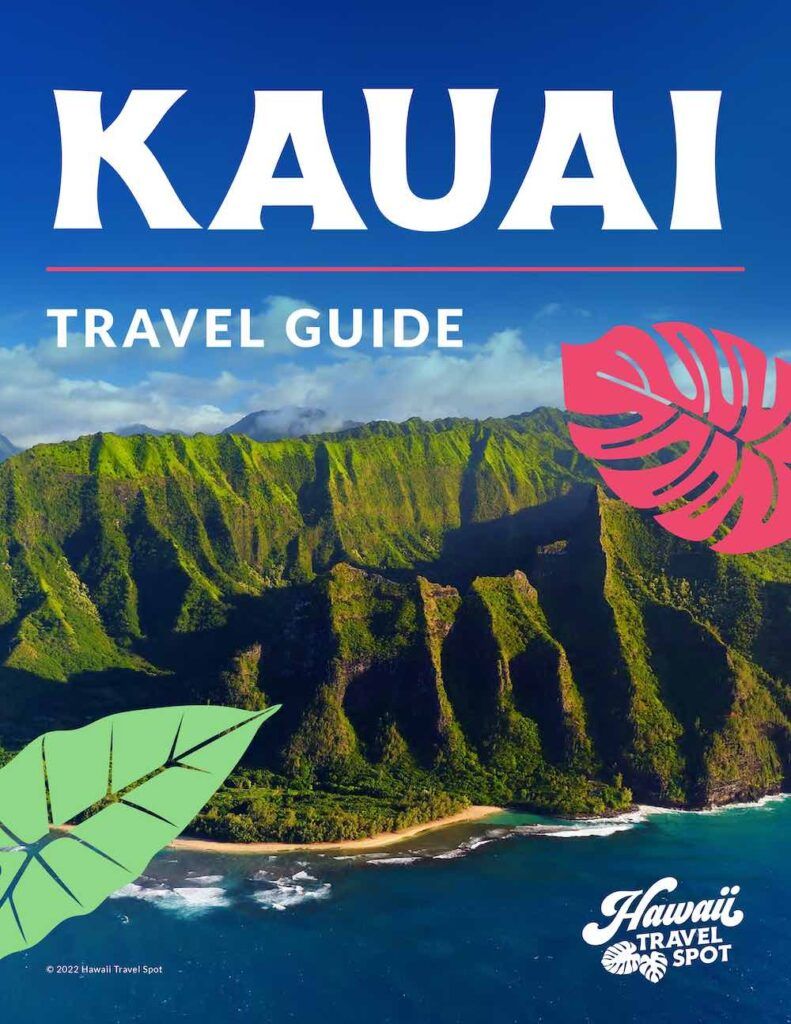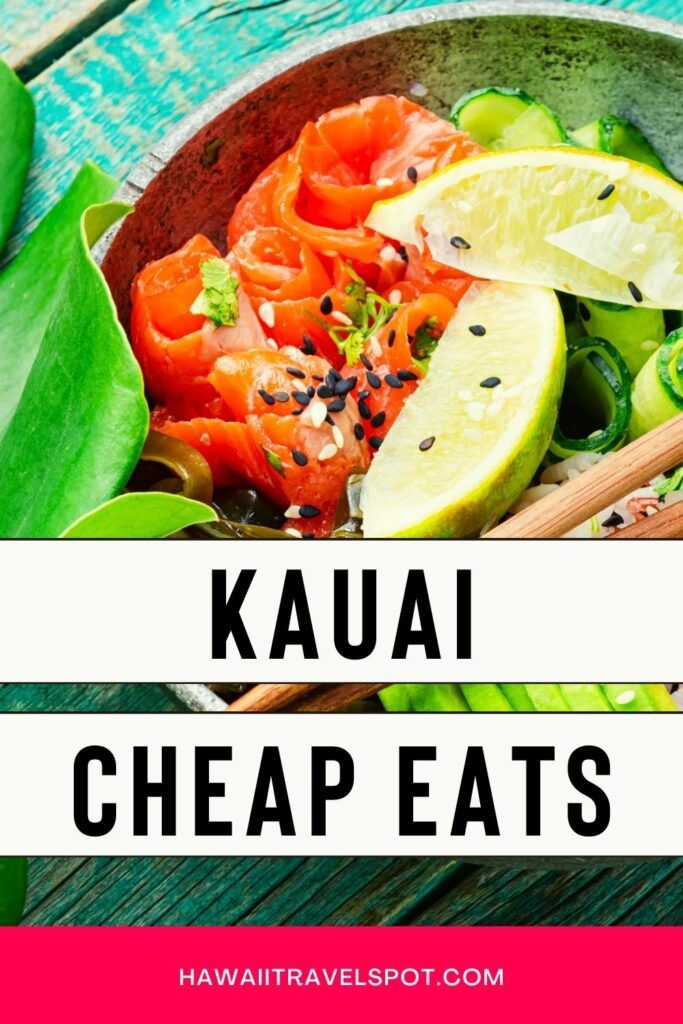 21 Cheap Places to Eat in Kauai
Here are a few of the must-eat places in Kauai that are very budget-friendly but also super tasty! Be sure to try out as many as possible during your trip if you plan on going to Kauai on a shoestring budget.
1. Bubba Burgers Poipu
Bubba Burgers, located on the main street of Poipu, is an old-school Hawaiian burger joint serving fresh grass-fed beef from Kauai. Although it may not be the prettiest burger, it delivers some of the tastiest food on the island.
Their burgers come with the option of one, two, or three patties. Bubba Burgers is one of the best cheap eats in Kauai as their burgers range from $5-10!
2. Puka Dog
Another place to get affordable meals in Kauai is Puka Dog, which offers a unique hot dog experience. This place serves up a hot dog with a veggie dog or a Polish sausage and has homemade Hawaiian bread for the bun.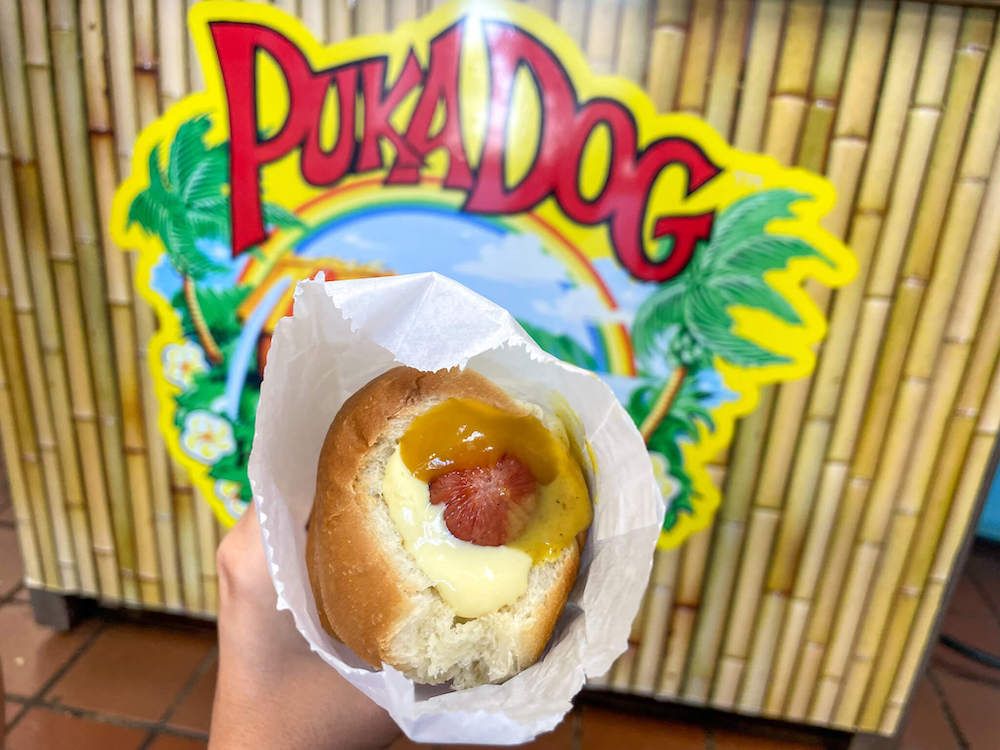 One of these incredibly delicious hot dogs is $9, and it is the perfect place to go in Kauai that's on the cheaper side. It's one of the best kid-friendly Kauai restaurants!
3. Mark's Place
Another one of the best places to eat in Kauai is at Mark's Place. It is a food truck that is conveniently positioned near Kalapaki Beach. This place offers some of the best local food in Kauai, including chicken katsu and loco moco. These plate lunches range from $12 to $18 and will definitely fill you up!
4. Chalupa's
Chalupa's serves authentic Mexican cuisine at their food truck located on Weliweli Road in Old Koloa Town. The most expensive thing on the menu costs only $15, making it one of the best Kauai cheap eats you will find.
The food is mouth-watering and perfect for a couple looking to satisfy their craving for Mexican food! Try a chimichanga, shrimp scampi, or the barbacoa plate. This food truck is open from 10:00 to 7:00 pm every day except Sunday.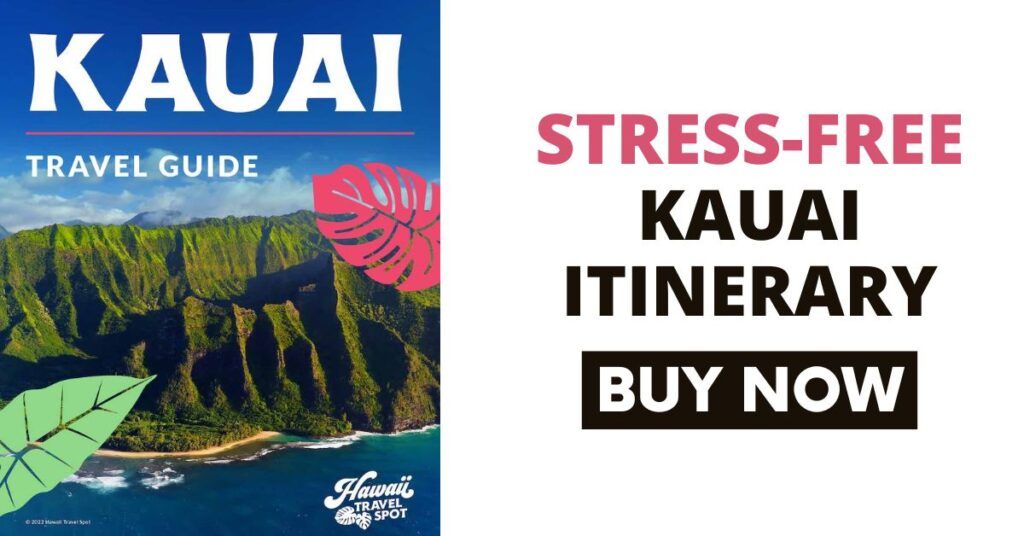 5. Chicken in a Barrel BBQ
If you're craving barbecue on Kauai, you'll want to head to Chicken in a Barrel. Located in Coconut Marketplace, this barbecue restaurant serves up delicious, locally-inspired barbecue meals.
It is very well known for its barbecue, but it also offers burgers and tacos. The best part about this place is the taste of the smoked meats. You can find a variety of dishes that range from $10 to $30.
6. The Shrimp Station
Located at Waimea, The Shrimp Station serves shrimp-based meals. If you're looking for a quick lunch before heading out to your other Kauai activities on a budget, you'll love it here!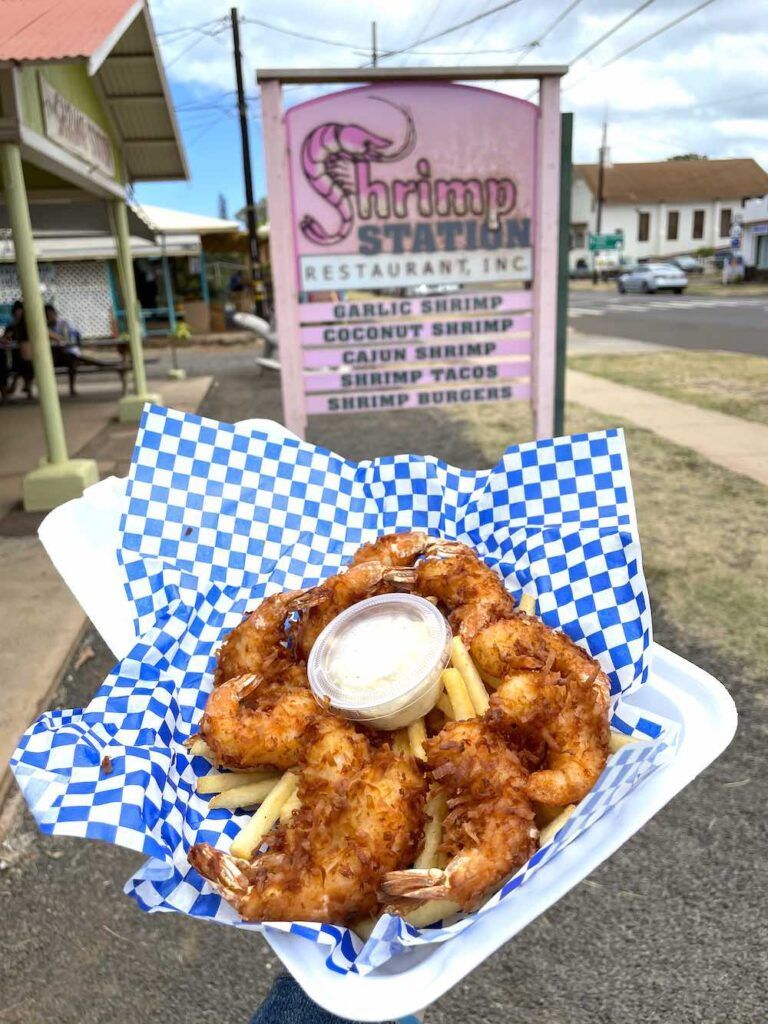 The Shrimp Station serves up a tasty variety of fresh-caught Kauai shrimp. They serve fried, sauteed, and breaded varieties. A place like this is not only cheap but also delicious. If you're visiting Kauai, be sure to stop by The Shrimp Station to try some of their coconut shrimp!
7. Tiki Tacos
If you want to eat authentic Mexican food on Kauai, Tiki Tacos is the place for you. All the meals at this restaurant are made with fresh, high-quality ingredients. Many of the ingredients are organic and locally sourced too!
Tiki Tacos is one of the many Kauai food trucks that will not break the bank. Depending on the type of food you choose, you can get a generous-sized plate at $15. Get their special and save even more money!
8. Savage Shrimp
You can get some great shrimp and a few other seafood dishes at Savage Shrimp, a tiny restaurant in Koloa. Their garlic shrimp is the most popular and is extremely delicious. You can grab a plate lunch for $12 to $15 a piece at this incredible seafood place in Kauai.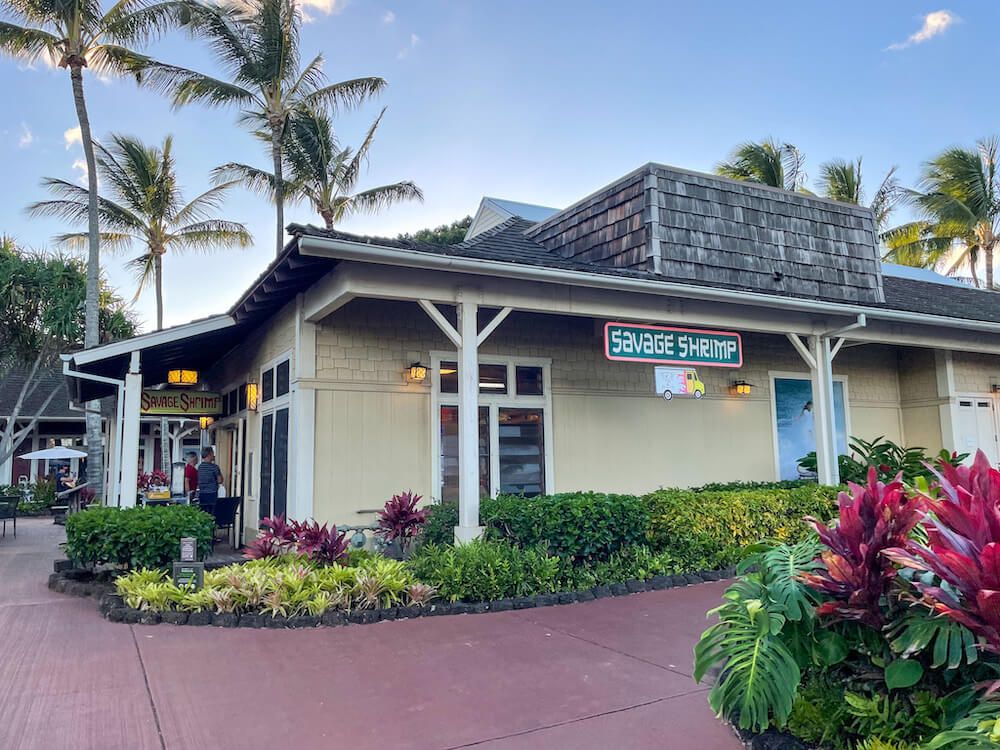 Savage Shrimp is open from 11:00 am to 8:00 pm with an hour break at 3:00 pm. Try the fish and chips, fried shrimp, coconut shrimp, aloha taco, or chicken tenders!
9. Island Taco
Island Taco is located in Waimea and offers fresh fish and local recipes with vegetarian and vegan options available as well. After you visit the Waimea Canyon, stop by here for some incredible tacos. Enjoy a full meal for only $9 to $12 too! This is definitely one you will want to stop by to try during your trip!
You will also find some enchiladas, burritos, quesadillas, and more, in addition to the tasty tacos they offer. Island Taco is open from 10:00 am to 4:00 pm every day of the week.
10. Da Crack Mexican Grinds
If you're on a budget, Da Crack Mexican Grinds is a great option. Here you can get a burrito, taco, or burrito bowl, all for only $9 each! It is located in Koloa and is another great Kauai cheap eats that you'll enjoy, especially if you love Mexican food!
11. Foodland
Foodland is a local supermarket that offers a wide variety of food items at prices that won't break the bank. Here you can grab a delicious poke bowl with rice or salad, along with some musubis, bento plate lunches, and more. You'll want to come here at least once to try their poke bowls!
12. Farmer's Markets
Another great way to vacation in Kauai on a budget is to eat at local farmers' markets. Not only can you find some delicious locally grown produce that is cheaper than at the stores, but you can also get incredibly tasty Hawaiian plate lunches you will love.
So many food trucks and other vendors share their food at the markets that you won't find anywhere else!
13. L&L Hawaiian Barbecue
If you're looking for a cheap place to eat in Kauai for some local food, head to L&L Hawaiian Barbecue. You will find a few spread out all over the island. Grab a plate lunch that costs between $5 to $13 dollars. Try some chicken katsu, garlic shrimp, kalua pork, and many other selections.
14. Porky's Kauai
Porky's Kauai is another one of Kauai's best eats that is affordable. There are four different things to try on the menu, and each costs $13. Choose from a pineapple sausage, 100% beef frank, grilled cheese sandwich, or a rice bowl. Each has a tremendous amount of toppings, making each item on the menu absolutely tasty.
While there are only a few options, each one is mouth-watering and so good that you'll want to come back for more! You can find Porky's Kauai in Waimea, which is open from 11:00 am to 4:00 pm most days.
15. The Little Fish Cafe
You cannot visit Hawaii without trying an acai bowl! The Little Fish Cafe offers some of the best acai bowls you will ever taste.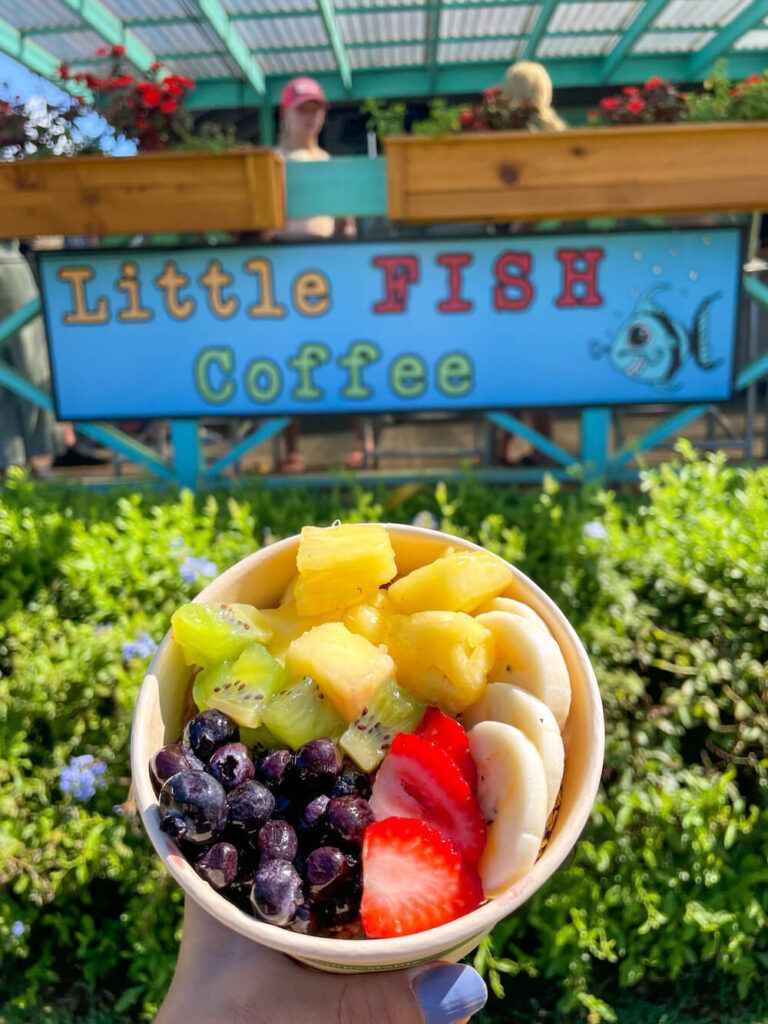 You can also get some sandwiches that are pretty tasty as well, but you don't want to miss out on their bowls. The most expensive item on the menu is only $12, so it is super cheap to try out!
16. Pono Market
Pono Market offers some more plate lunches that you will love. Each day there are different items, so be sure to check their website to make sure you want something from their menu on the day you will arrive.
Some food options include chicken stir fry, fried chicken, teriyaki meatloaf, roast pork, kalua pig, and pork lau lau. You can even grab some poke here too! Each plate ranges from $6 to $15, making it an incredibly budget-friendly place to eat in Kauai.
17. Kenji Burger
Kenji Burger is located in Kapaa, Lihue, and Koloa, so you know it is a great place to eat in Kauai! Prices range from $7 to $18, and they offer both burgers and local favorites like the loco moco bowl and some poke bowls.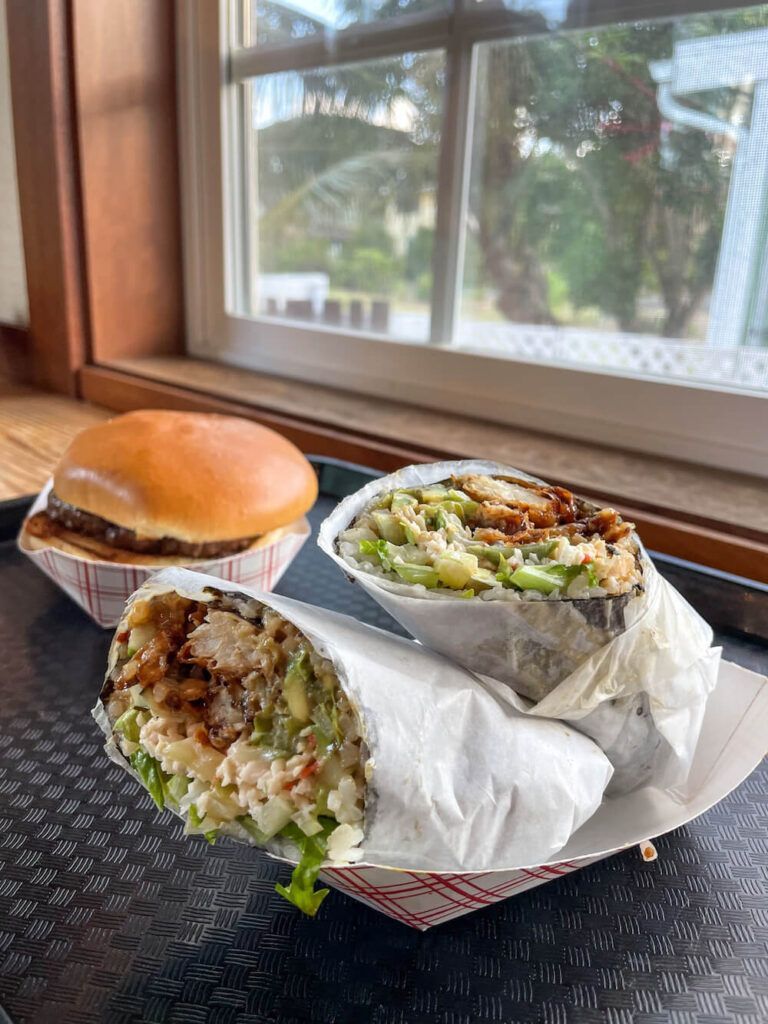 The burgers are made with 100% grass-fed beef and have incredible sauces that will have you wanting another burger every day!
18. Mermaids Cafe
At Mermaids Cafe, you can enjoy some delicious seafood, including ahi cilantro wrap, tropical tacos, and ahi poke salad. You will also find plenty of other great food as well, not just seafood. Mermaids Cafe is located in Kapaa and is open for breakfast, lunch, and dinner.
The food ranges from $10 to $18 typically here. If you want to save even more money here, try to order Keiki food plates. You will get plenty of food but spend less money!
19. Anattas Thai Street Food
Eat at another fun food truck at Anattas Thai Street Food! Most of the plate lunches you will find here are between $9 and $12. You can even get a stick of BBQ chicken for less than $4 too! Choose from three different types of curry, multiple pad Thais, summer rolls, chicken satay, and much more.
If you are craving some Thai food, this is the best place to stop in Kauai. You'll find Anattas Thai Street Food Truck in Lihue.
20. Duane's Ono-Char Burger
Located in Anahola, Duane's Ono-Char Burger has delicious burgers that are very cheap. You will also find some fish and chips, fried shrimp, and other sandwiches here.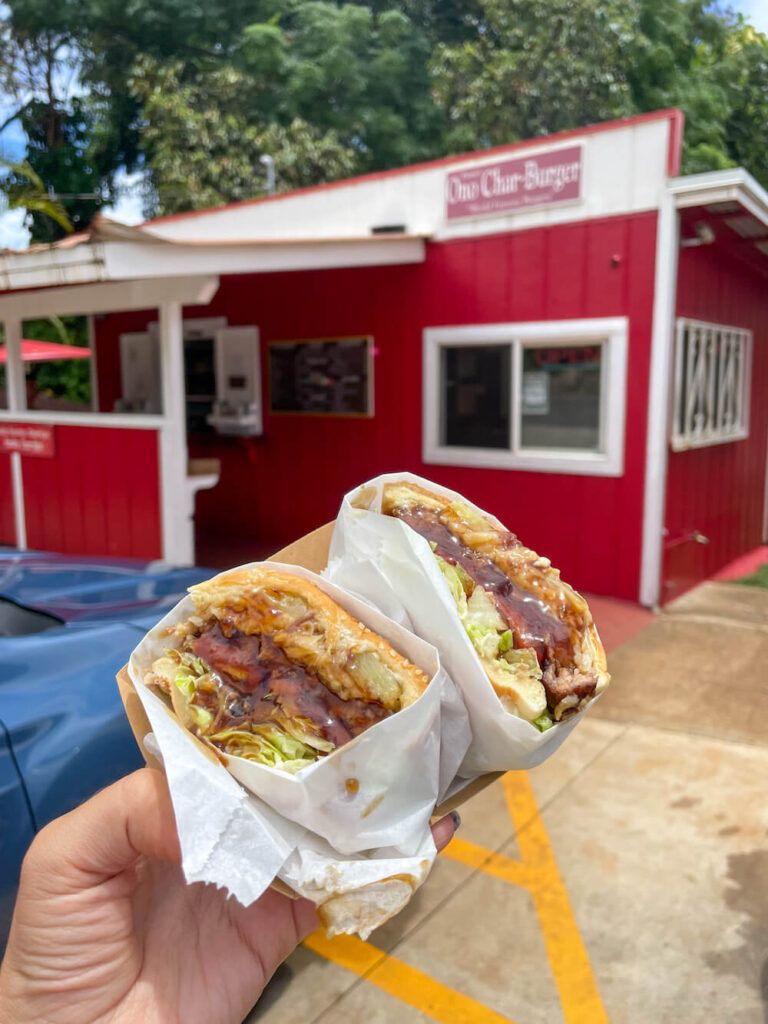 Everything on the menu ranges from $4 to $8, making it one of the best Kauai cheap eats you will find!
21. Village Snack Shop & Bakery
If you are looking for a cheap breakfast, head over to Village Snack Shop & Bakery. Here you will find some of the most affordable breakfasts and lunches on the entire island! From loco moco plate to macadamia nut pancakes, nothing on the menu is over $10!
The Village Snack Shop & Bakery is located in Hanalei and is open from 7:30 am to 4:00 pm. For lunch, enjoy a double cheeseburger, teriyaki beef, fish and chips, and so much more. It may not be fancy, but this is definitely one of the best cheap eats in Kauai!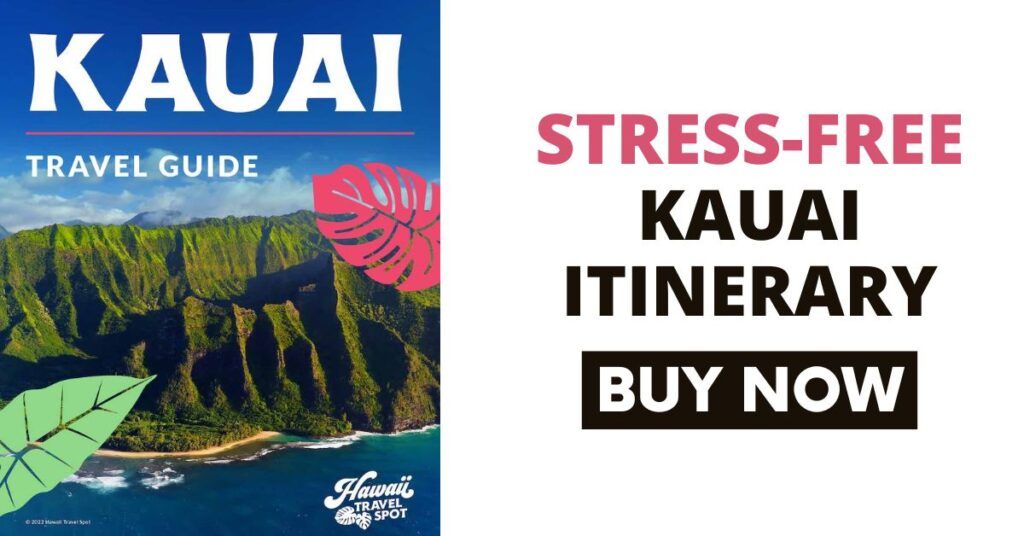 Kauai on a Budget FAQs
How much should I budget for food in Kauai? 
If you want to vacation in Kauai on a budget, it usually costs around $10-15 per person for a meal at one of the cheap eats in Kauai locations mentioned below. So, you can probably budget around $45 per person for every day of your trip.
What foods are popular in Kauai?
Kauai has similar food to all the other islands of Hawaii, including poke, loco moco, poi, Lomi Lomi, kalua pork, and many other local Hawaiian foods.
Tips for Eating in Kauai on a Budget
Here are a few other hacks to help you enjoy Kauai on a budget:
Try out the specials for the day at each of the places you stop at. Usually, they are a lot cheaper and some of the local favorites, too, so you can't go wrong with trying them out.
Go during happy hour, where both the drinks and the food are cheaper!
Ask the locals what they recommend. Usually, they know the best spots on the island that are both cheap and delicious.
Lots of the proportions in Hawaii are huge, so try ordering from the Keiki (kid) menu. Typically, those have the best-sized plate that costs even less!
Split a plate lunch with your significant other. The proportions are big enough for two people most of the time anyway!
If you have a kitchen where you are staying, grab some food from the stores and cook your own food. You can also just get some premade food from the store, like sandwiches that will be more affordable as well.
Best Food on Kauai on a Budget Wrap Up
Kauai has many great cheap eats options. If you're looking for a budget-friendly meal, be sure to check out these places! You might just find out that some of the best food on Kauai is not expensive at all!