Planning a trip to Kauai? One of the top things to do in Kauai is experience a traditional Hawaiian luau. Find out the best luau in Kauai for your next trip.
This list of the best luaus in Kauai contains affiliate links which means if you purchase something from one of my affiliate links, I may earn a small commission that goes back into maintaining this blog.
There are so many luaus to choose from, so how do you know which one to pick? Below you'll learn can choose the best luau in Kauai for you. Luaus are an amazing way to experience Hawaiian culture.
But you'll see that they're a little different from island to island, and even region to region of each island!
In Kauai, you'll find a much more authentic luau experience. But each of the best luaus on Kauai offers something unique for its guests.
As Hawaii's 4th smallest island, the island of Kauai is a stunning, rural place unlike anywhere else in Hawaii. I've spent a lot of time there, and one of my favorite things to do in Kauai is going to luaus!
Don't think you've seen them all just because you've been to one luau. Below I'll share my best advice on how to choose the best luau in Kauai. Then, you can read picks of all the top luaus on the island.
Don't have time to read a bunch of Hawaii blog posts and reviews? Here are some of our top picks for visiting Kauai.
Popular Kauai Tours/Activities
Favorite Kauai Resorts/Hotels
Grand Hyatt Kauai (this Poipu resort has a luxurious pool area, romantic restaurants, and a stunning ocean view)
Koloa Landing Resort (this is a luxury resort with an amazing pool area and truly spacious rooms)
Royal Sonesta Kauai (we LOVE the pool here because it's the largest one in Hawaii)
Want to Rent a Car in Hawaii?
One of the best places to rent a car in Hawaii is Discount Hawaii Car Rental because they get the best rates from top national companies like Alamo, Dollar, Thrifty, Avis, Enterprise, Budget, and Payless.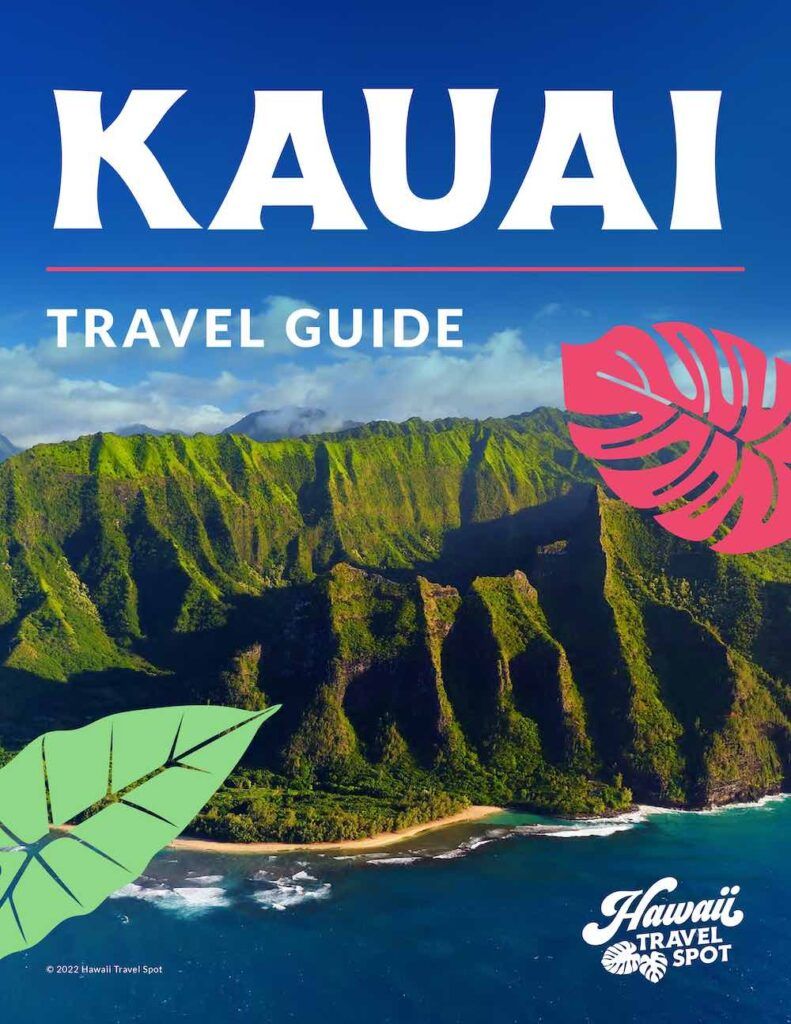 Tips for Choosing the Best Kauai Luau
I've been going to luaus since I was a child and continue to go to them today with my husband and kids. As a professional hula dancer, I have a sharp eye for what I look for in a luau! When you're looking for the best luau in Kauai, take the following advice so you can have the best time.
Look for Different Luaus
Some people think that if they've been to a luau, they've been to them all, but that's not the case. Most classic luaus are indeed tourist attractions with corny jokes and similar schedules. But many Kauai luaus offer uniquely authentic experiences.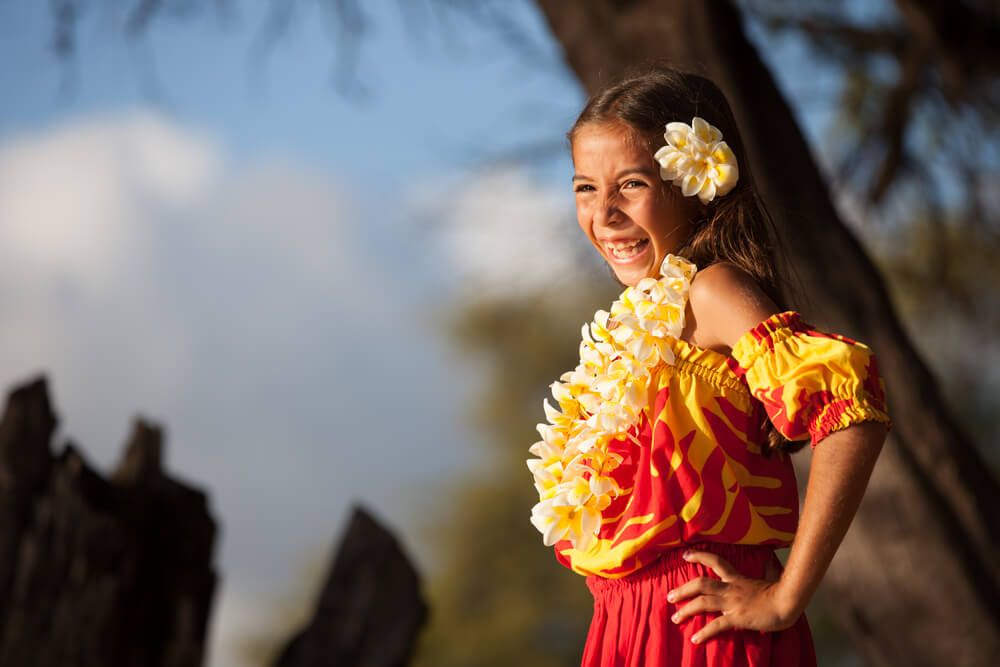 You might notice that traditional luaus have all-you-can-eat buffets, family-style eating, and large productions. If you prefer a smaller, more intimate setting, you can find it on my list! A lot of luaus today accept smaller groups of people, have table-side service, and private tables for your party.
Read Descriptions
Luaus are a popular honeymoon activity, and most are family-friendly. Some luaus have open bars while a few come with 1 complimentary drink per ticket. All the information that you'll want to know about a luau should be in the description on their website.
Descriptions are where you'll learn how long a luau is. Because they include dinner and entertainment, most run for 3 to 4 hours, but some can be shorter or longer. I also encourage you to read reviews by real-life guests if you want an unfiltered opinion.
Book Your Tickets in Advance
Especially in Kauai, luaus can book months in advance. Some are super popular or have small guest limits. And most only have shows 1 or 2 nights a week.
If seeing a luau on vacation is important to you, I suggest buying your tickets before you leave for vacation. If you decide that you want to see a luau when you're in Kauai, it doesn't hurt to see if there's a show with open reservations!
Have Fun Dressing Up!
I haven't seen a luau that has a dress code. Most people dress up because it's a special night, while lots of tourists come in what they wore that day. I think it's lots of fun to dress up!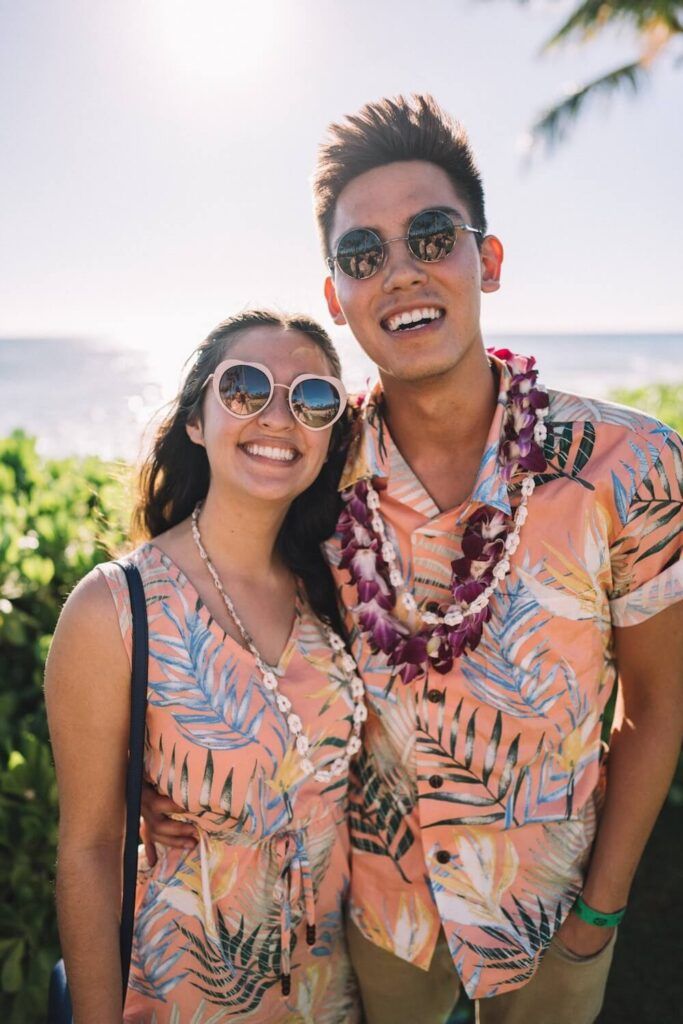 Why not wear something fun and tropical that goes with the lei you'll receive when you arrive? Women are usually given a flower lei and men are given a shell or kukui nut lei. And I recommend sandals over heels in case your luau is on the grass or the beach!
Where to Find Luaus on Kauai Hawaii
Kauai is different from Hawaii's other islands because it's so rural and small. Most people who visit the island come for outdoor adventure opportunities and the beaches in Poipu and on the North Shore. But you may not know that you can find some of the best luaus in Kauai here.
Or you might be staying on the East Side. Lihue is a popular place to stay, and it's close to the airport. Kapaa and Wailua, called the Golden Coconut Coast, are also busy East Side destinations with lots of tours and attractions. Here you can also find the largest group of Kauai luaus.
Keep reading to find the best luau in Kauai near where you'll be staying.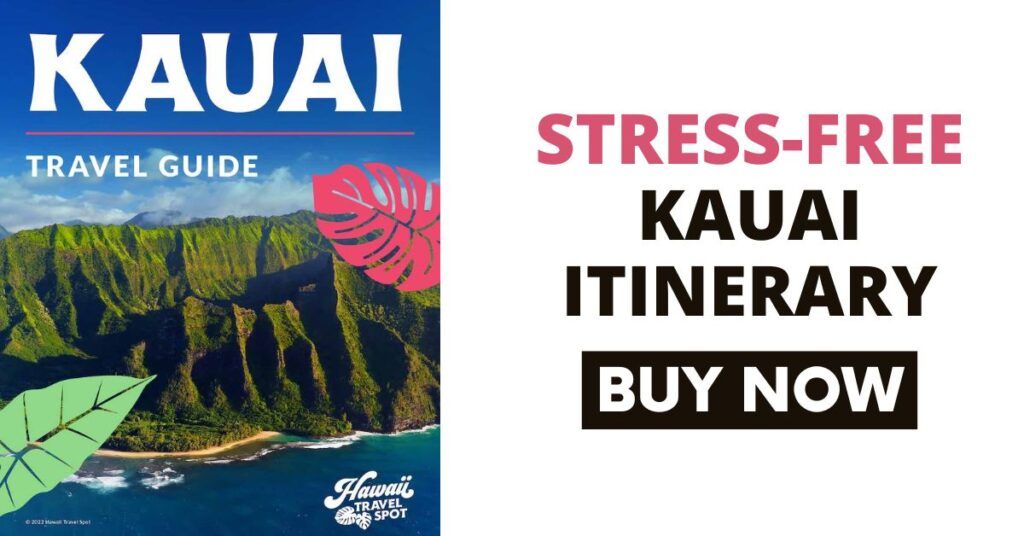 Luaus in Poipu
Auli'i Luau
If you're looking for the best luau in Poipu, check out Auli'i Luau. It's the only oceanfront luau I've found in Kauai, set on a manicured grass lawn near the famous Poipu Beach.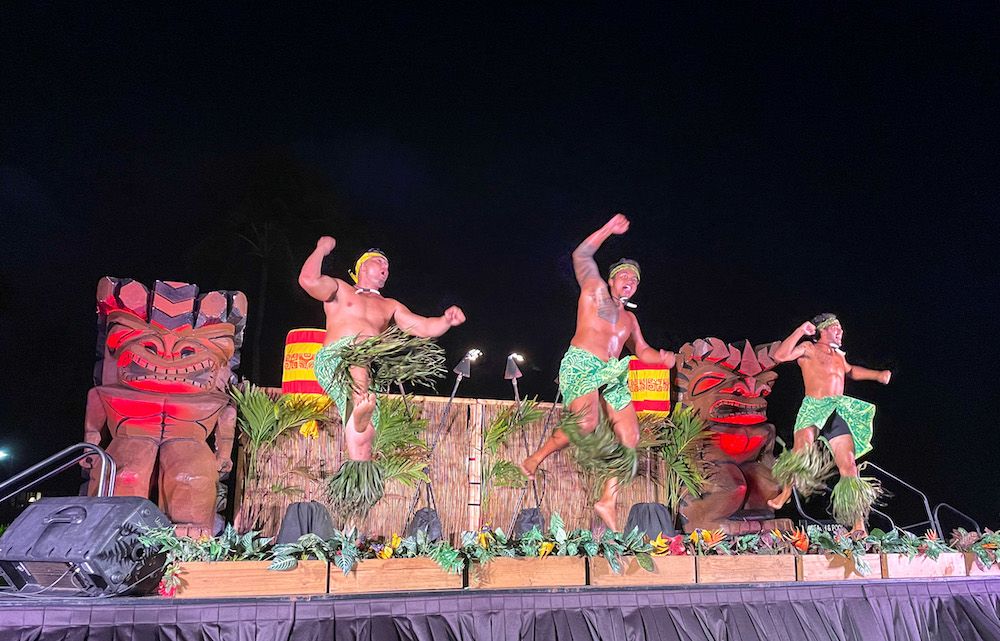 What I love about this luau is that it's iconic with all the classic elements but still a great authentic experience. The hula dancing was my favorite, featuring the award-winning hula dancers of Urahutia. And if you want a picture, photographers are on-site for an affordable rate, which is a nice perk!
I suggest booking this luau in advance. There's a limit of 150 seats, and it only has shows on Mondays and Wednesdays.
Also, the VIP tickets are definitely worth it with this show. The tables are smaller, more private, and closest to the stage, and you get nicer leis than with a regular ticket. Read my full Aulii Luau review.
Grand Hyatt Kauai Luau
Next is a Poipu luau which is quite possibly the best luau on Kauai. The Grand Hyatt Kauai Luau is a beautiful storytelling luau that you'll love if you want to learn about the history and culture of Hawaii.
The performances center around the history of the journey across the Pacific to Hawaii. You'll see examples of dances from Samoa, Tahiti, New Zealand, and finally Hawaii. But the best part of this show is the exciting fire knife dancing that finishes the night!
I think this show is perfect for everyone, including couples, families, and friends who want to see a great show. There's a buffet with an open bar.
It's also one of the few Kauai luaus on my list where children 5 and under are free. And for families, there are arts and crafts and hands-on activities just for kids before dinner.
Book a Hawaii Photo Shoot
Whenever we travel to Hawaii, we almost always book a photo shoot with Flytographer. They are super easy, affordable, AND it guarantees that I'll have more than just selfies. You can get $25 off if you book through this link or use the code HAWAIITRAVEL.
East Side Kauai Luaus
Luau Kalamaku
If you've been to luaus before and you're looking for something different, I suggest Luau Kalamaku. It's the most authentic luau in Kauai, and the most popular.
It's held on a historic sugar plantation, the Kilohana Plantation near Lihue. Arrive a little before dinner and you can try several different presentations and activities across the grounds.
Luau Kalamaku has 2 different shows. There's a buffet for the regular luau but the Plantation Owners dinner is especially unique. The night begins with a traditional imu ceremony. It includes a delicious 4-course meal instead of a buffet. Check the latest rates and availability.
During dinner, there's contemporary hula dancing. There are also 2 different fire shows, burning poi ball twirlers, and both contemporary hula dancing and more traditional dances. But the best part is the breathtaking theatrical telling of the Polynesian journey to Hawaii.
The Plantation Owners Dinner and Show at Luau Kalamaku is pretty expensive, but for what you get it's a great deal. Also, this luau is a great option if you're vegetarian. Read my full Luau Kalamaku review.
Smith Family Garden Luau
The Smith Family Garden Luau is another one of the most popular on the island, but for a different reason. This is your classic, iconic luau experience with a buffet and open bar.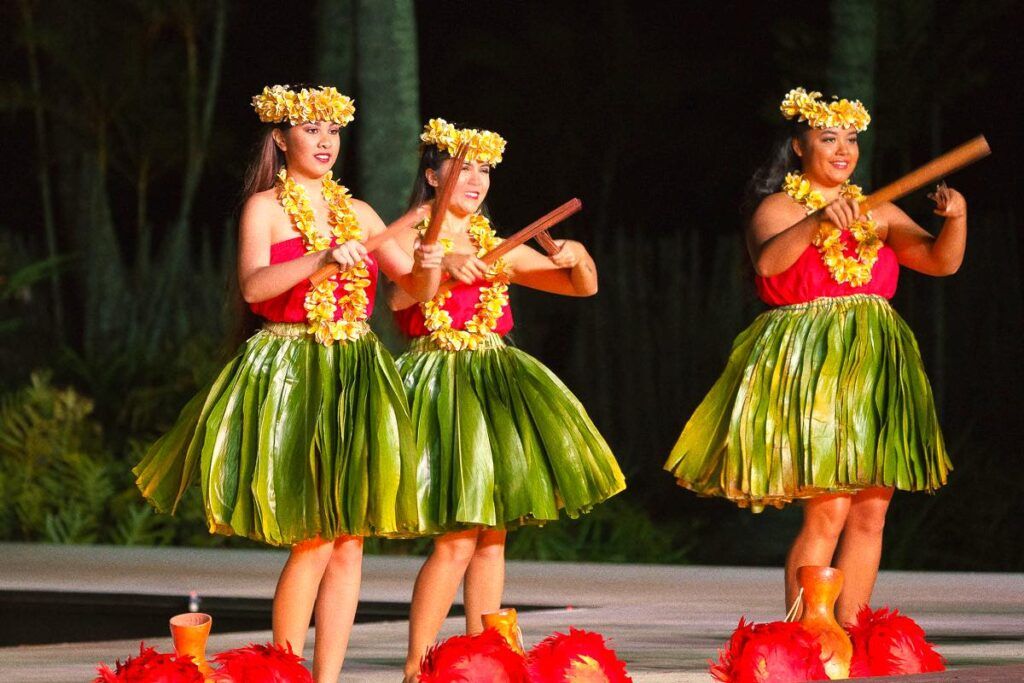 However, the show part takes place in a separate area. Instead of designated seats, there's first-come-first-served seating family-style in a large amphitheater. Check the latest rates and availability.
This family-run luau has been running for almost 50 years from their 30-acre garden that's in the Wailua Marina State Park near Kapaa. Before dinner, you can walk around the garden with bamboo forests, fruit trees, tropical flowers, and wild birds.
The Smith Family luau is a larger production with a 400-seat capacity. They have 5 shows a week during the summer, but you should still book this popular luau in advance. This is also my pick for large groups and families. Read my full Smith Family Luau review.
Luau Ka Hikina
Another fun luau on Kauai is Luau Ka Hikina at the Sheraton Coconut Beach Kauai. It's just steps away from the beach.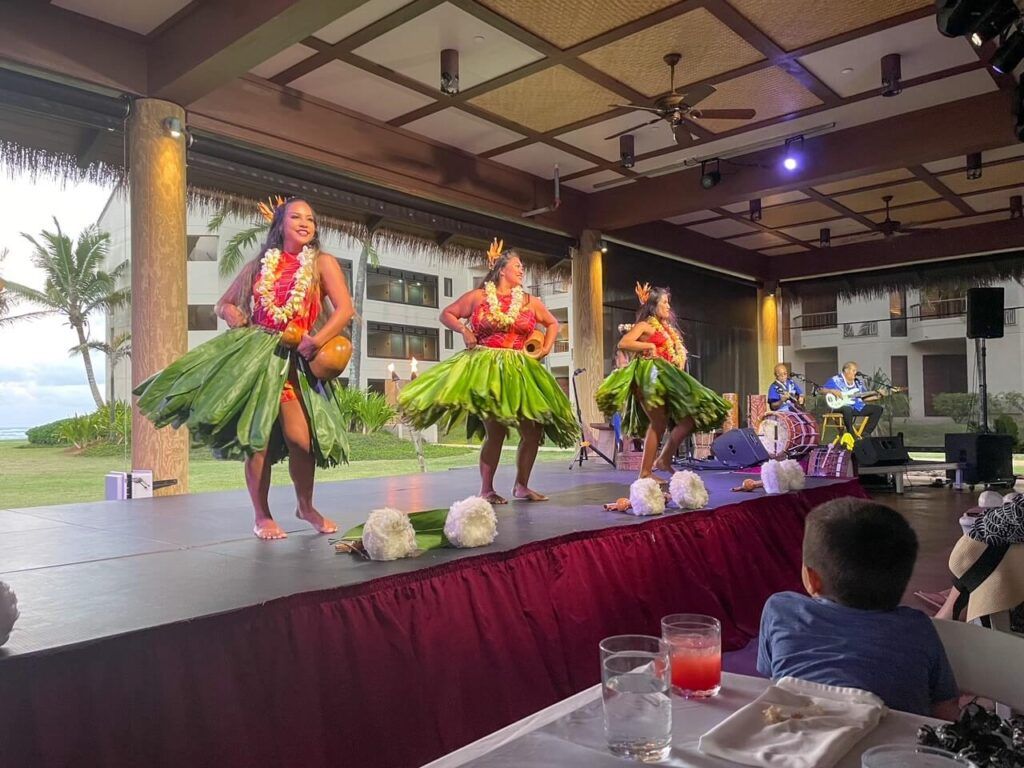 This is a really fun show that covers Hawaii, Tahiti, Samoa, and New Zealand. There are a handful of pre-show activities (like poi ball dancing and Tahitian drumming) and they have some vendor booths.
The food is really tasty and plentiful. There are a lot of options for all palates and they have a decent dessert table. Plus, they start serving drinks as soon as you get in line to enter the luau!
This Kauai luau was re-imagined in 2022 and takes place in a brand new pavilion. Read my full Luau Ka Hikina review.
Ahi Uila Fire Show
If you're looking for something a bit different than a traditional Hawaiian luau, head to the Ahi Uila Fire Show at the Hilton Garden Inn Kauai.
This is a spectacular Polynesian fire show that is truly amazing. It starts off with an amazing concert by award-winning musician Keli'i Kaneali'i.
After that, there is a full luau buffet dinner and lots of dessert options. Then, it's time for the full fire show that is sure to leave you mesmerized. They even talk about the importance of fire to Polynesian culture.
I recommend upgrading to the VIP tickets because you'll get a front-row seat to this Kauai fire show.
North Shore Kauai
Tahiti Nui Luau
If you're looking for the best luau in Princeville Kauai, this is the closest you'll get (and it's a good one)! Tahiti Nui Luau in Hanalei is adjacent to the famous Tahiti Nui Bar on North Shore.
This is an indoor luau that's super laid back and popular with singles, couples, and adults in general. That's because it's almost like a big party the hour before with free mai tais! There's just a really warm, welcoming vibe to this local event and you'll make friends.
There's a buffet with all Hawaiian classics before the show begins for dinner. Food is grilled in front of you and you eat family-style at long tables. It's a super casual event in contrast to the elaborate productions of the rest of the luaus on my list.
Ahi Lele Luau Fire Show
My final pick for the best luau in Kauai Hawaii is the Ahi Lele Luau Fire Show in Kilauea. This is also the other best luau near Princeville Kauai. It's also a small, family-owned luau held at the Anaina Hou Community Park.
Ahi Lele Luau is another great authentic choice. It's perfect for those who want to experience local culture with local craft brews and food. It's a much smaller, more intimate event but it's also one of the more affordable options on my list.
Meals are simple with a salad, entrée, and dessert chosen from a menu. And there are drinks for an extra cost. But there's still an imu ceremony with kalua pork being served.
After dinner, you move to a separate location for the show. I thought this one was an absolutely beautiful show with = storytelling, dancing, drums, a fire show, and more.
I recommend booking in advance and getting VIP tickets. Shows are only 1 night a week and they sell out with fewer seats (which are first-come-first-served). VIP guarantees a seat in the front with a great view. Read my full Ahi Lele Fire Show review.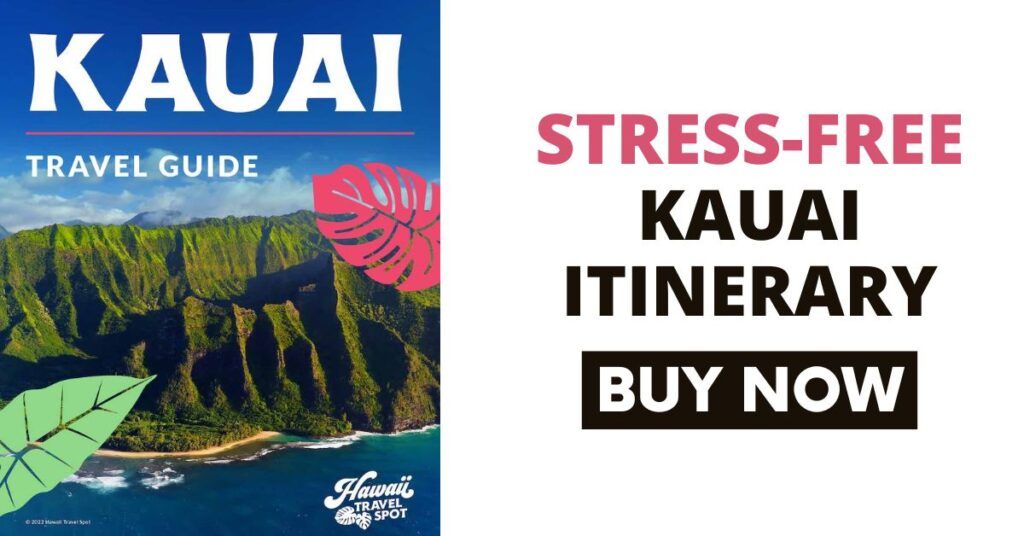 FAQ about Hawaiian Luaus
Are luaus a show or a dinner?
They include both a dinner and a show, but that's not all! Luaus are actually celebrations with a meal and entertainment that go back centuries in Hawaiian culture. Today they're meant to welcome tourists and teach them about different parts of Polynesia through amazing food, cultural demonstrations, storytelling, and music.
What do you eat at a luau?
There are so many amazing foods at a luau, and they're usually served at a buffet. The most famous and common food you'll find at a luau is Kalua Pork, an entire pig that's been slow-roasted underground. There are also things like poi, which is mashed taro root, and lua lua, which is a delicacy and one of my favorites. But you'll also find things like macaroni salad, and desserts like haupia, which is a creamy coconut pudding.
Can I eat at a luau if I have dietary restrictions?
Most luaus have this information in their online menu or somewhere on their website. You'll find that some Hawaiian food is vegan or vegetarian-friendly, but not always. Some menus include gluten-free options. If you have a specific dietary restriction or allergy, you should call the luau and request accommodations before your visit.
How much does a luau cost?
Interestingly, I've found that Kauai luaus cost less than on some of the other islands. The average luau in Kauai costs about $100 per person, but there's a wide range of prices on my list. Some people want the luxury experience on vacation while others may prefer a Kauai luau discount. There are ways to keep the price low, including going to a luau where kids are free or where the drinks are complimentary.
So, What's the Top Luau in Kauai?
I've been to a lot of luaus on the island, and I think the best luau in Kauai is possibly the Aulii Luau. But there are so many unique, amazing luau options on my list that it's impossible to decide! There's really something here for everyone. I think you'll find something special to check out!